Top 7 Best Drain Cleaning Services in Vancouver
The last thing you want when you have guests at home is a blocked toilet and sink. It's messy, smelly, and can cause all sorts of discomfort—even diseases—if not addressed quickly.
The best drain cleaning services in Vancouver can help you solve your drainage issues before they get any worse. In this article, we review the top drain cleaning providers in the city to help you find a solution that fits your circumstances best
How much do drain cleaning services cost in Vancouver?
The average cost for professional drain cleaning is around $250. However, this number can go as low as $99 to as high as $800, depending on several factors, including:
The severity of the clog
Materials and equipment needed for the removal process
Location of the clog
The provider you hire for the job
To get a clearer number, it's always best to get a cost estimate from your prospective provider before finalizing any transactions.
To get a clearer number, it's always best to get a cost estimate from your prospective provider before finalizing any transactions.
Best Drain Cleaning Services in Vancouver
In our review, we used the following criteria to find the best drain cleaning services in the city:
1. Plumbhartt Plumbing and Heating
| | |
| --- | --- |
| PROPER LICENSING | ★★★★★(5/5) |
| EXPERIENCE | ★★★★★ (5/5) |
| CUSTOMER SATISFACTION | ★★★★★ (5/5) |
| AFFORDABILITY | ★★★★☆ (4/5) |
| WARRANTY | ★★★★☆ (4/5) |
When it comes to clogged drains causing chaos in our homes, we need a superhero to save the day. Look no further than Plumbhartt and their exceptional drain cleaning services.
With their excellent expertise, efficient solutions, unwavering reliability, and commitment to customer delight, they have become the ultimate saviors in the realm of drain cleaning.
Plumbhartt's team of drain cleaning specialists are true masters of their craft.
Armed with extensive knowledge and years of experience, they possess a decent knowledge of drain systems and the myriad of issues that can arise. From stubborn clogs to complex blockages, their experts tackle each challenge with precision.
Efficiency is key when it comes to drain cleaning, and Plumbhartt delivers with unrivaled speed and effectiveness. Their technicians arrive promptly with state-of-the-art equipment, ready to tackle even the toughest drain blockages.
With their advanced tools and techniques, they swiftly restore the flow, eliminating the inconvenience and potential damage caused by clogged drains.
Reliability is a crucial factor when choosing a drain cleaning service, and Plumbhartt shines in this regard. They know the urgency of a clogged drain situation and respond promptly to customer calls.
Whether it's a minor inconvenience or a major disruption, Plumbhartt's reliable team is there when we need them most. Their consistent ability to deliver on their promises and provide solutions has earned them a reputation as a trusted service provider.
However, they can get very busy during peak hours due to popularity. We recommend booking them ahead of time to avoid delays.
Prompt and efficient service
24/7 availability for emergency situations
Solid reputation for professionalism and excellence
Transparent pricing and affordability
No discounts and promos at the present
Customer Reviews
"Loved working with Plumbhartt. They helped me deal with issues other companies missed. Professional, knowledgable and fast. They finished my job under-budget and on time which never seems to happen in the construction world. Will continue using them and recommending them to anyone needing a reliable plumbing company." — Alanna K
"Hassan installed my tankless water heater and it looks like a piece of art. He thoughtfully suggested I install plywood backing for installation and aesthetic reasons. His work is masterful with an attention to detail that only a master craftsman has. His price was good but his work was above average in every aspect. I highly recommend his services for all your plumbing needs." — Gerry P
2. Red Seal Plumbing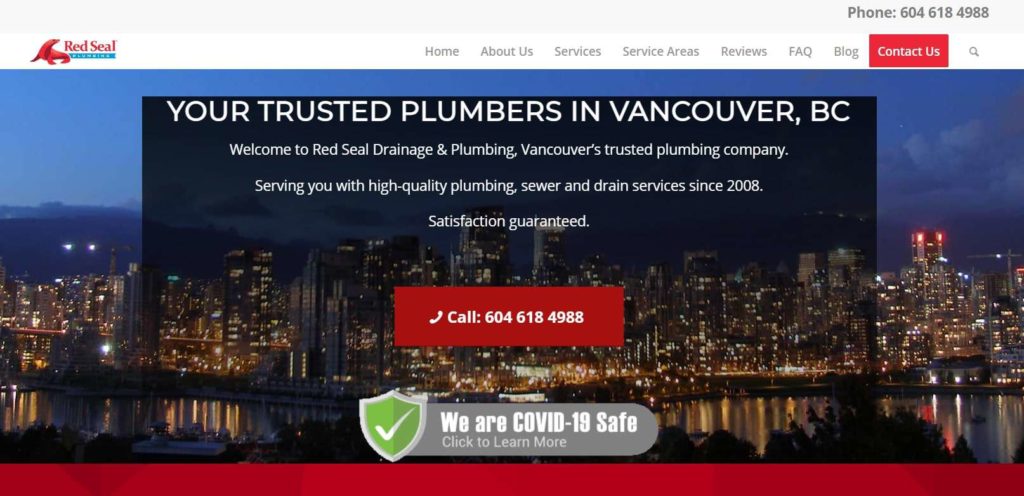 Test
Info
SERVICES
Plumbing

Drain Cleaning

Hydro Jetting

Drain Inspection

Hot Water Heater Repair

Sewer Repair

Sewer Replacement

Sewer Camera Inspection

Fixture Repair and Installation

WEBSITE
https://www.redsealplumbing.com/
ADDRESS
2790 East 21st Avenue, Vancouver, BC, V5M 2W2, Canada
CONTACT DETAILS
(604) 618-4988 |

Email: [email protected]

OPERATING HOURS
8:00 am to 5:00 pm (Monday to Friday)

Closed (Saturday, Sunday, and Holidays)
| | |
| --- | --- |
| PROPER LICENSING | ★★★★★(5/5) |
| EXPERIENCE | ★★★★☆ (4/5) |
| CUSTOMER SATISFACTION | ★★★★☆ (4/5) |
| AFFORDABILITY | ★★☆☆☆ (2/5) |
| WARRANTY | ★★★☆☆ (3/5) |
Red Seal Plumbing has been offering plumbing and drain cleaning services since 2008. They specialize in both residential and commercial projects, making them a great partner for both homeowners and business owners.
They have a good number of regular clients all over Vancouver—which we see as a clear indication that people trust and rely on this company for drain cleaning and plumbing.
This is why we included them in our list of the best providers in the city.
During our test call with them, conversing with their customer support team was pleasant enough. Their employees seemed to have a good understanding of their services and offers.
Additionally, they were very transparent about how much their services would cost. And we have to say: it isn't cheap.
A personal consultation alone cost around $50. Put that on top of other fees for camera inspection ($400) and pipe replacement ($350), a single visit from them could cost you around $800.
They offer same-day drain cleaning, which is incredibly helpful for people experiencing emergencies. We called them to fix our toilet drain and they arrived within the first few hours of our call.
While the majority of our survey participants were pleased with the services they received from Red Seal, there were a couple of complaints that stood out to us.
The first one is that Red Seal doesn't offer any type of warranty or guarantee for services. If an issue were to occur a day or two after their visit, they'll charge you for the repairs necessary to fix it.
The second is that some of Red Seal's technicians don't adhere to COVID-19 precautions. This puts the client and everyone else in the house at risk of infection.
A+ level BBB-accredited provider
Extensive experience in both residential and commercial services
Same-day drain cleaning services
3. Hillcrest Plumbing & Heating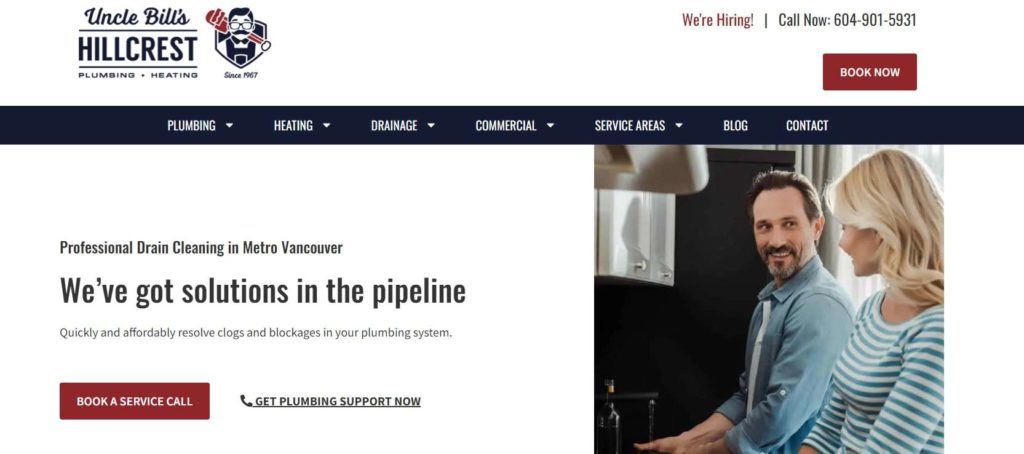 Test
Info
SERVICES
Plumbing

Heating

Drainage

WEBSITE
https://hillcrestplumbing.com/
ADDRESS
212 E 17 Avenue, Vancouver, BC, V5V 1A7
CONTACT DETAILS
(604) 901-5931
OPERATING HOURS
8:00 am to 4:30 pm (Monday to Friday)

Closed (Saturday, Sunday, and Holidays)
| | |
| --- | --- |
| PROPER LICENSING | ★★★★★ (5/5) |
| EXPERIENCE | ★★★★★ (5/5) |
| CUSTOMER SATISFACTION | ★★★☆☆ (3/5) |
| AFFORDABILITY | ★★★☆☆ (3/5) |
| WARRANTY | ★★★v☆ (3/5) |
In our experience, the worst thing about Hillcrest Plumbing and Heating is their customer support.
Not only were they rude during our initial meeting with them, but the lady at the reception area wasn't paying attention to what we were saying.
Instead, she asked us to fill out a service request sheet without even letting us get a single inquiry into the conversation.
This was a little disappointing, considering how most people probably visit their office to a) ask about their services or b) request a quote.
However, once we'd established that we were only there to make an inquiry, she seemed willing enough to answer all of our questions.
And to be fair, you can't exactly judge a company from a single person's conduct or one experience – some of their clients had contrary experiences with their service.
Anyway, their services are varied and fairly comprehensive. We love the same-day services and emergency assistance.
The downside is that prices seem a bit on the high side. However, after learning that their plumbers were all skilled to perform much more technical work, we see the reason for their prices.
Based on results we got from our survey of previous Hillcrest clients, the majority of people are impressed by the skill and precision that Hillcrest plumbers possess too. We couldn't complain about their job for us either, so it's clear that expertise is where they really stand out.
Same-day services
Emergency assistance
A+ level BBB-accredited company
Occasionally rude customer support staff
Expensive
Regular operating hours are only until 4:30 pm (after that, you have to pay for the emergency service fees)
4. Yaletown Plumbing Services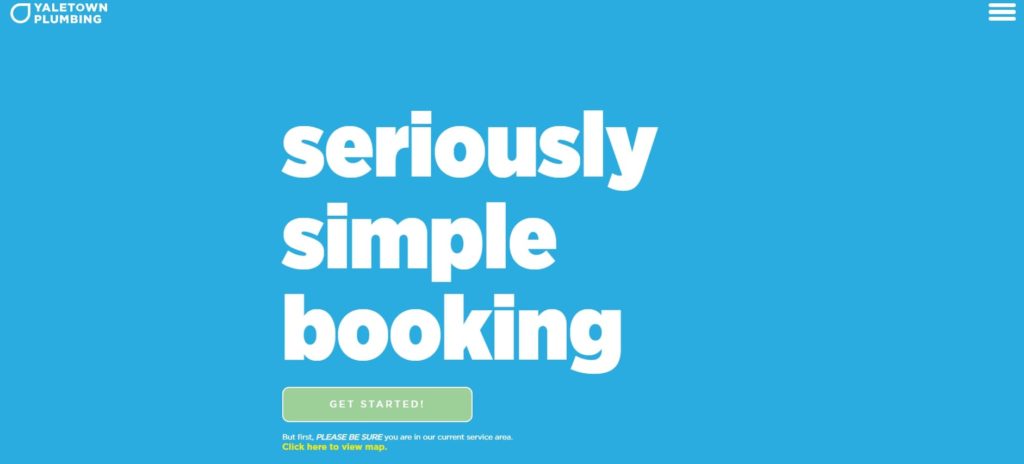 Test
Info
SERVICES
Residential Service

Garburator Repair/Removal

Dripping Taps

Toilet Repair

Clogged Drains

WEBSITE
https://yaletownplumbing.com/
ADDRESS
609-77 Walter Hardwick Avenue Vancouver, BC V5Y 0C6
CONTACT DETAILS
(604) 727-4484
OPERATING HOURS
9:00 am to 5:00 pm (Monday to Friday)

Closed (Saturday, Sunday, and Holidays)
| | |
| --- | --- |
| PROPER LICENSING | ★★★★★ (5/5) |
| EXPERIENCE | ★★★★☆ (4/5) |
| CUSTOMER SATISFACTION | ★★★★☆ (4/5) |
| AFFORDABILITY | ★★★★☆ (4/5) |
| WARRANTY | ★★★★☆ (4/5) |
One could say that the best thing about Yaletown Plumbing Services is also the worst thing about the company.
You see, while many customers would appreciate a straightforward website, Yaletown's approach renders their website useless, unless you were already set to get their services.
Why?
For starters, you'll need to create a member's account to get full access to their service details and information. In our experience, this process is time-consuming and inconvenient, especially for clients with emergencies.
So, you'd have to be pretty set on this company if it inspires you to spend 10 minutes filling out a membership form.
On the bright side, they were very quick to respond to our inquiries via email. They promised to send a technician over within 30 minutes and we're glad to report that they stuck to their word.
We did like the technician's transparency and expertise in drain cleaning. He didn't hesitate to answer any of our questions and even offered us tips on how to maintain the cleanliness of our sink drain.
A lot of their clients echoed this experience. As far as actual service quality goes, they have solid performance and a good reputation.
In terms of affordability, this company is also slightly cheaper than the previous ones we've mentioned. However, they didn't disclose any prices during our initial call with the company.
If you're wondering, charges can range anywhere from $40 to $200 – a reasonable price for high-quality work.
Budget-friendly
Services within 30 minutes
Expert and informative technicians
Only offers residential services
No transparency on prices
5. AAA Electric Sewer & Drain Cleaning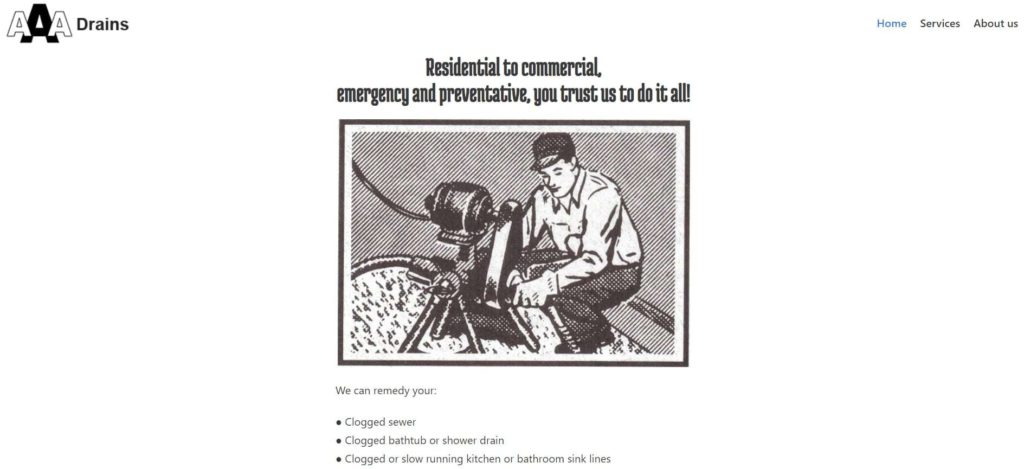 Test
Info
SERVICES
Residential and Commercial Drain Cleaning

Emergency and Preventive Services

WEBSITE
http://aaadrains.com/
ADDRESS
Suite 401 – 1965 W 8th Ave, Vancouver, BC V6J 1W2
CONTACT DETAILS
(604) 261-2394 |

Email: [email protected]

OPERATING HOURS
8:00 am to 4:00 pm (Monday to Friday)

Closed (Saturday, Sunday, and Holidays)
| | |
| --- | --- |
| PROPER LICENSING | ★★★★★ (5/5) |
| EXPERIENCE | ★★★★★ (5/5) |
| CUSTOMER SATISFACTION | ★★★★★ (5/5) |
| AFFORDABILITY | ★★★★★ (5/5) |
| WARRANTY | ★★★★★ (5/5) |
This family-owned business has been around since 1957, making them one of the oldest providers on this list. And in our opinion, one of the most experienced too.
They offer both residential and commercial drain cleaning services, which is great for both homeowners and business owners in the city.
Plus, they can do both emergency and preventive maintenance jobs to help customers maintain the cleanliness and efficiency of their drains.
We appreciate how friendly and helpful they were during our first visit to their office. They listened to our concerns intently and found a solution that fit our situation exactly.
Based on the quote they gave us, they are the most affordable drain cleaning providers on this list. Cleaning a sink drain doesn't cost as much as it does with any of the other companies.
They even offer free repair services for issues that happen a day after their visit! Another thing we love about them.
We also really liked how AAA was punctual during their visit. They also made sure to follow proper safety precautions to avoid causing anyone any harm or illness.
The only issue we really have with them is their outdated company website. It's disorganized and cheesy; plus, we had a hard time looking for the details that we needed.
Not a big deal, you might think, but honestly, the online experience matters too, especially in this age. If they could improve that, they'd probably get even more customers than they already do.
Over 60 years of field experience
Expert and friendly customer support
Time-efficient services
Budget-friendly 
6. Main Street Plumbing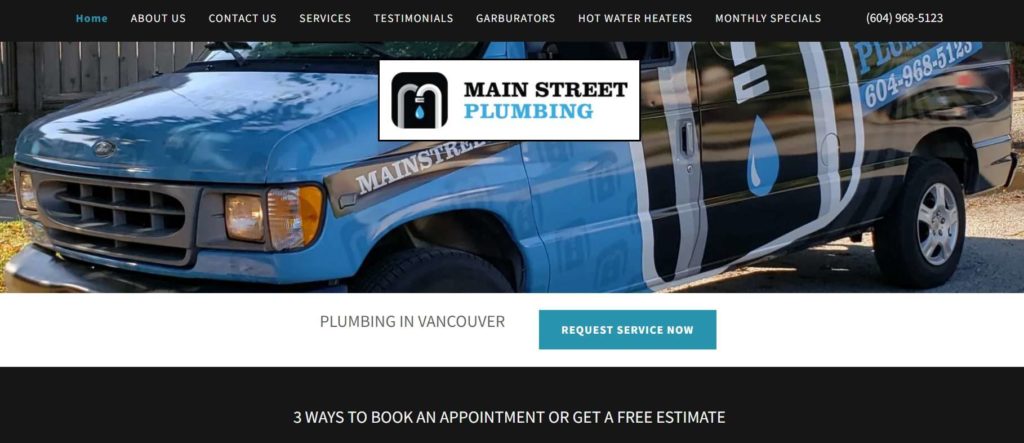 Test
Info
SERVICES
Fixture Installation

Cartridge Replacement

Dishwasher Installation

Water Lines Replacement

Drainage Repair

Garburator Repairs

Garburator Replacement

Garburator Removal

WEBSITE
https://mainstreetplumbing.ca/
ADDRESS
966 West 14th Avenue Suite 103 Vancouver, BC V5Z 1R4
CONTACT DETAILS
(604) 968-5123 |

Email: [email protected]

OPERATING HOURS
7:00 am to 8:00 pm (Monday to Sunday)
| | |
| --- | --- |
| PROPER LICENSING | ★★★★★ (5/5) |
| EXPERIENCE | ★★★★★ (5/5) |
| CUSTOMER SATISFACTION | ★★★★★ (5/5) |
| AFFORDABILITY | ★★★★★ (5/5) |
| WARRANTY | ★★★★★ (5/5) |
Main Street Plumbing is an owner-operated business that specializes in small jobs e.g., fixture installations, drainage repairs, faucet repairs, and others.
We don't recommend them for large commercial projects, since they only have one man to take care of things. However, they're a great choice for small residential fixes.
Talking to the company was effortless. The owner gave us all the information we needed about the company's services e.g., prices, technicalities, and booking schedules.
He was also very knowledgeable about the different conditions that could cause drainage issues in every type of home.
The only real downside to working with an owner-operated business is that service availability can get constricted at times.
We found it difficult to find a date and time when he was free. It took him a couple of days before he could finally come down to our home to inspect and install our new toilet.
However, we're glad that it only took him a couple of hours to finish the work.
He charged us $400 for everything, which isn't all that bad, considering how installation prices can go as high as $700 with other providers.
The owner even encouraged us to call him in case anything goes wrong within the first week of installation, so he can come over and make adjustments for free.
Budget-friendly
Quick and efficient services
Free 1-week warranty
7. Miller Plumbing and Drainage Ltd.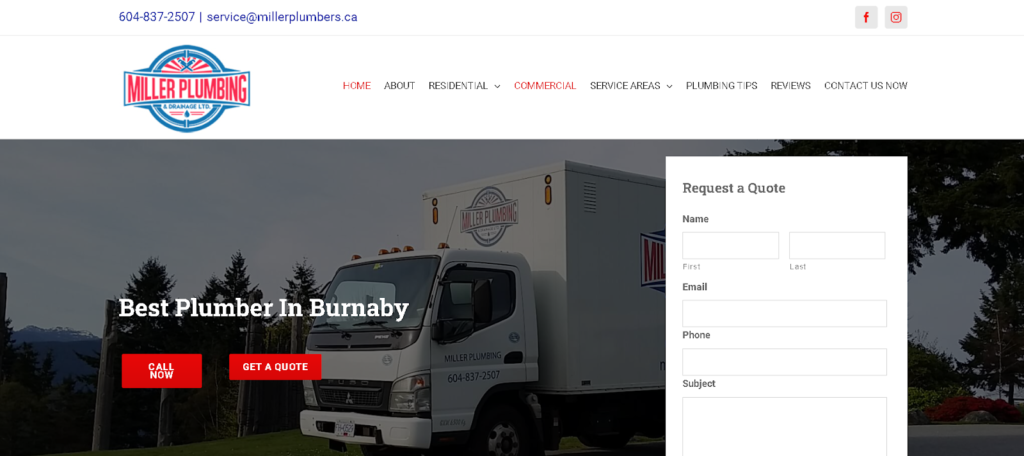 Test
Info
SERVICES

Residential Services:

Toilets, sinks, & tubs

Leaky pipes

Drain cleaning

Hot water tanks

Sewers

New installations

Trusted water line & replacement services

Commercial Services:

Leak investigations

Waterlines for fridges and coffee machines

Drain cleaning

Camera Inspections

Pressure reducing valves

Pipe repairs

Fixture installations

WEBSITE
millerplumbers.ca
ADDRESS
765 Victoria Dr #11, Vancouver, BC V5L 4E5, Canada
CONTACT DETAILS
(604) 837-2507
OPERATING HOURS
Monday – Saturday, 9:00 AM – 6 PM
| | |
| --- | --- |
| PROPER LICENSING | ★★★★★ (5/5) |
| EXPERIENCE | ★★★★★ (5/5) |
| CUSTOMER SATISFACTION | ★★★★★ (5/5) |
| AFFORDABILITY | ★★★★☆ (4/5) |
| WARRANTY | ★★★★☆ (4/5) |
Miller Plumbing and Drainage Ltd. is a top-notch plumbing company that offers high-quality drain cleaning services to residential and commercial clients in Vancouver, Burnaby, and New Westminster. As a locally owned and operated business, Miller Plumbing and Drainage prides itself on delivering modern plumbing services with old-fashioned values.
One of the company's biggest strengths is its competitive pricing, which is always clear and upfront. Before beginning any job, Miller Plumbing and Drainage provides customers with a clear understanding of the cost, and any unforeseen repairs are discussed and approved before continuing. This level of transparency and honesty is a rare quality in the industry and is highly appreciated by clients.
Miller Plumbing and Drainage's team of certified plumbers and gas fitters are licensed, insured, and bonded, with a Red Seal Plumbing Journeyman ticket, Red Seal Gas B ticket, Gastite Installer Certified, and Electrical Endorsement ticket. Their years of experience and training ensure that every aspect of the plumbing system is serviced to the highest standard.
The company's mission is to help customers maintain their homes by providing reliable and honest service to prevent costly repairs down the road. This proactive approach, combined with the use of reputable brands for their tools and equipment, makes Miller Plumbing and Drainage one of the top plumbers in the Burnaby and Greater Vancouver area.
Competitive pricing with clear upfront cost.
Certified and experienced team of plumbers and gas fitters.
Proactive approach to maintain homes and prevent costly repairs.
FAQs About Drain Cleaning Services in Vancouver
---
Making sure that your drains are cleaned regularly can protect you and your loved ones from unsafe circumstances. The providers we mentioned above should be able to help you improve and maintain your home drains' cleanliness and safety.
Having trouble with pest infestations at home or the office? Read our review on the best exterminators in Vancouver to a suitable provider for your needs.