5 Best STD Testing Clinics in Vancouver
Getting STD testing is essential for the prevention and early detection of illness. Unfortunately, there is a stigma around the topic of STDs that prevents people from getting the help they need.
You shouldn't be ashamed to ask for assistance when you need it.
In today's article, we take a look at the best STD testing clinics in Vancouver to help you get the services and screenings you need.
How much does an STD test cost in Vancouver?
STD testing is free across Canada. You can get tested at local public health units and community centers.
However, if you wish for more privacy, you can always get tested at your family doctor's office, sexual health clinics, or hospital walk-in clinics.
Self-testing is possible; however, these alternatives aren't often free.
For instance, buying a test kit for gonorrhea and chlamydia can cost around $85 to $100. Meanwhile, HPV test kits cost around $110.
Best STD Testing Clinics in Vancouver
Finding the best STD testing clinics in the city can be tricky, especially with so few of them around. Below are the criteria we used to compile our list of top providers in Vancouver:
1. BC Center for Disease Control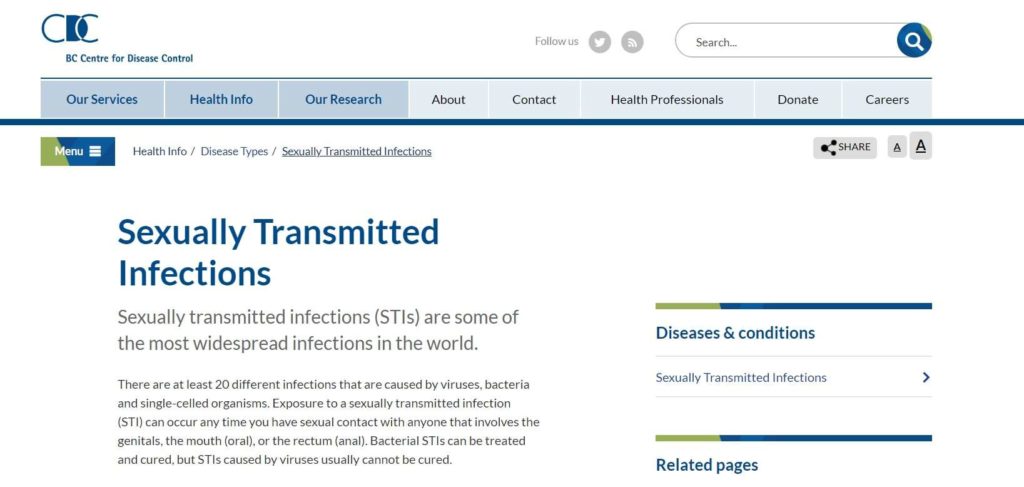 Test
Info
SERVICES
Clinical Prevention Services

Communicable Disease and Immunization Service

Environmental Health Services

Public Health Analytics

STI Testing

WEBSITE
http://www.bccdc.ca/
ADDRESS
655 West 12th Avenue, Vancouver, BC V5Z 4R4 Canada
CONTACT DETAILS
604-707-2400

Email: [email protected]

OPERATING HOURS
8:30 am to 4:00 pm (Monday to Friday)

By Appointment (Saturdays)

Closed (Sunday and Holidays)
| | |
| --- | --- |
| Patient Privacy | ★★★★☆ (4/5) |
| Clinic Accessibility | ★★★★☆ (4/5) |
| Customer Satisfaction | ★★★☆☆ (3/5) |
| Facility Cleanliness | ★★★★★ (5/5) |
| Expertise | ★★★★★ (5/5) |
The BC Center for Disease Control is a public health institution focused on preserving the health and safety of BC residents. They offer free healthcare services to eligible patients – not to mention affordable treatment.
With that in mind, it's normal for them to be jam-packed with people during certain hours of the day. That's exactly what greeted us when we dropped by their STI testing clinic.
The waiting room was already filled up to its maximum capacity. Some drop-in patients were even being asked to come back another day.
After talking to a few of the patients in the waiting room, we found that some of them had been waiting for hours and still no doctor had come to entertain them.
Luckily, we made a reservation a couple of days earlier, so we didn't have to wait as long as the others. However, if you want to get your STD test results quickly, this clinic might not be the best choice.
Once inside the testing room, you'll be asked to fill out a couple of forms and answer a questionnaire. The doctor will then evaluate your answers to determine which test would be most appropriate for you.
We appreciate the close attention to detail that the doctors showed during this process. After all, not all patients know what tests they need when they walk into an STD testing clinic.
The testing room was secure and the only people allowed inside were the doctor and the necessary staff. This can help reassure patients about their privacy as well as the preservation of their dignity.
Samples are self-collected, which worried us a little since we didn't know how to properly use the testing tools handed to us. However, a phlebotomist approached us later on and gave us instructions on the proper way to collect samples.
We noticed that their facilities were being regularly cleaned by their janitorial staff. Everyone was also wearing the appropriate PPE to maintain safety and cleanliness in the clinic.
Thorough questionnaire for initial screening
Helpful doctors and staff
Secure and private testing area
Hard to book appointments
Waiting time is too long
2. Options for Sexual Health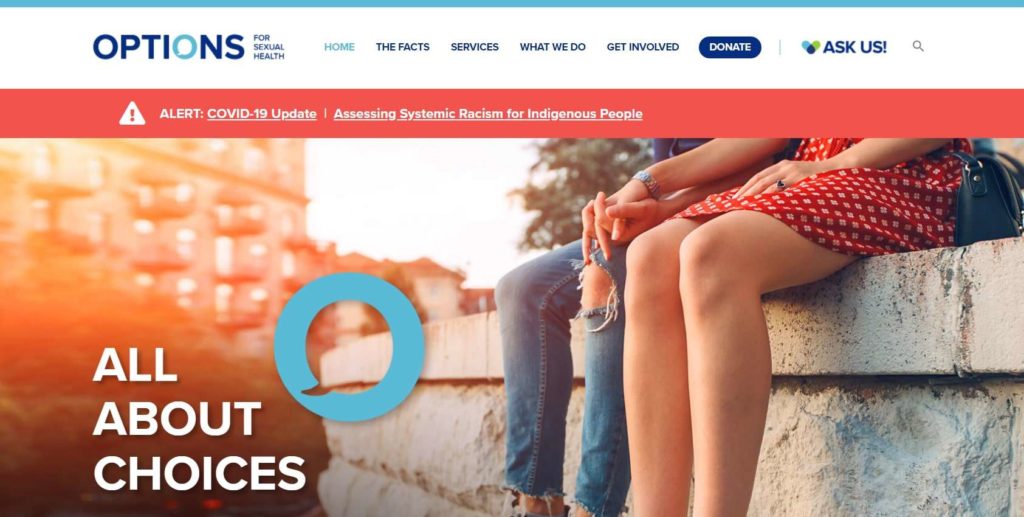 Test
Info
SERVICES
Birth Control (counseling, information, choice, etc.)

Pregnancy Support

Screening, Testing, and Care

Reproductive Health Screening

General Sexual Health Care

WEBSITE
https://www.optionsforsexualhealth.org/
ADDRESS
3550 East Hastings St., Vancouver, BC V5K 2A7
CONTACT DETAILS
604-731-4252 | 800-739-7367 |

Email: [email protected]

OPERATING HOURS
9:00 am to 4:00 pm (Monday to Friday)

Closed (Saturday, Sunday, and Holidays)
| | |
| --- | --- |
| Patient Privacy | ★★★★☆ (4/5) |
| Clinic Accessibility | ★★★★☆ (4/5) |
| Customer Satisfaction | ★★★★☆ (4/5) |
| Facility Cleanliness | ★★★★★ (5/5) |
| Expertise | ★★★★★ (5/5) |
Options for Sexual Health provides patients with exactly what they promise: OPTIONS.
You can get everything from free testing to education from this sexual health clinic. They also offer low-cost contraception such as IUDs, birth control shots, oral dams, and more.
After visiting their clinic, we're glad to report that their facilities are cleaned and sanitized regularly. Additionally, testing rooms are 100% private, so you don't need to worry about unauthorized personnel finding out about your transaction.
The doctor who entertained us was very kind and answered all of our questions without hesitation. We didn't feel at all judged by her as we talked about our sexual health concerns.
She also provided us with tips on how to improve and maintain sexual health.
The only real downside to working with Options is that their care packages and offers aren't available in all of their clinics.
For example, if you were to get STI testing from their Abbotsford clinic, you might not be entertained as they might not have the service available in that area.
It's best to call their customer support line before paying any of their clinics a visit. That way, they can run their pre-screening process and help you find a location where you can get appropriately treated.
Low-cost contraception
Helpful and kind staff
Has multiple locations across BC
Limited service availability
3. Elizabeth Bagshaw Clinic
Test
Info
SERVICES
Abortion Procedures

Contraceptive Care

Counseling Services

PAP Screening

STI Testing

Telehealth Services

WEBSITE
https://bagshawclinic.ca/
ADDRESS
Suite 200, 1177 West Broadway, Vancouver BC, V6H 1G3
CONTACT DETAILS
604-736-7878 | 877-736-7171
OPERATING HOURS
8:30 am to 4:30 pm (Monday to Friday)

Closed (Saturday, Sunday, and Holidays)
| | |
| --- | --- |
| Patient Privacy | ★★★★★ (5/5) |
| Clinic Accessibility | ★★★★☆ (4/5) |
| Customer Satisfaction | ★★★☆☆ (3/5) |
| Facility Cleanliness | ★★★★★ (5/5) |
| Expertise | ★★★★★ (5/5) |
In our experience, trying to book an appointment with the Elizabeth Bagshaw Clinic wasn't exactly easy. Not only did they take over 45 minutes to answer our call but the receptionist didn't seem all that enthusiastic to help us make the arrangements either.
However, after a few more minutes of that excruciating interaction, we finally set a schedule. So, all there was left to do was wait for the date to come around – and on the date itself, our impressions of the clinic changed.
Arriving at the clinic, we were pleased to be greeted by friendly and helpful staff. It was a complete contrast from the woman we spoke to on the phone.
We met with a counselor before the procedure and they helped us find the test that was appropriate for us. On top of that, they also answered all of our sexual health-related questions without making us feel uncomfortable or judged.
After the pre-screening process, we were then instructed on how samples were going to be taken. The staff was very detailed with their explanation and helped us understand the purpose and process of the test.
On the whole, even if booking with them may not always be smooth-sailing, the actual experience of dealing with them once you get to the clinic is excellent. We saw immediately whey they were so highly recommended to us.
By the way, the Elizabeth Bagshaw Clinic specializes in abortion and contraception. So, don't be too surprised if you find a ton of resources for those two topics at their clinic.
Another thing that we appreciate about Elizabeth Bagshaw Clinic is that they give you plenty of options to receive your test results. You can choose to have it emailed or sent through the post.
You can also ask them to call or text you with the results.
Keen attention to patient privacy
Quick and organized screening process
Professional and friendly staff
Booking appointments via phone can take too long
Rude receptionist
4. Fraser Health
Test
Info
SERVICES
Cardiac services

Child and Youth Services

Chronic Disease Management

Diagnostic and Medical Imaging Services

End-of-Life

Family support

Health Protection Services

Higher Care Tertiary Services

Home and Community Care

Hospital Services

Long-term Care and Seniors' Assisted Living Services

Maternal, Fetal and Infant Services

Mental Health

Outpatient Services

Population-Based Services

Primary Care Services

Public Health Services

Substance Use

Surgical Services

WEBSITE
https://www.fraserhealth.ca/
ADDRESS
220-10362 King George Boulevard, Surrey, B.C., V3T 2W5
CONTACT DETAILS
604-476-7087 |

604-582-4811 (FAX)

OPERATING HOURS
For appointments:

11:00 am to 3:30 pm (Monday)

9:30 am to 4:00 pm (Wednesday)

12:30 pm to 4:00 pm (Thursday)

For drop-ins:

4:00 pm to 7:30 pm (Thursday)
| | |
| --- | --- |
| Patient Privacy | ★★★★☆ (4/5) |
| Clinic Accessibility | ★★★★☆ (4/5) |
| Customer Satisfaction | ★★★☆☆ (3/5) |
| Facility Cleanliness | ★★★★★ (5/5) |
| Expertise | ★★★★★ (5/5) |
Fraser Health has several clinics all over BC, including Abbotsford, Chilliwack, New Westminster, and Surrey. They provide patients with free STD testing, as well as sexual health counseling and education.
Out of all the providers on this list, they have one of the most varied collections of healthcare services. Unfortunately, said services are only available during certain hours on certain days.
We found it hard to make a reservation due to their limited availability. They also took a while to respond to our inquiry email.
On the bright side, the staff at their Surrey location were incredibly helpful and punctual during our visit. We didn't feel rushed during the pre-screening process; plus, they helped answer a few of our questions about the testing process.
We were surprised to see that their waiting room filled up pretty quickly at 10 am. But considering their operating hours, people were bound to come by early to secure a spot.
Based on our survey of previous Fraser Health patients, most participants were pleased with the quality of services they received.
The only complaints we could find were about how limited the time slots were for their clinic. There are also some complaints about rude customer support agents.
Multiple clinic locations
Helpful and informative staff
Comprehensive pre-screening procedure
Limited availability
Takes too long to answer emails
5. Raven Song Community Health Centre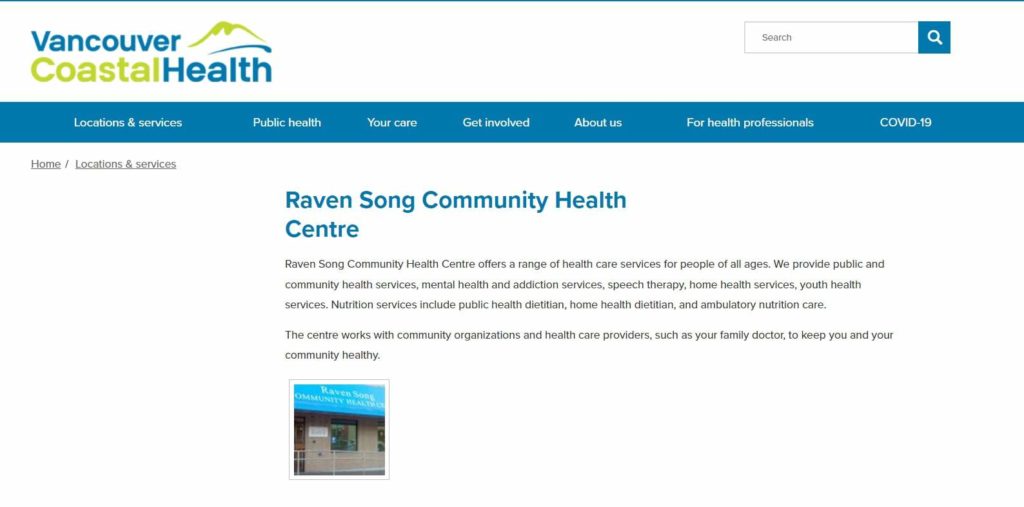 Test
Info
SERVICES
STI testing and treatment

HIV testing vBirth control

Emergency contraception

Pregnancy counseling

Pregnancy test

Free condoms

Needle supply

WEBSITE
NONE
ADDRESS
2450 Ontario Street, Vancouver, BC, V5T 4T7
CONTACT DETAILS
604-709-6400 |

778-871-7132 (Youth Clinic)

OPERATING HOURS
9:00 am to 5:00 pm (Monday to Friday)

Closed (Saturday, Sunday, and Statutory Holidays)
| | |
| --- | --- |
| Patient Privacy | ★★★★★ (5/5) |
| Clinic Accessibility | ★★★★☆ (4/5) |
| Customer Satisfaction | ★★★☆☆ (3/5) |
| Facility Cleanliness | ★★★★★ (5/5) |
| Expertise | ★★★★☆ (4/5) |
The only way to make an appointment with the Raven Song Community Health Centre is to call them or pay them a personal visit.
They don't have a designated website that you can use to learn more about their services. Neither do they have a social media presence for clients can refer to for details.
They do, however, have a company page on the Vancouver Coastal Health website. It's where we found their address and contact information, which we used to make our appointment with the clinic.
The process was easy enough. A receptionist took down our details and gave us a time and date for us to come by.
Upon arrival, the staff that greeted us made us sit in the waiting lounge. It took a couple of minutes before anybody came back to entertain us.
They followed the same procedures as most of the clinics we've mentioned so far:
We signed some papers and filled out a questionnaire.
A counselor met us and asked us a few questions to help us find the appropriate test.
One of their personnel instructed us on how the procedure would be performed.
We found it disappointing that the doctor that handled our case wasn't as detailed when it came to answering our questions. In fact, he seemed a little dismissive about our concerns and wouldn't even look at us while he answered.
After surveying some of their previous clients, we found out that some of their doctors are a little rude and condescending. However, there are also a couple who are friendly and informative.
In other words, be wary of the doctors that handle your case. If you feel uncomfortable or disrespected in any way, request to be assigned to another doctor.
Private screening rooms
Quick and easy booking process
Organized pre-screening procedure
Some doctors can be condescending
No website or social media presence
FAQs About STD Testing Clinics in Vancouver
---
That's all we have for the best STD testing clinics in the city.
If you have problems or questions related to fertility and pregnancy, we have a great article about the best fertility clinics in Vancouver that could help.