The 5 Best Tennis Clubs in Vancouver
Whether you're looking to train for a competition or you want to get started at tennis, you need a place to actually play… and not everyone has their own private tennis court.
Today's article has the solution to that, though. We've compiled a list of the best tennis clubs in Vancouver right here, complete with our ratings for each one.
The Cost of Tennis in Vancouver
There are a lot of things to consider when budgeting to play tennis; equipment, lessons, transportation, and then there are the facilities themselves. Some clubs and courts are going to charge fees for their use, while others aren't.
To help you get an idea of what to expect when getting started, we've compiled this table below:
| Type | Fees |
| --- | --- |
| Public Court | Free |
| Private Tennis Court | $28.54+ for 90 minutes |
| Private Tennis Club | Initiation/Entrance fees: $250+ |
| | Annual fees: 235+ |
Keep in mind that this is just a generalised range and prices can change from one location to another.
The Best Tennis Clubs in Vancouver
We assessed the best place to play tennis in Vancouver based on the following criteria:
1. Stanley Park Tennis Court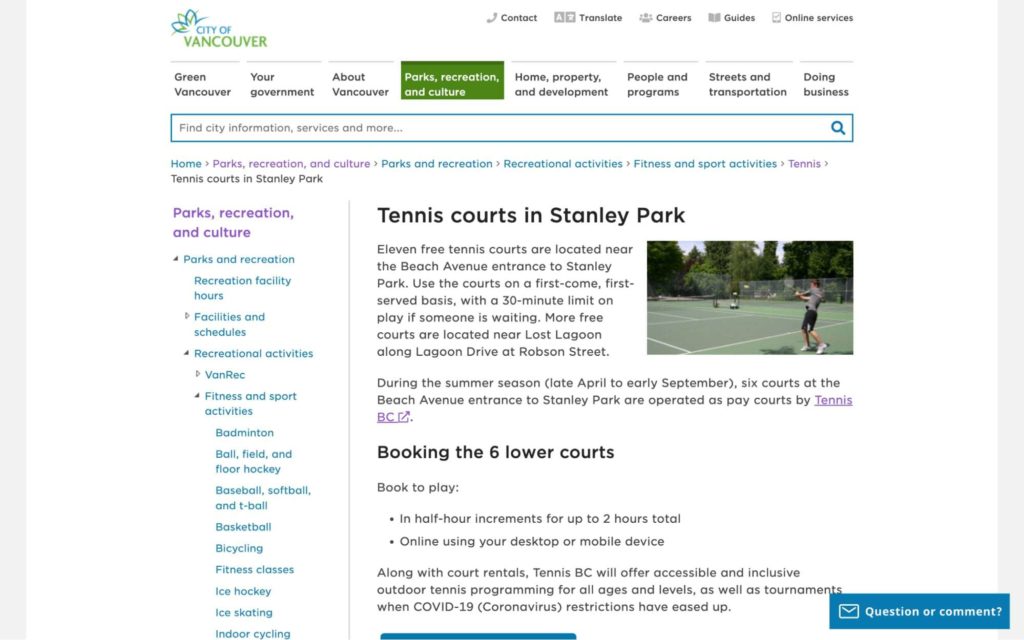 | | |
| --- | --- |
| Fees | ★★★★★ (5/5) |
| Facilities | ★★★★☆ (4/5) |
| Availability | ★★★☆☆ (3/5) |
| Customer Satisfaction | ★★★★★ (5/5) |
The main thing we really like about the Stanley Park Tennis Courts is their entrance fee – it doesn't exist! The courts are free for everyone, though they operate on a first-come, first-served basis.
The courts themselves are decent places to play tennis. They're in great shape and they're maintained well enough, though the lack of any digital scoring equipment can hinder more competitive games.
Availability can be hard to come by, however. The courts are public, which means that anyone can play on them, though there are six courts you can reserve for a fee.
If there are players who are waiting, then play time is limited to thirty minutes so people don't hog the court. However, players can rebook courts for thirty-minute increments up to two hours, so a little patience may be in order on some days.
Some of the courts are also adjoining, so it's on players to avoid interfering with another court's game. Bear in mind too that rubber-soled shoes must be worn while on the court.
The tennis courts are also not lit for play in the evenings, so anyone who wants to play should remember to wrap their games up before the sun goes down.
Well-maintained courts
Eleven of the courts are free
Can be hard to get a court
Customer reviews:
Play for free
"Nice place to go play tennis for free. It would be nice to have some digital displays where players can punch the time when they start playing and others can see if they have played the half hour that they should to let others play. Some are very rude and always lie to new comers and say that they just got there, when they have really been playing for hours." – Rafael Sanson
Enjoy playing here
"Its a good place if you want to play or practice tennis for free. My daughter enjoys playing here, she got some mates here." – Simon Philippe
2. North Vancouver Tennis Centre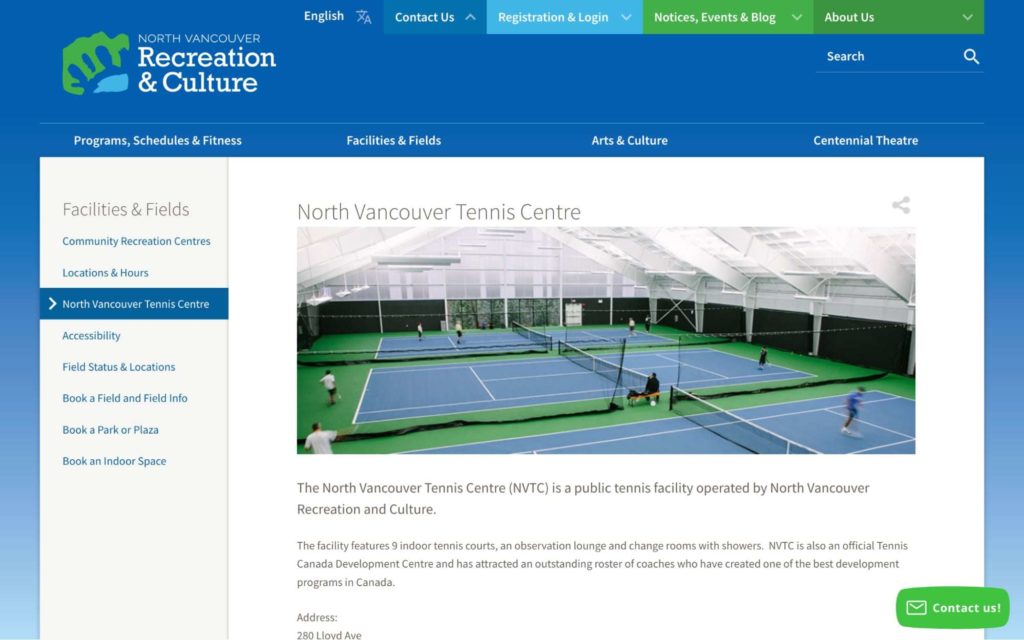 | | |
| --- | --- |
| Fees | ★★★★☆ (4/5) |
| Facilities | ★★★★☆ (4/5) |
| Availability | ★★★☆☆ (3/5) |
| Customer Satisfaction | ★★★★★ (5/5) |
The North Vancouver Tennis Centre has nine courts and they're all available to play if there aren't any lessons going on. They have programs for adults and kids alike.
Speaking of their lessons, we liked that they offer private coaching so beginners and anyone hoping to improve their game can get help tailored specifically for them.
They also rent out ball machines for anyone who wants to practise their swing, which we feel is a great service for anyone who wants to work on that one particular aspect of their game.
The facilities themselves are great for a game of indoor tennis and the staff maintaining and running those facilities is friendly and attentive.
There's a laid-back atmosphere as well, so playing for the sake of playing can be pretty easy and there's no pressure to be impressive.
However, we've noted that some players mention that it can be somewhat difficult to book a court, especially in the winter.
We've also noticed a few customers griping about their experience with customer service, though most seem satisfied with the treatment they've received.
Other than that, however, we haven't found a lot about the North Vancouver Tennis Centre to dislike.
The courts are well-maintained and they're great to play on, and being indoors means that inclement weather isn't going to have much of an effect on play or practice.
Indoor courts
Variety of lessons for all types of players
Courts can be hard to book
Customer reviews:
Valuable programs
"I like their regular programs which are valuable and funny not expensive" – Cindy Long
Great for players
"The North Van tennis center is a great place for beginners and the most advanced players. The courts are great quality and it is the only indoor court in all of North Van." – Joshua Kelly
3. Capilano Tennis Club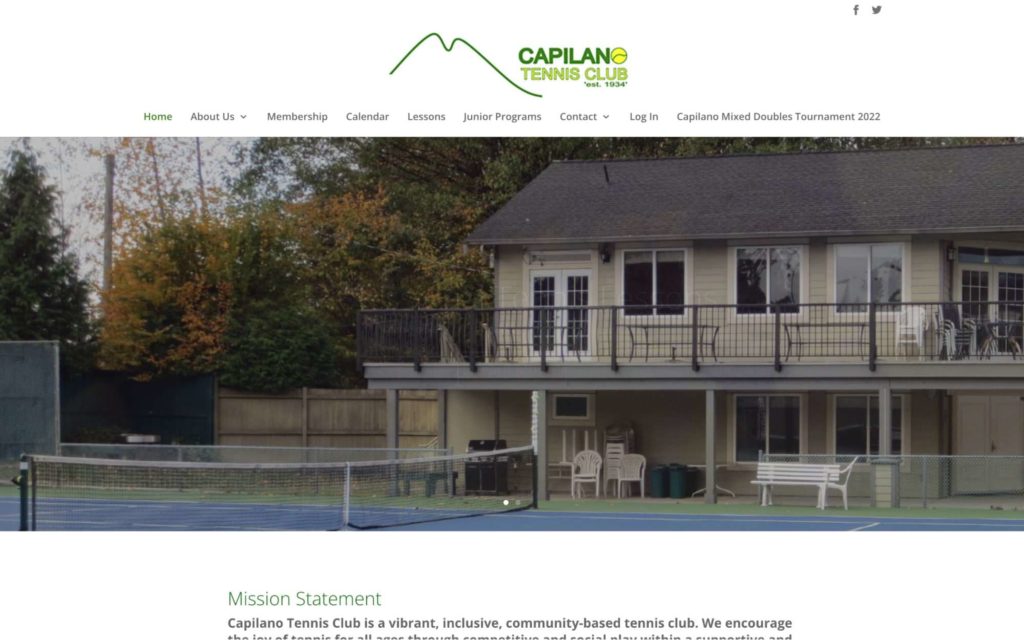 | | |
| --- | --- |
| Fees | ★★★★☆ (4/5) |
| Facilities | ★★★★☆ (4/5) |
| Availability | ★★★★☆ (4/5) |
| Customer Satisfaction | ★★★★★ (5/5) |
The first thing that stuck out to us about the Capilano Tennis Club was the atmosphere. It doesn't feel like it's in the middle of downtown, but the surroundings can make it seem more isolated.
The club itself isn't a very large club. They only have around four outdoor courts, but those four courts are very well-maintained and are not tough to play on at all.
We also liked the facilities. The clubhouse has three washrooms equipped with showers, so anyone who works up a sweat playing a game has plenty of opportunity to wash off that sweat should they so choose.
We also noted that they have a fully-equipped kitchen and a dining lounge, which we think will become handy in case the game works up an appetite.
But what we liked most about the club was that, as tennis-focused as it is, it's not the only recreation available. There's table tennis for anyone who isn't up to the larger game for whatever reason, and snooker for those who want to avoid tennis entirely.
Other than the facilities, there are also lessons. There's a junior program for younger players and they have drills for all types of players.
The only thing we found to complain about – and it's quite a small complaint – is availability. There are only four courts so you may have to wait a while before you can start a game.
Well-maintained courts
Fully-equipped clubhouse
Courts may not always be available for play
Customer reviews:
Friendly members
"I joined Capilano Tennis Club last year and LOVE it! Lots of great tennis and friendly members. I'm very pleased I joined this club!" – Brenda Brown
Great staff and surroundings
"Lovely surroundings, great staff, availability can be a bit tough!" –Tina Stephard
4. West Vancouver Tennis Club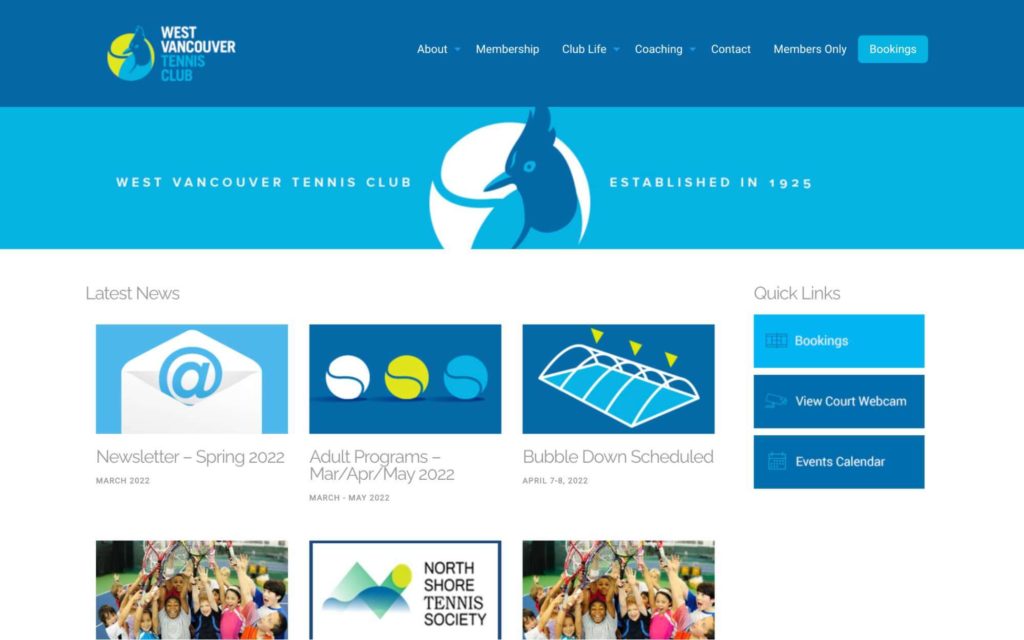 Test
Info
TYPE
Club
ADDRESS
821 21st St, West Vancouver, BC V7V 4T3
WEBSITE
https://wvtc.ca/
CONTACT DETAILS
Front desk: 604.922.9722

Office: 604.922.9733

Email: [email protected]

OPERATING HOURS
n/a
| | |
| --- | --- |
| Fees | ★★★★☆ (4/5) |
| Facilities | ★★★★☆ (4/5) |
| Availability | ★★★★☆ (4/5) |
| Customer Satisfaction | ★★★★☆ (4/5) |
The West Vancouver Tennis Club has a lot going for it, and chief among these is the warm and welcoming staff.
Trying to start a new sport or trying to get better at an old one, can be intimidating, but the coaching staff tries to make it a lot less intimidating for newcomers and we really liked that about them.
They have a number of events throughout the year, so if tennis becomes somewhat stale, there's usually an event around the corner to liven things up. We think that being able to give members a change of pace every now and then makes things more interesting.
They also compete in a number of leagues with other tennis clubs, so anyone who wants to test their mettle on the court is going to have the chance to do just that. We like that they do that for more competitive players.
They offer the opportunity for anyone who wants to get good enough to participate in league play to take advantage of their expert coaching staff to develop their skills.
We also liked that the club is able to balance out the recreational parts of tennis with the competitive aspects of it without making anyone feel like they're doing too much or too little when it comes to the game.
The only thing that we've seen that could be construed as a drawback is that some customers appear unsatisfied with the coaching they've received. But most customers seem fairly happy with the coaches and the staff.
Great coaching staff
Indoor courts for inclement weather
Tennis lessons may be unsatisfactory
Customer reviews:
Terrific value
"​​I've been a member for over 15 years and the club is a big part f my life. It's small and friendly with 5 courts with excellent night lighting and a bubble in the winter months. Lots of social and competitive tennis for every level.
Terrific value if you love the game" – Don Cameron
Fun events
"Love this Tennis Club!! My husband and I joined several years ago and it was the best decision we could have made. There are all kinds of fun events throughout the year, everyone is super nice and we have made a lot of new friends. You have the opportunity to play as much tennis as you can fit into your week. Our kids also took lessons here and the instructors were great!" – Lesley Harrison
5. Kitsilano Beach Park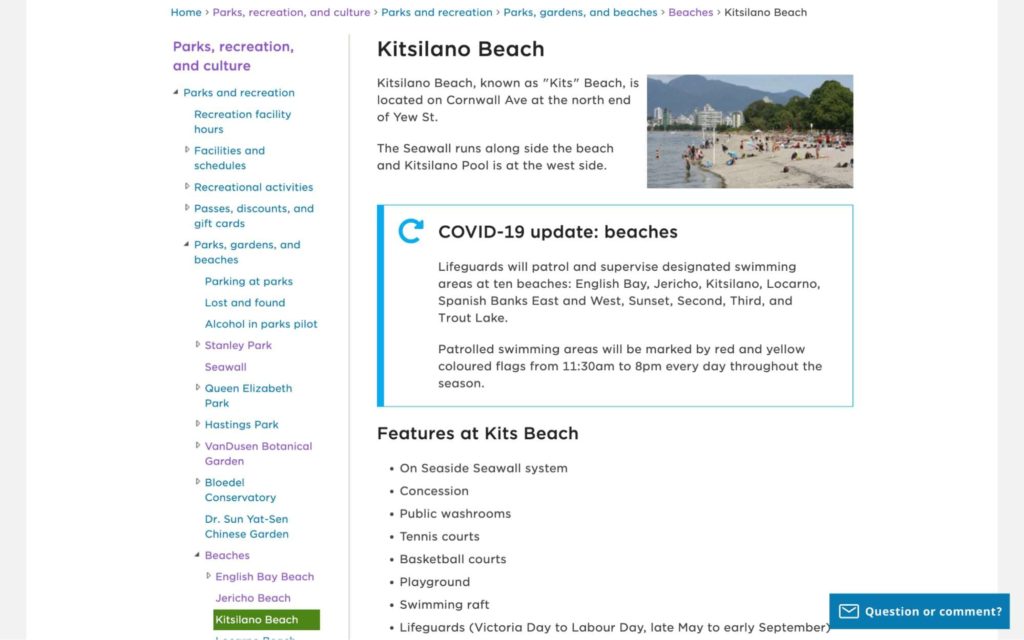 | | |
| --- | --- |
| Fees | ★★★★★ (5/5) |
| Facilities | ★★★★ ☆ (4/5) |
| Availability | ★★★☆ ☆ (3/5) |
| Customer Satisfaction | ★★★★☆ (4/5) |
Here's what we liked about the tennis courts at Kitsilano Beach Park: there's no fee to play because it's on a public beach maintained by the city. So as far as fees go, they're pretty much unbeatable.
The tennis courts themselves are pretty close to the beach and we appreciated that because it adds to the relaxed ambience of the place. There's no pressure to have a serious game or to play well, you just have to play and that's it.
Our main gripe is availability. It's a public beach and the courts are public as well, so you may not be able to get a court right away.
However, players are limited to 30 minutes a game if there are people waiting, so exercising a little patience can pay off.
The courts themselves may also not be lit for evening play, so make it a point to end the game when it gets dark.
We found the courts themselves to be perfectly serviceable places to play a game of tennis. They're not the best tennis courts in the world, but they're more than good enough, especially in Vancouver.
As a bonus, there's a lot to do at the beach itself, so when you're done with your game, you can find something else to occupy your time. We thought that made for a better overall experience.
Near a beach and other amenities
Great courts
Can get crowded at time, may have to wait a while for a court to free up
Parking can be difficult
Customer reviews:
Next to restaurants
"This beach park was nice with soft sand and plenty of drift logs on the beach for sitting at. I wasn't a fan of the debris and garbage that seemed to be everywhere but I find that hard to avoid on most beaches now a day. They have outside showers to clean up right along the walkway and tennis courts next to the Boat House Restaurant and cafe. When the tide is out there is a tonne of oyster and clam shell shards and a fair bit of rocks. I'd recommend bringing a good pair of flip flops to walk over them with in order to reach the water" – Kristy Suik
Beautiful with tennis courts
"Beaaautiful, with tennis courts, nice playground for the kids, restaurant, beautiful view and beach! Definitely recommend to any newcomer coming to BC!
Really enjoy my time with the family on this beach" – Isabella Wölfl
FAQs about Tennis Clubs in Vancouver
---
If tennis isn't your thing or you find yourself in the mood for something else, check out this list of other things to do in Vancouver.