A Hiking Guide to Lighthouse Park in West Vancouver
Imagine a place where ancient rainforests meet rugged coastlines, where the whispers of maritime history echo through the trees. That's Lighthouse Park in West Vancouver—a nature lover's paradise and a haven for explorers.
In this travel guide, we'll be your compass, leading you through park's hiking trails, sharing the park's storied past, and revealing the flavors that await you beyond the park's borders. Read on and prepare to embark on an adventure with us!
What is Lighthouse Park known for?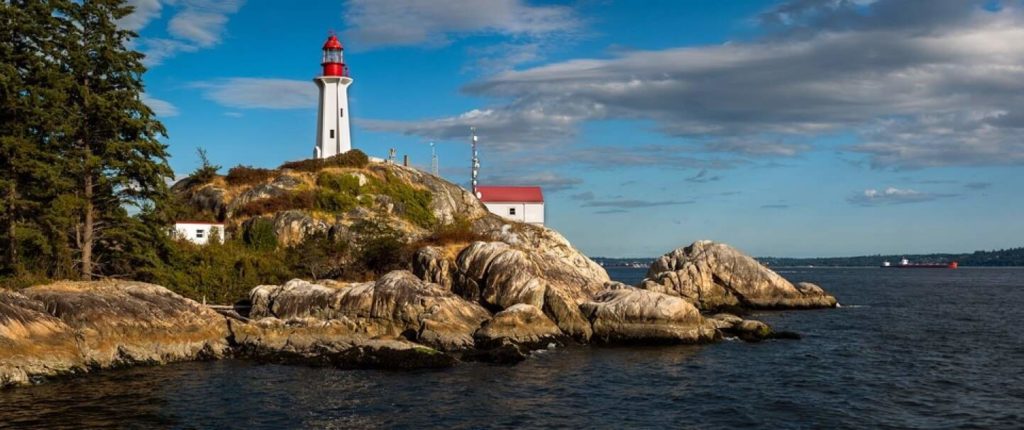 Lighthouse Park is a natural park that covers around 75 hectares (185 acres) of pristine rainforest in West Vancouver. It's known for Point Atkinson Lighthouse, recognized as one of Canada's National Historic Sites.
The park boasts its own natural wonder. It preserves a part of the remaining old growth Douglas fir tree forests in the Lower Mainland, which makes this ecological richness not only a great resource but also an ideal destination for hiking enthusiasts.
The iconic lighthouse stands proudly at the southernmost tip of the park's peninsula. This lighthouse and its accompanying light station grounds rank as some of the most frequently photographed landmarks in the entire Lower Mainland.
What is Lighthouse Park?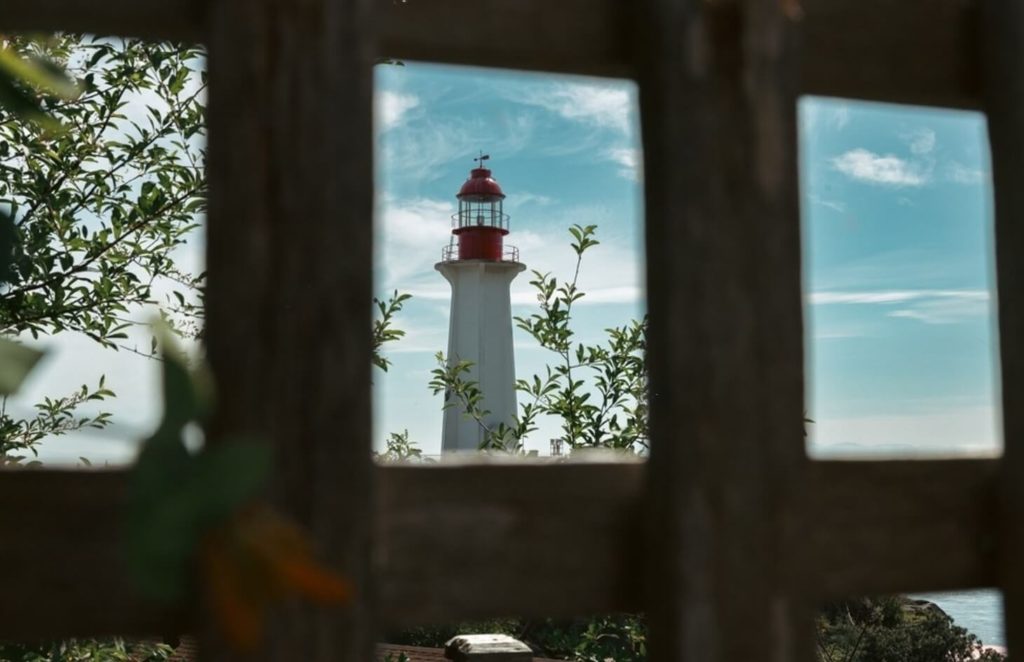 Lighthouse Park, originally named Point Atkinson, was established in 1792 by Captain George Vancouver, who likely named it after his friend Thomas Atkinson, RN.
In 1874, the Canadian Federal Government gifted British Columbia a lighthouse at Point Atkinson in exchange for the province joining Confederation in 1871.
In 1881, the Dominion of Canada set aside the span of forest behind the lighthouse, eventually forming what we now know as Lighthouse Park.
The initial lighthouse, crafted by Arthur Finney of Nanaimo, was wooden and included a keeper's dwelling. The current lighthouse, hexagonal, interesting, and open to visitors today, was constructed in 1912.
During World War 2, it served as a surveillance post for the Burrard Inlet, equipped with gun emplacements, searchlights, and facilities for The Department of National Defence, including a mess hall for officers, a dining hall, a bunkhouse, and a guard hut.
The park also hosts several historical sites, including the Keeper's House and the World War 2 gun emplacements. And in 1994, Point Atkinson was named a National Historic Site.
Two years later, the light station underwent full automation. While Lighthouse Park is under the management of the District of West Vancouver, in 1998, a collective of local residents came together to establish the Lighthouse Park Preservation Society.
Their mission is to safeguard the park's natural integrity and preserve its beauty. Today, a substantial portion of the park is open to the public and has gained popularity as a favored spot for hiking and other recreational activities.
Things to Know
Hours for visiting: The Lighthouse Park is open from 7 a.m. to 10 p.m. every day.
Entrance fee: Visitors do not need to pay an entrance fee to access Lighthouse Park.
Parking: Starting in the fall of 2023, parking at Lighthouse Park is no longer free. Visitors can expect hourly pay parking at a rate of CAD 3.75 throughout the year.
However, West Vancouver residents, who are recognized by the District as regular visitors to Lighthouse Park and two other local parks, have the opportunity to obtain an annual resident parking pass for CAD 20 per car.
Dogs: Lighthouse Park is a dog-friendly destination. In certain areas, dogs are permitted off-leash, provided they remain outside of the wooded areas.
Trails within Lighthouse Park usually have clear signage indicating whether dogs are allowed, so you'll have guidance before you begin the hike.
Washrooms: The original washrooms at Lighthouse Park have been closed. They have been replaced with toilets at three different locations.
Near the entrance to Juniper Loop Trail, you'll find two portable toilets. As you descend from Beacon Lane Trail towards the Lighthouse Station grounds, there are individual stall outhouses available for visitors.
At the very bottom of the same trail, near the Lighthouse Station grounds, you'll find four portable toilets.
Accessibility: While the path from the parking lot is quite manageable, the descent to the beach can be rocky and challenging for individuals with mobility issues.
Several sections of the park entail climbing over rocks and appreciating views from cliffs so much of the park may not be accessible to wheelchairs or strollers.
However, Lighthouse Park added the Birdsong Path to the Juniper Loop in 2022 to create a designated accessible route. It spans 335 meters, is paved and mostly flat, and meanders through the forest and wetland so visitors can savor the park's natural beauty.
Best Time to Go to Lighthouse Park
The best time to visit Lighthouse Park is when it aligns with your preferences for weather, crowds, and the activities you wish to enjoy.
Lighthouse Park remains open year-round, allowing you to experience its beauty in all seasons. However, be prepared for cooler, wetter conditions in the fall and winter, and warmer, drier weather in the spring and summer.
For activities like hiking, spring and summer offer more enjoyable conditions.
Lighthouse Park is also a popular destination, particularly on weekends, holidays, and warm days between May and September. If you prefer to have a quieter experience, consider visiting on weekdays or during the early morning or late afternoon hours.
How to Get to Lighthouse Park
Car: To reach Lighthouse Park, drive westward on Marine Drive into West Vancouver. Keep going past Caufiel Cove Marina, and then turn left onto Beacon Lane, where you'll notice the Lighthouse Park sign.
From Vancouver, the whole drive can take around 30 to 40 minutes. Once you've arrived, head toward the parking area, which serves as the starting point for the park's trails.
Bus: Take the West Vancouver Blue Bus #250 Horseshoe Bay. This bus route is accessible from downtown Vancouver (Westbound W Georgia St @ Burrard St or @ Granville St), Park Royal, or various stops along Marine Drive in West Vancouver.
Once on board, watch for Marine Drive @ Beacon Lane stop, and from there, walk south along Beacon Lane to reach the park entrance.
Is Lighthouse Park a hard hike?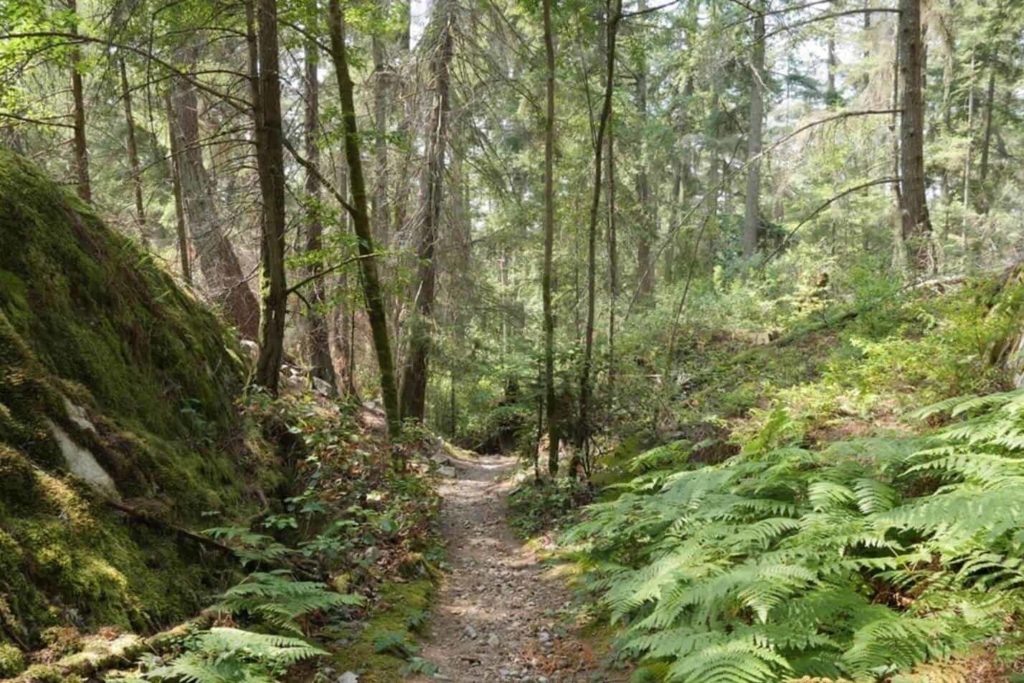 The trails at Lighthouse Park are generally easy to moderate, featuring a few short hills, with the highest point reaching 105 meters. The park has a large network of trails suitable and enjoyable for hikers of all skill levels.
Lighthouse Park Viewpoint Loop, Point Atkinson Lighthouse, Shore Pine Trail, and Seven Sisters Trail are some of the most recommended trails within the park. These trails cater to a range of preferences, so hikers can hike along forested paths or aim for coastal views.
To create a plan for a circular route that culminates at the lighthouse, visitors can pick up a park map at the trailhead. Outdoor Vancouver has also put together a detailed route for anyone interested.
For a quick stroll, there's a wide trail that leads to the iconic lighthouse in about 10 minutes. This trail is likely part of the Lighthouse Park Viewpoint Loop, which stretches for 3.4 miles offering scenic viewpoints and a duration of 1.5 to 2 hours to complete.
Then, there's Starboat Cove, another notable spot popular for picnicking and swimming. It offers great views of the city skyline, Stanley Park, and the Salish Sea, particularly during low tide when the beach is exposed.
The beach is located at the end of a steep trail, so be prepared for a bit of a workout.
Tips for Hiking at the Lighthouse Park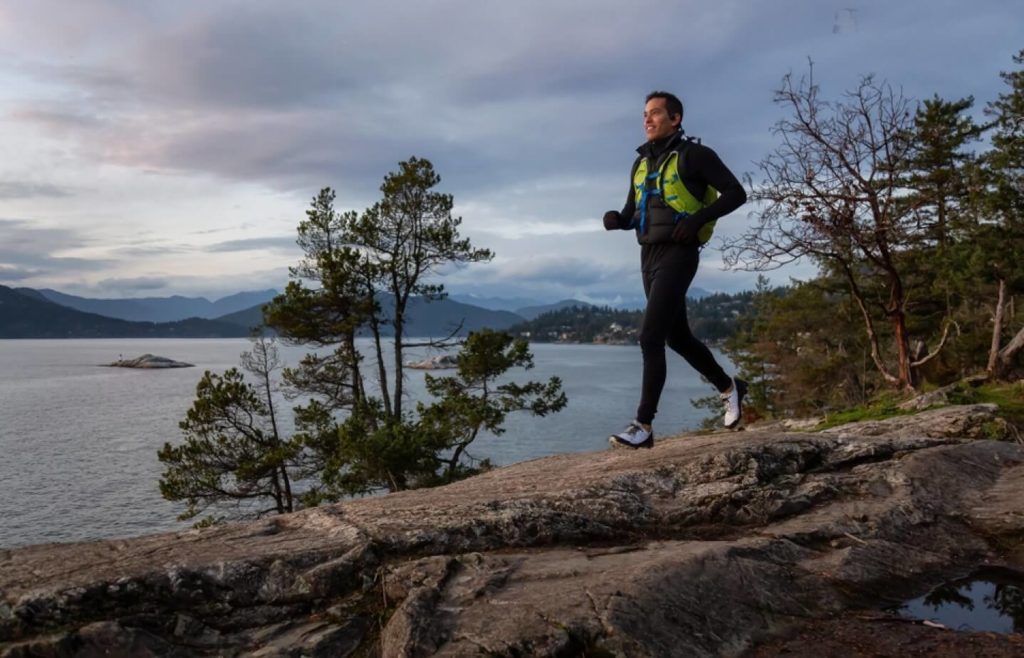 Choose appropriate footwear. Select sturdy, comfortable walking shoes to navigate the park's uneven trails and occasional steep sections. Ensure your footwear provides reliable traction for a safe hike.
Practice Leave No Trace. Help preserve the park's natural beauty by adhering to Leave No Trace principles. Carry out all trash, leaving the environment undisturbed.
Be prepared for weather changes. West Vancouver's weather can be unpredictable, so prepare for variable conditions. Dress in layers and bring a waterproof jacket in case of rain during your hike to stay comfortable and dry.
Supervise children closely. Exercise caution with young children, especially in areas with steep and potentially slippery rocks. Close supervision is essential to prevent accidents in such terrain.
Secure your belongings. Protect your vehicle by locking it and avoiding leaving valuables in plain sight. While incidents are infrequent, it's wise to take precautions against potential break-ins.
Plan the duration of your hike. There are many little trails to go through and so much to see during the hike. Just make sure that you're out of the woods before dark, or at least bring a flashlight if you're coming from admiring the sunset.
Other Things to Do within Lighthouse Park
Enjoy a View of the Sunset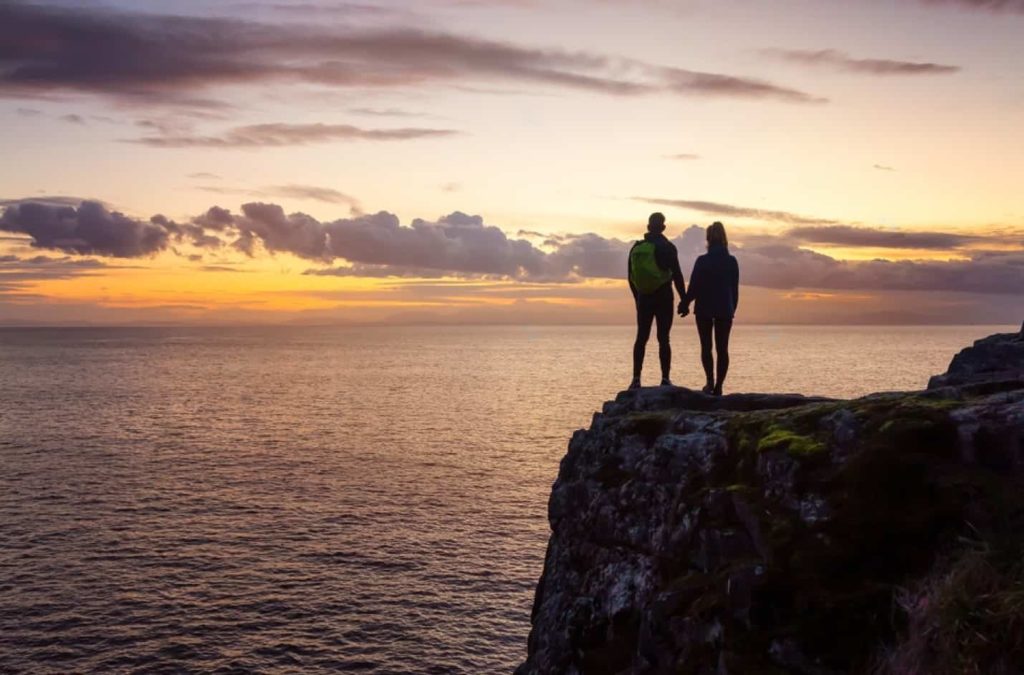 Lighthouse Park treats visitors to breathtaking views of the ocean, the city skyline, and the mountain ranges. The park features numerous viewpoints where visitors can soak in the panoramic scenery and catch magnificent sunsets.
In addition to the Lighthouse Park Viewpoint Loop, the West Beach, near the lighthouse, offers a splendid view of the Strait of Georgia. The Shore Pine Point and Eagle Point provide equally stunning views of the ocean and the forest.
Spot Birds during Your Hike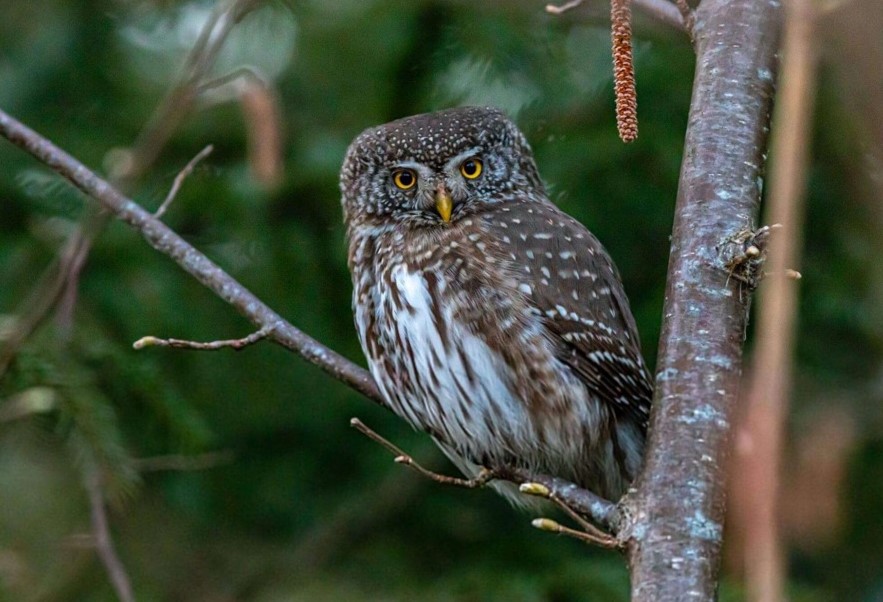 The forests of Lighthouse Park are home to around 175 species of birds (bird sanctuary vancouver). Birdwatchers have spotted Anna's Hummingbird, Black Oystercatcher, Glaucous-winged Gull, and Norther Flicker, among many others.
Just walking down the trails will get you close to these species, especially as they fill the air with their songs. In fact, the Birdsong Path is named such for the melody lent by these birds, shy or not.
Point Atkinson Lighthouse and Shore Pine Point trails, which you can finish in around an hour, are also very popular for birdwatching on top of other activities. Check out AllTrails' preview of the trail here.
Have a Picnic at the Park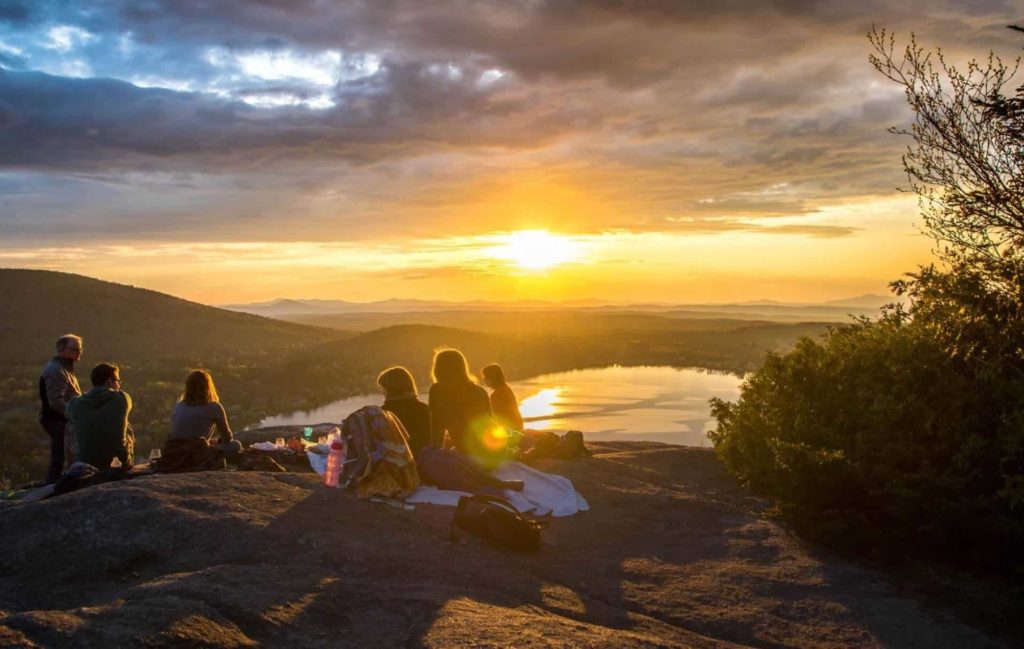 Picnicking at Lighthouse Park is a wonderful way to combine outdoor dining with the exploration of one of West Vancouver's most scenic natural areas.
Whether you're seeking a tranquil spot to relax or a memorable sunset picnic, Lighthouse Park provides the perfect backdrop for a memorable outdoor dining experience.
Lighthouse Park offers a variety of scenic picnic spots, one of which is near the Lighthouse Viewpoint, where picnic tables are conveniently placed. This location offers not only a comfortable setting but also stunning views of the park and the surrounding coastline.
The park's coastal location adds to the appeal of picnicking. You can choose to spread out your picnic blanket on the bluffs overlooking the waterfront.
Where to Stay near Lighthouse Park
Gage Suites at UBC
Address: 5959 Student Union Blvd, Vancouver, BC V6T 1K2, Canada
Phone: +1 604 822 1000
Pricing: $$
Gage Suites at UBC offers comfortable suites with modern amenities, including an indoor pool and aquatic center, that guests can enjoy during their stay. The hotel provides added security within the UBC campus.
Although not within a 10-minute drive, Gage Suites at UBC is still relatively close to Lighthouse Park, which makes it a convenient option for visitors who want to explore the park and the surrounding area.
The hotel is also well-connected to transportation, with a major bus exchange nearby. Guests can simply walk to Bay 11 and catch Bus 014 Hastings.
At the NB Granville St @ W Georgia St. stop, they can walk to West Georgia Street & Seymour Street, just a few steps away, and board Bus 250 Horseshoe Bay. This is the bus that will take them to Lighthouse Park.
Sylvia Hotel
Address: 1154 Gilford St, Vancouver, BC V6G 2P6, Canada
Phone: +1 877-681-9321
Pricing: $$
Situated in Vancouver's West End, the Sylvia Hotel is located for guests planning to explore Lighthouse Park. A mere 17-minute drive from Lighthouse Park, the hotel offers easy access to this destination.
The Sylvia Hotel is also close to downtown Vancouver, English Bay Beach, and various city attractions. While somewhat dated, it has a romantic ambiance that makes it a memorable place to stay in.
For pet lovers, the Sylvia Hotel is an ideal establishment, allowing guests to bring their furry companions along. On other days when they're not visiting Lighthouse Park, they can enjoy a stroll with pets in Stanley Park, just a four-minute walk away.
Times Square Suites Hotel Vancouver
Address: 1821 Robson St, Vancouver, BC V6G 3E4, Canada
Phone: +1 604-684-2223
Pricing: $$
What makes Times Square Suites is its prime location. Situated in the heart of downtown, guests can conveniently explore many popular attractions without the need for a car – cultural sites and dining and shopping options are right at your doorstep.
However, if you plan to venture to Lighthouse Park, you'll find that the drive takes around 20 minutes. Not that bad, since you're most likely exploring the park in a day.
If you're planning to take public transportation, nearby bus stops are available. Keep in mind that the travel time to Lighthouse Park may take over an hour, offering a scenic but longer alternative.
The Westin Bayshore, Vancouver
Address: 1821 Robson St, Vancouver, BC V6G 3E4, Canada
Phone: +1 604-684-2223
Pricing: $$$
The Westin Bayshore Hotel is an excellent choice for visitors planning to explore Lighthouse Park. This hotel not only prioritizes guest well-being but is also strategically situated near Stanley Park and various other attractions in Vancouver.
For those heading to Lighthouse Park, a convenient drive of approximately 25 minutes from The Westin Bayshore will take you to your destination. This allows easy access to the natural beauty of Lighthouse Park while enjoying a comfortable stay at the hotel.
Horseshoe Bay Motel
Address: 6588 Royal Ave, West Vancouver, BC V7W 2B6, Canada
Phone: +1 604-913-6588
Pricing: $
Horseshoe Bay is a good place for short visits and longer stays. Among the lodging options in the area, the Horseshoe Bay Motel stands out as an affordable and conveniently located choice.
Guests at the Horseshoe Bay Motel can enjoy proximity to various attractions, including the beautiful Lighthouse Park, which is just a short 17-minute drive away.
This convenient location ensures that you can easily explore the natural wonders of Lighthouse Park while staying at this budget-friendly motel.
Where to Eat near Lighthouse Park
Angry Otter Tap & Forno
Address: 1015 Marine Dr, North Vancouver, BC V7P 1S6, Canada
Phone: +1 604-984-1842
Pricing: $$$
The star attraction at Angry Otter is their double forno oven, which elevates their pizza, burgers, and other dishes with seasonal ingredients, all cooked in a rustic style. This culinary experience pairs perfectly with a glass of craft beer.
While the drive from Lighthouse Park to Angry Otter takes a little over 20 minutes, it's undoubtedly worth the journey. Angry Otter is quite the happening place.
C-Lovers Fish & Chips
Address: 1660 Pemberton Ave, North Vancouver, BC V7P 3M1, Canada
Phone: +1 604-980-9993
Pricing: $
C-Lovers is an environmentally conscious restaurant. They are Ocean Wise partners of Vancouver Aquarium, so you'll know that the fish that they serve is not only fresh but also caught sustainably.
In practice, what's interesting about this place is their consistent quality. If you're the type to feel that a cold dish is a real downer, you're not going to be disappointed with this place.
Mangia E Bevi
Address: 2222 Marine Dr, West Vancouver, BC V7V 1K4, Canada
Phone: +1 604-922-8333
Pricing: $$
If you're in the mood for Italian cuisine while en route to Lighthouse Park, a stop at Mangia E Bevi will give you your fix of the classic-inspired dishes. Their tagliolini frutti di mare and piccata di polo are hard to beat, and so are some of the dishes on their menu.
Their focaccia is truly a standout. Its simplicity and authentic taste represent their menu well and remind us that this restaurant is a contender among the best ristoranti in the area.
The Beach House Restaurant
Address: 150 25th St, West Vancouver, BC V7V 4H8, Canada
Phone: +1 604-922-1414
Pricing: $$
A mere seventeen-minute car ride from Lighthouse Park will bring you to The Beach House Restaurant. Here, you can indulge in the flavors of the West Coast with generous servings of delectable seafood. 
A little on the pricey side, but our experience didn't include any reason to think that it's not reasonable.
This restaurant has been a local fixture for over a decade, but what's even more enduring is the historic building it occupies, which has been home to various restaurants since 1912.
This shared history with Point Atkinson Lighthouse is a fascinating connection. Both of them also offer breathtaking views of the waters, which make them both even more special destinations.