The 5 Best Woodworkers in Vancouver
From cabinets and coffee tables to wardrobes and walnut shelves, nothing beats the smooth fit and finish of custom wooden furniture. But if you're not familiar with the woodworking industry, it can be tough to find a skilled woodworker.
Luckily for you, we've taken the time to analyze the skills, experience, and backgrounds of Vancouver's finest craftsmen. With all this data, we've compiled a list of the best woodworkers in Vancouver.
How Much Does a Woodworker Cost in Vancouver?
Woodworkers often charge in one of two ways. If a client wants a complex piece requiring extensive work, the craftsman may charge a hefty flat fee.
Alternatively, if a piece is relatively simple, the woodworker may just charge an hourly rate.
On average, this rate is usually between $30 to $40/hour… flat fees on the other hand can range from $300 to a whopping $10,000 per piece.
The price range for custom furniture often depends on different factors like complexity, size, materials, and labor costs. Because of this, the overall price can vary widely with each request.
The Best Woodworkers in Vancouver
Now that you have a general idea of woodworking costs, it's time to see what Vancouver has to offer.
1. Salvage Vancouver Woodworking & Reclaimed Wood Market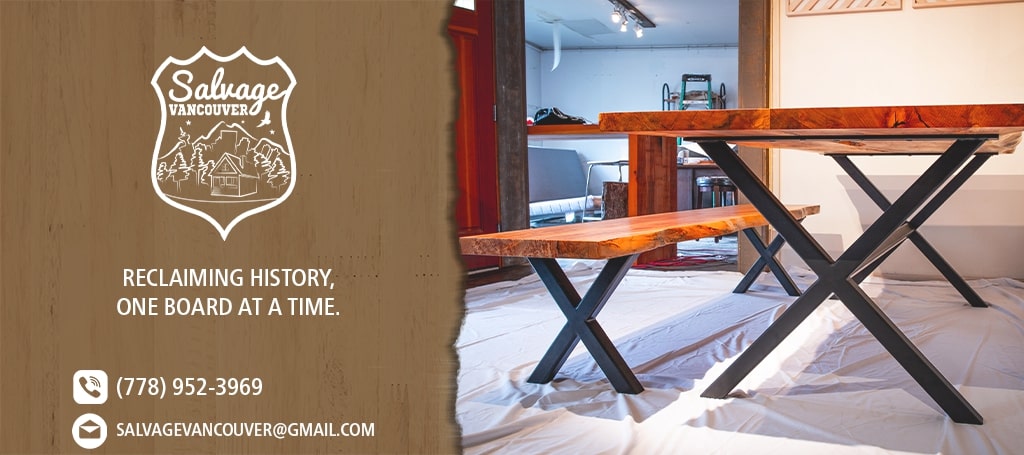 SERVICES
Custom furniture
Wood Renovations
Feature walls
Floating shelves
Nooks
Reclaimed wood
WEBSITE
http://salvagevancouver.com/
ADDRESS
1268 E Hastings St, Vancouver, BC V6A 1S6, Canada
CONTACT DETAILS
Phone number: (778) 952-3969
Email:

[email protected]

OPERATING HOURS
Monday: 9 am – 5 pm
Tuesday: 9 am – 5 pm
Wednesday: 9 am – 5 pm
Thursday: 9 am – 5 pm
Friday: 9 am – 5 pm
Saturday: closed
Sunday: closed
As the name suggests, Salvage Vancouver is a woodworking business that builds pieces with reclaimed wood. A big portion of their stockpile is made up of fir, cedar, and hardwood claimed from old homes, barns, fallen trees, and buildings all over the lower mainland.
This practice of reclaiming unused wood helps reduce the number of trees that need to be felled to produce woodworking supplies. With their reclaimed wood, Salvage Vancouver has crafted a wide variety of pieces including stools, tables, display cases, beer taps, and even wall panels.
Of course, clients that require a different piece can always place a custom request with the folks at Salvage Vancouver. Their abundant work experience gives them the ability to create just about anything a client can think of.
Aside from crafting with wood, this business also sells it in large quantities. This makes them an excellent option for craftsmen looking for quality wood.
Commissioned by businesses all over Vancouver
Most pieces are made from reclaimed wood
Sells reclaimed wood in large quantities
Limited supply of wood materials for clients to choose from
Customer Reviews
The pieces made by Salvage Vancouver have earned tons of praise from clients all over:
"Just want to say thank you for your excellent work in transforming 3 pieces of teak (from Mysteak in Cloverdale) into a beautiful functioning bathroom countertop. Perfectly cutting the sink and tap holes and securing them. On time and on budget. Uplifting." – Paul D.
"Just all around good people. So nice to interact with honest, hard working folks. Really appreciated that they let me drive the idea but had the expertise to steer me in the right direction. Highly recommend." Jack H.
2. MacLeod + Sons Custom Woodworking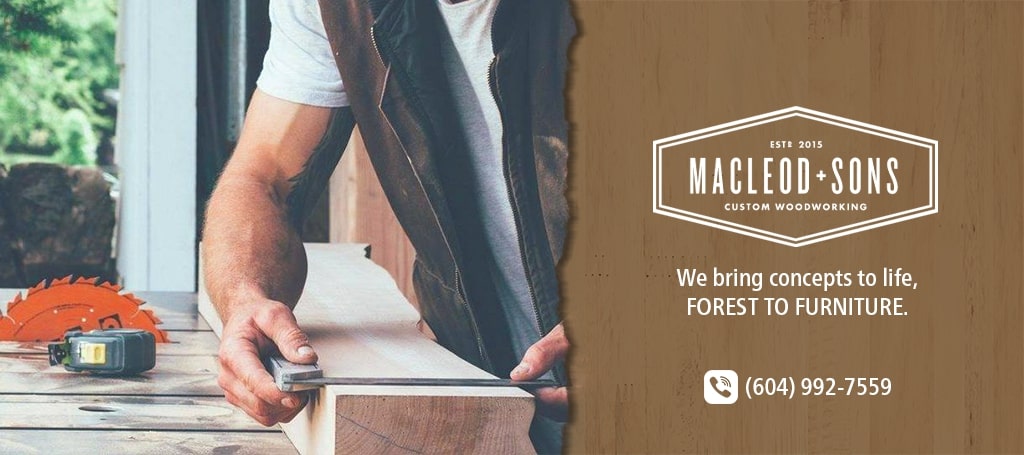 SERVICES
Custom furniture
Woodworking
Metalworking
Custom decking
Custom millwork
Home renovations
Raw materials
WEBSITE
https://macleodandsons.com/
ADDRESS
1278 E Hastings St, Vancouver, BC V6A 1S6, Canada
CONTACT DETAILS
Phone number: (604) 992-7559
OPERATING HOURS
Monday: 8 am – 4 pm
Tuesday: 8 am – 4 pm
Wednesday: 8 am – 4 pm
Thursday: 8 am – 4 pm
Friday: 8 am – 4:30 pm
Saturday: closed
Sunday: closed
MacLeod and Sons is a small family-owned woodworking business established in 2015. But don't let the year fool you, because the Macleod family has been hand-crafting wood for well over 80 years.
Each generation of the Macleod family has given rise to a master craftsman; today, the company is headed by Noah Macleod. With his closely-knit team of experienced craftsmen, Noah has built everything from wooden decorations to fully-furnished log cabins.
These folks have an unmatched passion for woodworking and crafting in general. As a result, no job is too big or too difficult for Noah and his team.
Along with master-crafted wood pieces, clients can also purchase woodworking materials from Macleod and Sons' workshop. Their wares include raw maple, fir, walnut, and cherry wood, as well as table legs, leather goods, and epoxies.
Family-owned woodworking business
Sells a wide variety of woodworking paraphernalia
Experienced with complex and large builds
All wood pieces are crafted from felled trees
High skill level results in higher labor cost
Customer Reviews
With over 80 years in the woodworking industry, it's easy to see why these folks are held in such high regard:
"Noah & team were great! We had an idea in mind and Noah guided us along with ideas and suggestions. We now have a beautiful walnut live edge bar table with raw steel legs. Noah listened to exactly what we wanted and delivered 100% in good time as well. We're very happy with our table which is very functional, mobile and a piece of art! Thank you!" – Grace H.
"I needed a small custom desk that could fold up when my office needs to be used as a 2nd bedroom for guests. Noah and the team selected a beautiful piece of wood and put together a great piece of furniture a very reasonable price. So stoked, thanks lads!" – James G.
3. Mountain Fire Woodworks
SERVICES
Custom furniture
Carvings
Log cabins
WEBSITE
https://www.mountainfirewoodworks.com/
ADDRESS
1000 Parker St Unit 101, Vancouver, BC V6A 2H2, Canada
CONTACT DETAILS
Phone number: (780) 299-6859
Email:

[email protected]

OPERATING HOURS
Monday: 2 pm – 6:30 pm
Tuesday: 2 pm – 6:30 pm
Wednesday: 2 pm – 6:30 pm
Thursday: 2 pm – 6:30 pm
Friday: 2 pm – 6:30 pm
Saturday: closed
Sunday: closed
Mountain Fire Woodworks is still quite new to the woodworking industry. But this lack of experience hasn't stopped the company from making waves with its one-of-a-kind chainsaw carvings and stunning log cabin homes.
Starting as a passion project, this company blossomed thanks to the skilled hands of the owner, Cameron Vilcsak. Today Cameron has turned his passion into a full-time business that regularly works on commissioned pieces like carvings, furniture, and decorations.
To prove the caliber of his work, Cameron built a 1500 sq-ft cabin in the mountains of British Columbia with the help of his grandfather, a veteran woodworker. The project was completed over the course of 56 days and it is easily one of the company's greatest works.
With a workshop a few blocks from Strathcona Park, clients can easily visit Cameron to request anything from artful carvings to elegant furniture, or even custom log cabins.
Owned and managed by a single individual
Gifted at building log cabin structures
Capable of crafting unique chainsaw carvings
Relatively new to the woodworking industry
Small daily operating window
Customer Reviews
In case you're still in doubt about Cameron's skills, these reviews may help change your mind:
"When my wife first told me that she booked a meet and greet with Cam I rolled my eyes. But this guy actually delivers. He worked with us to come up with a custom design and the process after it was smooth AND he was on time. We love our custom wood pieces and can't imagine our home without them. To all the skeptics out there (like I was) you will not be disappointed with this young man's work and professionalism!" – Sheldon P.
"The table made by Cameron was for my best friend's wedding gift. It is fair to say I was a control freak at times and very picky! However, Cameron was extremely patient and really understood what I was looking for and had amazing suggestions that I would have never thought of. The newly weds and I absolutely loved the table! Hand made in my own city, from locally sourced wood from trees that had to be taken down, turning this in sustainable upcycle, there is so much value in his art! He tastefully brings out the beauty in natural elements by adding elements (legs, inscriptions, etc.) that truly complement them. Thank you Cameron!" – Tania P.
4. Curtis Custom Woodwork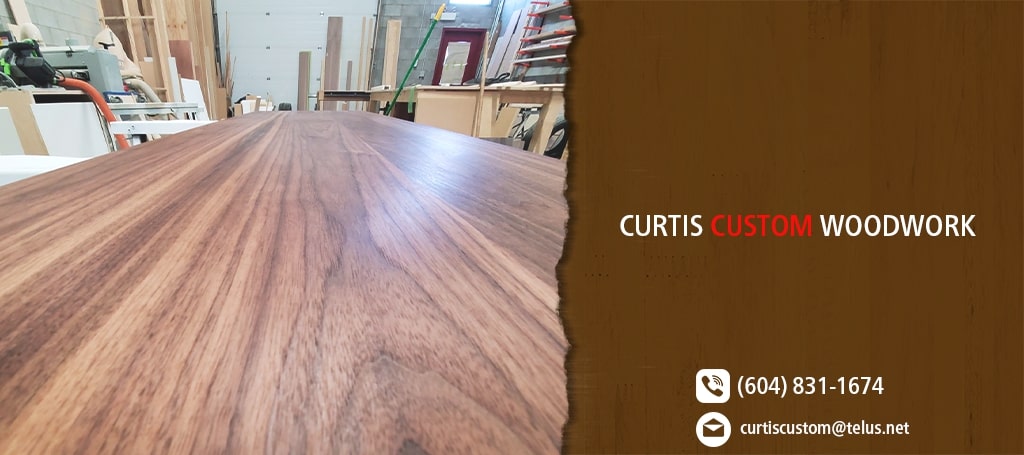 SERVICES
Custom furniture Wood furnishings
WEBSITE
https://www.curtiscustomwoodwork.ca/
ADDRESS
8940 Shaughnessy St, Vancouver, BC V6P 3Y5, Canada
CONTACT DETAILS
Phone number: (604) 831-1674
Email:

[email protected]

OPERATING HOURS
Monday: 9 am – 5 pm
Tuesday: 9 am – 5 pm
Wednesday: 9 am – 5 pm
Thursday: 9 am – 5 pm
Friday: 9 am – 5 pm
Saturday: closed
Sunday: closed
Among the entries on our list, Curtis Custom Woodwork is one of the few companies that specialize solely in crafting furniture and cabinetry. As a result, their pieces often find places among Vancouver's premier condos and homes.
Having trained rigorously under master-level cabinetmakers, Lesley Curtis is extremely skilled at all forms of cabinetry. She often meets with clients to produce custom storage solutions based on the client's tastes and home setup.
Along with creating custom cabinets and storage spaces, Lesley also regularly works on unique garden furniture and decorations. Her previous works include garden gates, planters, lawn chairs, and outdoor tables.
Lesley's level of expertise in cabinetry and garden furniture makes her an excellent choice for clients looking to spruce up their garden or customize their home storage spaces.
Skilled at custom cabinetry
Offers custom garden furniture and decorations
Regularly works with commercial condos and residential strata
Strictly works on cabinetry and garden furniture
Customer Reviews
Lesley's custom cabinets and garden furniture have earned her tons of rave reviews:
"Lesley brought the ideas from our minds to life through the design process and then construction and installation of four built-ins. Her work, technical and creative processes and professionalism have truly made our space come alive and feel like a home. We wish we had more projects (and likely will in the future)! We are grateful to have had the opportunity to work with Lesley." – Colleen G.
"Lesley helped create the platform bed of our dreams! Everybody who's visited our home has remarked how much they liked our bed frame. Lesley was very professional and did an amazing job of bringing our ideas to reality. It was our first time buying any type of custom woodwork, but she made the process a breeze. We're thinking of commissioning a few more pieces with her now. I would highly recommend Curtis Custom Woodwork to anybody who's looking to add some unique custom pieces to their home." – Victor T.
5. Union Wood Co – Custom Furniture
SERVICES
Custom wood furniture
WEBSITE
https://www.unionwoodco.com/
ADDRESS
1340 E Pender St, Vancouver, BC V5L 1V8, Canada
CONTACT DETAILS
Phone number: (604) 675-9033
Email:

[email protected]

OPERATING HOURS
Monday: 8 am – 4 pm
Tuesday: 8 am – 4 pm
Wednesday: 8 am – 4 pm
Thursday: 8 am – 4 pm
Friday: 8 am – 4 pm
Saturday: closed
Sunday: closed
Union Wood Co regularly sells wood furniture, game tables, and homeware. Since they end up selling such a large volume of wood products, these folks have actually created dedicated lines of wooden products.
Their premier products include handcrafted shuffleboard tables as well as wooden ping pong tables. These products are great for clients looking for a unique addition to their home or office space.
Along with standard product lines, Union Wood Co also offers custom woodworking services. If clients feel so inclined, they can even have the company's designers draft a piece with their input in mind.
Because these folks offer homeware and smaller wooden crafts, they are a great option for those in search of unique gifts. From bottle openers to cutting boards and even key chains, this company makes a whole variety of wooden items.
Offers dedicated wooden product lines
Makes unique game tables
Great for clients looking for hand-crafted gifts
Custom services will come with an additional fee
Customer Reviews
Here's what clients had to say about Union Wood Co's excellent products:
"We ordered a matte black console table, and it's perfect. Ordering was easy, and it was ready earlier than the original timeline provided. Also, Ben was super helpful, and responsive via email and he personally delivered it exactly on time with care and ease. We'll definitely be purchasing from them again…possibly something custom next time around." – Wendy S.
"Absolutely top notch! My wife and I could not be more thrilled with our walnut coffee table. I highly recommend Craig and the entire Union Wood Co. team for any custom residential or commercial projects. Worth every penny — can't wait to have them help with our next project! Thank you Union!" – Curtis I.
FAQs About Woodworking
---
Vancouver is a city rich with high-quality wood, and skilled woodworkers. If you've found your craftsman of choice, all that's left is to contact them for a consultation.
If you want your home to match your stunning wooden furniture, by the way, check out our list of the best architects in Vancouver.