The 5 Best Wig Stores in Vancouver
Wigs are an excellent way to change up your look while also protecting your natural hair from excessive sun exposure. They are also an great way to conceal thinning hair.

We got you covered whether you want to change your hairstyle without making a commitment or you're experiencing hair loss and need a new set of hair.
We've compiled a list of the best wig stores in Vancouver so you know where to go.
How Much Do Wigs Cost in Vancouver
The cost of a wig is determined by its length and hair type, as these factors influence the amount of hair material used to make it.
The price of wigs is also determined by the material used, mainly made of either human or synthetic hair. So before we go into our list, let's look at the different types of wigs and how much they cost.
| Wig Type | Price |
| --- | --- |
| Human hair | CAD 200 - 1,000 |
| Synthetic hair | CAD 300 - 500 |
| Combination Wigs | CAD 700 - 3,000 |
| Lace Wigs | CAD 400 - 3,000 |
| Capless Wigs | CAD 150 - 300 |
The Best Wig Stores in Vancouver
Before purchasing a wig, choose the appropriate size and ensure that the material feels comfortable on your head. We assessed these companies based on the criteria below.
1. The Dye Lot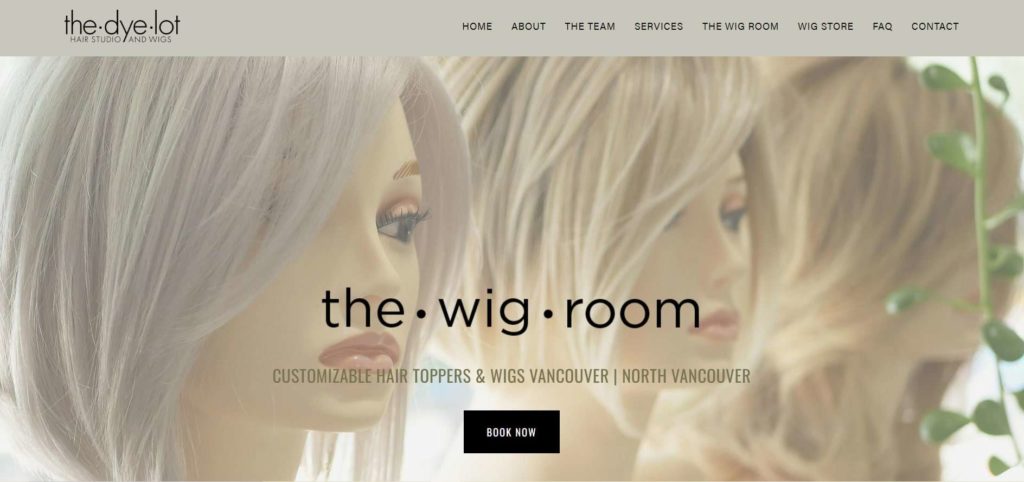 Test
Info
SERVICES
Customizable Hair Toppers

Wigs

In-Salon Cuts and Colours

Style and Treatments

WEBSITE
https://www.thedyelot.com/
ADDRESS
63 Lonsdale Avenue, North Vancouver, BC
CONTACT DETAILS
Phone: 778-340-3332
STORE HOURS
Tuesday - Friday: 08:00 AM - 09:00 PM

Saturdays: 09:00 AM - 05:00 PM
| | |
| --- | --- |
| Availability | ★★★★★ 5/5 |
| Selection of Wigs | ★★★★★ 5/5 |
| Customer Service | ★★★★☆ 4/5 |
| Durability | ★★★★★ 5/5 |
The Dye Lot was founded by two North Vancouver stylists who believe that beauty should be affordable and sustainable for all.
This salon is a certified green circle salon and they are dedicated to using environmentally friendly hair and learning products. We like them because they also recycle hair to make booms to absorb oil spills.
The Wig Room is an additional service provided by this establishment that provides a full wig and hairpiece service. This service includes choosing a wig or topper, as well as cutting, coloring, and styling.
This company stands out in our opinion because they customize their hairpieces for each client. They make certain to discuss options with their clients in order to find the best wig.
Furthermore, many of the customers we've spoken to praise the high quality of their wigs and how their stylists were able to achieve the look they desired.
Another thing we liked about them is that they cater to a wide range of clients, including those looking for hairpieces for both fashion and hair loss.
What's more, is that they offer a free 30-minute consultation if you need a wig for medical purposes.
Overall, this establishment deserves to be at the top of our list because it has a large selection of wigs and stylists who are trained to make each wig special.
Certified green circle salon
Uses environmental-friendly products
Has a wide selection of wigs and styles
Free 30-minute wig consultations for medical purposes
Accepts hair donations
Limited parking
By appointment only
Customer Reviews
High-quality wigs
"For my mom's 80th birthday I brought my mom to the wig room to buy a human hair wig. Christina was very helpfy and my mom got what she wanted. We did consultations with other wig shops but didn't find the quality of the hair as good as the ones from the wig room. Not ony that they were able to customize it. 5 star.' -Winnie K.
Exceptional quality of wigs
"I came to the wig room after learning about it from my friend who had a good experience here. I've been wanting to buy a new wig for my mom for a long time since she's had one forever that she wore to cover greys in-between coloring, but I didn't know where to go so I'm glad my friend told me about it. I wanted to invest in a high-quality one that would last since she often wore the one she bought herself and it didn't hold up well. Initially, I had to drag her here because she insisted her previous wig was fine, but in the end she found one here that she really liked, styled to a way she was happy with. It was worth the investment to find something that my mom actually really liked." – Deborah L.
2. Jo Hair Studio
Test
Info
SERVICES
https://johairstudio.com/
WEBSITE
https://johairstudio.com/
ADDRESS
3017 Cambie Street, Vancouver, BC V5Z 4N2
CONTACT DETAILS
Phone: 604-336-5559
STORE HOURS
Tuesday - Friday: 10:00 AM - 05:00 PM

Saturdays: 10:00 AM - 05:00 PM
| | |
| --- | --- |
| Availability | ★★★★★ 5/5 |
| Selection of Wigs | ★★★★☆ 4/5 |
| Customer Service | ★★★★★ 5/5 |
| Durability | ★★★★☆ 4/5 |
The Jo Hair Studio is a full-service salon that specializes in hair extensions and wigs. We believe it is great for people seeking a new look or for those experiencing hair loss.
The first thing we noticed about this store is that they display their wig collection on their website and are open about their pricing.
These wigs come in a variety of lengths and styles, and we love how well they're photographed so we can see the true color and style of each piece.
We believe this is very convenient for clients who are still deciding which wig to buy.
Furthermore, the Jo Hair Studio specifies the material used in their wigs. The majority of their wig inventory is made of 100 percent human hair, giving them a natural appearance.
This salon also provides complimentary consultations, coloring services, haircuts, styling, men's haircuts, perms, and treatments.
We particularly like that they ship worldwide, and they do not charge additional fees to their clients.
On a whole, Jo Hair Studio has earned the reputation of being one of the best wig stores in Vancouver, as they offer wigs of various lengths and styles to meet the needs of a wide range of customers.
Specializes in hair extensions and wigs
Transparent when it comes to pricing
Has a gallery of well-photographed wigs on their website
Ships worldwide
Relatively fewer wig options
Closed on Sundays and Mondays
Customer Reviews
Best quality wigs and hair products
"I had the best experience at Jo Hair Studio. It's always stressful for me to buy a new wig, but Jessica made it so easy, relaxing and fun! Their wigs have the best quality and Jessica is really knowledgeable about different types of wigs and maintenance. They also carry great hair products and offer wig adjustment and styling. I 100% recommend them." -Mehrnaz M.
Knowledgeable staff and exceptional customer service
"I was very satisfied with my wig and my topper consult and purchase with Vivian, she was kind and helpful. She is knowledgeable and offered lots of helpful advice, knowing this was my first time wearing a wig. I felt like "myself" again when I put on my new wig, which is such a great feeling, dealing with hair loss. Vivian went above and beyond to get me a wig in a colour and style that I was comfortable with and even cut a wig I had previously to fit the style and shape I wanted. I definitely recommend Jo Hair Studio and Vivian." – Irene Y.
3. Ritzy Hair & Wigs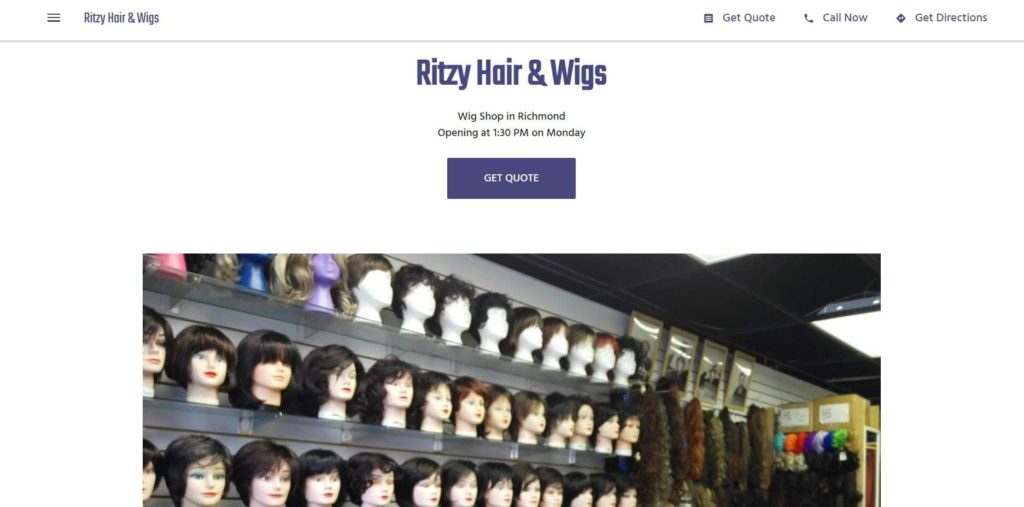 | Test | Info |
| --- | --- |
| SERVICES | https://ritzy-hair-wigs.business.site/ |
| WEBSITE | https://ritzy-hair-wigs.business.site/ |
| ADDRESS | Unit#113, 7900 Westminster Hwy Richmond, BC V6X 1A5, Canada |
| CONTACT DETAILS | Phone: 604-303-0221 |
| STORE HOURS | Monday - Saturday: 01:30 PM – 04:30 PM |
| | |
| --- | --- |
| Availability | ★★★★☆ 4/5 |
| Selection of Wigs | ★★★★★ 5/5 |
| Customer Service | ★★★★★ 5/5 |
| Durability | ★★★★☆ 4/5 |
Ritzy Hair and Wigs has been providing high-quality wigs, hairpieces, hair extensions, and hair accessories since 1999.
They also offer wig cutting, washing, setting, and styling, as well as hair products to maintain colored hair, make hair longer, hair color products, and even for medical purposes.
This shop makes wigs from high-quality human hair and synthetic materials and serves Richmond, Greater Vancouver, and Canada.
We like that Ritzy's has a large selection of wigs in their store. All of their wigs are displayed on mannequin heads so customers can see how they will look when they wear them.
Ritzy Hair and Wigs, in our opinion, has a classic style because its store has a traditional exterior and interior. We believe this improves the company's overall appeal.
Moreover, many of the customers we've spoken with have commented on how patient and personable the owner, Mr. David Wang, is, which made them feel at ease while trying on different wigs.
Overall, we felt that Ritzy Hair and Wigs provides excellent personal service as well as a diverse selection of wigs that have received high praise from their customers.
Years of experience
Offers high-quality human hair and synthetic hair
Wide selection of wigs
Traditional shop style
No parking on premises
Short business hours
Customer Reviews
Great selection of wigs
"Thank you to the owners for helping me find and style my hairpiece! It's an invaluable investment and I couldn't be happier! If you want selection AND quality, go to Ritzy." -Myrna B.
Patient and welcoming customer service
"Mr. David Wang, Owner, was so patient and personable attending to my needs and made me feel so comfortable while I tried on various Wigs and Hair Pieces. I am very satisfied with my choice…my Boyfriend found this particular Wig on the shelf. Thanks to Mr. Wang, Mary and Ritzy!." -Patricia W.
4. West Coast Wigs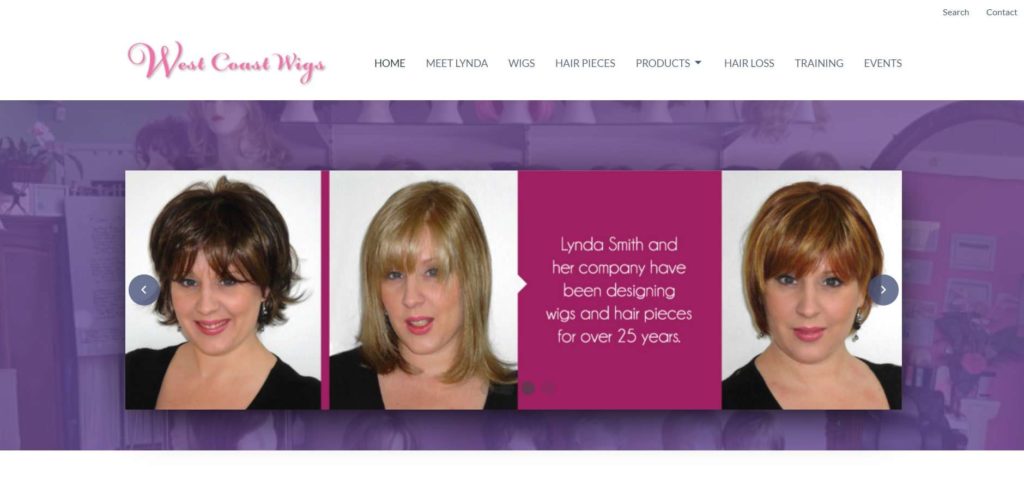 Test
Info
SERVICES
Wigs Hairs Pieces

Wig Products

Hair Loss Products

WEBSITE
https://www.westcoastwigs.com/
ADDRESS
220-145 Chadwick Ct, North Vancouver, BC V7M 3K1, Canada
CONTACT DETAILS
Phone: 604-980-3211

Email: [email protected]

STORE HOURS
Tuesday, Wednesday, and Friday: 10:00 AM - 05:00 PM
| | |
| --- | --- |
| Availability | ★★★★☆ 4/5 |
| Selection of Wigs | ★★★★★ 5/5 |
| Customer Service | ★★★★★ 5/5 |
| Durability | ★★★★☆ 4/5 |
West Coast Wigs has been providing custom-designed wigs and hairpieces in North Vancouver for 35 years.
This establishment provides customized and color-blended wigs to complement your natural appearance. They provide private, one-on-one consultations to help you decide on the best option.
Aside from that, West Coast Wigs offers a lace front, mono top, open cap, and tri-fiber wigs. These styles, in our opinion, distinguish their company by providing clients with more style options to explore.
West Coast Wigs offers a wide range of colors, from dark to light and pastel. We particularly like how they present their color shade collection on their website.
Moreover, this store provides additional services such as styling, cutting, and texturizing. They also provide custom bangs and back pieces.
The majority of customers we've spoken with rave about their hair expertise. Most clients praise their stylists for being able to recommend a variety of wigs and taking the time to find the perfect one.
Another thing that drew our attention was their Get It! Professional wig products, which are specifically designed to keep your wig in good condition.
These shampoos and conditioners are fragrance-free, made with natural ingredients, add moisture and shine, and are suitable for all hair types and wigs.
They also sell hair loss products such as thinning hair stimulants and shampoos and conditioners.
Provides customized and color-blended wigs 
Offers different styles of wigs
Has a wide range of hair color catalogs
Sells Get It! Professional wig products
Sells hair loss products
By appointment only
Relatively pricier
Customer Reviews
Wonderful and professional services
"If you're looking for a wig, go straight to see Lynda Smith at West Coast Wigs. Don't even bother going anywhere else as Lynda is truly an expert in her field. I went to see her to look for a wig before I lose my own hair soon due to chemo treatments. Lynda made what could have been a very sad and stressful experience into a positive situation. she really knows her profession and gave such wonderful advice. The most interesting thing was that she was able to choose the perfect style and colour for me with the first wig that I tried on. Even though I tried on other styles and colours, we kept on coming back to her first choice. Thank you to Lynda for her wonderful professional and compassionate help." -Srije M.
Kind customer service and excellent wig quality
"I wanted to thank Lynda Smith, West Coast Wigs, for her kind and compassionate solution to my hair loss. The hairpiece she provided is of excellent quality and so easy to use daily. The cool thing is it has been custom designed for me and no one ever knows I am wearing a hair piece. It is like a dream come true!." -Cindy R.
5. Wigshot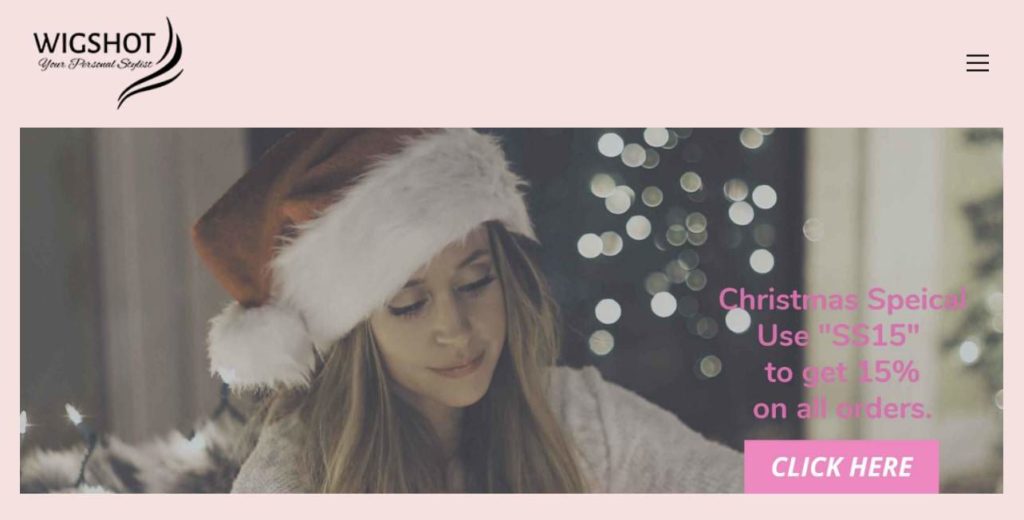 | | |
| --- | --- |
| Availability | ★★★★★ 5/5 |
| Selection of Wigs | ★★★★★ 5/5 |
| Customer Service | ★★★★☆ 4/5 |
| Durability | ★★★★★ 4/5 |
Wigshot is an online wig store that offers a wide selection of colors, styles, and lengths on their website.
This establishment, we believe, is ideal for those who want to shop for wigs but might feel embarrassed going to physical stores.
Unfortunately, their selection of men's wigs is limited. They do, however, offer a variety of styles, colors, and textures to suit a range of tastes.
Whether you want a natural brown look or a vibrant and voluminous wig, Wigshot has a variety of them despite their small inventory of men's wigs.
We especially like that they have a large selection of women's wigs. They offer short wigs, medium-length wigs, and long wigs in a variety of styles and colors.
Moreover, many of the customers we've spoken with have commented on how simple it was to shop wigs at Wigshot because all of their prices are openly displayed
Their products are also photographed as accurately as possible to portray their true style and colors.
Another thing we liked about their wigs is that they use high-temperature fiber material. According to them, this makes wigs smoother, easier to comb, less tangled, and more durable.
We also like that they ship worldwide and provide an estimated shipping time so customers know when to expect their packages.
Wide selection of women's wigs
Open 24 hours
Ships worldwide
Offers short, medium, and long hair lengths
Online store only
Limited selection of men's wigs
Customer Reviews
Confident and amazing services
"I was surprised at how natural my hair looked with a clip on of a partial wig. Fanta was amazing: confident, obviously very experienced, and with a nice touch." – Connie L.
Professional services
"Amazing service ! I did hair ventilation for my full lace wig. The colour matched and Simmi used the entire allotment of time to fill in my bald patch. She checked in twice to show me the hair and asked if there needed to be any adjustments. Professional and polite service. Will be back with my other wigs." -Aly C.
FAQs about Wigs in Vancouver
---