5 Best Greek Restaurants in Vancouver
If you are looking for an adventure for your tastebuds or a healthy alternative to fast food, you should try Greek cuisine.
To help you out, we have gathered the best Greek restaurants in Vancouver into one comprehensive review. Continue reading to find the perfect spot for you!
Greek Restaurants' Prices in Vancouver
Restaurant prices mostly depend on the ingredients and policies used by the establishment. For reference, you can use the table below to get a general idea of the meal prices of different Greek restaurants in Vancouver. 
| Greek Restaurant | Prices |
| --- | --- |
| Anatoli Souvlaki | Appetizers: $7 to $22 Mains: $26 - $140 Desserts: $14 |
| Apollonia Greek Restaurant | Mezze: $7 to $18 Entrees: $21 to $27 Desserts: $12 |
| Maria's Taverna | Appetizers: $6.95 to $31.95 Entrees: $18.50 to $21.99 |
| Nammos Estiatorio | Mezze: $8 to $14 Mains: $9 to $130 Desserts: $12 to $15 |
| Takis' Taverna | Appetizers: $8.95 to $12.95 Entrees: $23.95 to $46.95 Desserts: $7 |
Top Greek Restaurants in Vancouver
There are numerous Greek restaurants in Vancouver and surrounding provinces, so it is important to pick the best among the rest.
In making this list, we used the following criteria to choose:
1. The Greek by Anatoli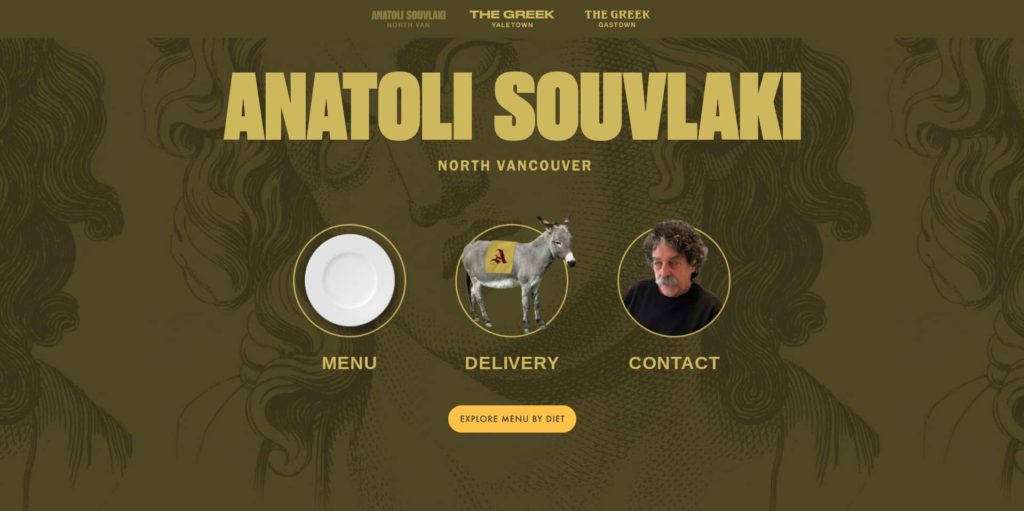 Test
Info
PRODUCTS
Greek Food Options For Lunch

Dinner, Happy Hours

Wines

Beers

Non-Alcoholic Drinks

Coffees

WEBSITE
thegreekbyanatoli.com
ADDRESS
5 Lonsdale Ave, North Vancouver, BC
CONTACT DETAILS
Email:

[email protected]

604-985-9853

OPERATING HOURS
Monday to Thursday: 11:30 AM - 10:00 PM

Friday to Sunday: 11:30 AM to 11:00 PM
| | |
| --- | --- |
| Criteria | Ratings |
| Affordability | ★★★★☆ (4/5) |
| Food Quality | ★★★★☆ (4/5) |
| Service Quality | ★★★★☆ (4/5) |
| Variety of Meal Options | ★★★★★ (5/5) |
Anatoli Souvlaki is a Greek restaurant in Vancouver that serves a wide variety of lunch and dinner options. They're pretty well-known in the area.
One of their biggest strengths is that they offer customers a lot of food to choose from. When you enter their website, you will find their entire menu with dozens of authentic Greek food.
Most of Anatoli Souvlaki's lunch menu is available for $20 or less. However, you have limited options for your afternoon meal.
A few customers we interviewed even went as far as to say that they do not recommend the restaurant if you are looking for lunch, as they have more to offer during dinnertime.
We would have to agree with them, since Anatoli's dinner menu is much more filling and interesting. At night, Anatoli offers more appetizers, soups, and side dishes.
However, the best part of their entire dinner menu is the main course where you can pick from over a dozen dishes and sides.
You may feel surprised by the price of their dinner mains since they cost upwards of $25, but they all come with rice, potatoes, and Greek salad, which we think makes them all worth it.
If you want to save money on your food, you can visit Anatoli Souvlaki daily from 2 PM to 5 PM to take part in their happy hour promo where they serve food and drinks for less than $10.
Overall, the Anatoli Souvlaki's affordable and diverse meal options earns the restaurant a spot in our list.
Three different locations to choose from
Includes full menu and prices on the website
Long opening hours
Customer Reviews
Friendly Staff and Good Food
A family friendly restaurant very close to Lonsdale Quay. The restaurant was very spacious which was nice since we had a stroller and was easy to move around.
The food was tasty, the skewer platter was a good size for 2 adults but probably not for 3.
Overall, friendly staff and good food, we'd go here again. – Asuka L., Google Reviews
Quick Service
Crazy awesome food. Staff is great, food comes fairly soon and nice and hot. Meat melts, potatoes are divine. Place is nice and cozy for an evening with friends. We tried multiple things because of a big group and devoured everything! – Shruti C., Google Reviews
2. Apollonia Greek Restaurant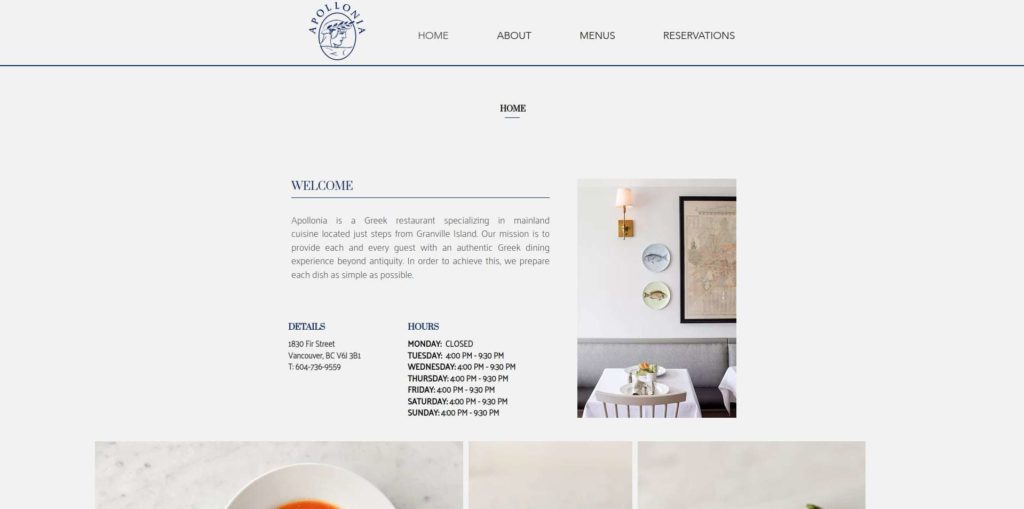 Test
Info
PRODUCTS
Mezze

Spreads

Salads

Soups

Souvlaki

Pizza

Wines

Beers

Desserts

Happy Hour Deals

WEBSITE
apolloniagreekrestaurant.com
ADDRESS
1830 Fir Street, Vancouver, BC V6J 3B1
CONTACT DETAILS
604-736-9559
OPERATING HOURS
Tuesday to Sunday: 4:00 PM to 9:30 PM
| | |
| --- | --- |
| Criteria | Ratings |
| Affordability | ★★★★☆ (4/5) |
| Food Quality | ★★★★★ (5/5) |
| Service Quality | ★★★★★ (5/5) |
| Variety of Meal Options | ★★★★☆ (4/5) |
Next on our list is Apollonia Greek Restaurant. Appolonia has been offering authentic Greek cuisine since 2002 and is loved by customers for its food and ambiance.
Apollonia offers numerous Greek food options, from salads to souvlaki and even pizza.
Customers we interviewed praise the food for being served in generous portions while also being delicious and affordable.
Apollonia serves their entrees with rice, lemon roasted potatoes, a Greek salad, and tzatziki. As such, you can expect to be full with just an order of a three-course meal.
Oh, and if you enjoy dining with wine, Apollonia is the Greek restaurant for you!
This is because they serve a myriad of wines and beverages that would surely pique your interest. You can choose from their catalogue of over 40 different sparkling, red, and white wines.
If you visit them during their opening time, you can also participate in their happy hour where you can avail various food and drinks for just $13 and below.
Despite all of these strengths, Apollonia's biggest downside is its short operating hours. Open only from 4 PM to 9:30 PM, the restaurant might require you to call and get a reservation before you can enjoy their unique meals.
Regardless of this, Apollonia's affordable and delicious food as well as its warm, cozy ambiance earns its customers' love and patronage. We could see why so many recommended it after just one visit.
Over 40 different wines available
Generous portioning of food
Warm, lovely ambiance
Short opening hours
Relatively limited menu
Customer Reviews
Delicious, well-priced food
This place is such a cute little gem! We came here for dinner last night for the first time and thought the food was tasty and well priced. Atmosphere is warm and cozy, tables are thoughtfully arranged so each party is tucked in and could still have intimate conversations. Really loved the cozy vibe here, not to mention the genuine service. Will visit again! – Cindy, Google Reviews
Exceptional Service
I had the best experience at Apollonia this evening. I don't usually stop to review a restaurant but felt the food and service were exceptionally good. Our server was patient, warm, and went out of her way to ensure we had a great experience. The food was fantastic. Great taste and large portions for a very reasonable price. I'd highly recommend the hydra cocktail and the prawn and scallop souvlaki. Will definitely be back. Thanks for the outstanding service! – Alexa G, Google Reviews
3. Maria's Taverna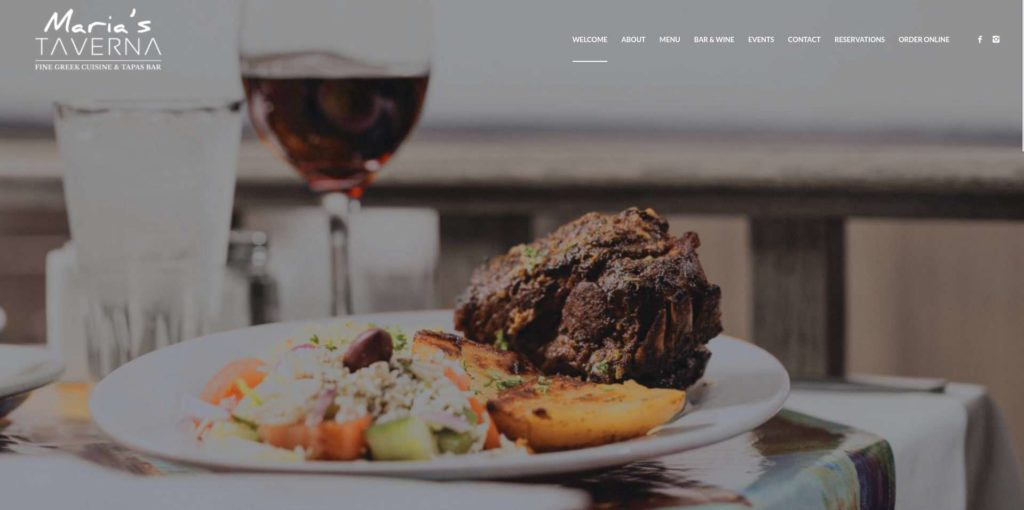 Test
Info
PRODUCTS
Greek Food, Souvlaki, Platters, Moussaka, Pasta, Gourmet PIzza, Beers, Ciders, Champagnes, Wines,
WEBSITE
http://mariason4th.com/
ADDRESS
2324 W 4th Ave, Vancouver, BC
CONTACT DETAILS

Email: [email protected]

604-731-4722

OPERATING HOURS
Monday to Saturday: 11:00 AM to 10:30 PM

Sunday: 4:00 PM to 10:30 PM
| | |
| --- | --- |
| Criteria | Ratings |
| Affordability | ★★★★★ (5/5) |
| Food Quality | ★★★★★ (5/5) |
| Service Quality | ★★★★★ (5/5) |
| Variety of Meal Options | ★★★★☆ (4/5) |
Next on our list is Maria's Taverna, an authentic Greek restaurant in Vancouver that has been serving customers for more than 30 years. It's another of the older restaurants on the list.
What you'll notice when you look at the restaurant's menu is that they have fewer items on the list compared to other places in this list.
Now, we think that can be a good thing (fresher ingredients, better quality control). But we do know some people don't see it the same way.
For people who feel like that, however, the restaurant does make up for that, don't worry.
First, the taverna's food is more affordable than others in the list. You can try their appetizers for $6.95 or get an appetizer platter of your choice to share with your group.
The best part about the lower price is that the restaurant does not sacrifice its food quality in exchange for affordability. We have interviewed customers who give Maria's Taverna's food the highest of praise.
Some would even say that the restaurant serves the best lamb shoulder. One patron noted that the lamb is so tender that you could eat it with a spoon.
Other customers also took note of the large portions of the food, with some saying they had to get their meals to-go due to it being very filling.
Although Maria's Taverna does not have a dessert menu, they do offer pizza. You can order from one of their specials, or make your own by picking your favorite toppings from the list.
On the whole, the restaurant offers authentic, delicious Greek food in Vancouver without ever breaking your bank. Because of that, Maria's Taverna earns a spot on our list.
30 years in service
Affordable food
Food served in large portions
Notably fresh ingredients
Customer Reviews
Fair price for great tasting food
Our go to for authentic Greek food in Kits! We love this place. Great service, great tasting food and a beautiful space. We always get the lamb, extra greek salad and tzatiki. Also, we order extea keftedes- a must try! Highly recommend! We go once a week. Fair prices overall considering and save room for baclava! –Morgan A, Google Reviews
Sweet and friendly staff
We've been to a million Greek restaurants and this is our new favorite! Best lamb shoulder ever! So tender you can eat it with a spoon! And the owner and staff are so sweet and friendly, just like the restaurants we went to in Greece 🙂 we did dine out Vancouver and the soup and the dessert (bougatsa) were also delicious but the lamb shoulder was the star of the show – Lourde R, Google Reviews
4. Nammos Estiatorio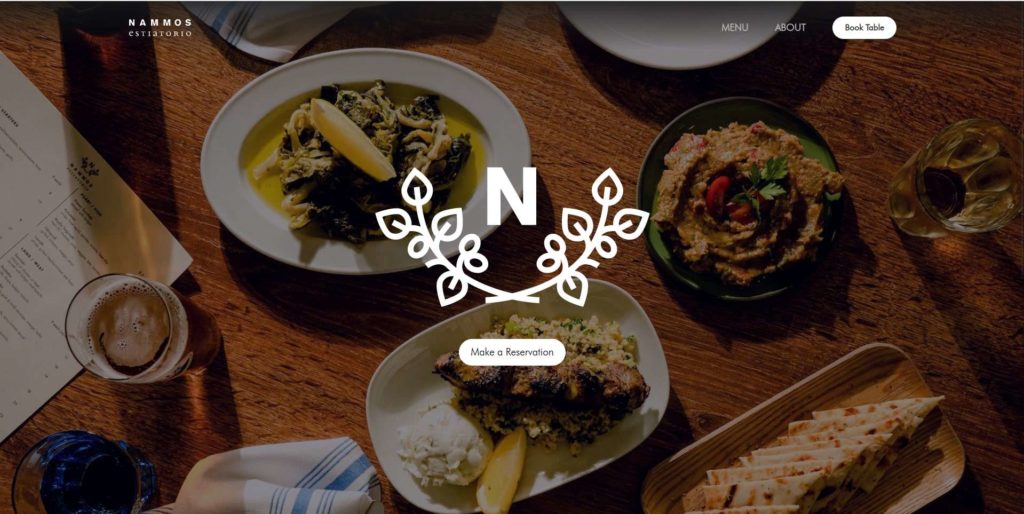 Test
Info
PRODUCTS
Greek Food For Brunch

Dinner

Souvlaki

Salads

Soups

Coffee

Wines

House Cocktails

WEBSITE
nammos.ca
ADDRESS
3980 Fraser St, Vancouver, BC V5V 4E4
CONTACT DETAILS
604-428-6850

Email: [email protected]

OPERATING HOURS
Monday and Tuesday: 5:00 PM to Late

Wednesday to Sunday: 12:00 PM - Late
| | |
| --- | --- |
| Criteria | Ratings |
| Affordability | ★★★★☆ (4/5) |
| Food Quality | ★★★★☆ (4/5) |
| Service Quality | ★★★★☆ (4/5) |
| Variety of Meal Options | ★★★★★ (5/5) |
The next on our list is Nammos Estiatorio, a spacious restaurant on Fraser Street. Entering the restaurant, you will be greeted by a relaxingly beautiful atmosphere with plenty of seating both in and out of the restaurant.
Once seated, you can take a gander at their menu filled with diverse options. One of the customers we interviewed even stated that the dish options are different from other Greek restaurants.
Browsing the menu, you will see their selection of mezze, soups, salads, and other appetizing options. Their menu is segmented by meal and meat type, so you will easily find which one you want to try out first.
The menu may not be as long as others on the list, but they do have unique options such as prawn souvlaki. By the way, a great option worth your money is the Nammos Family Meal, which could satisfy a group of four people – we really liked it ourselves.
Nammos is also a great restaurant for those wanting to try out new concoctions as they serve a set of house cocktails, ranging from their cherry spritz to an espresso martini.
Despite all of these, some customers still left dissatisfied. Some of the customers we interviewed took note of their relatively smaller portion size and the saltiness of some dishes.
Relaxing atmosphere 
Plenty of outdoor dining seats
Unique and diverse menu
Customer Reviews
Great ambiance and delicious food
Great ambiance, delicious food, and our server Stephen was excellent. My only qualm is I wanted what I always go to Greek restaurants for: souvlaki, rice, lemon potato, and Greek salad on the same plate. I've had that at every Greek restaurant I've ever been to all over the world. This place, however, only offers souvlaki by the skewer, and there are no side options so you can build that classic combo yourself. You'll have to get a huge plate of potatoes, huge Greek salad, etc at $13–15 a plate, so it doesn't make sense. I enjoyed what I ordered, but I was very annoyed not getting that simple combo I went there for. I still recommend this place because they do so much right (especially well-trained servers), but I won't go back until they at least offer a way to have my favourite dish or a simple way to build it like side potato, side Greek salad, etc. Do that and you'll have the most loyal customer for life. – Jay, Google Reviews
Best in hospitality
Nammos is my go-to restaurant in the Fraserhood area. As a local business owner, I've eaten here many times and have taken friends, family, and staff along with me. What stands out even more than the food is the level of service the staff bring. Hospitality here is one of the best – special shout out to Stephen! – Jason, Google Reviews
5. Taki's Taverna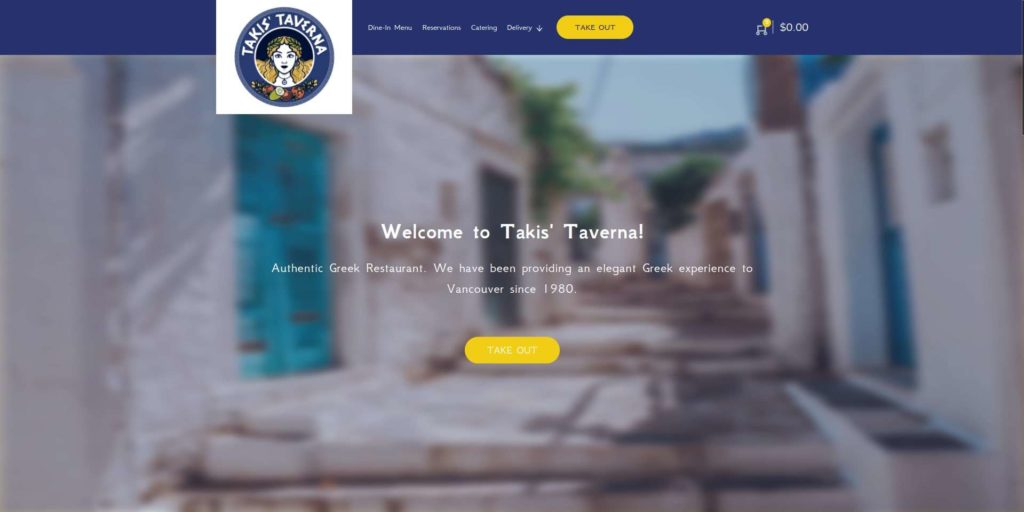 Test
Info
PRODUCTS
Greek Food Options For Brunch

Dinner

Desserts

Souvlaki

Wines

Beers

Salads

Soups

Mezze

WEBSITE
takistaverna.com
ADDRESS
1106 Davie St, Vancouver, BC V6E 1N1
CONTACT DETAILS
604-682-1336

Email: [email protected]

OPERATING HOURS
Daily: 11:00 AM to 10:00 PM
| | |
| --- | --- |
| Criteria | Ratings |
| Affordability | ★★★★☆ (4/5) |
| Food Quality | ★★★★☆ (4/5) |
| Service Quality | ★★★☆☆ (3/5) |
| Variety of Meal Options | ★★★★☆ (4/5) |
Takis Taverna is a spacious yet humble restaurant serving Greek food in Vancouver. Operating since the 1980s, Takis is considered a hidden gem for many customers we surveyed, since the place is slightly difficult to find.
If you find it, however, you will be treated to a great meal in a nice place. Entering Takis Taverna, you will be captured with the casual, simple vibe of the restaurant.
If you look at the menu, you will see that there are numerous options for food and drinks. One of Takis' strengths is that they have different options for mezethes, platters, and entrees.
If you want to try a new beverage, Takis' Taverna also has you covered. The restaurant offers different kinds of local and imported beers, cocktails, brandys, cocktails, and even special coffees.
Takis' also offers wines from Greece, the USA, France, and other parts of the globe. These really set them apart from the rest by giving the customers the option to try a novel drink from another country, including Greek beverages.
The customers we interviewed praise Takis for their good food served in large portions. As such, it is a consensus among patrons that Takis really gives you the value for your money.
Still, we have heard that the Taverna's services slow down a lot during their busy days. To avoid any inconvenience, it might be best for you to try out their food when they are not full of customers.
Large portion sizes
Open since the 1980s
Spacious, humble, and casual atmosphere
Slow service on busy days
Customer Reviews
Great value for money
I recently moved to Vancouver last year so I'm still discovering the city and the hidden gems, but it's safe to say Takis is definitely on the top of the list! I have gone into the restaurant to eat with my fiancé a couple times and experienced such great, welcoming, fast service. The food is amazing, fresh and great value for your dollar! My favorite dishes are the Salmon Slovakia and Grilled Calamari. ESPECIALLY the Grilled Calamari! My fiancé enjoys the Lamb Klefitiko. When we order delivery the food is just as good and timely!! Would definitely recommend for authentic Greek cuisine. – Randi, Google Reviews
Freshly made food
I've eaten food from here the last two days. First time I felt like a Greek salad and some tsaziki, I got great service dining in and the food was super fresh. Was craving more Greek today and ordered for delivery, huge portions and again so tasty and fresh! Will keep coming back for sure! – Marcelina, Google Reviews
FAQs about [KW]
---
More Resources for Your Foreign Food Cravings