The 5 Best Animal Hospitals in Vancouver
If you're a pet owner, you want to know what the best animal hospitals in Vancouver are. This way, you know where you need to go when your pet needs help.
Luckily for you, we've already found the top vet hospitals in the city and reviewed them here.
How much does pet care cost in Vancouver?
Different animals and establishments will entail different prices. The cost of vaccinating a cat against rabies isn't going to be the same as the cost of vaccinating a dog.
Not to mention, the weight of the animal is also taken into consideration. Caring for a larger breed dog may cost more than the same type of care for a smaller dog breed.
But that doesn't mean that you shouldn't have some idea of what to expect when you're looking for an establishment to care for your pet.
| Service | Price Range |
| --- | --- |
| Neuter | Cat: $95 and up Dog: $180 an up |
| Spay | Cat: $110 and up Dog: $165 and up |
| General Examination | $30 and up |
| Vaccinations | Cat: $33 and up Dog: $37 and up |
| Microchip | $28 and up |
Once again, you need to be aware that there are a lot of factors that go into how much overall care is going to cost and that the table above is just a general price range.
Top Animal Hospitals in Vancouver
When assessing the top animal hospitals in Vancouver, we took the following into account:
1. Granville Island Veterinary Hospital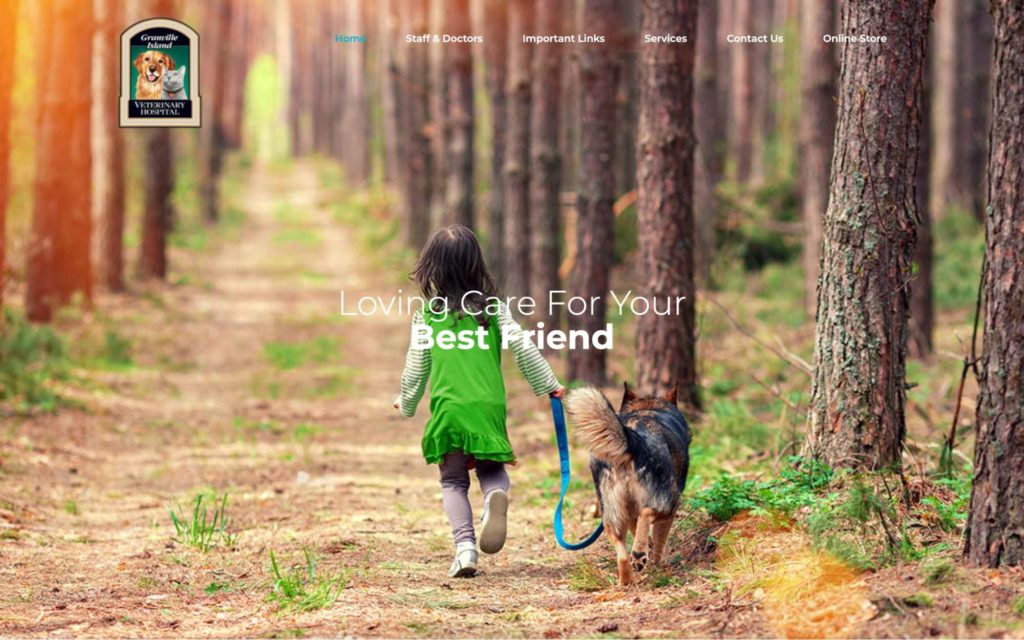 Test
Info
SERVICES
Preventative Care

Wellness Examination

Parasite Prevention

Hospitalization

Surgical Care

Radiography

Dental Cleaning and Care

Ultrasound

Diagnostics

Senior Pet Care

Consultation

Quality of Life and End of Life consultation

WEBSITE
https://bcpetvet.com/
ADDRESS
1635 West 4th Avenue, Vancouver, BC V6J 1L8
OPERATING HOURS
Monday to Thursday: 8AM to 7PM except every third Wednesday from 1PM to 3PM

Friday to Sunday: 8AM to 6PM

CONTACT DETAILS
Phone: 604-734-7744

Email: [email protected]
| | |
| --- | --- |
| Availability | ★★★★★ (5/5) |
| Staff | ★★★★★ (5/5) |
| Services | ★★★★☆ (4/5) |
| Customer Satisfaction | ★★★★★ (5/5) |
If you have a cat or dog and you want them treated by a staff that will go above and beyond for your pet, then Granville Island Veterinary Hospital is exactly what you're looking for.
The range of services that they offer has kept many cats and dogs healthy and happy. They were recommended to us by a lot of locals who attested to their expertise in what they do.
One great thing we found is how patient the staff is. They'll answer your questions kindly and compassionately, in our experience.
In line with this, we also heard from a lot of pet owners that they were very supportive when these owners had to make difficult decisions about the end of their pet's life. That obviously gets them plus points in our book.
We're also thankful for the nearby parking lot, which is pretty convenient for those who have to lug around a pet carrier or guide a large dog.
They're also open on holidays, which can be a literal lifesaver in case of emergencies.
The only downside we've encountered with GIVH is that they only serve cats and dogs, so anyone with a different type of pet is going to have to look elsewhere to find care.
But overall, we've found that GIVH is a great place to get care if you own a dog or a cat and you want compassionate care from the beginning to the end of your pet's life.
Telemedicine offered
Wide range of services
Open on holidays except for Christmas and New Year's Day
Services are limited to cats and dogs
Customer reviews:
"This place is amazing – all the staff from vets, vet techs to reception. They are kind, supportive and so many examples where they've gone above and beyond. They have fit my dog in for an emergency, and accommodate her sensitivity around other dogs without making me feel bad. They always give balanced advice, and very thorough care. We usually see Dr Rose or Dr Ignacio and I can't say enough good things about them. We used to live in the neighbourhood but even moving away and a longer drive, its totally worth it to go there." – Deanna Pacitti
"These people are angels. GIVH has taken care of two of beloved pets from arrival to end. Their staff showed us compassion in our worse moments and share love with our animals every visits. I can comfortably say your fur baby will be in the best of care with GIVH" – Dan Deranleau
2. Vancouver Veterinary Hospital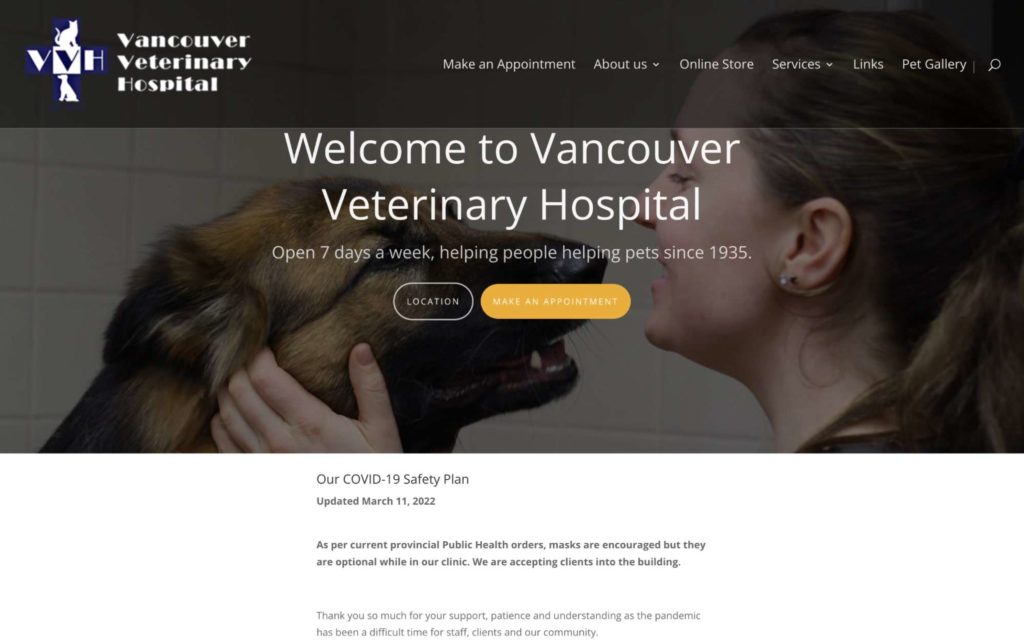 Test
Info
SERVICES
Medical Assessments

Vaccinations

Dental Care

Surgical Care

Microchipping and Tattoos

Diagnostics

Allergy Testing

Cancer Treatment

Nutritional Counseling

Behavioral Counseling

Referral Services

Therapeutic Lasers

Pets Export and Travel Requirements

WEBSITE
https://vancouverveterinary.com/
ADDRESS
1541 Kingsway Vancouver, BC V5N 2R8
OPERATING HOURS
Monday to Sunday: 8AM to 6:30PM, except on Statutory Holidays
CONTACT DETAILS
Phone: 604-876-2231

Fax: 604-876-2208

Email:

Email: [email protected]
| | |
| --- | --- |
| Availability | ★★★★☆ (4/5) |
| Staff | ★★★★★ (5/5) |
| Services | ★★★★☆ (4/5) |
| Customer Satisfaction | ★★★★☆ (4/5) |
Of all the things we like about Vancouver Veterinary Hospital, and there's a lot to like, the thing that stands out the most is the care they show before surgeries.
They'll show animals a lot of love and affection before surgery to reassure not just the animal but also the pet owner that everything's going to be okay and that there's nothing to worry about. Several of their clients actually attested to it.
Another great service that caught our eye was their help with international travel. They'll provide consultation to clients who want to take their pets with them when they travel internationally.
The one thing we didn't fall in love with was their questionable price transparency. We noticed that there were times when the quoted price of a surgery shoots up by a lot on the day of the procedure.
That being said, we found that their prices are generally fair, so it may well balance out.
There's also free parking behind the building and in front of the clinic, except for the hours between 7:30AM and 9:30 AM. Parking can be hard to come by in the city, so that's something we appreciate.
Ultimately, it's a convenient place to get great care for your pet if you don't mind the occasional risk of sticker shock for certain cases.
One of the few vets in Vancouver to offer laser therapy
Vast array of services
Free parking behind the building
Closed on Statutory Holidays
Prices can be somewhat opaque
Customer reviews:
"They were able to get my poor kitty, Toulouse, in pretty much as soon as we got there and the doctor was incredibly gentle but very thorough. I was initially pretty nervous about the whole visit just because of how Toulouse always has to be by my side or else she gets pretty anxious, so the whole visit had a happy ending and Toulouse was feeling back to herself later that evening! We have decided to make this her home veterinary clinic…oh and it's also 24 hours AND a emergency walk in!!! I mean, come on!" – Ashley Stevens
"Everyone at Vancouver Veterinary is fantastic – patient, understanding, supportive and wonderful with all of the animals we have brought there. Our two dogs both absolutely love visiting the clinic!" – Theodore Jakob.
3. Yaletown Pet Hospital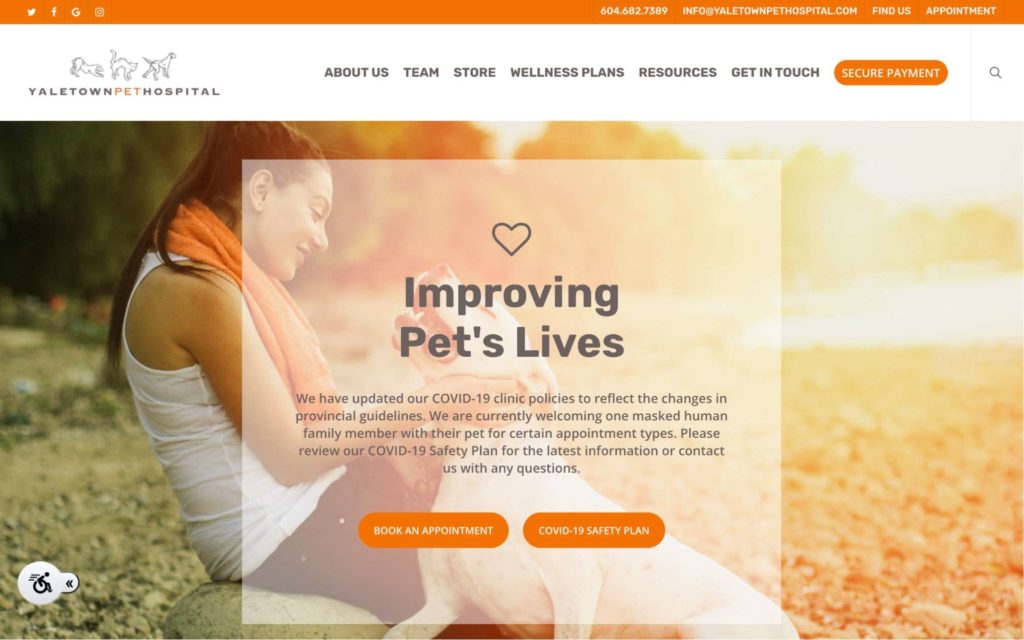 Test
Info
SERVICES
Wellness Exams

Urgent Care

Vaccinations

Parasite Control

Senior Pet Care

Travel

Dental Health

Radiology

Microchipping

Surgery

Diagnostics

End of Life Care

WEBSITE
https://yaletownpethospital.com/
ADDRESS
893 Expo Blvd, Vancouver, BC V6B 1C4
OPERATING HOURS
Monday to Friday: 8AM to 9PM, closed on Tuesdays from 12:30 PM to 1PM

Saturday and Sunday: 9AM to 6:30PM

Most Statutory Holidays: 9Am to 6PM

Closed on Christmas, New Year, and Thanksgiving

CONTACT DETAILS
Phone: 604-682-7389

Fax: 604-682-7395

Email: [email protected]
| | |
| --- | --- |
| Availability | ★★★★☆ (4/5) |
| Staff | ★★★★★★ (5/5) |
| Services | ★★★★☆ (4/5) |
| Customer Satisfaction | ★★★★☆ (4/5) |
There's a lot to love about Yaletown Animal Hospital, and one of those things is the extensive knowledge of the staff.
They're able to convey what pet owners need to know without sounding like they're giving a lecture or talking down to anyone, from what we've seen. We really like that about them.
It means they're not trying to look smart, but to make sure pet owners understand exactly what's happening. That's good because it puts you and your pet first – not their egos.
They also don't try to upsell anything, which we loved. It's just simple, straightforward care, which other clients agreed with.
They recommend what the best course of action is for the animal's health and wellness, and that's it. They don't try to sell any fancy procedures or medications.
Another thing we really liked about them is that they make sure that the animal is comfortable before they move forward with a procedure, even if for something as simple as routine shots.
What we didn't love was their policy of adding co-owners to their files. Roommates and exes can sometimes be listed as co-owners, and that doesn't always work out.
Moreover, they only treat dogs and cats. People with other pets should go elsewhere.
Overall, it's a fantastic veterinary hospital. But you should take care to clearly communicate just who has the authorization to make medical decisions for your pet on your behalf.
Open on most Statutory Holidays
Diverse assortment of services
Services are limited to cats and dogs
Some miscommunication possible with their policy of adding co-owners
Customer reviews:
"The care and attention that the staff give to my dog is awesome. They make sure that the dog is ready for his shots and make sure that he's nice and comfortable before doing anything with him. Rates are good and is a great downtown vet for something close by." – Michael Domingo
"Always amazing care and service, they never tried to upsell.
My dog is not an easy dog – he can be defensive and snappy when strangers try to touch him. But the doctors there are all very patient and understanding.
Honestly I've never had a problem/negative experience with them." – Monica Tada
4. Kitsilano Animal Clinic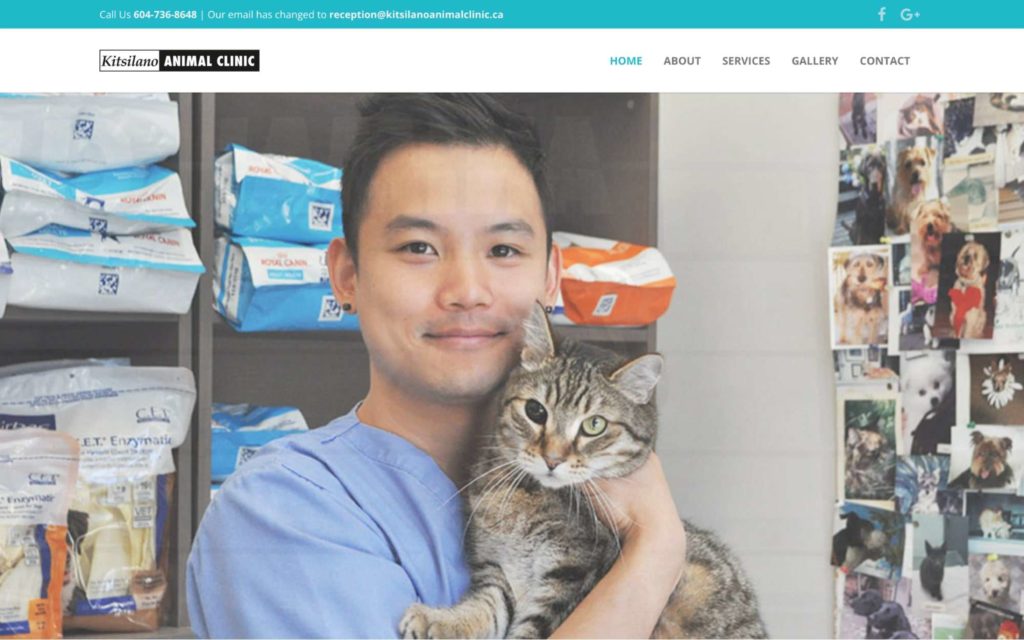 Test
Info
SERVICES
Consultations

Second Opinions

Spaying and Neutering

Vaccinations

Surgery

Dentistry

Laboratory Testing

Parasite Control

Boarding

Specialist Liaison

Veterinary Diets

WEBSITE
https://kitsilanoanimalclinic.ca/
ADDRESS
2645 West 4th Avenue, Vancouver B.C, V6K 1P8
OPERATING HOURS
Monday to Friday: 9AM to 6PM

Saturday: 9AM to 5PM

Sundays and Holidays: Closed

CONTACT DETAILS
Phone: 604-736-8648 Fax: 604-736-5897

Email: [email protected]
| | |
| --- | --- |
| Availability | ★★★☆☆ (3/5) |
| Staff | ★★★★★ (5/5) |
| Services | ★★★★☆ (4/5) |
| Customer Satisfaction | ★★★★☆ (4/5) |
What we really loved about this place were the individualized treatment plans. Not every animal is going to respond to treatment or medication the same way, so a treatment plan tailored to the animal is going to be necessary for its overall health.
We also found that they want to make sure that pet owners can feel that their animals are in good hands. A lot of the clients we surveyed told us that they found the staff reassuring and very attentive to their concerns.
We also loved the reports we got that they generally don't hesitate to make a referral if necessary. If the animal has needs beyond their capabilities, they'll be able to refer pet owners to a specialist.
They also offer boarding should you decide to go out of town, but due to spacing issues, this service is limited only to cats. They do have a list of recommendations for dog boarding spaces, however.
If there's one thing that didn't thrill us about them, it's the wait time. An animal can sometimes wait for hours on end before getting something as rudimentary as an X-Ray.
If you don't mind waiting a while or them being closed on Sundays, then you'd be well-served seeking care for your pet at Kitsilano Animal Clinic.
Individualized treatment plans
Good relationships with veterinary specialists
Closed on Sundays
Wait times can get long
Customer reviews:
"Great staff! Our dog is very nervous with new people and especially at the vet so after a few appointments at our last vet that went really badly since people aren't allowed in due to the pandemic, we moved to Kitsilano Animal Clinic. We appreciate so so much that they allow people in during this pandemic as it has allowed us to get quality care for our dog. Thank you!" – Jocelyn Li
"I really can't say enough good things about our experience(s) at this clinic. Compassionate, knowledgeable, kind, professional… truly the best vet experience I have ever had. Support staff is also lovely. I am just really grateful to have them for our animals!" – Charly Kate
5. All About Cats Veterinary Clinic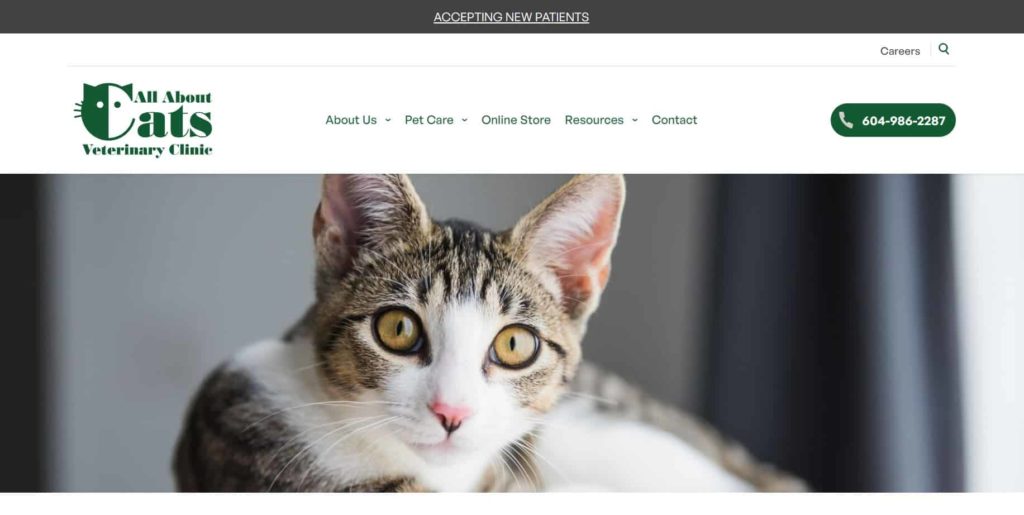 Test
Info
SERVICES
Arthritis Treatment

Bloodwork Services

Boarding Services

Dental Care

Dermatology

Deworming

Endoscopy

Euthanasia

Grooming

Microchipping

Nutrition Counselling

Parasite Control and Prevention

Senior Care

Spay and Neutering

Surgical Services

Ultrasound and X-ray

Vaccinations for Kittens and Cats

Veterinary Exam

Veterinary Referrals

Weight Management

WEBSITE
https://www.allaboutcats.ca
ADDRESS
1550 Marine Dr Unit 104, North Vancouver, BC V7P 1T7, Canada
OPERATING HOURS
Tuesday - Friday: 8:00 AM - 5: 30 PM

Saturday: 10:00 AM - 2:00 PM

CONTACT DETAILS
Phone: +1 604-986-2287

Email: [email protected]
| | |
| --- | --- |
| Availability | ★★★★☆ (4/5) |
| Staff | ★★★★★ (5/5) |
| Services | ★★★★★ (5/5) |
| Customer Satisfaction | ★★★★☆ (4/5) |
All About Cats Veterinary Clinic is a facility that delivers its clients with a wide array of pet care services ideal for cats such as dental care, grooming, boarding services, surgical services, and veterinary services among others.
They also readily offer clients a wide array of products such as food, toys, treats, and the like all at competitive prices to which interested clients can also have the benefit of free home delivery and pick ups available.
Aside from this, we also like that they readily employ the latest techniques and equipment in the field to ensure that clients get the best and smooth treatment for their beloved felines.
Note though that rates of their services aren't readily available on their website to which interested clients may need to inquire further for more information on this.
Overall, with their experienced personnel readily employed, an exceptional array of equipment utilized, and a wide variety of pet care services, we highly recommend interested clients to check them out.
Wide variety of products and pet care services offered
Excellent customer service 
After-hours emergencies accommodated
Rates of their services aren't readily available
Customer reviews:
Here are some reviews from their clients:
"What a wonderful first experience at a new clinic! A big thank you to all the staff that answered questions and took such great care of my girls. It was so nice to see the level of compassion and care. Bailey & Panda appreciate it."
"We have been going to All About Cats for many, many years. The staff are caring and compassionate and they have always been accommodating and supportive, especially during tough times. Dr. Karen in particular is wonderful — she gives excellent, practical advice and options. I know she has my cat's welfare at heart and I completely trust her judgment."
FAQs about Animal Hospitals in Vancouver
---
Finding a good animal hospital to care for your pet is not an easy task. But we hope that this guide made it a little bit easier.
In case you're not already a pet owner yourself, check out this list of some of the best animal shelters in Vancouver to find a new addition to your family.