5 Best Web Hosting Companies in Vancouver
Whether you want to make a personal blog or a website for your startup business, you should consider getting only the best web hosting in Vancouver!
In this review, we sifted through all web hosting companies in the area and picked out which ones provide top-tier services. Continue reading to see which ones cater best to your needs.
How much are web hosting services in Vancouver?
Web hosting companies price their services differently, especially since their packages differ in inclusions. Please feel free to use the table below to glimpse the starting costs of web hosting in Vancouver.
| Company | Price |
| --- | --- |
| Hostinger | $1.99/month |
| HostPapa | $3.95/month |
| Siteground | $3.99/month |
| Canadian Web Hosting | $4.95/month |
| HostUtopia | $2.35/month |
Top Companies for Web Hosting in Vancouver
To do this review, we looked into the top web hosting services in Vancouver and picked them based on the following criteria:
1. Hostinger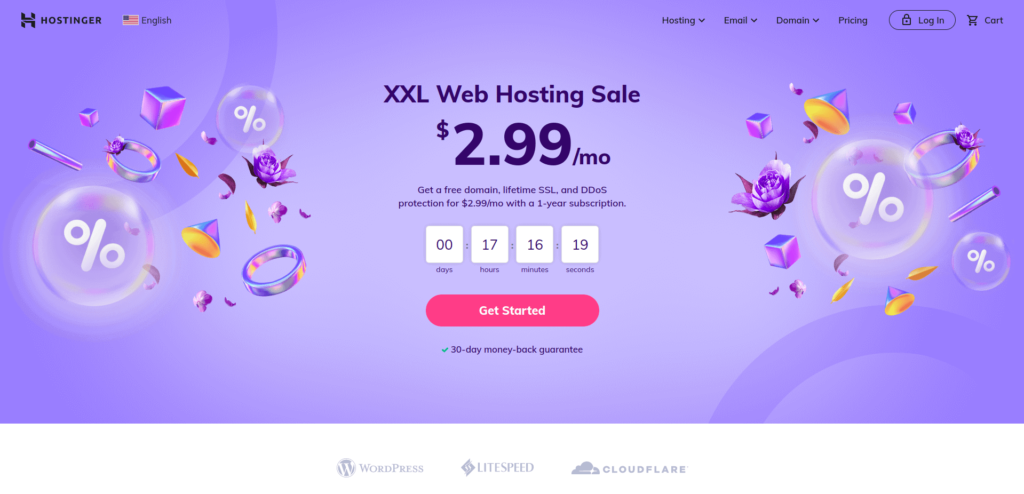 | | |
| --- | --- |
| Criteria | Ratings |
| Uptime | ★★★★★ (5/5) |
| Affordability | ★★★★★ (5/5) |
| Support availability | ★★★★☆ (4/5) |
| Additional features | ★★★★☆ (4/5) |
Hostinger is a Lithuania-based company that provides web hosting in Vancouver and other parts of the world. Although it has no local office in Canada, we believe that the company still has qualities that make them worth considering.
Their biggest strength is their pricing. Their simplest web hosting service for one website goes for as low as $1.99 a month.
This service includes weekly site backups, an email, and a 99.9% uptime guarantee with 24/7 support. In addition, Hostinger will also give you an SSL certificate to make sure that your website is safe and inimitable.
Hostinger also offers free migration services if you want to switch from another hosting company. We believe that these services combine affordability with the bare necessities you might need to host a secure website when you're just starting out.
However, Hostinger also has services that we believe could help businesses. Their business plan offers hosting for 100 different websites and emails with daily site backups and free domain registration for the first year.
We interviewed a handful of their customers and they all praised Hostinger for keeping their promise for 24/7 support. Most of them say that issues do not arise often, but Hostinger's staff fixes it promptly and patiently.
Overall, we believe Hostinger is a good choice for customers who wish to get their website up and running as cheaply as possible without sacrificing their site's safety and function.
Gives a free SSL certificate
24/7 customer support
Affordable web hosting
No local office in Vancouver
Customer Reviews
Patient staff
I hope you don't get any problems at first, but I hope you will get Ivah for your help if you do. She is an amazing person to help. It took around 1 hour to solve the issue, but still, she had so much patience, and most importantly, she was experienced and ready to help with any problem. – Bhavya
Quick response to issues
Excellent support. Zunaid was very understanding, patient and most of all has excellent knowledge of matters at hand. Thank you a lot Zunaid for prompt response and professional issue resolution. – Hicham
2. Hostpapa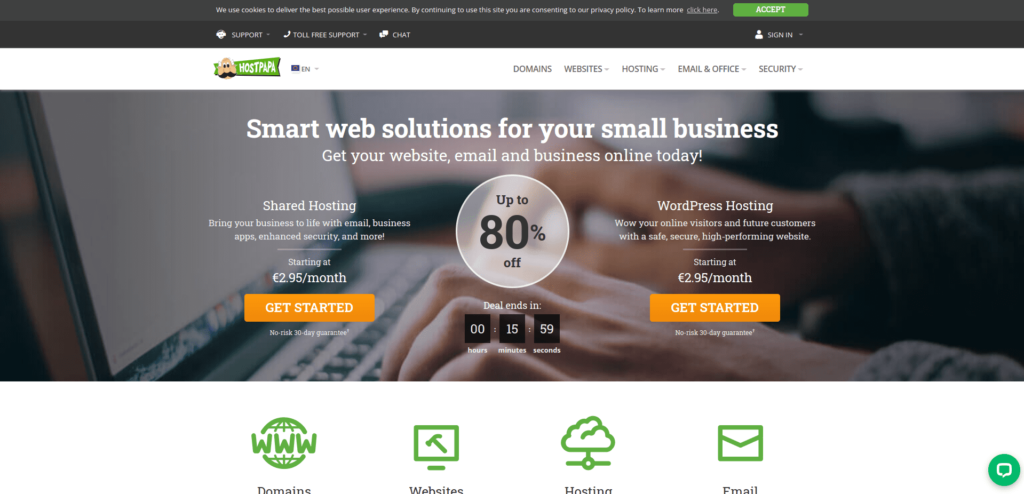 Test
Info
SERVICES
Web Hosting, Cloud Hosting, Email Hosting, Domains, Website Builder
WEBSITE
https://www.hostpapa.eu/en/
ADDRESS
5063 North Service Road, Suite 102, Burlington, ON L7L 5H6
CONTACT DETAILS
1-888-959-7272

(905) 315-3455
| | |
| --- | --- |
| Criteria | Ratings |
| Uptime | ★★★★★ (5/5) |
| Affordability | ★★★★☆ (4/5) |
| Support availability | ★★★★★ (5/5) |
| Additional features | ★★★★☆ (4/5) |
HostPapa offers web hosting in Vancouver, and we believe that they have one of the best offers for beginners.
HostPapa's starter package and business package cost the same with the latter having more features, so we will put our focus on that.
The company's business package allows you to host unlimited websites with unlimited SSD web spaces and unlimited email addresses and with unmetered bandwidth, along with other add-ons.
We believe that this makes HostPapa's cheapest service optimal for those whose websites require lots of storage such as businesses of every size.
These services also come with the usual 99.9% uptime and 24/7 site support. However, we think that HostPapa fares better than its competitors when it comes to providing support.
This is because, unlike other companies, HostPapa allows customers and non-customers alike to call them through the phone to answer queries and provide assistance.
The company also offers free training and self-help guides to its customers so that they could fix their own problems instantly when they arise.
Of course, these inclusions would understandably increase the price of their services. If you are okay with paying extra in exchange for as much storage for as many sites as possible, then HostPapa may be a great option for you.
100 emails available for starters
Free training
Unmetered bandwidth
Customer Reviews
Staff responsive to queries
I've been using Hostpapa for a few years and love dealing with them. Fabulous customer service and it's so nice to pick up the phone and talk to someone who can help you, answer questions and resolve any issues. I mainly just have questions and haven't experienced any issues. I highly recommend them. – Jeanette
Service is easy to use
My Host Papa Website was very good and served me well. It was easy to use and review. I really enjoyed using the site. I had to leave as I was retiring from my business. I did receive a nice note from the site and would use it again at some future date. – Rose
3. Siteground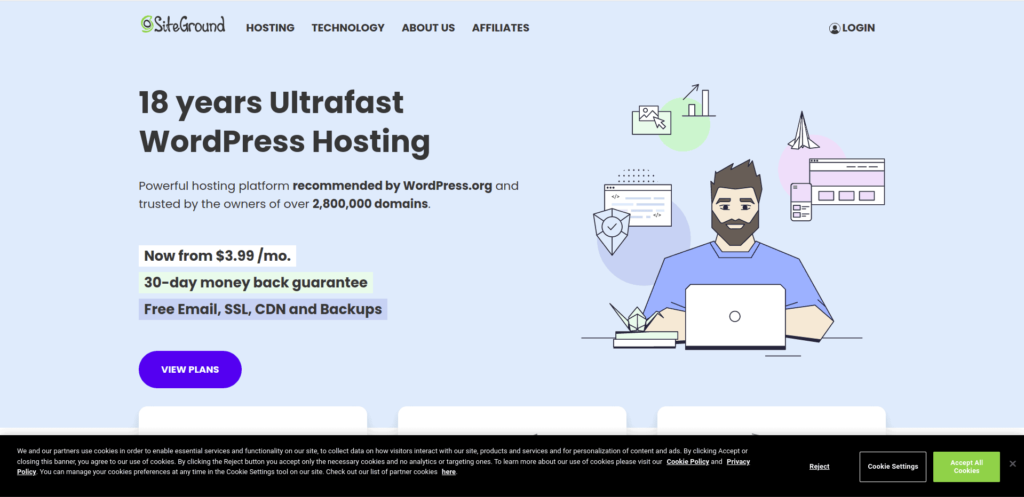 | Test | Info |
| --- | --- |
| SERVICES | Web Hosting, Cloud Hosting |
| WEBSITE | https://www.siteground.com/ |
| ADDRESS | SG Hosting Inc., 901 N. PItt St,, Suite 325, Alexandra, 22314, VA (USA) |
| CONTACT DETAILS | N/A |
| | |
| --- | --- |
| Criteria | Ratings |
| Uptime | ★★★★★ (5/5) |
| Affordability | ★★★★☆ (4/5) |
| Support availability | ★★★★☆ (4/5) |
| Additional features | ★★★★★ (5/5) |
Siteground is a company that offers web hosting services to Vancouver, the US, and pretty much everywhere else. Looking at their web hosting plans, you will see that their services are quite pricey.
However, we believe that this price comes with its perks.
Siteground's most basic package hosts 1 website with a 99.9% uptime, free email, and managed WordPress. The package also comes with free SSL, CDN, and unmetered traffic that we believe would make your site as secure and as fast as possible for a reasonable price.
Another thing we like about Siteground's basic plan is that, unlike other web hosting services in Vancouver, it comes with a daily backup for your site in case something goes awry.
Siteground also commits to replacing the energy their servers use up with green energy to ensure carbon neutrality.
If you want more security, faster speeds, and priority support for your website, you can avail yourself of their GoGeek plan. However, it comes at a much steeper price of $10.69 a month.
Like other web hosting in Vancouver, Siteground also offers 24/7 support for its clients. However, one of our peeves is that non-customers cannot talk to anyone since the company does not have any contact details.
Regardless, we believe that Siteground is a good choice for people who are okay with paying more for more security and protection for their website's data.
Offers daily site backups on all plans
Carbon-neutral servers
30-day money back guarantee
No contact details for non-clients
Customer Reviews
Quick and reliable support
I was having an issue with one of our email addresses. It is such a relief to know that tech assistance is so quick and comprehensive. Often being down under puts us in the wrong timezone for quick support.
There have been a few times that I have needed to contact support on Siteground and they have never let me down. Nor have they made me feel inadequate for not understanding the terminology. They even seem to know how to interpret my tech challenged language. Today it was an email 'thingy.' and Petar was great. – Carolyn
Patient and friendly staff
I am not very tech savvy and have all sorts of questions when it comes to my website. I regularly contact the SiteGround support team and must say that they have incredible customer service. Everyone is super friendly, helpful and patient. I can highly recommend SiteGround and am grateful for the fantastic support. – J
4. Canadian Web Hosting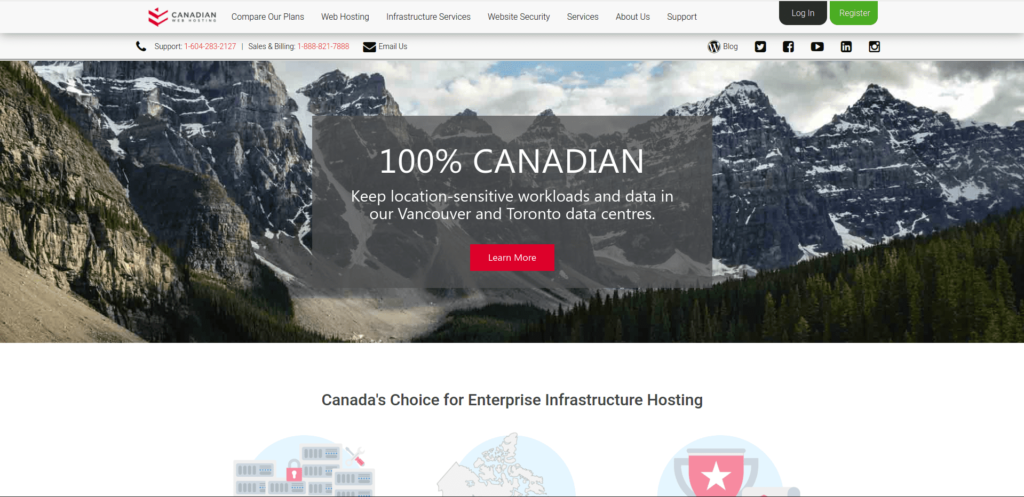 | | |
| --- | --- |
| Criteria | Ratings |
| Uptime | ★★★★★ (5/5) |
| Affordability | ★★★☆☆ (3/5) |
| Support availability | ★★★★★ (5/5) |
| Additional features | ★★★★☆ (4/5) |
Canadian Web Hosting, as their name suggests, is a Canada-based web hosting service. Unlike other companies, Canadian Web Hosting caters specifically to the needs of businesses in the country.
Being based in the country, Canadian Web Hosting's services meet all of the nation's privacy and security requirements.
What we like best about the company is that their data centers are located in Toronto and Vancouver. With your local users being in close proximity to the data centers can improve the speed of your website since the information travels reduced distances.
We believe that this makes Canadian Web Hosting the best option for those with local businesses or for organizations whose services cater to Canadians.
One of Canadian Web Hosting's downsides is their expensive basic package with the usual perks. This package comes with unlimited bandwidth, email accounts, an SSL certificate, and 24/7 support.
Overall, Canadian Web Hosting is a great choice for businesses and organizations with Canadian customers. However, they might not be a viable option for startups, bloggers, and individuals as the prices are steep.
Unlimited bandwidth and subdomains
Placed 2 servers for web hosting in Vancouver 
60-day money back guarantee
Customer Reviews
Quick and responsive team
I was hosting my websites with Canadian Web Hosting since 2010. And I am so happy with the service! They respond very fast. Recently I decided to host a new website with Godaddy. I had a virtual server. It was a big mistake. The only way Godaddy can help you is by chat or call. I wasted 4 hours with 3 different people setting up an FTP account. After I wasted another 4 hours with 2 different people for a simple SSL certificate renewal, I moved this website to Canadian Web Hosting. A similar problem is solved in 5-10 minutes via email with CWH. I highly recommend these guys. – Timur
Solves issues within minutes
Very happy with their service. I have had my site hosted with them since 2017, I only had a problem trying to log into the client area once, but I contacted the customer service chat online and Austin was very helpful, the problem was solved within minutes. Totally recommend them. – Belen
5. Host Utopia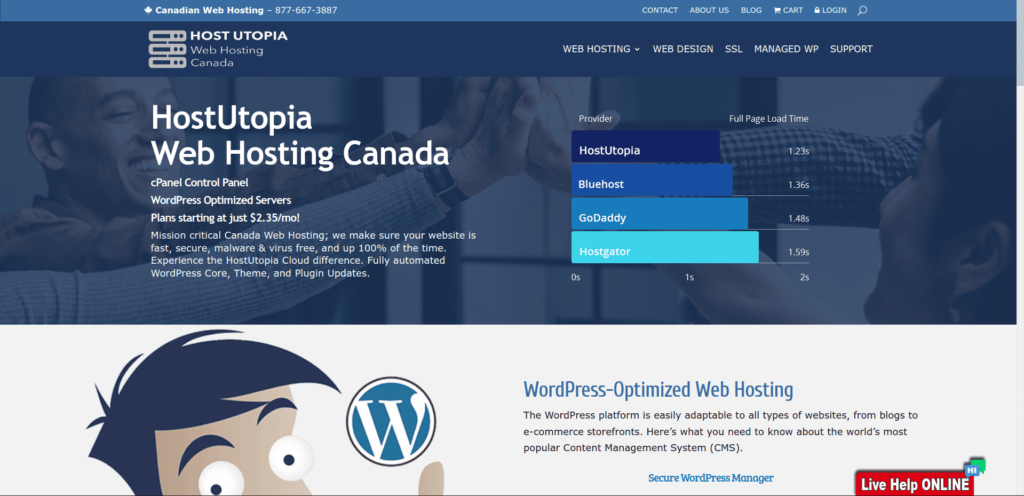 | Test | Info |
| --- | --- |
| SERVICES | Web Hosting, Cloud Hosting, Email Hosting, Website Builder |
| WEBSITE | https://hostutopia.com/ |
| ADDRESS | 1650 Bayshore Drive, Vancouver BC V6B 4A4 |
| CONTACT DETAILS | 877-667-3887 |
| OPERATING HOURS | Open 24/7 |
| | |
| --- | --- |
| Criteria | Ratings |
| Uptime | ★★★★★ (5/5) |
| Affordability | ★★★★★ (5/5) |
| Support availability | ★★★★★ (5/5) |
| Additional features | ★★★★☆ (4/5) |
Host Utopia is a web hosting service based in Canada. Since their data centers are in British Columbia, you can expect high speeds in their web hosting services in Vancouver and surrounding areas.
We believe this makes them yet another good choice for websites with Vancouver locals as their audience. However, Host Utopia's services aren't only viable for businesses but also for individuals.
Host Utopia has 4 different packages, with the cheapest one available at $2.35 a month. The cheapest package is admittedly underwhelming when it comes to most of its services.
The most basic package gets 5 GB of disk space, 10 email forwarders, and a 1-core CPU with 1 GB ram. Although other companies fare better in this regard, Host Utopia redeems itself with its inclusions.
All packages from basic to enterprise get a website builder, easy app installations, SSL certificates, 1-click WordPress installer, and email spam protection. Their services also include 90-day offsite backups and 24/7 support for when things don't go wrong.
As such, we believe Host Utopia is a good choice for anyone who wishes to make a website that caters to Canadians, especially those who want to create their own sites from scratch and have the tools given to them by their web hosting company.
In addition, Host Utopia is a supporting member of the British Columbia Sustainable Energy Association and commits to offering green web hosting services by using renewable energy in their business.
The low prices of their services plus their commitment to support, security, and the environment make Host Utopia a great option for web hosting in Vancouver.
Has support FAQs 
Affordable services
Based in Vancouver
Underwhelming basic package perks
Customer Reviews
Quick and efficient service
I have been with this company well over 14 years. They are always quick to help and go over and above the call of duty. Everything is done very quickly and efficiently. Their prices are extremely reasonable and I would never go anywhere else. – Jennifer
Reasonable pricing
I have been with this company well over 14 years. They are always quick to help and go over and above the call of duty. Everything is done very quickly and efficiently. Their prices are extremely reasonable and I would never go anywhere else. – R
FAQs about Web Hosting in Vancouver