5 Best Ophthalmologists in Vancouver
If you are looking for the best eye surgeons and doctors, you deserve only the services of the top ophthalmologists in Vancouver!
To help you out, we did all the legwork and reviewed all the ophthalmologists in the area and picked the ones that can help you the most. Continue scrolling to see who made it to our list and what they can offer.
How much are the services of an ophthalmologist in Vancouver?
The costs of an ophthalmologist's services depend on the kind of help you need. Please use the table below to get a general idea of how much a visit to an ophthalmologist in Vancouver would cost you.
| Service | Price |
| --- | --- |
| Minor check-up / Follow-up exam | $30 |
| Full eye exam | $47 - $250 |
| Surgery | $1,000 - $3,000 |
Top Ophthalmologists in Vancouver
To make this review, we looked into numerous ophthalmologists and clinics and picked the best using the following criteria:
1. Dr. Briar Sexton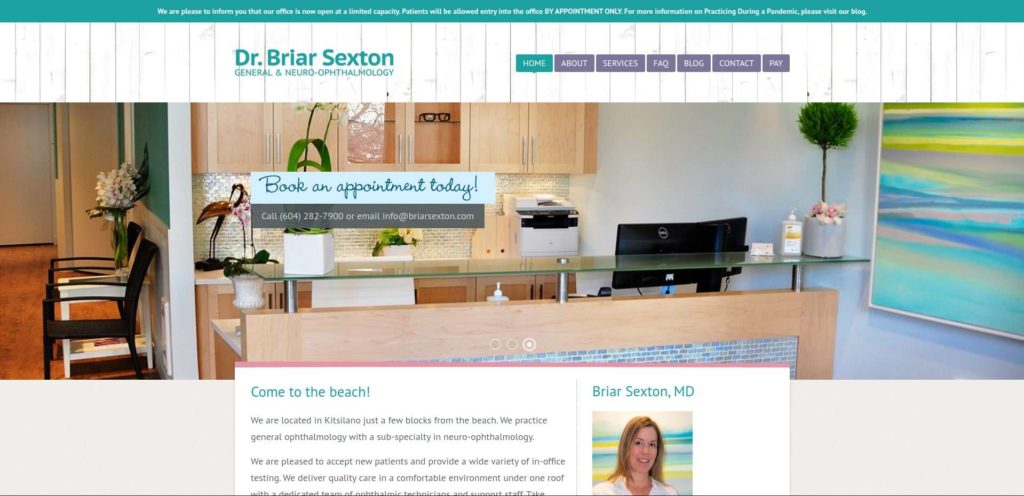 Test
Info
SERVICES
Testing, Medical Evaluations, Medical-Legal Evaluations, Cosmetics
ADDRESS
#4 - 1854 West 1st Avenue, Vancouver, BC V6J 1G5
WEBSITE
https://briarsexton.com/
CONTACT DETAILS
Phone: 604-282-7900 Fax: 604-629-0379

Email: [email protected]

OPERATING HOURS
Monday and Friday: 9:00 AM - 3:00 PM

Tuesday to Thursday: 8:30 AM - 5:00 PM
| | |
| --- | --- |
| Criteria | Ratings |
| Years of experience | ★★★★☆ (4/5) |
| Scope of services | ★★★★☆ (4/5) |
| Customer satisfaction | ★★★★☆ (4/5) |
Dr. Briar Sexton is an ophthalmologist in Vancouver who specializes in neuro-ophthalmology.
One of the things we like about Dr. Sexton is that she is transparent with her career background. She put her updated CV on her website for everyone to see, which could build trust and put many customers at ease.
Dr. Sexton received her MD in 2000 and has been practicing in her field for over a decade. Since then, she has performed all sorts of testing, treatments, and even dabbled in aesthetics and cosmetics.
She and her staff at her clinic offer numerous services, ranging from a variety of in-office eye testing, glaucoma workup and management, concussion evaluation, and more.
By offering numerous services in one place, patients can save time and effort on multiple trips to different hospitals and clinics. In addition, she also offers medical-legal services, therapeutic botox, and other cosmetic services.
We interviewed Dr. Sexton's previous patients, and all of them commented on how knowledgeable, amicable, and reassuring she is. They also say she goes out of her way to study and explain issues not directly involved in medicine.
Dr. Sexton's clinic is located in Kitsilano and although the office is accessible, they only accept patients by appointment. Regardless, we believe that Dr. Briar Sexton's is perfect for clients looking to get all necessary eye evaluations in one place.
Offers a wide range of services
Over a decade of medical experience
Transparent about educational background
Services by appointment only
Customer Reviews
Knowledgeable and friendly staff
Dr Sexton and her staff are very knowledgeable and friendly. She has helped me immensely with my vision care and beyond. When I was having some difficulty understanding an out of country medical insurance problem, Dr Sexton went out of her way to source the relevant literature on the issue and studied it before explaining it to me. It's hard to find anyone out there that would go out of their way to help to this extent, let alone a busy doctor. – Harjee
Professional and reassuring doctor
I have been going to Dr. Sexton for years and have always found her to be professional, reassuring and knowledgeable. I come from a family who tend to have problems with our eyes (I had a torn retina that had to be repaired 3 times). My husband is glad he went to Dr. Sexton, because she found the torn retina in his eye which had to be repaired that day. Our family doctor had insisted he go to the ophthalmologist and refused to give him a referral, so he had to go to a clinic to get the referral. – Shirley
2. West Coast Retina Consultants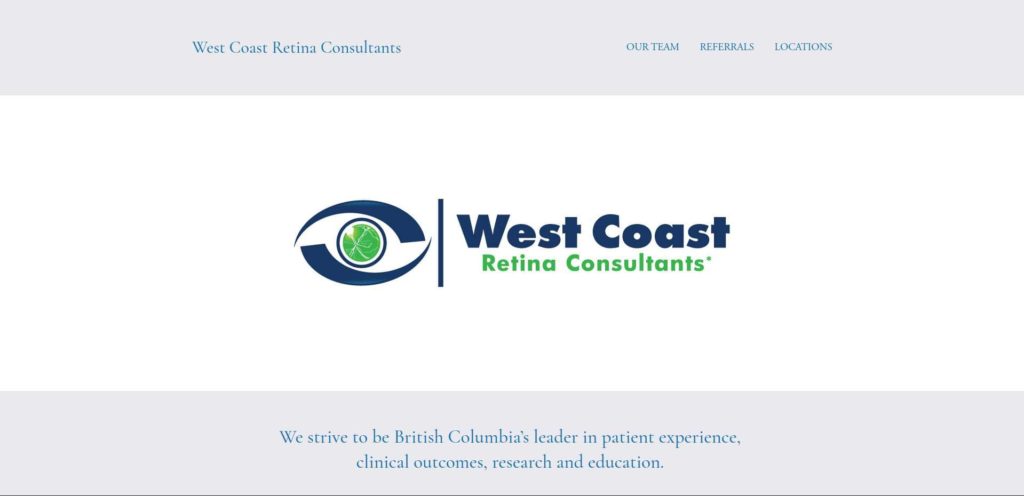 | Test | Info |
| --- | --- |
| SERVICES | Consultations, Treatments, Surgery, Visual Tests And Diagnosis |
| WEBSITE | https://www.retinavancouver.com/ |
| ADDRESS | 805 W Broadway #205, Vancouver, BC V5Z 1K1 |
| CONTACT DETAILS | 604-875-1661 |
| STORE HOURS | Monday to Friday: 8:00 AM to 5:00 PM |
| | |
| --- | --- |
| Criteria | Ratings |
| Years of experience | ★★★★☆ (4/5) |
| Scope of services | ★★★★★ (5/5) |
| Customer satisfaction | ★★★★☆ (4/5) |
West Coast Retina Consultants is a clinic run by experienced ophthalmologists in Vancouver. However, they also serve other areas in British Columbia.
As their name suggests, the clinic specializes in retinal and vitreous issues. Still, they also offer treatments for cataracts and other eye conditions.
West Coast Retina Consultants runs a group practice with four ophthalmologist surgeons who do most of the medical work. By running a group practice, the clinic will have different doctors alternately checking in on you and your condition every time you visit.
This might pose a problem for some patients who wish to be attended to by only one doctor. The clinic says you can put in a request to be seen only by one ophthalmologist, but that cannot be 100% of the time.
Regardless, we think that this is a minor issue when compared to what the clinic and its doctors have to offer.
West Coast Retina Consultants offer different diagnostic imaging services and medical treatments and surgeries ranging from retinal tears to cataracts and glaucomas.
In our opinion, the clinic is best for patients who wish to have all their visual medical needs taken care of in one place.
However, it would be best to remember that you cannot simply walk into West Coast Retina Consulting. The Medical Services Plan needs your primary care physician or optometrist to submit a referral before you can book an appointment with the clinic.
2 locations in Vancouver
Transparent about their doctors' backgrounds
Offers a wide range of services, from testing to treatment
Runs a group practice
Office may be busy often
Customer Reviews
Supportive and knowledgeable doctors
Very knowledgeable, efficient and friendly staff. They treated my retinal detachment and I probably had all the surgeries you can think of to treat it. I've met all the doctors there and they have been extremely knowledgeable and supportive. There have been times the office is really busy, but that's expected from the best retina specialist in BC. – Que
Occasional delays in appointments
I have been receiving treatment here for a few years now, I cannot believe the 2 reviews posted prior to mine. Yes you may have to wait on occasion but usually appointments are on time, how many medical appointments anywhere are ever on time?. Depending on what your appointment is you may have to go to different rooms for various steps in your treatment. The staff are professional and courteous, yes, there may be 1 or 2 staff who's first language is not English, but they speak English adequately well and do a good job as language skills should not be an indicator of work skills. – Richard
3. Lasik MD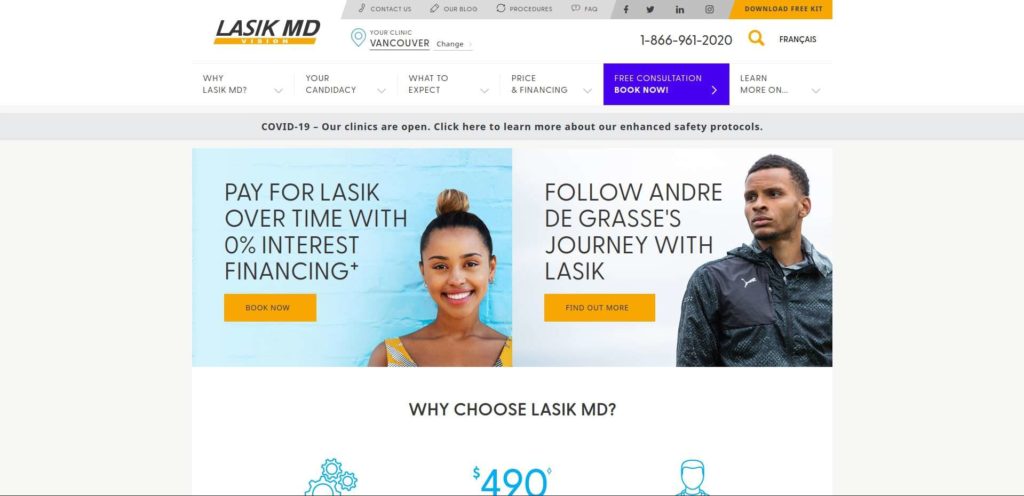 Test
Info
SERVICES
LASIK, Vision Correction Surgeries, Consultations
WEBSITE
https://www.lasikmd.com/
ADDRESS
HSBC Tower, 885 West Georgia Street, Suite 110A, Vancouver, BC V6C 2G2
CONTACT DETAILS
1-866-961-2020 604-639-8088
STORE HOURS
Monday: 8:00 AM to 4:00 PM

Tuesday: 8:00 AM to 5:00 PM

Wednesday: 8:00 AM to 7:00 PM

Thursday: 8:00 AM to 5:00 PM

Friday: 8:00 AM to 5:00 PM

Saturday: 8:00 AM to 5:00 PM
| | |
| --- | --- |
| Criteria | Ratings |
| Years of experience | ★★★★☆ (4/5) |
| Scope of services | ★★★☆☆ (3/5) |
| Customer satisfaction | ★★★★☆ (4/5) |
LASIK MD is a group of clinics run by optometrists and ophthalmologists in Vancouver and other parts of Canada.
Their main purpose is – obviously – to help their patients correct their vision. As such, a majority of their services revolve around treatments and surgeries that can help you see clearly.
What we like about them is that they offer their patients a free, no-obligation consultation to see which procedure would fit your needs. This makes it easy for you to get diagnosed and see which options are available for you.
Another thing we like is their roster of doctors and surgeons willing to assist and conduct the procedure you choose. One of these doctors is Dr. Ghislain-Andre Boudreault, an ophthalmologist with over 50,000 procedures in his record.
After your consultation, you will be offered one of many vision correction procedures, ranging from LASIK, PRK Surgery, Corneal Collagen Cross-Linking, and other LASIK alternatives.
In our opinion, this makes LASIK MD a good option for patients and potential clients who wish to receive a free eye checkup and see what they can do to correct their vision issues.
However, since fixing vision is their forte, you cannot expect much else from their clinics except services focused around their specialty.
Offers free, no-obligation consultations
Open 6 days a week
Transparent with procedure pricing
Services focus mostly on vision correction
Customer Reviews
Supportive staff
I had the most positive and uplifting experience at LASIK Vancouver clinic. Even from the starting point of virtual consultation up until the day after my surgery, I felt completely supported and guided by the staff. tarot, Shane, Lisa you guys were amazing! I highly recommend looking into it for yourself if you've ever contemplated it. Aside from being practical, it is always very meaningful to look the way you envision yourself at your best. – Marlene
Easy and efficient procedures
I had a great experience getting laser eye surgery here! All the staff I interacted with were very friendly, knowledgeable, and went out of their way to answer any questions/concerns I had. I was super impressed with the staff's expertise, and how personal they made the experience during my consult, surgery, and follow-up appointments. The surgeon and surgical team were awesome and they made the procedure both easy and efficient. I would highly recommend this location to anyone considering getting laser eye surgery! – Emily
4. Dr. Vivian Yin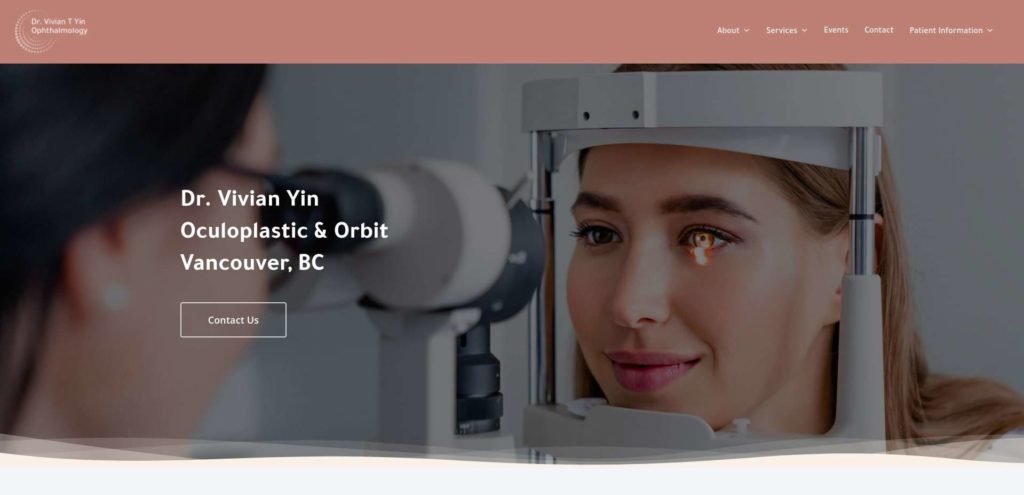 | Test | Info |
| --- | --- |
| SERVICES | Blepharoplasty, Thyroid Eye Disease Treatment, Eye Cancer Treatment, Facial Rejuvenation |
| WEBSITE | https://vivianyinmd.com/ |
| ADDRESS | VGH Eye Care Centre Section H, 2550 Willow Street, Vancouver, BC V5Z 3N9 |
| CONTACT DETAILS | 604-875-8237 |
| STORE HOURS | Monday to Friday: 8:00 AM to 4:00 PM |
| | |
| --- | --- |
| Criteria | Ratings |
| Years of experience | ★★★★☆ (4/5) |
| Scope of services | ★★★☆☆ (3/5) |
| Customer satisfaction | ★★★★☆ (4/5) |
Dr. Vivian Yin is a surgeon and ophthalmologist in Vancouver. Dr. Yin received her MD in 2007 and afterward studied ophthalmology and received her Masters degree in Public Health.
In addition to her work and accomplishments as an ophthalmologist and surgeon, she is also a researcher and teacher that contributes continuously to her field.
We took note of her profession as a researcher because we believe this helps her stay up to date with new techniques in her field. New and updated knowledge can help surgeons like her give patients better treatments.
Dr. Yin runs her own clinic where she does most of her work. Her services center around surgeries such as blepharoplasty, nasolacrimal duct blockage fixing, and treatments for thyroid eye disease and eye cancer.
Another thing we like about Dr. Yin is how detailed her website is. You can find the services she offers there, possible symptoms for each problem she works on, and what to do before and after surgery.
She also offers facial rejuvenation procedures in addition to her surgeries. Nevertheless, we believe her clinic has one major downside: her services center around a few conditions only.
Patients looking for treatments or options not listed on her website may not find much help in Dr. Yin's clinic. However, if you need any form of surgery within her expertise, we believe that Dr. Vivian Yin is one of the best options, given her academic and professional track record.
Ophthalmologist involved in the field of medical research
Offers medical treatments for thyroid eye disease
Thorough explanations available in website
Doctor offers only select surgeries
Customer Reviews
Passionate and professional staff
Dr. Yin is passionate about what she does and she went above and beyond to answer all my questions regarding my surgery. As a result, I felt comfortable before and during the procedure. The admin team was equally as passionate and professional and checked up on me for weeks after the surgery. All in all, just an awesome team of professionals. – Jeff
Patient and comforting doctor
We ended up at Dr. Yin's office because my young daughter had her lower eyelid torn. Talk about one of the scariest moments in a parents life. Dr. Yin and Star were both very patient with my many questions and comforting in a time of high stress. Truly caring and compassionate people. – Jasmine
5. Dr. Nawaaz Nathoo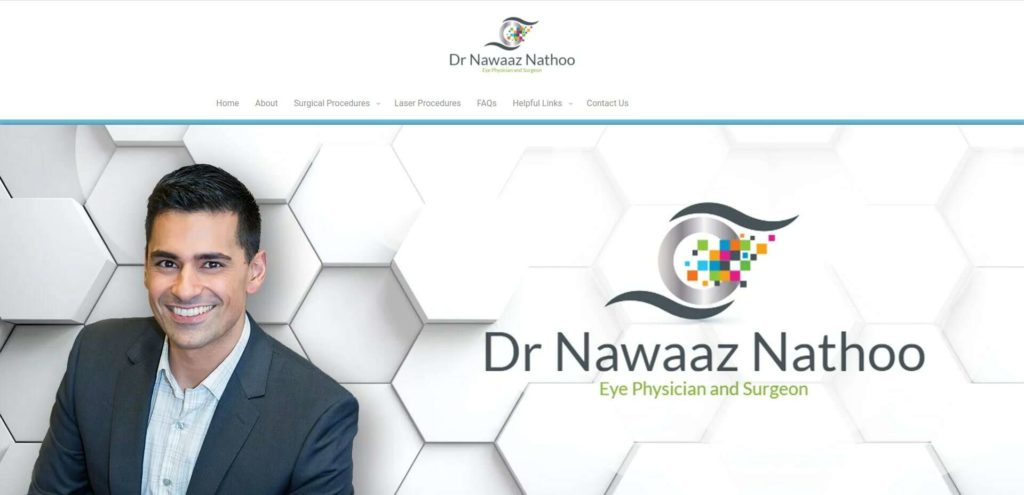 Test
Info
SERVICES
Consultations, Blepharoplasty, Cataract Surgery, Eyelid Surgery, Laser Procedures
WEBSITE
https://drnathoo.com/
ADDRESS
009 Fraser Street, Vancouver, BC V5W 2Z8
CONTACT DETAILS
Phone:604-688-5605

Fax: 604-688-1605

STORE HOURS
By appointment
| | |
| --- | --- |
| Criteria | Ratings |
| Years of experience | ★★★★☆ (4/5) |
| Scope of services | ★★★☆☆ (3/5) |
| Customer satisfaction | ★★★★★ (5/5) |
Dr. Nawaaz Nathoo is a surgeon and ophthalmologist in Vancouver. Although he does consultations and operations in his own clinic, he also works at VGH Eye Care Centre in which he is the director.
Although Dr. Nathoo only finished his residency in 2015, we believe he is a competent doctor in his own right. Aside from being an ophthalmologist, he has undergone training in aesthetic and oculoplastic surgery and serves as a teacher in medical school.
Dr. Nathoo's services include private consultations and surgeries for cataracts and eyelid issues. He also provides LASIK and other laser procedures, as well as aesthetic procedures.
One of the things we like about Dr. Nathoo is how much information he puts on his website. Each section in his website greatly details the condition you might have, the procedure you will undergo, as well as other questions you and other patients may have regarding the surgery.
We also interviewed some of his previous clients, and they commented on how amicable, knowledgeable, and patient he and his staff are.
In addition, he is also transparent about his current educational pursuits. Putting this information on the website builds rapport and may comfort patients who wish to avail of his services.
One of the downsides of Dr. Nathoo's clinic, however, is how busy the lines are. You can try to call his office, but you might have to leave a message and you will be contacted 1 – 2 business days later.
This makes any urgent meetings improbable, even if you are there for a private consultation.
Offers private consultations
Ophthalmologist involved in medical education
Completed residency in 2015
Phone lines are busy
Customer Reviews
Courteous and thorough staff
I recently had cataract surgery on my both eyes. I was amazed at how quickly the process went from diagnosis to surgery. I have heard many great things about Dr. Nathoo and I was really impressed with the care I was given. He is a busy doctor, but I felt he answered all my questions and I was never rushed. His office staff was very courteous and thorough.
If you want a very competent eye surgeon I highly recommend him. – Vio
Friendly and patient doctor
The team is fantastic!
Dr. Nathoo is very friendly and full of patiences! – Jean
FAQs about Ophthalmologists in Vancouver