The Best Charcuterie Delivery in Vancouver
Let's be real. We all love snacking. It's a must when we're binge-watching our favorite shows or when we're having game night with friends; plus, it's a hit at parties.
Sure, we can buy them at the store and arrange them on a wooden board, but if we're being honest, we really don't have time for that.
That's why we're glad to have found charcuterie delivery services in Vancouver that hit the mark with our taste buds and had reliable delivery services.
1. Charcuterie Vancouver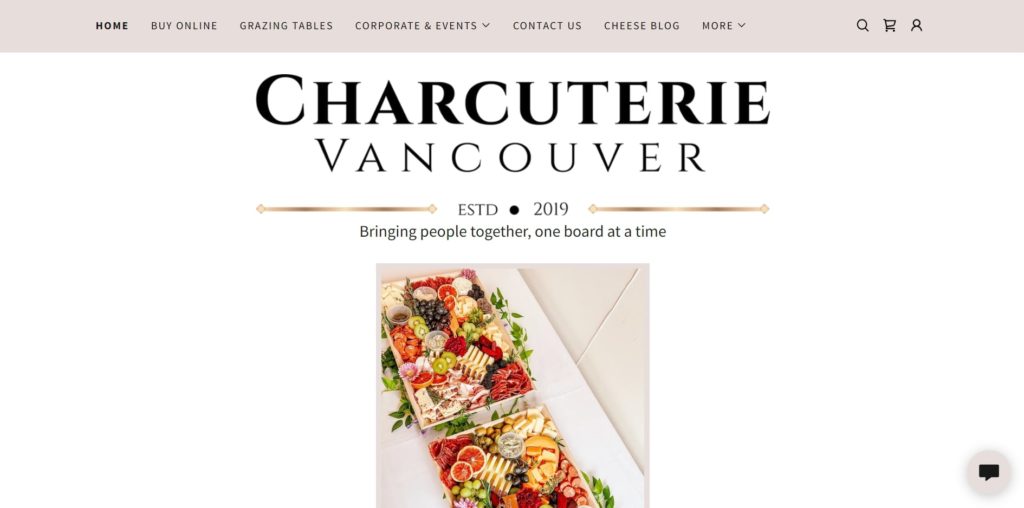 PRICE RANGE
CAD 40 - 1,250
WEBSITE
https://charcuterievancouver.com/
SOCIAL MEDIA
Facebook
ADDRESS
2766 West 4th Avenue, Vancouver, British Columbia V6K 1R1, Canada
CONTACT DETAILS
Phone: 604-330-4061
OPERATING HOURS
Tuesday-Saturday:10:00 AM - 04:00 PM

Sunday: 10:00 AM - 03:00 PM

SAME DAY DELIVERY
Yes
It wasn't hard to track down this charcuterie service, what with the name being a dead giveaway, but we went ahead and perused their charcuterie menu anyway after hearing that Vancouver magazine had voted them the best in the city.
We took the plunge and ordered their large charcuterie; it's a great value and has a nice variety of meats and cheeses. We're having trouble deciding between meat, fruit, and cheese, so this option is perfect for us.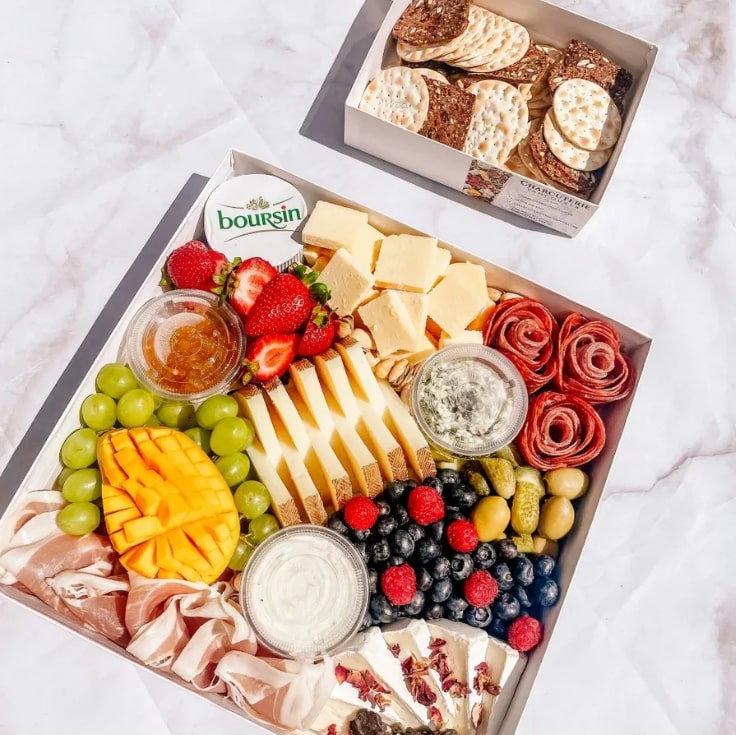 We also recommend their charcuterie cups! Not only are they adorable and beautifully-arranged, they're also quite tasty and handy to give out.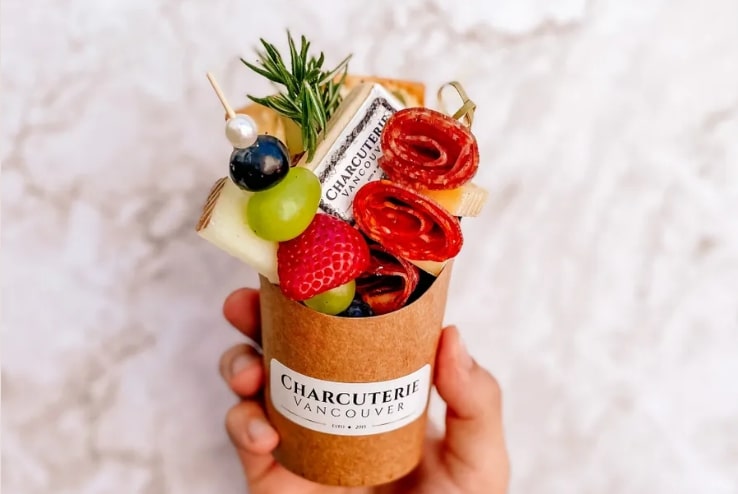 It was also pretty easy to have them delivered to our doorstep. We chose the same day delivery option and everything arrived in great shape.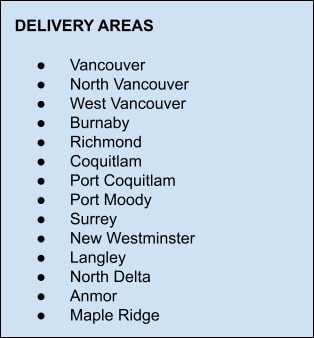 2. Luxe Bites Inc.
PRICE RANGE
CAD 14 - 175
WEBSITE
https://luxebitesinc.ca/
SOCIAL MEDIA
Instagram
ADDRESS
Surrey, British Columbia, Canada
CONTACT DETAILS
Phone: +1 778-926-4788

Email: [email protected]

OPERATING HOURS
Monday - Sunday: 08:00 AM - 08:00 PM
SAME DAY DELIVERY
Yes
The thing about Luxe Bites is that they're the go to charcuterie delivery company for formal events.
If you don't believe us, go and take a look at their social media pages where you'll see them pretty much serving fancy charcuterie for weddings, corporate events, and anniversaries.
We honestly had no idea where to start, but after browsing through their menu, it caught our attention that they serve charcuterie cones, and we thought, "Wow, that's a fun and convenient way to hand out snacks!". And we were right.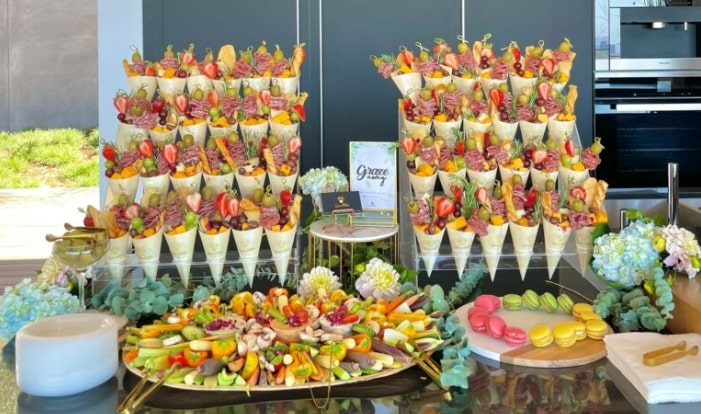 Not only were they handy, but they were also filled with delicious snacks such as cheese, assorted salami, beef, fruits, and olives!
We were worried at first because of our vegan friends, but they were more than happy to customize some of the charcuterie cups to suit our preferences.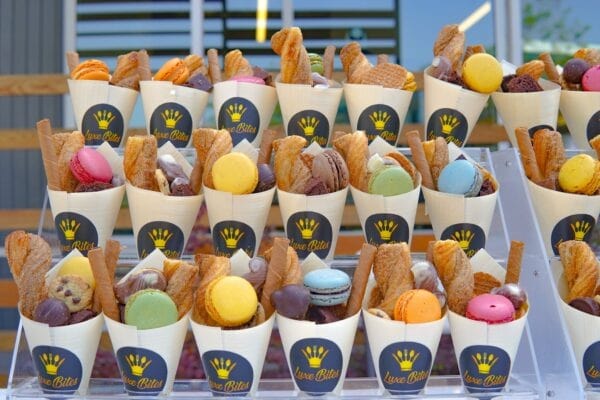 And of course, we couldn't pass up getting dessert so we also ordered these colorful dessert cones that contained a lot of our favorite sugary snacks such as macaroons, waffles, cookies, and adorable mini cinnamon buns!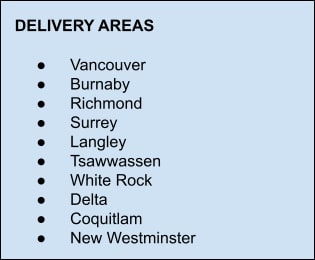 3. Dip and Sip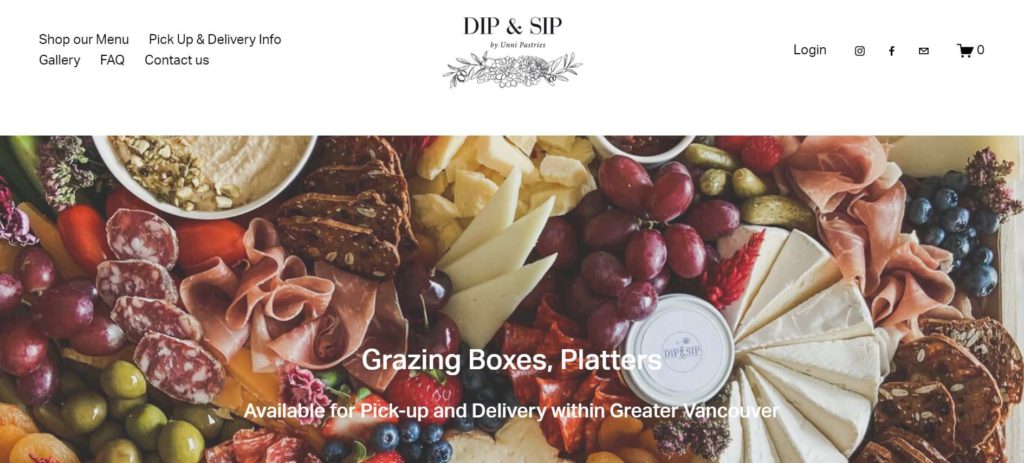 PRICE RANGE
CAD 13 - 255
WEBSITE
https://www.dipandsip.ca/
SOCIAL MEDIA
Facebook
ADDRESS
1605 W 5th Ave, Vancouver, BC V6A 2P3, Canada
CONTACT DETAILS
Phone: +1 604-828-7476
OPERATING HOURS
Thursday - Saturday: 09:00 AM - 04:00 PM

Sunday: 09:00 AM - 12:00 PM

SAME DAY DELIVERY
Yes
We were in a jam when we found Dip and Sip because all of our relatives were in town and we needed food delivered right away.
We were in need of not just any charcuterie board, but a monstrous one, and we had heard that they offered supersized charcuterie platters, so we gave them a try.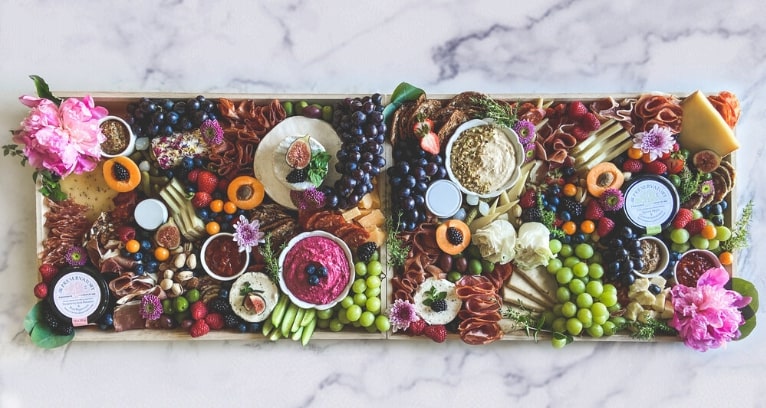 Lo and behold, they had an "XL Premium Select Platter" that can serve up to 30 people, so we got that, and we cannot recommend it more.
There was a large variety of snacks available, but the arrangement made it seem not too crowded, and we appreciated that each item is visible and not on top of each other.
We also recommend getting their dessert platter. For us, we ordered two of these as each platter can serve up to 15 people. And look how pretty those sweets are! We especially liked the macaroons because they were not too sweet.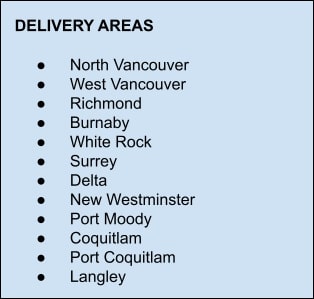 4. Saje & Vine Charcuterie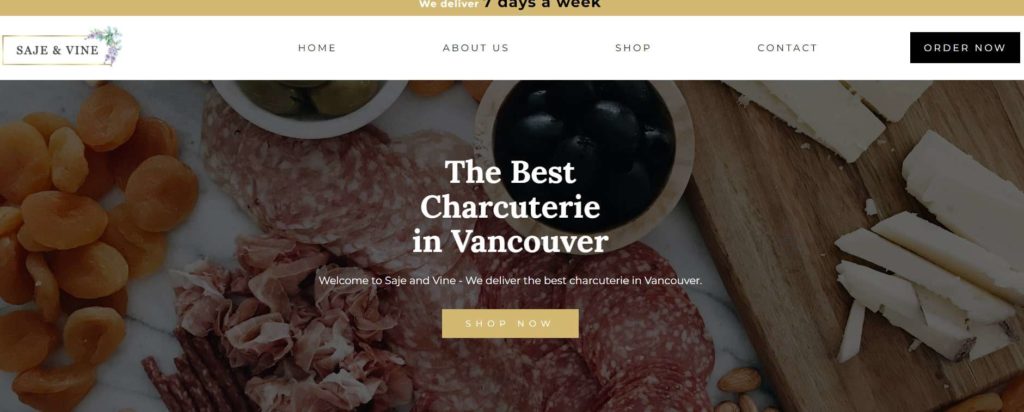 PRICE RANGE
CAD 50 - 230
WEBSITE
https://sajeandvine.com/
SOCIAL MEDIA
Facebook
ADDRESS
418 East Kent Ave S unit 119, Vancouver, BC V5X 2X7, Canada
CONTACT DETAILS
Phone: +1 604-330-4061
OPERATING HOURS
Monday: 08:00 AM - 01:00 PM

Tuesday: 08:00 AM - 03:00 PM

Wednesday: 08:00 AM - 01:00 PM

Thursday: 08:00 AM - 03:00 PM

Friday: 08:00 AM - 03:00 PM

Saturday: 10:00 AM - 02:00 PM

SAME DAY DELIVERY
Yes
Lamb kebabs were a unique addition to the charcuterie boards at Saje & Vine Charcuterie, making them stand out from the crowd. At first, we weren't sure if we should get this, but in the end, we're really glad that we did.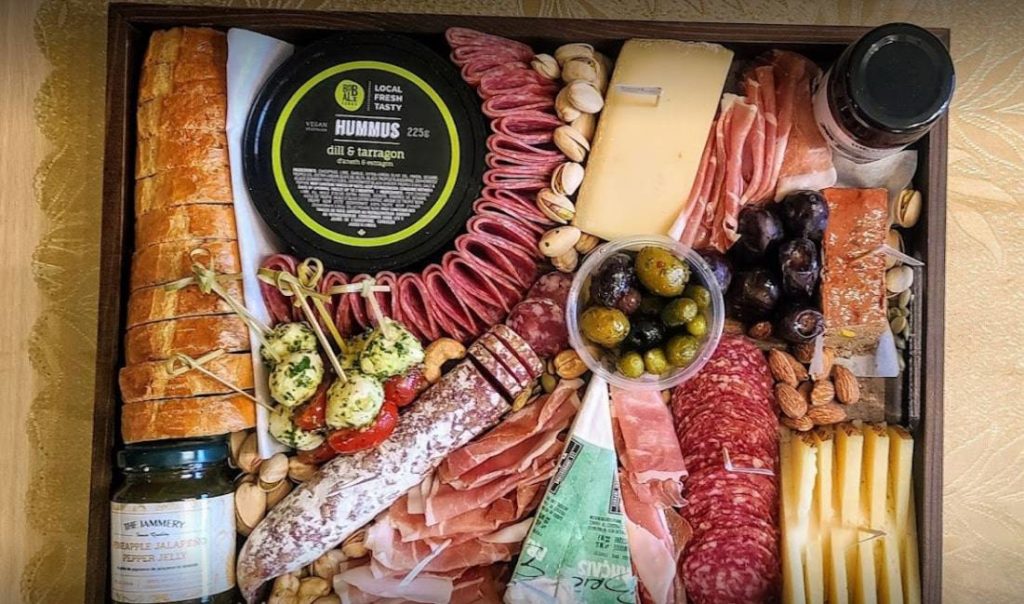 The lamb kebabs were tender and had a smoky flavor that pairs well with the other meats on the board. If you're ordering this, we highly recommend you order a bottle of BC Merlot by Poplar Grove to pair it with.
Although we noticed that the portion sizes were cut a bit oddly, it was still delicious either way. The box that came with it also looks divine as it's engraved with the store's name and the best part of all is that we can keep it!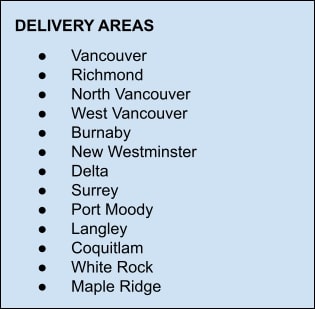 5. The Graze Company Inc.
| | |
| --- | --- |
| PRICE RANGE | CAD 37 - 450 |
| WEBSITE | https://thegrazecompany.com/ |
| SOCIAL MEDIA | Facebook |
| ADDRESS | 3993 Henning Dr Unit 105, Burnaby, BC V5C 6P7, Canada |
| CONTACT DETAILS | Phone: +1 604-725-4793 |
| OPERATING HOURS | Wednesday - Sunday: 07:00 AM - 03:00 PM |
| SAME DAY DELIVERY | No |
It was a stroke of luck that we ordered a DIY kit from The Graze Company before they ran out.
See, it's hard to decide what food to get when you have a random bunch of people over, so we wanted to build our own charcuterie board, and this company lets you do just that.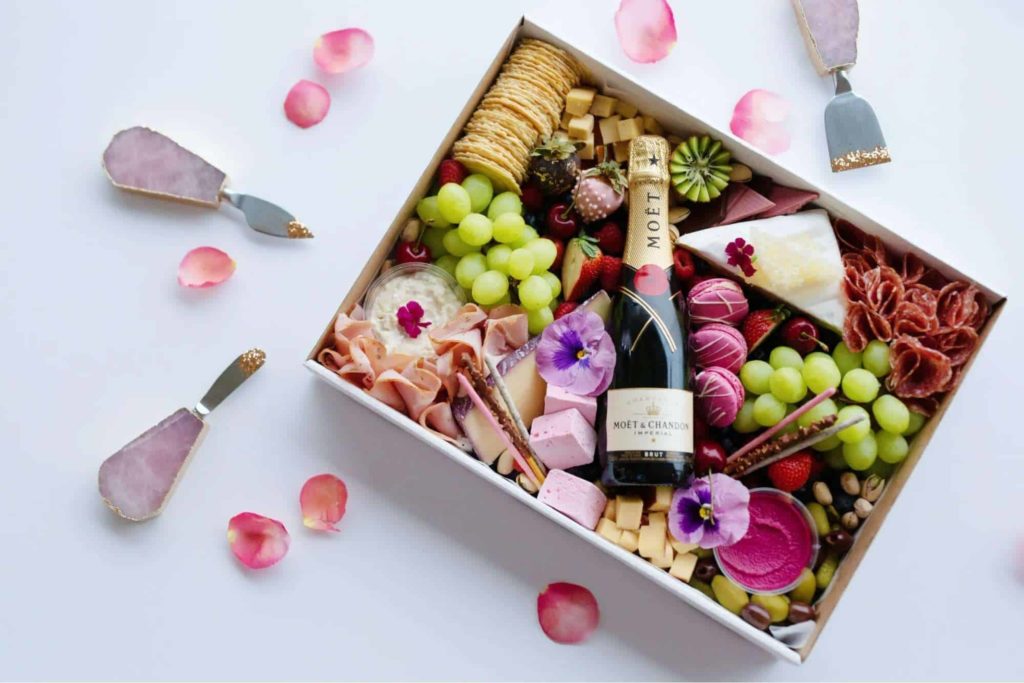 We opted for the red wine and complemented it with an assortment of cured meats, cheese, a jar of artisan preserves, and other snacks, all of which we decorated with edible floral and herb garnishes.
The fact that it comes with a handcrafted wooden board is icing on the cake, but the real treat was feeling like a charcuterie board master as we designed our own.
It's too bad they don't offer same-day delivery, but placing an order on their website was simple enough that we didn't mind waiting.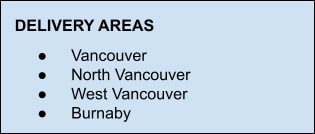 6. Daily Palette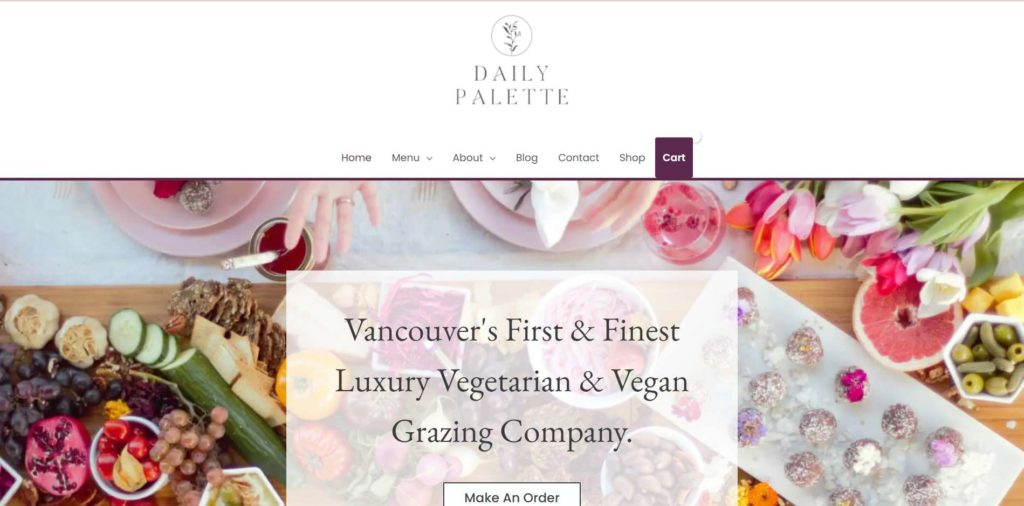 | | |
| --- | --- |
| PRICE RANGE | CAD 27.50 - 229.99 |
| WEBSITE | https://dailypalette.ca/ |
| SOCIAL MEDIA | Instagram |
| ADDRESS | 417 Industrial Ave, Vancouver, BC V6A 2P3, Canada |
| CONTACT DETAILS | Phone: +1 604-679-8755 |
| OPERATING HOURS | Monday - Sunday: 08:00 AM - 07:00 PM |
| SAME DAY DELIVERY | Yes |
Since Daily Palette is Vancouver's first vegetarian and vegan grazing company, we had to give it a try. We were in a particularly health-conscious mood, so we placed a large order for their nourish boards, and here are a few of our recommendations.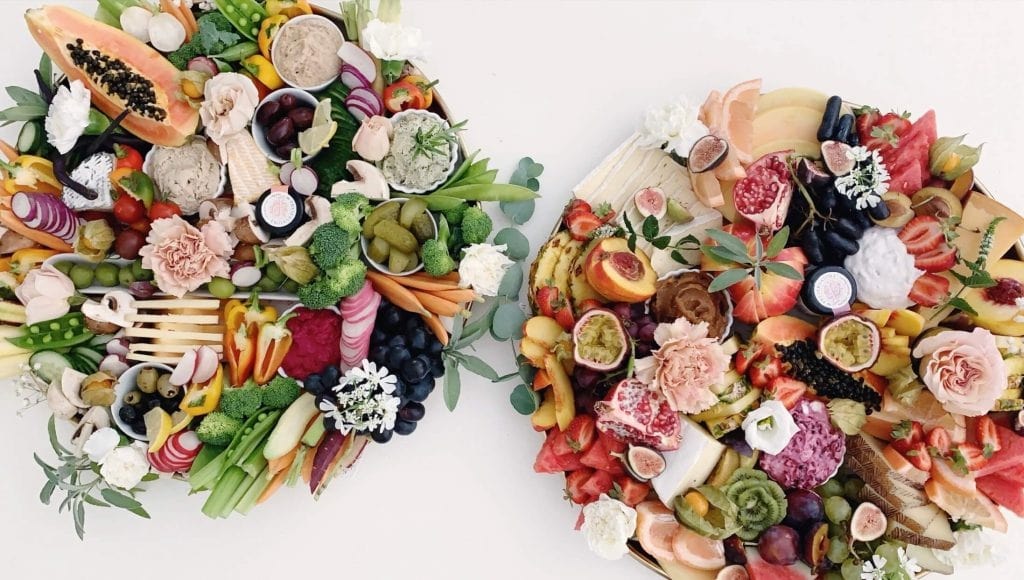 Now, if you're having a large party over, we suggest you order the "Nourish Tables" as this can feed up to 30 people.
Their charcuterie boards are all completely plant based but you won't have to worry about having limited options as they have an abundant selection of fresh ingredients.
We also simply loved the signature handcrafted dips that came with their charcuterie boards and our favorite has got to be their vegan Blue Heron cheese as it had a hint of sweetness that balanced out the sourness.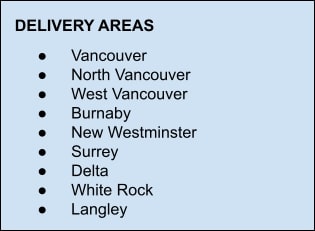 7. Sebastian & Co Fine Meats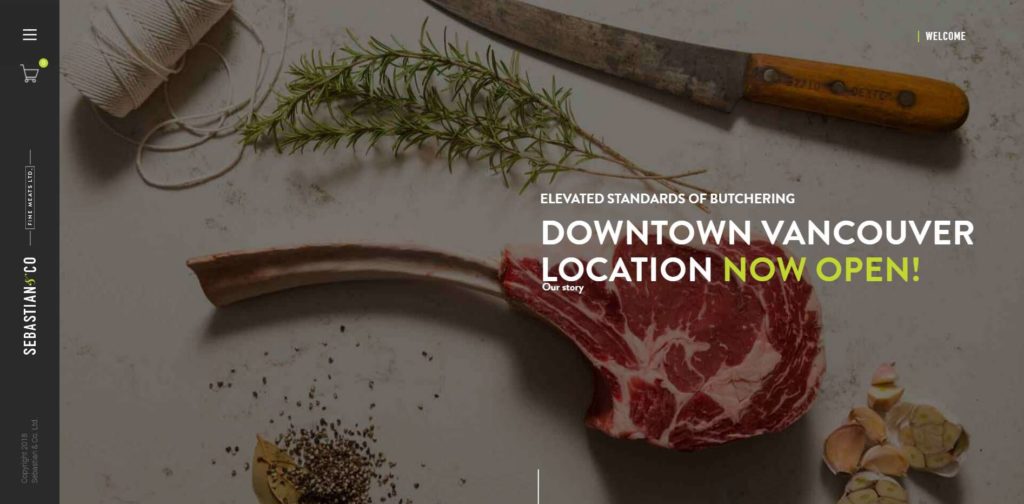 | | |
| --- | --- |
| PRICE RANGE | Request a quote here |
| WEBSITE | https://www.sebastianandco.ca/ |
| SOCIAL MEDIA | Facebook |
| ADDRESS | 1299 Howe St, Vancouver, BC V6Z 1C1, Canada |
| CONTACT DETAILS | Phone: +1 604-564-9393 |
| OPERATING HOURS | Tuesday - Sunday: 10:00 AM - 06:00 PM |
| SAME DAY DELIVERY | No |
We were craving some meat, so we looked online for a charcuterie shop that delivered, and we came across Sebastian & Co. Fine Meats. We were overwhelmed with the choices, so we had to ask for their recommendation.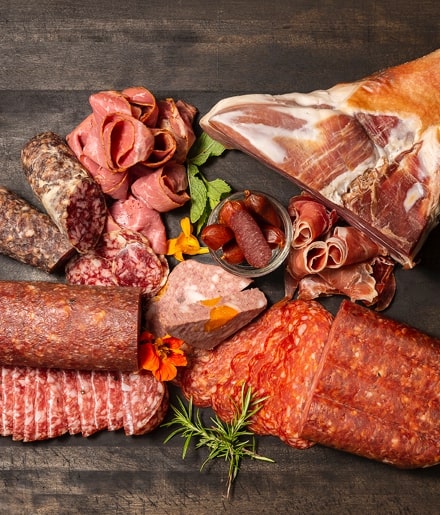 Let's cut to the chase: Get the charcuterie board with all the meats. The salamis, chorizo, salchichón, and pepperoni all blew us away with their flavor and tenderness. The board also features pâtés, terrines, and bresaola.
This recommendation turned out to be spot on, and we thoroughly enjoyed the variety of meats and flavors.
However, they don't have same day delivery services but we thought this was understandable given that the meats are carefully curated and aged so it made sense that we had to order ahead.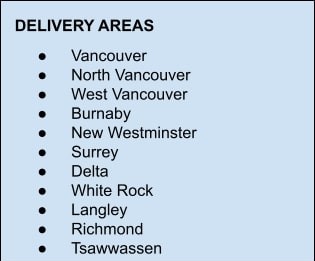 8. FOOD and GRAZE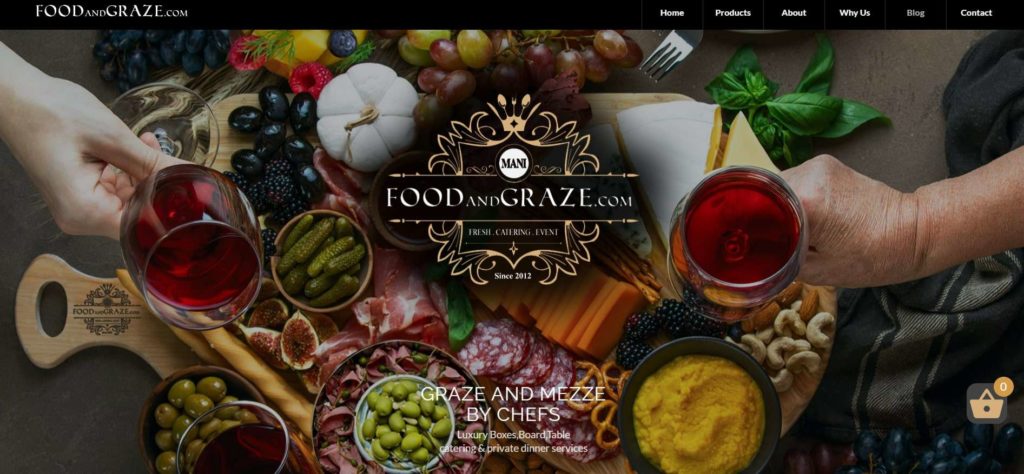 PRICE RANGE
CAD 52 - 205
WEBSITE
https://www.foodandgraze.com/
SOCIAL MEDIA
Facebook
ADDRESS
1200 W Georgia St, Vancouver, BC V6E 4R2, Canada
CONTACT DETAILS
Phone: +1 778-929-8787
OPERATING HOURS
Monday - Friday: 07:30 AM - 12:00 PM

Saturday - Sunday: 08:30 AM - 03:00 PM

SAME DAY DELIVERY
No
It was immediately evident that the charcuterie boards at FOOD and GRAZE were prepared by chefs because of how neatly arranged they were.
We couldn't pick which board was prettier because each of them had varying combinations of meats, cheeses, fruits, and nuts that were all equally appealing to the eyes.
We settled on getting the antipasto box because it had a little bit of everything and we were excited to try all the different flavors of veggies, meat, cheese, fruits, and chocolates on it.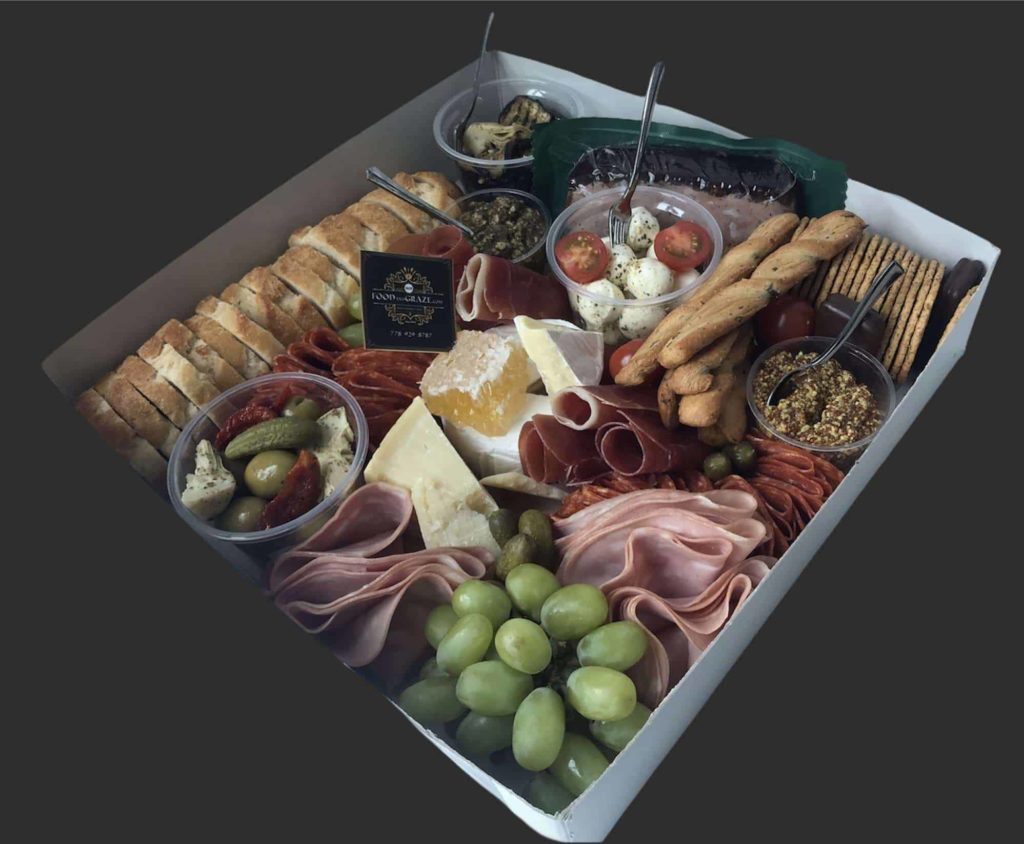 The main character of this charcuterie box is probably the marinated roasted eggplant. We didn't expect it to complement the other ingredients so well but its tangy taste made it stand out for us.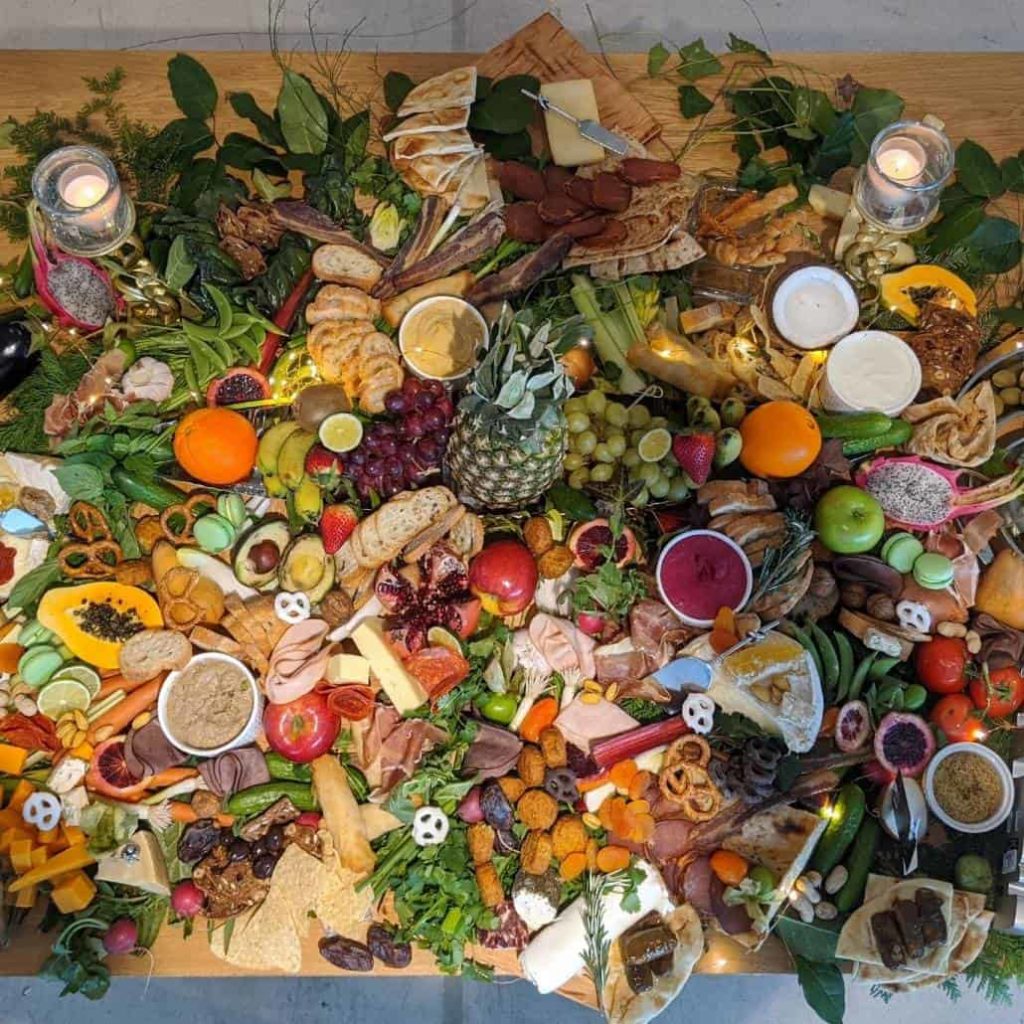 We also had a Graze Table delivered as we were having a large party and we got a lot of praise from our guests because of the taste and abundance of food on the table that left us all full and satisfied. I mean, look at that feast!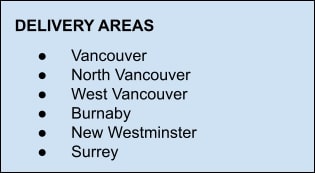 9. Tawnshi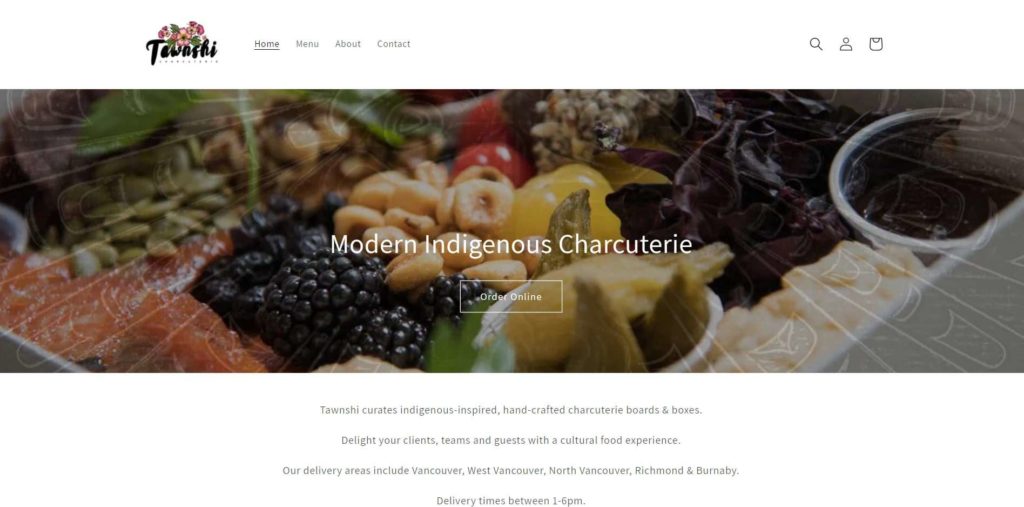 We wondered what the fuss was about Tawnshi, so we decided to give them a try, and they did not disappoint.
It was a breath of fresh air when we found out that their charcuterie boards took their inspiration from Indigenous culture while adding a contemporary spin.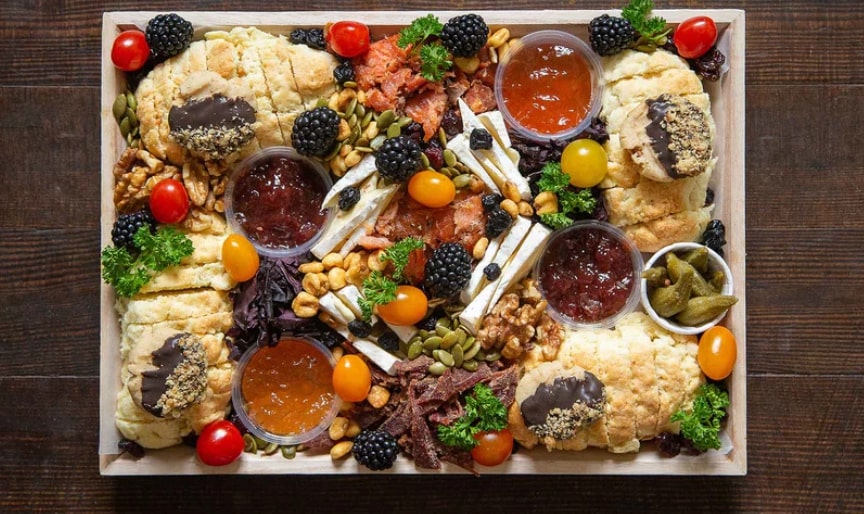 We had to taste it ourselves, so we went ahead and placed an order. Our final verdict? Get the classic Tawnshi Charcuterie Board. From smoked meats to fresh fruits, assorted jellies, and dulce (sea bacon), it was all delicious!
We especially liked that we could taste the Indigenous recipes in them, such as the smoked salmon and bannock bread.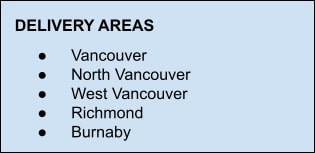 10. Wegouda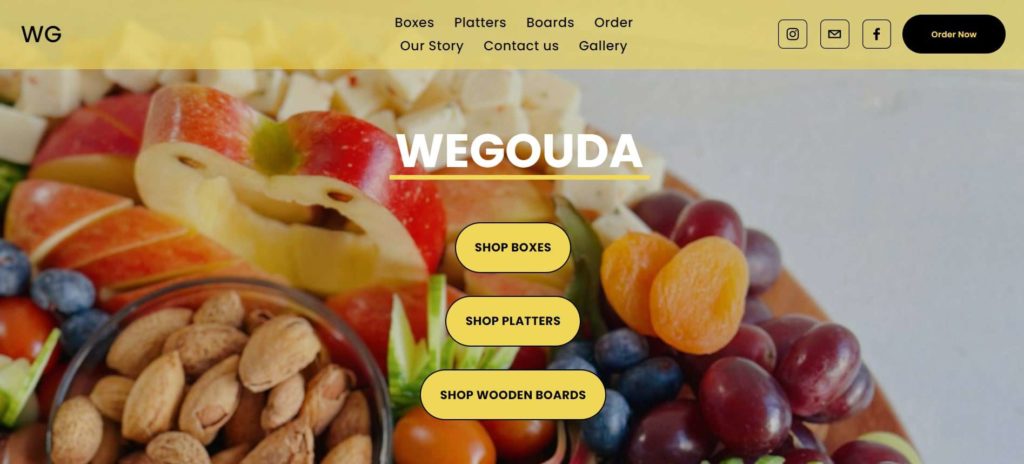 We were initially drawn to Wegouda because of their bespoke charcuterie and cheese boards, but it was their custom made wooden boards that sealed the deal.
You see, we had a hard time finding the ideal birthday present, but we finally decided that a charcuterie board would make a great present, and we're so happy that we ordered one from Wegouda.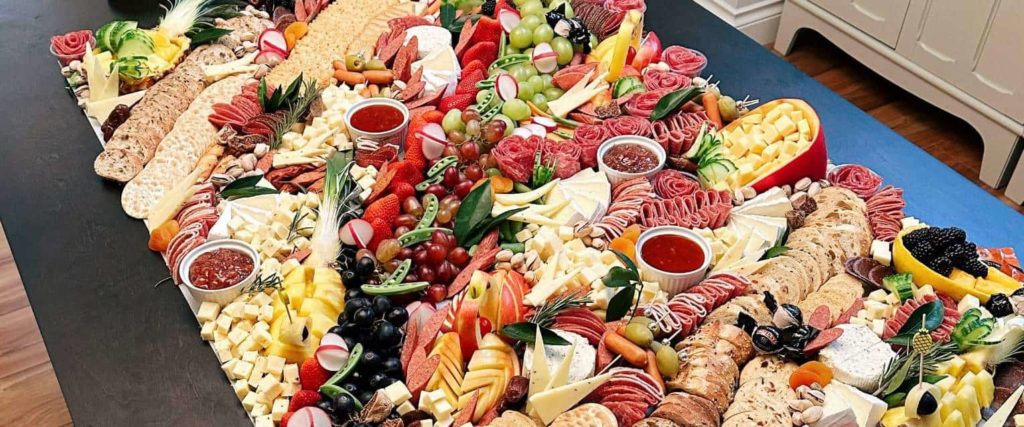 You'd have a pretty decent selection of meats, cheeses, fruits, and vegetables to choose from and since all their boards are DIY, it's up to you to pick what you prefer.
But if we had one recommendation, it would be to choose the savory spread instead of the sweet one. It complements the flavors of the meats and cheeses better.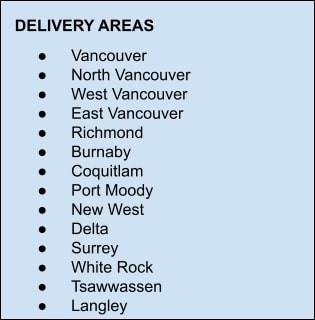 ---
That ends our list of the best charcuterie deliveries in Vancouver. We hope that this list helps you satisfy your cravings for delicious charcuterie boards without leaving the comfort of your home.
If you'd like to consider more food and beverage options, here are a few related articles that may be helpful: