The 12 Best Barbershops in Vancouver
So you want to find a good barbershop, but you don't know what the best barbershops in Vancouver are.
Well, you don't have to worry about that. We've found and reviewed the top shops in the city where you can get a trim or whatever else it is you need done with your hair.
The Cost of a Haircut in Vancouver
Before anything else, you need to know how much barber shops charge for their services. For that, you can refer to the table below.
| Service | Price Range |
| --- | --- |
| Haircut | $20 and up (Youth) $21 and up (Adult) |
| Beard trim/shaping | $21 and up |
| Haircut + Beard trim | $40 and up |
Keep in mind that the price of a haircut or a beard trim can vary from one establishment to the next and can depend on the style of your choice. The table above is just an estimate.
Top Barbershops in Vancouver
We determined the best barbershop in Vancouver based on the following criteria:
1. Struggle and Style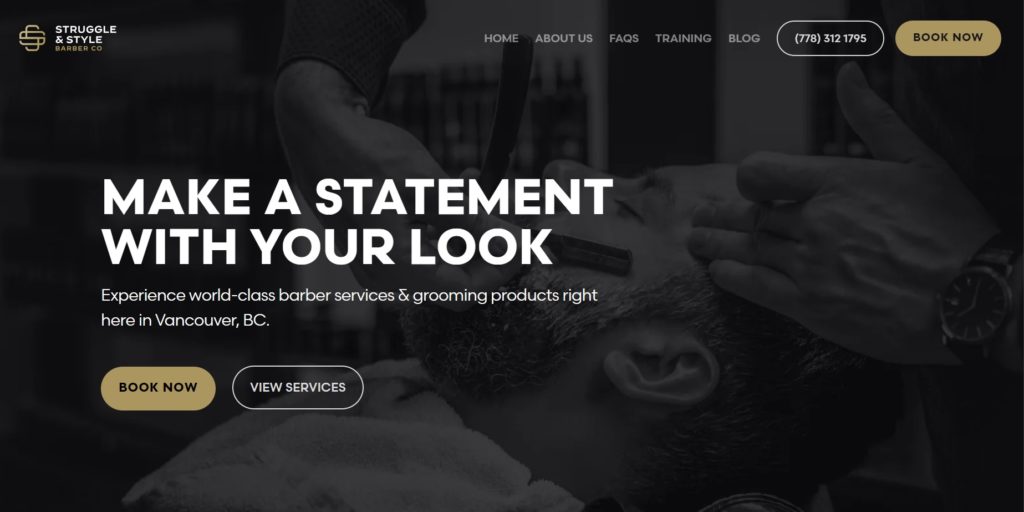 Test
Info
SERVICES
Hair Cut, Fade Cut
WEBSITE
https://struggleandstyle.ca
ADDRESS
8385 St George St Unit 6, Vancouver, BC V5X 4P3, Canada
CONTACT DETAILS
+1 778-313-0675
OPERATING HOURS
MONDAY - FRIDAY: 10am - 7pm

SATURDAY: 10am - 6pm
| | |
| --- | --- |
| Services | ★★★★★ (5/5) |
| Length | ★★★★★ (5/5) |
| Value | ★★★★★ (5/5) |
| Customer Satisfaction | ★★★★★ (5/5) |
Struggle and Style is the operational barbershop for The Beard Struggle that offers clients with stellar and top-notch services for an overall exemplary grooming experience for men.
Newly founded in 2023, we like that they readily make their services available through convenient booking experiences to better accommodate the particular schedules and needs of the client.
Aside from this, their facilities are of exemplary interior since the ambiance and design effectively set the mood for relaxation and bespoke grooming.
Note though that there are additional fees included upon checkout with regard to taxes and fees which clients may need to be aware of beforehand.
Overall, with their excellent array of grooming services, convenient booking experience, and equally exceptional products used, we highly recommend interested clients to check them out.
Various add-on services available
Smooth and hassle-free booking
Quality products utilized
Additional fees are included with booking
Customer reviews:
Here are some reviews from their clients:
"This place is a destination gem and worth the drive if you're looking for the perfect cut. The owner is a true craftsman and takes pride in every cut, he doesn't rush it like other places can be guilty of, he aims for perfection, loves what he does and knows how to run a professional business deserving of what little time you have with him. Pretty amazing product line as well"
"Highly impressed with the barbershop experience! The skilled staff provided excellent service, giving me a stylish haircut that exceeded my expectations. The ambiance was inviting, and the attention to detail was evident. Will definitely be returning for another great haircut."
2. Paulie's Barbershop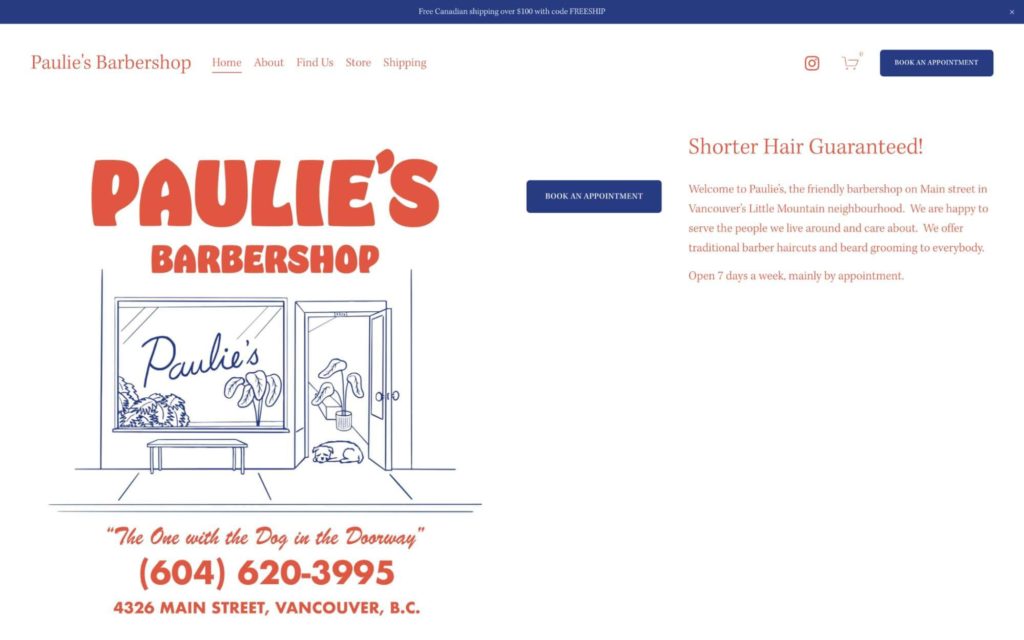 Test
Info
SERVICES
Haircut Haircut + Beard trim Buzzcut Beard trim
WEBSITE
https://www.pauliesbarbershop.com/
ADDRESS
4236 Main Street, Vancouver
CONTACT DETAILS
604 620 3995

Email: [email protected]

OPERATING HOURS
Monday to Saturday: 10AM to 7PM

Sunday: 10AM to 6PM
| | |
| --- | --- |
| Services | ★★★★☆ (4/5) |
| Length | ★★★★★ (5/5) |
| Value | ★★★★☆ (4/5) |
| Customer Satisfaction | ★★★★★ (5/5) |
The first thing that we noticed about Paulie's Barbershop was the dog. Their shop dog was just there and it was pretty chill.
In line with that, it's probably no wonder that another thing we liked about Paulie's was the atmosphere. It's a great place to relax and chill while getting your hair trimmed.
We also liked how straightforward the services were: you can get a haircut and a beard trim. That's it, no frills or fancy extras – and we appreciate that.
A haircut at Paulie's takes about 30 minutes, by the way. That's not too long, though someone looking to relax a bit more might find it a bit short.
Otherwise, thirty minutes is a great length of time for a haircut. It's quick enough that it doesn't take up too much of your day, but not so quick that you worry that you got a rush job.
Getting your hair buzzed or your beard trimmed here takes about 15 minutes, so if you're looking to get either of those things done, you could do so in the middle of the day.
Haircuts are by appointment, though, and that can lead to a lack of adjustment afterwards. They'll cut your hair and that's it – you may not have time to get anything altered.
Has a very friendly shop dog
Casual and relaxing ambience 
Mainly works by appointment
Can be a little pricey
Customer reviews:
"​​Booking system works well. Appointment started right on time. Great conversation, great haircut. 10/10 would recommend." – Daniel Papania
"Five stars all around. I've been getting my hair cut at Paulie's for five years now. The barbers at Paulie's are skilled and friendly. The shop is well designed with a comfortable, welcoming interior and boasts the best shop dog in Vancouver." – Thomas Robillard
3. Regal Grooming Lounge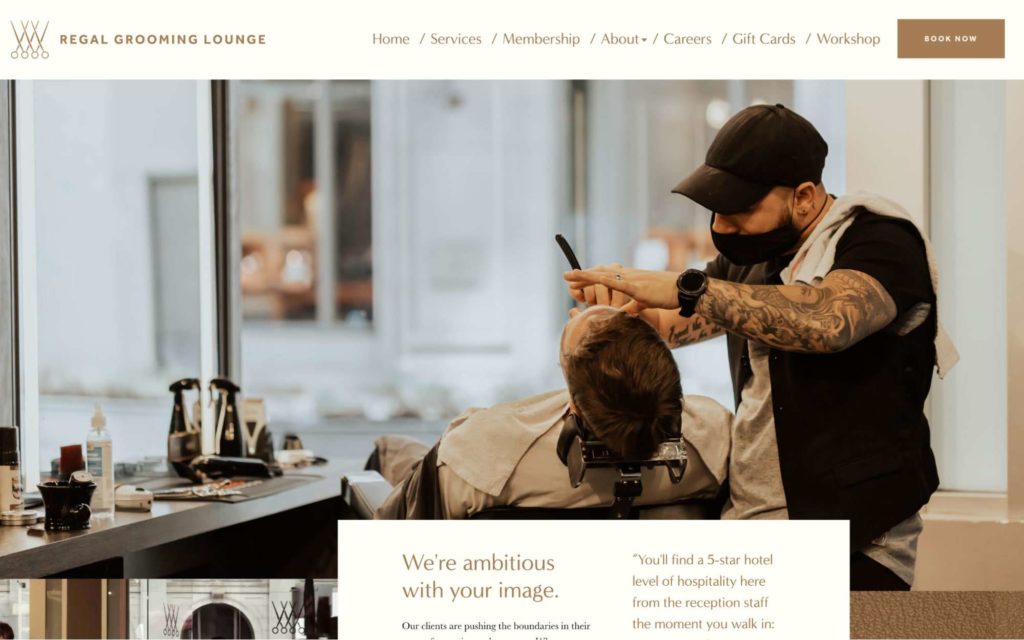 Test
Info
SERVICES
Haircut

Buzzcut

Lineup

Scalp treatment

Hot towel shave

Beard trim

Beard shaping

Head shave

Grey blending

Eyebrow tinting

Eyebrow shaping

Gentleman's facial

WEBSITE
https://regalgrooming.ca/
ADDRESS
415 HORNBY STREET, VANCOUVER, BC, V6C 2Y2
CONTACT DETAILS
604-343-7668
OPERATING HOURS
Monday to Friday: 9:30 AM to 7PM

Saturday: 10AM to 6PM

Sunday: Closed
| | |
| --- | --- |
| Services | ★★★★★ (5/5) |
| Length | ★★★★☆ (4/5) |
| Value | ★★★★☆ (4/5) |
| Customer Satisfaction | ★★★★★ (5/5) |
We found a lot to like about the Regal Grooming Lounge. The very first of them was that you get a free drink at reception – that drink can be beer, whiskey, or whatever drink you'd like to sip on.
It's a heck of a welcome to get while you're checking out the wide range of services. Instead of being just a barbershop where you can get a simple haircut, they seem more like a full-service lounge for hair.
In line with the above, we really appreciated their eyebrow shaping. Eyebrows can be ignored so often in barbershops so it was nice that they had a service to give them attention.
One service we particularly liked was their grey-blending. They're able to color in grey hair to make it look natural, so customers are able to keep their youthful appearances for a little while longer.
We also really liked their scalp treatment to promote optimal hair health. The staff is also friendly, which makes for a great atmosphere in which to relax for a few minutes.
The biggest drawback we've encountered with them seems to be that a small number of clients are unsatisfied with their haircuts. That said, most clients seemed to like their haircuts just fine.
Very wide range of services
Free drink at reception
Walking in without an appointment might be difficult
Customer reviews:
"Just wow! Can't recommend this place enough, but I'll definitely try. First of all, I got a very warm (and funny) welcome on arrival, along with an offer of a beverage.
I had booked Victor for a haircut and beard shaping. I pretty much gave him carte blanche and after asking me a few questions, proceeded to hit it out of the park on both the hair and beard. I just started growing a beard and wanted something "clean" and he managed to combine a great haircut and fantastic beard trim. He was also incredibly personable and made me feel very welcome in his chair.
Needless to say, Regal (and Victor) have a new regular customer. Keep up the great work!" – Derek MacDonald.
"Only started going to Regal Grooming this last year. Best experience so far. Hayley has cut my hair every visit. Highly recommend her. Fun to chat with or sit in silence." – Hoang Nguyen
4. Farzad's Barber Shop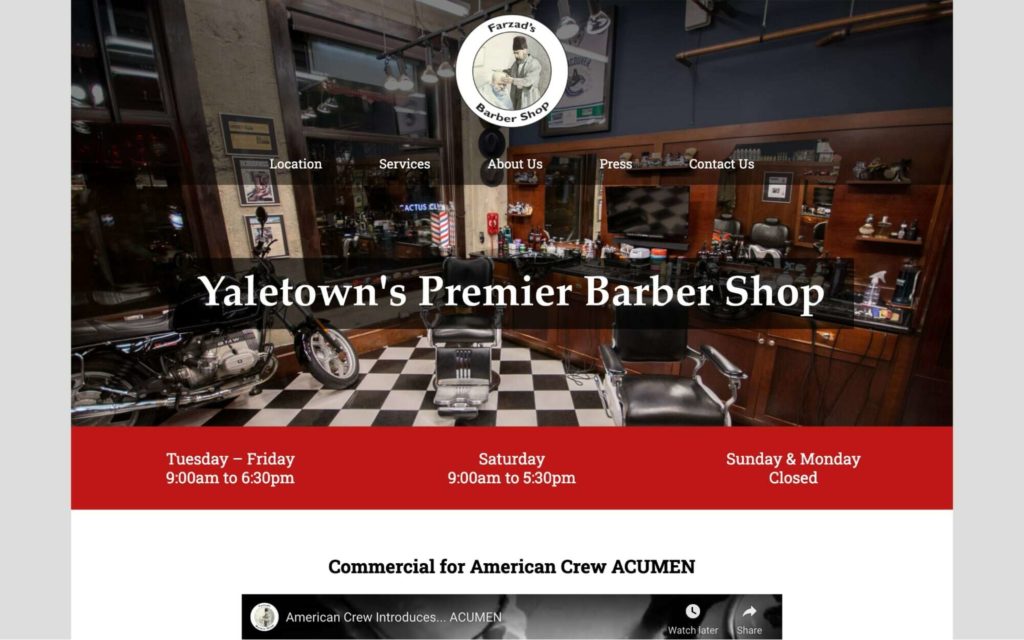 Test
Info
SERVICES
Haircut & Wash Deluxe Hot Shave
WEBSITE
https://farzadsbarbershop.com/
ADDRESS
126 – 1208 Homer St, Vancouver, BC V6B 2Y5
CONTACT DETAILS
(604) 408-0060
OPERATING HOURS
Tuesday to Friday: 9AM to 6:30PM

Saturday: 9AM to 5:30PM

Monday and Sunday: Closed
| | |
| --- | --- |
| Services | ★★★★☆ (4/5) |
| Length | ★★★★☆ (4/5) |
| Value | ★★★★☆ (4/5) |
| Customer Satisfaction | ★★★★★ (5/5) |
What we liked about Farzad's Barber Shop was the simplicity of it. There's nothing superfluous or extraneous about the place.
They offer haircuts and they offer shaves, and we liked that they've chosen to stick to the basics of a barbershop.
But just because they're basic in that sense doesn't mean they're lacking in any way, shape, or form. Sometimes, the basics are all that you need.
Their haircuts are finished with a straight razor to the neck, a shampoo/rinse, and a hot towel. Their shaves are a little more elaborate.
The Deluxe Hot Shave includes prep with hot towels and oil, then a straight razor, and then more hot towels. They finish their shaves with two cold towels and balms to the face, which finishes off the shave on a luxurious note.
Speaking of their shaves, you won't find too many straight razor shaves better than this one.
The atmosphere is also friendly and relaxed, with many clients conversing happily with their barbers.
The only thing we didn't totally love was that the place was rather small. There's only two chairs inside the barbershop so just walking in may not be a feasible option.
But other than that, we didn't really find a lot that we didn't like.
Relaxed setting
Excellent shave service
May require an appointment for service
Barbershop only has two chairs
Customer reviews:
"Professional, clean, and efficient; all under the watchful eye of one of the most renowned barbers in the city and one of the foremost instructors and performers of a straight razor shave in the entire world (seriously, I'm not kidding). Farzad is a legend in the barbering community — just google him or look him up on social media and you'll quickly see he's the real deal. In spite of all this, he has managed to stay true to his roots by offering a very down to earth, non-pretentious experience — his shop is quaint and tucked away from the hustle and bustle, and that's just the way I like it.
It is very hard nowadays, especially in Vancouver, to find businesses and entrepreneurs who aren't the presidents of their own fan club, but come to Farzad's and you will be greeted by a humble professional who enjoys a lively conversation while providing you with exceptional service.
Word of warning: try and book in advance. The sign of a good barber is how full their schedule is, and Farzad is certainly no exception. You won't be disappointed!" – Estevan Garcia
"A great cut, fun conversation and awesome value!" – Ryan Anderson
5. Del Ray Barbershop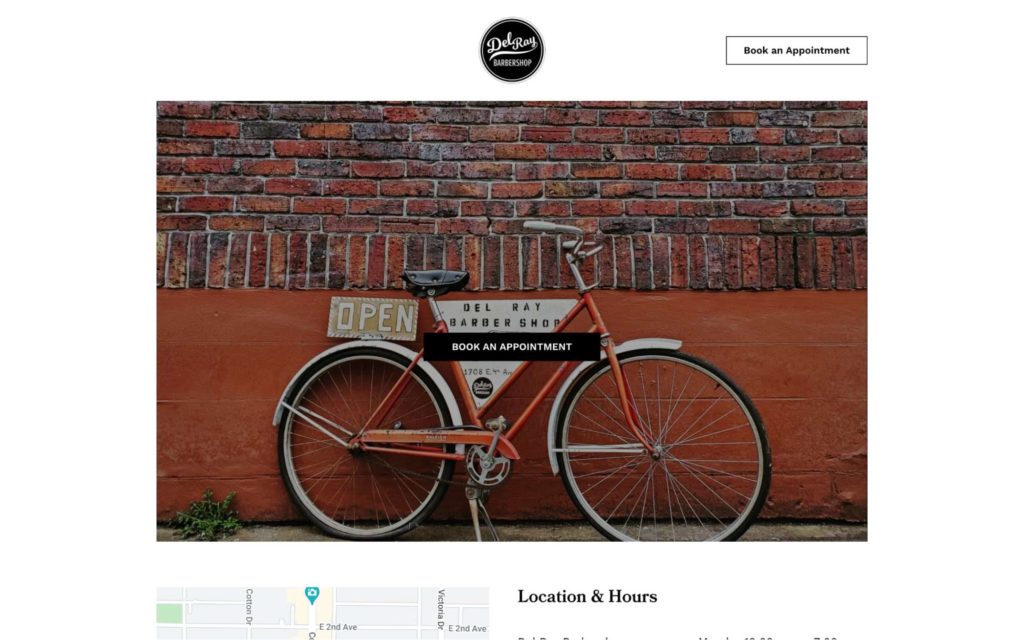 Test
Info
SERVICES
Haircut Buzzcut Fade Beard trim
ADDRESS
1708 E 4th Ave, Vancouver, British Columbia V5N 1K1
WEBSITE
https://delraybarbershop.square.site/
CONTACT DETAILS
(778) 235-2886

Email: [email protected]

OPERATING HOURS
Monday to Friday: 10AM to 7PM

Saturday: 10AM to 6PM

Sunday: 10AM to 3:30PM
| | |
| --- | --- |
| Services | ★★★★☆ (4/5) |
| Length | ★★★★☆ (4/5) |
| Value | ★★★★☆ (4/5) |
| Customer Satisfaction | ★★★★★ (5/5) |
Del Ray Barbershop has a lot going for it. One of the things that caught our attention was the atmosphere: it's friendly, welcoming, and pretty chill.
We also liked their online booking. It's intuitive and user-friendly, so booking an appointment is pretty easy.
Beyond the general ambience, the barbers themselves are highly-skilled. They're able to cut hair and trim beards with accuracy.
We also liked that they're an old-school barbershop, or at least are able to replicate the aesthetic of one.
A haircut at Del Ray takes about 40 minutes for an adult and 30 minutes for a kid, by the way. That's not too long, but it's long enough to unplug and recharge.
Beard trims and buzzcuts are quicker than their standard haircuts, with both taking about 20 minutes. Fades, on the other hand, will take about 40 minutes.
Anyway, our main gripe with them is that appointments are needed in order to get service. You might be able to walk in if you're lucky, though – which might not be that unlikely given that they're open 7 days a week.
Other than that, we've found that Del Ray doesn't leave a lot to be desired. It's a great place to get a haircut if you want to get it done somewhere with a relaxed atmosphere.
Relaxed, old-school vibe
Open seven days a week
Appointments may be needed
Customer reviews:
"The shop has a great energy about the place and all of the barbers here are highly trained professionals. Would definitely recommend ringing to make an appointment as walk ins are few and far between. The only place in Vancouver to get a hair cut!" – Adam Conboy
"Have been to these guys twice now, each of them do a fantastic job with their work. Collin and Jeff (I think) are fantastic to talk to. Very clean shop, covid measures are well in place and great workman ship. You've gained two lifelong customers (getting my dad to come in before Christmas! ) thank you for your work boys, you guys are killing it on the drive." – Joshua Valenzuela
6. Big Joy Barber & Salon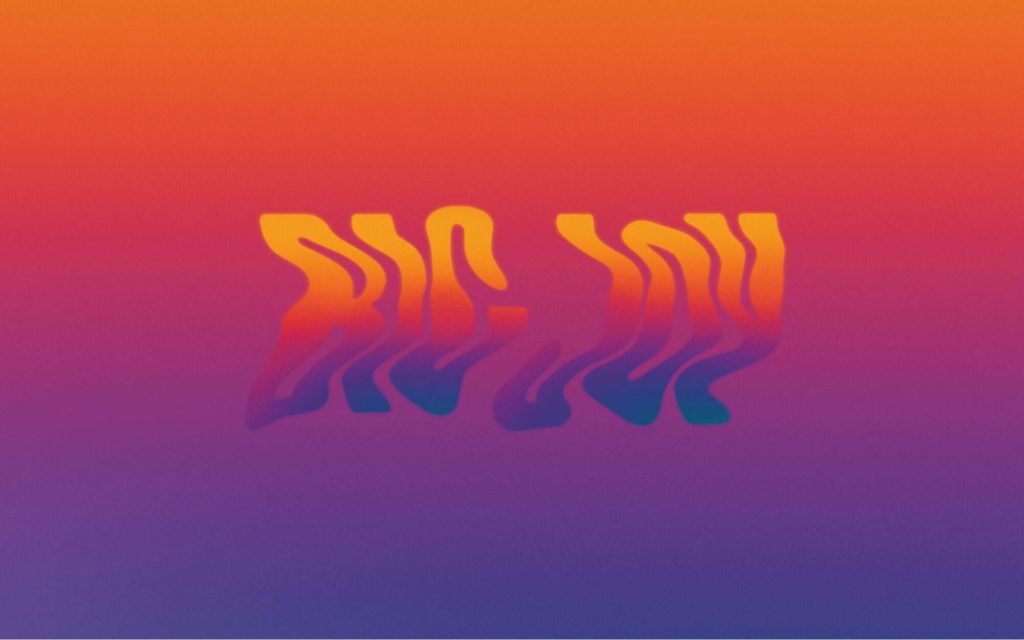 Test
Info
SERVICES
Short cut

Long cut

Fringe trim

Beard trim

Teen cut

Kid cut

Wash & Blowdry

Updo

All over colour

Lightening

ADDRESS
875 E. Hastings St., Vancouver, BC
WEBSITE
https://www.bigjoybarberandsalon.com/
CONTACT DETAILS
604.565.5582

Email: [email protected]

OPERATING HOURS
Monday to Sunday: 10AM to 7PM
| | |
| --- | --- |
| Services | ★★★★★ (5/5) |
| Length | ★★★★☆ (4/5) |
| Value | ★★★★☆ (4/5) |
| Customer Satisfaction | ★★★★★ (5/5) |
While not strictly a barbershop, Big Joy does handle men's hair. In fact, they handle everyone's hair, because the friendly team is there to welcome everyone into the space.
That attitude makes for an inclusive atmosphere that makes it easy for people from all walks of life to feel safe and at ease in their space without having to worry about anyone judging them.
They have a wide range of services, but the cost of those services isn't entirely set in stone. It's on a sliding scale based on the experience level of the person giving that service. But the prices themselves are far from exorbitant.
While that opaqueness may be unappealing to some, we haven't noticed many customers complaining about the end results.
They don't just take a razor and start cutting hair. They're patient and attentive to the customer and tell them how their hair is going to grow, and how to style and maintain that hair as it does.
Other than that, we liked that they're able to color hair. Not every barbershop is able to do more than cut, trim, and style, so being able to do more than that definitely makes them stand out in our book.
The one drawback was that appointment times can be missed and you may end up waiting a few minutes to get served.
Inclusive atmosphere
Portions of sale go to charity
Appointments can be delayed
Customer reviews:
"An inclusive and peaceful space with talented stylists and barbers. I love their socially responsible business practice of donating 1% of all revenues to a local charity, with patrons able to select their choice from three options. They've got a great sound system and always good music on to chill out while getting your hair done." – Christopher Greer
"This is my second time getting a haircut with Big Joy and they did an amazing job. They take their time and listen to you to try and give you exactly what you want. A very judgement free environment. Shaunn made me feel very comfortable and was so easy to talk to. If you have any concern about wearing a mask, make sure you wear one that loops behind the ears, and when they need to work on the side of your head they simply just have you unhook the strap and hold it against your face. Wearing a mask will not decrease the quality of your haircut. If you're up in the air about whether or not you should get your haircut here, just do it, you won't regret it! My new permanent go to salon, and that's coming from someone who drives 40 mins to get there." – Tyrell Curry
7. Kerp Barbershop & Salon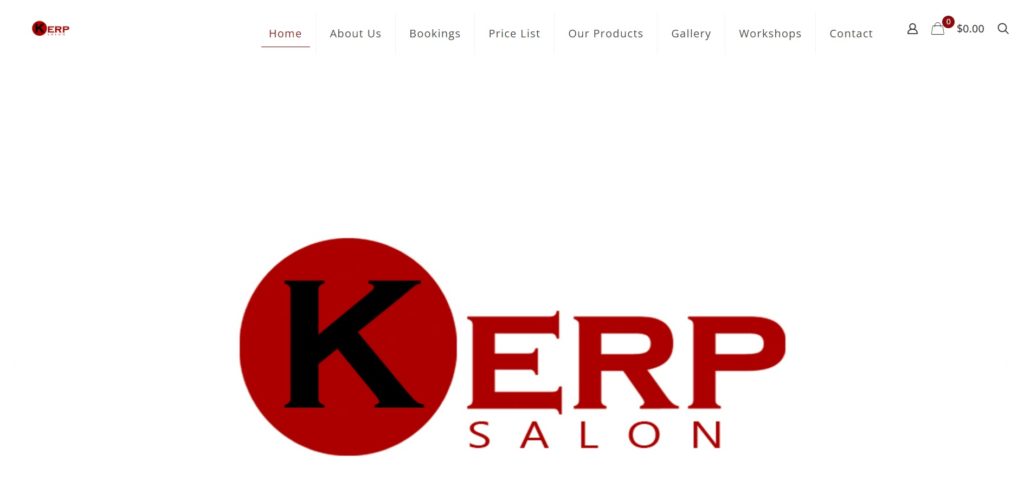 | | |
| --- | --- |
| Services | ★★★★★ (5/5) |
| Length | ★★★★★ (5/5) |
| Value | ★★★★★ (5/5) |
| Customer Satisfaction | ★★★★★ (5/5) |
Kerp Barbershop & Salon is a facility that provides clients with a wide variety of stylish and classic haircuts may it be for men or women. Born out of the idea, the said place is founded and operated by Ricardo Vacas and his team of equally talented and experienced barbers.
We like that their salon is able to accommodate all sorts of hairstyles that the client may intend to have and even offer useful and practical advice that directly suits their needs and preferences.
Furthermore, both their salon and their products are of outstanding quality to ensure that clients get the best treatment and a hairstyle that can express their personality and bring out their inner flair as well.
Note though that even if they do have prices readily available, this might change in accordance to the density or condition of the hair which clients may need to take note of beforehand.
Overall, with their exemplary array of expertise in the field of hairstyling, a professional and amicable team of barbers, and high-quality products used, we highly recommend interested clients check them out.
Diversely experienced team of barbers
Excellent array of hairstyles accommodated
Versatile hairstyling approach
Changes in the price may vary per person
Customer reviews:
Here are some reviews from their clients:
"I have been going to Ricardo for 4 years, and gladly followed him when he opened Kerp Barbershop. It's pretty evident that he puts a lot of thought to not just the haircuts he performs, but also how he and his staff take care of the entire customer experience – From walk-ins to appointments. It's because of that level of care that I even trust other staff at his shop to cut my hair when Ricardo is on vacation (normally, I would just wait, as opposed to risking a bad haircut). I highly recommend Kerp! Probably the best shop I've been to in this city."
"One of the best barbers in town. Thank you so Much for a great haircut every month!"
8. Pintor Barber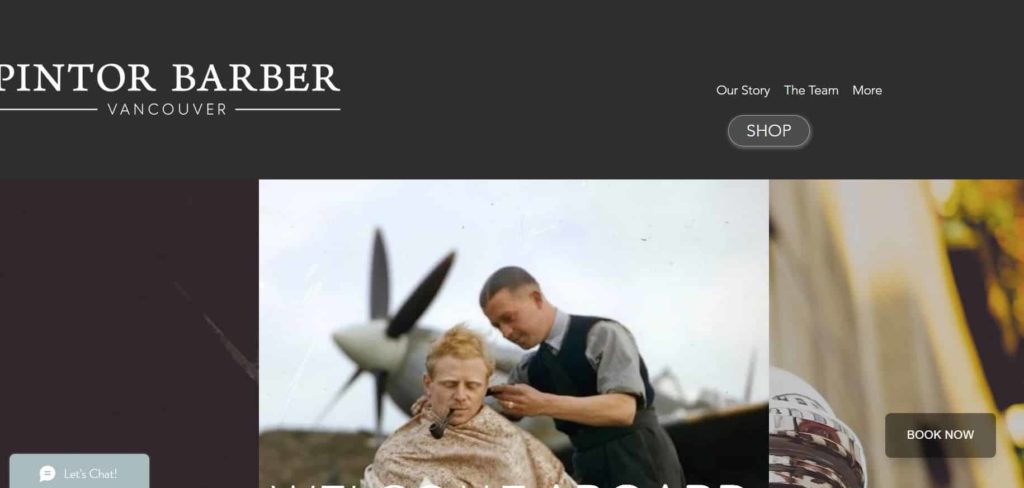 Test
Info
SERVICES
Men's Cut

Beard Shaping

Facial Wax

WEBSITE
https://www.pintorbarber.ca
ADDRESS
2951 W 4th Ave #1, Vancouver, BC V6K 1R3, Canada
CONTACT DETAILS
+1 604-568-7272
OPERATING HOURS
Monday to Friday: 9AM to 7PM

Saturday: 10AM - 6PM

Sunday: 11AM - 6PM
| | |
| --- | --- |
| Services | ★★★★☆ (4/5) |
| Length | ★★★★★ (5/5) |
| Value | ★★★★☆ (4/5) |
| Customer Satisfaction | ★★★★☆ (4/5) |
Pintor Barber is a shop that provides its clients with clean, traditional, and expert hairstyling services to men for an overall simple yet stylish finish.
We like that their barbers are highly experienced at what they do wherein they are able to accommodate all sorts of cuts and even include details that matter to their clients.
May it be a traditional haircut to a beard trim, the products and materials they make use are of exemplary quality to ensure an overall excellent execution.
Note though that their services are slightly limited to which additional customization services may need to undergo more consultation and inquiries.
Overall, with their experienced team of professionals, reliable consultation sessions offered, and outstanding products utilized, we highly recommend interested clients to check them out.
Offers Kids' Cut for ages 5-12
Inclusive services offered 
Makes use of quality products
Slightly limited service packages available
Customer reviews:
Here are some reviews from their clients:
"Living in Vancouver for 5+ years and never found a barber that could do long hair and long beards. Usually barbers couldn't cut long hair and hair stylists can't cut beards! Found Pintor on google and it's out of my way as I live in downtown. But I read positive reviews and tried many in downtown which were awful. First cut was with a man named Ciarán and by far the best cut I had had in Vancouver. The second time I went Ciarán wasn't available and a young man named Oran cut my hair. Absolutely brilliant again. 3rd time I went neither were available and a lady called Nicky was outstanding. I couldn't find a good barber for 4 years and Pintor had 3 brilliant ones (minimum) under one roof. I've been going regular every 2-3 weeks for almost a year. Cut, wash, beard trim & executive facial with Nicky starts my time off work in the best way, it feels like being at a spa. 100% recommend especially any man with long hair. Exceptional. There's 100 cheaper barbers around but the price point for the quality and experience isn't comparable. You won't find this value for quality anywhere else. If you're reading this book your next cut, trim, style, shave, beard shaping/trim, facial now!"
"Absolutely fantastic! Visited the shop yesterday and was amazed by the professionalism of everyone. Ciaran cut my hair and he was incredible! The level of detail and care given was amazing. Going above and beyond to make sure I was 100% happy. Himself and the rest of the guys have a great passion for what they do. Best haircut I've ever received by a long way! You will not get better. Best barbershop in Vancouver full stop. Cannot recommend enough!"
9. Scotch and Fades
SERVICES
Perm + Haircut
Hot Towel Shave
Beard Shave
Classic Cut
WEBSITE
scotchandfades.com/
ADDRESS
193 W 3rd Ave
Vancouver, BC V5Y 1E6
CONTACT DETAILS
(604) 924-6633
# 1-800-764-6623
[email protected]
OPERATING HOURS
Monday – Thursday, 9:00 AM – 7 PM
Friday – Saturday, 9:00 AM – 8 PM
Sunday, 11:00 AM – 6 PM
| | |
| --- | --- |
| Services | ★★★★☆ (4/5) |
| Length | ★★★★★ (5/5) |
| Value | ★★★★☆ (4/5) |
| Customer Satisfaction | ★★★★★ (4/5) |
Scotch and Fades is a luxury barbershop located in Olympic Village, Vancouver. They offer a range of experience packages that reflect an increase in the value of the service. The packages include services like classic cuts, fades, hot towel face treatments, face masks, shampooing, conditioning treatments, and more. They also provide beard services and grooming experiences, including hot lather shaves and beard trims. The barbershop has a relaxed atmosphere and aims to redefine industry standards.
The pricing of the experience packages varies depending on the level of service, ranging from $40 to $95, with additional packages for beard grooming available. They also offer individual services like beard trims, buzz cuts, and facial threading.
The barbershop is praised for its quality service and professionalism, with customers highlighting the expertise of the barbers and the rejuvenating experience they provide. Scotch and Fades prioritize customer satisfaction and offer a special discount for first-time visitors.
The barbershop is open seven days a week, with extended hours on Fridays and Saturdays. They also provide free parking behind the shop. Scotch and Fades has gained a reputation as one of the best barbershops in Vancouver, with a focus on delivering a modern twist to the classic barbershop experience.
Praised for professionalism and rejuvenating services.
Known for a modern twist on classic barbershop experience.
Available seven days a week
Customer Reviews
Super satisfied with the results
"Had an amazing haircut with Mike. He's very skilled and I enjoyed chatting with him throughout. Super satisfied with the results. The entire atmosphere is very chill — they have a nice lounge where you can relax for a minute before your haircut begins. The hot towel with face mask and massage are nice touches that round out the experience. I've also worked with Maurice in the past. Both have done great jobs. Highly recommended." – Thomas Wagener
Can't say enough about the folks at Scotch and Fades
"Can't say enough about the folks at Scotch and Fades. A well managed shop with a great atmosphere. Thanks again Jason for the hospitality. Also, a special thanks to Mike who did an amazing job. Definitely a skilled barber with great attention to detail. Highly recommend!" – Justin Murphy
10. TopGun Barber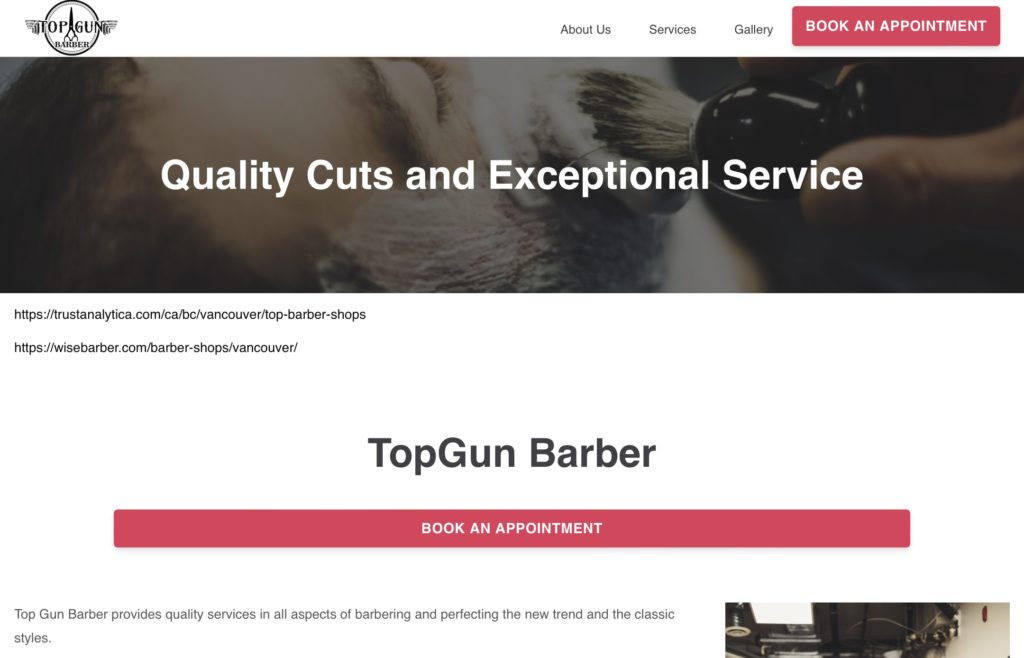 SERVICES
Hair Cut, Skin Fade, Beard Trim, Gray Coverage, and Eyebrows Threading
WEBSITE
https://topgunbarber.ca/
ADDRESS
2162 E Hastings St Vancouver, British Columbia V5L 1V1
CONTACT DETAILS
[email protected]
OPERATING HOURS
Mon: 10:00 AM – 7:00 PM
Tue: 10:00 AM – 7:00 PM
Wed: 10:00 AM – 7:00 PM
Thu: 10:00 AM – 7:00 PM
Fri: 10:00 AM – 7:00 PM
Sat: 10:00 AM – 5:00 PM
Sun: Closed
| | |
| --- | --- |
| Services | ★★★★☆ (4/5) |
| Length | ★★★★★ (5/5) |
| Value | ★★★★☆ (4/5) |
| Customer Satisfaction | ★★★★★ (4/5) |
Our experience with TopGun Barber left us thoroughly impressed with their impeccable services.
From classic haircuts to modern styling, their skilled barbers demonstrated a mastery that truly sets them apart.
The attention to detail in crafting the perfect cut was evident in every snip, making us feel like esteemed VIPs under their care.
Convenience is king in today's fast-paced world, and TopGun Barber understands this well.
With strategically located branches across the city, getting a top-notch haircut has never been easier.
The seamless online booking system further exemplifies their commitment to providing a hassle-free experience for their clients, ensuring our time is valued as much as our hair.
Reputation matters, and TopGun Barber's reputation speaks volumes. Renowned for their consistent excellence, they've established themselves as the go-to destination for grooming needs.
Walking into their salon, we could sense the aura of trust they've built over the years, assuring us that we were in the right hands for a top-tier haircut.
Quality often comes at a price, but at TopGun Barber, it's a worthy investment. While their services might lean towards the higher end of the spectrum, the end result justifies every penny spent.
The confidence that radiated after leaving their chair was simply priceless, proving that the cost of excellence is undeniably justified.
However, they can get busy during peak seasons. We suggest booking them ahead of time.
Skilled barbers
Convenient locations
Customer Reviews
"TopGun Barber transformed my look! The precision in their cuts is unmatched. I walk out feeling like a star every time."
"The convenience of booking online and their consistent quality keeps me coming back. TopGun Barber is my grooming sanctuary."
11. JD's Barbershop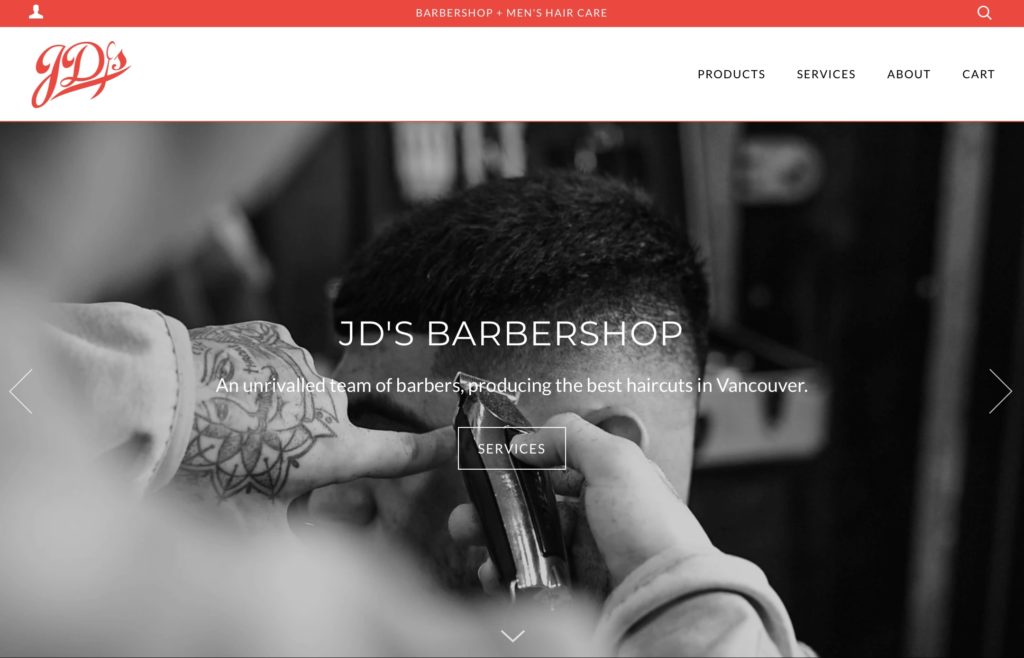 SERVICES
Haircut, Kids Cut, Buzz Cuts, and Ladies Cuts
WEBSITE
https://jds-barbershop.myshopify.com/
ADDRESS
JD's Gastown 235 Abbott St.
JD's Dunbar 4345 Dunbar
JD's Vancouver Club
CONTACT DETAILS
JD's Gastown 235 Abbott St.
604 331 8441

JD's Dunbar 4345 Dunbar
778 379 1829

JD's Vancouver Club
Members Only
OPERATING HOURS
JD's Gastown 235 Abbott St.
Mon-Fri 10-7 Sat Sun 10-6

JD's Dunbar 4345 Dunbar
Mon-Fri 10-7 Sat Sun 10-6

JD's Vancouver Club
Mon-Fri 10-7
| | |
| --- | --- |
| Services | ★★★★☆ (4/5) |
| Length | ★★★★★ (5/5) |
| Value | ★★★★☆ (4/5) |
| Customer Satisfaction | ★★★★★ (4/5) |
At JD's Barbershop, our experience left us both impressed and satisfied.
The combination of exemplary services, unmatched convenience, a stellar reputation, and reasonable pricing makes this establishment a cut above the rest.
Our visit to JD's Barbershop was nothing short of exceptional. From the moment we stepped in, the professionalism of the staff was evident.
The barbers displayed a mastery of their craft, effortlessly transforming our unruly hair into well-groomed works of art. Precision is their forte, and it shows in the final result.
Convenience is a hallmark of JD's Barbershop. With its strategic location in the heart of the city and extended operating hours, scheduling an appointment was a breeze.
The online booking system ensured we could secure a slot that suited our busy schedules, making the entire process effortless.
JD's Barbershop has earned its stellar reputation for a reason. Word-of-mouth recommendations and online reviews are a testament to their consistent quality and customer satisfaction.
Our experience aligned perfectly with the positive buzz surrounding this establishment, and we understand why it's a go-to choice for many.
When it comes to cost, JD's Barbershop strikes the right balance between quality and affordability.
While their services are top-notch, they don't break the bank. The value we received for the price paid was exceptional, making us feel like we got a premium experience without the premium price tag.
Sadly, they don't offer discounts at the present. We advise checking their website for other affordable packages.
Professional barbers
Convenient location and hours
Stellar reputation
Affordable pricing
No discounts at the present
Customer Reviews
"JD's Barbershop gave me the best haircut I've ever had! The barbers are true professionals."
"I love how easy it is to book an appointment at JD's Barbershop. They're my go-to for a fresh cut!"
12. New Shanghai Barbershop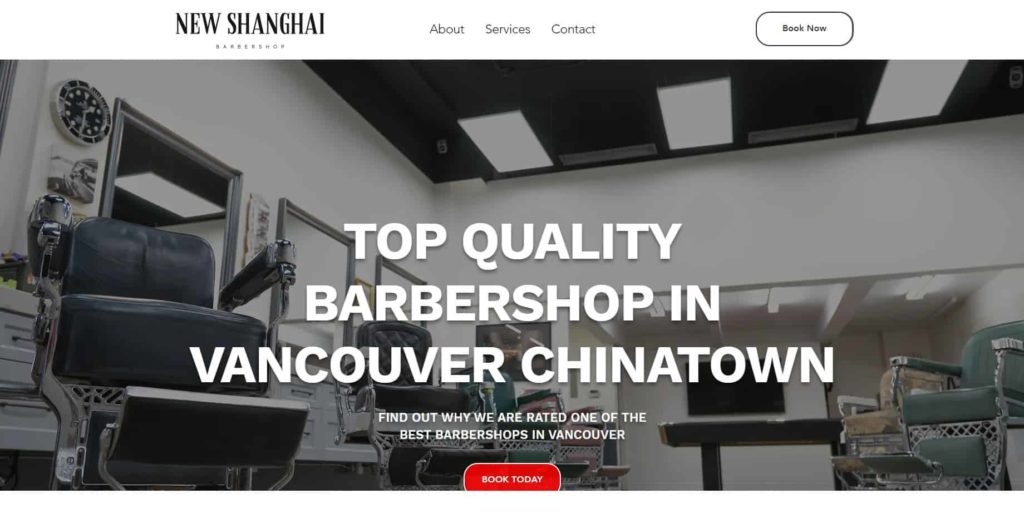 Test
Info
SERVICES
Mentored Barber, Barber
WEBSITE
http://www.shanghaibarbershop.ca/
ADDRESS
439 Columbia St, Vancouver, BC V6A 2R9, Canada
CONTACT DETAILS
+1 604-762-5927

Email: [email protected]

OPERATING HOURS
Monday: Closed

Tuesday - Friday: 9 AM - 7 PM

Saturday: 9 AM - 6 PM

Sunday: 9 AM - 4 PM
| | |
| --- | --- |
| Services | ★★★★☆ (4/5) |
| Length | ★★★★★ (5/5) |
| Value | ★★★★★ (5/5) |
| Customer Satisfaction | ★★★★★ (5/5) |
New Shanghai Barbershop is a place that offers clients premium and professional barber services with unmatched accommodations and an overall smooth customer experience with them.
Equipped with a relaxed and delightful atmosphere, we like that their barbers are diversely experienced in the field to ensure that they are able to employ the best styles and techniques in the industry that best fits the client.
From haircuts to beard trims, their team is both professional and experienced in the field enough for them to provide fresh and customized service recommendations and hairstyling options for the specific needs and preferences of the client.
Note though that there are slight limitations to the services that they offer which interested clients may need to inquire further for a more personalized and diverse take on their services.
Nonetheless, with their experienced team of professionals, innovative and professional advice given, and smooth transactions, we highly recommend interested clients to check them out.
Friendly and assistive personnel
Well-equipped salon 
Excellent salon ambiance and facilities
Store is only open for three days
Customer reviews:
Here are some reviews from their clients:
"I recently visited New Shanghai Barbershop and I have to say that I was blown away by the level of service and quality of the experience. The environment is welcoming and comfortable, and the location is perfect for anyone looking to explore downtown. What really stood out to me, however, was the exceptional service provided by the talented barber, David. He truly understands the art of hair cutting and styling, and his attention to detail is unparalleled. I left the salon feeling refreshed, confident, and looking my best thanks to David's amazing work. If you're in the market for a great haircut and a wonderful experience, I highly recommend New Shanghai Barbershop and David's expert services. You won't be disappointed!"
"I recently visited this barbershop for a haircut and it was amazing here. I had Jung for my haircut, he is not only an incredibly skilled barber but also a great conversationalist. He took the time to listen to what I wanted and offered his expert opinion on what would look best for my hair type and face shape. During the haircut, Jung was very detail-oriented. I could tell that he takes great pride in his work and strives for perfection with every client. I highly recommend Jung at this shop to anyone looking for a great haircut. I will definitely be returning for my next haircut."
FAQs about Barbershops in Vancouver
---
If you want to remove your hair from other areas of your body, then check out this list of the best laser hair removal places in Vancouver.
ST: The 5 Best Barbershops in Vancouver
MD: We found some of the best barber shops in Vancouver to get your hair and beard done. Check out what we thought of them here!
RS: 71.9
(Reference)