The 5 Best Barbershops in Vancouver
So you want to find a good barbershop, but you don't know what the best barbershops in Vancouver are.
Well, you don't have to worry about that. We've found and reviewed the top shops in the city where you can get a trim or whatever else it is you need done with your hair.
The Cost of a Haircut in Vancouver
Before anything else, you need to know how much barber shops charge for their services. For that, you can refer to the table below.
| Service | Price Range |
| --- | --- |
| Haircut | $20 and up (Youth) $21 and up (Adult) |
| Beard trim/shaping | $21 and up |
| Haircut + Beard trim | $40 and up |
Keep in mind that the price of a haircut or a beard trim can vary from one establishment to the next and can depend on the style of your choice. The table above is just an estimate.
Top Barbershops in Vancouver
We determined the best barbershop in Vancouver based on the following criteria:
1. Paulie's Barbershop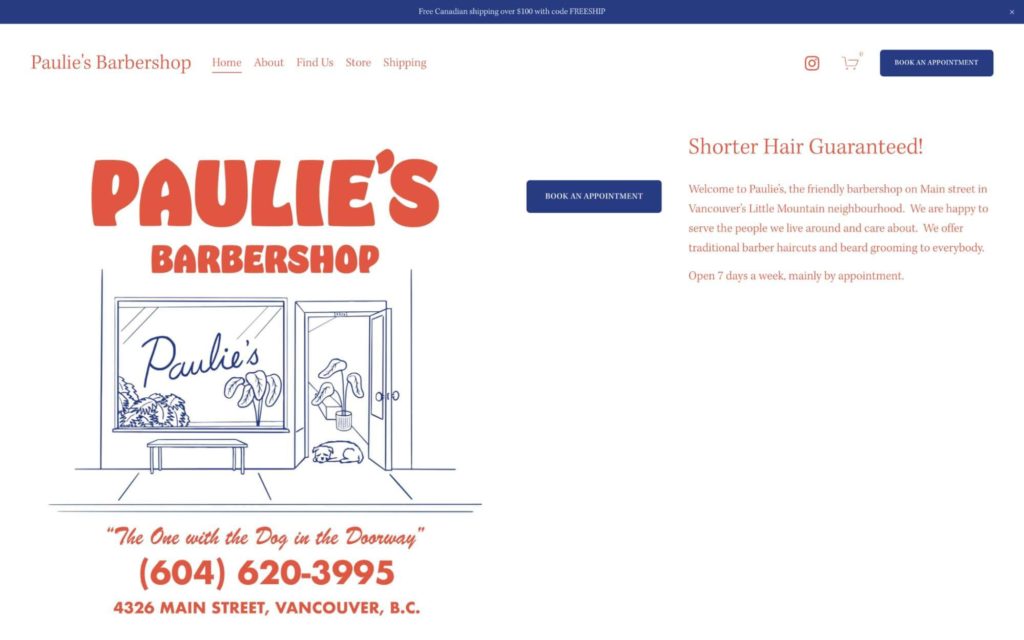 Test
Info
SERVICES
Haircut Haircut + Beard trim Buzzcut Beard trim
WEBSITE
https://www.pauliesbarbershop.com/
ADDRESS
4236 Main Street, Vancouver
CONTACT DETAILS
604 620 3995

Email: [email protected]

OPERATING HOURS
Monday to Saturday: 10AM to 7PM

Sunday: 10AM to 6PM
| | |
| --- | --- |
| Services | ★★★★☆ (4/5) |
| Length | ★★★★★ (5/5) |
| Value | ★★★★☆ (4/5) |
| Customer Satisfaction | ★★★★★ (5/5) |
The first thing that we noticed about Paulie's Barbershop was the dog. Their shop dog was just there and it was pretty chill.
In line with that, it's probably no wonder that another thing we liked about Paulie's was the atmosphere. It's a great place to relax and chill while getting your hair trimmed.
We also liked how straightforward the services were: you can get a haircut and a beard trim. That's it, no frills or fancy extras – and we appreciate that.
A haircut at Paulie's takes about 30 minutes, by the way. That's not too long, though someone looking to relax a bit more might find it a bit short.
Otherwise, thirty minutes is a great length of time for a haircut. It's quick enough that it doesn't take up too much of your day, but not so quick that you worry that you got a rush job.
Getting your hair buzzed or your beard trimmed here takes about 15 minutes, so if you're looking to get either of those things done, you could do so in the middle of the day.
Haircuts are by appointment, though, and that can lead to a lack of adjustment afterwards. They'll cut your hair and that's it – you may not have time to get anything altered.
Has a very friendly shop dog
Casual and relaxing ambience 
Mainly works by appointment
Can be a little pricey
Customer reviews:
"​​Booking system works well. Appointment started right on time. Great conversation, great haircut. 10/10 would recommend." – Daniel Papania
"Five stars all around. I've been getting my hair cut at Paulie's for five years now. The barbers at Paulie's are skilled and friendly. The shop is well designed with a comfortable, welcoming interior and boasts the best shop dog in Vancouver." – Thomas Robillard
2. Regal Grooming Lounge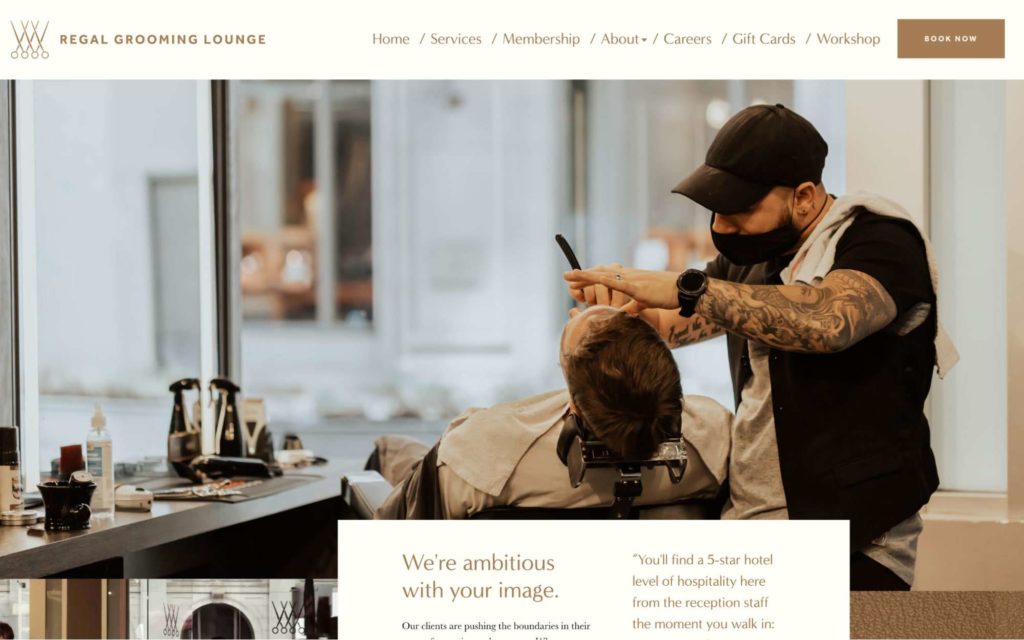 Test
Info
SERVICES
Haircut

Buzzcut

Lineup

Scalp treatment

Hot towel shave

Beard trim

Beard shaping

Head shave

Grey blending

Eyebrow tinting

Eyebrow shaping

Gentleman's facial

WEBSITE
https://regalgrooming.ca/
ADDRESS
415 HORNBY STREET, VANCOUVER, BC, V6C 2Y2
CONTACT DETAILS
604-343-7668
OPERATING HOURS
Monday to Friday: 9:30 AM to 7PM

Saturday: 10AM to 6PM

Sunday: Closed
| | |
| --- | --- |
| Services | ★★★★★ (5/5) |
| Length | ★★★★☆ (4/5) |
| Value | ★★★★☆ (4/5) |
| Customer Satisfaction | ★★★★★ (5/5) |
We found a lot to like about the Regal Grooming Lounge. The very first of them was that you get a free drink at reception – that drink can be beer, whiskey, or whatever drink you'd like to sip on.
It's a heck of a welcome to get while you're checking out the wide range of services. Instead of being just a barbershop where you can get a simple haircut, they seem more like a full-service lounge for hair.
In line with the above, we really appreciated their eyebrow shaping. Eyebrows can be ignored so often in barbershops so it was nice that they had a service to give them attention.
One service we particularly liked was their grey-blending. They're able to color in grey hair to make it look natural, so customers are able to keep their youthful appearances for a little while longer.
We also really liked their scalp treatment to promote optimal hair health. The staff is also friendly, which makes for a great atmosphere in which to relax for a few minutes.
The biggest drawback we've encountered with them seems to be that a small number of clients are unsatisfied with their haircuts. That said, most clients seemed to like their haircuts just fine.
Very wide range of services
Free drink at reception
Walking in without an appointment might be difficult
Customer reviews:
"Just wow! Can't recommend this place enough, but I'll definitely try. First of all, I got a very warm (and funny) welcome on arrival, along with an offer of a beverage.
I had booked Victor for a haircut and beard shaping. I pretty much gave him carte blanche and after asking me a few questions, proceeded to hit it out of the park on both the hair and beard. I just started growing a beard and wanted something "clean" and he managed to combine a great haircut and fantastic beard trim. He was also incredibly personable and made me feel very welcome in his chair.
Needless to say, Regal (and Victor) have a new regular customer. Keep up the great work!" – Derek MacDonald.
"Only started going to Regal Grooming this last year. Best experience so far. Hayley has cut my hair every visit. Highly recommend her. Fun to chat with or sit in silence." – Hoang Nguyen
3. Farzad's Barber Shop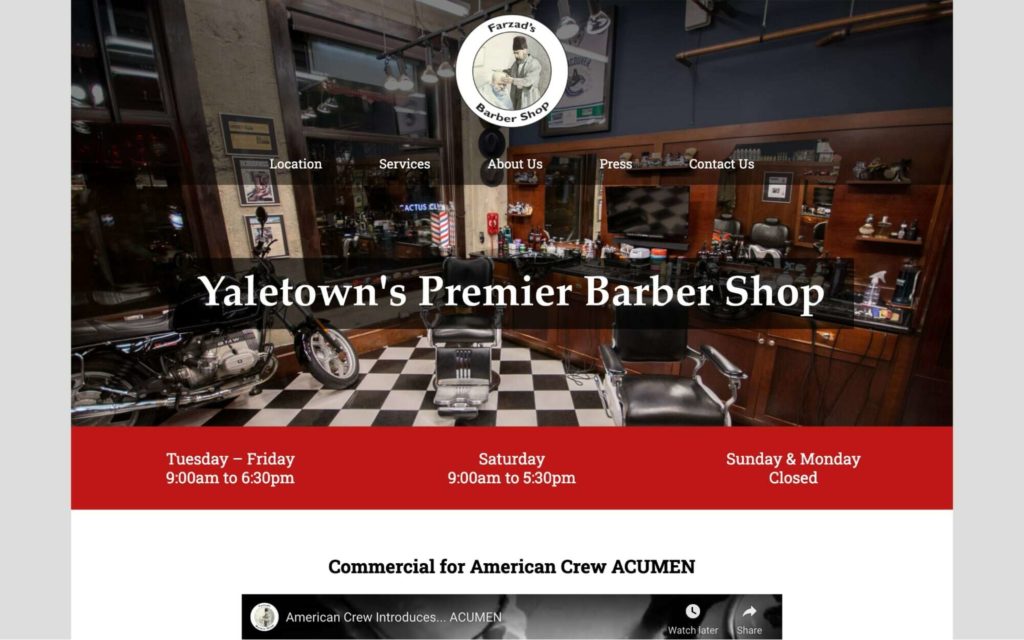 Test
Info
SERVICES
Haircut & Wash Deluxe Hot Shave
WEBSITE
https://farzadsbarbershop.com/
ADDRESS
126 – 1208 Homer St, Vancouver, BC V6B 2Y5
CONTACT DETAILS
(604) 408-0060
OPERATING HOURS
Tuesday to Friday: 9AM to 6:30PM

Saturday: 9AM to 5:30PM

Monday and Sunday: Closed
| | |
| --- | --- |
| Services | ★★★★☆ (4/5) |
| Length | ★★★★☆ (4/5) |
| Value | ★★★★☆ (4/5) |
| Customer Satisfaction | ★★★★★ (5/5) |
What we liked about Farzad's Barber Shop was the simplicity of it. There's nothing superfluous or extraneous about the place.
They offer haircuts and they offer shaves, and we liked that they've chosen to stick to the basics of a barbershop.
But just because they're basic in that sense doesn't mean they're lacking in any way, shape, or form. Sometimes, the basics are all that you need.
Their haircuts are finished with a straight razor to the neck, a shampoo/rinse, and a hot towel. Their shaves are a little more elaborate.
The Deluxe Hot Shave includes prep with hot towels and oil, then a straight razor, and then more hot towels. They finish their shaves with two cold towels and balms to the face, which finishes off the shave on a luxurious note.
Speaking of their shaves, you won't find too many straight razor shaves better than this one.
The atmosphere is also friendly and relaxed, with many clients conversing happily with their barbers.
The only thing we didn't totally love was that the place was rather small. There's only two chairs inside the barbershop so just walking in may not be a feasible option.
But other than that, we didn't really find a lot that we didn't like.
Relaxed setting
Excellent shave service
May require an appointment for service
Barbershop only has two chairs
Customer reviews:
"Professional, clean, and efficient; all under the watchful eye of one of the most renowned barbers in the city and one of the foremost instructors and performers of a straight razor shave in the entire world (seriously, I'm not kidding). Farzad is a legend in the barbering community — just google him or look him up on social media and you'll quickly see he's the real deal. In spite of all this, he has managed to stay true to his roots by offering a very down to earth, non-pretentious experience — his shop is quaint and tucked away from the hustle and bustle, and that's just the way I like it.
It is very hard nowadays, especially in Vancouver, to find businesses and entrepreneurs who aren't the presidents of their own fan club, but come to Farzad's and you will be greeted by a humble professional who enjoys a lively conversation while providing you with exceptional service.
Word of warning: try and book in advance. The sign of a good barber is how full their schedule is, and Farzad is certainly no exception. You won't be disappointed!" – Estevan Garcia
"A great cut, fun conversation and awesome value!" – Ryan Anderson
4. Del Ray Barbershop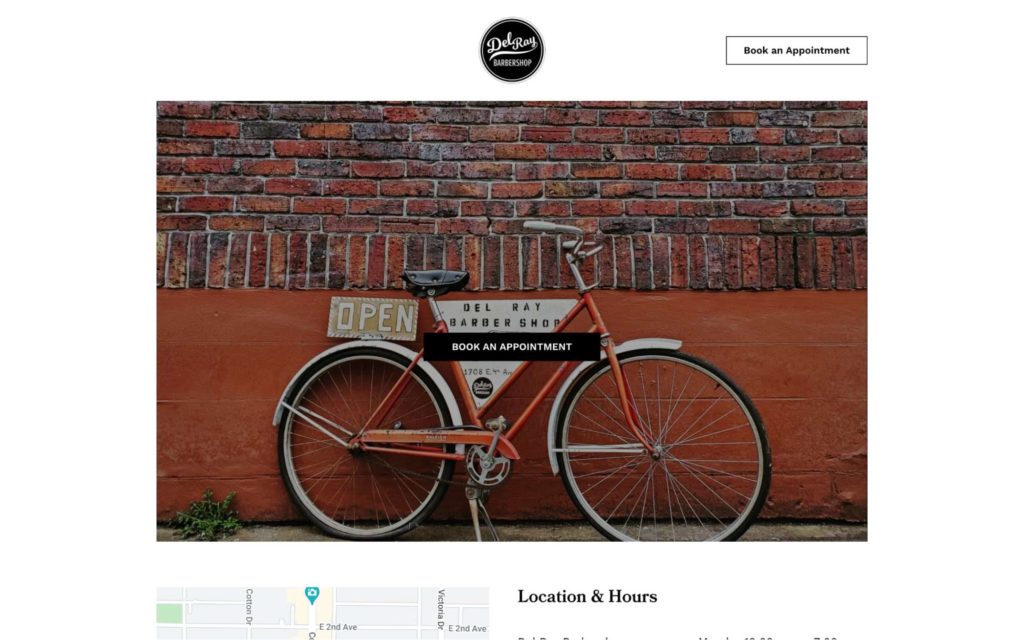 Test
Info
SERVICES
Haircut Buzzcut Fade Beard trim
ADDRESS
1708 E 4th Ave, Vancouver, British Columbia V5N 1K1
WEBSITE
https://delraybarbershop.square.site/
CONTACT DETAILS
(778) 235-2886

Email: [email protected]

OPERATING HOURS
Monday to Friday: 10AM to 7PM

Saturday: 10AM to 6PM

Sunday: 10AM to 3:30PM
| | |
| --- | --- |
| Services | ★★★★☆ (4/5) |
| Length | ★★★★☆ (4/5) |
| Value | ★★★★☆ (4/5) |
| Customer Satisfaction | ★★★★★ (5/5) |
Del Ray Barbershop has a lot going for it. One of the things that caught our attention was the atmosphere: it's friendly, welcoming, and pretty chill.
We also liked their online booking. It's intuitive and user-friendly, so booking an appointment is pretty easy.
Beyond the general ambience, the barbers themselves are highly-skilled. They're able to cut hair and trim beards with accuracy.
We also liked that they're an old-school barbershop, or at least are able to replicate the aesthetic of one.
A haircut at Del Ray takes about 40 minutes for an adult and 30 minutes for a kid, by the way. That's not too long, but it's long enough to unplug and recharge.
Beard trims and buzzcuts are quicker than their standard haircuts, with both taking about 20 minutes. Fades, on the other hand, will take about 40 minutes.
Anyway, our main gripe with them is that appointments are needed in order to get service. You might be able to walk in if you're lucky, though – which might not be that unlikely given that they're open 7 days a week.
Other than that, we've found that Del Ray doesn't leave a lot to be desired. It's a great place to get a haircut if you want to get it done somewhere with a relaxed atmosphere.
Relaxed, old-school vibe
Open seven days a week
Appointments may be needed
Customer reviews:
"The shop has a great energy about the place and all of the barbers here are highly trained professionals. Would definitely recommend ringing to make an appointment as walk ins are few and far between. The only place in Vancouver to get a hair cut!" – Adam Conboy
"Have been to these guys twice now, each of them do a fantastic job with their work. Collin and Jeff (I think) are fantastic to talk to. Very clean shop, covid measures are well in place and great workman ship. You've gained two lifelong customers (getting my dad to come in before Christmas! ) thank you for your work boys, you guys are killing it on the drive." – Joshua Valenzuela
5. Big Joy Barber & Salon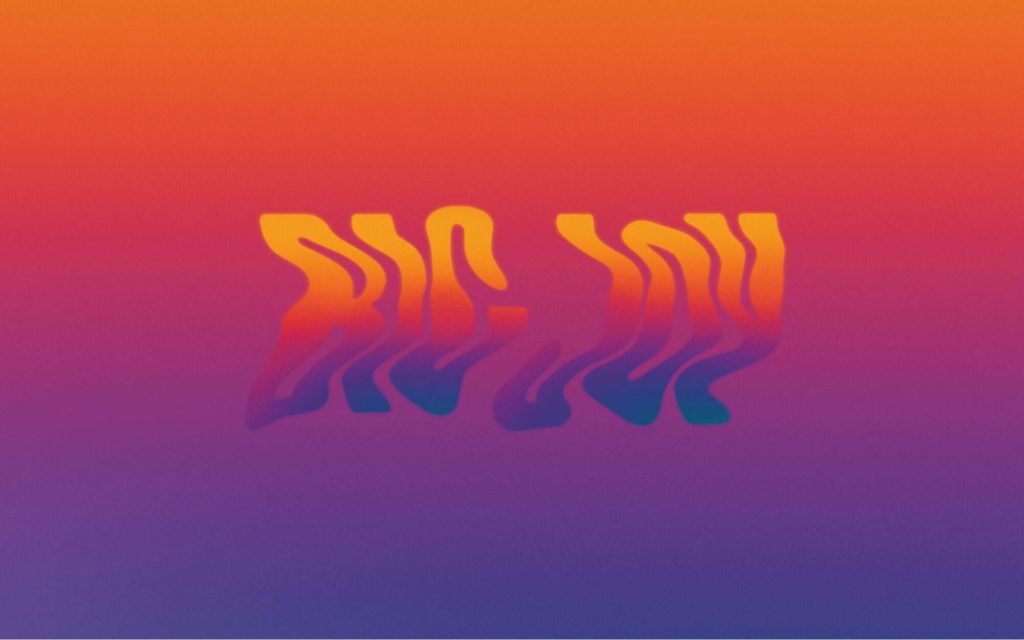 Test
Info
SERVICES
Short cut

Long cut

Fringe trim

Beard trim

Teen cut

Kid cut

Wash & Blowdry

Updo

All over colour

Lightening

ADDRESS
875 E. Hastings St., Vancouver, BC
WEBSITE
https://www.bigjoybarberandsalon.com/
CONTACT DETAILS
604.565.5582

Email: [email protected]

OPERATING HOURS
Monday to Sunday: 10AM to 7PM
| | |
| --- | --- |
| Services | ★★★★★ (5/5) |
| Length | ★★★★☆ (4/5) |
| Value | ★★★★☆ (4/5) |
| Customer Satisfaction | ★★★★★ (5/5) |
While not strictly a barbershop, Big Joy does handle men's hair. In fact, they handle everyone's hair, because the friendly team is there to welcome everyone into the space.
That attitude makes for an inclusive atmosphere that makes it easy for people from all walks of life to feel safe and at ease in their space without having to worry about anyone judging them.
They have a wide range of services, but the cost of those services isn't entirely set in stone. It's on a sliding scale based on the experience level of the person giving that service. But the prices themselves are far from exorbitant.
While that opaqueness may be unappealing to some, we haven't noticed many customers complaining about the end results.
They don't just take a razor and start cutting hair. They're patient and attentive to the customer and tell them how their hair is going to grow, and how to style and maintain that hair as it does.
Other than that, we liked that they're able to color hair. Not every barbershop is able to do more than cut, trim, and style, so being able to do more than that definitely makes them stand out in our book.
The one drawback was that appointment times can be missed and you may end up waiting a few minutes to get served.
Inclusive atmosphere
Portions of sale go to charity
Appointments can be delayed
Customer reviews:
"An inclusive and peaceful space with talented stylists and barbers. I love their socially responsible business practice of donating 1% of all revenues to a local charity, with patrons able to select their choice from three options. They've got a great sound system and always good music on to chill out while getting your hair done." – Christopher Greer
"This is my second time getting a haircut with Big Joy and they did an amazing job. They take their time and listen to you to try and give you exactly what you want. A very judgement free environment. Shaunn made me feel very comfortable and was so easy to talk to. If you have any concern about wearing a mask, make sure you wear one that loops behind the ears, and when they need to work on the side of your head they simply just have you unhook the strap and hold it against your face. Wearing a mask will not decrease the quality of your haircut. If you're up in the air about whether or not you should get your haircut here, just do it, you won't regret it! My new permanent go to salon, and that's coming from someone who drives 40 mins to get there." – Tyrell Curry
FAQs about Barbershops in Vancouver
---
If you want to remove your hair from other areas of your body, then check out this list of the best laser hair removal places in Vancouver.
ST: The 5 Best Barbershops in Vancouver
MD: We found some of the best barber shops in Vancouver to get your hair and beard done. Check out what we thought of them here!
RS: 71.9
(Reference)