The 7 Best Roofing Companies in Vancouver
From sleet and snow to sunshine and autumn leaves, our roofs stand up to lots of conditions all year round. But no matter how well-built they are, every now and then even the best roofs need repair.
So to make sure you're prepared should the need ever arise, we've gathered a list of the best roofing companies in Vancouver. On this list, we'll be providing each company's services, background, contact info, and other things you may need to pick your roofer.
How Much Does Roofing Cost in Vancouver?
Before you choose a roofing company from our list, let's go over the highs and lows of roofing costs with this table. We've also included some national averages to help you plan a project that won't break the bank.
| | | | |
| --- | --- | --- | --- |
| Type of roofing/service | Low-end cost | Average cost | High-end cost |
| Asphalt roofing | $2,000 | $4,750 | $11,000 |
| Metal roofing | $2,048 | $10,365 | $25,704 |
| Roof supports (trusses/beams) | $1,000 | – | $13,000 |
Naturally, these costs can rise or fall depending on additional costs like labor and materials. But this guide serves as a neat way to give you a general idea of the market.
The Best Roofing Companies in Vancouver
Since you now have an idea of how much a roofing project may cost, it's time to see which of the companies on our list is right for you. Each roofing service excels in different areas so it's best to take this into account when choosing one for your project.
1. Millwall Roofing
BEST FOR
Household roofing
SERVICES
Residential roofing
Commercial roofing
Rooftop repair & maintenance
Chimney repairs
WEBSITE
https://millwallroofing.com/
ADDRESS
2090 W 1st Ave, Vancouver, BC V6J 1G8, Canada
CONTACT DETAILS
Phone number: (604) 763-1930
OPERATING HOURS
Monday: 8 am – 8 pm
Tuesday: 8 am – 8 pm
Wednesday: 8 am – 8 pm
Thursday: 8 am – 8 pm
Friday: 8 am – 8 pm
Saturday: 9 am – 6 pm
Sunday: 9 am – 6 pm
Millwall Roofing is a company that came out of one man's desire to improve the quality of service in Canada's roofing industry. That man was Darrell Macdonald, and for over 10 years he's been putting quality roofs over people's heads.
In those 10 years, Darrell's company has made a name as one of the best household roofing companies in Vancouver. This is because of his close presence with each and every roofing project.
Where some business owners are confined to an office, Darrell takes a hands-on approach with each client's project. By working on-site, he's able to ensure top-notch service with every job.
Aside from this, he's also able to ensure that his staff is fully capable of performing up to his standards. This means that Millwall's team is composed of qualified individuals who share Darrell's passion and hard-working attitude.
Having a small team means lower labor costs
Available for work on weekends
The business owner takes full accountability for each job
Larger projects may sometimes take longer to finish due to the small team
Customer Reviews
Here's what Millwall's clients had to say about Darrell and his team:
"Darrell was extremely good at communicating. Mike was a real pleasure to deal with on the work site. They gave us a very competitive quote. They arrive promptly for work every day. And when an unexpected finding was encountered with the skylights, they remedied the situation at no extra labour cost to us, even though the work was not included in the initial quote. We are very satisfied with the way things worked out." – Marty F.
"Darrell and Mike facilitated a seamless roof installation when we needed it most. We had a badly leaking roof, and they took it upon themselves to ensure we could have a high quality roof installed even though it was January. The product choice was great, the workmanship was great, and the cleanup was great. All round very happy with the work they did. Our neighbors even commented on how polite, respectful, and clean the crew was." – Chris W.
2. Penfolds Roofing & Solar
BEST FOR
Commercial roofing/immediate roof repair
SERVICES
Residential roofing
Commercial roofing
Rooftop repair & maintenance
Solar panel installation
WEBSITE
https://www.penfoldsroofing.com/
ADDRESS
1268 Vernon Dr, Vancouver, BC V6A 4C9, Canada
CONTACT DETAILS
Toll-free number: (855) 257-7164
Email:

[email protected]

OPERATING HOURS
Open 24/7
Among the best roofing companies in Vancouver, Penfolds is without a doubt one of the oldest. With over 80 years of experience, this company has had ample time to hone its services and grow to an immense size.
These folks offer both residential and commercial roofing, along with solar panel installation and a few other services. One of their most helpful offerings is the 24-hour emergency roof repair, which allows clients to have their roofs fixed in times of dire need.
Due to its large workforce of over 50 technicians and 30 service vehicles, this company is also well-suited to working on commercial roofing projects. There is really little that can't be done when so many hardworking people come together.
As proof of this, Penfolds has a gallery of their previous works present on their website. From small households to large businesses this company has fixed all types of roofs since 1937.
Time-tested work quality
Open 24 hours a day, 7 days a week
Quick completion times for most projects
Available for emergency roof repairs
Having a larger work crew means higher labor costs
Customer Reviews
Having served in the roofing industry since 1937, it's easy to see why this company has so many excellent reviews:
"They executed the scope of work with high service standards and expert knowledge! Hats off to Mathew Barlett (Technical Advisor) and Cory (Installer) Cory was very knowledgeable helped explain roofing code for the air vents as well added assistants for access to AC contractor. Mathew provided great coordination and scheduling! Was most impressed that he even provided the names of the team that was going to be onsite. Great team to work and would recommend penfolds services again!" – Craig C.
"High winds, heavy rains, and unwelcome water in our dining room. Called Penfolds Roofing Vancouver early Tuesday and was encouraged by receptionist Tumi's attentive care and responsiveness.
Experienced and personable roofers Phil and Ian arrived next morning. They listened attentively, thoroughly inspected the leak area, attic and roof, and, in a few hours, scrupulously fixed the problem. We appreciate Penfold's employees in the office and on the roof; we applaud their prompt, efficient teamwork, industry and expertise. Thank you very much!" – Jack A.
3. Cooper Roofing Vancouver
BEST FOR
Roof redesigns/new roofs
SERVICES
Residential roofing
Commercial roofing
Rooftop repair & maintenance
WEBSITE
https://cooperroofs.ca/
ADDRESS
1285 W Broadway #600, Vancouver, BC V6H 3X8, Canada
CONTACT DETAILS
Phone number: (604) 674-0319
Email:

[email protected]

OPERATING HOURS
Monday: 8:30 am – 5 pm
Tuesday: 8:30 am – 5 pm
Wednesday: 8:30 am – 5 pm
Thursday: 8:30 am – 5 pm
Friday: 8:30 am – 5 pm
Saturday: closed
Sunday: closed
Cooper Roofing is a company that is well recognized by many of the roofing industry's regulating bodies. Of their many certifications, none is as indicative as their Select ShingleMaster certification.
This title is only held by companies that display extensive knowledge of roofing practices and industry standards. Aside from this, companies must also have fully insured personnel in case of workplace accidents.
All of these credentials allow Cooper roofing to offer a 50-year guarantee on all their work while also ensuring an impeccable standard of service. Though the company offers only a few services, it performs them with an evident level of mastery.
In particular, this company excels at helping clients plan roof designs that are guaranteed to last half a lifetime. Clients will also have the option to choose from a number of roofs including shingles, cedar, metal, and torch-on roofs.
Highly-recognized within the roofing industry
50-year guarantee on all their projects
Technicians are fully insured against accidents
Customer Reviews
In case the company's numerous certifications still leave you doubting their capabilities, here are some client reviews that may change your mind:
"Cooper Roofing did an excellent job in providing me with a new roof. They were professional, courteous and did everything they could to minimize the inconvenience to me in having a roof replaced. There were no hidden costs and they finished the job on time and cleaned up the site very well. I highly recommend this company." – Mary F.
"The company is great, very professional and the work was excellent. This being my first time replacing a roof I had many questions and the owner took the time to go over everything. I felt the project took a little longer than expected but being the winter months it is hard to predict the weather and this was out of the company's control. Overall I was very satisfied and would definitely recommend Cooper Roofing." – Jennifer
4. Mr. Max Roofing ltd.
BEST FOR
Unique roofing projects
SERVICES
Residential roofing
Commercial roofing
Waterproofing
Roof repair & maintenance
Solar panel installation
Green roof installation
Skylight installation
Custom roof fabrication
WEBSITE
https://maxroofingbc.ca/
ADDRESS
2922 East Kent Ave S #15, Vancouver, BC V5S 0G6, Canada
CONTACT DETAILS
Phone number: 604 265 8193
OPERATING HOURS
Monday: 9 am – 6 pm
Tuesday: 9 am – 6 pm
Wednesday: 9 am – 6 pm
Thursday: 9 am – 6 pm
Friday: 9 am – 6 pm
Saturday: closed
Sunday: closed
Among the many companies on this list, Mr. Max Roofing manages to stand out by accommodating a wide array of unique roofing projects. These projects can range from custom fabricated roof shapes to solar panel-integrated green roofs.
The company's wide range of capabilities is a result of the founder's pledge to provide excellent customer service and solid workmanship. These two values are also ingrained in every Mr. Max roofing technician to ensure a high level of performance with each project.
Above all else, Mr. Max Roofing is a service that delivers unique roofing solutions through the use of varying materials including clay tile, cedar shake, slate, and composite.
If you're in search of a company that can breathe new life into your old roof or put a modern twist on your new home, this is the roofing company to beat.
Unique roofing solutions
"Green" roofing alternatives
Offers custom roofing fabrication
Custom roofing projects can be expensive due to the added work involved
Customer Reviews
Mr. Max Roofing has earned its fair share of positive reviews thanks to its unique approach to modern projects:
"We had our roof recently reworked. Max had a vision and went through every single detail and helped me understand the process and listened to my needs. He paid attention to details and I would recommend his work to anybody." – Alexandr T.
"I would highly recommend Mr Max Roofing. They are punctual, reliable, and work very clean. Out of the 3 quotes I got, they weren't the most expensive, and they weren't the cheapest but they did a great job on the new roof. Thank you Max!" – Mike I.
5. Absolute Roof Solutions
BEST FOR
Serious roof repairs
SERVICES
Emergency roof repairs
Residential roofing
Commercial roofing
Roof repair & maintenance
Skylight installation
WEBSITE
https://absoluteroof.ca/
ADDRESS
1676 W 75th Ave, Vancouver, BC V6P 6G2, Canada
CONTACT DETAILS
Phone number: (604) 263-0334
24-hour number: (604) 202-2248
OPERATING HOURS
Open 24/7
Attention to detail is a key factor when it comes to building or repairing a roof that will stand the test of time. Absolute Roof Solutions is highly aware of this, and they pay full attention to every nail, shingle, and roof vent that they install.
The company's founder Doug Kerr is all too familiar with the problems that come with improper installation. He knows first-hand that even a single misplaced nail can cause a serious leak in an otherwise well-made project.
Because of this, this company is very skilled at completing tough repairs and remaking an otherwise ruined rooftop. One call on their emergency number will have a technician on your roof searching for clues that other technicians would be oblivious to.
When it comes to saving time and money on repairs, you're best off working with Absolute Roof Solutions. These folks can make short work out of serious repairs through tons of experience and meticulous work.
Highly-skilled in roof repairs
Budget-friendly project costs
Offers material and labor warranties
Some damaged roofs may require new sections altogether
Customer Reviews
These reviews are proof of this company's next-level roof repair skills:
"Absolute Roof Solutions just completed the roof replacement on our home. I'm delighted to say that every aspect of my involvement with the company–from initial quote to final cleanup and walk-through–has been extremely positive. Ken responded to my request for a quote. In that and in overseeing the job he was professional, courteous, and happy to answer my questions. It was a tricky job that could have been handled in more than one way and Ken outlined the pros and cons of the options in a way that made making the final decision straightforward. Moe, the job foreman, was very professional and made me feel comfortable with what would be happening each day. The crew members were all very nice. They left the property tidy at the end of every day and their final cleanup was very thorough. I was impressed that Ken personally checked in with me every afternoon to see how things were going and to answer any questions. The new roof looks incredible and I'm very happy with it. I don't think I could have had a better experience and I highly recommend Absolute Roof Solutions." – Karen P.
"Thoroughly Impressed. Absolute Roof Solutions did a really great job for me. This was not a simple re-roof. It included the design and installation of a new ventilation system, partial re-sheathing and re-roofing. Ken, Stefan, Justin and Dan were professional in every step of the project. There was great communication, great fit and finish and great quality overall. I would not hesitate to recommend Absolute Roof Solutions to a friend or to engage them for another project. Job well done." – Steve
6. Adanac Roofing & Gutters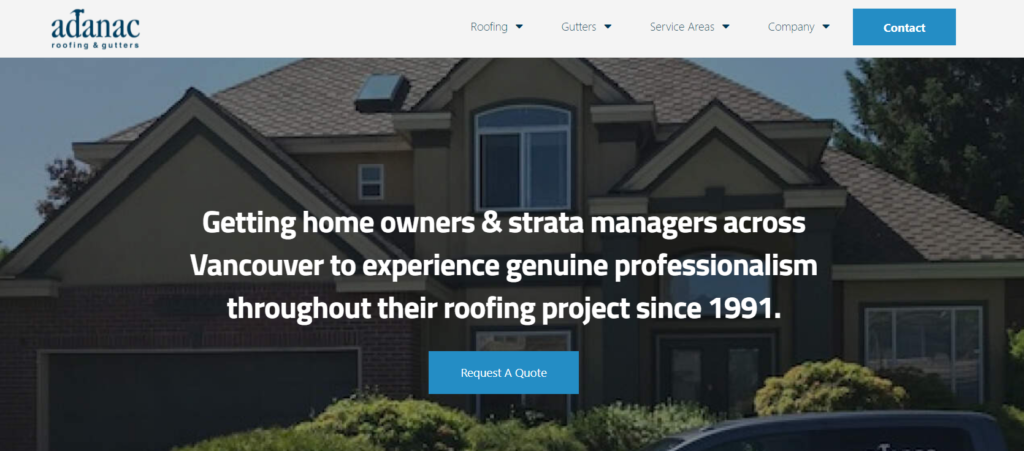 BEST FOR
Quality roofing services
SERVICES
Residential re-roofing
Strata roofing
Maintenance
Roofing products
WEBSITE
https://www.adanac.ca/
ADDRESS
22116 88th Avenue
Langley, BC V1M 3S8
CONTACT DETAILS
Phone number: 604.888.1616
OPERATING HOURS
Open 24/7
If you need a roof that you can rely on through decades of BC's pouring rain, frigid winters and scorching summers, choose Adanac Roofing & Gutters. From homes to commercial properties, there's more than 30 years of experience behind every Adanac project, and all of it goes into making sure your roofing job is completed on time and on budget.
Whether it's high quality materials and industry-leading warranties, or itemized billing and a rigorous cleanup process, everything they provide is focused on one thing: your satisfaction.
It doesn't matter if you've got a single building or a dozen. If you need reliable, high-quality roofing service that will withstand the test of time, Adanac is ready to help.
However, if you're looking for a company that could be your go to for emergency situations, it may be better to turn to other contractors as they do not offer emergency services. Additionally, they do not have a 24/7 hotline that you can contact.
Free quotes
10 time winner: Best of Homestars
Established in 1991
Only services lower Mainland
7. Laurentian Roofing Inc.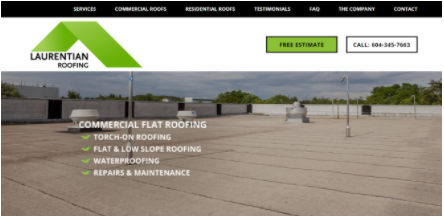 BEST FOR
Commercial Flat Roofing
SERVICES
Flat Roofing, Low Slope Roofing, Green Roofs, Roof Repairs, Torch-on Roofing
WEBSITE
https://www.laurentianroofing.com/
ADDRESS
8165 Main Street,
Vancouver, BC V5X 4V7
CONTACT DETAILS
Phone: (604) 345-7663
OPERATING HOURS
Monday-Friday: 8am-5pm
Saturday: 9am-4pm
Sunday: Closed
Laurentian Roofing Inc is all for giving the best protection to your home or business. They pride themselves in being an accredited member of the Better Business Bureau having an A+ rating.
With them, your satisfaction is guaranteed. They always make certain to utilize only the best roofing products and the latest technologies.
They see and treat every roofing project with utmost importance. Without a doubt, you can entrust your needs to their team of professional contractors.
Free roofing estimate
Accredited member of the Better Business Bureau
Best roofing products
Customer Reviews
Here's a review from one of Laurentian Roofing Inc clients:
"Great company to deal with. Alex was able to fit us in on a short notice. The work was done professionally, and the pricing was fair. Will return for future roofing needs!!"
Here's another one:
"Great professional service with competitive pricing. Quick service and friendly staff. Would highly recommend giving them a call!"
FAQs About the Best Roofing Companies in Vancouver
---
That concludes our list of the best roofing companies in Vancouver. Now that you're familiar with what each company has to offer, all that's left is to pick your preferred roofer and visit their site for a quote.
Don't forget to let us know how the one you picked works out, by the way! And if you're looking for more handyman or home improvement services, check out some of our other articles, like our list of the best Vancouver electricians.