All You Need to Know When Visiting Alouette Lake
Alouette Lake, located within Golden Ears Provincial Park, is a popular destination in Metro Vancouver. People come here for fishing (fishing lake vancouver), swimming, windsurfing, boating, and other water activities.
If you're into any of these activities and want to know more about the experience at Alouette Lake, just keep reading! We've got all the information you need.
What is Alouette Lake?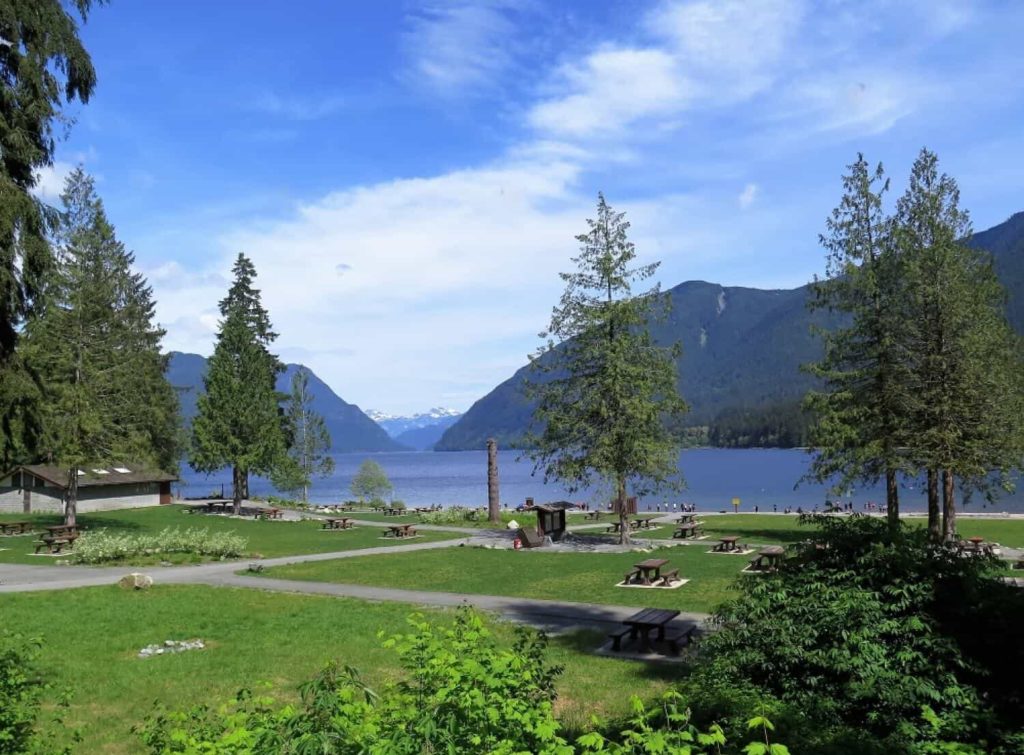 Alouette Lake stretches for about 16 kilometers from northeast to southwest at the base of the Golden Ears mountain range in Maple Ridge.
The scenic location alone is worth the drive up to Maple Ridge. The stunning views of the water and the mountains create the perfect backdrop for picnics by the shore, outdoor adventures, and water sports.
There are other attractions nearby such as the Aloutte Campground, Alouette River, and hiking trails like the Alouette Mountain trail. That's why a visit to the lake gets even more exciting and fulfilling.
The name "Alouette" is in itself charming: it came from the French word for "lark," which the lake officially acquired in 1914 for sounding like its original name "Lillooet." There's a lake up north that also bore the name Lillooet, so the melodic switch had to happen.
Best Time to Go
The lake is open from April to October, but consider visiting during spring and early summer when you have longer daylight hours for outdoor activities.
Many visitors choose to come in the summer. So, if you're planning a trip during this time, arriving early is advisable, especially if you want a picnic table as they tend to be claimed quickly.
For fishing (fishing lake vancouver) enthusiasts, Kokanee fishing is popular year-round, but spring is the prime season for this activity.
How to Get to Alouette Lake
Car: From downtown Vancouver, it's about an hour's drive via BC-1 E (leading to Mary Hill Bypass) or BC-17 (leading to Golden Ears Way).
Bus: Since July, Parkbus has been operating a bus service from downtown Vancouver to Golden Ears Provincial Park. The bus departs at 9 AM from Dunsmuir Street, right by the Bank of China near Burrard Station, and takes about 1 hour to reach the park.
The return trip is scheduled for 5 PM. Make sure to catch the return bus if you don't have a ride back with friends because there's no cell service in the area, and Parkbus cannot be held responsible for passengers left behind in the park.
The regular rate for a round trip ticket is CAD 64. This transportation option is much more comfortable since taking the Millenium Line to Lafarge Lake Douglas Station, before starting again to Golden Ears can take up to 2 hours of multiple transfers.
When there's a bus on demand at Platform 2 of Lafarge Lake Douglas Station, the total travel time can be brought down to just a little over 1 hour.
Things to Know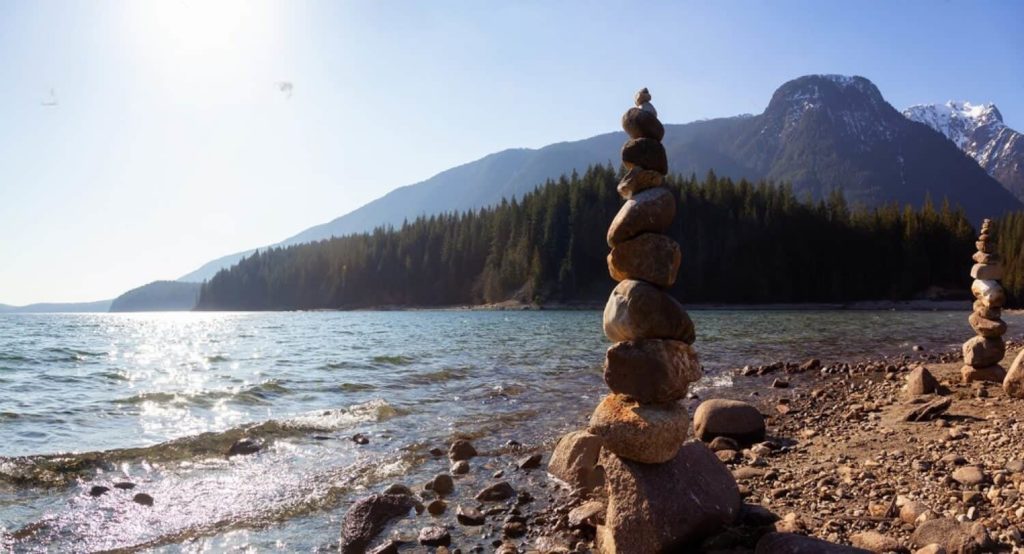 Rates: Because the Golden Ears Provincial Park is one of the more popular parks, visitors from June 14 to September 4, 2023 were required to obtain Day-use passes. That included those who were coming in to experience Alouette Lake.
Starting September 5, there should no longer be a need to book day-use passes. But it's best to check the website for updates before heading to Alouette Lake.
Parking: There are ample free parking spaces near Alouette Lake, but they tend to fill up rapidly.
So, for a trip to Alouette Lake to go smoothly, consider which activities and specific locations you need access to. You can check out which parking alternatives you should head for and via which access points (northern, southern, or western).
Swimming: Swimming is allowed at Alouette Lake. Just exercise caution especially outside of the marked-off swimming areas, as there are no lifeguards within the vicinity, like in other BC Parks.
Fishing: There are fishing opportunities in Alouette Lake, especially for Kokanee and Cutthroat Trout. Just be sure to obtain a BC Non-Tidal Fishing License before heading out.
Cell service: There is no cell service in most of the Golden Ears Provincial Park, including most of the trails, the campgrounds, and the main Aloutte Lake beach area itself.
Pets: Pets are prohibited within the marked-off swimming areas. Specifically, dogs are allowed in a portion of the South Beach day-use area near the canoe rental shop, as well as in the North Beach day-use area.
But dogs aren't allowed in the main part of the South Beach day-use area. If you're taking your dog to the park, keep them on a leash at all times and be extra cautious when taking them off leash in the backcountry where encounters with wildlife can occur.
Wildlife: Black bears and cougars, among other wildlife, inhabit this area. So make sure that you don't leave food unattended at your campground or picnic area.
This will help to keep everyone safe at the park and avoid provoking aggressive behavior from bears who consider the place their natural habitat.
Where to Stay along Alouette Lake
Loon Lake Lodge & Retreat Centre
Address: 14500 Silver Valley Road, Maple Ridge, BC V4R 2R3, Canada
Phone: +1 604-463-8148
Pricing: $$
Being part of the University of British Columbia, Loon Lake Lodge doesn't merely provide accommodations; it also thrives on principles that promote learning and growth.
It's the ideal lodging option for your retreat, corporate or wellness, as well as overnight adventures for youth groups. The captivating setting alone could already inspire awe and reflection– the accommodations and the programs surely add to that experience.
Best Western Plus Pitt Meadows Inn & Suites
Address: 19267 Lougheed Hwy., Pitt Meadows, BC V3Y 2J5, Canada
Phone: +1 604-460-9859
Pricing: $$
It's a Best Western Hotel, so you can expect fully functional features. It's a three-star hotel and the quality of the accommodation and service is right for the price.
In fact, the location, cleanliness of the place, and excellent food make the hotel stand out. If you don't want to compromise quality but need an affordable stay, this should be top of your list.
Sandman Signature Langley Hotel
Address: 8828 201 St, Langley Twp, BC V2Y 0C8, Canada
Phone: +1 604-455-7263
Pricing: $$
The drive to Golden Ears Provincial Park may take a little under 30 minutes, but the full range of amenities and the pleasant staff at the Sandman Signature Langley Hotel make it a worthwhile choice.
While there's room for improvement in the housekeeping area, something that can typically be seen at similar hotels, the overall experience is definitely comfortable and satisfying.
Hampton Inn & Suites by Hilton Langley-Surrey
Address: 19500 Langley Bypass, Surrey, BC V3S 7R2, Canada
Phone: +1 604-530-6545
Pricing: $$
Smaller in size compared to its more accomplished sibling, the Hampton Inn & Suites in downtown Vancouver, this hotel may jokingly harbor some sibling rivalry.
Kidding aside, without the comparison, this hotel offers more than what the typical traveler seeks in a room. From mini-fridges to laundry services, it covers the essentials, and it even boasts an intriguing indoor pool with a water slide.
Where to Eat near Alouette Lake
Humble Roots Cafe & Deli
Address: 13179 224 St, Maple Ridge, BC V4R 2P6, Canada
Phone: +1 604-476-0405
Pricing: $$$
Humble Roots, located approximately 11 minutes by car from the Golden Ears Provincial Park, serves up classic dishes with an artisanal twist. The homegrown ingredients make their Carbonara with fresh Linguine and Farmer's Skillet exceptional.
With a diverse menu that includes vegan options, you can enjoy a variety of meals and drinks throughout the day. However, their breakfast dishes are the real crowd-pleasers, so consider stopping by on your way to Alouette Lake.
If you can, opt to dine on their patio to take in the fantastic view.
Big Feast Bistro
Address: 11920 227 St, Maple Ridge, BC V2X 8S5, Canada
Phone: +1 604 477 4334
Pricing: $$
Ever heard of the 100-mile diet? If you want to try it out, this restaurant is a strong advocate of that. Big Feast Bistro prepares their dishes fresh and keeps it sustainable by sourcing their ingredients from local farms.
They're more popular as a brunch spot, so if you want to survey their best dishes, be prepared for a bit of a wait as the place is moderately sized. For those driving to Alouette Lake afterward, there's street parking available.
Brownies Chicken and Seafood
Address: 22899 Dewdney Trunk Rd, Maple Ridge, BC V2X 3K8, Canada
Phone: +1 604 479 6511
Pricing: $
The roots of this restaurant, the Brownie's franchise, became popular back in the 80's. Today, they've crafted new recipes that showcase the chickens from Rossdown Farm in Fraser Valley and locally sourced Ocean Wise Alaskan Cod, among other seafood.
They're environmentally conscious so the ingredients and even containers are all sustainable. Plus, if you're a family with little ones, you won't have any trouble ordering their chicken or fries for them.
Home Restaurant
Address: 21667 Lougheed Hwy., Maple Ridge, BC V2X 2S2, Canada
Phone: +1 604-476-1600
Pricing: $$
Another popular option worth considering is Home Restaurant, a bit farther away at an 18-minute drive from the Golden Ears Provincial Park. They have your usual diner fare like German Sausage and Potato Wedges, but served in generous portion sizes.
Service nere can be quite unpredictable. But judging by the line waiting outside, we'd say they're doing a commendable job at managing a steady flow of customers.
Sunflower Cafe
Address: 10225 272 St, Maple Ridge, BC V2W 1R1, Canada
Phone: +1 778-522-4472
Pricing: $$
There are plenty of delightful surprises waiting within a 30-minute drive from Alouette Lake, and the Sunflower Cafe takes the top spot on our list. Which one to highlight first – the farm-to-table concept? The mimosas? The rustic ambiance?
Honestly, it's all of the above and more that makes dining at this spot such a great joy. It feels like a blessing to secure a seat at one of their gazebos and savor the flavors of fresh ingredients sourced from the Yellow House Farm.
Book your reservations, though, to avoid making the drive for nothing. When the place gets busy, they have to turn away walk-in customers and we understand – after all, their staff is attentive and generous with their personalized recommendations.
Jimmy's Lunch Box
Address: 22504 Lougheed Hwy., Maple Ridge, BC V2X 2V1, Canada
Phone: +1 604-479-2157
Pricing: $$$
If you're on a mission to find the ultimate Chicken & Waffles, this breakfast spot is a worthwhile stop. They dish out crispy pieces of chicken, plump and lightly drizzled, and sitting proudly on an impressively huge waffle that's good enough for sharing.
The Korean fusion is also an interesting element. It's a nice touch that could help set it apart from the other equally fantastic restaurants in the area.
What to Do at Alouette Lake
Enjoy a Swim at North Beach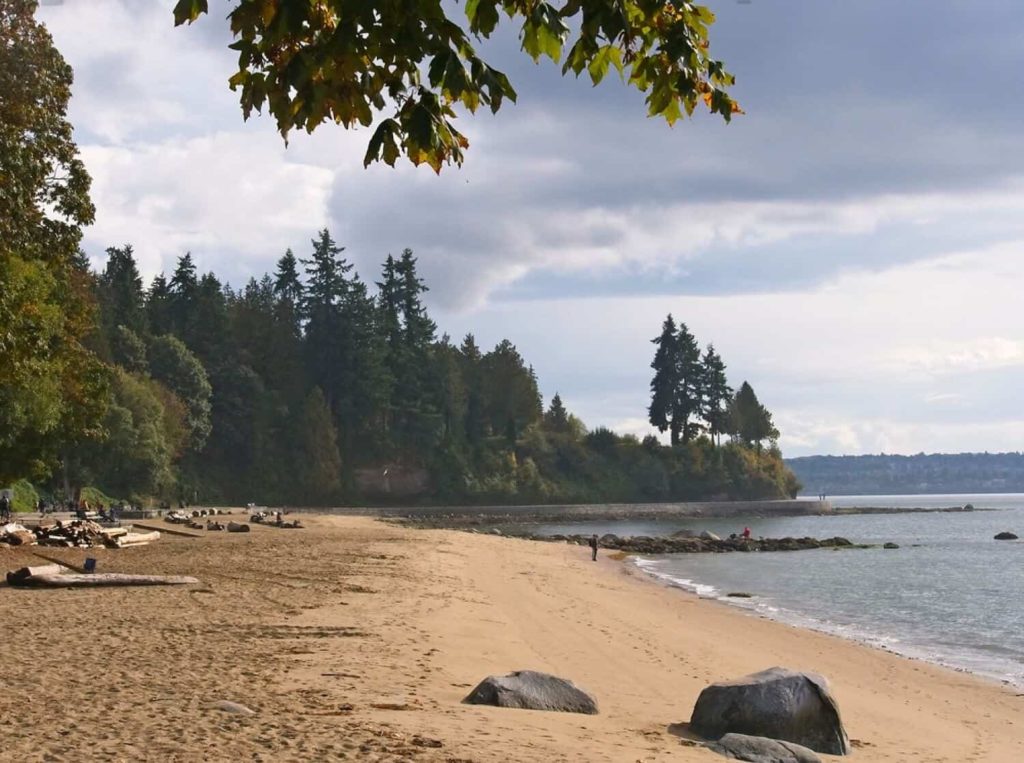 Park in the Gold Creek Parking lot and follow the signs guiding you to the trail that will lead you to North Beach. The beautiful waters at the end of it are a truly rewarding sight.
The trail doesn't offer much elevation gain, but it does branch out into smaller trails to the same destination that can keep your hike more interesting. You can also bring your paddle boards along if you're up for an alternative to swimming.
Paddle along the Alouette Lake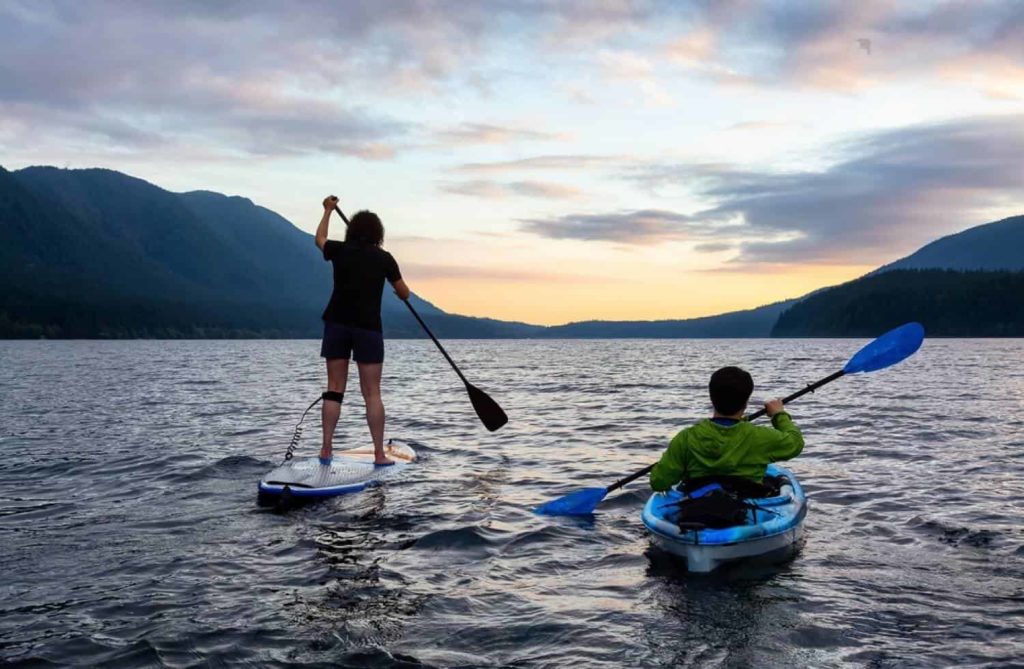 The calm and clear waters at Alouette Lake are beloved by paddle board and kayak (kayaking in vancouver) enthusiasts. The lake also gives plenty of space to paddle and offers stunning mountain views, so the experience is mostly peaceful and best for unwinding.
For easy launch, make sure to park at the Alouette (South Beach) Day-use Parking. Note also that boats launch from the left side of the lake (where there's a cemented boat launch), so stay to the right and be mindful of boat traffic.
If you don't have gear but want to experience water sports on this lake, you can rent canoes, paddle boards, and kayaks on-site. You can also try windsurfing or water-skiing if you're a fan of these sports.
Walk the Trail to Gold Creek Falls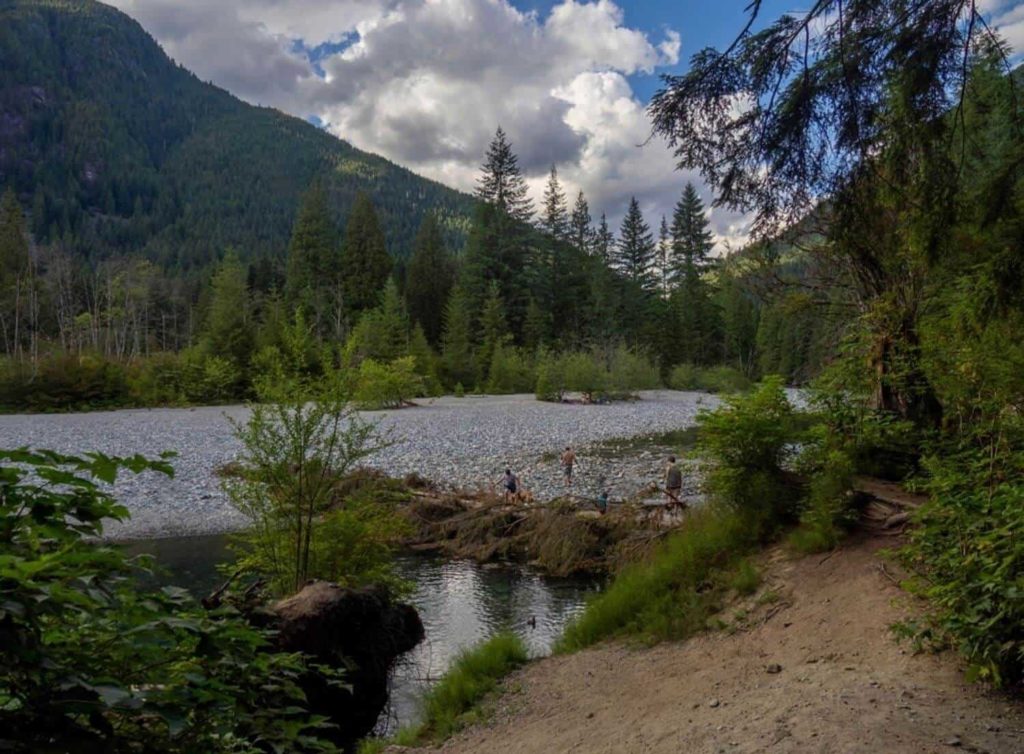 The trail to Gold Creek Falls, a 5.5 kilometer out-and-back route, is accessible via the Lower Falls Trail. It's relatively easy, taking approximately 1 hour and 17 minutes to complete.
About fifteen minutes into your hike, you'll get a view of Gold Creek Falls to your left. As you keep moving, the Aloutte, Edge, and Blanchard Mountains will also become visible.
For those planning to hike to the falls, the optimal time to visit is during the spring when the mountain runoff is at its peak.
Have a Picnic at Golden Ears Provincial Park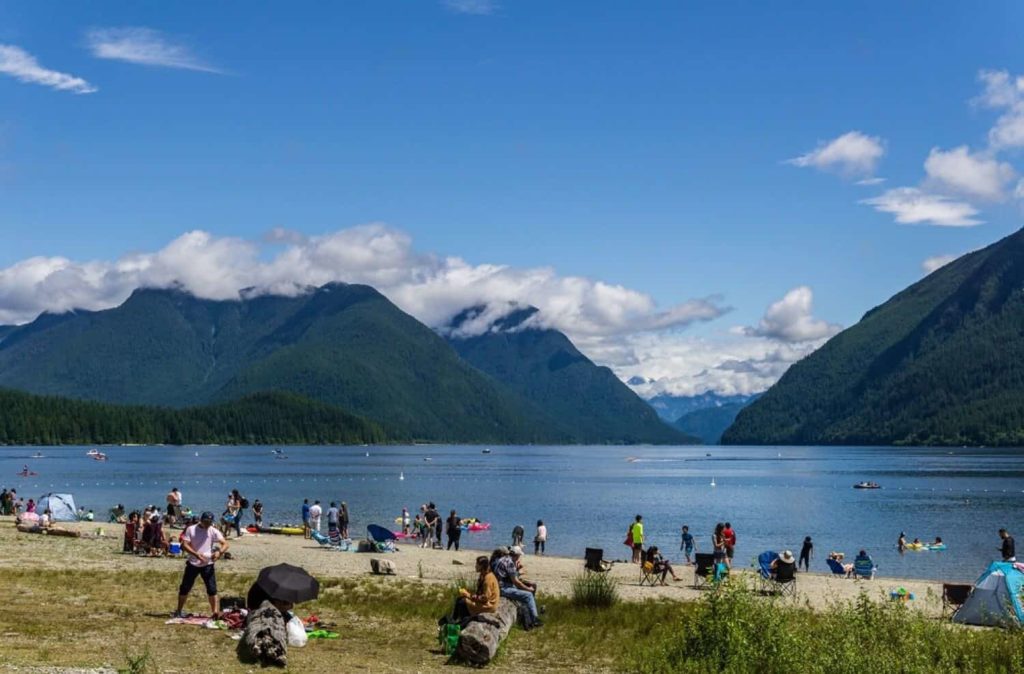 With its extensive grounds, it seems that Golden Ears Provincial Park doesn't run out of picnic spots for visitors. The truth is, during the summer, the picnic tables at Alouette Lake tend to fill up quick, so it's a good idea to be early if you're not setting up your own.
If you want to dodge the crowd, you can go to the North Beach instead. The sandy beach here, in contrast to the mixed stretches of mud, rocks, and sand on the shores of Alouette Lake, complements the breathtaking views of the surroundings.
Set up Camp at Front or Backcountry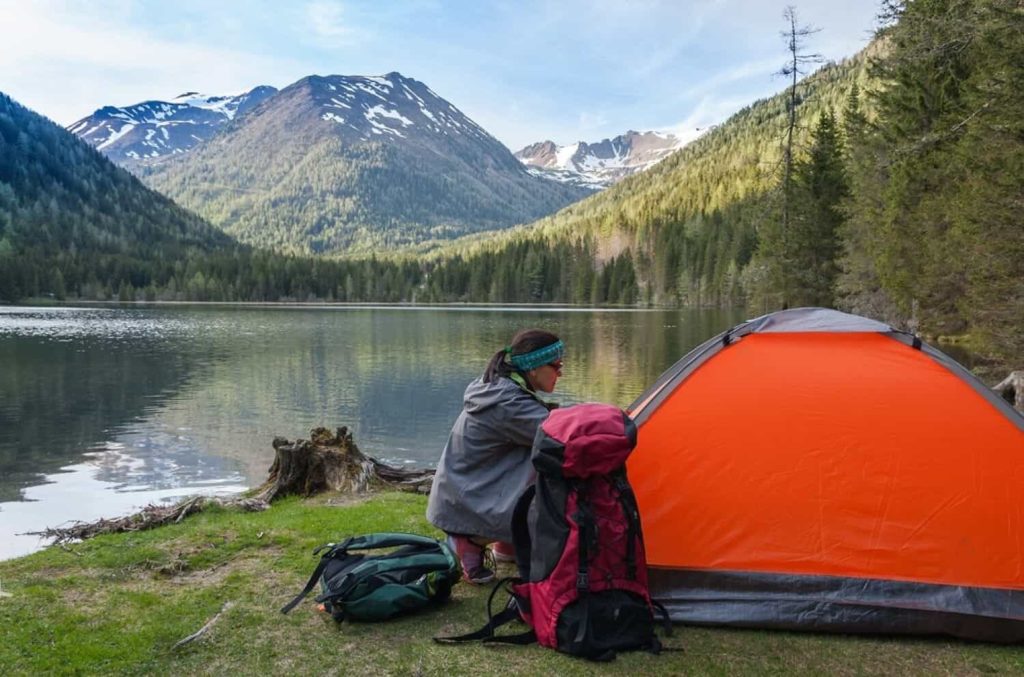 Golden Ears Provincial Park offers three easily accessible campgrounds: Alouette, Gold Creek, and North Beach Campgrounds. If you're the type to pair a great kayaking excursion with an overnight outdoor adventure, then camping in any of these is a good idea.
Note that these campgrounds are within 1 kilometers of a road or highway. You can also book a reservation starting from four months prior to your preferred camping day – this saves you the hassle of a first come, first served accommodation.
If you're prepared for a more adventurous camping experience, you can also opt for one of these designated backcountry sites: Viewpoint Beach, Alder Flats, Halfmoon Beach, or Panorama Ridge Golden Ears.
Panorama Ridge is probably the most rewarding because it's so close to the Golden Ears Summit. But it's surely not for the faint of heart (and knees) as the trail to this site is very long, steep, and quite dangerous, honestly.
All the backcountry campgrounds are in their own ways less comfortable than the first three that we mentioned. Aside from not being vehicle-accessible, most amenities present in the frontcountry are not available here.
For some, that's exactly the appeal of backcountry camping.
Ride a Horse at the Park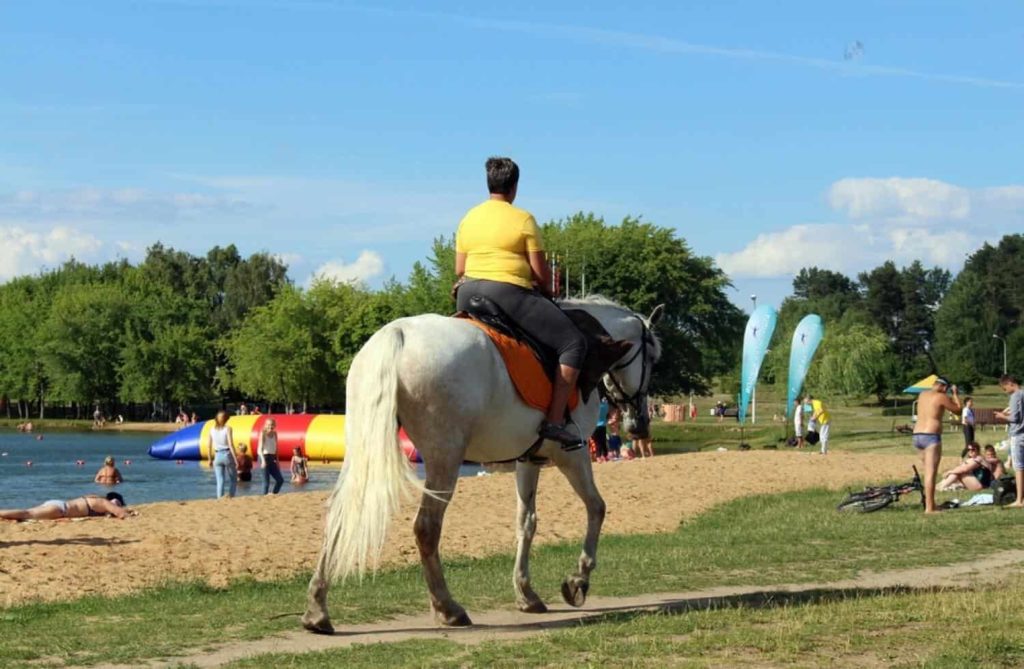 For a different hiking experience, you can also try horseback riding at the Golden Ears Provincial Park. Just make sure that you're familiar with the park map, which says which trails allow horses.
There are certain trails, like the East-West Canyon Connector Trail, that are off-limits to horses. And if you're going to bring your own horse and stay overnight at a campground, be sure to reserve at the Woodlands groupsite where horses are allowed.
What the Weather Is Like at Alouette Lake
Spring: The weather from March to May is cool and comfortable, with temperatures ranging from 10°C to 20°C. Rains can come occasionally, but it's a great time to go hiking and fishing.
Summer: June to August is warm and sunny at Alouette Lake, which makes it the perfect time for swimming, boating, paddle boarding, and camping. The temperature can range between 20°C and 30°C.
Fall: It's mostly rainy and cloudy from September to November, with temperatures ranging from 10°C to 20°C. Like in Spring, fall offers a great opportunity for hiking and fishing as the water is cooler and the foliage makes the hike more interesting.
Winter: December to February is off-season at Golden Ears Provincial Park, so it can be quiet at Alouette Lake as well. Temperatures can go as low as -5°C, so you can expect some snow when you hike up a trail.
Apps to Download for a Trip to Alouette Lake
Super Camping British Columbia: Find campgrounds and lodging affiliated with the BC Lodging and Campground Association
AllTrails: Navigate the trails confidently with all the info at your fingertips