Discover Vancouver's Planetarium: The H.R. MacMillan Space Centre
If your idea of a fun afternoon includes learning about our cosmos, then this is one of the coolest spots to check out. We've gathered all you need to know to make the most of your visit to the space center and planetarium.
What is the H.R. MacMillan Space Centre?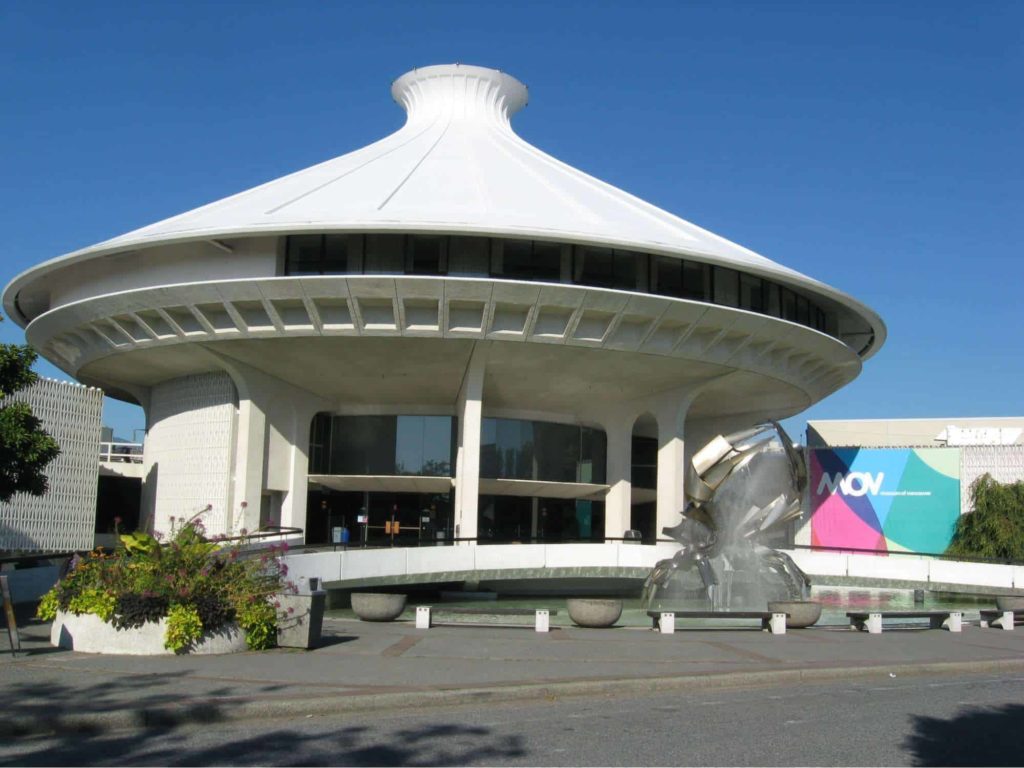 The H.R. MacMillan Space Centre, an astronomy museum at Vanier Park in Vancouver with a planetarium and observatory, is the premier destination for learning about space – the stars, our universe, and other astronomical wonders.
The H.R. MacMillan Space Centre is located within the same building as the Museum of Vancouver, on the south side of False Creek in Vanier Park. It's found in the Kitsilano neighborhood, which is why it enjoys a convenient proximity to Kitsilano Beach.
Inside, you'll discover four captivating attractions: the Cosmic Courtyard Gallery, the Planetarium Star Theatre, the Groundstation Canada Theater, and the Gordon MacMillan Southam Observatory.
Beyond these attractions, the Space Centre offers the option to host birthday parties and other off-site events by inviting staff to give talks. They also provide venue rentals for adult occasions such as weddings, film productions, and corporate events.
Best Time to Go to the Space Centre & Planetarium
The Planetarium Star Theatre at the H.R. MacMillan Space Centre usually features around four films daily. So, if you want to catch a specific film, the best time to go depends on your film choice's schedule.
Keep in mind that the museum can get quite crowded during peak times, such as weekends and holidays. For a more peaceful experience, consider visiting on weekdays or in the afternoon.
On Wednesdays and Fridays, dropping by later in the evening is also an excellent idea in order to catch the GMS Observatory.
Things to Know
Rates: Currently, tickets are available for CAD 19.75. Admission to the space centre is based on timed tickets, which means you must adhere to the designated time slot that you either booked in advance or received at the front desk on the day of your visit.
These time slots are more or less worth 2 hours of visit to the Cosmic Courtyard Gallery and the theatre, a live science demo, and, for evening visitors, a tour of the observatory. You can check out the list on this page for the most up-to-date time slot options.
Operating Hours: The H.R. MacMillan Space Centre is open during the day from 9:30 AM to 4:30 PM daily and in the evening on Wednesdays and Fridays from 6:30 PM to 11:30 PM.
Parking: There is paid parking available in front of the space centre. Since it's managed by Easy Park, you can use the Easy Park app to settle payment or head over to the dedicated kiosk.
Parking is paid per hour, or daily (from 6 AM to 6 PM, or 6 PM to 6 AM).
How to Get Around the Space Centre & Planetarium
Car: The H.R. MacMillan Space Centre is just around 5 to 10 minutes away from downtown Vancouver by car. From Science World at the end of False Creek, you need to drive for about 11 minutes via Burrard Street to get to the space centre.
Bus: Line #2 buses, departing from Burrard St @ W Georgia St, make a stop at WB Cornwall Ave @ Cypress St, which is just a ten-minute walk from the Space Centre.
Alternatively, you can take the line #50, which starts from SB Granville St @ Georgia St and stops at EB W 2nd Ave @ Fir St. From there, it's about a 17-minute walk to reach the Space Centre.
Walking: The Space Centre enjoys a convenient location close to Kitsilano Beach, just an 8-minute walk away, and downtown Vancouver, reachable in under 30 minutes.
Biking: If you prefer a scenic route, you can also opt for a bicycle ride along the seawall, adding stunning views of the ocean, beaches, mountains, and downtown to your journey to the Space Centre.
Where to Stay near the Space Centre & Planetarium
The Parker Hotel Vancouver
Address: 1379 Howe St, Vancouver, BC V6Z 2R5, Canada
Phone: +1 604-688-7678
Pricing: $$
The Parker Hotel Vancouver is an excellent choice for being in the nexus of neighborhoods in downtown Vancouver. Robson Street (What is Robson Street known for?), Yaletown, and even the seawall (vancouver seawall) are all just within walking distance.
Plus, if you're driving around the city, you can get to the Space Centre from this hotel in just a little over 5 minutes.
Sandman Suites Vancouver – Davie Street
Address: 1160 Davie St, Vancouver, BC V6E 1N1, Canada
Phone: +1 604-681-7263
Pricing: $$
As part of the Sandman Hotel Group, this hotel is an excellent choice for travelers who prioritize top-notch amenities during their stay.
The recently completed renovations have elevated the guest experience, and now the suites feature distinct bedrooms, convenient kitchenette areas, and comfortable sitting areas.
Situated on Davie St., this hotel is conveniently located just a short drive or bus ride away from the Space Centre, making it a convenient option for those planning a visit to this attraction.
Granville Island Hotel
Address: 1253 Johnston St, Vancouver, BC V6H 3R9, Canada
Phone: +1 604-683-7373
Pricing: $$
To reach the Space Centre from this hotel, you'll need to take a short seven-minute drive. On top of its ideal location, the full range of amenities ranging from their fitness room to a relaxing jacuzzi, can help make your stay comfortable.
If you're traveling with a pet, this boutique hotel is exceptionally welcoming. They even provide pets with treats courtesy of the Granville Island Pet Treatery.
The Burrard
Address: 1100 Burrard St, Vancouver, BC V6Z 1Y7, Canada
Phone: +1 604-681-2331
Pricing: $$
It's just a 10-minute bike ride along Burrard St. to reach this colorful hotel. Although it's been around since the 1950s, it recently underwent renovations that give it a unique blend of retro and modern vibes, setting it apart in terms of design.
This hotel offers more than the usual amenities, including Nespresso units in some of the rooms. Despite these added comforts, the room rates remain reasonable, especially considering that you can also enjoy an outdoor fire pit.
For those who enjoy table tennis, there's even a table available for use in the courtyard.
Where to Eat near the Space Centre & Planetarium
AnnaLena
Address: 1809 1st Ave W, Vancouver, British Columbia V6J 5B8 Canada
Phone: +1 778-379-4052
Pricing: $$$
AnnaLena's one Michelin star was enough to draw us in. But does it live up to the hype? Definitely.
This restaurant simply thinks through their menu and dishes out plates that are visual treats as much as they are delicious offerings. And what's truly commendable is that their fame after getting recognition from Michelin hasn't upset their consistency.
Many restaurants have a different story post-Michelin recognition, but here, food and service remain as excellent as ever.
Lee's Donuts
Address: 1689 Johnston St, Vancouver, BC V6H 3R9, Canada
Phone: +1 236-335-4021
Pricing: $
The lines outside this 1979 establishment should tell you how much love it has received from locals and tourists alike. If you're looking for (really) sweet treats, then you should get in line – it moves fast, which means the staff is efficient and doing a great job.
However, if you're on the quest for the ultimate donut, this might not be the top choice. While their donuts are undeniably fluffy and consistently fresh, you might feel that there are possibly better contenders elsewhere.
The Sandbar Seafood Restaurant
Address: 1535 Johnston Street, Creekhouse #102, Vancouver, BC V6H 3R9, Canada
Phone: +1 604-669-9030
Pricing: $$$
If you're hankering for seafood, the restaurant's name itself points you in the right direction, and its location right under the bridge to the mainland is spot-on for the type of food they offer.
For a delightful dining experience, try their sushi, as well as their New England chowder and salmon burger. Your bill will be a little on the pricey side, but it's not surprising for a seafood restaurant like this.
Corduroy Restaurant
Address: 1943 Cornwall Ave, Vancouver, BC V6J 1C8, Canada
Phone: +1 604-733-0162
Pricing: $$$
The Corduroy Restaurant is a mere 10-minute walk from the Space Centre. If you're looking to satisfy your pizza cravings on the same day as your visit to the Centre, taking a detour to this restaurant is a wise move.
They're known mostly for their pizzas, like Lamb Sausage and Flora Fauna. But you might want to try some of their newly added options too, which include vegetarian dishes and ahi tuna rice bowls and tacos.
Siegel's Bagels
Address: 1883 Cornwall Ave, Vancouver, BC V6J 1C7, Canada
Phone: +1 604-737-8151
Pricing: $
Fresh, chewy, and savory bagels are the expertise of Siegel's Bagels, located just a few steps from the Centre. It's the perfect spot to swing by for a bite of their rosemary and rock salt bagels before catching a live science demonstration at the Centre.
They do source their meat straight from Montreal, so grabbing one of their meat-filled bagels is a lovely chance to savor a taste of the place.
What To Do in H.R. MacMillan Space Centre
Bring Your Child to the Cosmic Courtyard Gallery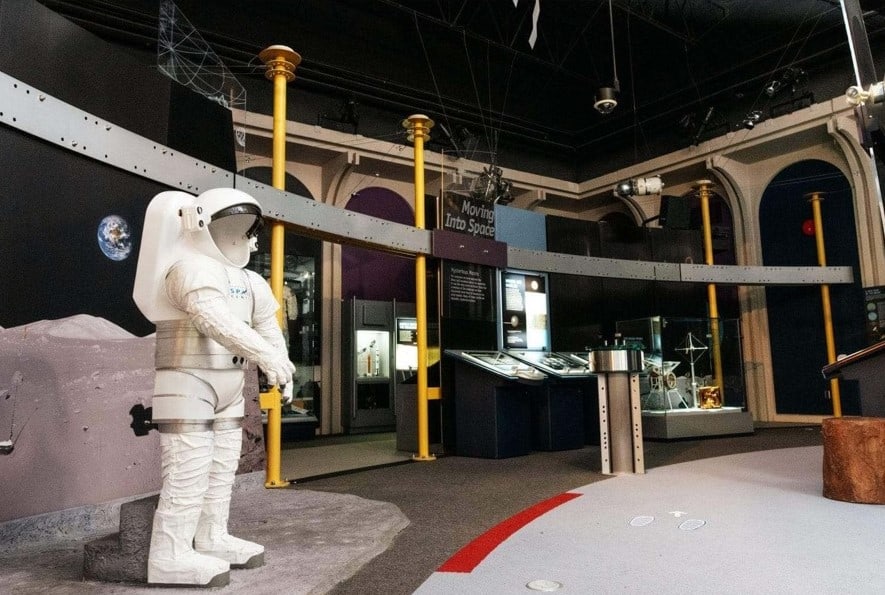 The Cosmic Courtyard Gallery is a must-visit if you have children in tow. It features engaging displays designed to pique a child's curiosity, including a collection of moon rocks, meteorites, along with other space-related artifacts.
There are also hands-on stations where children can get a taste of what it's like to be in a real-life space station.
You may observe that the gallery isn't as advanced as science museums in other places. That's a fair judgment, but at least in its primary goal of sparking children's interest in science, we think it still succeeds admirably.
Lean Back and Enjoy the Show at the Planetarium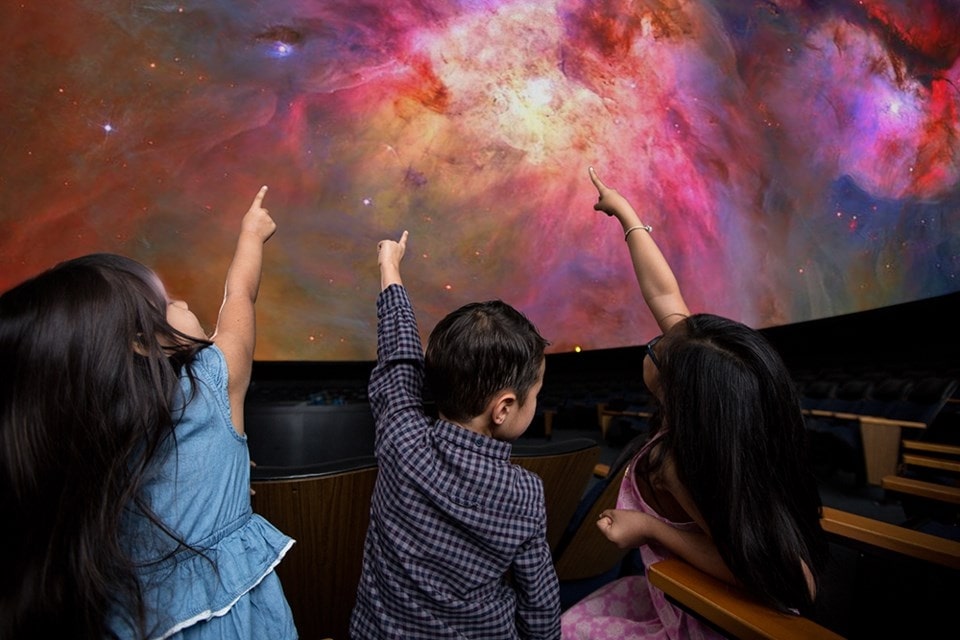 The Planetarium is a domed theatre with seating for 230 people and showcasing films about black holes, galaxies, meteor showers, and the like. These are all impressive to watch while leaning back and gazing up at the night sky.
For many visitors, this could easily be the highlight of the Space Centre. It allows you to fully immerse yourself in the captivating story of the cosmos, and it's an experience that even adults can deeply appreciate.
Of course, there are films that are meant for the younger ones. If you're bringing children along, be sure to check the schedule to determine which films are suitable to watch during your time of visit.
The Planetarium also invites astronomers and space experts for live presentations and Q&A session to complete the educational experience.
See Stars Up Close at the Observatory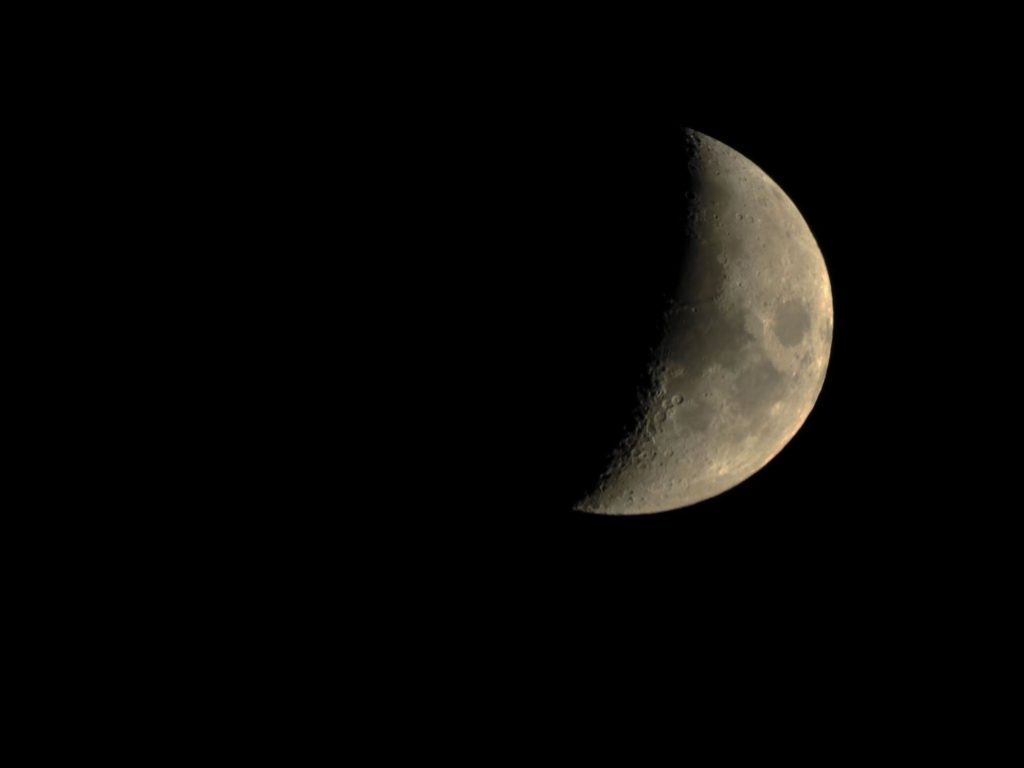 The GMS Observatory is an interesting addition to the Space Centre. It houses a ½ meter Cassegrain telescope that offers the opportunity to observe celestial wonders like Saturn, Neptune, Jupiter, and more.
This experience isn't something you encounter every day. The potent combination of the powerful telescope and the expertise of the staff grants you a glimpse into the mysteries of our universe and offers insight into what we know about our world.
Be sure to visit the Space Centre only on Wednesday and Friday nights, if this interests you.
Watch a Science Demo at the Groundstation Canada Theatre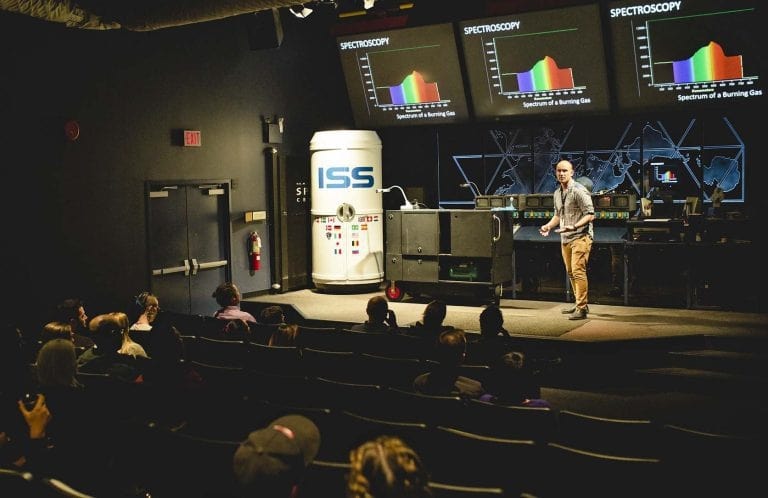 In the Groundstation Canada Theatre, live science demonstrations come to life. Similar to the Gallery, these presentations here are meant to capture the interest of children ages 6 and up who are into space travel, geology, and the like.
Admire "The Crab"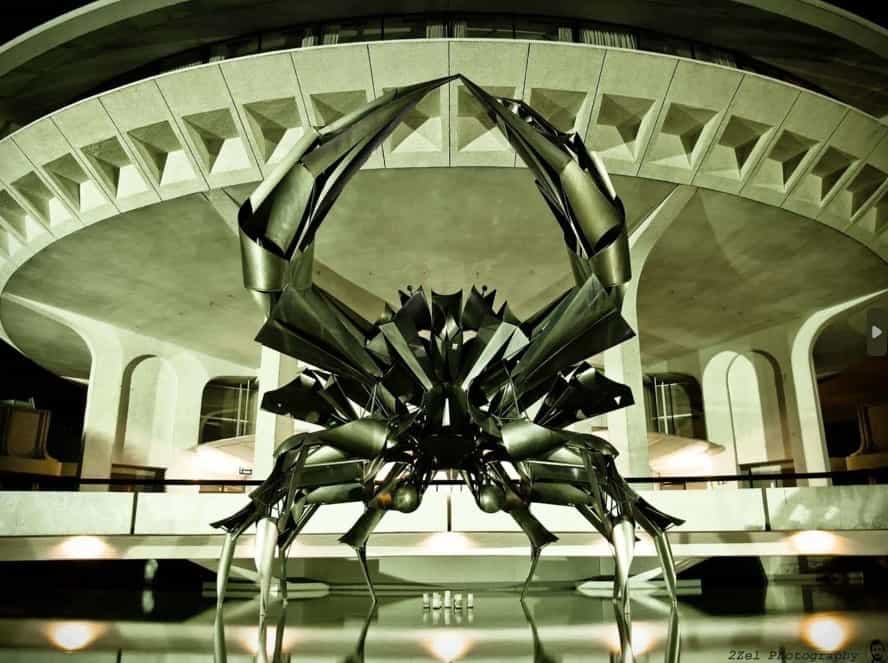 Designed by George A. Norris, the 20-foot-high fountain sculpture shaped like a crab guards the entrance of the H.R. MacMillan Space Centre. Over the years, it has become an iconic landmark in Vancouver, so take a photo of it for memento.
The creation of this sculpture is awe-inspiring, as it's made out of stainless steel, with its many separate parts sticking out but forming one huge crab.
At first glance, the crab's presence in front of the building is just a conversation starter in its own right. But discovering that it may be a nod to a First Nation Legend, where the crab serves as the guardian of the harbor, adds a layer of significance to its presence.
Tips for Visiting the Space Centre & Planetarium
Plan your stargazing well. If you're planning to do stargazing activities, plan your visit on nights with clear, dark skies. Avoid heading there too early or on rainy days to ensure you can fully enjoy the celestial wonders.
Check the schedule of the Observatory once in a while. They host special events when there are interesting phenomena that are cool to watch up close.
Be sure to visit all that your timed ticket covers. The Planetarium could be the star, but going around to check out all four main attractions is a good idea.
Explore nearby attractions. Prepare for some historical exploration at the adjacent Museum of Vancouver or the nearby Vancouver Maritime Museum that could deepen your understanding of society from a Canadian perspective.
Enjoy a walk outside along False Creek. After visiting the Space Centre, visitors can enjoy a walk outside along False Creek if the weather is good. This can be a great way to enjoy the beautiful views of the city and the waterfront.