Mill Lake Park is not your ordinary park. It boasts a wide range of activities, a welcoming community atmosphere, and a peaceful escape from the city's fast pace.
Whether you're an avid angler, a devoted dog walker, or simply seeking a tranquil spot for a leisurely picnic, this park has you covered.
Join us as we dive into the beauty, provide essential info, and share recommended places to make the most of your visit to Mill Lake Park.
What's in Mill Lake Park?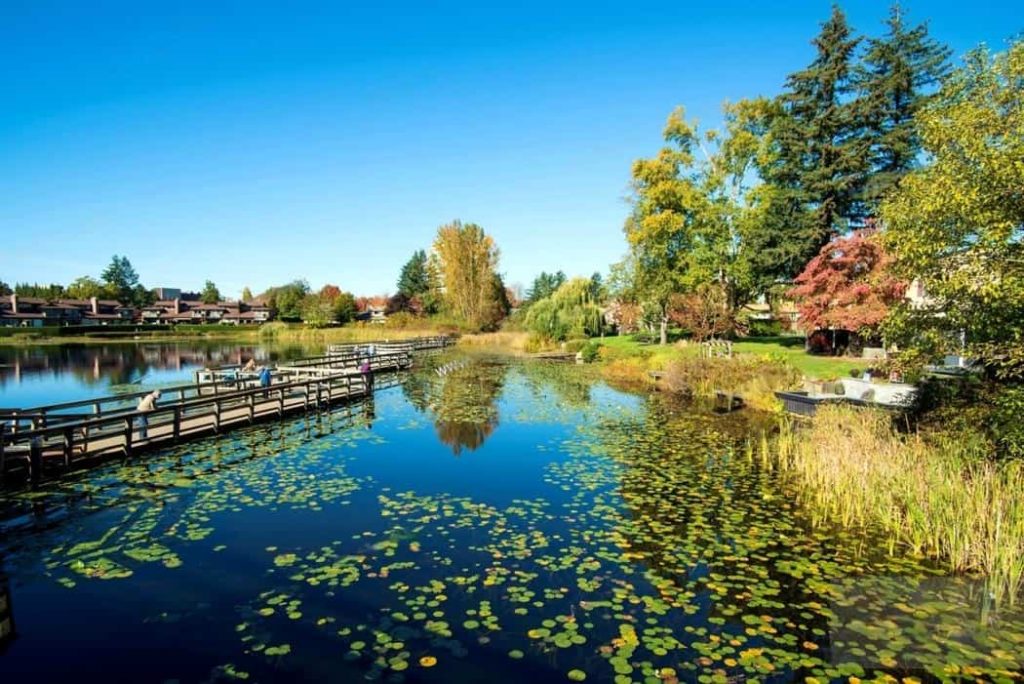 Located in Abbotsford, BC, Mill Lake Park is a well-maintained urban park that features Mill Lake, a scenic trail encircling the lake, an outdoor pool, and various spaces for picnic, gatherings, and outdoor play.
Mill Lake is a small and shallow lake that has a maximum depth of 57 metres, an average depth of 2 metres, and a total area of 4000 square metres.
Fishing and canoeing are both permitted on this lake, which makes it a popular destination for anglers and boating enthusiasts. Even waterfowl like ducks and geese are drawn to the small boardwalk over the waters.
The trail, commonly known as the Milk Lake Loop or the Mill Lake Park pathway, is an interpretive recreation path stretching for 2.3 kilometers with a modest elevation gain of 10 meters.
This looped, paved, and generally easy trail is well-suited for walking, running, cycling, and birdwatching, all set against the backdrop of Mount Baker. Along the pathway, visitors will find convenient sightseeing benches where they can take a break and enjoy the scenery.
The pathway also provides access to various amenities within the park. For groups looking for a great gathering spot, there's a day-use picnic area, along with multiple fields and courts for activities such as running, sand volleyball, and baseball.
Families with little ones in tow will enjoy the spray park and three playgrounds scattered throughout the park. The Centennial Outdoor Pool is also conveniently located next to the spray park, offering visitors the chance to enjoy both lake and pool in one visit.
Best Time to Go to Mill Lake Park
The best time to visit Mill Lake Park is during the spring and autumn when the weather is mild and pleasant. During these seasons, visitors can relish the cherry blossoms, blooming flowers, or a beautiful array of fall colors.
Summer is a great time to engage in outdoor activities offered at Mill Lake Park, but it can get quite hot and crowded. In contrast, winter tends to be cold and snowy.
Throughout the year, anglers are welcome to fish at Mill Lake. However, spring and autumn are the most ideal as the lake is regularly stocked with rainbow trout from March to November.
The park also plays host to a lot of community events and free public classes, such as Yoga in the Park. To plan your visit wisely, it's a good idea to stay informed about the schedule of events in the area.
How to Get to Mill Lake Park
Car: To reach Mill Lake Park from Vancouver, it typically takes around an hour. The usual route involves getting onto Trans-Canada Hwy / BC-1 E and taking exit 87, which leads to Abbotsford.
From there, a short drive of under 10 minutes following a couple of roads will bring you to Mill Lake Rd.
Public Transit: The travel time from Vancouver to Mill Lake Park via trains and buses typically totals up to 2 hours, give or take. While the province boasts a reliable transportation system, making more than three vehicle transfers can also be challenging.
If you're serious about commuting via public transportation, the recommended route involves taking the Expo Line up to Commercial-Broadway Station, where you'll transfer to the Millennium Line heading towards Lafarge Lake-Douglas.
Then, get off at Lougheed Town Centre and make your way to Lougheed Station, where you can catch Bus #66 (Fraser Valley Express – Chilliwack) and ride until you reach the third stop, McCallum P&R.
Finally, board Bus #1 (Highstreet – via Maclure) and continue until you reach the last stop at Bourquin W & Ware. From this point, you'll need around 6 minutes to walk 500 metres to Mill Lake Park.
Another option is to follow BC-91 in Richmond, then BC-17 and Trans-Canada Hwy / BC-1 E before taking the same exit as mentioned earlier. Keep in mind that this alternative route can add approximately 30 minutes to your journey to Mill Lake Park.
Thing to Know about Mill Lake Park
Rates: Mill Lake Park has free admission, but the Centennial Outdoor Swimming Pool implements a single drop-in fee of CAD 4.45 for adults, while children 5 years old and up, teens, and seniors pay a discounted rate of CAD 3.30.
Families (counted as 2 adults and all children from 5 to 19 years old, living in the same household) can avail of the package at CAD 9.35. Children under the age of 5 are permitted to swim without a fee.
Operating Hours: The park is open from 8 AM to 9 PM. The Centennial Outdoor Pool is open most days of the week, but it's best to check out their monthly schedule to know the best time to go.
Entrances: Mill Lake Park offers multiple entry points for visitors to access its amenities. The main entrance can be found at the intersection of Bevan Avenue and Primrose Street.
There are two other access points to the park. One lets you reach the park from the vicinity of the M.S.A. Arena on Emerson Street and Peardonville Road, and another provides access from behind Seven Oaks Mall, located at the end of Mill Lake Road via Bourquin Crescent.
Parking: There are complimentary parking lots around Mill Lake Park. One is across the play area located near the main entrance, while another is only a few steps from the second entrance, close to the baseball diamonds and the Centennial Outdoor Pool.
Where to Stay near Mill Lake Park
Sandman Hotel & Suites Abbotsford
Address: 32720 Simon Ave, Abbotsford, BC V2T 0B8, Canada
Phone: +1 604-556-7263
Pricing: $$
If there's a contest for the best Sandman Hotel & Suites within the hotel group, this one would be a strong contender for the top spot. Beyond its comfortable and stylish rooms, it's the friendly and attentive service that truly endears this hotel to its guests.
When heading to Mill Lake Park, you have the option to either drive from the hotel, which takes just under 5 minutes or take a leisurely stroll, which will have you there in a little over 15 minutes.
Coast Abbotsford Hotel & Suites
Address: 2020 Sumas Way, Abbotsford, BC V2S 2C7, Canada
Phone: +1 604-853-1880
Pricing: $$
From Coast Abbotsford Hotel & Suites, you only need four minutes to get to Mill Lake Park by car. Alternatively, there are plenty of public transportation options available that will get you to the park in 30 minutes, more or less.
The hotel itself is well-maintained, offers reasonable pricing, and boasts full amenities. While you may notice a few areas where the hotel could make improvements, the hotel admirably doesn't overpromise and remains true to what it offers.
Brookside Inn Boutique Hotel
Address: 2379 Chardonnay Ln, Abbotsford, BC V4X 0A6, Canada
Phone: +1 604-856-3300
Pricing: $
This boutique hotel offers six suites next to a working vineyard, so the setting and ambiance inside and out are just wonderful. The breakfast here is also incredible – the croissants, the eggs, and more taste like they were dished out at a high-end restaurant.
Note that there are no elevators in this boutique hotel, so if that's going to be an issue for you, request one of the rooms on the ground floor ahead of time.
For those visiting Mill Lake Park, this option is also best for those who have a car as the drive will take up to 15 minutes while taking the bus may take up to an hour.
Super 8 by Wyndham Abbotsford BC
Address: 1881 Sumas Way, Abbotsford, BC V2S 4L5, Canada
Phone: +1 604-853-1141
Pricing: $
We didn't have high expectations for the amenities at this Super 8 in Abbotsford since the price was considerably lower compared to other hotels we looked at in the area.
While some amenities could use upgrades or better maintenance, there are some great things to appreciate about this hotel. For example, they have an indoor pool with a waterslide that children will surely enjoy.
And, of course, the affordable rate is a strong incentive.
Where to Eat near Mill Lake Park
Duft and Co Bakehouse
Address: 2636 Montrose Ave #103, Abbotsford, BC V2S 3T6, Canada
Phone: +1 604-744-2443
Pricing: $$$
Website
Serving up fresh and handcrafted pastries using locally sourced ingredients, Duft and Co Bakehouse impresses with their dedication to prioritizing quality over scaling. They have a policy of closing doors when all is sold out, which ensures top-notch freshness.
You have to come in early, though. Since this place can get really busy, once you're there, be sure to try their danishes, cakes, and donuts to fully savor the experience.
Himalaya Indian Cuisine
Address: 2607 Ware St, Abbotsford, BC V2S 3E2, Canada
Phone: +1 604-851-2583
Pricing: $$
Website
If you're in the mood for Indian cuisine on your way to the park, this place is a fantastic choice. It offers authentic, home-style Indian dishes, making it a highly recommended stop if you're looking to explore global flavors.
Their mutton curry dish is among the best we've ever tasted, so make sure to order it to experience what we're talking about.
Bavaria Restaurant
Address: 33233 Walsh Ave, Abbotsford, BC V2S 1Z9, Canada
Phone: +1 604-859-3154
Pricing: $$
Website
This restaurant, with a European flair, has been a part of Abbotsford for over 40 years. Its deep roots in the community make it another excellent place to visit if you want to get a taste of the local scene.
Lately, it's been a bit hard to find authentic German food in Vancouver, but this restaurant has you covered with an abundance of Schnitzels on their menu.
Schnitzelz
Address: 33324 South Fraser Way UNIT 4, Abbotsford, BC V2S 2B4, Canada
Phone: +1 604-758-2255
Pricing: $
Website
Speaking of Schnitzels, here's another restaurant that caters to German food enthusiasts. Don't be fooled by the name, as they offer much more than just schnitzels; their menu includes options like Mandarin salad, burgers, pastries, and more.
Conveniently, this restaurant is just a couple of steps away from Mill Lake Park. You can reach it in about seven minutes to indulge in their delicious cuisine.
Greek Islands Restaurant
Address: 33244 South Fraser Way, Abbotsford, BC V2S 2B3, Canada
Phone: +1 604-859-1631
Pricing: $$
Website
Another family-owned restaurant, Greek Islands Restaurants, is conveniently located within walking distance from Mill Lake Park. On foot, you can reach the place in around 15 minutes – by car, it takes only about five minutes.
Throughout the years, they have consistently delighted diners with a wide range of delectable dishes, from chicken souvlaki to tzatziki and pita.
If you're craving Greek Salad or hummus, this is the go-to spot in Abbotsford. And if by chance, it's already crowded, you'll find another branch of the same restaurant on a different street in Langdon.
What to Do at Mill Lake Park
Swim at the Centennial Outdoor Pool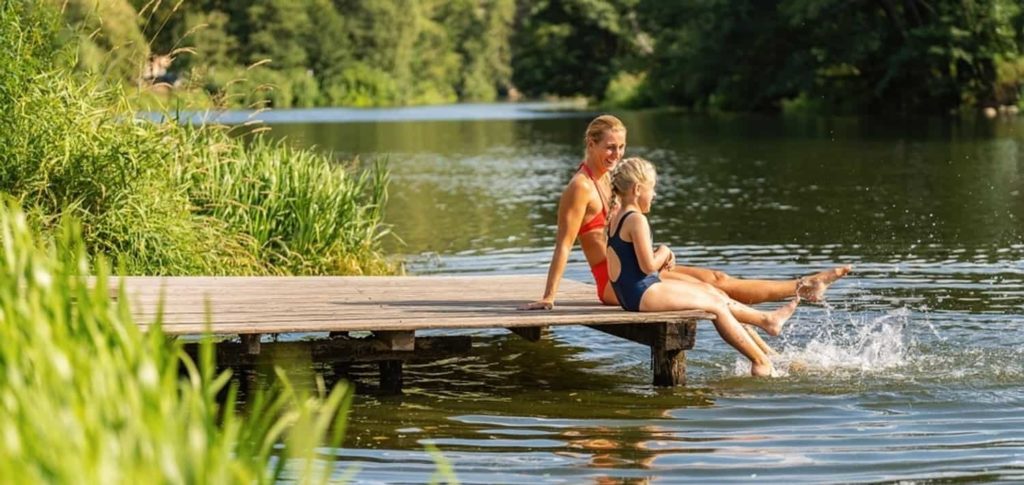 Mill Lake may not be the most enticing option for swimming. Remember it's not as vast or deep as, say, Alouette Lake (Alouette Lake).
Still, swimming is permitted in the lake. However, if you're looking for a more dedicated swimming experience, there's the Centennial Outdoor Pool that is open to the public.
This pool boasts a length of 25 meters and is located just a few steps away from the lake. While it may not offer the stunning views you'd find at the pool near Kitsilano Beach, it does come equipped with a spray park, picnic shelter, and a nearby playground.
The pool is also best for lane swimming, and they even offer swimming lessons for all age groups.
Kayak on Mill Lake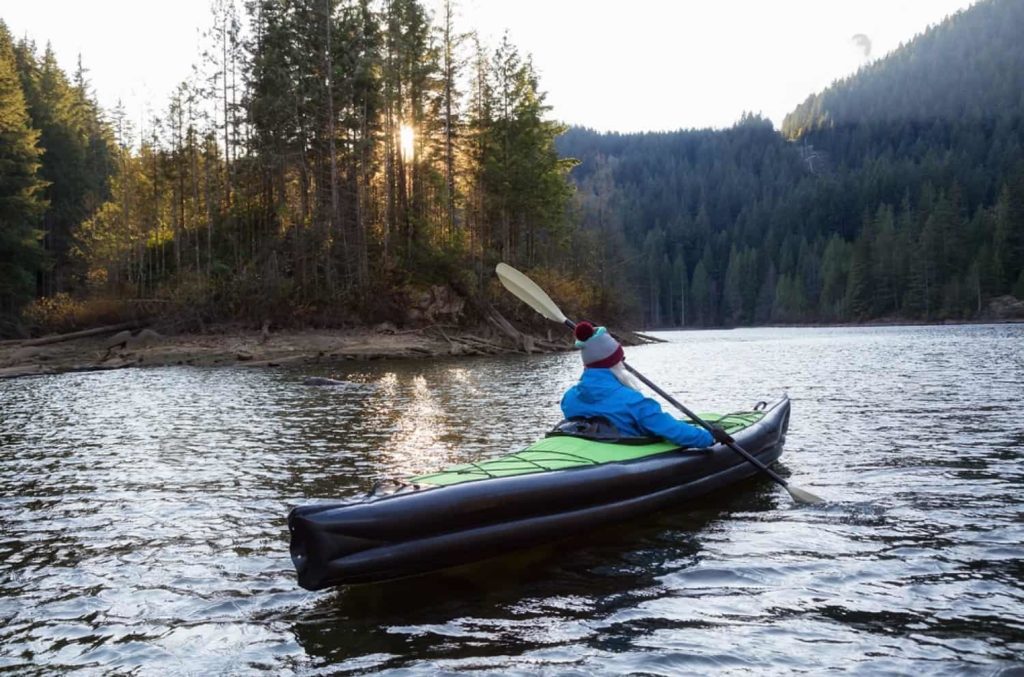 You can definitely go canoeing at Mill Lake. You're welcome to bring your own non-motorized watercraft like canoes or kayaks to enjoy on the lake.
Western Canoe Kayak also hosts demo days where you can try out many of their popular canoes and kayaks right on Mill Lake. Just keep in mind that there are no boat rental services available within the park.
And because there are no lifeguards on duty, it's important for visitors to exercise caution and prioritize safety when canoeing or kayaking.
Hook Some Fish at Mill Lake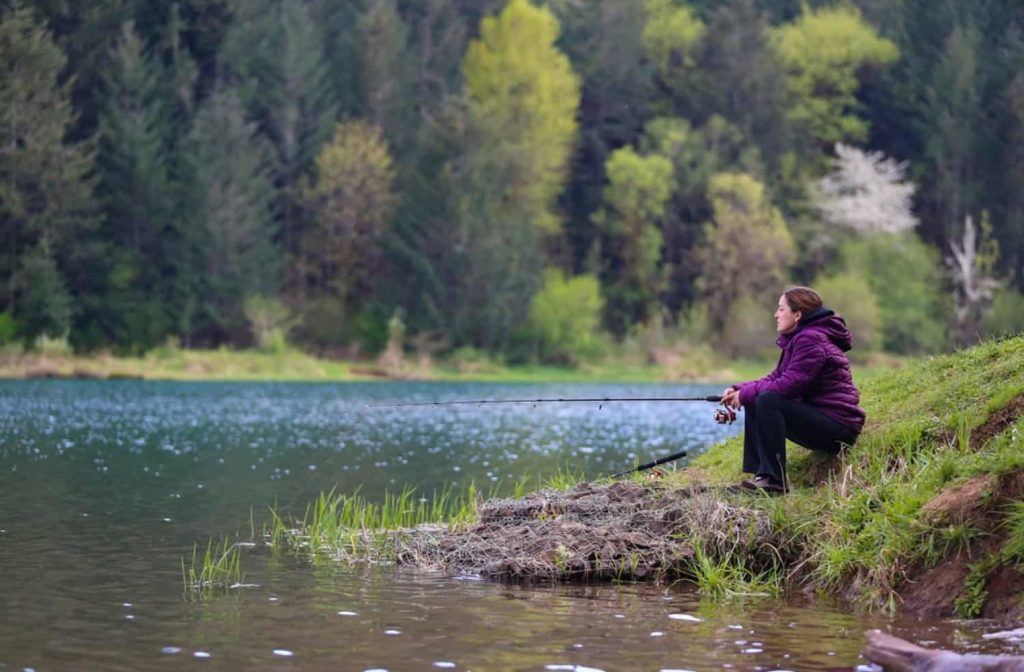 Mill Lake is part of the "Fishing in the City" program, a collaborative effort supported by the Freshwater Fisheries Society of BC. This means that Mill Lake receives regular stock of rainbow trout, with stockings occurring in both the spring and fall seasons.
This lake may not seem like much, but it has been a surprisingly rewarding spot for anglers. Even greater if you want to use a float tube or a small boat.
As the weather warms, Mill Lake comes alive with largemouth bass and various other spiny-ray species, diversifying the fishing opportunities it provides. Western Painted Turtles, a turtle native to B.C. that is now considered endangered, are also found here.
Unwind and Go Birdwatching at Mill Lake Park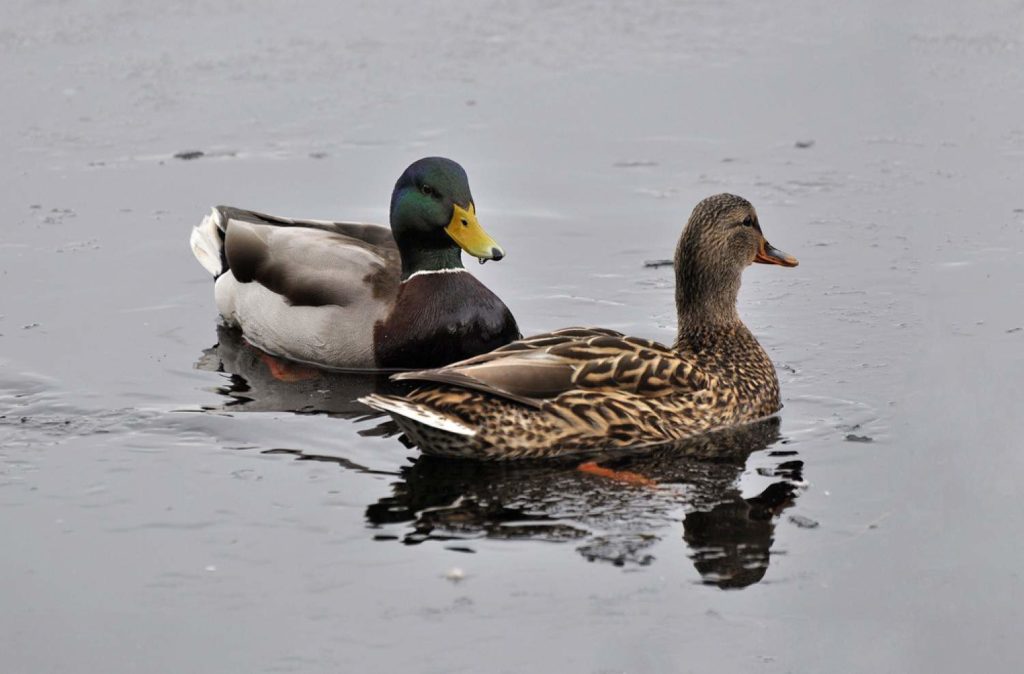 The lake attracts waterfowl to the area like Mallard ducks and Canada geese while the forest attracts songbirds to the area. When these two are put together, the sum is a great time for birdwatchers.

Aside from the waterfowl, the lake is home to a pair of Bald Eagles. Other species include Bushtits, hummingbirds, and other small birds.
Hike up the Trail around Mill Lake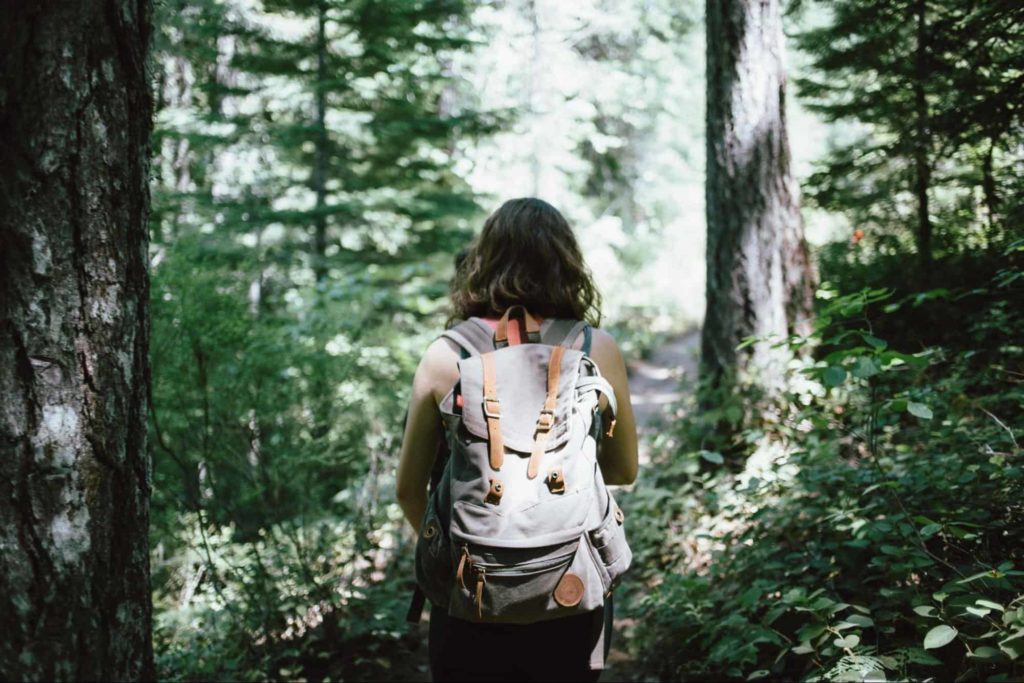 If you want to take in the surroundings from anoth perspective, consider taking a leisurely stroll or biking along the Mill Lake Loop. As we've mentioned before, this trail is generally easy, but be sure that you're also prepared as you're still going through some forest.
While there are days when the trail is bustling with people, quieter times allow you to enjoy the melodic tunes of birds and remove any rush to complete the trail quickly. You can also sit down at the sightseeing benches to appreciate the views and the birdsongs.
Feel free to bring your dogs along for the journey, but do remember that they must be on a leash at all times.
What the Weather Is Like at Mill Lake Park
Spring (March to May): Mill Lake Park comes alive in spring with mild and pleasant weather, offering temperatures between 6°C to 16°C (43°F to 61°F). The park is adorned with blooms, creating the perfect atmosphere for a leisurely walk or a picnic.
Summer (June to August): Mill Lake Park shines during the warm and sunny summer months, with temperatures ranging from 12°C to 26°C (54°F to 79°F). This season attracts visitors looking to swim, boat, and enjoy various water activities.
Fall (September to November): Fall in Mill Lake Park brings mild weather and a burst of colors, with temperatures ranging from 6°C to 16°C (43°F to 61°F).
The park transforms into a picturesque display of beautiful fall foliage, making it an ideal time for walks and hikes.
Winter (December to February): Mill Lake Park experiences cold and wet winter weather, with temperatures between 0°C to 7°C (32°F to 45°F). While it's less crowded during this season, visitors can still enjoy the park's trail and other features at a quieter pace.
Apps to Download for a Visit to Mill Lake Park
AllTrails: Navigate the trails confidently with all the info at your fingertips
Google Maps: Get estimated arrival times and real-time traffic updates