Our Guide to the Shipyards District in North Vancouver
The Shipyards in North Vancouver, also called Lower Lonsdale, is a public space on the waterfront east of Lonsdale Quay. From being the city's oldest neighborhood, it is now considered North Shore's downtown with its vibrant commercial scene and year-round events.
In this article, we'll give you all you need to know about this lively neighborhood– from its history down to the things you can do to make the most of your visit!
What are the Shipyards in North Vancouver?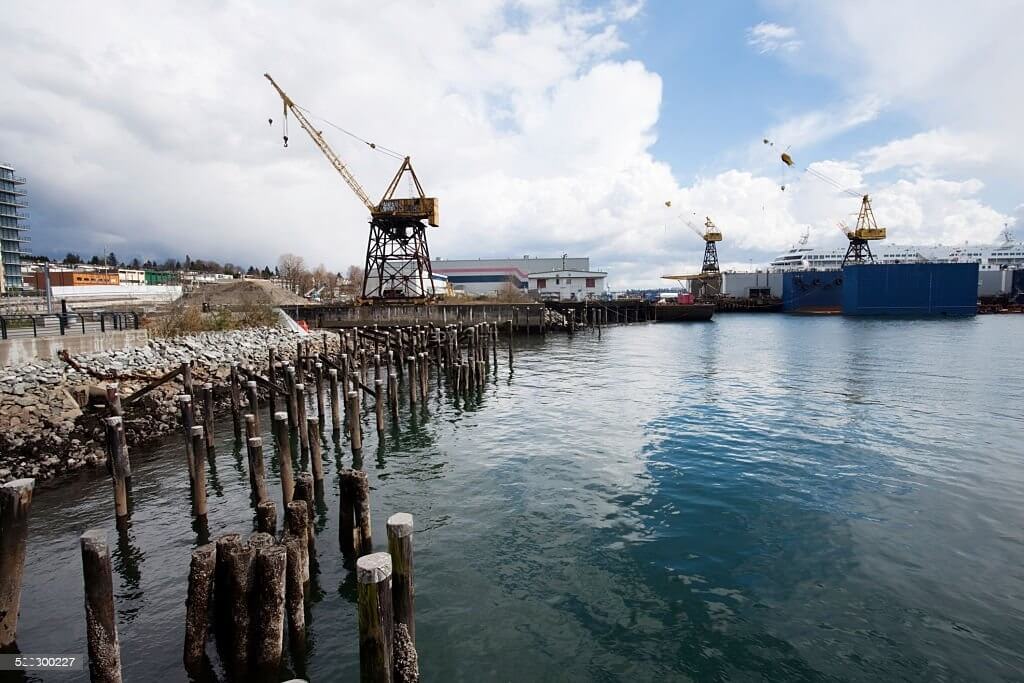 The Shipyard District in North Vancouver has a rich history tied to the Squamish Nation who resided along the shoreline before the arrival of Capt. George Vancouver in 1792.
The same area of Lower Lonsdale later became a shipbuilding hub.
Led by the Wallace Shipyards (which changed its name multiple times), they made more than 450 vessels from 1906 to 1992, some of which played pivotal roles in WWI and WWII.
The St. Roch, the first ship to circumnavigate North America and which now rests at the Vancouver Maritime Museum, emerged from Burrard Dry Dock (evolved in 1921 from Wallace Shipyards). They also built ferries, lumber barges, and icebreakers.
The 18 city blocks of Lower Lonsdale saw an industrial decline and a concurrent rise in community and businesses. When Lonsdale Quay opened for Expo '86, people had a renewed interest in the arena, until in 2017, the Shipyards District itself was introduced.
In 2021, the Shipyards District won several awards for the transformation that it has undergone (Cornerstone Award and Community Project Award) and the waterfront planning and development work (Excellence on the Waterfront Award).
What to Expect from North Vancouver's Shipyards District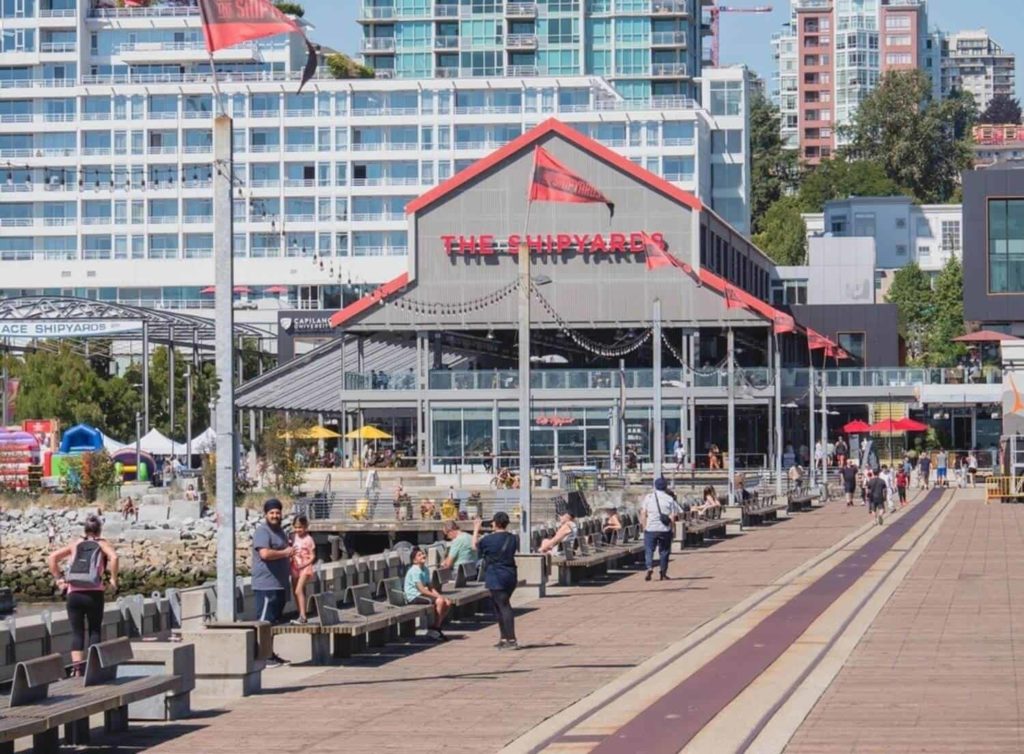 The Shipyards offers 84,000 square feet of mixed-use commercial and community space along the waterfront. Restaurants, cafes, shops, attractions, and boutique hotels are all found close together in this bustling hub.
Also drawing a lot of people are these venues: the Shipbuilders' Square, which hosts community events in summer; the Pipe Shop, a restored building also used for events; and the Shipyard Commons, a covered plaza that turns into a skating rink in the winter.
And because of its fortunate location, the Shipyards district gives really great, unobstructed views of Vancouver's skyline and the big North Shore mountains.
Best Time to Go to North Vancouver's Shipyards District
The North Vancouver Shipyards is a fantastic destination all year round. Each season presents us with different experiences.
In summer (May – September), the vibrant outdoor public space, complete with a plaza, water features, and a lineup of live performances, sets the stage for outdoor dining, shopping, and events.
When winter arrives, the district transforms into a winter wonderland, boasting the region's largest covered outdoor skating rink, open rain or shine, while restaurants and cafes continue to welcome visitors.
As fall arrives, the Shipyards retain their inviting atmosphere, allowing for relaxed outdoor activities. And with spring, the district comes into full bloom, inviting leisurely strolls and outdoor enjoyment.
Things to Know about North Vancouver's Shipyards District
Rates: The Shipyards is a public space, so there is no general admission fee to enter. However, the stores, as well as specific events and activities, require payments, such as skate rentals for ice skating.
Parking: There's one-hour free street parking for quick stops at the Shipyards. Both city-owned and privately-owned parking lots are available, with rates varying by location.
City lots are accessible 24/7, while private lots have varying operating hours. Pay parking is an option at the nearby ICBC parkade, Pinnacle Hotel at the Pier, and Lonsdale Quay Market.
Pets: The policy on pets seems to vary depending on the event and location. Some restaurants permit dogs on the sidewalk near the patio, and the Waterfront Park has an off-leash area for dogs, while some events, like the Shipyards Festival, don't allow pets.
How to Get Around Shipyards District
Walking/Biking: The community is highly friendly to pedestrians and bikers. You can follow one of the several routes connecting the Shipyards to the North Shore and beyond.
Buses: The Shipyards is near the Lonsdale Quay Transit Exchange, so you can board the Seabus or R2 RapidBus there.
Cars: The Shipyards is designed for pedestrians and has limited parking, so it's not advisable to drive a car around the area. But if you're traveling from Vancouver, for instance, just be sure to check available parking lots to avoid any inconvenience.
Where to Stay in North Vancouver's Shipyards District
Lonsdale Quay Hotel
Address:123 Carrie Cates Ct 3rd Floor, North Vancouver, BC V7M 3K7, Canada Phone: +1 604-986-6111
Pricing: $$
Lonsdale Quay Hotel is strategically located so that you get stunning views of the Burrard Inlet and Downtown Vancouver, while also enjoying the restaurants, shops, and attractions surrounding the hotel.
The level of service and quality of amenities are quite inconsistent these days. But we believe there's still plenty to appreciate about this hotel – especially if you think proximity to all the good places tops everything else.
Seaside Hotel North Vancouver 
Address:123 Carrie Cates Ct 3rd Floor, North Vancouver, BC V7M 3K7, Canada Phone: +1 604-986-6111
Pricing: $$
Located on the waterfront of Lower Lonsdale, the Seaside Hotel is next to the North Shore's SeaBus terminal and Esplanade Avenue.
The hotel provides various amenities for guests, such as a fitness center, rooftop terrace, and a restaurant. Opting for a room with a view of the harbor could enhance the vibrancy of your stay.
North Vancouver Hotel 
Address: 1800 Capilano Rd, North Vancouver, BC V7P 3B6, Canada
Phone: +1 604-987-4461
Pricing: $$
If you're set on seeing the Capilano Suspension Bridge or the Grouse Mountain, then you can stay at North Vancouver Hotel for convenience. The rooms are not spacious, but they have attentive service and nice amenities like a fridge and coffee machine.
For its strategic location, we already got great value for our money.
Pinnacle Hotel at the Pier
Address: 138 Victory Ship Way North Vancouver, BC Canada V7L 0B1
Phone: +1 877 986-7437
Pricing: $$
From the Pinnacle Hotel, the Lonsdale Quay Market only takes two minutes of walking and Stanley Park, seven minutes by car. It's only a four-minute drive to North Vancouver Station, which makes going around a lot more convenient.
Amenities at the hotel include a five-lane swimming pool, and a restaurant (The Lobby) that serves incredible seafood dishes.
Where to Eat in North Vancouver's Shipyards District
Fishworks
Address: 91 Lonsdale Ave, North Vancouver, BC V7M 2E5
Phone: +1 778-340-3449
Pricing: $$
The service at Fishworks is top-notch, and their outdoor dining setup is really inviting, but we must say, the true highlight lies in the quality of their every dish.
Fishworks takes pride in sourcing local and sustainable seafood and ingredients. Their clams, scallops, oysters, and of course, their ceviche, are fresh and so great to have.
As a delightful touch, their house-made dark chocolate "fish" offers a sweet conclusion to an exceptional meal. Don't forget to grab a drink during their happy hour to complete your experience!
Welcome Parlour
Address: 125 Victory Ship Way. North Van. Lower Lonsdale. North Vancouver
Phone: +1 604-971-5002
Pricing: $
Welcome Parlour Ice Cream offers a variety of top-tier treats, including their standout strawberry cheesecake flavor. What's more special about this place? You can enjoy your ice cream outdoors while watching the sunset. 
The staff is helpful and can guide you through their selection, so be sure to ask for recommendations during your visit.
The Gull Bar and Kitchen
Address: 175 1st St E, North Vancouver, BC V7L 1B2
Phone: +1 604-988-5585
Pricing: $$$
The Gull Bar and Kitchen used to be a well-known pub and now its food definitely goes beyond typical pub fare. If you're looking for ground-in-house and juicy burgers, this should be top of your list.
The cozy interior and friendly service add to the welcoming feel of this dining spot. Plus, they have an impressive wine list and skillfully crafted cocktails worth checking out.
Streetcar Brewing
Address: 123A 1st St E, North Vancouver, BC V7L 1B2, Canada
Phone: +1 604-770-2889
Pricing: $$
With an entrance that's easy to miss and a flight of stairs that could be sketchy in a parallel universe, finding Streetcar Brewing on 1st Street is like being let into a secret group. Good thing the group knows some great beer on tap that's worth all the steps.
Their beer menu caters to different preferences. Whatever you choose, grab some fried chicken from Cream Pony next door – it's a perfect match with the beers!
Nicli Pizzeria + Bar
Address: 3142 Highland Blvd, North Vancouver, BC V7R 2X6, Canada
Phone: +1 604-770-1240
Pricing: $$
If you've had the pleasure of dining at their previous Gastown location, you'll likely remember their delicious thin-crust pizza. Their chewy focaccia bread also has a chewy texture and their tiramisu, a balance of light and creamy, just the way we want it.
To round off your dining experience here, consider indulging in a negroni, if you're not a fan of coffee yourself.
Where to Shop in North Vancouver's Shipyards District
AmoVino ️Wine + Spirits
Address: 200 – 120 Lonsdale Avenue Suite Genius, North Vancouver, BC V7M 2E8, Canada
Phone: +1 604-770-3102
AmoVino is a go-to for organic and ethically crafted wines from around the world. They partner with family farmers who connect with nature deeply, and the richness of their stories translates into the flavors of the wines.
If you're passionate about supporting local farmers and seeking out hard-to-find products, give this shop a go for your wines and spirits fix.
Wild Honey Goods
Address: 106 W 1st St Unit 205, North Vancouver, BC V7P 3H2
Fashion is all about walking the talk, and stepping into a store that radiates creativity at its core is truly a wonderful experience. That's exactly how it felt stepping inside Wild Honey Goods – the vibe just screams creativity!
While their selection isn't extensive, it's apparent they've curated only the most exquisite pieces. Plus, the inviting ambiance and friendly staff make this budding vintage clothing store more appealing.
Foxy Farm Market
Address: 108 W 1st St, North Vancouver, BC V7M 1A9, Canada
Phone: +1 604-770-4937
This small grocery store impresses with its awesome selection of local produce and specialty foods stored in their fridges and freezers. They have fresh organic produce, meat, pasta, and other pantry items all at reasonable prices.
Their staff also make the ambiance welcoming. Don't hesitate to ask for assistance if you're on the hunt for specific items or looking for vegan or gluten-free alternatives.
Mo's General Store
Address: 51 Lonsdale Ave, North Vancouver, BC V7M 2E5, Canada
Phone: +1 604-928-7827
Another store that's true to its ideals to support local is Mo's General Store. They proudly offer coffee, dairy products, and baked goods sourced from within the community, and use the services of local businesses to contribute to the area's vitality.
They offer a variety of household essentials and gift ideas and it wouldn't be a surprise to see them expand their selection soon. There's also a Mini Mo's upstairs from the general store if you're on the lookout for baby products.
What to do in North Vancouver's Shipyards District
Browse Shipyards Night Market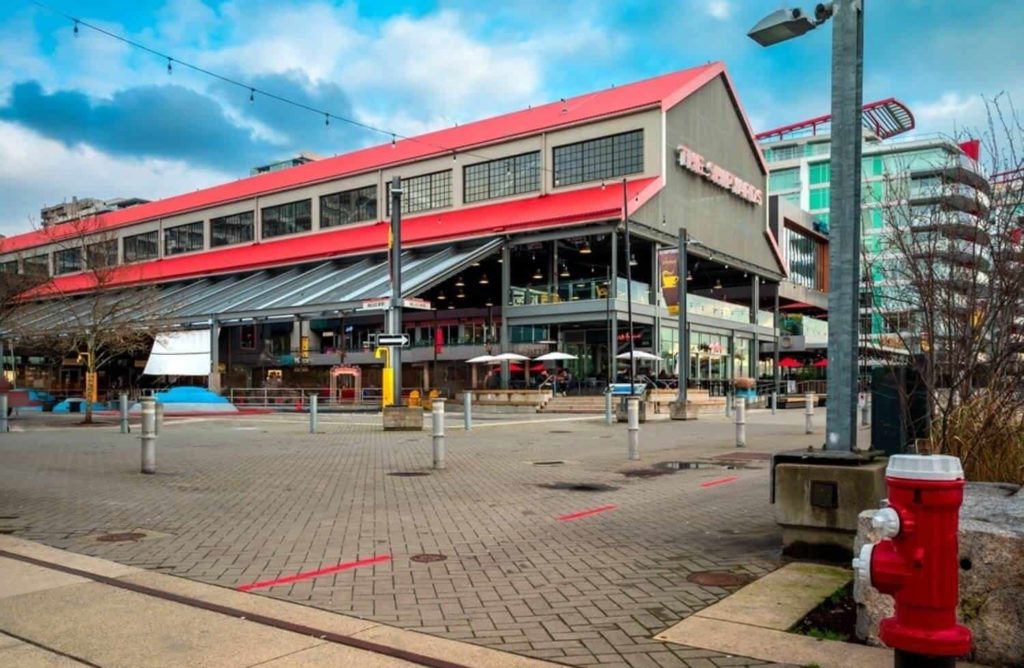 The Shipyards Night Market is a popular attraction in North Vancouver taking place every Friday in the summer. It features food trucks, live performances, a beer garden, and an artisan market, creating a vibrant experience for all to enjoy.
Hosted at Shipbuilders' Square, the market draws up to 10,000 visitors who indulge in global treats like gelato, crepes, Slavic rolls, burgers, and sweet pastries from the Greater Vancouver Food Truck Festival. 
Those who are 19 years old and above can also access the beer garden, run by The Garden Beer Market Co. With live music every night from local artists, it's a fantastic setting to grab a drink with friends and catch up.
This year, the night market celebrates its 10th year in business. And there's much more to love this season, as the organizers dub its return as the Shipyards Night Market 2.0.
They are collaborating with iMADE Local, so if you're looking for handcrafted jewelry, accessories, artwork, and the like, you can browse the selection at the artisan market.
When visiting on busy days, parking might be limited. Free parking is available at the ICBC parkade after 6 PM, or you can opt for the SeaBus from Vancouver's Waterfront Station to Lonsdale pier.
Glide through the Ice at the Skating Rink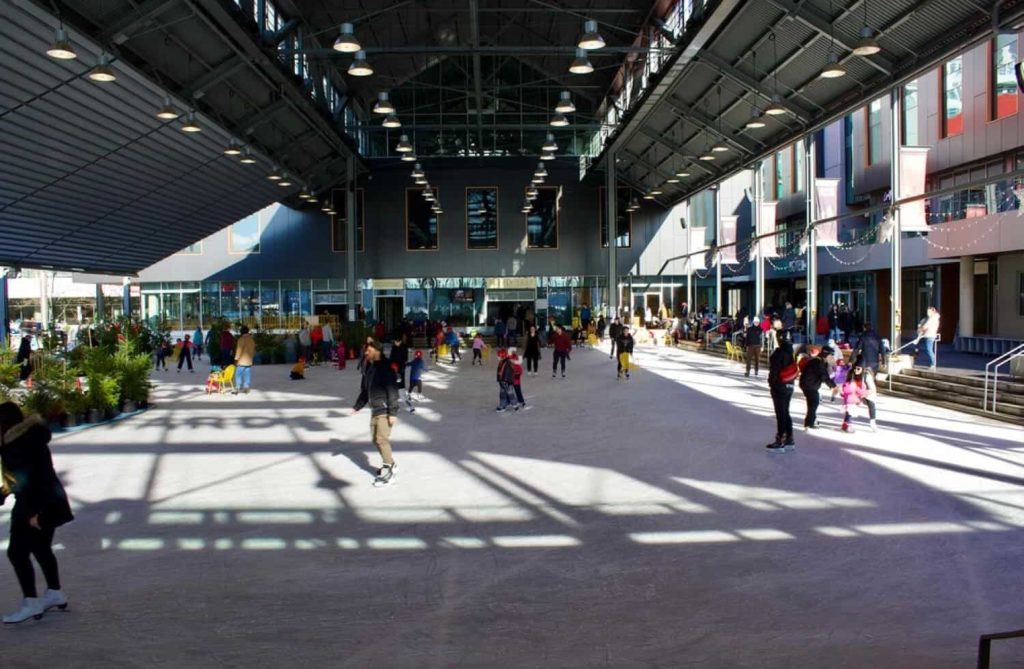 During winter, the free public skating plaza draws a number of people to Shipyard Commons. With 12,000 square feet of surface beneath a retractable roof, it's almost twice the size of the rink on Robson Street (What is Robson Street in Vancouver known for?).
Supervision isn't provided at the plaza, so it's important to be aware of your skill level and skate at a comfortable pace. If you're bringing kids, ensure they have their gear and obtain the free skating aids required for those under 12.
You can also rent skates at specific times of the day, though available pairs might be limited. Skate rentals are priced at CAD 7 for adults and CAD 5 for children.
If you're visiting the Shipyard Commons outside of the winter months, you'll catch the Splash Park instead, right in the same location as the Skate Plaza.
Check out The Quay Market & Food Hall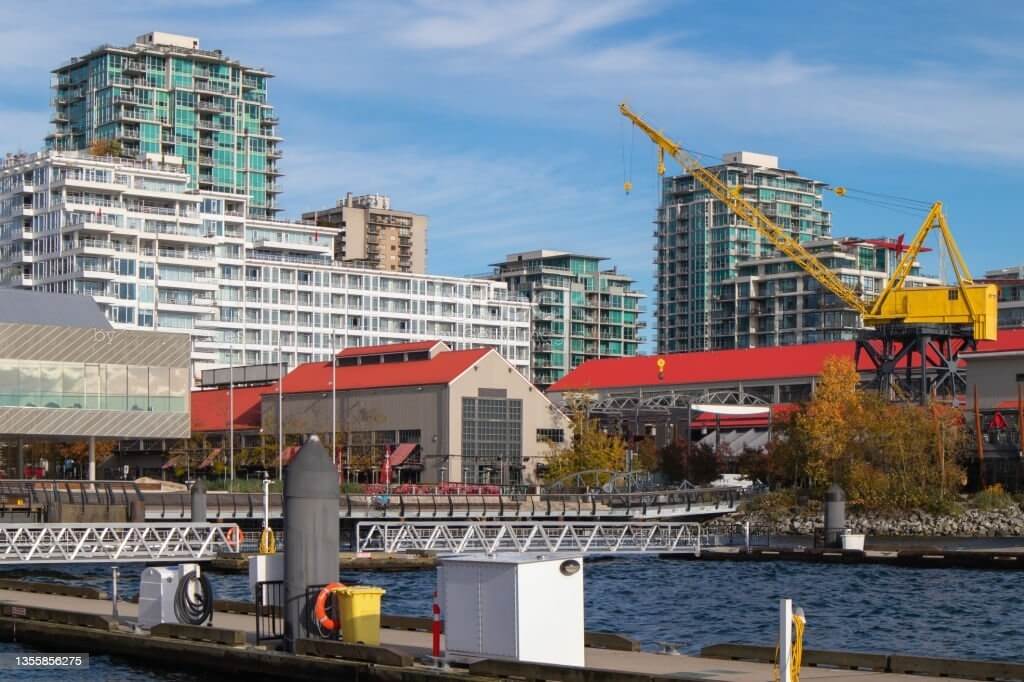 The Lonsdale Quay Market has been a community icon since its historic debut in time for the Expo '86 in Vancouver. For decades, it has collaborated with over 60 sellers and continuously offered local products and more.
Now, the multi-floor complex is being revitalized to keep up with the times. The Quay's exterior graphics will become more striking, and interactive initiatives like the Artisan Pop-Up Markets will provide room for additional entrepreneurs.
The Food Hall itself is getting a makeover, featuring a revamped interior and new global cuisine offerings. Strathcona Beer Company will also find its place at The Quay, while The Mainstay will offer various hand-crafted cocktails.
Party at the Shipyards Festival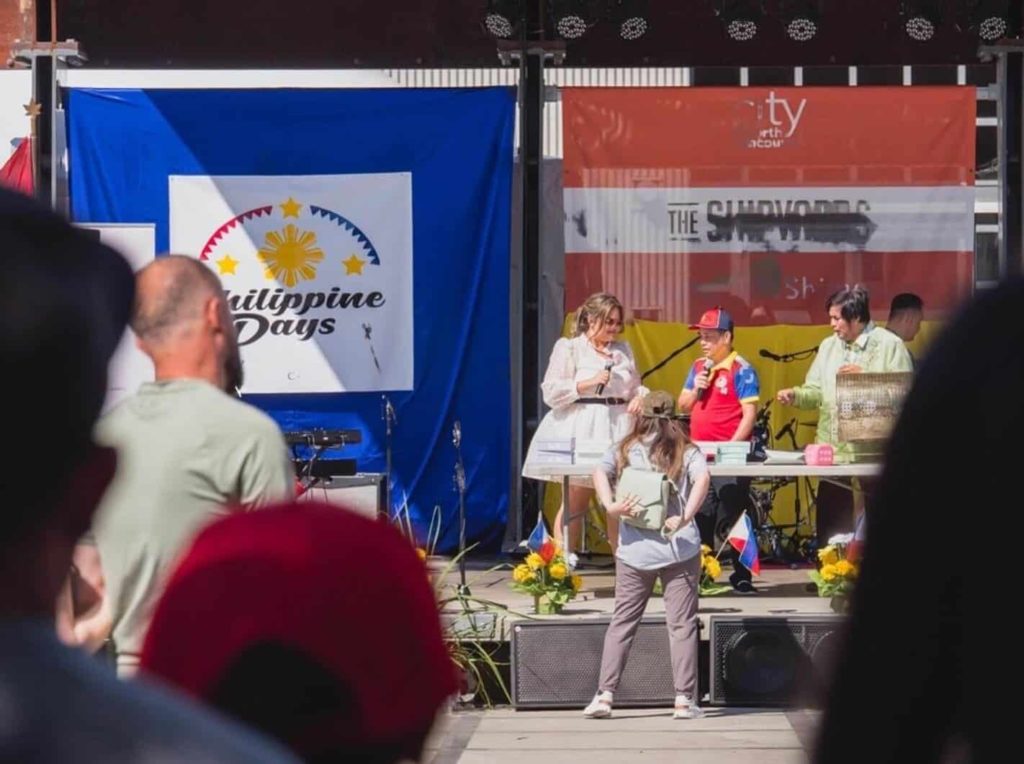 The Shipyards Festival is a music festival and street party that features live music, beer gardens, food trucks, and various engaging activities. Throughout one day, attendees can choose from a range of venues for their live music experience.
This year, the venues include Shipbuilders' Stage, Shipyards Commons, Cates Deck Acoustic Stage, Car Free Day Stage, and Burrard Dry Dock. Each of these stages has its own lineup of performances and offers a diverse range of musical genres.
But while the festival utilizes multiple stages, the aim is to have one immersive experience for all attendees. The stages are conveniently located near each other, so attendees can hop from place to place or bask in the lively overall atmosphere.
The Shipyards District is also home to a number of community events. You can also attend the Polish Festival, Shipyards Summer Sessions Concerts, and Canada Days Festival.
Drop by North Vancouver's MONOVA Museum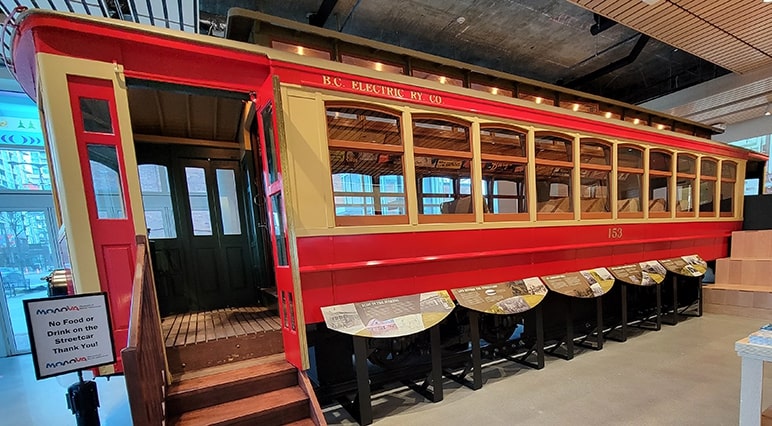 MONOVA, which stands for Museum of North Vancouver, offers an intriguing exploration of the Shipyards District and North Vancouver's municipalities. Through interactive exhibits suitable for all ages, the museum brings history to life in captivating ways.
In December 2022, MONOVA unveiled its first feature exhibit titled "You Are Here @ The Shipyards," delving into the historical significance of the Shipyards District. Witnessing such exhibits will only enhance your walks around the neighborhood.
The museum operates from Thursday to Sunday. On Thursdays, it's open 10:00 AM to 8:00 PM, and on Fridays, Saturdays, and Sundays, it opens its doors from 10:00 AM to 5:00 PM. As of the time of writing, adult admission is priced at CAD 14.
Unwind with a Beer or Movie at Cates Deck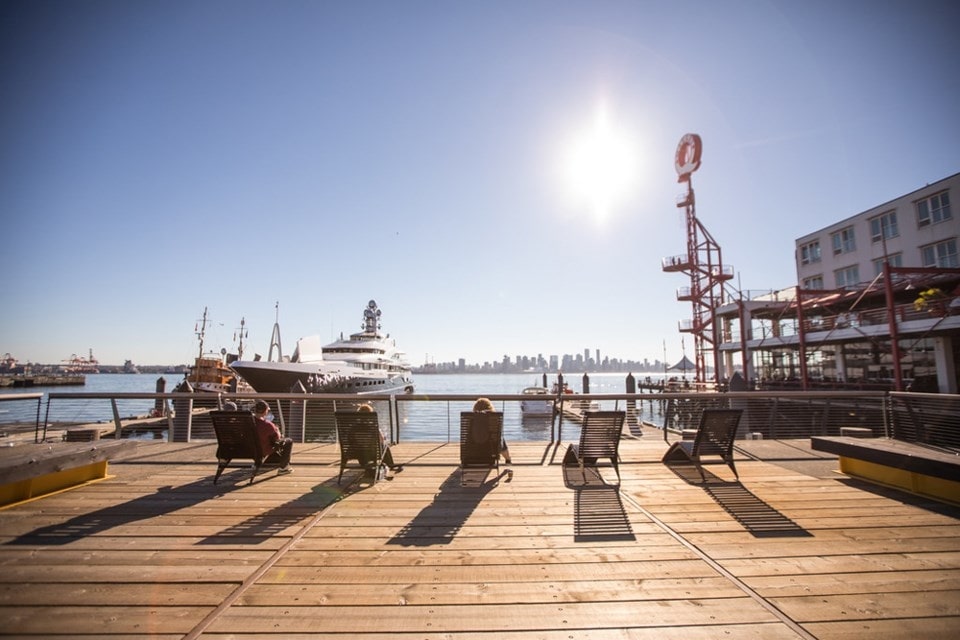 The Cates Deck is interesting for two main reasons: it's one of North Vancouver's designated spots for drinking alcohol, and it hosts the Deckchair Cinema during the summer.
In the summer, the Cates Deck Beer Garden is open on Thursdays and Fridays from 4:00 PM to 10:00 PM, and on Saturdays and Sundays from 2:00 PM to 10:00 PM. There's a trailer serving all the drinks in a corner and live music for everyone to enjoy.
But on a regular day, you can enjoy your beverages at Cates Deck from 11 AM to dusk. This initiative came into being during the pandemic and successfully gave people a public space where there's safe outdoor socialization.
The Deckchair Cinema, on the other hand, offers outdoor movies every Thursday evening between June and August. The Polygon Gallery organizes the event, and there's a whole lineup of films to see starting around sunset.
Admission is by donation and the recommended amount is CAD 10 per person. But it operates on a first-come, first-served basis, so arriving early is a smart move.