Is Whistler Village worth visiting?
Whistler Village is a must-visit destination, not only for skiing and snowboarding opportunities, but also for its lively commercial scene, exclusive pedestrian access, and delightful year-round activities suitable for both winter and summer seasons.
If you're hitting the Sea to Sky Highway (Sea to Sky Highway) anytime soon, we've put together a list of all the things you need to know about the village. All you need to do is read on!
Things to Know about Whistler Village in Vancouver
Currency: Canadian Dollar
Language: English
Calling Code: +1
Hours to visit: Open 24 hours
Entrance fee: None. There's no entrance fee to access the village, but some activities like parking and attending events may of course have their own costs.
Parking: Day Lots 1-5, situated on Blackcomb Way, offer the closest parking spaces to major attractions like the Whistler Farmer's Market. Note the following schedule:
From November 1 to March 31, overnight parking is NOT permitted.
Between April 1 and October 31, the maximum allowable stay is 24 hours.
Additionally, Day Lots 6-8, located at Base 2 on Blackcomb Mountain near Glacier Lake, are also accessible. Keep in mind that:
From November 1 to March 31, overnight parking is NOT permitted.
Camping or sleeping in vehicles is NOT allowed at all times.
Best Time to Go
Whistler is a renowned spot for skiing and snowboarding, so winter is the perfect time to visit. The village is also wonderful for après-ski activities, such as having cocktails by the fireplace.
On the other hand, it's an equally wonderful destination in the summer. Individuals who love hiking, mountain biking, and exploring all the shops and restaurants in the village will have a great time visiting the village in the summer months.
The best weather is usually in June and July, with a mix of rain and sun that keeps the trails in good shape. Late season, from September to October, can be just as great since there are fewer crowds and more discounts on things to do and places to stay.
How to Get Around in Whistler Village
Walking: Whistler Village is highly walkable. In fact, the Village Stroll, the main path connecting Village North and Village Centre, is car-free and the Valley Trail, spanning over 46 kilometers of paved pathway, is readily accessible by foot.
What to do in Whistler Village
Buy Fresh Produce at the Whistler Farmers' Market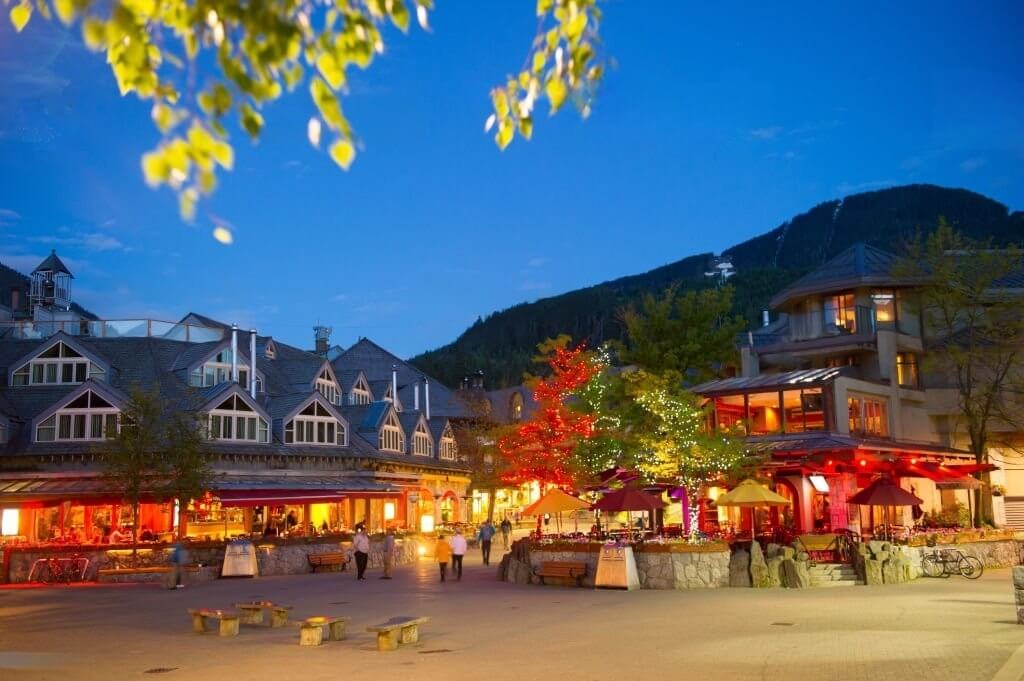 A hub of fresh produce harvested from nearby farms, the Whistler Farmers' Market provides a chance to support local agriculture and grab artisanal foods, from baked goods to unique jams and sauces, that aren't commonly found in the grocery.
Set against the backdrop of Whistler's Upper Village at the base of Blackcomb Mountain, the market's location is as picturesque as it is convenient. The stalls selling gifts and souvenirs, plus the live music performances, add to the festive experience.
Easy accessibility from Whistler Village ensures that this vibrant gathering is welcoming to everyone, making it an essential stop for anyone seeking an authentic taste of Whistler's local scene.
Visit the Squamish Lil'wat Cultural Centre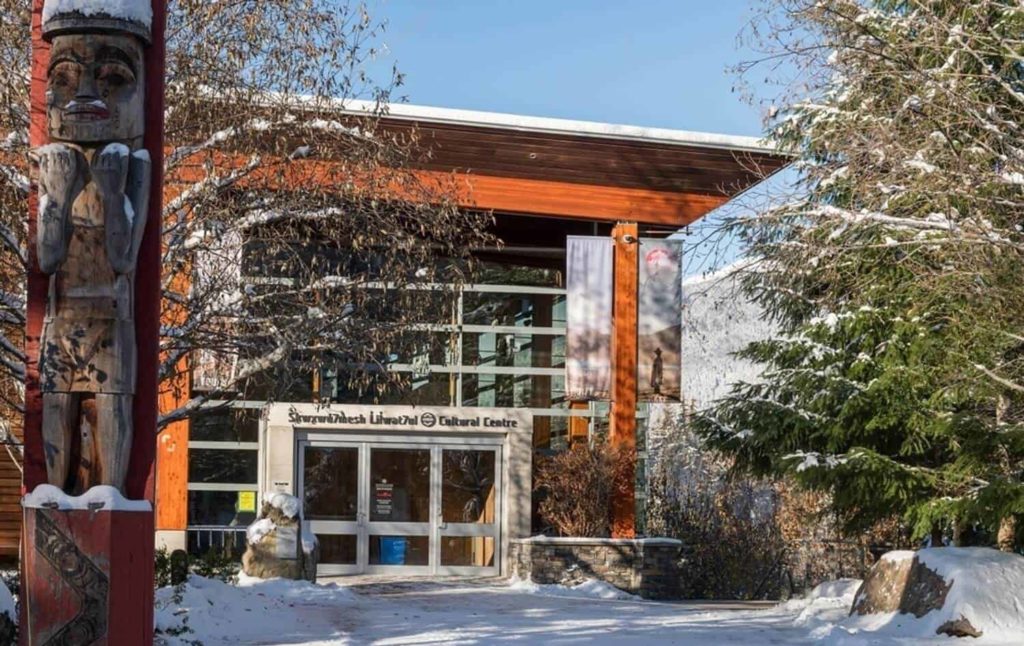 If you want to touch on history on your trip to Whistler Village, you have to drop by the Squamish Lil'wat Cultural Centre and learn about the rich heritage of the local Squamish and Lil'wat First Nations.
This modern cultural center showcases a captivating collection of carvings, canoes, weavings, masks, sculptures, and interactive exhibits that offer a profound insight into the art, culture, and traditions of these Indigenous communities.
Beyond the exhibits, you can indulge in indigenous fare at the on-site café, pick up handcrafted souvenirs from the gift shop, or even join hourly guided tours to fully immerse yourself in the cultural experience.
It's a must-visit destination for a meaningful exploration of the local First Nations' heritage.
Learn about the Lost Lake Passive House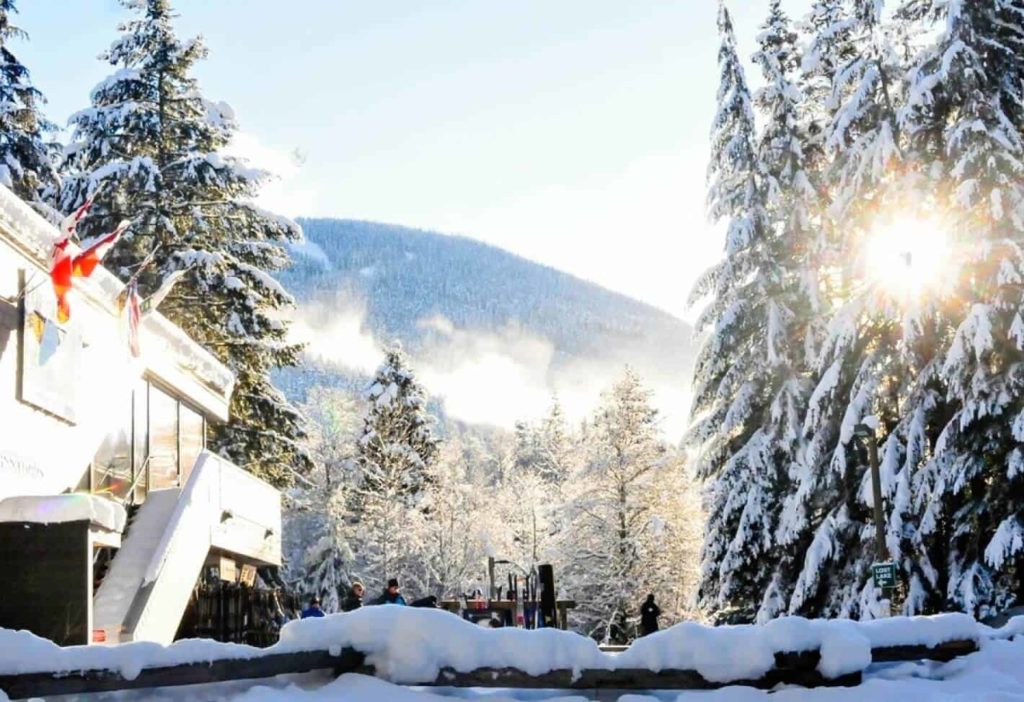 For an intriguing blend of history and architectural innovation in the heart of Whistler Village, the Lost Lake Passive House stands as a compelling destination. 
Initially erected as Austria House during the 2010 Winter Olympics, this site boasts historical significance while showcasing state-of-the-art design as Canada's first Passive House building.
With its strong focus on energy efficiency and sustainability, it seamlessly melds with the tranquil surroundings of Lost Lake Park. It's a great place for outdoor enthusiasts, whether it's hiking, biking, or cross-country skiing.
Plus, besides its environmentally conscious design, the Passive House also serves as an educational hub, so visitors can glean valuable insights into sustainable building practices and their impact on the environment.
Unwind at Whistler Olympic Plaza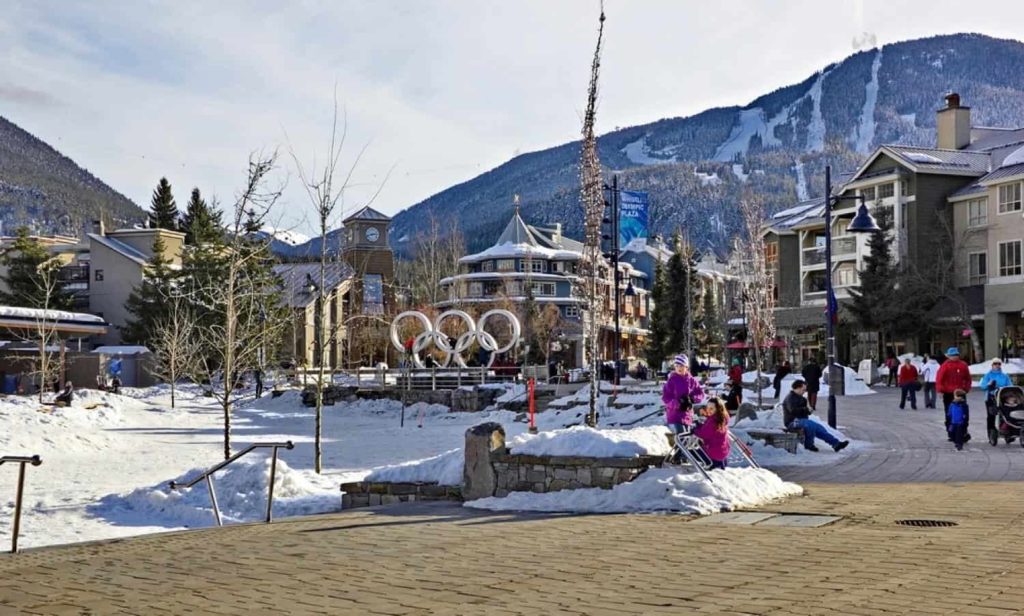 During the 2010 Winter Games, the Whistler Olympic Plaza hosted the medal ceremonies scheduled every night. The Olympic rings, the original Olympic cauldron, and the memorials are a great reminder of those wonderful celebrations.
In the winter months, the plaza becomes an outdoor skating rink. As it welcomes the public certain hours daily, weather permitting, the rink is an important addition to the unique recreational opportunities for locals and visitors during the coldest season.
You just have to be ready with CAD 2 for admission, and CAD 9 if you need to rent skates. Next to the plaza is a snow zone, where slides have been made for the children to enjoy, but don't forget to bring your own sled.
In the summer, there's live outdoor music with the free concert series happening on most weekends of July and August. The plaza also has a crucial part in many festivals and event like Dirt Diaries.
Attend the Whistler Village Beer Festival
The Whistler Village Beer Festival is a week-long event that culminates in a grand main event, typically hosted at the plaza. With a lineup of more than 50 breweries, the main event treats attendees to over a hundred kinds of beers, canned cocktails, and ciders. 
Given that the festival's various events are scattered across different venues over a span of several days during the fall, the beer festival presents a wonderful opportunity to explore Whistler Village during a week-long stay.
On top of the expected flights and sips, you can attend quiz nights, drag performances, and live music, all while relishing a wonderful social experience in the village.
Wander down the Whistler Village Stroll
Whistler Village has always been pedestrian-friendly. And the Village Stroll is the primary way for the village to achieve the kind of accessibility that it now prides itself on.
Stretching from the Marketplace in the north to the base of Whistler Mountain in the south, this walkway serves as the village's central artery.
As pedestrians traverse the Village Stroll, they can effortlessly transition from cafés to restaurants to bars, or simply enjoy a bout of window-shopping while soaking up the energy of the village.
But it surely goes beyond mere functionality. The Village Stroll encourages leisurely wandering, as pedestrians go at their own pace, while also integrating the area's natural beauty into the walk.
Or if you're simply aiming to achieve your daily step count, a walk along the Village Stroll is an excellent way to hit that goal.
Experience the Après Culture in Whistler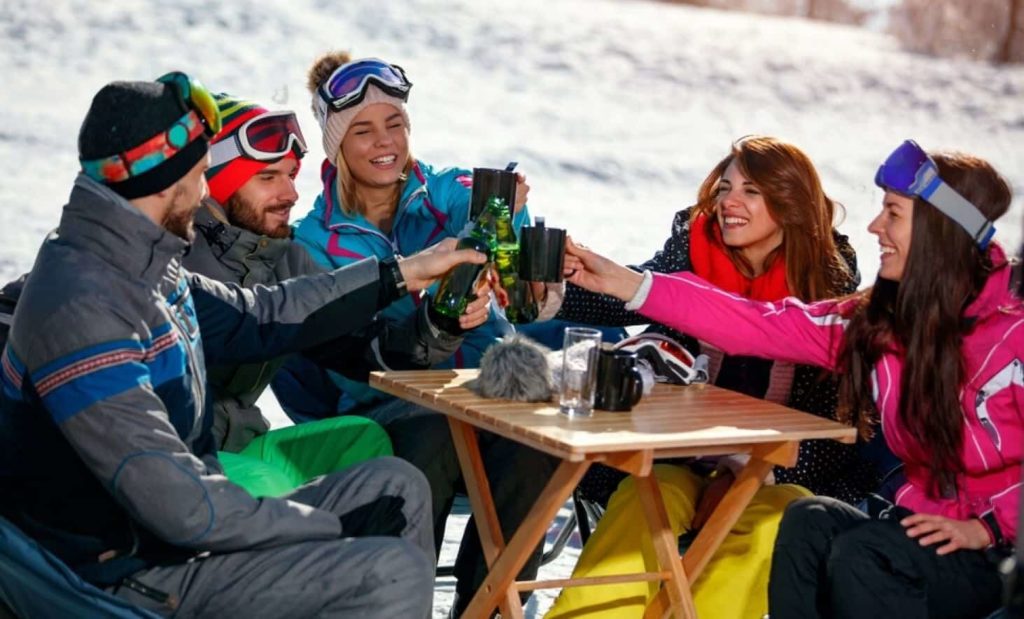 Participating in après in Whistler Village is a lively tradition that adds a vibrant touch to your skiing or snowboarding experience. After a thrilling day on the slopes, you may gather with friends and fellow enthusiasts to revel in the après spirit.
Whether you choose to visit a fancy restaurant, a bustling bar, or an outdoor venue, the après scene will treat you to an array of beverages, including beer, wine, cocktails, and spirits. Live music adds to the fun and creates a memorable evening.
Whistler Village has all these venues from casual to refined. Embrace the après culture at spots like the Longhorn Saloon, Dusty's Bar & BBQ, and Dubh Linn Gate Irish Pub – these places are the perfect backdrop for celebrating the day's accomplishments.
Where to Stay in Whistler Village 
Whistler Village Inn + Suites
Address: 14429 Sundial Pl, Whistler, BC V8E 1G8, Canada
Phone: +1 604-932-4004
Pricing: $
Shops, eateries, golf courses, and the Gondolas for Whistler and Blackcomb mountains are all within a quick two-minute walk from the Whistler Village Inn + Suites. It's an ideal starting point for a Whistler escapade.
Recent room upgrades guarantee a comfortable stay – some rooms even boast balconies and hot tubs for post-ski relaxation.
The inn is also conveniently situated around 30 meters from the Whistler Village Stroll, striking a balance between accessibility and peaceful nights.
Summit Lodge Boutique Hotel by Paradox
Address: 4359 Main St, Whistler, BC V8E 1B5, Canada
Phone: +1 604-932-2778
Pricing: $$
Just a brief 10-minute walk from Blackcomb Excalibur Gondola, The Summit Lodge Boutique Hotel by Paradox is positioned at the heart of Whistler Village.
Guests can easily access a nearby supermarket, a great number of affordable restaurants, and some of the major attractions, like the BMX Park that's merely 5 minutes away.
For those looking to make the most of their stay or save time so they can focus on exploring outside, the hotel offers on-site dining options serving a diverse selection of dishes for all the meals of the day.
Ironwood on Blueberry Hill
Address: 3217 Blueberry Dr, Whistler, BC V8E 0B8, Canada
Phone: +1 888-878-1550
Pricing: $$$
Perched atop Blueberry Hill, Ironwood offers a prime location just 3 minutes' walk from Blueberry Beach Park South. Because of its strategic location, this accommodation offers sweeping views of Whistler and Blackcomb mountains and the village.
Although having a car is advisable for ease of travel, the property's hilltop setting promises a memorable stay. The rooms are thoughtfully furnished, complemented by additional amenities such as a jacuzzi, spa center, and even a nightclub.
For those looking to explore nearby parks, both Alpha Lake Park and Rainbow Dog Park are conveniently a short drive away.
Pinnacle Hotel Whistler
Address: 4319 Main St, Whistler, BC V8E 1B1, Canada
Phone: +1 888-999-8986
Pricing: $$
Its strategic location, right next to local attractions, make Pinnacle Hotel Whistler among the dependable choices in the vicinity. While a continental breakfast might be missed, the cafes, restaurants, and shops nearby are within easy reach.
The hotel's cleanliness, spacious rooms, and functional facilities will make guests feel comfortable during their stay. With these conveniences, the hotel offers excellent value for the price.
Pan Pacific Whistler Village Centre
Address: 4299 Blackcomb Way, Whistler, BC V8E 0X3, Canada
Phone: +1 604-966-5500
Pricing: $$
Offering all-suite accommodations, Pan Pacific Whistler Village Centre provides more than enough space, well-equipped kitchens, fireplaces, and balconies in their guest rooms.
You can relish stunning mountain views and take a refreshing swim in the saltwater lap pool and hot tubs on the sunny deck. That's one good way to make your stay at the hotel a memorable experience.
Plus, for those venturing out into outdoor activities with their own skiing, biking, or golfing gear, the hotel offers added convenience through its slope-side valet storage service. Just that detail speaks volumes about the hotel's commitment to guest comfort.
Fairmont Chateau Whistler
Address: 4599 Chateau Blvd, Whistler, BC V8E 0Z5, Canada
Phone: +1 604-938-8000
Pricing: $$
This ski-in, ski-out hotel sits at the base of Blackcomb Mountain, offering stunning views and easy access to the slopes. If you want exclusive amenities and a reception lounge, choose Gold level rooms for personalized and premium service.
Take a dip in the pool, savor delicious meals at AAA/CAA Four Diamond Rated dining options, and immerse yourself in the blend of classic elegance and modern design that perfectly complements Whistler's beauty. 
Where to Eat in Whistler Village 
Wild Blue Restaurant + Bar
Address: 4005 Whistler Way, Whistler, BC V8B 1J1, Canada
Phone: +1 604-962-2233
Pricing: $$$
In Wild Blue Restaurant + Bar, stunning interior design sets the stage for an elegant and memorable dining experience. Warm wood and industrial chic décor infuse a touch of romance into the atmosphere.
The food stands out from the seafood tower and the standout sablefish dish, while the diverse drinks menu features creative cocktails like the refreshing "blueberry hill."
Whether you choose to sit at the bar or a cozy table, you're in for a treat with individually crafted cocktails and delectable nibbles like truffle fries and broccolini.
Engaging with the attentive staff is a delight, as they provide insights into cocktail crafting and offer recommendations.
Araxi Restaurant & Oyster Bar
Address: 4222 Village Square #110, Whistler, BC V0N 1B4, Canada
Phone: +1 604-932-4540
Pricing: $$$
Engaging service and culinary artistry are at the core of the great dining experience offered by Araxi Restaurant. The staff's attentive care and expert recommendations establish an ambiance of genuine warmth and hospitality that's hard to find elsewhere.
Don't miss out on their standout dishes like the duck pâté, gnocchi, and venison – they'll give you just the idea of how Araxi takes dining to a new level and how it gets such rave reviews!
Rimrock Café
Address: 2117 Whistler Rd, Whistler, BC V8E 0A6, Canada
Phone: +1 604-932-5565
Pricing: $$
Rimrock Cafe's reputation definitely precedes itself, as far as we can tell. But it's a reputation well-deserved, as their culinary masterpieces like the flawlessly prepared rack of lamb and the duo of duck are simply incredible.
Complementing their dishes with an outstanding wine selection and desserts like the small toffee pudding, Rimrock Cafe effortlessly keeps patrons coming back.
Perhaps because they deliver exactly the kind of fine dining experience that perfectly aligns with the atmosphere of a ski town? It's a safe bet, we think.
Peaked Pies Whistler
Address: 4369 Main St #105, Whistler, BC V0N 1B4, Canada
Phone: +1 604-962-4115
Pricing: $$
Peaked Pies Whistler, tucked away in an unassuming strip mall, surprises with its flavorful offerings. The warm, savory pies boast a perfectly flaky crust that's both buttery and inviting.
From classics like the Cluck Norris and Apple Crumble to unique options such as the Hopper, the menu offers a delightful range. Despite its small space and limited seating, this spot is a must-visit for pie enthusiasts.
The aroma of freshly baked pies and the medley of fillings are a perfect fit for winter comfort. Despite its understated appearance, Peaked Pies Whistler delivers on taste, proving that good things do indeed come in small packages.
COWS Whistler
Address: 4314 Main St Unit 1, Whistler, BC V8E 1A8, Canada
Phone: +1 604-938-9822
Pricing: $$
The long line always forming outside Cows Whistler is a telling sign that their ice cream is exceptional. Among their diverse flavors, the Nanaimo Bar option is a standout, featuring a blend of custard ice cream, coconut undertones, and rich chocolate marble.
If you're up for some exploration, get their P.E.I. strawberry and pair it with the Nanaimo Bar for a truly unique taste. Whether you're a local or a tourist, each visit presents an opportunity to uncover a new favorite flavor, making it a must-visit in Whistler.
Il Caminetto
Address: 4242 Village Stroll, Whistler, BC V0N 1B0, Canada
Phone: +1 604-932-4442
Pricing: $
Il Caminetto in Whistler Village offers an upscale Italian dining experience where classic Italian flavors are reimagined with a modern twist. Their dishes are carefully crafted, even resembling works of art, which surely adds to the elegance of this dining spot.
It's a good idea to make reservations due to Il Caminetto's popularity. Here's another tip – considering the overall cost of dining in Whistler, opt for expertly crafted cocktails to savor the evening without breaking the bank.
Where to Shop in Whistler Village 
Eddie Bauer
Address: 4314 Main St Unit 6, Whistler, BC V8E 1A8, Canada
Phone: +1 604-966-0870
Eddie Bauer in Whistler is a go-to destination for outdoor enthusiasts. With a wide selection of performance outerwear, apparel, and gear, this store provides great options for adventurers looking for durability.
But aside from that, the store often offers items on sale. Adventurers on a budget will appreciate the attractive sales without compromising on quality.
The staff's attentive and personalized assistance adds to the shopping experience. If you're in search of specific gear like a 3-in-1 ski jacket, don't hesitate to ask for recommendations and guidance.
Ruby Tuesday Accessories
Address: 4314 Main St #26a, Whistler, BC V8E 1A8, Canada
Phone: +1 604-905-6290
If you're looking for cute and unique jewelry made by local artists, this place is worth a visit. They have a collection of necklaces and accessories with things like tiny maple leaves and deer head designs that exude an adorable charm.
Now, if you're thinking of how long before the accessories tarnish, keep in mind that the quality may vary, perhaps because they have a collection from various artists and sources.
Still, the friendly staff and local designs make it a cool spot to check out if you want special jewelry to wear for an occasion or give as a present.
Fuji Market
Address: 4000 Whistler Way #203, Whistler, BC V8E 1H8, Canada
Phone: +1 604-962-6253
Fuji Market in Whistler is a little surprise nestled within Whistler Village catering to Japanese food enthusiasts. This Japanese grocery store offers a range of specialty items, encompassing everything from ramen noodles and nori to essential sauces.
What's more, Fuji Market features a cozy izakaya for a quick and flavorful meal. With daily-made sushi and homemade ramen broths available, including a vegetarian option, freshness is guaranteed.
Fuji Market is connected to the acclaimed Harajuku Izakaya and Ohyama Ramen, so the quality of their offerings is quite expected.
Carlbergs Gift Shop
Address: 4333 Sunrise Alley, Whistler, BC V0N 1B4, Canada
Phone: +1 604-932-3554
Since 1981, this family-owned gift store has been a cherished presence in Whistler. Situated along the "Village Stroll," Carlbergs Gift Shop perfectly encapsulates the distinctive mountain culture that defines Whistler.
Their product selection, featuring mementos that embody the essence of Whistler, makes it an essential destination for picking up souvenirs.
Whistler Blackcomb Outlet Store – Village
Address: 4204 Village Square #203, Whistler, BC V8E 1H5, Canada
Phone: +1 604-905-3347
In the midst of upscale restaurants and quite pricey shops, Whistler Blackcomb Outlet Store stands out with its unbeatable pricing.
From demo skis to quality gear and accessories, this store carries products from well-known brands at this store for up to 50% off. If you're not picky about manufacturers, you'll find an even wider variety.
The staff at this store also shines through – they're ready to assist by holding items while you browse or juggle multiple things in hand. Such considerate service makes the shopping experience truly wonderful.
Apps to Download for a Trip to Whistler Village
Go Whistler Tours – Discover walking tours and interesting stops from curated tours around Whistler
Whistler App – Survey all the attractions, accommodations, and dining spots, and book on the go