The 6 Best Car Repair Shops in Vancouver
You wake up in the morning, you get ready, then you leave the house and step into your car. You turn the key and you get a whole lot of nothing, so you try again and still nothing
You check the gauge and you've got gas, so now you still have no idea what to do. Here's where we come in: now you can look at our reviews of the best car repair shops in Vancouver to get your car going again!
The Cost of Car Repair in Vancouver
There are a lot of things that can factor into how much it costs to repair a car. Depending on the damage or if a part needs to be replaced, the costs can vary quite a bit.
| | |
| --- | --- |
| Oil change | $61+ |
| Brake fluid change | $80+ |
| General inspection | $180+ |
Keep in mind that the table above isn't fully indicative of the total costs. Your warranty, your insurance, the brand of your car, and the shop you go to will all play determining factors into your totals costs.
The Best Car Repair in Vancouver
We assessed the best car repair shops in Vancouver based on the following criteria:
1. Tremblay Motors Ltd.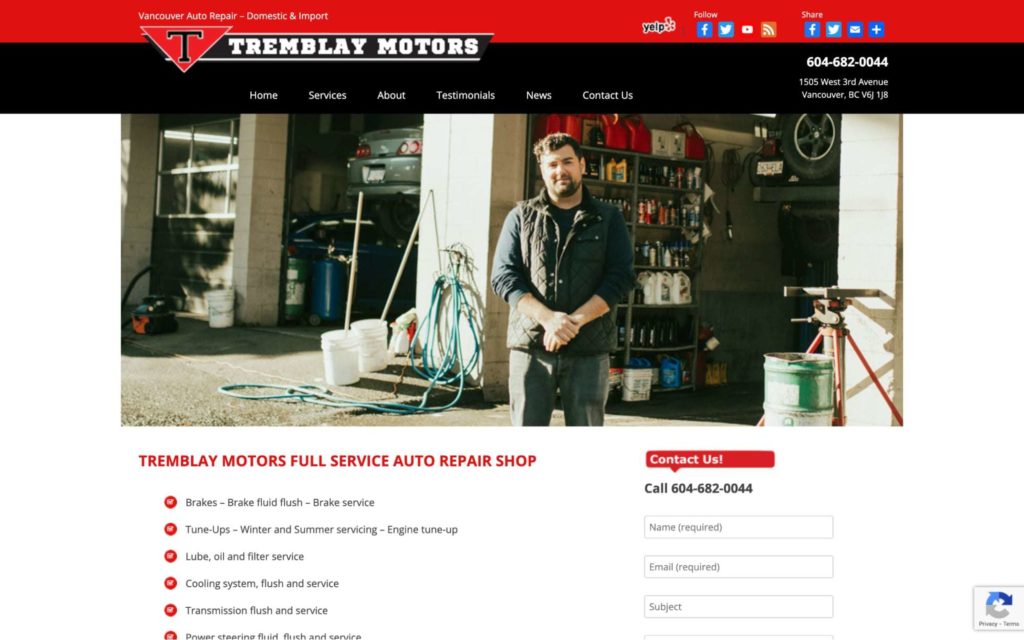 | Test | Info |
| --- | --- |
| ADDRESS | 1505 W 3rd Ave, Vancouver, BC V6J 1J8 |
| WEBSITE | https://www.tremblaymotors.ca/ |
| CONTACT DETAILS | (604) 682-0044 |
| STORE HOURS | Monday to Friday : 7am to 5pm |
| | |
| --- | --- |
| Availability | ★★★☆☆ (3/5) |
| Turnaround time | ★★★★☆ (4/5) |
| Range | ★★★★★ (5/5) |
| Customer satisfaction | ★★★★☆ (4/5) |
Let's face it, dealing with people who don't know what they're doing isn't exactly a walk in the park. It can be even more frustrating when you're an expert on the subject and you need to explain concepts to a neophyte.
It's the kind of thing that takes quite a lot of patience. But a lot of patience is something that we observed when we took a look at Tremblay Motors Ltd.
The servicemen there were patient when it came to explaining to car owners exactly what it was that went wrong with their vehicles and what it was that needed to be done to get them up and running again.
The mechanics that we observed walked the clients through the damage, the repairs a car would need, the turnaround time, and they gave customers a free estimate. We think that's a truly exceptional level of customer care and it's something we really appreciate about them.
If there's one drawback that we've observed with them, it's that it can be somewhat hard to schedule an appointment. We've seen one customer come in and not get an appointment until a week out.
Other than that, there's not a lot that we've seen about Tremblay Motors Ltd. that would make us not recommend them.
Mechanics explain everything to clients
Gives free estimates
Transparent with turnaround time
Appointments can be difficult to come by
Customer reviews
Great service
"Great service from the team at Tremblay Motors! Jason diagnosed the problem with my car, gave me an estimate, and told me when it would be ready. Flawless work and customer service. The best mechanic experience I have ever had. I will only use Tremblay Motors from now on." – Zaa Nkweta
Never disappointed
"We've been taking our cars to Tremblay Motors for at least 15 years. They have never disappointed us. Brad always welcomes us like old friends and takes a special interest in maintaining our vehicles in pristine condition. We especially appreciate that they include a car wash after the service. This is one of the most thorough, reliable and honest service centres we have ever experienced." – Gustav Veso
2. Fairview Automotive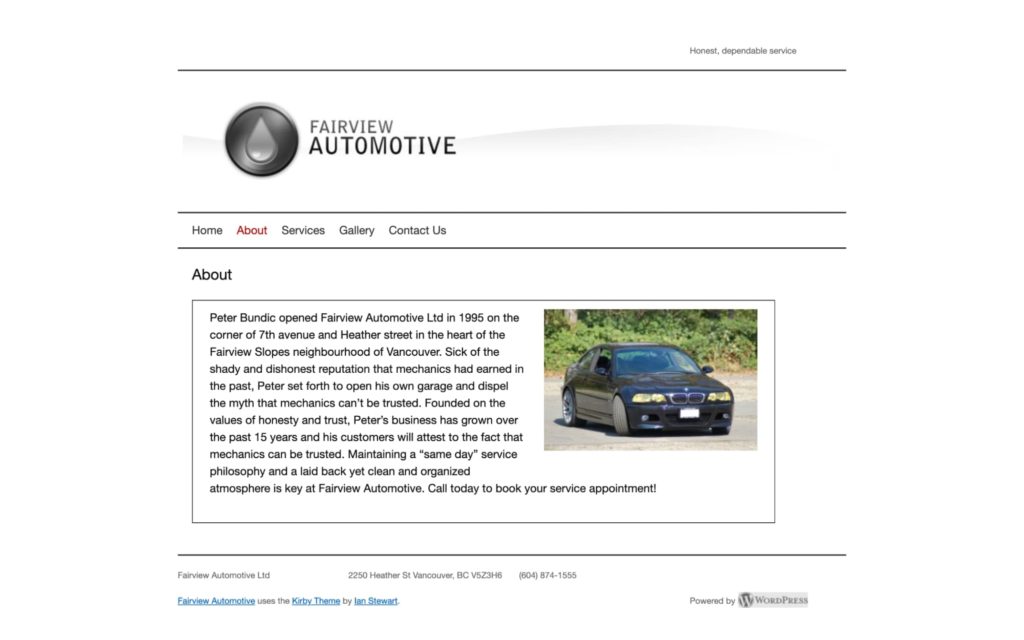 | | |
| --- | --- |
| Availability | ★★★★☆ (4/5) |
| Turnaround time | ★★★★☆ (4/5) |
| Range | ★★★☆☆ (3/5) |
| Customer satisfaction | ★★★★☆ (4/5) |
There's a lot that can be said about Fairview Automotive, but we think that the most relevant thing is their quickness. Many of the customers we've encountered raved about how quickly they were able to get repairs done.
We think that getting repairs done quickly, without sacrificing the quality of the work, is something to be admired about them considering that many people need their cars for a variety of tasks and day to day life in general.
Another thing about them that we liked is their transparency. They told customers what was wrong and didn't try to dress it up to squeeze a little more blood from the stone, so to speak.
But that's not all that we liked about them. We also noticed their high level of attention to the customers.
When we checked them out, they were pretty busy with quite a few cars, but that didn't stop them from making sure that each of the customers got the attention they needed.
If there is, however, one thing about them that didn't exactly thrill us it's that they don't work with any domestic vehicles.
If you're driving an imported car, then you're good to go with them. Otherwise, you'd be better off going somewhere else.
Transparent with the repair process
Quick turnaround time with service
Customer reviews
Great price
"My car had a misfire and Peter and the rest of the guys fixed it really quick for a fair price. I will definitely come back." – Mari Reyes
Can't say enough
"I can't say enough about the team and service from Fairview Auto. Fast, fair, friendly, and, of course, car nuts to boot. I've serviced all my (non-domestic) cars here for years – from a staple in a tyre to a full suspension upgrade. Peter is the David Putty of Seinfeld!!" – John Chao
3. Minit-Tune & Brake Auto Centres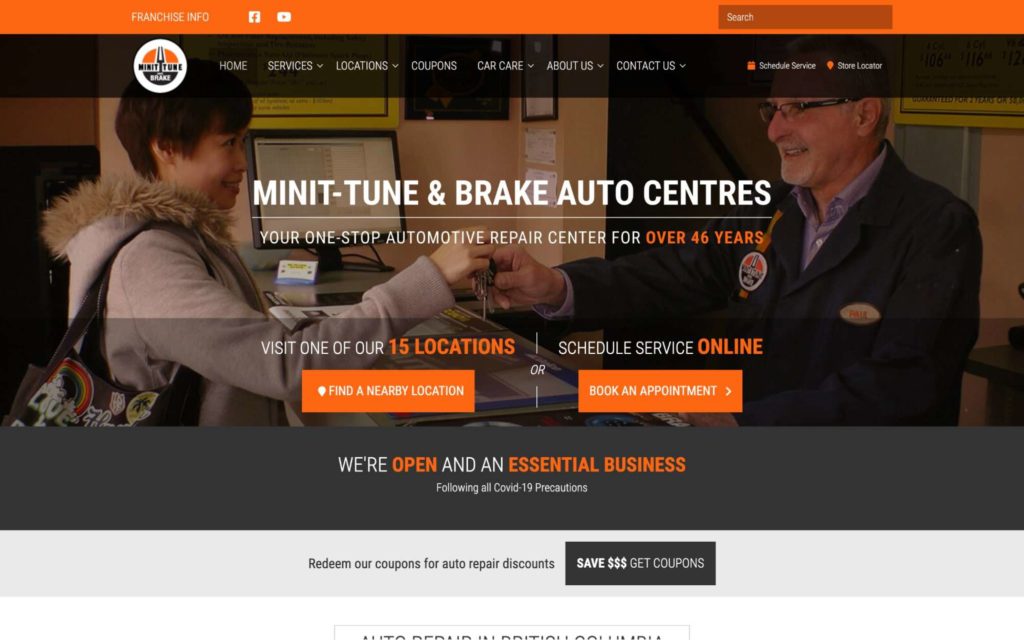 Test
Info
ADDRESS
1390 W 4th Ave, Vancouver, BC V6H 4A3
WEBSITE
https://www.minit-tune.com/
CONTACT DETAILS
(604) 738-5590
STORE HOURS
Monday to Friday: 830am to 5pm

Saturday: 9am to 5pm
| | |
| --- | --- |
| Availability | ★★★★☆ (4/5) |
| Turnaround time | ★★★★★ (5/5) |
| Range | ★★★★☆ (4/5) |
| Customer satisfaction | ★★★★☆ (4/5) |
There's a lot to like about Minit-Tune & Brake Auto Centres and chief among them is that they don't go around charging for every little thing.
We noted one customer who brought their vehicle in for a checkup and got charged nothing because nothing needed to be done.
But there's also something to be said for their quickness. Another customer we encountered stated that their car was ready for pickup before they were ready to pick it up.
They're also pretty quick in other ways. A lot of auto repair shops may require an appointment, but we observed one customer get service as a walk-in and another customer who had an issue with their breaks and was done in a single afternoon.
Between the honesty and promptness, we've seen that Minit has a lot going for it as far as auto repair centres go.
There's also something to be said for empathy and, in our observation, they've got it in spades at Minit. A car breaking down or not starting can be a pretty stressful thing, so an empathetic mechanic can go a long way towards putting customers at ease.
Overall, we found Minit-Tune & Brake Auto Centres to be a great place to get quick service and some empathy while your car gets fixed.
No unnecessary charges
Prompt service
May replace parts without needing to
Customer reviews
Excellent and honest
"Excellent and honest service. This is the second time I have brought my car in. Wasn't sure if brakes needed work, they looked at my car, did a overall check and within 45min called me back to say no work was needed and didn't charge me. Second excellent experience with timely service." – Sonia Kowalewski
Above and beyond
"Just before 4pm on a December Saturday afternoon we discovered that our brake fluid was dangerously low. I called ahead and explained that we were trying to catch a ferry, and when we arrived, a mechanic quickly topped up our brake fluid. It soon became apparent that we were dealing with a leak. We were told that since it was almost closing time, we would have to come back on Monday. When the manager heard that our three kids were waiting for us to return that evening on the ferry, he offered to see what he could do. He rush-ordered parts from his supplier, kept back one of his staff at closing time, and worked on our vehicle himself, all to make sure we could get back on the road. We were on our way at 5:45, and even caught our scheduled ferry. Peter Singh and his team went above and beyond for us, and we are extremely grateful." – Elizabeth Brown-Shaw
4. M & N Auto Repair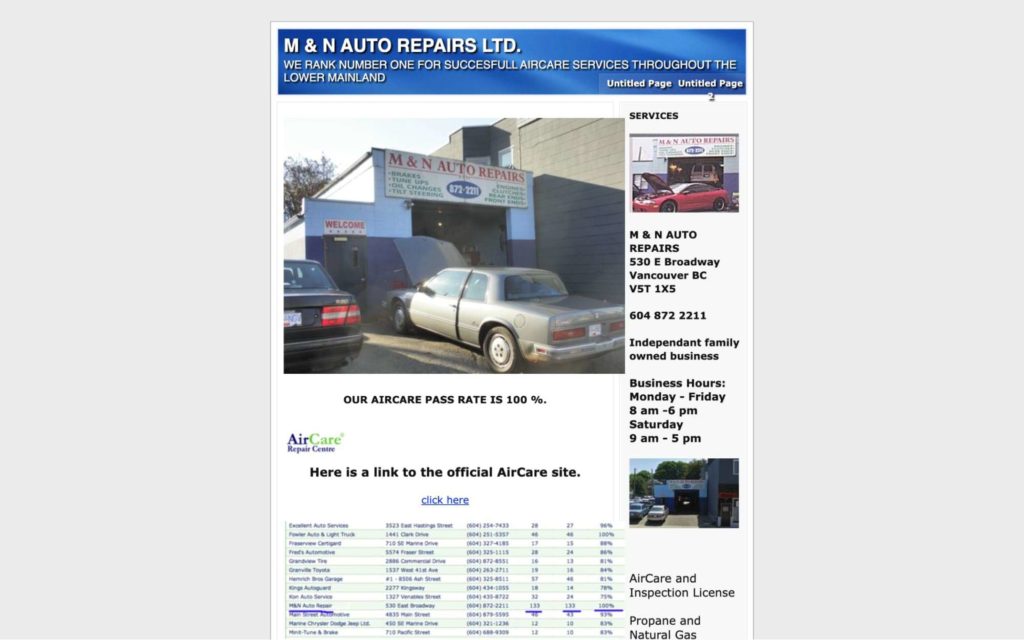 Test
Info
ADDRESS
530 E Broadway, Vancouver, BC V5T 1X5
WEBSITE
http://turnercom.com/m&n/
CONTACT DETAILS
(604) 872-2211
STORE HOURS
Monday to Friday: 830am to 530pm

Saturday: 9am to 5pm
| | |
| --- | --- |
| Availability | ★★★★☆ (4/5) |
| Turnaround time | ★★★★☆ (4/5) |
| Range | ★★★★☆ (4/5) |
| Customer satisfaction | ★★★★☆ (4/5) |
There's a lot to be said about open and honest communication. For example, it's supposed to be the cornerstone of any successful relationship, and that includes the relationship between car owner and mechanic.
M & N Auto Repair apparently believes in open and honest communication because we observed mechanics tell the customers exactly what it was that went wrong with their cars and what exactly needed to be done to get those cars road-worthy again.
But that honesty doesn't just extend to their repairs. We took note of one customer who wanted to get a bunch of extra work done on their car, but the mechanics didn't agree that the work needed to be done.
So the mechanics talked the customer out of the extra work and the customer managed to save some money by not getting any superfluous service done on their vehicle. That's a level of honesty and integrity that completely blew us away.
We've even noticed some customers say they were quoted higher prices at other shops, only for those prices to be beaten at M & N.
Another thing that we really liked about them was their mechanics. Our interactions with them were limited but we found them to be both knowledgeable and friendly, two things which we feel most people want the people fixing their cars to be.
Mechanics explain everything to clients
Mechanics will dissuade clients from superfluous service
Prices can be lower than other shops
Inspections can be somewhat sloppy
Customer reviews
Extremely happy
"Went here on a friends recommendation and I will be definitely be back when my vehicle needs service. Extremely happy with the process from getting into the shop to the communication on what repairs were needed." – Linden Hoover
Go-to place
"My go to place for auto repair. These guys know their stuff and have always been kind and fair to me. I always recommend my friends here and they love it too." – Dale Chang
5. instaMek Auto Repair & Inspections
| Test | Info |
| --- | --- |
| ADDRESS | 500 W 10th Ave, Vancouver, BC V5Z 4P1 |
| WEBSITE | https://instamek.com/ |
| CONTACT DETAILS | (604) 330-0424 |
| STORE HOURS | Monday to Saturday: 8am to 6pm |
| | |
| --- | --- |
| Availability | ★★★★★ (5/5) |
| Turnaround time | ★★★★★ (5/5) |
| Range | ★★★★☆ (4/5) |
| Customer satisfaction | ★★★★☆ (4/5) |
So it goes without saying that if a car is broken, then it's probably not safe for you to drive if it can start at all.
That's a problem that the people at instaMek Auto Repair & Inspections recognize which is why they'll send their mechanics out to customers for assessments and for repairs since their mechanics are fully mobile and can work on vehicles wherever the customer may be.
Customer service counts for a lot in our eyes and the kind of customer service at instaMek, not to mention accessibility, is the kind that goes a long way in our books.
But that's not all that we liked about them. Another thing that we liked was their mechanics kept their clients apprised of what was going on with their vehicles and answered any and every question that the client might have.
Also, they were friendly. It may not always seem like much, but being friendly can do a lot for someone who might be more than a little stressed that their brakes aren't working properly or their check engine light isn't turning off.
Something else that caught our eye about them was their subscription service, which came with discounts on service as well as two free yearly inspections.
Comes to the customer instead of the other way around
Mechanics keep customer apprised to every step
Subscription service includes two free inspections
Inspections can be substandard
Customer reviews
Really appreciated
"Car started overheating and it seemed to have a bad leak. Booked for a mechanic to come to us to assess the damage and provide a report and quote. The online booking/texting made everything so much easier. It also was so convenient that Jeff came out to us since we couldn't drive the car.
The report was very clear, transparent and fair. I appreciated the accessibility of the whole experience. Jeff was really great, very nice professional and honest! He fixed the problem, and took the time to talk about the engine and answer my questions which I really appreciated. Thanks so much!" – Gemma Flammond
Fantastic
"Jack was fantastic! Very knowledgeable, professional, and friendly.  He answered all my questions and kept me informed on every step.  Instamek is a great service, it's so nice having the mechanic come to you and do everything on the spot.  We had a simple battery replacement, but were unsure if it might be another issue.  Jack diagnosed the problem, had a part delivered and was done and on his way in about an hour and a half.  All I had to do was hand him the keys and comfortably wait in my own home.  Rates are very reasonable and they tell you the cost of everything before you buy, and include a one year warranty on their parts and service.  They also offer a premium subscription which includes discounts on maintenance and repairs (including this one) and two free inspections a year. Opted in, as it basically pays for itself just in what you save on oil changes.  Instamek is the future of vehicle service. 10/10 would recommend." – Kharah Black
6. DC Motorworks.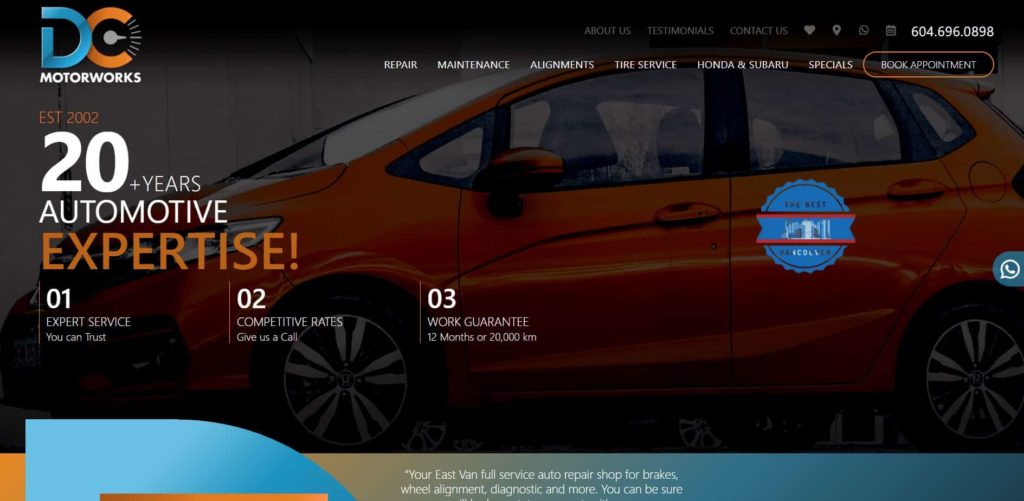 | Test | Info |
| --- | --- |
| ADDRESS | 1406 Clark Dr, Vancouver, BC V5L 3K8, Canada |
| WEBSITE | hhttps://dcmotorworks.com/ |
| CONTACT DETAILS | 604.696.0898 |
| STORE HOURS | Monday to Friday : 8:00 AM - 5:30 PM |
| | |
| --- | --- |
| Availability | ★★★★☆ (4/5) |
| Turnaround time | ★★★★☆ (4/5) |
| Range | ★★★★★ (5/5) |
| Customer satisfaction | ★★★★☆ (4/5) |
DC Motorworks is a company that provides clients with various industry-standard automobile services such as maintenance, repair, tire services, and alignments among others to deliver to clients a one-stop-shop to such services all at competitive prices.
Sporting an average of 4.8 stars Google reviews, they capitalize on trustworthy and transparent transactions to ensure that clients get the best customer service along with upfront pricing on their services as well.
Past clients have commended them for their professional and friendly team that has been accommodating and knowledgeable throughout the whole process of their services and has excellent communication services overall.
Note though that service bundles and rate estimates of their services aren't readily available to which interested clients may need to visit them onsite for a more accurate take on this.
Overall, with their after-hours and early bird drop-offs offered, competitive and transparent services, and knowledgeable team of professionals at the helm, we highly recommend clients looking for such services to check them out.
Competitive and valuable automobile services
Excellent communication ethics and processes
Transparent and honest pricing
Closed on weekends and statutory holidays
Customer reviews
Here are some reviews from their clients:
"These guys are excellent. Friendly, professional, and fast! I took my car here for an oil change and told them to take a general look at the whole car. They texted me a detailed report with photos during the day which was so helpful. Their prices are very reasonable. I would highly recommend these guys, i'll be coming back!"
"Dealing with the DC team was a pleasure. Both Derek and Wayne were friendly, knowledgeable, honest, and transparent. Everything was communicated well and questions were answered thoughtfully and thoroughly. The report they provide is an excellent way to communicate the work to the customer."
FAQs about Car Repair in Vancouver
---
If you want to keep your car safe and secure in your home, check out this list of the best garage door repair services in Vancouver.