A Look at the 6 Best Boiler Repairers in Vancouver
You wake up in the morning, you want to take a shower to get ready for the day. So you turn on the nozzle and suddenly, you're assaulted by a cold that you've only ever known in your nightmares.
What gives? Your boiler broke and now you can take a look at this list to help you find the best people in Vancouver to fix it for you.
The Cost of Boiler Repair in Vancouver
There are a lot of things that can factor into the total cost of boiler repair. The severity of the damage, the specific model of the boiler being used, the cost of labor – all are going to factor into the total costs.
| | |
| --- | --- |
| Boiler repair | $199+ |
| Boiler replacement | $3200+ |
| Boiler service | $75+ |
Keep in mind that the table above isn't meant to be an accurate representation of the total costs, just a ballpark.
The Best Boiler Repair in Vancouver
We assessed the best boiler repair in Vancouver best on the following criteria
1. Plumbhartt Plumbing and Heating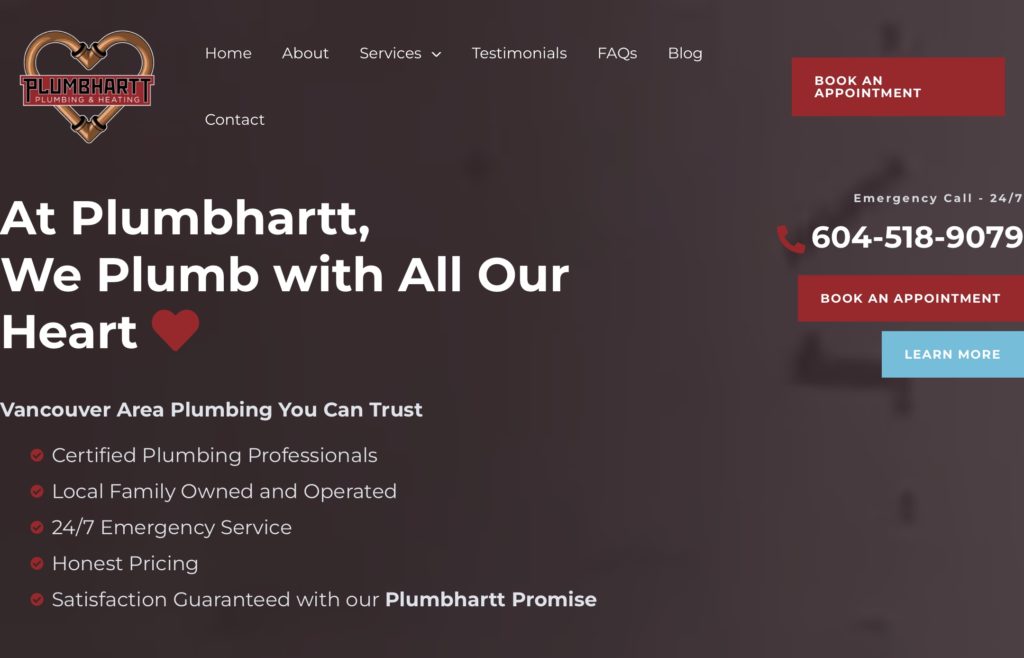 | | |
| --- | --- |
| Promptness | ★★★★★ (5/5) |
| Turnaround time | ★★★★★ (5/5) |
| Customer service | ★★★★★ (5/5) |
| Customer satisfaction | ★★★★★ (5/5) |
When it comes to the vital comfort and functionality of our boilers, we demand nothing short of excellence. That's why we wholeheartedly recommend the boiler repair services offered by Plumbhartt.
With their unparalleled expertise, unwavering reliability, lightning-fast response times, and dedication to customer satisfaction, they've cemented their position as the go-to experts for all our boiler needs.
When our boiler sprung a leak, we needed a repair team that could handle the heat. Plumbhartt exceeded our expectations with their extensive knowledge and experience in boiler repairs.
Their skilled technicians swiftly diagnosed the issue, leaving no stone unturned in their quest for a solution. Their meticulous attention to detail and precision in executing the necessary repairs were truly impressive.
Reliability is the cornerstone of any reputable boiler repair service, and Plumbhartt is the epitome of dependability.
They know a malfunctioning boiler can wreak havoc on our daily lives, and they don't keep us waiting. Their commitment to timeliness and prompt service is second to none.
Moreover, Plumbhartt's reputation in the boiler repair industry is rock solid, like a well-built boiler foundation. Countless satisfied customers have sung their praises, testifying to their professionalism and unmatched service quality.
However, they can get very busy during peak hours. So we suggest booking them ahead of time to avoid any hassle.
Prompt and efficient service
24/7 availability for emergency situations
Solid reputation for professionalism and excellence
Transparent pricing and affordability
No discounts and promos at the present
Customer Reviews
"Loved working with Plumbhartt. They helped me deal with issues other companies missed. Professional, knowledgable and fast. They finished my job under-budget and on time which never seems to happen in the construction world. Will continue using them and recommending them to anyone needing a reliable plumbing company." — Alanna K
"Hassan installed my tankless water heater and it looks like a piece of art. He thoughtfully suggested I install plywood backing for installation and aesthetic reasons. His work is masterful with an attention to detail that only a master craftsman has. His price was good but his work was above average in every aspect. I highly recommend his services for all your plumbing needs." — Gerry P
2. Reliance Mechanical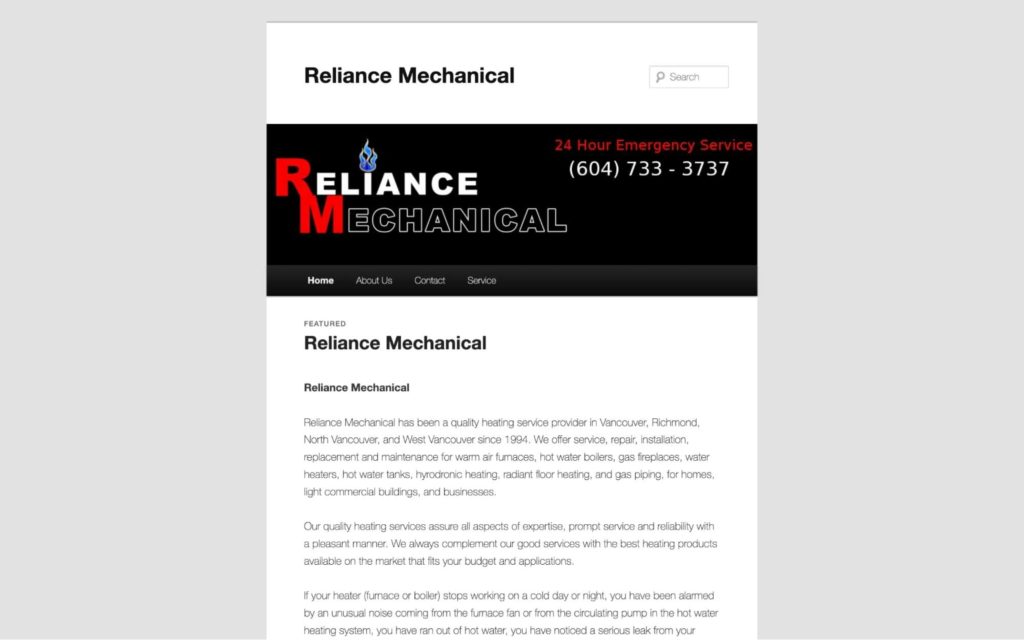 | Test | Info |
| --- | --- |
| ADDRESS | 1093 W Broadway #109, Vancouver, BC V6H 1E5, Canada |
| WEBSITE | http://relianceheating.ca/ |
| CONTACT DETAILS | +1 604-733-3737 |
| STORE HOURS | Monday to Saturday: 9:00am to 11:00pm |
| | |
| --- | --- |
| Promptness | ★★★★☆ (4/5) |
| Turnaround time | ★★★★★ (5/5) |
| Customer service | ★★★★☆ (4/5) |
| Customer satisfaction | ★★★★★ (5/5) |
There's a couple of things that we like about Reliance Mechanical and the first thing is that they can get a job done pretty quickly. They can replace or repair a boiler on the same day that they get called out to the job so a client doesn't have to wait around for them.
We've even encountered a few customers who were able to get serviced within an hour of calling them.
Another thing we like about them is their scheduling. It doesn't matter if it's a weekday, if there's a need for their services, they'll find some way to make it happen… and that level of dedication to clients wins them a lot of points in our book.
But it's not like the first thing they do is to schedule an appointment. No, one of the first things that they do when called is to walk a client through some basic steps to see if whatever issue has arisen can be resolved.
If not, then they come out.
Should you have any questions, they're more than willing to answer them. That way, you feel like you're part of the repair process.
Overall, we found Reliance Mechanical to be, well, worthy of reliance. In our experience, they do quick, efficient service that more than resolves the issue.
Schedules appointments quickly
Offers basic support over the phone
Answers any and all questions
No in-home estimates for small repair jobs
Customer reviews
Punctual, courteous, respectful
"Moe replaced our hot water heater on November 4, 2021 in Vancouver BC and did an excellent job. He was very helpful in selecting a good tank and was meticulous in the installation. He did not rush the installation but was focused on doing a good job. He was very punctual, courteous and respectful. His pricing was very competitive and he stuck to his quoted price. I would recommend him and will call him next time I need mechanical work." – Stuart Leslie
Wonderful experience
"Just wanted to share my wonderful experience about Moe. Have been trying to get my fireplace repaired for three years and have been told by several companies that they would not be able to access the part I needed and that it would be extremely expensive. After researching on line I found Moe and he came out and looked, just happened to have the part and repaired it perfectly and was very reasonable. His work is excellent, he left everything very clean after he finished and he was very reliable. Thanks to him my family is enjoying our first Christmas in years with a working fireplace. I would definitely recommend him and I will hire him if I have any other heating problems." – Kathi Ward
3. Hillcrest Plumbing & Heating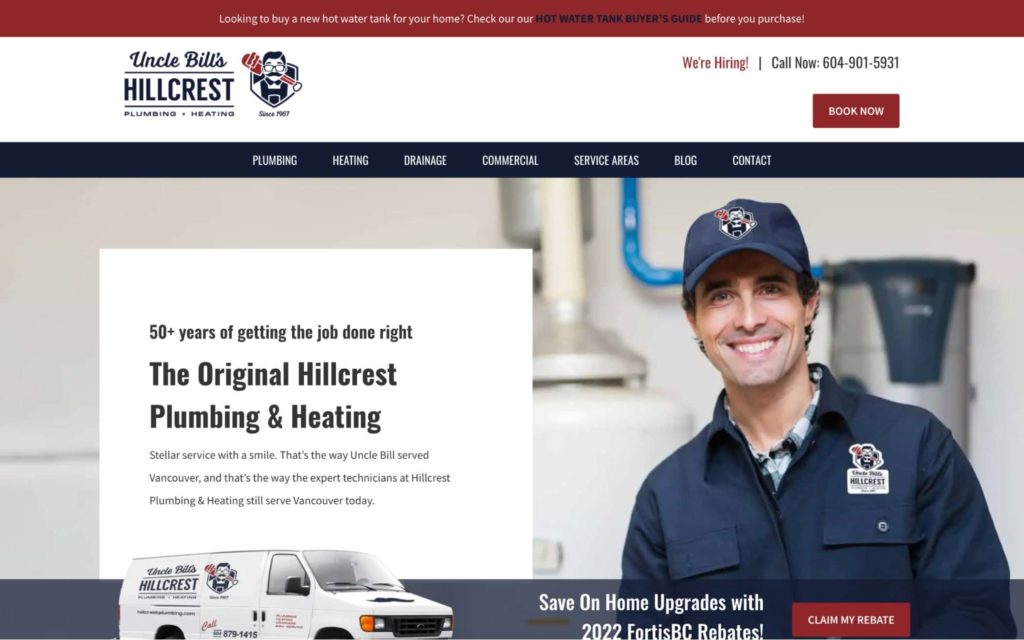 | Test | Info |
| --- | --- |
| ADDRESS | 212 E 17th Ave, Vancouver, BC V5V 1A7 |
| WEBSITE | https://hillcrestplumbing.com/ |
| CONTACT DETAILS | (604) 879-1415 |
| STORE HOURS | Monday to Friday: 8:00AM to 4:430PM |
| | |
| --- | --- |
| Promptness | ★★★★★ (5/5) |
| Turnaround time | ★★★★☆ (4/5) |
| Customer service | ★★★★☆ (4/5) |
| Customer satisfaction | ★★★★☆ (4/5) |
Here's what we liked about Hillcrest Plumbing & Heating: they're prompt and they're professional. If you call them with an issue with your heating and plumbing, they'll resolve the issue as best they can and their best is right up there.
If you've got questions like we did, they've got answers and those answers will be given with courtesy and professionalism. Those two things go a long way towards building trust and given the nature of what they do, trust is kind of important.
Another thing they did that we liked is that they identified potential issues and suggested ways to prevent them from becoming problematic in the future.
There's also the added bonus of them cleaning up after themselves really well. One customer we encountered even raved that they left the house cleaner than when they found it.
We also found that they did a lot to make clients feel comfortable with what was being done and they go out of their way to explain exactly what is happening and why they're doing what they're doing at any given time.
In essence, we found that Hillcrest Plumbing & Heating does exemplary work not just when it comes to repairing faults but also does a lot to help clients with preventative maintenance as well.
Technicians clean up very well after themselves
Walks clients through various processes
Identify potential issues and recommends preventative maintenance
May suggest replacement parts when not needed
Customer reviews
Exceptional
"Uncle Bill's plumber was exceptional! In order to reseal 2 toilets because there was a sewer smell, he had to carefully remove concrete someone had used to install 1 of them without breaking floor tiles and the toilet itself. He called and kept us updated on progress. My tenants said plumber was polite, personable and worked diligently not wasting time.
AMAZING experience. Highly recommended." – Elske Blom
Quick and efficient
"I called Hillcrest to replace a broken check valve on my pump discharge pipe and Anas and his apprentice came and swapped it out. They were quick and efficient to cut out the pipe section and replace the check valve as well as a few fittings also needed for the job. A very nicely done job. I'm pleased. Thanks!" – Paulo Fernandes
4. Lambert Plumbing & Heating, Ltd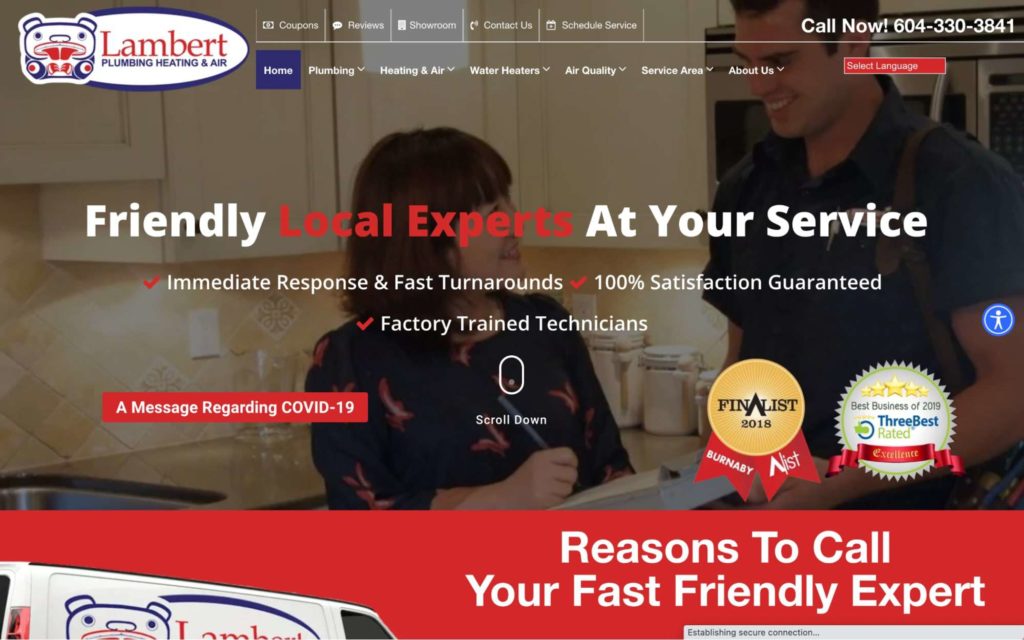 Test
Info
ADDRESS
1597 East Kent Ave N, Vancouver, BC V5P 4Y7
WEBSITE
https://www.lamberthomecomfort.com/
CONTACT DETAILS
(604) 734-0890
STORE HOURS
Monday to Friday: 8:00AM to 5:00PM

Saturday: 8:00AM to 4:00PM
| | |
| --- | --- |
| Promptness | ★★★★☆ (4/5) |
| Turnaround time | ★★★★☆ (4/5) |
| Customer service | ★★★★☆ (4/5) |
| Customer satisfaction | ★★★★☆ (4/5) |
Do you want to know what we found really great about ​​Lambert Plumbing & Heating, Ltd? It's that they go out of their way to help out their clients and meet their needs.
They won't just fix an issue. They'll make sure their clients know what the issue is, what caused it, and they'll even make sure that the client gets whatever new parts they need to keep the issue from rearing its head again in the future.
But that's not all we liked about them. We also found that their servicemen are courteous and friendly, which is great for clients because it helps put people at ease about letting virtual strangers into their homes.
Another thing we found that we liked about them is that they take responsibility for their actions instead of trying to minimize or deflect.
We encountered one instance where a shower repair went wrong and they offered the client a full refund not just for services rendered for parts that the client ordered from a separate retailer.
That's a dedication to customer service that we don't see everyday and from every business of this nature so to see it from them seriously made them stand out in our eyes.
Will order new parts from third-party sources
Walks clients through exactly what went wrong
Takes responsibility for mistakes
Customer reviews
Issue needed fixing
"This is my first Google Review ever, I actually had to Google how to do a google review cause I wanted to leave one! That should tell you how great the service was. William was amazing and not only did what was required, he called out a few issues that needed fixing and went out of his way to get new parts and took the time to discuss why it should be done. I am so appreciative of the service & the help with looking at my dishwasher as well while he was here. I'm so happy to have hot water!! Also the customer service from the phone booking to the quoting to the payment was so easy, friendly… I can't say enough good things about this experience. THANK YOU so much Lambert Plumbing team!! XO" – Sandra Wong
Very happy
"I'm very happy with my new installation of heat pumps for my 2 bedroom condo. Vince was responsive to my request for a quote even though very busy after the heat dome. He also responded when I requested additional manpower during the installation. June listened to my needs and managed the installation very professionally with respect, cleanliness and hard work. I dont hesitate to recommend this high quality company for any job." – Anne Kearns
5. Pioneer Plumbing & Heating Inc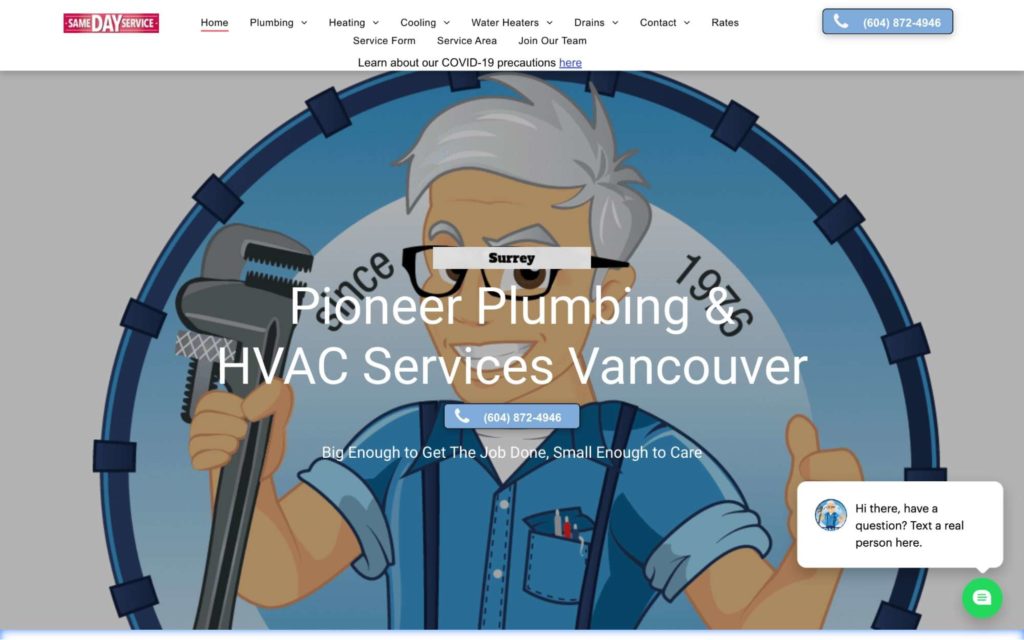 Test
Info
ADDRESS
626 Kingsway, Vancouver BC, V5T 3K4
WEBSITE
https://www.pioneerplumbing.com/
CONTACT DETAILS
(604) 872-4946
STORE HOURS
Monday to Friday: 8:00AM to 5:00PM

Saturday and Sunday, Appointment only

On call 24/7 for emergencies
| | |
| --- | --- |
| Promptness | ★★★★★ (5/5) |
| Turnaround time | ★★★★☆ (4/5) |
| Customer service | ★★★★☆ (4/5) |
| Customer satisfaction | ★★★★☆ (4/5) |
You know what really stood out to us about Pioneer Plumbing & Heating Inc? It's that they're open 24 hours a day.
That round-the-clock service means that even if your issue arises in the middle of the night, they'll be able to help you out.
Another thing about them that stood out to us is that they showed up on time. We like that about them because waiting around for a repairman isn't exactly fun and it can be pretty miserable (especially if the heating is on the fritz), so showing up on time counts for a lot.
We also liked the scope of their services. One customer we encountered had an entire room in their house flooded and Pioneer showed up a day later to fix the problem.
We also liked the way they didn't try to feel like repairmen. Their technicians made an effort to be friendly so it almost felt like a buddy coming over to help you out with a leaky faucet or some rusted pipes.
We also found them to be rather thorough when it comes to what they do. Installing a new boiler wasn't something they were careless with and we observed them taking the time to make sure that the job got done right.
On call 24/7 for emergencies
Schedules large-scale jobs quickly
Prices for replacement parts can be high
Customer reviews
Showed up on time
"Mike from Pioneer was great. He showed up on time, was super clear and friendly, and fixed things quickly. Plumbing emergencies suck, but Pioneer did great making things better fast" – Evelyn Hussey
Wonderful service
"Wonderful service. Professional, friendly and fast. Pioneer Plumbing has helped us twice. Once to repair a plugged toilet and another time to set up the filtered water/ice dispenser on our new fridge. We were very happy each time." – Cecilia Cooper
6. Kits Plumbing and Heating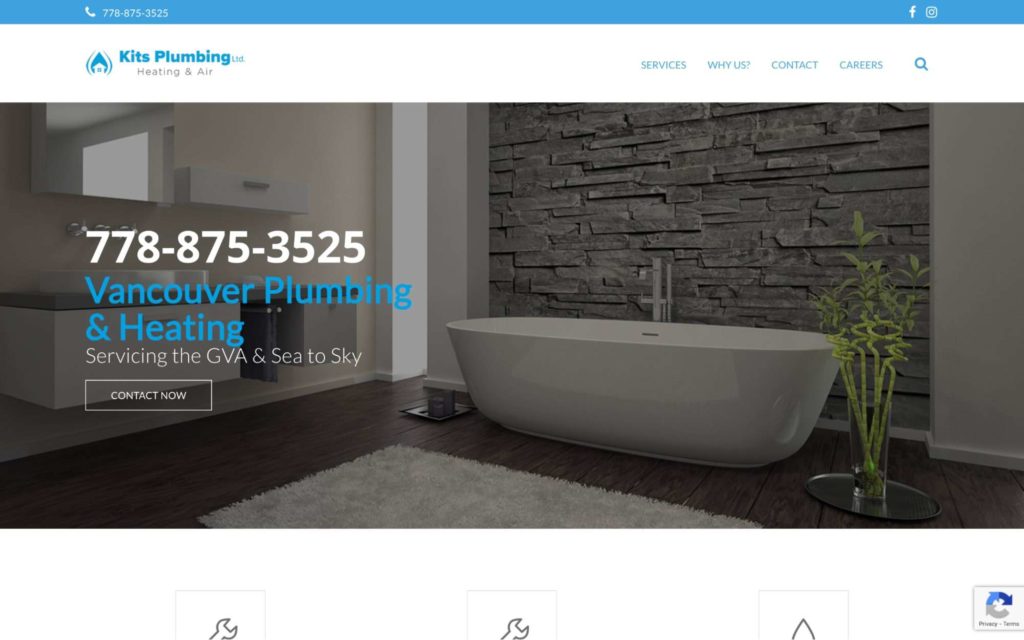 | Test | Info |
| --- | --- |
| ADDRESS | 2288 W Broadway #324, Vancouver, BC V6K 0B3 |
| WEBSITE | https://kitsplumbingandheating.com/ |
| CONTACT DETAILS | (778) 875-3525 |
| STORE HOURS | Monday to Friday: 8:00AM to 5:00PM |
| | |
| --- | --- |
| Promptness | ★★★★☆ (4/5) |
| Turnaround time | ★★★★★ (5/5) |
| Customer service | ★★★★☆ (4/5) |
| Customer satisfaction | ★★★★☆ (4/5) |
There's a lot about Kits Plumbing and Heating that we liked and chief among those things was how quickly they can get a job done.
We observed that they were able to do a full replacement of a water heater in about an afternoon, which we found really great for the client since it meant that they didn't have to suffer without hot water.
We found that their technicians didn't waste a lot of time, or any at all. They came, they identified the problem, and the best ways to fix it.
That's a level of efficiency that we really liked about their service because let's be honest, no one wants their boiler to be broken longer than it needs to be, if at all.
Another thing about them that we really liked was their emergency services. We managed to encounter one customer who had a flooded basement and was able to get a team out to them almost immediately.
That kind of responsiveness is something that counts for a lot as far as we're concerned and it's clearly something that they dedicate themselves to.
Overall, we found Kits Plumbing and Heating to be responsive, friendly, and professional – three things that we're always on the lookout for when it comes to finding the best of any service.
Responsive to queries
Technicians are straight to the point
Quick turnaround time
Have to book separate appointments for separate issues
Customer reviews
Absolute amazing
"Absolutely amazing! My hot water tank broke and it was replaced within 24 hours after calling them . So fast and efficient, also very easy to schedule with. It was actually the most reasonable quote I got as well. I would highly recommend!" – Luis Zappia
On time
"Matt arrived on time and quickly diagnosed the source of our leak under our kitchen sink. He went out to buy a new tap and installed it right away. We were very pleased with the excellent service. Thanks again" – Amy Robinson
FAQs about Boiler Repair in Vancouver
---
If you're looking for help with other types of plumbing-related issues, then check out this list of the best plumbers in Vancouver.