The 5 Best Gift Shops to Visit in Vancouver
Purchasing a gift for family, friends, and even acquaintances can be tricky. Fortunately, you don't need to look far for reliable gift shops in Vancouver.
We have compiled a list of top gift shops in Vancouver, each with its own specialties and unique collections. Check them out below.
The Top Gift Shops in Vancouver
We take our evaluations seriously, and we want you to have a better grasp of our review process. Below are the criteria we used to assess each shop on our list.
1. Craft Maison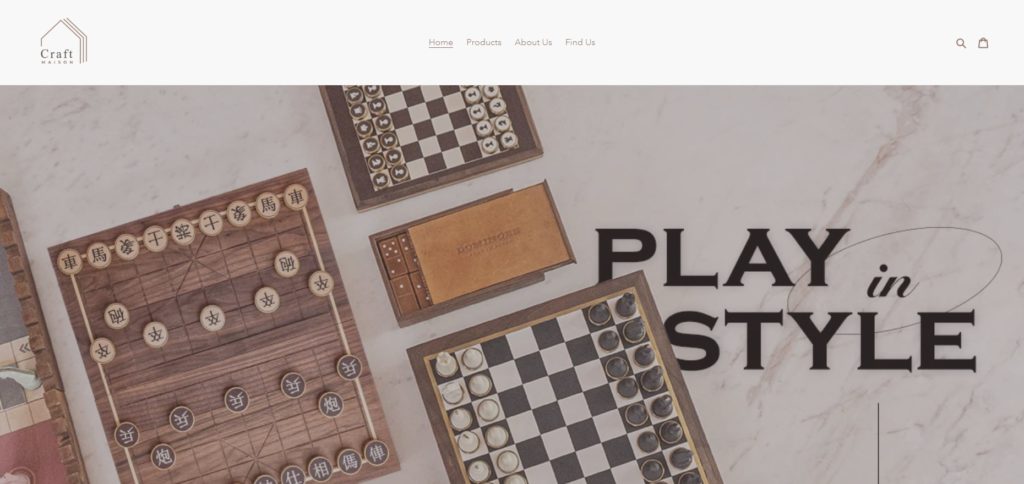 SERVICES

Eco-friendly Gifts

Handcraft Board Games & Toys

Handicraft Home & Living

Handmade Accessories

Handmade Fashion

Handmade Greeting Cards

Handmade Jewelry

Handmade Scent

Bath & Personal Care

Handmade Souvenir & Art

WEBSITE
https://www.craftmaison.ca/
ADDRESS
1740 Commercial Drive, Vancouver, BC V5N 4A3, Canada
CONTACT DETAILS
Phone: 604 564 9988
OPERATING HOURS

Monday-Sunday: 11 AM-7 PM
| | |
| --- | --- |
| CRITERIA | RATING |
| Shop Catalog | ★★★★★(5/5) |
| Online Platform | ★★★★☆(4/5) |
| Delivery Time | ★★★★★(5/5) |
| Customer Service | ★★★★★(5/5) |
Craft Maison is a gift shop located on Commercial Drive that caught our attention for several reasons. For one, their selection of products is quite extensive, featuring stationery, souvenirs, accessories, seasonal items, and much more.
Aside from offering plenty of gift items, Craft Maison is also highly recommended due to the quality of their products, which local artisans make.
This decision to feature only local goods stems from Craft Maison's passion for sharing the stories and cultures of the community.
It's worth noting, though, that Craft Maison isn't biased when choosing the products to showcase in their store.
They consider each item's design, uniqueness, and functionality before selecting them as part of their gift selection.
Another reason we recommend visiting this gift shop is the staff, who are knowledgeable and friendly.
They can provide suggestions on gift items that suit the customers' preferences, making gift-finding an easier task.
Craft Maison is a great choice to consider if you're looking for a gift shop in Vancouver. Their wide selection of modern, handmade, and designed products from local artisans makes them stand out amongst other gift shops in the city.
With their passionate staff and attention to detail, you'll find something special for your loved ones at Craft Maison.
Specializes in handmade gifts
Wide selection of products
Products under warranty for up to 10 days
Proof of postage required for returns
Jewelries and Products On Sale are final sale
Customer Reviews
A lot of gift ideas
"It is one of the most inviting stores I went to that offers craft products. You can also find a lot of gift ideas here. Their items were so intriguing and looked fun to play, especially their board games. The place was so nice and amazing. Lots of cute accessories too." – Sandra C.
Customer service was excellent
"I visited the store when I was in Vancouver a little while ago. It was an absolute delight to visit and I bought some things when I was there. However when I returned home to the UK I realized there were other things I should've bought too. So I contacted them by email and bought some items online which they shipped over to me in the UK. From start to finish the customer service was excellent and I cannot praise them highly enough. The items I bought are also absolutely lovely. Thank you so much to everyone at the store, particularly Kenny who dealt with the online purchase and shipping." – Gavin P.
2. Saul Good Gift Co.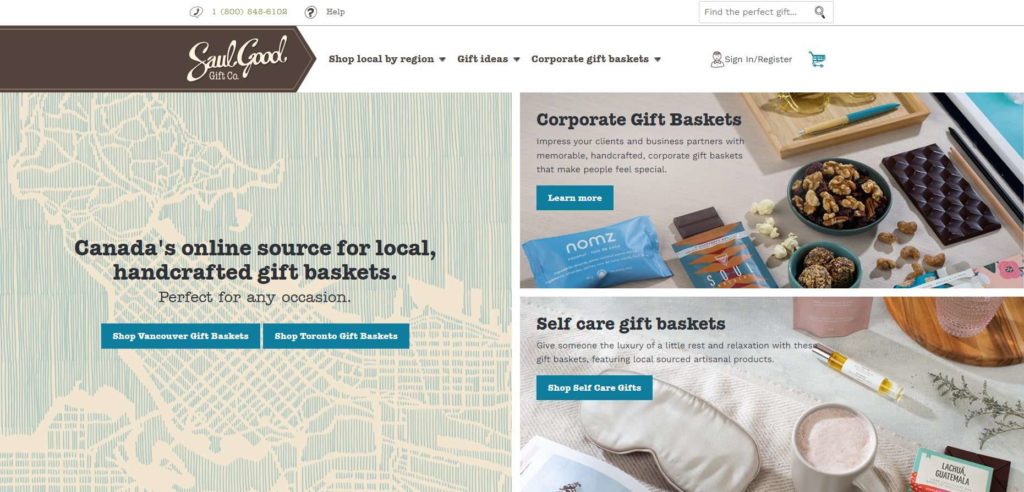 SERVICES

Corporate Gift Baskets

Winter Collection

Christmas Gift Baskets

Care Packages

Gourmet Gift Baskets

Chocolate Gift Baskets

Spa Gift Baskets

New Baby Gift Baskets

Housewarming Gifts Baskets

Luxury Gift Baskets

WEBSITE
https://www.itsaulgood.com
ADDRESS
210-128 West Hastings St., Vancouver, BC V6B 1G8, Canada
CONTACT DETAILS
Phone: 604 210 2932
OPERATING HOURS

Monday-Friday: 9 AM-5 PM
| | |
| --- | --- |
| CRITERIA | RATING |
| Shop Catalog | ★★★★★(5/5) |
| Online Platform | ★★★★★(5/5) |
| Delivery Time | ★★★★☆(4/5) |
| Customer Service | ★★★★★(5/5) |
Saul Good Gift Co. is the store to visit if you're looking for quality gift baskets or local goods.
Saul Good Gift Co. is one of the gift shops in Vancouver that is a certified B Corporation store, which we appreciate.
Receiving a certification from B Corps means that Saul Good Gift Co. follows and continuously passes rigorous standards for environmental responsibility at various levels.
This dedication to making the world a better place is seen in their gift baskets, which are made with care and thoughtfulness.
Saul Good Gift Co.'s selection of baskets features various treats from local merchants, all of whom have been thoroughly vetted by the gift store.
Moreover, they hand-pick the items in their gift baskets, so shoppers can be sure they are getting only the best from the gift shop.
In addition to the exquisite collections carried by the shop, Saul Good Gift Co. also offers custom packaging and branded items for businesses.
They specialize in gift packaging for corporate purposes, as well as gift cards and gift-wrapping services.
It's also worth noting that the team at Saul Good Gift Co. is friendly and helpful. They are always willing to take the time to listen and make sure each gift basket perfectly fits your needs.
Overall, Saul Good Gift Co. is a gift shop in Vancouver that truly stands out for its commitment to environmental responsibility, quality gift baskets, custom packaging services, and excellent customer service.
Gift baskets for various occasions
Gifts less than $100 available
Uses artisanal products from Ontario and Alberta
Closed on weekends
Custom branding only available on 25+ orders
Customer Reviews
Process is always seamless
"Our firm has used Saul Good for a number of years now to deliver gifts to our clients during the holidays, and every year it has been a great experience! The process is always seamless, they have wonderful customer service that is both efficient and informative, and we always receive great feedback from our clients on how much they enjoy their gift baskets. Christmas is always a busy season which is one of the reasons I love using Saul Good – it saves us so much time and hassle! Highly recommend and look forward to working with them every year." – Jared & Rachel E.
Unique, thoughtful and scrumptious box of goodies
"Saul Good is my go-to gifting service when I want to send a unique, thoughtful and scrumptious box of goodies. Simple to order on-line and always delivered on time. A professional company who offers a wonderful array of gifts that are classy and affordable." – Isobel N.
3. Local Boom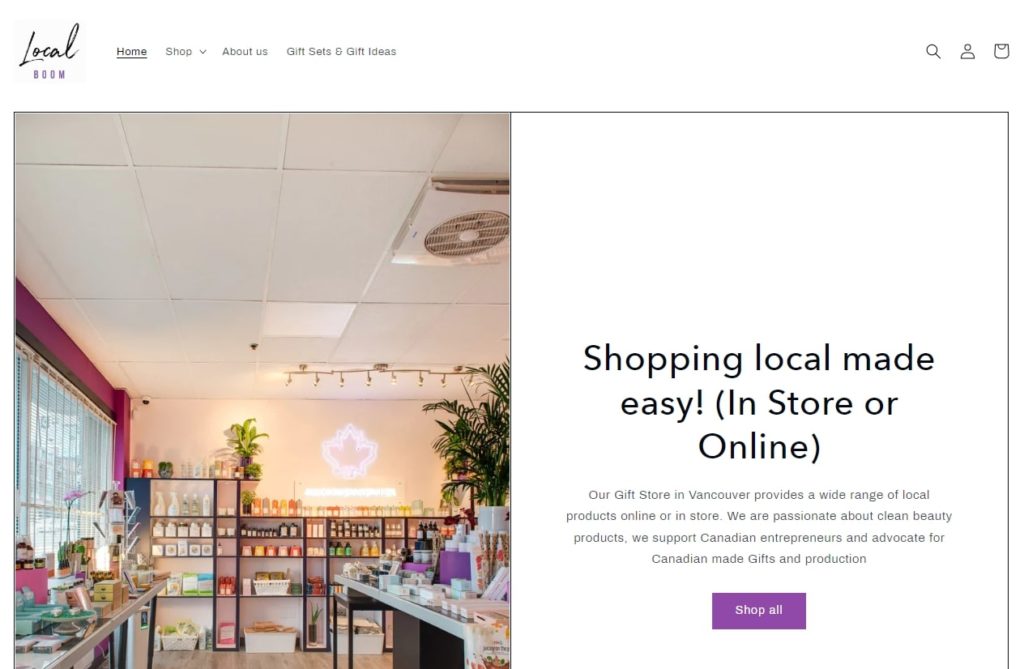 SERVICES

Brands & Collections

Food, Treats & Drinks, Gifting, Cards & Stationery

Hair Care, Body & Bath, Home, Candles & Cleaning

Skincare Products

WEBSITE
https://localboom.ca
ADDRESS
504 East Broadway, Vancouver, BC V5T 3R4, Canada
CONTACT DETAILS
Phone: 604 875 3399
OPERATING HOURS

Monday-Thursday: 11 AM-6 PM

Friday-Sunday: 12 PM-6 PM
| | |
| --- | --- |
| CRITERIA | RATING |
| Shop Catalog | ★★★★★(5/5) |
| Online Platform | ★★★★☆(4/5) |
| Delivery Time | ★★★★★(5/5) |
| Customer Service | ★★★★★(5/5) |
Located on East Broadway, Local Boom is another store to consider if you want top-quality gifts for your loved ones.
Local Boom has made a name for itself by curating local goods, which include skin care, body care, bath bombs, pet products, and more. Each item in the store is carefully crafted with love and care and made to be used.
Another reason to try Local Boom is its staff, which consists of knowledgeable and friendly individuals who are always ready to answer any questions and provide helpful recommendations.
This customer service is integral to the gift-giving process; the staff ensures customers feel comfortable searching for their perfect gift.
Aside from the collection and staff at Local Boom, we also like that their online shop is easy to navigate. As soon as you land on their site, there's a clear breakdown of gift categories for easy selection.
According to their reviews, gift-seekers from all over the city have had a positive experience at Local Boom. Their gift selection is varied and affordable; you can find something for everyone in your family within your budget.
All in all, if you're looking for unique gifts with excellent customer service and an accessible online shop, then Local Boom gift shop in Vancouver is the place for you.
Highlights Canadian brands and entrepreneurs
Delivery time within 2-8 days
Free shipping for orders above $50
Returns or exchanges not accepted
PO Box orders and remote area orders cannot be expedited
Customer Reviews
All local and Canadian goods
"I love this store! And I feel so good shopping here…because it's all local and Canadian goods, and sustainable…and because it's so pretty :). They have the best bath bombs – Bare Skin Bar – I've ever tried (no toxic sparkles and chemicals). The bombs are even more than just about how pretty the tub gets and how nice it smells, but the way your skin feels after too. Never had that with another bath bomb before. That's how it should be, I just never knew. And the candles and the greeting cards…so good!! Picked up a bunch of stuff for gifts and myself haha. I've ordered online from here before but now that things are opening up this is the kinda place I want to go into. The owner is so nice!!" – Cherie P.
Wide variety of gift items
"I discovered this neighbourhood gem of a store from the Mount Pleasant BIA. They offer a wide variety of gift items that are of amazing quality and made by local companies. Here's my haul from today- just a wonderful selection and well priced! The owner Steven is lovely and kind- I will continue to come back and support. I highly recommend this amazing gift shop!" – C F
4. Giving Gifts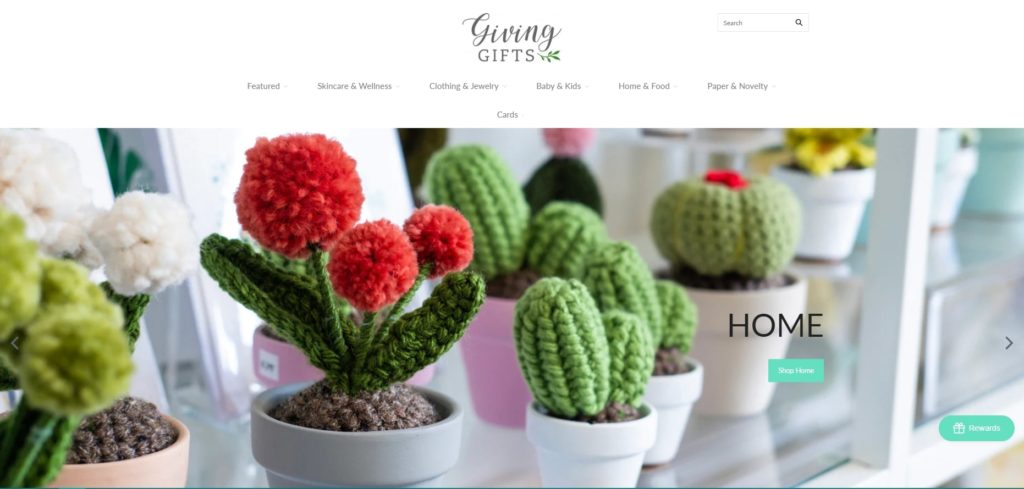 SERVICES

Holiday & New Year Gifts

Holiday Cards

Birthday Gifts

Zodiac & Birthstone Gifts

Birthday Cards

Kids Birthday Card

Valentine's Day

Valentine's Cards

Mother's Day

Father's Day

Teacher Gifts

Grad Gifts

Pregnancy Gifts

Baby Shower Gifts

New Home Gifts

New Home Cards

Sympathy Gifts

Sympathy Cards

Christmas Gifts

Skincare & Wellness

Clothing & Jewelry

Baby & Kids

Home & Food

Paper & Novelty

Cards

WEBSITE
https://www.givinggifts.ca
ADDRESS
4570 Main St, Vancouver, BC V5V 3R5, Canada
CONTACT DETAILS
Phone: 604 561 7780
OPERATING HOURS

Monday-Friday: 11 AM-6 PM

Saturday: 10 AM-6 PM

Sunday: 12 PM-5 PM
| | |
| --- | --- |
| CRITERIA | RATING |
| Shop Catalog | ★★★★★(5/5) |
| Online Platform | ★★★★★(5/5) |
| Delivery Time | ★★★★★(5/5) |
| Customer Service | ★★★★☆(4/5) |
Giving Gifts is a gift shop that first opened its doors to the public in 2010. Since then, the store has steadily built a reputation for its wide selection of gift items and unbeatable customer service.
Located on Main Street in the heart of Vancouver, Giving Gifts has become a go-to destination for anyone looking to buy presents for special occasions or just as a simple gift of appreciation.
We like that the shop offers an impressive array of gift items, including skin care, clothing, jewelry, and even baby and kids products. If you're looking for housewarming gifts, you can also find home decorations and food items in the shop catalog.
We also appreciate that the gift items are carefully organized into categories and that in-store staff is always on hand to help customers choose the perfect gift for their needs.
Another reason to check out Giving Gifts is their free shipping, which you can get with orders above CAD 100. In addition, the shop is open seven days a week, so you can always stop by to find the gift that fits.
Giving Gifts is a great place to shop for presents, no matter the occasion. From birthday gifts and corporate events to baby showers and anniversaries, this gift shop in Vancouver has everything you need.
Specializes in custom curated gifts
Sources from over 100 local and fair trade artists
Local, eco friendly, and fair trade made
Free Shipping does not apply to Giving Crates, Gift Boxes, custom gifts or the Hygge Family Box
Refunds not provided
Customer Reviews
Staff are friendly and helpful
"The locally made cards in Vancouver are so excellently made. The points system is also very handy for frequent buyers like me. If you are gift shopping this is the place to go! Staff are friendly and helpful and there is something for everyone here." – Alex B.
Went above and beyond
"Lovely selection – especially for jewellery, kids items and cosmetics. Excellent customer service too! I had ordered before Christmas and their owner delivered to the doorstep, and went above and beyond when one of the items I had ordered was sold out. My go-to place when looking for local gifts!" – Kathrin K.
5. MAKE

SERVICES

Custom Gifts

Apparel

Home & Gift

Occasion

Gift Guides

Brands

WEBSITE
https://www.makevancouver.com/
ADDRESS
1648 Duranleau Street, Vancouver, BC V6H 3S4, Canada
CONTACT DETAILS
Phone: 604 684 5105
OPERATING HOURS

Monday-Sunday: 10 AM-6 PM
| | |
| --- | --- |
| CRITERIA | RATING |
| Shop Catalog | ★★★★★(5/5) |
| Online Platform | ★★★★★(5/5) |
| Delivery Time | ★★★★★(5/5) |
| Customer Service | ★★★★☆(4/5) |
When it comes to creative gifts, MAKE is a must-try when you're in Vancouver.
MAKE has caught our attention for a few reasons, one of which is its online platform. Shopping for gifts on the website is easy, with gift suggestions organized by category.
There is also a gift finder to help narrow down the choices, or you can browse through the individual gift sets. The gift shop offers something for everyone – from home décor to apparel.
We would also like to point out that custom gifts are another area of expertise for MAKE. The gift shop offers customers the chance to personalize their gifts, so if you want to make a journal or hat more special, all you need to do is contact MAKE.
If you're the type to purchase gifts in bulk, MAKE can make shopping more convenient. They offer free shipping for orders above CAD 99, making gift shopping even more affordable.
MAKE also receives kudos from us for their customer service. The gift shop does its best to reply promptly to customers, so if you have a gift question, don't be afraid to ask.
Overall, MAKE has undoubtedly earned its place as one of Vancouver's top gift shops for anyone looking for something unique. With a wide selection of items and personalized gift services, you can be sure that finding the perfect gift at MAKE will be easy.
Specializes in custom embroidery, engraving, and printing
Wide selection of unique items for all occasions
Free shipping for retail web orders above $99
Free shipping does not apply to volume or corporate orders
Sales merchandise is returnable for exchange only
Customer Reviews
You'll have fun looking around
"If you like stuff and things, this place is for you. Shirts, hats, socks, nick nacks, mugs, books. It is a decent sized store with easy access and lots of paid parking outside. Prices are fair even though it's located in a tourist spot. Even if you don't buy something, you'll have fun looking around." – Mehr P.
They did a great job
"My company had a number of jackets embroidered by Make on Friday and I must say they did a great job! Megan helped design our logo into an embroidery file and worked with us to get a great look. We look forward to working with the Make team again soon!!" – David J.
FAQs about gift shops in Vancouver
---
Gift shopping becomes a simple task if you know the best places to buy from. Hopefully, our in-depth review of local gift shops in Vancouver can help you pin-point where to shop next time.
If you need your gifts delivered to loved ones, make sure to check out our list of best gift deliveries in Vancouver.