The 8 Best Notaries in Vancouver
Notaries can be a big help when you're in need of legitimate documents. Whether it's for real estate turnovers or court affidavits, we've got you covered with a list of the best notaries in Vancouver.
With this list, you'll learn essential information to help you choose a notary that suits your needs.
But before you meet our top picks, let's get you acquainted with their costs
How Much Does a Notary Public Charge in Vancouver?
The fees for a notary can vary with each establishment, so to give you a broad idea we've put together this nifty cost guide:
| | |
| --- | --- |
| Service | Price range |
| Notarization | $40 – $60 |
| Certified true copies | $30 – $40 |
| Simple Wills | $200 – $300 |
| Power of attorney documents | $100 – $200 |
| Contract of purchase & sale | $300 – $400 |
| Mortgage documents | $400 – $500 |
Some notaries will charge an hourly fee for particular services instead of a fixed rate per service. This usually sits in the range of $100 to $200 per hour.
The Best Notaries in Vancouver
Now that you've got our handy cost guide, it's time to meet the entries on our list. Each of these notaries excels in different areas so it's best to keep this in mind when choosing your preferred institution.
1. Morris Notary
SERVICES
Real estate transfers
Power if attorney documents
Representation agreement
Consent letters
Affidavits
Statutory declarations
Letter & document writing
Unregistered vehicles and missing signatures declaration
WEBSITE
https://vancouverdowntownnotary.com/
ADDRESS
375 Water St #650, Vancouver, BC V6B 5C6, Canada
CONTACT DETAILS
Phone number: (778) 819-8553
Fax: (604) 608-3857
Email:

[email protected]

OPERATING HOURS
Monday: 9 am – 5 pm
Tuesday: 9 am – 5 pm
Wednesday: 9 am – 5 pm
Thursday: 9 am – 5 pm
Friday: 9 am – 5 pm
Saturday: closed
Sunday: closed
Morris Notary is an extremely well-known business that was founded to fill the growing need for a notary public. The establishment has grown well thanks to its quick and reliable work along with its wide array of services.
The business's founder, Kieran Morris, is an accomplished lawyer as well as a notary public. This puts him in a position to verify documents while also being able to provide legal advice regarding any terms and conditions.
Kieran manages his institution with a strict commitment to service and equality for everyone. It is for this reason that he proudly offers a safe and welcoming establishment for members of the LGBTQ community.
LGBTQ-friendly establishment
Kieran is willing to extend business hours to accommodate clients
The business is well-suited to evaluating settlement agreements
As the sole notary public, Kieran's schedule can be packed
Customer Reviews
Morris Notary has made a great impact on its clients, thanks to its excellent services:
"Kieran quickly replied to emails and was able to schedule a walk in on super short notice. Fast, professional service. Would definitely return for future legal matters. Highly recommended." – Jimmy T.
"We had a great experience with Kieran. He answered all of my emails and promptly and scheduling an appointment with him to notarize a statutory declaration was easy. I would definitely see him again if I need other documents notarized." – Angie W.
2. A.J. Kwong Notary Public
SERVICES
Letter of invitation
Travel letter for minors
Witness of signature
Statutory declaration
Affidavit
Authentication of international documents
Proof of identity
Name changes
Passport application documentation
Wills and estate planning
Powers of attorney
Representation agreements
Health and healthcare directives
Executorship
Real estate
WEBSITE
http://www.broadwaynotaries.com/services.html
ADDRESS
1529 W 6th Ave Unit #316, Vancouver, BC V6J 1R1, Canada
CONTACT DETAILS
Phone number: (604) 330-2485
Fax: (604) 330-2486
Email:

[email protected]

OPERATING HOURS
Monday: 9 am – 4 pm
Tuesday: 9 am – 4 pm
Wednesday: 9 am – 4 pm
Thursday: 9 am – 4 pm
Friday: 9 am – 4 pm
Saturday: closed
Sunday: closed
The A.J. Kwong Notary Corporation was opened in 2015 by a freshly graduated notary public by the name of A.J. Kwong. Since that time, these folks have provided various notary services for many Vancouverites at highly affordable rates.
Having grown up in Vancouver, A.J. Kwong feels a sense of responsibility to give back to the community that raised him. Because of this, he offers extremely friendly prices and tons of experience.
Prior to opening his own notary business, A.J. devoted a little over 8 years of study under a prominent notary public. This experience has allowed him to have a strong familiarity with many notarization processes, which stands his clients in good stead today.
AJ's business offers very affordable rates
AJ is very familiar with notary work, having spent almost 13 years in the industry
The corporation is extremely client-centered
AJ is not a practicing lawyer
Customer Reviews
Here's what folks had to say about A.J. Kwong and his wonderful business:
"A.J. was a great help when notarizing one of our immigration forms. He was very accommodating over the holiday break and even helped us out when we noticed a typo. Great service and really friendly. We would absolutely deal with A.J. again!" – Tom C.
"A.J. was extremely hospitable and friendly. His office has a nice atmosphere and he works quickly and efficiently. He also gave good advice and maintained good COVID-19 protocols, which helped me feel even more comfortable.
10/10 would absolutely recommend." – Alex B.
3. Yoshida Notary Public Inc.
SERVICES
Residential real estate conveyance
Wills
Power of attorney documents
Representation agreements
Affidavits
Authorization child travel
Certified true copies
Insurance loss declarations
Letters of invitation
Notarizations/Attestations of signatures
Proof of identity for travel
WEBSITE
http://www.notarydowntown.ca/
ADDRESS
212-938 Howe St, Vancouver, BC V6Z 1N9, Canada
CONTACT DETAILS
Phone number: (604) 569-0512
Fax: (604) 569-0516
Email:

[email protected]

OPERATING HOURS
Monday: 8:30 am – 6 pm
Tuesday: 8:30 am – 6 pm
Wednesday: 8:30 am – 6 pm
Thursday: 8:30 am – 6 pm
Friday: 8:30 am – 6 pm
Saturday: 10:30 am – 2:30 pm
Sunday: closed
Curtis "Haruo" Yoshida opened Yoshida Notary Public Inc. in the hopes of improving the quality of notary services in Vancouver. That was over 5 years ago, and today his company continues to offer comprehensive service not seen with other firms.
This is all thanks to Curtis's unique background as both a senior financial advisor and an account manager. With these experiences, he has the wisdom necessary to offer substantial advice regarding business agreements and contracts.
Along with this wisdom, Curtis has also built up a wide network of business contacts all around Vancouver. This allows him to outsource various tasks that may not be covered by traditional notary companies.
Services offered in both Japanese and English
Conveniently located in the heart of downtown Vancouver
Open on Saturdays
The company offers mobile notary services
Yoshida Notary's mobile notary services cost an additional fee
Customer Reviews
Curtis Yoshida's friendly and professional demeanor have helped make a great impression with many clients:
"Mr. Yoshida is very professional and responsive. We had an urgent request for completion, several other notary firms declined our service request due to the tight time window. Mr. Yoshida took our assignment and acted promptly. Everything went smoothly, we met the deadline, thanks for Mr. Yoshida's work. I will definitely recommend Mr. Yoshida's notary service to my friends in future reference." – Deer L.
"Mr. Yoshida is very professional and polite. I had to get some documents authenticated as soon as possible so I showed up in his office without booking an appointment. Even so, he received me very well and promptly attended my requests." – Jonatas B.
4. Nicolas Lejeune Notary Public
SERVICES
Real Estate
Mortgages
Notarizations
Attestations
Affidavits
Statutory declarations
Wills and estate
Power of attorney
Representation agreements
Advance directives
WEBSITE
http://lejeune-notary.ca/
ADDRESS
938 Howe St Suite 908, Vancouver, BC V6Z 1N9, Canada
CONTACT DETAILS
Phone number: (778) 385-6008
Email:

[email protected]

OPERATING HOURS
Monday: 9 am – 5 pm
Tuesday: 9 am – 5 pm
Wednesday: 9 am – 5 pm
Thursday: 9 am – 5 pm
Friday: 9 am – 5 pm
Saturday: (by appointment only)
Sunday: closed
Nicolas Lejeune is a graduate of both Simon Fraser University in British Columbia and the University of Paris Sorbonne in France. Throughout his studies, Nicolas has dealt with people from all walks of life… this has helped him develop a friendly and pleasing approach with all his clients.
As a licensed notary public, Nicolas is also a member of the Society of Notaries Public of British Columbia. This allows him to stay updated with any laws and guidelines that govern his practice.
Though he isn't a practicing lawyer, Nicolas has a good understanding of what it takes to be a good notary public. That's why he does everything he can to keep clients in the know about various notarization processes.
Because of this, many clients enjoy working with Nicolas since they are fully aware of what they are being charged for.
Multilingual notary firm
High level of transparency
Nicolas is available on weekends for appointment
Nicolas is less experienced compared to other notaries
Customer Reviews
Here are some reviews from their clients.
"Nicolas was very professional and helpful. Helped me sort out inefficiencies on the bank side as well so my transaction went through smoothly. Highly recommended!" – Vincent C.
"Nicolas was very professional and well coming. We had a request for a document to get notarized plus legalization for France.Nicolas knows the different channels to go through to get documents officially legalized.I highly recommended his service and will definitely request his assistance again. Also I'm so grateful for the discount he offered us." – Aliyeh M.
5. David Watts, Notary Public
SERVICES
Real Estate
Mortgages
Notarizations
Wills and estate
Power of attorney
Representation agreements
Notarization's
Certified true copies
WEBSITE
https://www.davidnotary.com/
ADDRESS
675 W Hastings St #1412, Vancouver, BC V6B 1N2, Canada
CONTACT DETAILS
Phone number: (604) 229-2392
Fax: (604) 685-7796
OPERATING HOURS
Monday: 9 am – 5 pm
Tuesday: 9 am – 5 pm
Wednesday: 9 am – 5 pm
Thursday: 9 am – 5 pm
Friday: 9 am – 5 pm
Saturday: closed
Sunday: closed
David Watts has been voted Vancouver's best notary by The Georgia Straight six years in a row. To add to his credibility, he has also been selected by British Columbia's Society of Notaries as a mentor for students in the notary education program.
When he's working with clients, David always strives to provide excellent service at a competitive price. He manages this with great ease, regardless of whether he's preparing legal papers or notarizing real estate documents.
David has been a director of the Society of Notaries Public of British Columbia since 2011. Beyond his skill and experience, this achievement speaks to his talent and aptitude as a notary public.
Thanks to his unparalleled achievements, David is an excellent option for clients with extensive notary needs.
David has received numerous awards for his work as a notary public
His firm is particularly skilled at preparing real estate documents
David has served on several notary public committees
Due to his high qualifications, David's fees are higher than other notaries
Customer Reviews
Take a look at these reviews from some of their clients:
"David and Clinton are absolute pros! Within 2 months they assisted us to complete a property sale and a purchase. They had exceptional communication by email, which is our go to, plus the office was in walking distance for us – which made everything a breeze. We found the costs very competitive, especially for the level of service we received. Covid-19 protocols were top notch. Thanks team!" – Scott & Candace
"We were searching for a notary and though David was not able to take on our project, he was incredibly thoughtful, responsive, and easy-to-work with. He even followed up with us, regardless of the fact we were not his clients. I am very impressed and will know who to reach out to when we need notary services in the future." – Britney D.
6. Park & Associates Notaries Public
SERVICES
Notarizations/Attestations of Signatures
Passport Application Documentation
Personal Property Security Agreements
Powers of Attorney
Proof of Identity for Travel Purposes
And more
WEBSITE
http://www.falsecreeknotary.ca/
ADDRESS
67 West 2nd Avenue
Vancouver BC V5Y 1B1 Canada
CONTACT DETAILS
604.670.1197 | [email protected]
OPERATING HOURS
Mon-Fri: 10AM – 5PM
Park & Associates Notaries Public consists of trained and trusted legal professionals that help individuals, families, and small businesses with non-contentious legal needs. They are are here to help you with real estate transfers, wills, and a variety of other legal documents.
Due to Covid-19, walk-ins are no longer permitted, and appointments with their team is required.
Unlike with other service providers, getting your documents notarized with their help is fairly easy. All you have to do is ensure that all signatories are personally present during the appointment.
You must also be able to present two pieces of valid government issued ID (at least 1 photo ID) and bring all original documentation requiring notarial services. It is also important to note that you have to fully fill out and complete all documentation beforehand and not sign any documents prior to the appointment
Just follow the stated steps and you'll have your notarization done within the day.
Swift services
Has glowing reviews found online
Skilled and experienced team
Rates are unavailable online
Customer Reviews
Take a look at these reviews from some of their clients:
"Daniel and his team are wonderful! Would 100% recommend. Daniel is very kind, well spoken and extremely friendly. He made the entire process very comfortable and he took all of my questions with great care and provided a very understandable answer to all of my many questions. He never makes you feel like your appointment is nearing its end of your time, he is just great! Great experience! Will use again."
"Daniel offers the best service money can offer. His office is an hour away from us but we've still used him with every purchase."
7. Malti Lotfali Notary Public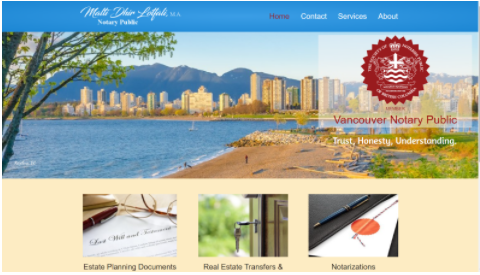 SERVICES
Estate Planning Documents, Real Estate Transfers & Mortgages, Notarization
WEBSITE
http://mobilenotary.ca/
ADDRESS
2695 West Broadway, Vancouver, BC V6K 2G2
CONTACT DETAILS
Phone: 604-773-0608
Email:

[email protected]


Fax: 604-224-1084
OPERATING HOURS
Monday to Friday: 9:30AM-5PM (By Appointment only)
Malti Dhir Lotfali services are done promptly with great precision. She understands that some of her clients need to complete things immediately, and she will accommodate you as much as possible.
She is a well-educated person and communicates well both on the phone and in-person with her clients. She will take the time to understand her clients, their situation, and needs to lighten up the stressful process.
Her great attention to detail makes her client feel confident that everything is done perfectly. Overall, Malti's services are accurate and are worth the time and money.
Pleasant personality
Reasonable prices
Customer Reviews
Here's a review from one of Malti Lotfali Notary Public's clients:
"Very professional, very punctual and just a very nice person. I did not have a big job, but Malti was very helpful and generous with her time. I will use her for any needs I have for a Notaries Public from now on!" -Barry Legh
Here's another one:
"Excellent, professional, knowledgeable and
confident service.
Highly recommended!" -Mike Wilby
8.   Shirley Manfron
Shirley Manfron has been a Notary Public in East Vancouver since 1999. What's great about them is that they are conveniently located near the intersection of Nanaimo and Hastings Streets and that they have free parking located a half block away from the office.
Aside from this, since their office is not wheelchair accessible, they compensated for this by providing local, in-home services for the elderly and handicapped.
Another factor we love about them is that they do not only offer notarial services, but also real estate planning, estate planning, power of attorney, and representation agreement.
In comparison to other companies, their service includes them being a witness when you sign a document that requires a notarization such as travel letters, statutory declarations, and letters of invitation.
What makes them stand out from the rest is how they also offer guidance with the preparation of leases, affidavits, certifying true copies of documents. and other similar transactions.
Does not only offer notarial services
Service all lower mainland
Customer Reviews
Here are testimonials from their clients:
"The friendliest and most efficient notary I've ever dealt with. She made my day! Very kind and genuine, that includes her staff." – Meg S.
"Shirley helped us finalize buying our apartment." – Becky V.
"I have used her services three times. Will always use her as long as she will look at my files. Super-fast and super-efficient. Highly recommend her. Her prices are really reasonable. She is pretty good with a joke or two also." – Robert W.
FAQs About Notaries
---
That wraps up our list of the best notaries in Vancouver. Since you're familiar with what the city has to offer, all that's left is to gather your documents and head to your notary of choice.
If you'd like to prepare a will that governs your future estate, it's best to have it witnessed by a lawyer. To help you find one, we've prepared a list of the best family lawyers in Vancouver.