The 6 Best Restaurants in Vancouver
If you want to satisfy your cravings for authentic Japanese cuisine, you should try out the best sushi restaurants in Vancouver.
To help you out, we've reviewed them and compiled the best of the best in this article!
How much does it cost to eat at sushi restaurants in Vancouver?
To get a glimpse of how much you can expect to pay for a meal, you can use the table below to see how the best sushi restaurants in Vancouver price their sushi, sashimi, and nigiri.
| Restaurant | Price |
| --- | --- |
| Miku | Sushi: $18 - $24 Nigiri: $4.5 - $6 Sashimi: $20.5 - $24 (for 6 pieces) |
| Tojo's Restaurant | Sushi: $18 - $34 Nigiri: $7 - $25 Sashimi: $14 - $80 |
| Sushi Bar Ajisai | Sushi: $4.25 - $15.50 Nigiri: $2.50 - $6 Sashimi: $19 - $34 |
| Tom's Sushi | Sushi: $3 - $15 Nigiri: $2 - $7 Sashimi: $8 - $23 |
| Kishimoto Japanese Restaurant | Sushi: $3.5 - $16 Nigiri: $2.5 - $12 Sashimi: $14 - $30 (for 6 pieces) |
Top Sushi Restaurants in Vancouver
To make this article, we reviewed various sushi restaurants in Vancouver using the following criteria:
1. Miku Vancouver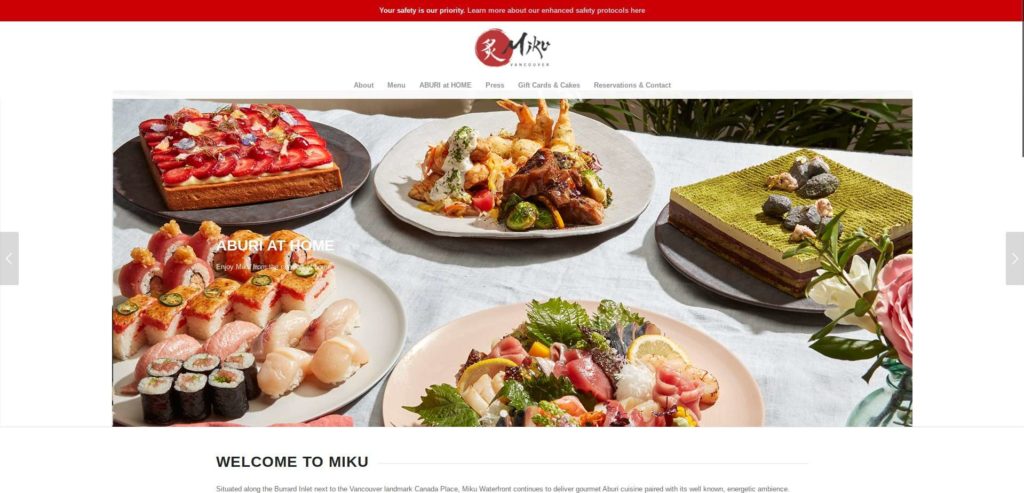 Test
Info
PRODUCTS
Aburi Sushi

Sashimi

Sushi

Chicken

Beef

Soup

Salad

Cocktails

Non-alcoholic Drinks

Beer

Wines

Desserts

WEBSITE
https://mikurestaurant.com/
ADDRESS
70-200 Granville Street, Granville Square (Canada Place Way and Howe Street), Vancouver, BC, Canada V6C 1S4
CONTACT DETAILS
Phone: 604-568-3900 Fax: 604-568-3903

Email: [email protected]

OPERATING HOURS
Weekdays: 11:30 AM to 10:00 PM Weekends: 12:00 PM to 10:00 PM
| | |
| --- | --- |
| Criteria | Ratings |
| Food Quality | ★★★★☆ (4/5) |
| Service Quality | ★★★★★ (5/5) |
| Affordability | ★★★★☆ (4/5) |
| Menu Diversity | ★★★★★ (5/5) |
Miku is a sushi restaurant in Vancouver known best for its aburi sushi, a flame-seared sushi with unique flavors and textures. Since its opening in 2008, Miku has been serving its customers with traditional Japanese cuisine combined with local elements to make a special experience.
When you enter the restaurant, you will be greeted by a beautiful and spacious venue with an awesome view of the sea.
Albeit spacious, the restaurant often has a line at the entrance and a handful of people waiting to be seated. If you want to skip the line, it may be best for you to make a reservation beforehand especially if you're coming in with a big group.
The lunch and dinner gives the restaurant's customers a wide, diverse array of choices from soups to the rolls themselves. If you wish to avoid paying for individual sushi rolls, you may avail of their kaiseki to enjoy a multiple-course meal.
The customers we interviewed agree with us that Miku's food options are fresh, delicious, and beautifully-presented. However, with such quality, you can expect to pay a relatively high price.
Regardless of its price, if you are looking for great Japanese food and sushi that's made to suit your local tastebuds, you should consider paying Miku a visit.
Vegan and gluten-free options
Beautiful and spacious area
Diverse choices of sushi rolls
Relatively expensive
Seating may be difficult for big groups
Customer Reviews
Great service
Fantastic food, great views and good service!
This is arguably the best Japanese food I've ever had. The miso soup and the appetizers were amazing— flavorful, shrimp was cooked perfectly and breading was light and crisp.
The sushi is even better— everything was perfectly balanced. All the tastes were spot-on, textures were on-point and everything was just perfect! The sea urchin was a huge hit for us. The "Premium" menu option was also one of our favorites.
The views are also amazing— seaplane, ocean, boats and mountains. What more could you ask for??
Finally, the service was great! The all took time to chat and guide us through the menu. The servers and workers create a fun environment. They are super quick and super friendly.
Overall, amazing! Great restaurant, and highly recommend. – Kai, Google Reviews
Friendly, knowledgeable staff
Amazing! Had a birthday dinner here and they truly made the experience worth it. Make a reservation and if you don't and just walk in, make sure to grab drinks as you wait. The sushi was phenomenal and the waitress was very friendly and knowledgeable about the menu. We shared all of our dishes and every item we ordered was amazing! Plus the dessert that they made for my birthday looked beautiful and tasted even better – Simran, Google Reviews
2. Tojo's Restaurant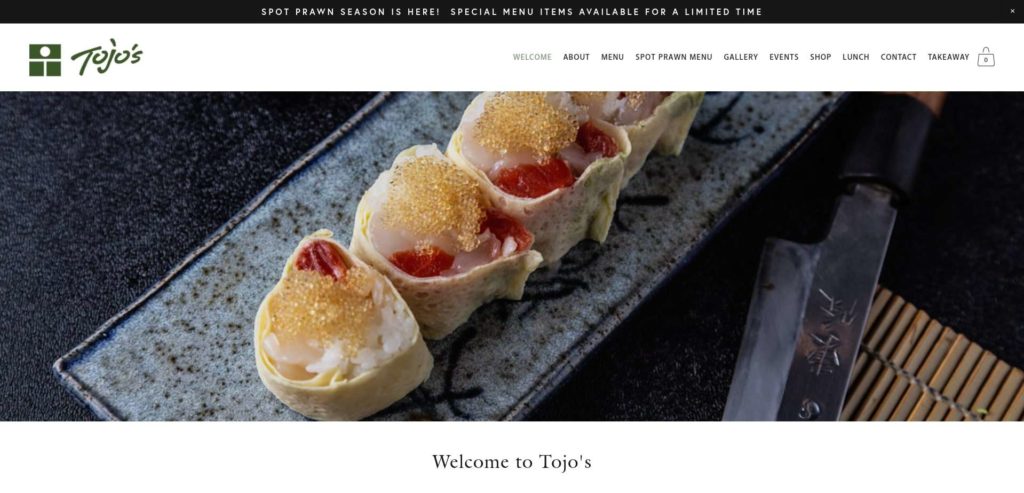 Test
Info
PRODUCTS
Sushi

Sashimi

Nigiri

Tempura

Salads

Karaage

Wagyu Beef

Chicken

Cocktails

Alcoholic Beverages

Sake

Desserts

WEBSITE
tojos.com
ADDRESS
1133 West Broadway, Vancouver, BC V6H 1G1
CONTACT DETAILS
Email :

[email protected]

604-872-8050

OPERATING HOURS
Monday to Saturday: 4:30 PM to 8:30 PM
| | |
| --- | --- |
| Criteria | Ratings |
| Food Quality | ★★★★★ (5/5) |
| Service Quality | ★★★★★ (5/5) |
| Affordability | ★★★☆☆ (3/5) |
| Menu Diversity | ★★★★★ (5/5) |
There can be no conversation about sushi restaurants in Vancouver without mentioning Tojo's Restaurant. Tojo's Restaurant is owned and operated by the renowned Chef Hidekazu Tojo, who is often credited for the creation of the California roll.
Tojo's Restaurant is one of the oldest Japanese restaurants in Vancouver. Since they offer authentic Japanese fine dining, you can expect to pay a pretty penny for most of the food on the menu.
If you can ignore the high price, you are in for an extraordinary experience.
Tojo's Restaurant offers omakase (meaning "I'll leave it to you"), in which the chef makes you a multiple-course dinner. You can also pick from dozens of sushi, sashimi, and nigiri if you want to order your food ala carte.
Regardless of how you choose to dine, you can expect fresh, high-quality food. Almost all of the customers we interviewed had nothing but praise for the tastes, textures, and presentation of each item they ordered on the menu.
Aside from the numerous types of sushi, Tojo's Restaurant also offers a lot of different beverages from cocktails and bubbles to sake, all of which has a touch of Japanese culture.
Since the restaurant is only open for 4 hours, it would be best for you to make a reservation even if it's just you and your significant other. The popularity of the restaurant may make it difficult for customers to simply walk-in and get seated.
The beautiful venue, the delicious authentic Japanese cuisine, and the unique experience combined justify the steep prices and earns Tojo's Restaurant a spot on our list.
30+ years of operation
Offers omakase
Highly diverse menu, from sushi to drinks.
Short opening hours
Expensive dining
Customer Reviews
Worth the price
Enjoyed the Spring Sakura Omakase to celebrate my birthday. First time dining at Tojo's for all four of us. It was definitely a peak dining experience and worth the expense. Every dish was beautifully presented and the fish was out of this world fresh. It was everything I had hoped for. Outstanding! – P, Google Reviews
Excellent fresh food
We had a cozy room near the back that was very private and quiet. The service was good. The food and the presentation were excellent. Some sublime sushi. Even dessert was an experience. First time at the new location. Really like it. Top notch sushi, especially the scallop. Yum. – Michael, Google Reviews
3. Sushi Bar Ajisai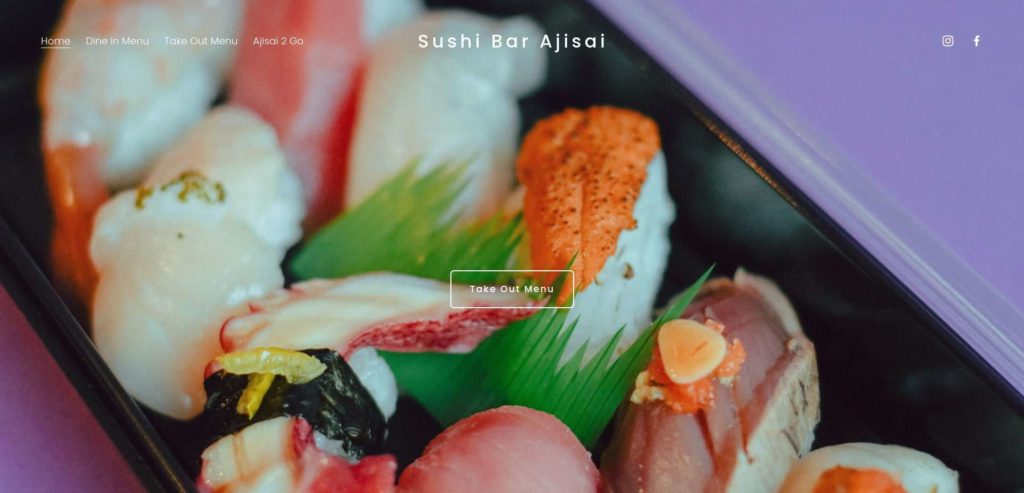 Test
Info
PRODUCTS
Nigiri

Sashimi

Sushi Rolls

Cones

Appetizers

Battera

Rice Bowls

Salads, Soups

WEBSITE
sushibarajisai.com
ADDRESS
2081 W. 42nd Avenue, Vancouver, BC V6M 2B4
CONTACT DETAILS
604-266-1428
OPERATING HOURS
Tuesday to Saturday: 12:00 PM to 7:30 PM
| | |
| --- | --- |
| Criteria | Ratings |
| Food Quality | ★★★★☆ (4/5) |
| Service Quality | ★★★★★ (5/5) |
| Affordability | ★★★★☆ (4/5) |
| Menu Diversity | ★★★★★ (5/5) |
Sushi Bar Ajisai is a sushi restaurant in Vancouver with one of the longest menus, which is its biggest strength. If you check their website, you will be greeted with over 20 nigiri sushi options, over 20 sushi rolls and cones, and around a dozen choices for sashimi.
In addition to its wide and diverse menu, another strength of Sushi Bar Ajisai is its pricing which is more affordable compared to others in this list.
However, it is a mistake to assume that affordability automatically leads to reduced quality. On the contrary, this sushi bar is well-known for its quality.

According to some of their previous customers we interviewed, Sushi Bar Ajisai has been serving consistently fresh, delicious, generously-portioned sushi for its price.
Even before the pandemic started, the sushi restaurant was already getting long queues of hungry customers.
Although they only accept take-out at the time of writing this article, Sushi Bar Ajisai still gets busy enough that sometimes callers have to try again just to get their orders in.
Despite being only available online and over the phone, Sushi Bar Ajisai's food is still a must-try and earns the sushi bar and restaurant a spot in our list.
Generous portions
Relatively more affordable
Consistent food quality
Very busy
Only available for takeout
Customer Reviews
Extremely delicious
Fresh and extremely delicious. Generous portions at a great price. Individually packaged items for takeout and quality was maintained for the trip home. 5% off if you call 2 hours ahead. – Hugo, Google Reviews
Consistent food quality
The quality is always consistent here. Also the ingredients are fresh and the sushi is tasty. Usually there were long waits before the pandemic but take out is also very convenient. – M, Google Reviews
4. Tom Sushi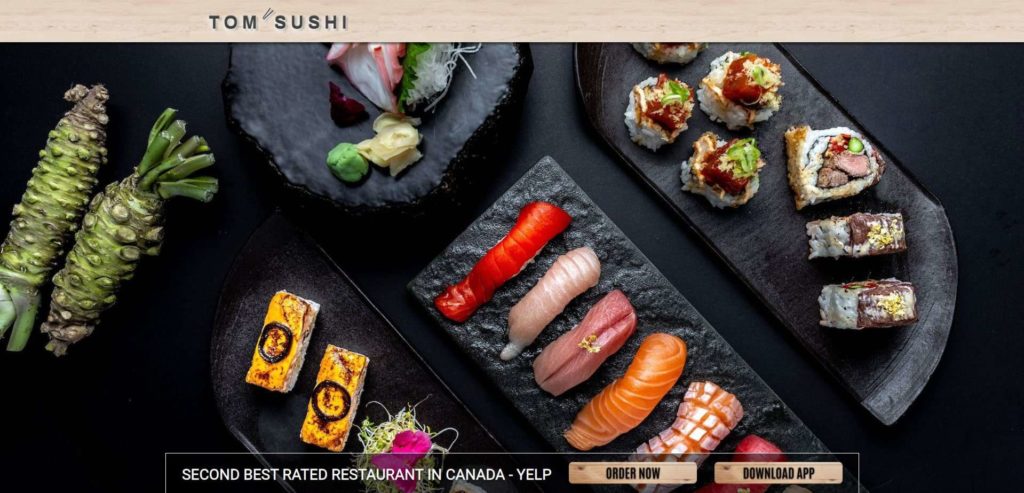 Test
Info
PRODUCTS
Soups

Salad

Nigiri

Sushi

Sashimi

Tempura

Appetizers

Teriyaki

Donburi

Noodles

Katsu

Beverages

WEBSITE
tomsushi.ca
ADDRESS
1175 Davie Street, Vancouver, BC
CONTACT DETAILS
604-336-0855 [email protected]
OPERATING HOURS
Monday, Wednesday to Saturday: 12:00 PM to 9:00 PM

Sunday: 12:00 PM to 8:30 PM
| | |
| --- | --- |
| Criteria | Ratings |
| Food Quality | ★★★★☆ (4/5) |
| Service Quality | ★★★★★ (5/5) |
| Affordability | ★★★★☆ (4/5) |
| Menu Diversity | ★★★★★ (5/5) |
Tom's Sushi is perhaps one of the youngest sushi places in Vancouver as it was established around 2019. Regardless, it has made quite a name for itself since its opening.
Although the restaurant itself is young, its owner, Chef Tom Jeon, has 10 years of experience in making sushi and Japanese cuisine.
When you enter the restaurant, you will be welcomed into a more modern atmosphere unlike other sushi restaurants in Vancouver. There is a lot of space for seating, and the current set up allows for more comfortable dining.
The food in Tom's Sushi is more affordable but still fresh and high-quality. Based on our experience and the customers we interviewed, freshness and quality extends to all of the over 60 different sushi and sashimi they offer.
They also offer tempura, different soups and salads, katsu, and other authentic Japanese dishes. The wide variety of food and meal options is definitely one of the restaurant's strong suits.
Although the fish is fresh, some customers we asked commented on the rice the restaurant uses and how it feels dry. Others also wish that there were more gluten-free options in the restaurant.
All things considered, the diverse menu, the attentive service, and the great and well-priced food earns Tom's Sushi the right to be called one of the best.
Quick service
Over 60 different food options
Has its own app
Multiple complaints about the rice 
Customer Reviews
Fair prices for good food
We went there for Sunday lunch and We really impressed by this Sushi Place. Prices are fair, Quality and freshness was just perfect. Great services by staffs. It was my first time to be in this Place and would be on top of my sushi places list. I loved the crunchiness of Prawn Tempura, It was just awesome. They refill Green Tea frequently which is great. – Alireza, Google Reviews
Quick and attentive service
A great spot on Davie St. for sushi! Service was quick and attentive. I really enjoyed their nigiri sushi and their special rolls. My friend got their yakiudon and said it tasted good as well. The presentation was nice and the restaurant wasn't too busy at 1pm on a Saturday. – Audrey, Google Reviews
5. Sushi Nova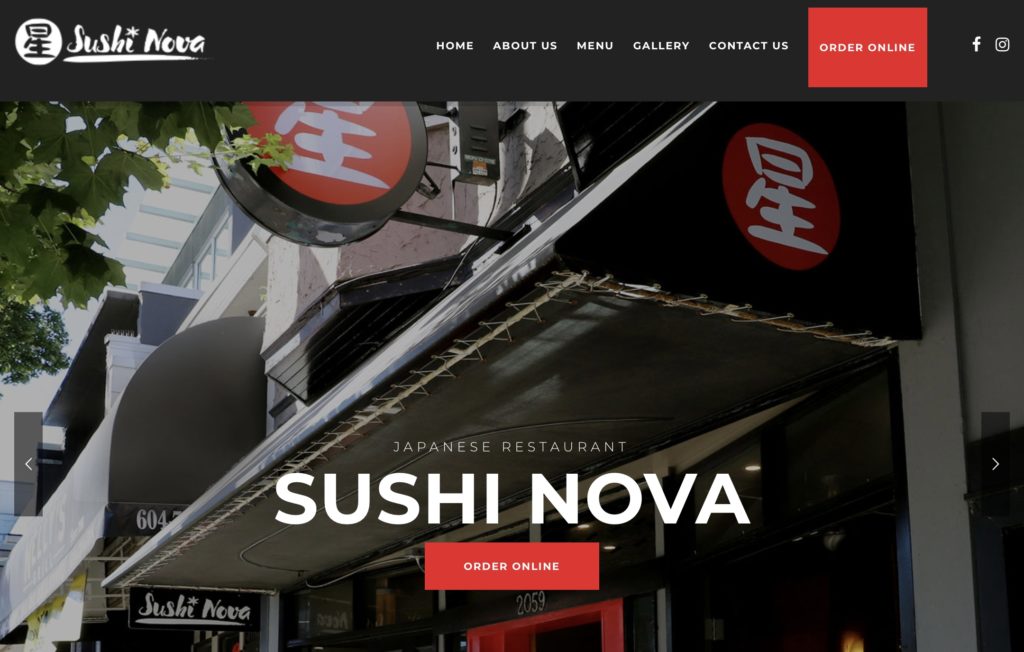 PRODUCTS
APPETIZERS
SALAD, SIDE & ROBATA
TEMPURA & TERIYAKI
DONBURI & SASHIMI
YAKI SOBA, YAKI U-DON
+ NOODLE SOUP
TEMAKI & NIGIRI
VEGETABLE ROLL
CLASSIC ROLL
NOVA SPECIAL ROLL
NOVA SIGNATURE DISH
CHEF'S SPECIAL SET
WEBSITE
https://sushinova.ca/en/index.php
ADDRESS
2059 West 4th Avenue, Vancouver BC V6J 1N3
CONTACT DETAILS
604 734 4990


[email protected]

OPERATING HOURS
7 Days a Week from 11:30 pm to 9:30 pm
| | |
| --- | --- |
| Criteria | Ratings |
| Food Quality | ★★★★☆ (4/5) |
| Service Quality | ★★★★★ (5/5) |
| Affordability | ★★★★☆ (4/5) |
| Menu Diversity | ★★★★★ (5/5) |
Sushi Nova is a dining gem that truly shines in the heart of our city. Our recent visit left us thoroughly impressed, and we are delighted to share our experience with you.
At Sushi Nova, impeccable customer service reigns supreme. From the moment we walked through the doors, our needs were anticipated and met with a smile.
Attentive staff ensured our dining experience was flawless, guiding us through the menu with expertise. It's a rare treat to encounter such professionalism in the service industry.
Convenience is often underrated, but Sushi Nova has mastered the art of making dining hassle-free.
Our reservation was honored promptly, and the restaurant's location couldn't be more convenient. It's clear they value their patrons' time as much as their taste buds.
Sushi Nova's menu is a symphony of flavors, a testament to the culinary prowess of their chefs. Each dish was a masterpiece, and our taste buds embarked on a delightful journey.
From the freshest sashimi to the most inventive rolls, every bite was a revelation. Whether you're a sushi aficionado or a newcomer, there's something here to please every palate.
Fine dining often comes with a hefty price tag, but Sushi Nova pleasantly surprised us. The quality-to-price ratio is exceptional, making it an affordable luxury.
We savored exquisite dishes without breaking the bank. Dining here feels like a high-end experience, but the bill won't leave you in shock
However, they can get fully booked easily due to popularity. We recommend booking a reservation ahead of time.
Quality products
Exceptional customer service
Competitive pricing
Innovative solutions
Fully booked easily due to popularity
Customer Reviews
"Impressed with their top-notch products and quick delivery. Highly recommended!"
"The customer support team went above and beyond to resolve my issue. Great service!"
6. Kishimoto Japanese Restaurant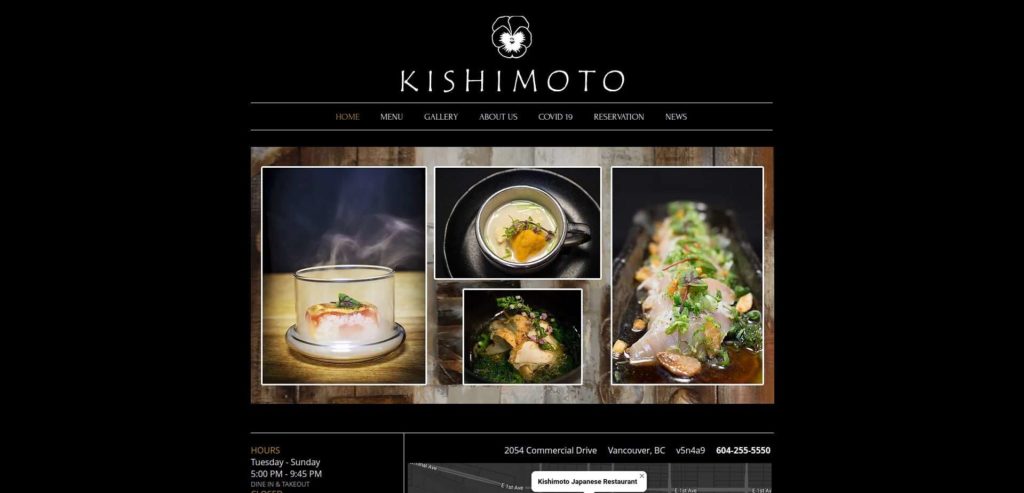 Test
Info
PRODUCTS
Sushi

Sashimi

Nigiri

Oshizushi

Soups

Noodles

Karaage

Desserts

WEBSITE
www.kishimotorestaurant.com
ADDRESS
2054 Commercial Drive, Vancouver, BC V5N 4A9
CONTACT DETAILS
604-255-5550
OPERATING HOURS
Tuesday to Sunday: 5:00 PM to 9:45 PM
| | |
| --- | --- |
| Criteria | Ratings |
| Food Quality | ★★★★★ (5/5) |
| Service Quality | ★★★★★ (5/5) |
| Affordability | ★★★★☆ (4/5) |
| Menu Diversity | ★★★★☆ (4/5) |
Although Kishimoto Japanese Restaurant isn't mainly a sushi restaurant, it still deserves a spot in the list. With 10 years under its belt, Kishimoto Japanese Restaurant has earned respect from its customers because of their food and service.
We and the customers agree on how good the food is in Kishimoto. The sushi and sashimi taste fresh and unique.
The decor and the atmosphere inside the restaurant give off a more modern vibe which matches the food they serve. Kishimoto does not promise a fully authentic Japanese dining experience, but they mix in a more contemporary style in a good way.
You can also see the modern influence in the way they present the food they serve. The food presentation is as good as it tastes and the ambiance overall feels more like fine dining rather than a traditional Japanese restaurant.
As expected with most fine dining restaurants, reservations may be necessary. The restaurant is only open for 4 hours a day and has limited seating, so it would be best to call beforehand instead of testing your luck with a walk-in.
Another disadvantage that Kishimoto has is that they have to limit groups to a maximum of 6 people. Nevertheless, the food and drinks they serve are too amazing to let these slight inconveniences prevent them from being one of the best.
Multiple vegetarian and gluten-free options
Relatively affordable sushi
Short opening hours
Reservation might be necessary
Customer Reviews
Friendly staff
My favourite Japanese restaurant ever. It run by the nicest people, the staff are basically like a family. The photos I took aren't even all of it, the food is beautiful and tastes even better!!! The black cod misozuke literally melts in you mouth!!!
They have a seasonal menu which is always delicious. They source foods locally when they can! They are always trying to create new dishes. I can't wait for the bar seating to open back up so we can watch and chat with the chefs!!
When I have friends and family visit Vancouver, this is always the first place I want to bring them!!
Here one tip I have if you are new: get the smoked Oshi!!!! It melts in your mouth and leaves a Smokey flavour that lingers even minutes after you are done. – Vivian, Google Reviews
Amazing fresh food
The food is amazing! The udon soup broth is the best I have ever tried so far! Sashimi is super fresh and they take on a very eye catching and detailed food presentation! – Yen, Google Reviews
FAQs about Sushi Restaurants in Vancouver
---
More Resources for your Food Cravings