5 Best Nightclubs in Vancouver
Whether you want to spend some time with your friends or intend to meet new people and dance in the crowd, the best nightclubs in Vancouver will be there for your needs.
In this article, we review the top nightclubs for the best night out. Continue reading to see which ones would cater best to your tastes!
How much does it cost to enter nightclubs in Vancouver?
Nightclubs in Vancouver usually charge an entrance fee separate from the prices of their food and drinks. Although the costs vary depending on the establishment, you can use the table below to have an idea of how much you can expect to pay on your night out.
| Product/Service | Price |
| --- | --- |
| Entrance Fee | $5 to $40 |
| Drinks | $4 above |
Top Nightclubs in Vancouver
To make sure we pick only the best nightclubs in Vancouver, we reviewed all of them using the following criteria:
1. Bar None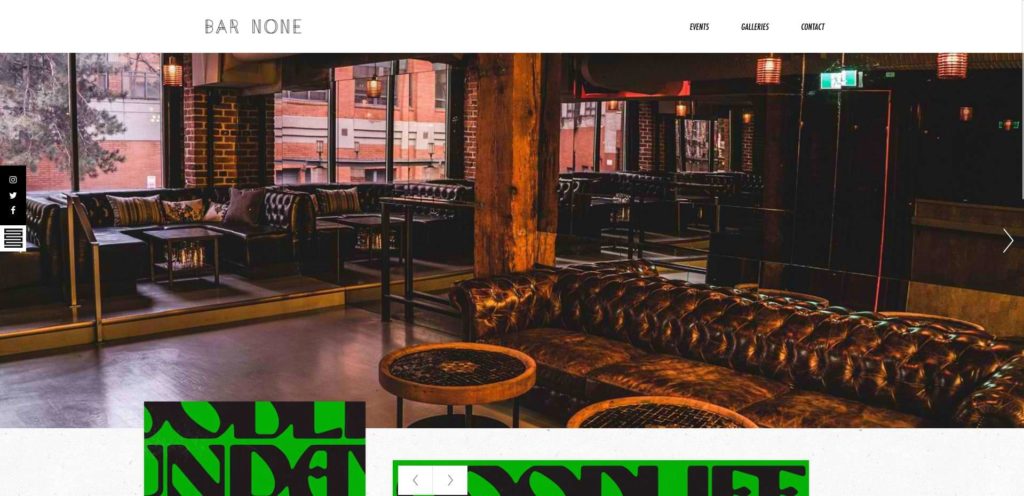 Test
Info
PRODUCTS
Drinks, Party Venue, Weekend Events
WEBSITE
barnoneclub.com
ADDRESS
1222 Hamilton Street, Vancouver, BC V6B 2S8
CONTACT DETAILS
Email:

[email protected]

604-689-7000

OPERATING HOURS
Friday: 10:00 PM to 3:00 AM

Saturday: 9:00 PM to 3:00 AM

Sunday: 10:00 PM to 3:00 AM
| | |
| --- | --- |
| Criteria | Ratings |
| Customer satisfaction | ★★★★☆ (4/5) |
| Service quality | ★★★★☆ (4/5) |
| Pricing | ★★★★☆ (4/5) |
Bar None Club is perhaps one of the oldest nightclubs in Vancouver. With more than 30 years in the industry, Bar None has enough experience to earn the respect of its patrons.
One of Bar None's biggest strengths is its weekly events. Although they are only open during the weekends, they make sure that their customers have a fun night.
They are highly transparent with their events, too. You can check out their website to see what's coming and who will perform that night.
As expected with a well-known nightclub, Bar None is often jam-packed with people waiting outside. Some of the customers we interviewed complained that they had to wait outside for around two hours before getting a chance to get in.
If you can get in after the long wait, you will be in for a good time. Bar None is located in a converted warehouse, so the bricks and exposed wood give off an old but classic vibe.
The lights and sounds are amazing, but some found the music to be too loud for their tastes. We thought that the music they played was decent, but some customers we interviewed weren't big fans of some of the DJs.
Regardless of whether you like the music, one thing is for certain for us and the customers: the service is great. The bouncers are courteous and the bartenders are full of smiles and take good care of their clients.
Although the drinks are fairly expensive, the attentive staff and the weekly events make Bar None deserving of a spot on our list.
Lists down special events
Hosts events every week
30 years in the business
Drinks are fairly expensive
Lines are very long
Customer Reviews
Amazing bartenders
As a bartender in the nightlife industry, I enjoy going out on my nights off where I encounter amazing bartenders in this city! Every time I go to Bar None, I am always greeted with smiles and friendliness by all staff members! Great music and vibes all around. Find me at 1 of their 3 bars having the best time with: Andrew. W, Andrew. R, and Nina. D! My favorite bartenders at Bar None. 10/10 recommend checking this place out for all your celebrations.- Vanessa, Google Reviews
Great music and atmosphere
Such a fun place to be! Love spending a Saturday night here with friends. Music and atmosphere are great. Sharina the bartender was very sweet and offered amazing service! Shoutout to the guy who works in the washroom as well, he's great and never fails to disappoint! – Steven, Google Reviews
2. Gorg-O-Mish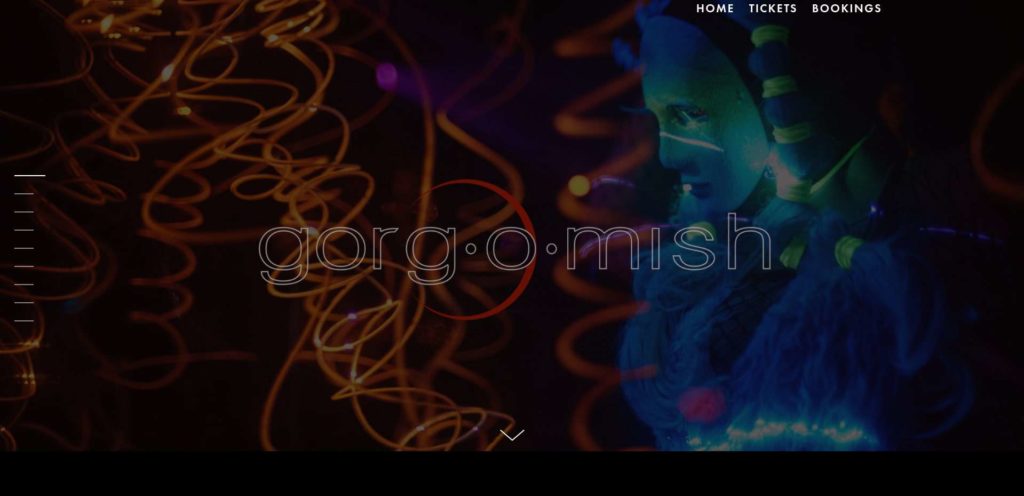 | Test | Info |
| --- | --- |
| PRODUCTS | Night Events, Drinks |
| WEBSITE | gorgomish.com |
| ADDRESS | 695 Smithe STreet, Vancouver, BC V6B 2C9 |
| CONTACT DETAILS | 604-694-9007 |
| OPERATING HOURS | Saturday and Sunday: 2:00 AM to 8:00 AM |
| | |
| --- | --- |
| Criteria | Ratings |
| Customer satisfaction | ★★★★☆ (4/5) |
| Service quality | ★★★★★ (5/5) |
| Pricing | ★★★☆☆ (3/5) |
Gorg-O-Mish is an after-hours nightclub in Vancouver known for its beautiful venue and its music.
We say after-hours because the nightclub is only open from 2 AM to 8 AM. This makes Gorg-O-Mish a good place for afterparties and not the best choice for those who have work the next day.
Customers we interviewed lamented the high entrance fee but praised the club once they got inside. Gorg-O-Mish has a modern underground aesthetic bathed in neon lights which matches the genre of music they play.
The club invites both international and local DJs which play mostly techno, house, and trance music. As such, you can expect the crowd to be filled with youths but older people also attend and join in the fun.
The bouncers at the entrance are slightly intimidating which is understandable since it's their job; however, the bartenders and the staff inside are helpful and attentive.
There are multiple areas where you can sit, either close to or away from the dance floor. This availability of seating areas is good for people who want to get as close to the center or prefer a more relaxed time with their friends.
Overall, the fun lights and music and the refreshing drinks give Gorg-O-Mish a right to be called one of the best despite their relatively exorbitant entrance fee.
15 years in the business
Multiple seating areas
Opens in the early morning
Slightly expensive entrance fee
Customer Reviews
Helpful and accommodating staff
I have type 1 diabetes, which can be a righteous annoyance for concert or music venues in general. However the Staff was really accommodating, the 2 women running coat check were helpful in keeping my bag in an easily accessible place and grabbing it for me quickly whenever I'd ask for it.
People being that helpful and accommodating is unfortunately not the most common thing to encounter. So I always appreciate it when I come across it. It made everything far less stressful which let me enjoy my time more and just take in the music. Had a great night – Spencer, Google Reviews
Serves hydrating drinks
Vancouver after hours club. Underground vibes in the music, they only serve hydrating drinks and premixed Gatorade-vodka shots. Definitely recommend to check the place out, keep an eye for any "activities" to stay away from trouble as with any other after-hours club. They're open till 8am! – Praneeth, Google Reviews
3. The Roxy Cabaret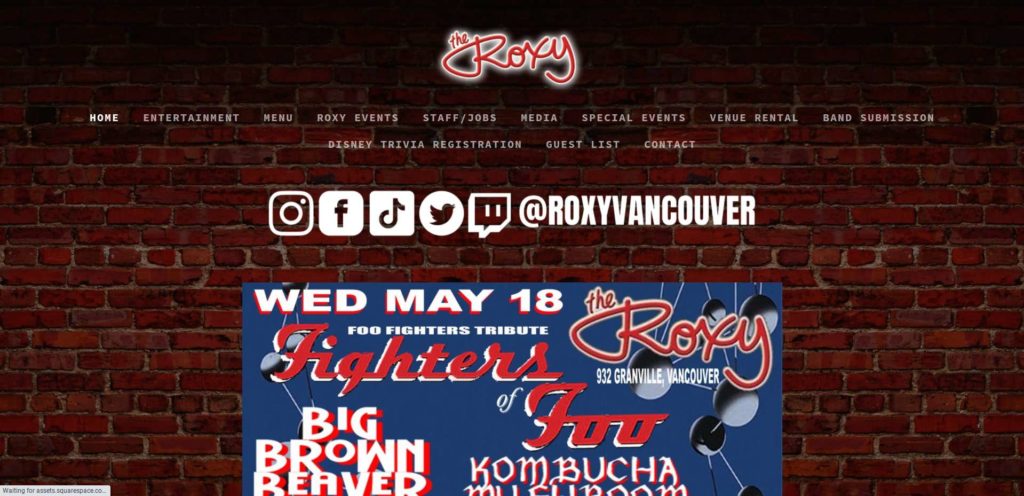 Test
Info
PRODUCTS
Beers

Spirits

Shots

Craft Beer

Live Music

WEBSITE
roxyvan.com
ADDRESS
932 Granville Street, Vancouver, BC V6Z 1L2
CONTACT DETAILS
604-331-7999
OPERATING HOURS
Daily: 8:00 PM to 3:00 AM
| | |
| --- | --- |
| Criteria | Ratings |
| Customer satisfaction | ★★★★☆ (4/5) |
| Service quality | ★★★★☆ (4/5) |
| Pricing | ★★★★☆ (4/5) |
Next on our list is The Roxy Cabaret, another one of the oldest nightclubs in Vancouver. Established in 1988, The Roxy has decades of experience ahead of its competitors when it comes to service and live music.
Unlike other nightclubs, The Roxy Cabaret's performers do not perform much of the modern, bass-heavy music. This nightclub is best suited for people who enjoy pop, rock, and country music.
One of The Roxy Cabaret's strengths is that it allows its customers to look at the entire menu on the website unlike other nightclubs.
This is a great inclusion to their page because it gives customers an idea of how much they might need to spend for that night. Still, customers do not have to worry since the nightclub's drinks and its cover charges are on the relatively cheaper side.
The venue of the Cabaret can seat over 300 people, but due to its popularity it can get crowded on some nights. Despite the large number of customers, the people we interviewed still praised the bartenders and staff for being lively, attentive, and courteous.
If you are looking for a more affordable place for your night out and enjoy a different kind of music, The Roxy Cabaret just might be what you're looking for.
Lists down menu and their prices
Live music 7 days a week
Entrance fee is relatively cheap
Lists down menu and their prices
Live music 7 days a week
Entrance fee is relatively cheap
Customer Reviews
Great drinks for a good price
A great place with some great music! Every charges were $15 when we went last week! The drink options are decent! – Aswathy, Google Reviews
Quick, attentive service
Huge energy with the music. House band rocks so hard! Plus new acts will come all the time as well. Service was fast and they were constantly ready for their tables. The staff was really fun and engaging, they took time to be a part of the fun with everyone.
10 stars for the re-opening of The Roxy!!
So happy you're back and better than ever! – Dillon, Google Reviews
4. Fortune Sound Club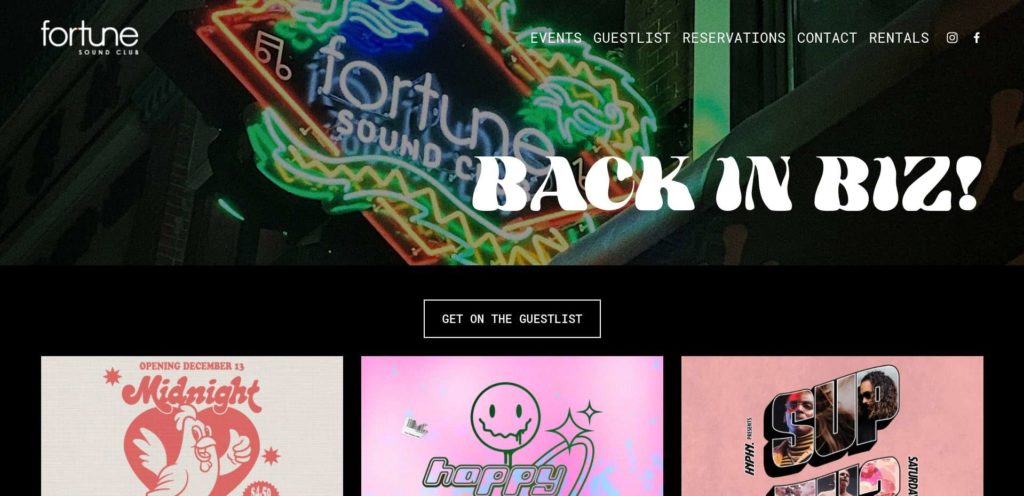 Test
Info
PRODUCTS
Live Music

Tickets For Special Events

Drinks

WEBSITE
www.fortunesoundclub.com
ADDRESS
147 E Pender Street, Vancouver, BC V6A 1T5
CONTACT DETAILS
604-569-1758
OPERATING HOURS
Friday and Saturday: 10:00 PM to 2:00 AM
| | |
| --- | --- |
| Criteria | Ratings |
| Customer satisfaction | ★★★★☆ (4/5) |
| Service quality | ★★★★☆ (4/5) |
| Pricing | ★★★★☆ (4/5) |
Fortune Sound Club is an Asian-owned club in Vancouver located in Chinatown. You can see the Asian influence in their architecture, especially in their facade that features a traditional aesthetic.
However, don't let the entrance fool you. Once you get in, you will be greeted by a more contemporary vibe bathed in beautiful neon lights.
Within the nightclub is a venue that can accommodate around 400 people. Although the club can host a large crowd, some of the customers we interviewed reported waiting outside for around 30 minutes to 2 hours just to get in.
The drinks the club offers do not cost a fortune, and the bartenders are all smiles and attentive. However, we did hear from some customers that some bouncers and staff were rude although we did not experience them firsthand.
The nightclub is only open on Fridays and Saturdays, but they do open on other days if they are hosting a special event. Fortune hosts many professional singers and DJs, either from the local scene to more international performers.
Another strength that Fortune Sound Club has is that it rents out private rooms for those who want to get away from the crowds. The private rooms have karaokes too, making them perfect for a night out with friends or with workmates.
Reasonably priced drinks
Has private rooms
Reports of rude staff
Long waiting time
Customer Reviews
Reasonable drink prices
Been a regular at fortune sound club for about 3 years now. This place never fails to amuse me every time I go. Best sound system in the entire BC I would say. You can feel the beats inside of your body. Gave me goosebumps. Best DJ's that play hip-hop and pop music. And the drinks and bottle service are very reasonable. This is a must if you love clubbing and dancing to the most popular songs with your friends. – Siddarth, Google Reviews
Awesome locations and aesthetics
I was able to see an incredible show by Georgias Mattiel here. What an awesome venue! The size is what you want for an intimate concert/show. They support local artists, the drinks are semi-reasonable and the place also doubles as a club. I'd recommend this place if any of your favourite bands are playing here. It has an awesome location, and the aesthetics of the place are just cool. – DDPRR, Google Reviews
5. Fox Cabaret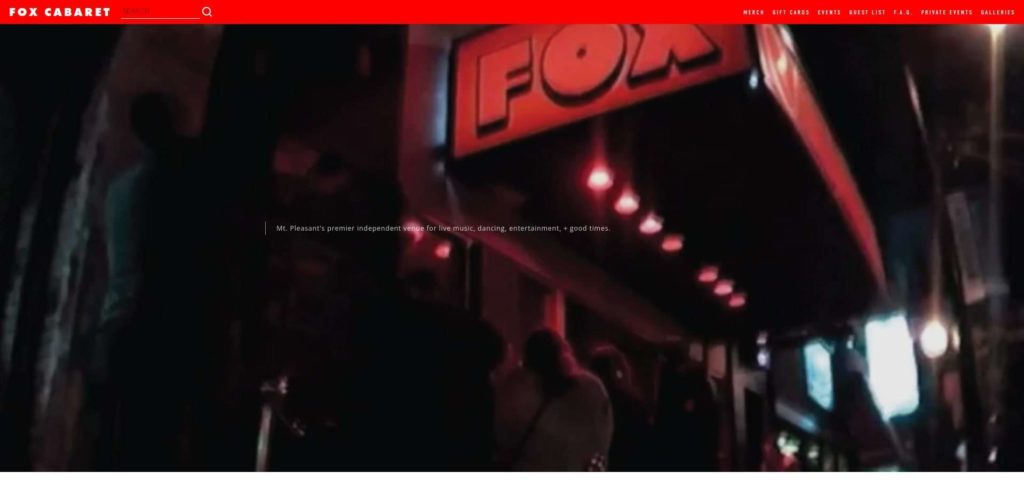 Test
Info
PRODUCTS

Live Music

Venue Rental

Drinks

Tickets For Special Events

WEBSITE
www.foxcabaret.com
ADDRESS
2321 Main Street, Vancouver, BC V5T 3C9
OPERATING HOURS
Sunday to Thursday: 8:00 PM to 1:00 AM

Friday and Saturday: 8:00 PM to 2:00 AM
| | |
| --- | --- |
| Criteria | Ratings |
| Customer satisfaction | ★★★★★ (5/5) |
| Service quality | ★★★★★ (5/5) |
| Pricing | ★★★★☆ (4/5) |
The Fox Cabaret is a nightclub in Vancouver that sits in a remodeled old theater. As such, you can see remnants of its history when you enter the venue.
The inside of the Cabaret is something straight out of a film: the high ceilings and the projection room are reminiscent of movie theaters back in the 80s. Despite the age and history of the place, The Fox Cabaret still does its best to be as modern and as inclusive as possible.
Its inclusivity is one of its strengths. The Fox Cabaret has plenty of parking, accessible through public transit, and the entrance is wheelchair accessible.
The bathrooms here are also gender-neutral. We believe that it is important to state this so that you would not be taken by surprise when you see people of the opposite sex leaving the stalls.
Shows and events held at the Cabaret usually sell tickets at the door, but you can also avail them online to make it more convenient for you. Many of the customers we interviewed liked the ticket and drink prices, since they are relatively more affordable compared to other nightclubs.
We also had no trouble with the staff, who were all helpful and friendly especially to those who needed it. Some of the customers we talked to use wheelchairs, and they had no complaints when it came to management and bartenders.
Affordable events and drinks
Large seating area
Clean and organized
Customer Reviews
Affordable drinks and events
The events here are affordable and the bar has decent prices on drinks. For basic beers in cans I think the price could be a bit cheaper, but I suppose it's on par with other places.
Staff is helpful and always friendly. Lots of seating and parking isn't difficult to find. Great place to go with friends from out of town. – Rob, Google Reviews
Friendly staff
One of Vancouver's best boutique venues. Friendly staff, great vibe, amazing sound system, & I LOVE the decor. This place was once a movie theatre & the old projection room upstairs is super funky, great for private parties or a nice spot to chill away from the dance floor. Fun bar to watch a live band or dance to DJs. I highly recommend. – Jill, Google Reviews
FAQs about Nightclubs in Vancouver
More Resources for your Night Out