The 5 Best Alcohol Delivery Services in Vancouver
For whatever reason, you feel the need to have a drink. But you don't have anything at home stronger than a glass of water.
To help you out, we've put together a list of the best alcohol delivery services in Vancouver. Here, we've reviewed the best options for getting liquor delivered when you're too lazy to pop out yourself.
The Cost of Alcohol Delivery in Vancouver
Here are some estimates of how much it costs to purchase and then deliver alcohol, not to mention the tip you may feel inclined to give the delivery person.
| Item | Cost |
| --- | --- |
| Beer | $3.30+ per can $3.00+ per bottle |
| Wine | $11.00+ per bottle |
| Spirits | $3.43+ per bottle (Vodka) $4.00+ per bottle (Scotch whisky) |
The Best Alcohol Delivery in Vancouver
We assessed the alcohol delivery services based on the following:
1. Darby's Liquor Store and Alcohol Delivery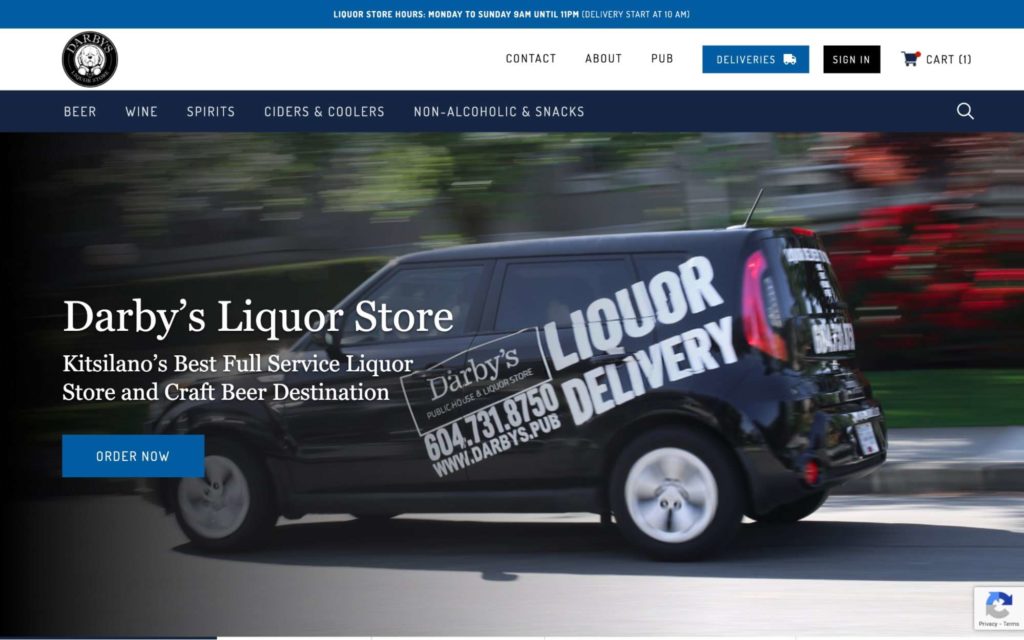 Test
Info
ADDRESS
2001 Macdonald St Unit A, Vancouver, BC V6K 3Y2
WEBSITE
https://darbysliquorstore.com/
CONTACT DETAILS
(604) 731-0617 (Pub) (604) 731-8750 (Liquor Store)

Email: [email protected]

OPERATING HOURS
9:00am to 11:00pm

delivery is from 10:00am to 11:00pm
| | |
| --- | --- |
| Products | ★★★★★ (5/5) |
| Ease of delivery | ★★★★☆ (4/5) |
| Fees | ★★★☆☆ (3/5) |
| Customer Satisfaction | ★★★★☆ (4/5) |
What we liked about Darby's Liquor Store and Alcohol Delivery was their wide range of products. There's a lot available to order: domestic beer, imported beer, wines, spirits, ciders… and they even have non-alcoholic drinks like soda and alcohol-free beers.
They have snacks too and we liked that they included snacks as part of their delivery service. That shows us that they know that some customers are going to want something to nibble on while they have a drink.
Another thing that we really liked about them was their delivery hours. They deliver alcohol from 10 in the morning to 11 at night and we like that they consider night owls (like us) who may want a drink even later in the evening.
They do parties and events as well, so larger orders shouldn't really be a problem. This is something we appreciate too since not every customer is going to be just one person ordering for themselves.
We also think that it speaks to the size of their stock that they're able to handle larger orders.
If there's one thing that didn't entirely blow us away, it's the pricing. We took note of a few customers complaining about the prices of the items on sale and did see a few price tags that are a bit higher than normal.
Wide range of products
Long delivery hours
Some products are expensive
Customer reviews:
"Incredible experience at Darby's. We were stuck in isolation due to recently arriving back in the country, and placed an online order at Darby's. Gave them a quick call to see how long delivery would be and was told "likely less than 45 mins". I placed the order, and 10 minutes later the lad showed up with the booze. Polite, speedy, no delivery fee, great range of options. Really can't be beat." – Vinny Minett
"Brendan helped me buy the liquor for my wedding. He delivered everything he promised. I phoned him on short notice and not only did he order in what I requested, but had it delivered on time and all at a reasonable price. I highly recommend this liquor store for event planning or casual purchases. He made sure I had one less thing on my plate that day so 10s across the board" – Rob Isaac
2. Legacy Liquor Store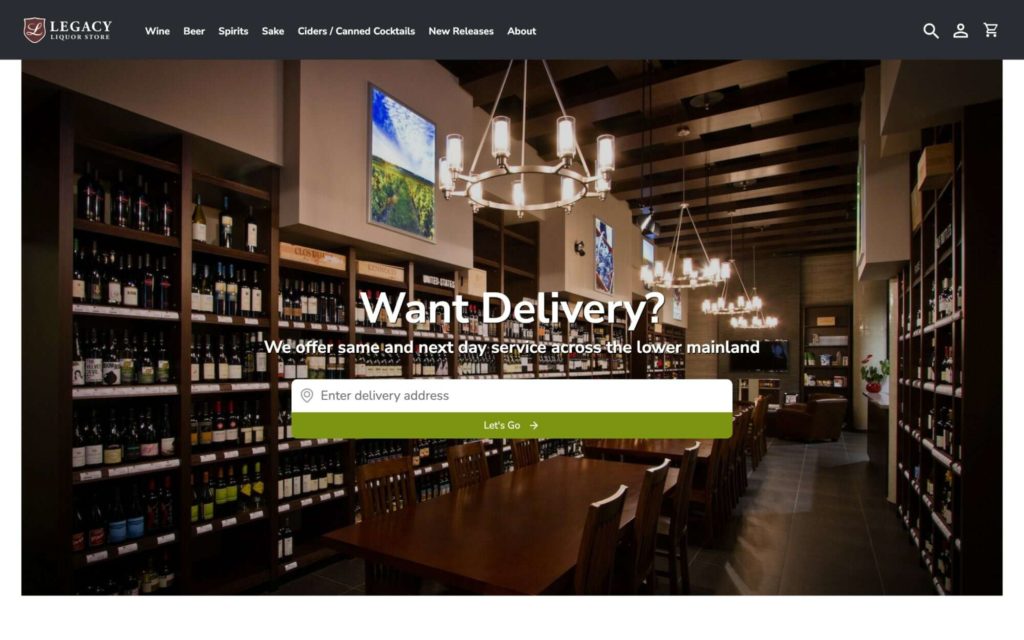 | | |
| --- | --- |
| Products | ★★★★★ (5/5) |
| Ease of delivery | ★★★★☆ (4/5) |
| Fees | ★★★★☆ (4/5) |
| Customer Satisfaction | ★★★★☆ (4/5) |
Here's what we liked about Legacy Liquor Store: their selection. They have a pretty wide range of products available both in-store and online for delivery.
There's a lot of different kinds of beer, wines, spirits, and liqueurs for people who want to try making their own cocktails at home instead of going to a bar.
And to add to that, they have a pretty solid delivery service. They have a well-laid-out online store too, so shopping for liquor is a similar experience to buying a new pair of pants online.
We like that about their online store because that can be pretty convenient for buyers who might have gotten used to online shopping.
There's also two options for their delivery: you can get either same-day or next-day delivery.
Having those two options is something we like. Not everyone is in enough of a rush to pay for the convenience of same-day delivery, and yet most people would want their orders delivered faster, so next-day delivery is still speedy.
The only thing we've seen that we didn't immediately love is that some items are pricier than they usually are at other shops. We noticed a handful of customers complaining about the prices too, so it's not just us.
There's also great customer service. We noticed that when there's an issue with an order, the staff will do everything it can to correct that issue for the customer.
Diverse array of products
Same-day and next-day delivery
Some products might be a tad pricey
Customer reviews:
"Incredible selection of high end spirits with equally professional staff. Not only did they have everything I needed but when an issue with my order arose the staff at the service counter & the manager on duty went above and beyond to help me out. Eager to return" – Iggy Obo
"I don't think it's too much of a stretch to say this is the best liquor store in Metro Vancouver. The best selection of local craft beer you could hope for, plus some from the US and all over the world. They even break up the beers into singles so you can try new things without committing to a full pack. All the wine and spirits you could want, too." – James Lamers
3. Lennox Liquor Store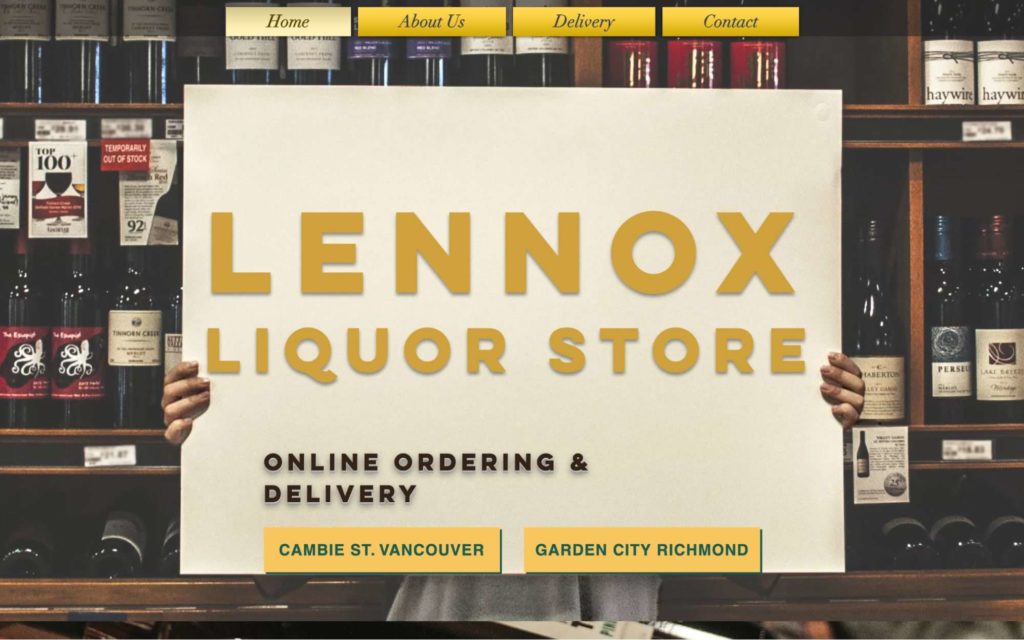 | | |
| --- | --- |
| Products | ★★★☆☆ (3/5) |
| Ease of delivery | ★★★★☆ (4/5) |
| Fees | ★★★★★ (5/5) |
| Customer Satisfaction | ★★★★☆ (4/5) |
There's a lot to like about Lennox Liquor Store and chief among those things are their prices. We found their items to be reasonably priced and well within the typical price range for them.
The selection is also decent. We found the basics like beer, wine, and spirits to be more than enough to suit a wide variety of tastes and moods.
Another thing that we liked about their selection is that they also have a lot of drink-related products and paraphernalia. They offer corkscrews to help you open bottles of wine and gift bags should you choose to give those bottles of wine away as presents for someone.
If there is one thing about them that didn't immediately wow us, it was that their selection can be somewhat basic. It's fine and they've got most everything covered, but we've noticed customers complaining that there's not a lot more than the basics.
In short, it's a good place to go for staples, but not for more exotic tipples.
Like most of the other shops, by the way, they use an online system for oders, and there's a 20 percent fee for handling.
Overall, we liked Lennox Liquor Store. We found them to be a great place to get classic and essential drinks at good prices.
Good prices
Also offers drink-related products
Customer reviews:
"The Beer is alot colder the most liquor stores. Their is also a wide variety of wine's and Hard liquor. Opens at nine oclock in the morning. Very friendly and helpful staff' – Jeffrey Timmins
"Nice staff and all the options available. The great place to find almost everything and great prices." – Christine Harris
4. Crosstown Liquor Store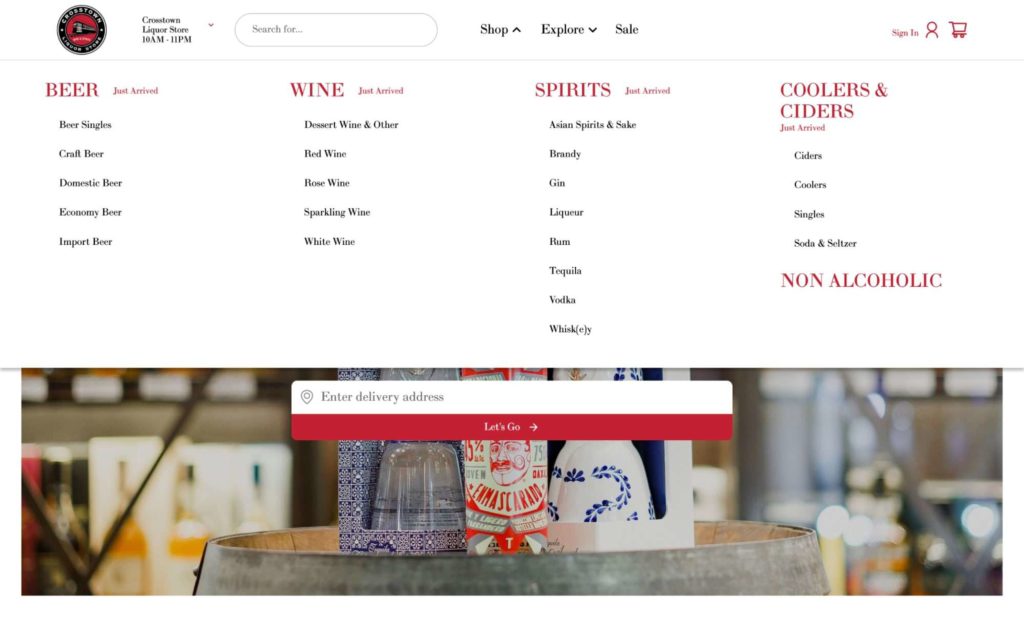 | | |
| --- | --- |
| Products | ★★★★☆ (4/5) |
| Ease of delivery | ★★★★☆ (4/5) |
| Fees | ★★★★★ (5/5) |
| Customer Satisfaction | ★★★★☆ (4/5) |
We've found a lot about Crosstown Liquor Store to be liked. The first is their very wide selection: beer, craft beer, wines, spirits.
Basically, if it's an alcoholic beverage that can be drunk, then they've got it available for you to purchase. We love when stores give their customers a lot of options.
That's particularly true about the wine, though it can be a double-edged sword. We've noticed some customers saying that the selection of wine here is so large that it can be intimidating.
Their selection of craft beer can also change from time to time, by the way, so there might be something new in store for repeat customers on occasion. It creates opportunities for people to try craft beers they may have never heard of before.
Speaking of their selection, they also have cards for a wide variety of occasions, which is great for customers who may have an event coming up.
We like that they're able to curate these things for customers in order to maximize the overall experience.
The only real drawback we've noticed with them is that some customers have found their staff to be rather rude. But it's only a handful of customers, and dealing with staff is a moot point when you're getting your items delivered anyway, so it's not something that should be too distressing.
Curated selection
New craft beers introduced from time to time
Some reports of rude staff
Customer reviews:
"Friendly and efficient staff; never have to wait long in lineup." – Robert Larsen
"Intimidatingly large selection of wine. The craft beer selection always changing with new, and fun local beers, but always well stocked with my faves. I love that all the prices advertised include tax and deposit, which actually ends up being the close to same as the BCL (classic government, never up front about anything!). The staff are awesome, and don't put up with the neighborhood riff raff. I definitely appreciate the employees not only working through pandemic, but being open until 11pm every day, even on holidays. Crosstown is truly a pillar of the community." – Chloe Anderson
5. Kitsilano Liquor Store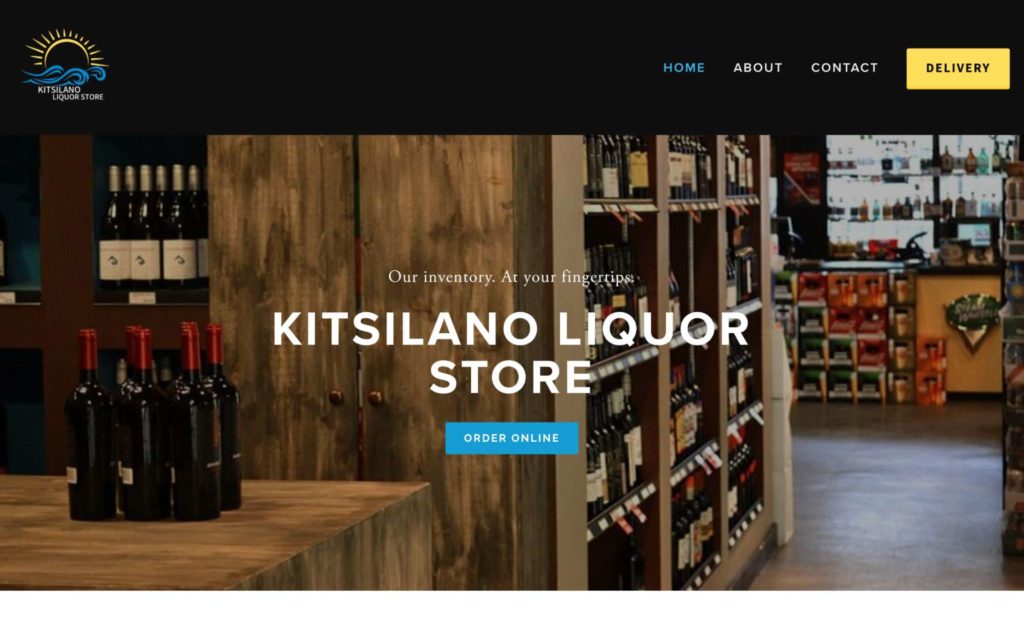 | | |
| --- | --- |
| Products | ★★★★☆ (4/5) |
| Ease of delivery | ★★★★★ (5/5) |
| Fees | ★★★★★ (5/5) |
| Customer Satisfaction | ★★★★★ (5/5) |
The thing about Kitsilano Liquor Stores' delivery service is that it's really convenient. That's because they don't do it entirely in-house and instead use third-party platforms whose apps can be installed on a phone.
Why do we like that? Because the platforms they use are very smooth. They're actually easier to deal with than most of the websites their competitors use.
Other than how easy it is to order, we also liked what they have available to order. There's a pretty wide selection of local and imported beers, wines, spirits, and other alcoholic beverages.
Their customer service also seems really solid. We found nothing to complain about in our test order and delivery, for instance.
Moreover, when we turned to their customers for testimonials, we got a lot of anecdotes that supported this impression. Several people who had problems with their orders told us of staff doing everything they could to resolve their issues quickly.
Another (small) thing we like is that they offer non-alcoholic drinks like sodas and tonics too. It's especially useful for getting other ingredients for cocktails.
Overall, we found ordering from Kitsilano Liquor Store to be an easy, convenient experience.
Delivery can be done through user-friendly apps
Great customer service
Third-party apps can some sometimes make mistakes in the orders
Need to install third-party apps to order
Customer reviews:
"They always have great IPA's, they're always friendly, helpful and they didn't discriminate when I went in without a mask. They never questioned or belittled me like the guys at Burrard… bring your business here!" – David Bisanz
"I ordered a couple bottles of red wine from here through Skipthedishes and received a corked bottle. Unfortunately Skipthedishes were useless and couldn't comprehend what a corked bottle was. I was so blown away by the customer service of Dave Benson at the Kitsilano Liquor store who contacted me to rectify the situation. Not only did I get a sincere apology, but he brought me a replacement bottle as well. He went out of his way and it was so appreciated. Thanks again Dave!" – Leta Forbister
FAQs about Alcohol Delivery in Vancouver
---
If you're looking to get a drink somewhere that's not your own home, by the way, check out this list of the best bars in Vancouver as well.