The 5 Best Short Term Rentals in Vancouver
Finding a place to stay is always one of the first steps when going on a vacation, a business trip, or moving to a completely new city.
Short-term rentals can provide alternative accommodations that are both reasonable and convenient in terms of price, length of stay, and cancellation policies.
Here, we list down our picks for the top short-term rental places that can help you find the best rooms in Vancouver.
How much do room rental rates cost in Vancouver?
Before we get into our list, we will give you first an idea of the typical room rental prices in Vancouver. This table will also help you manage your budget and ensure you get what you pay for.
However, please note that these prices are subject to change. It's best to check out the prices on their website to make sure.
| Room type | Average monthly rent |
| --- | --- |
| Fully-furnished rooms | $1,600 - $4,000 |
| Unfurnished rooms | $1,000 - $2,500 |
| Studio/Apartment rooms | $750 - $1,300 |
| Condominium rentals | $2,000 - $7,000 |
To lessen your workload, we searched for the best rental services in Vancouver. We used the following criteria to do so:
1. Vancouver for Living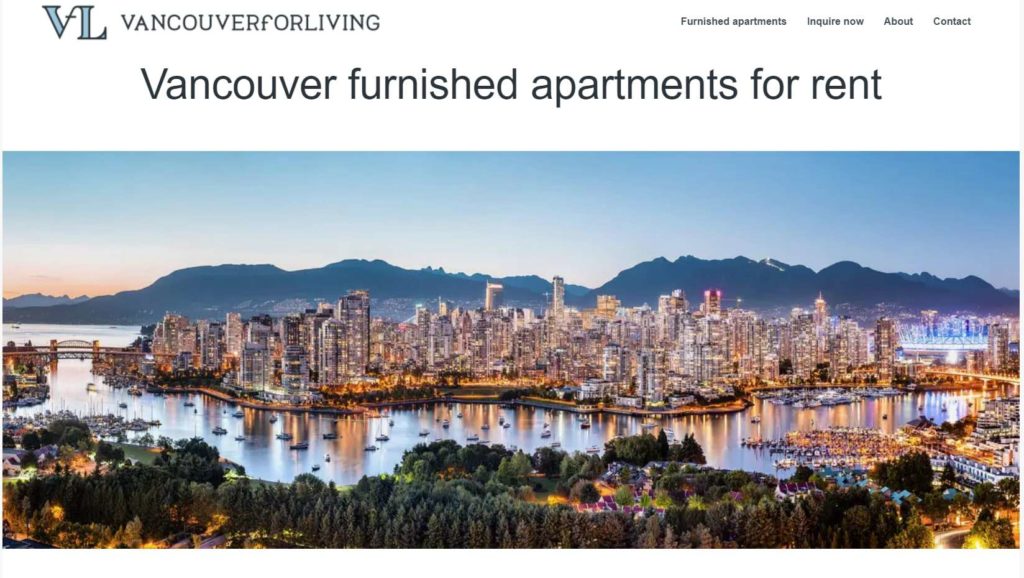 | | |
| --- | --- |
| FLEXIBILITY | ★★★★★ 5/5 |
| CUSTOMER SERVICE | ★★★★☆ 4/5 |
| FEATURES | ★★★★☆ 4/5 |
| PRICING AND PAYMENT OPTIONS | ★★★★☆ 4/5 |
VancouverforLiving is a small Vancouver rental apartment management company based in Yaletown.
The first thing we noticed is how transparent they are about their services online.
This company provides a list of available furnished apartments as well as other important information such as rates, building features, and policies.
In terms of variety, VancouverforLiving provides one and two-bedroom apartments, studio rooms, condominium rentals, and many other options.
We discovered how simple it is to contact them via their website. They provide prospective tenants with an apartment application form on which they can easily state their preferences.
All you have to do is fill out their form, and they will find you an apartment!
In terms of pricing, this company openly displays all of its rates on its website. Their payment methods, however, are not available.
What we love about VancouverforLiving is its flexibility. They offer long-term, short-term, weekly, and nightly stays.
This establishment also provides fully-furnished apartments to renters, as well as 24-hour management and maintenance. They are with you from the time you sign your lease until the day you move out.
Flexible length of stay
Rates are available on their website
24-hour management and maintenance
No payment method listed on their website
Charges move-in fee
Customer Reviews
Great service
"Great Yaletown location. Couple of blocks to the seawall and parks. Food market is right across the street. Everything is close and within a walking distance. The apartment manager is very friendly and helpful who takes care of any issues asap. Would love to stay here again!." -Olga
2. Make Yourself at Home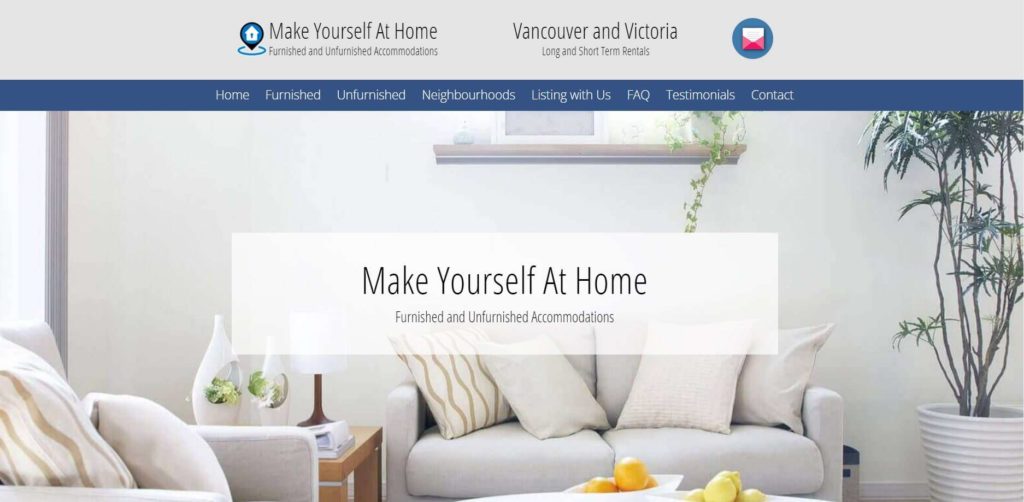 | | |
| --- | --- |
| FLEXIBILITY | ★★★★★ 5/5 |
| CUSTOMER SERVICE | ★★★★★ 5/5 |
| FEATURES | ★★★★☆ 4/5 |
| PRICING AND PAYMENT OPTIONS | ★★★★★ 5/5 |
Make Yourself at Home has been renting out fully furnished and unfurnished houses and apartments all over Vancouver.
This includes West and North Vancouver, New Westminster, Burnaby, Victoria, and now the Okanagan, BC, since 2003.
To start with, they offer a wide variety of both furnished and unfurnished rentals. This includes condos, apartments, suites, and houses.
Moreover, we discovered that they offer long and short-term stays, as well as business travel, relocation, and vacation getaways.
One thing that caught our attention is this company's personal assurance that they've inspected each property that they're selling.
Customers are pleased that the rental properties' descriptions accurately reflect the property itself, which we notice right away. Plus, they don't charge an administrative or booking fee to prospective tenants.
Make Yourself at Home has affordable pricing and payment options, and the way it works is that you pay the property owner directly via certified check, money order, or wire transfer.
You can also send money through INTERAC Email Money Transfers. This greatly improves the overall convenience of the rental process.
To sum it up, Make Yourself at Home has gained a stellar reputation, as shared by the numerous positive testimonials we've received from happy clients we've spoken to.
Has both furnished and unfurnished units
Flexible length of stay
Numerous payment methods
No booking fee
Viewings are not available
Limited unfurnished properties
Customer Reviews
Professional and always willing to assist
"We've been a client of MYAH for 10 years and their service has been fantastic. They do a great job for both renters and homeowners, balancing the needs of both as they make connections. Always professional, efficient, and seemingly working at all hours of the day." -Paul K.
Prompt response to inquiries
"Make Yourself at Home is a wonderful agency to deal with. They are extremely professional and very quick to respond to inquiries. I would definitely use their services again in the future. I have also recommended them to others." -Spencer L.
3. Rent It Furnished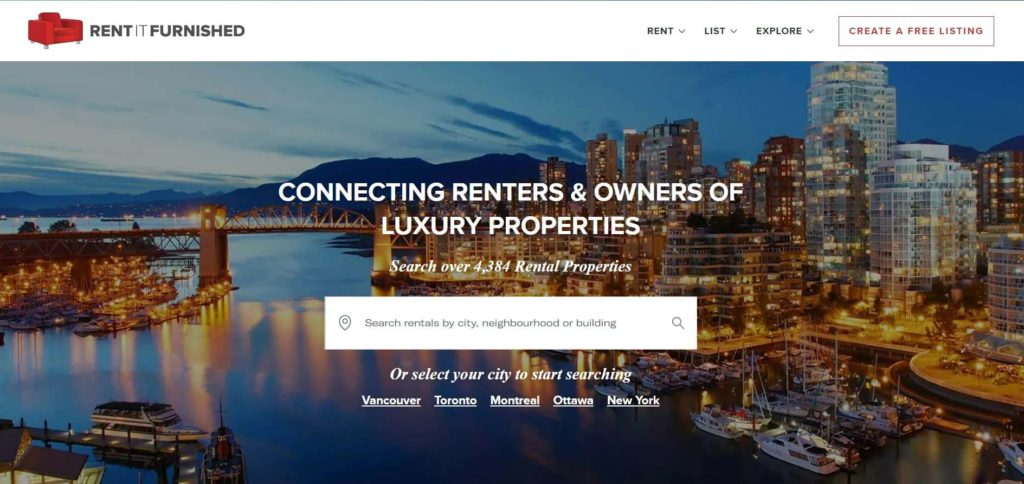 Test
Info
SERVICES
Short-term rentals

Long-term rentals

Property consulting services

ADDRESS
#110 – 1020 Mainland Street Vancouver, BC V6B 2T5
CONTACT DETAILS
604-628-3457
OPERATING HOURS
Monday to Friday - 09:00 AM - 05:30 PM
WEBSITE
https://rentitfurnished.com/
| | |
| --- | --- |
| FLEXIBILITY | ★★★★★ 5/5 |
| CUSTOMER SERVICE | ★★★★☆ 4/5 |
| FEATURES | ★★★★★5/5 |
| PRICING AND PAYMENT OPTIONS | ★★★★☆ 4/5 |
Since 2009, Rent It Furnished has provided homes to renters in Vancouver, Toronto, and Montreal. They are one of Vancouver's most established rental shops, with over 4,000 furnished and unfurnished apartment rentals.
Thousands of customers have gone back and forth to use the company's rental services or to advertise their properties because it has been a fixture in the region for more than a decade.
When it comes to variety, Rent It Furnished can locate any property, both furnished and unfurnished, for you.
They have studios, apartments, condominiums, and single-family homes to choose from. For customers who want to rent on a nightly or weekly basis, they also offer a variety of stay duration options.
Unfortunately, we have received mixed reviews from this establishment. Some clients reported dissatisfaction with the staff's response time to their questions.
While others, on the other hand, have said that Rent It Furnished's timely and excellent customer service made the entire renting procedure go more smoothly. This is crucial to remember while dealing with this company.
The fact that this organization provides free property search and consultation services is one of our favorite features.
Furthermore, we like that they assist their tenants in obtaining insurance. They also provide full property management services such as tax solutions, net profit optimization, and vacancy reduction.
Overall, this company provides a decent balance of convenience and affordability. Because their agents have extensive knowledge, using their services will certainly result in you finding an affordable property of your choice.
Free property search and consultation services
Has both furnished and unfurnished units
Offers property management assistance 
Other properties listed may be managed by an outside agency or individual owners
Limited vacancies for some properties
Customer Reviews
Quick response and top-notch customer service
"I found a fully furnished, managed apartment in Vancouver, BC through RentItFurnished. I reached out to Jordan Gill and heard back from him within 24 hours: Jordan helped me identify options given my move-in date and location preferences and was super responsive and resourceful in each stage of the process from apartment discovery to signing the lease. I chose to lease my apartment through RentItFurnished rather than any other rental service because of Jordan's resourcefulness and timely responses." -Deeptanshu M.
Hassle-free renting process
"Michelle B was awesome! She handled all my questions in a timely and well-informed fashion. She got back to me outside of office hours and was always the utmost in professionalism! Thanks, Michelle, for helping me find a home in a quick, stress-free and professional manner!!." -Lisa F.
4. Corporate Stays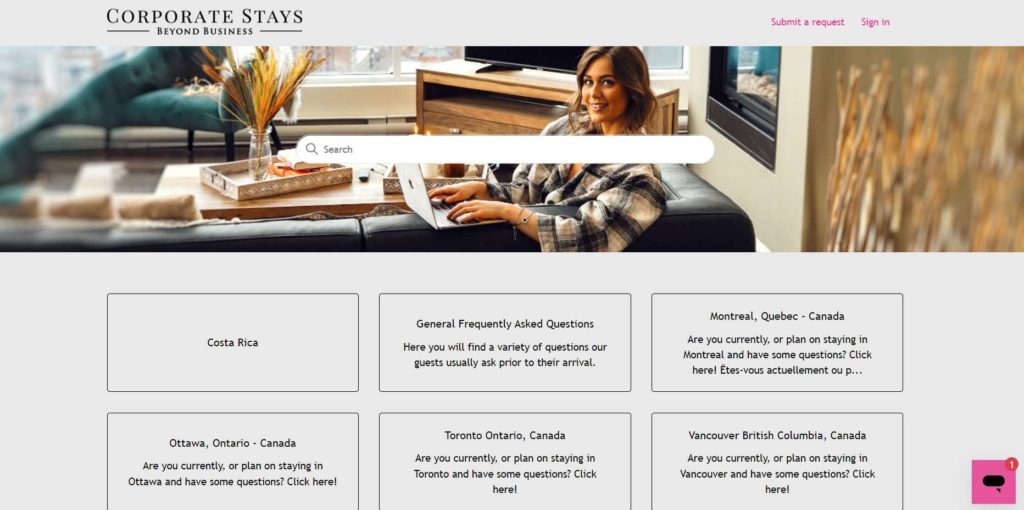 | | |
| --- | --- |
| FLEXIBILITY | ★★★★★ 5/5 |
| CUSTOMER SERVICE | ★★★★☆ 4/5 |
| FEATURES | ★★★★☆ 4/5 |
| PRICING AND PAYMENT OPTIONS | ★★★★★ 5/5 |
Corporate Stays, which was founded in 2008, has quickly established itself as a market leader in providing high-end service apartments throughout Canada and Central America.
We particulary like that this company offers a comprehensive service solution and an exclusive collection of apartment rentals in Vancouver.
It's worth mentioning that the minimum period of stay varies according to the building and market. We highly recommend contacting them to discuss the best choices for your stay.
Corporate Stays does not specify whether they only rent out apartments or provide customers the opportunity to rent out houses, condominiums, and other properties.
We experienced some issues with customer service as well. We got complaints about the lack of customer assistance.
Even though we only observe this during peak hours, we believe that consistency is essential for exceptional service.
We like that they have multiple payment options though. Payments can be made in the form of a certified check, bank draft drawn on a Canadian bank, wire transfer, or credit card.
Alternatively, you can also pay using your credit card via the payment link on their website.
When it comes to additional fees though, Corporate Stays charges pet costs, parking, extra amenities, destination marketing fees, as well as damage fees.
Nonetheless, we believe this is fair given that this establishment's rental rates do not cover these costs.
Overall, this company offers an impressive range of rentals with numerous options for its clients.
Comprehensive FAQ section on their website
Flexible length of stay
Numerous payment methods
Mixed reviews
Property lists are not available on website
Customer Reviews
Accommodating and exceptional service
"They were extremely accommodating and allowed us to check in early at like 10am. We got super early and I didn't wanna wait. So this was a big plus. The service was exceptional as well. Would definitely send a friend there.. Highly Recommended!!." -Moeed T.
Helpful staff
"The place is really great and we really enjoyed staying here. Hakim Filali has been assisting us since the start and has been really helpful in every step. Would really recommend CorporateStays to people who are looking for a place to stay!." Jonathan S.
5. NorthVan Suites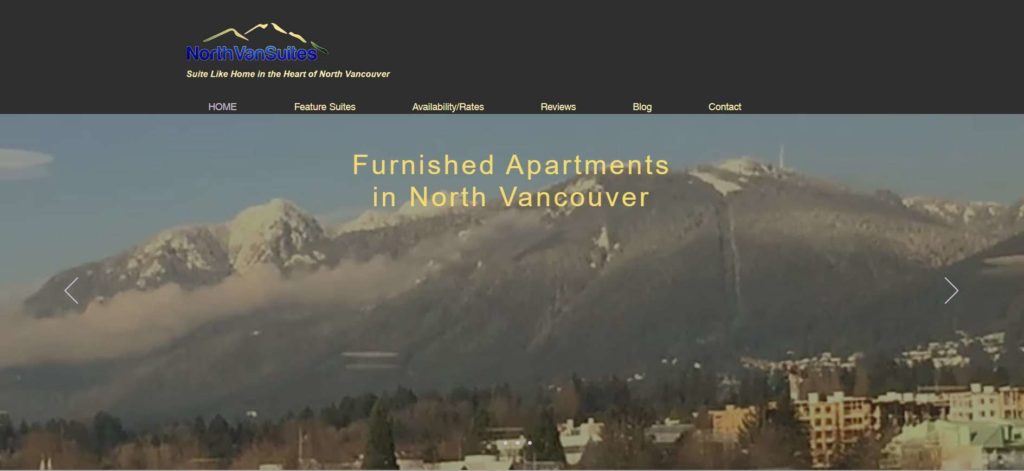 | | |
| --- | --- |
| FLEXIBILITY | ★★★★★ 5/5 |
| CUSTOMER SERVICE | ★★★★☆ 4/5 |
| FEATURES | ★★★★★5/5 |
| PRICING AND PAYMENT OPTIONS | ★★★★☆ 4/5 |
If you ever find yourself in North Vancouver, we strongly recommend checking out NorthVan Suites for your rental needs.
Their website neatly lists the availability and rates of their various rental flats.
We find this incredibly convenient because it provides potential renters a complete description of their rentals.This includes the nearest landmarks such as markets and restaurants as well as the features of the apartment.
When it comes to flexibility, their rentals are usually by month. However, depending on availability, weekly rentals are also possible, which we find convenient.
All you have to do is reach out, and their hosts will happily discuss your options.
The majority of consumers we've spoken to praise their services, stating that they have provided pleasant apartments with wonderful views, nice and helpful landlords, and reasonable costs.
Tenants can also enjoy numerous outdoor activities such as skiing, hiking, snowboarding, kayaking, and many more when it comes to leisure.
Their apartment rentals are close to Grouse Mountain, Cypress Bowl, Seymour, Whistler-Blackcomb Ski Resort, and Vancouver's attractions.
It's also an excellent location for getting into downtown Vancouver via public transportation, biking, or driving.
Overall, NorthVan Suites deserves to be on our list because of its accommodating hosts and landlords, as well as its excellent location, which is ideal for outdoor activities.
Superb customer service
Flexible length of stay
Great location
Limited properties for rent
Limited weekly stay options
Customer Reviews
Excellent service and a comfortable apartment
"Comfortable apartment with great view. Landlords are very helpful and accommodating. Really enjoyed our stay here." -Yasser B.
Prompt and kind response
"Stayed at the North Vancouver suite as a work suite in between night shifts for almost two years. Had a great experience dealing with the landlords, they were always kind, quick to help and so easy to contact. Would definitely recommend for a quick or long term stay." -Jasmine N.
FAQs About Short Term Rentals in Vancouver
---
Our list of the greatest short-term rentals in Vancouver is now complete. Now that you have a better idea of where you might be able to locate a safe and affordable place to stay in Vancouver, hopefully, you will be able to discover something suitable.
If you happen to be in the city and you are looking to get your own apartment, why not check out our list of the best apartments in Vancouver