Cherry Blossom Guide in Vancouver
Cherry blossoms are the most famous tree-blooming flowers in the world. These gorgeous trees grow up to 30 feet high, producing hundreds of pink and white flowers that attract people worldwide yearly.
The best places to find cherry blossoms in Vancouver are Stanley Park, Queen Elizabeth Park, Ambleside (near Millennium Park), Deep Cove, and Deer Lake Park.
These locations provide different variants of cherry blossom trees. You'll find different shades of pastel and light pink that exudes an ethereal overall look.
If you're a Vancouver Cherry Blossom enthusiast, or if you just want to see these beautiful pink blossom trees in their full glory, we have put together this guide with cherry blossom locations you can visit in the city.
History of Cherry Blossoms in Vancouver
Before we begin, let's look at the history of cherry blossoms and how these magnificent trees thrived in Vancouver.
In the 1930s, Japanese cities Kobe and Yokohama gifted the Vancouver Park Board 500 cherry blossom trees to plant in Stanley Park.
This gesture honors Japanese Canadians who served in World War I. The Japanese consulate donated another set of 300 trees in 1958.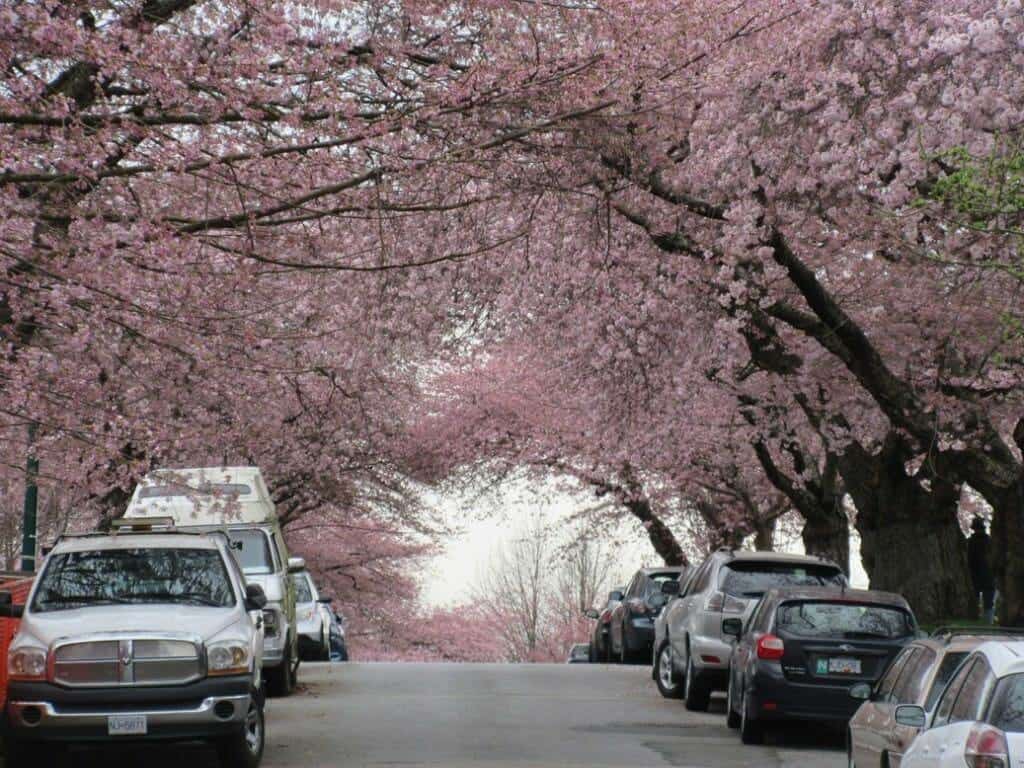 These trees were planted along Cambie Street, between 49th and 33rd Avenues, in Queen Elizabeth Park, and around the Japanese monument in Stanley Park.
As a result of the impact of cherry tree plantings, the city's landscape began to change as Vancouverites adored the beauty of the cherry blossom trees as they bloomed each year during Spring.
By the 1990s, 36% of the city's 89,000 street trees were flowering cherry or ornamental plum varieties. Some might argue that the park board got a little carried away and planted quite so many cherry trees.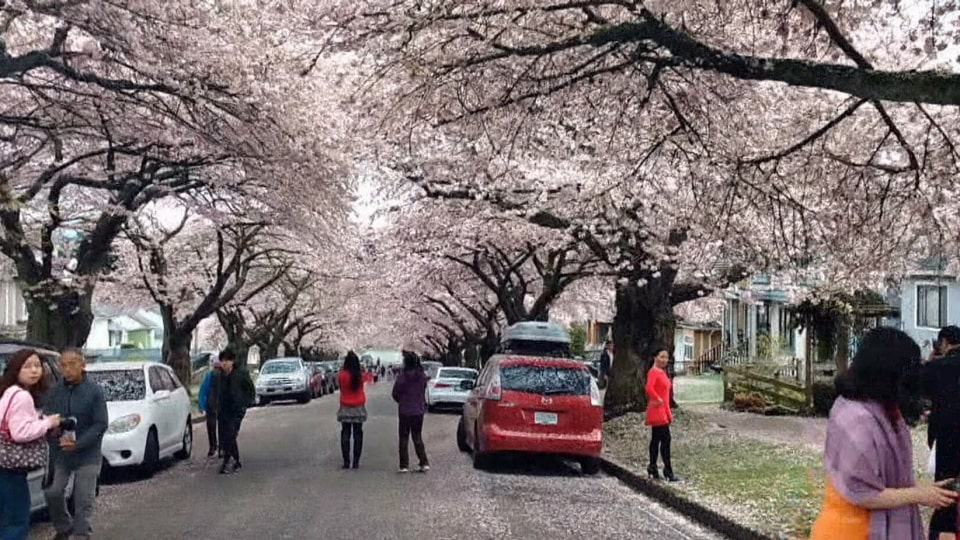 There are currently over 40,000 cherry trees in Vancouver, with 50 different varieties on display throughout the city.
Kinds of Cherry Blossoms in Vancouver
At present, there are over 12 varieties of cherry blossom trees in Vancouver scattered around the city, such as Stanley Park, Queen Elizabeth Park, Ambleside, and many more.
We've listed the cherry blossom species found in Vancouver and their blooming period in the table below.
| CHERRY BLOSSOM SPECIES | BLOOMING PERIOD |
| --- | --- |
| Yoshino | Late March to April |
| Kanzan Cherry | Middle of April to Early May |
| Autumn Flowering Cherry | October - March |
| Whitcomb Cherry | February - March |
| Accolade Cherry | March |
| Weeping Cherry | Middle of March to April |
| Shirotae Cherry | Late March to April |
| Takasago Cherry | Late March to April |
| Taihaku Cherry | Late March to April |
| Ukon Cherry | Middle of April to Early May |
| Shogetsu Cherry | Late April to Middle of May |
| Shirofugen Cherry | Late April to Middle of May |
Data from Japan Guide via https://www.japan-guide.com
Where to Find Cherry Blossoms in Vancouver
1. Stanley Park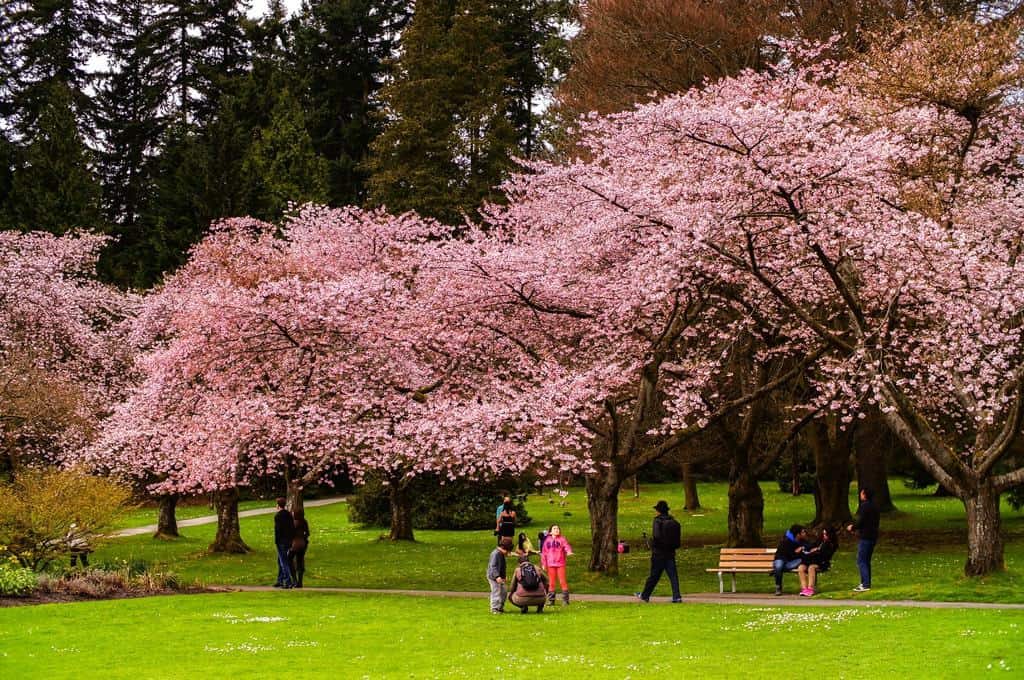 Stanley Park is home to Vancouver's first cherry tree plantings. Shirotae, Akebono, and Shirofugen blossom trees.
Your first stop should be the Japanese Memorial Garden where you'll find a double row of Shirotae and a grove of Shiro-fugen on the path to the Japanese monument.
The Rose Garden is next, where you'll find a blooming grove of Akebono. You should also go to the eastern edge of the Lost Lagoon, where cherry blossom trees bloom as early as February.
These locations are all close to each other, so you'll easily spot them as you walk through the park.
2. Queen Elizabeth Park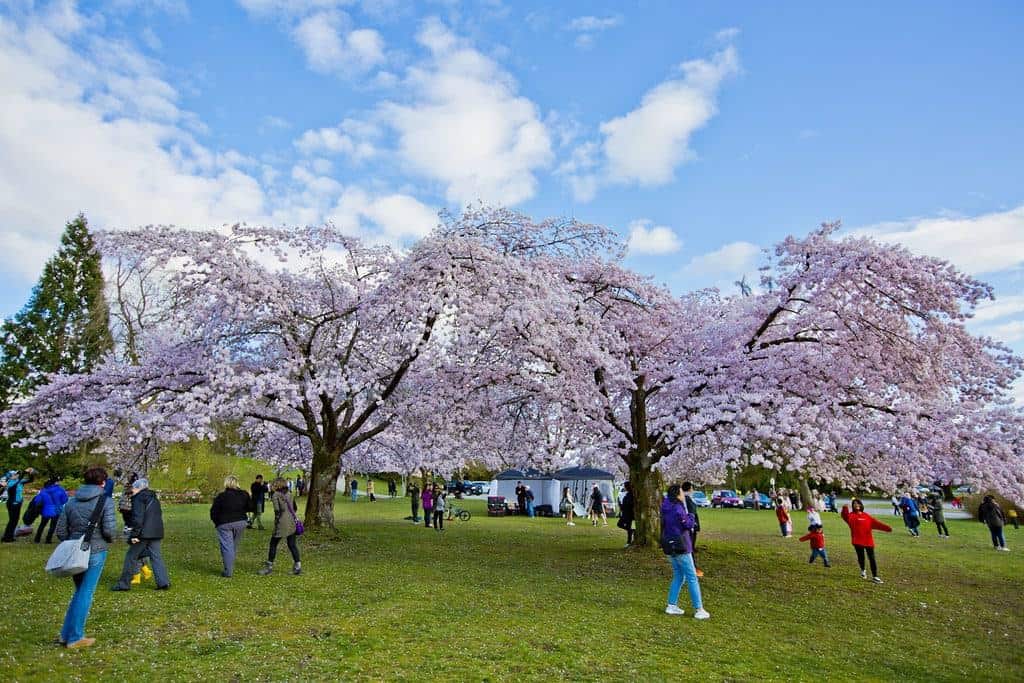 The duck pond in Queen Elizabeth's Park is surrounded by Umineko cherry trees. These trees are ideal for picnics because they are tall and have large white flowers with round petals that provide plenty of shade.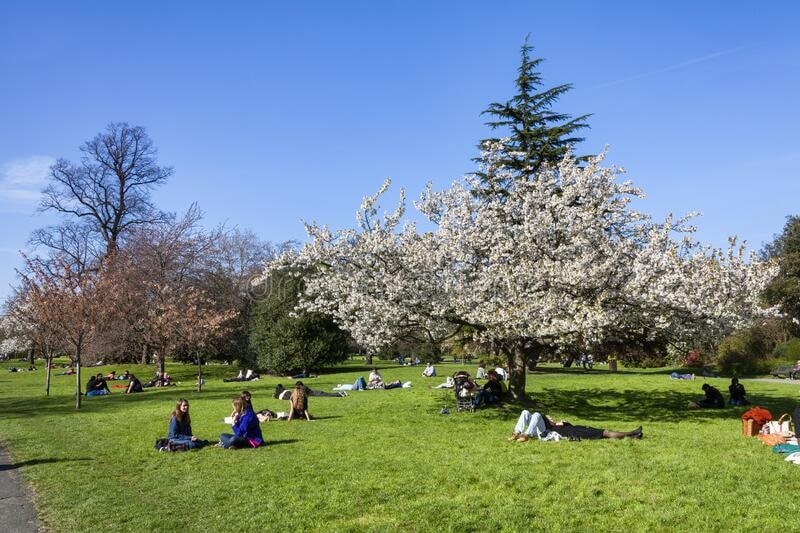 Aside from that, Queen Elizabeth's Park has various cherry trees that bloom at different times.
The highlight of the park is the Chinese cherry blossom trees which are in full display around early March. We also recommend staying at night because the cherry trees have lights that make the park a great place to take photos.
3. Ambleside near Millennium Park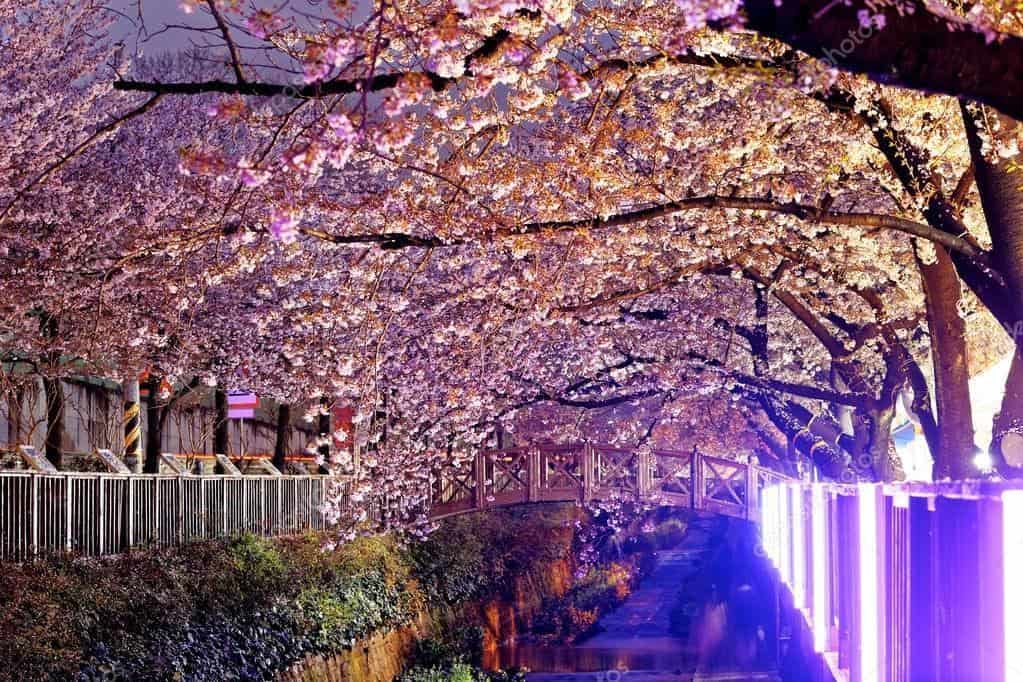 Ambleside Park, located at 1150 Marine Drive in West Vancouver, features Shirotae cherry blossoms in bloom along the waterfront and an unobstructed view of the Lions Gate Bridge.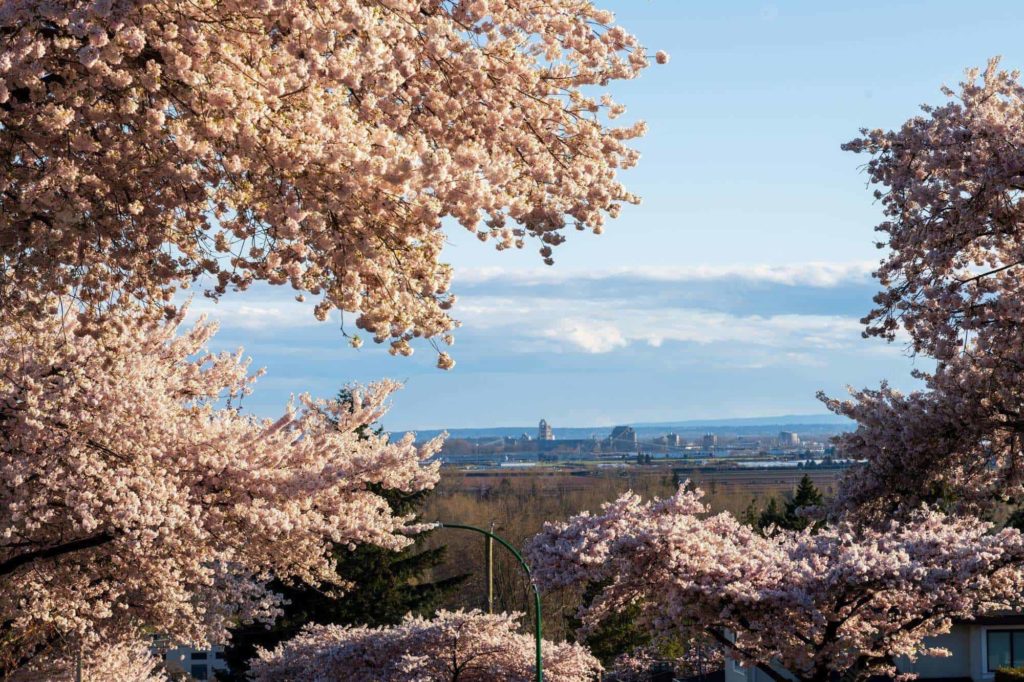 This is just off of John Lawson Park, and you can spot lovely cherry trees close to the Ambleside Pier on Argyle Avenue.
4. Deep Cove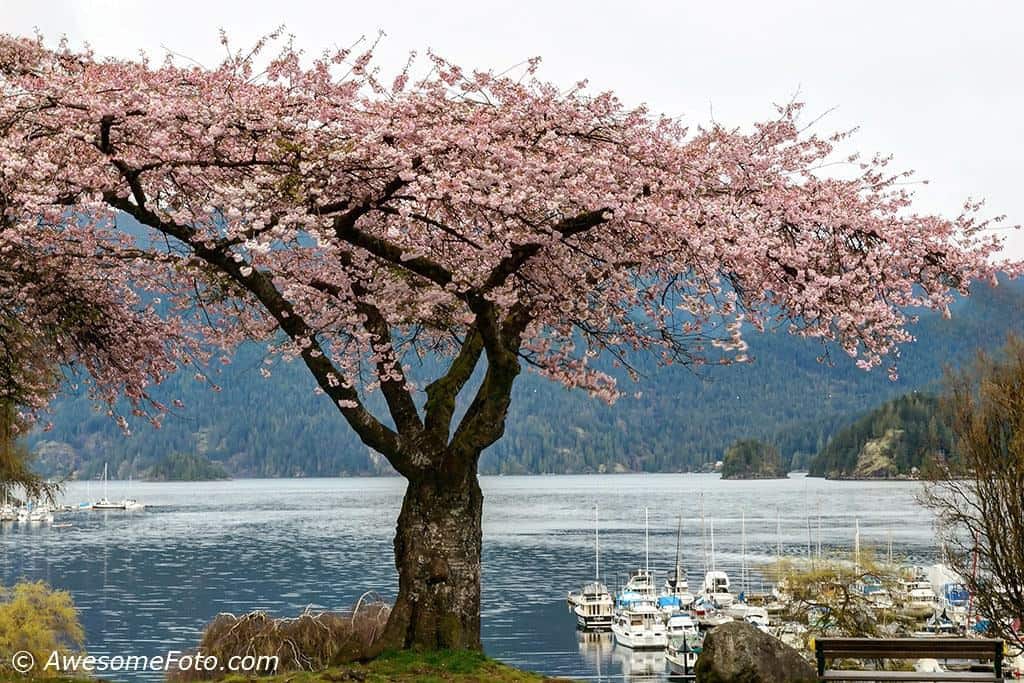 Deep Cove is located in North Vancouver where you can see Shirotae and Shogetsu cherry blossom trees during Spring.
The tall cherry blossom tree is located at the edge of the shore where you're rewarded with tall mountains and an abundance of yachts is the highlight of this location.
Deep Cove is a popular location for film and television productions, as well as for walks, kayaking, and paddle boarding.
5. Deer Lake Park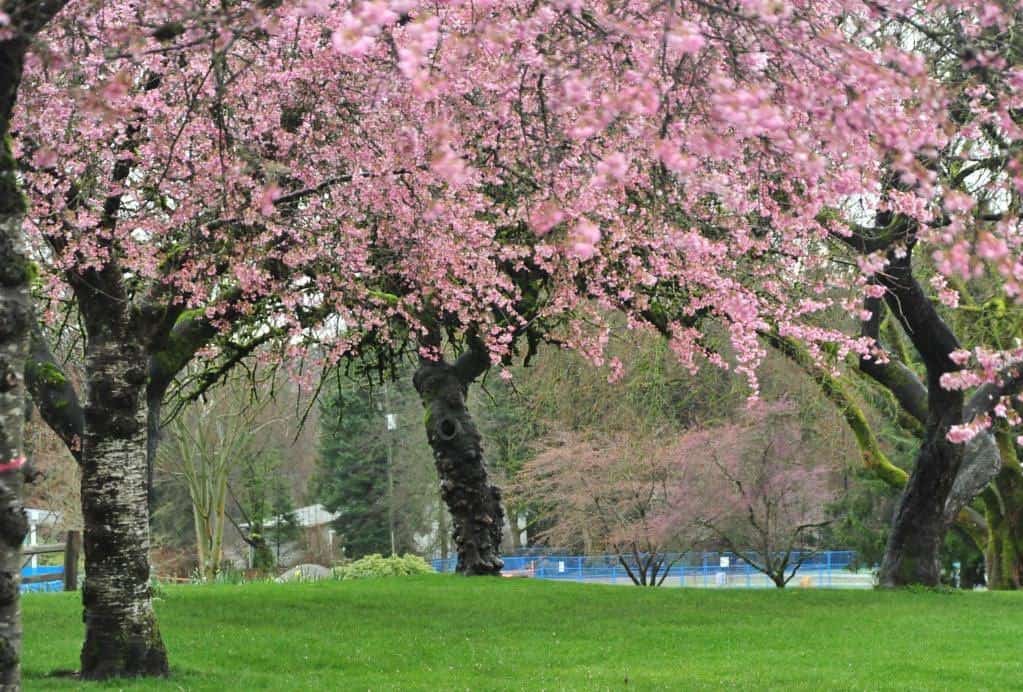 Deer Lake Park is a tranquil setting with numerous walking trails and open spaces. Burnaby Village, the Shadbolt Centre, and the Burnaby Art Gallery are also located here.
Near the Chilcotin House, approximately 7 Whitcomb cherry blossom trees in Deer Lake Park are bursting with pink hues. Deer Lake Park's cherry blossoms bloom in early March.
The Vancouver Cherry Blossom Festival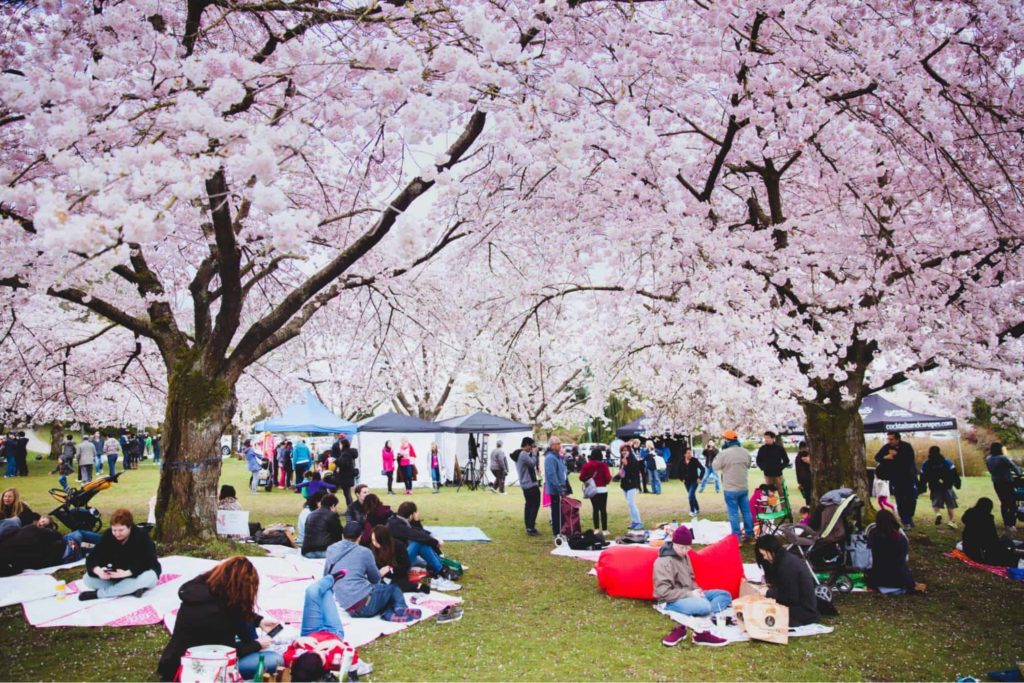 The Vancouver Board of Trade established the Vancouver Cherry Blossom Festival in 2005, and the first festival was held in 2006 and 2007.
This is one of the most famous festivals in Vancouver, as it holds numerous public events around the city, celebrating the beautiful cherry trees in full bloom. It features multiple cherry blossom-themed events.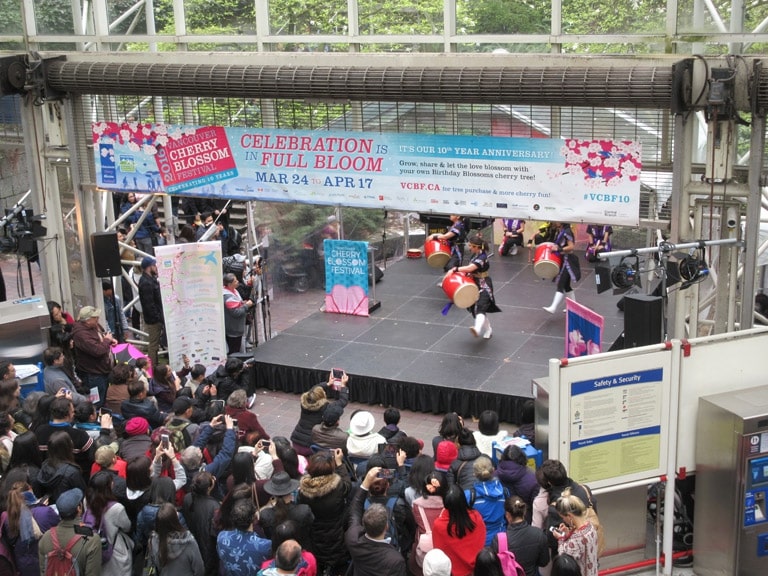 The Cherry Jam Concert at Burrard Station is one of the most well-known events of the Vancouver Cherry Blossom Festival. Japanese drumming, singing, dancing, musical performances and haiku poetry reading are common at these events.
Another festival highlight is the Nights of Light, a free multi-sensory event at Queen Elizabeth Park featuring music and light displays.
FAQs about Cherry Blossoms in Vancouver
---
Hopefully, this post has given you some useful information about the upcoming cherry blossom season. If you're in the Vancouver area, mark your calendars and head out to enjoy the beautiful blossoms in the aforementioned locations.
If you're searching for more activities in Vancouver, check out these helpful articles: