Greater Vancouver Zoo Guide: Vancouver's Wildlife Sanctuary
Our trips to the Greater Vancouver Zoo (GVZ) have always been pleasant. The location is hard to beat, the zoo is spacious, and we get to show the animals some love and learn about them.
If it's your first time visiting, then you definitely wanna check out our guide to make sure you don't miss any of the highlights.
What animals do they have at the Greater Vancouver Zoo?
At the Greater Vancouver Zoo, you'll get to see hippopotamuses, ostriches, bears, jaguars, zebras, rhinos, red pandas, and plenty more land and aquatic animals.
The zoo also houses two bald eagles, Meredith and Max, who were rescued and kept here in the zoo for their rehabilitation and care.
Time Zone
Pacific Standard Time (PST) (UTC-8)
Best Time to Go
The best time to visit the Greater Vancouver Zoo is in December, when the zoo is all decked out with festive decorations and Christmas lights. Just keep in mind that it can get a tad chilly during that season.
If you're looking for milder temperatures, June to August would be your best bet. But, these months happen to be the peak tourist season in Langley, so you might find accommodation prices a bit higher than usual.
How to Get Around
Please note that there's no public transit available to get to the Greater Vancouver Zoo so you'll need a car.
From Highway 1: From highway 1, take exit #73. Then, turn left onto 264 street/Aldergrove/Bellingham hwy, the zoo will be on your right.
From Fraser Highway: Drive southeast toward 168 street and take a left onto the Langley bypass. Then, turn left onto 56 Ave, and once you're at the roundabout, take the 2nd exit then turn right onto 264 street/Aldergrove/Bellingham hwy.
Things to Do inside the Greater Vancouver Zoo
Go on the Mesozoic Adventure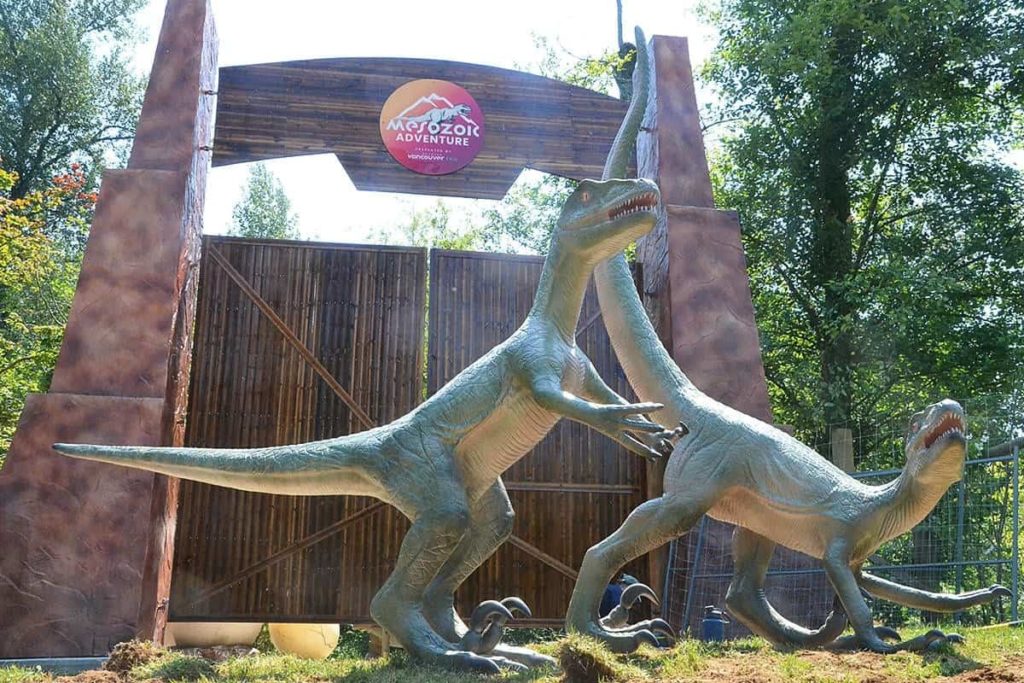 You'll know once you reach the Mesozoic Adventure area of the zoo when you come across an entry gate that resembles Jurassic Park. Here, you're transported back to 65 million years ago, when dinosaurs roamed the earth!
This Mesozoic exhibit has around 12 animatronic dinosaurs from the three Mesozoic periods—Triassic, Jurassic, and Cretaceous.
There's lots of information about each dinosaur displayed, including their names, sizes, and unique characteristics. They even make sounds once activated! (they're motion-sensing, so they come to life as you approach.)
Experience the Wallaby Walkthrough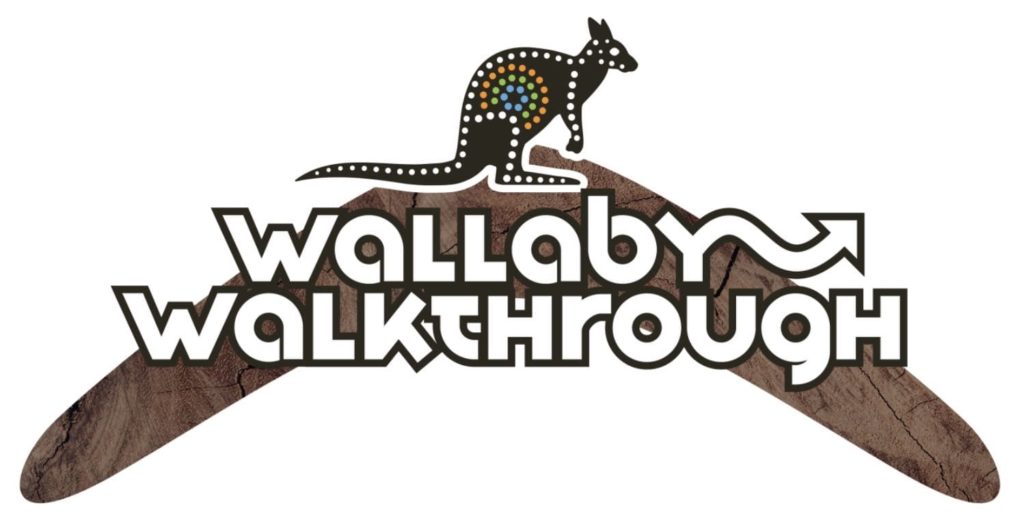 Check out wallabies and kangaroos at the Wallaby Walkthrough here at GVZ. This guided walkabout lets visitors get up close with these Australian marsupials.
Just head over to the exhibit right across from the capybara enclosure, towards the heart of the zoo. You'll have the chance to meet a bunch of red kangaroos and red-necked wallabies.
Spend the Night in the Wild

Night in the Wild offers an overnight camping experience that lets guests explore the zoo after dark. Picture campfires, guided tours, and a variety of activities to ensure your night in the wild is absolutely unforgettable.
You can arrange scavenger hunts, meet animals, participate in conservation workshops, and enjoy various craft activities during your visit.
Join the Keeper Talks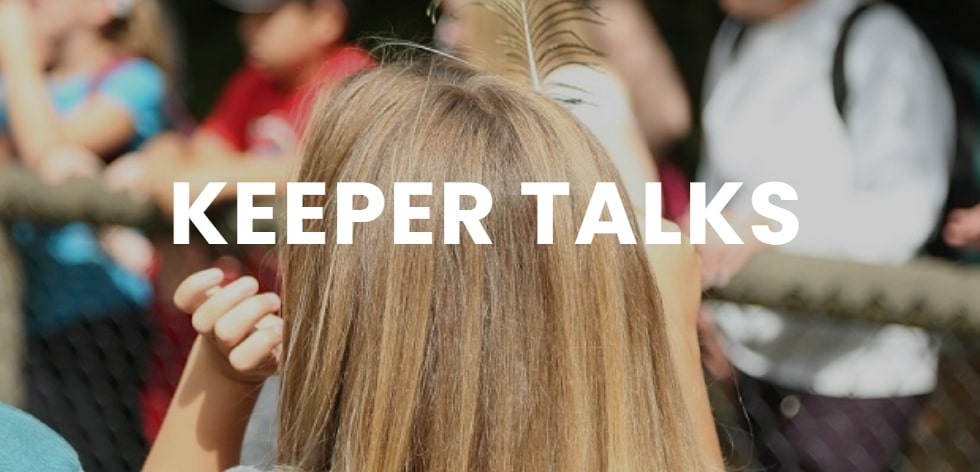 Attending the keeper talks is an excellent way to dive deeper into the world of GVZ's animals. Zookeepers give a highlight on both their daily routines and the lives of the 140 different animals residing here.
Be sure to visit their website to find the schedule for the keeper talks and coordinate your visit accordingly.
Ride the Safari Express Train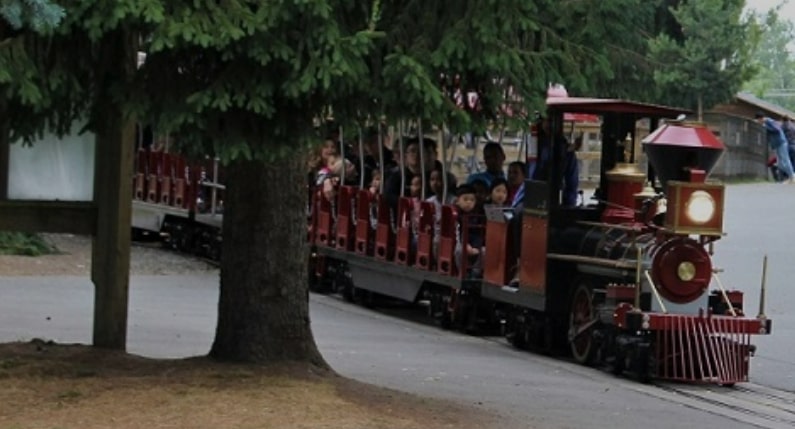 The Safari Express Train circles the entire GVZ in under 15 minutes, so if you prefer having a quick look at the park's highlights before you walk around, this is the perfect option for you.
The train costs $6 per person, and while it doesn't get super close to the enclosures, the ride does provide a great overview of the park's diverse animal habitats.
Meet the Animals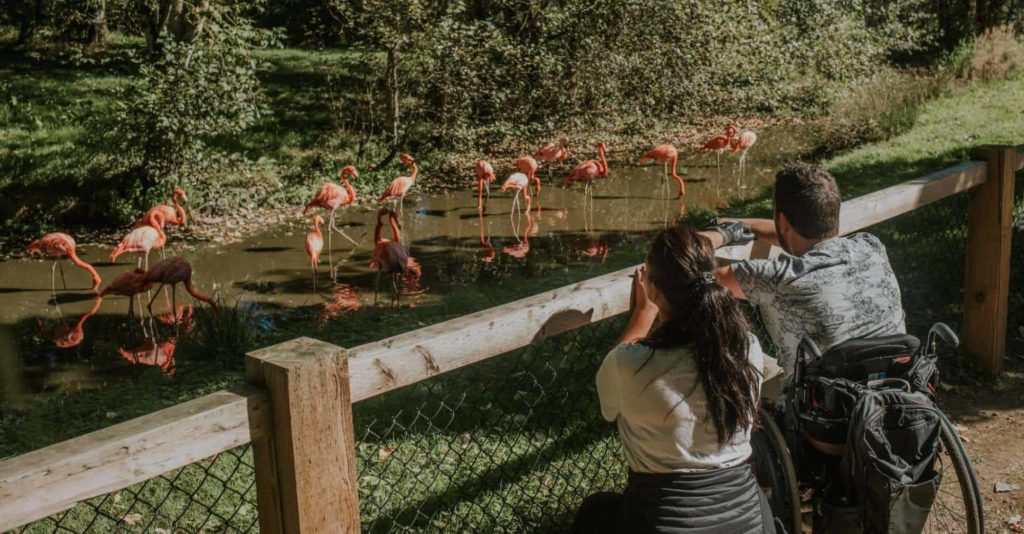 At GVZ, you'll find a total of 54 different animal types, including mammals, birds, amphibians, reptiles, fish, and more. These animals are typically in large enclosures, so they're able to roam around and exhibit their natural behaviors.
Here's a list of the animals inside the zoo in alphabetical order!
Things to Know
Tickets at the Greater Vancouver Zoo
To save yourself the hassle and wait, we highly recommend you purchase your tickets in advance at the Greater Vancouver Zoo eTicket store. Tickets here are valid all-day and can be easily scanned from your mobile device at the entrance.
Here's a complete breakdown of the ticket prices at the Greater Vancouver Zoo:
Adults (18-64 years old): $33
Seniors (65+ years old): $22
Children (3-17 years old): $25
Student (18+ with ID): $27
Toddlers (2 and under): Free.
When it comes to train tickets, please keep in mind that they're only available for purchase on-site and are sold on a first-come, first-served basis. Train tickets at GVZ tend to go quickly, so it's a good idea to arrive early if you intend to take a ride.
If you're planning to visit the zoo multiple times in a year, it's a smart move to consider becoming a member.
Family Annual Pass (2 adults and 3 children or seniors): $275
Annual Pass – Adult (18-64): $85
Annual Pass – Child (3-17): $65
Annual Pass – Senior (65+): $65
Annual Pass – Student (with ID): $65
Membership passes come with benefits like discounts, parking passes, and free entry to GVZ, the British Columbia Wildlife Park and Edmonton Valley Zoo.
Parking at the Greater Vancouver Zoo
Parking at GVZ is priced at $8.00 for the entire day, and you can find parking facilities just outside the zoo's entrance.
To pay, simply enter your license plate number into the parking meters, and you can use Visa, Mastercard, or American Express for payment, as cash is not accepted at this location.
Places to Stay Near the Greater Vancouver Zoo
Comfort Inn & Suites
Address: 26574 Gloucester Way, Langley Twp, BC V4W 4A8, Canada
Phone: +1 844-255-8868
Pricing: $
The Comfort Inn & Suites is definitely a safe bet—it's affordable, close to the freeway (but surprisingly quiet), and it's only a 4-minute drive away from the Greater Vancouver Zoo.
Expect quick check-ins, nice and clean rooms, and an excellent breakfast buffet (included in your stay) with all the classics: eggs, sausages, waffles, and OJ).
Best Western Plus Country Meadows Inn
Address: 3070 264 St, Aldergrove, BC V4W 3E1, Canada
Phone: +1 604-856-9880
Pricing: $$
This award-winning hotel with the Chairman's Award for Perfect Quality Assurance is situated in a dining and entertainment area near the Greater Vancouver Zoo and even has a on-site White Spot restaurant.
Inside, there's a nice indoor pool, hot tub, fitness center, and a pretty cozy common dining area where they serve a mean breakfast.
Princess & The Pea Hotel
Address: 21628 48 Ave, Langley Twp, BC V3A 3M8, Canada
Phone: +1 604-833-9605
Pricing: $
If you feel like being transported back in time, the Princess & the Pea Hotel's restored 1880s home is the definition of nostalgia. Rooms here feature authentic period furniture and decor—from ornate wallpaper to the frill bedding.
Hangout at the sitting room where you can relax on a sofa beside the fireplace, or at the wrap-around veranda seating while you sip on a complimentary cup of tea or joe.
Travelodge by Wyndham Langley
Address: 21653 Fraser Hwy, Langley, BC V3A 4H1, Canada
Phone: +1 604-533-4431
Pricing: $
Travelodge by Wyndham Langley has all the right amenities you'd want in a standard hotel—free breakfast buffet and parking, 24-hour front desk, on-site laundry, and a business center.
All rooms here are non-smoking and have all the basic amenities you need for a comfortable stay, including a fridge, microwave, coffee maker, and free Wi-Fi.
Brookside Inn Boutique Hotel
Address: 2379 Chardonnay Ln, Abbotsford, BC V4X 0A6, Canada
Phone: +1 604-856-3300
Pricing: $$
The Brookside Inn Boutique Hotel is the epitome of relaxation, nestled amidst lush greenery and charming decor that looks exactly like something out of a romantic movie.
You can't beat the continental breakfast here. Food is served in the Breakfast at Tiffany's Dining Lounge, including croissants, muffins, yogurt, fresh fruit, orange juice and coffee or tea.
Where to Eat Nearby the Greater Vancouver Zoo
Holy Falafel & Shawarma House
Address: 26426 56 Ave, Langley Twp, BC V4W 3Z3, Canada
Phone: +1 604-607-0609
Pricing: $
You can't beat the authentic Middle Eastern street fare you'll find at Holy Falafel & Shawarma House. They offer a variety of options, including falafel wraps, shawarma, tabouleh, samosa plates, and even vegetarian choices.
If you're eager to sample a little bit of everything, go for their combo meals. With these, you can pick your preferred meat, side dish, and dessert, and they can tailor the portions to suit groups of up to 12 people.
Lotus Garden Express

Address: 26426 56 Ave B, Langley Twp, BC V4W 3Z3, Canada
Phone: +1 604-856-8855
Pricing: $$
At Lotus Garden Express, it's all about the mouthwatering pho and flavorful lemongrass chicken. Their dishes are always made fresh, never too oily, and best of all, they serve up hearty portions.
Our absolute favorites on the menu include the delectable lemongrass chicken, authentic Vietnamese beef pho, sweet and tangy pork, and comforting wonton soup.
Colleen's Cafe
Address: 26730 56 Ave, Langley Twp, BC V4W 3X5, Canada
Phone: +1 604-856-4948
Pricing: $
If you're looking for a cheaper alternative to Denny's or iHOP, then Colleen's Cafe is definitely the hidden gem you've been searching for. This quaint diner serves a variety of brunch dishes. Best of all, all items are served with hashbrowns and toast.
Inside, the restaurant has a unique and retro decor, with license plates hanging on the walls and vintage signs adorning the counters.
Queen India Jumbo Pizza
Address: 26426 56 Ave, Langley Twp, BC V4W 3Z3, Canada
Phone: +1 604-857-9100
Pricing: $$
The pizza here at Queen India Jumbo Pizza is always awesome. Apart from the classic pepperoni and cheese, you have creative Indian takes to choose from like butter chicken pizza (our fave), tandoori chicken, and butter paneer pizza.
White Spot Aldergrove
Address: 3070 264 St, Aldergrove, BC V4W 3E1, Canada
Phone: +1 604-856-0344
Pricing: $$
Being a gold winner of the 2021 Canadian Franchise Association Awards, the food at White Spot Aldergrove embodies local BC cuisine. Sure, burgers are quite overrated these days, but they really take burger classics to a whole new level.
Their Avocado Impossible™ Burger is quite a feast. Who knew that avocados could be the star ingredient in a burger? But you've got tons of other options here, like greens, pasta, steak, and many more if you don't feel like having a burger.
Apps to Download for a Trip to the Greater Vancouver Zoo
Turo: private cars for rent in Vancouver, Downtown Vancouver and all Lower Mainland.
Maps.me: free, detailed offline maps with turn-by-turn navigation for driving, hiking, or biking.
Pacific Cabs: book a ride in Langley, Surrey, Whiterock and YVR.
---
After you've had your fill of the Greater Vancouver Zoo, it's a great opportunity to explore the circle farm tours and discover the wineries scattered throughout the beautiful Fraser Valley.
Here are a few related articles to help you with just that: