The 5 Best Yoga Classes in Vancouver
Yoga is a practice that can help to improve your life. You can clear your mind, develop a positive attitude and cultivate a sense of well-being. For many people, yoga is also an important aspect of their spiritual practice.
Whether you're new to yoga or have been practicing for years, Vancouver has the perfect class for everyone's needs.
We've scoured the city and listed some of the best yoga classes you can join in Vancouver.
How Much Do Yoga Classes Cost in Vancouver
The amount of money you'll need for yoga classes in Vancouver depends on the type of class you want to join.
Adult yoga classes can range from CAD 75 to CAD 90, but if you want something more advanced, such as aerial yoga, it can cost up to CAD 120.
We've listed some of the most common types of yoga services and their average estimated cost in the table below.
| TYPE OF SERVICE | AVERAGE ESTIMATED COST |
| --- | --- |
| Adult Yoga Classes | CAD 75 - 90 |
| Pilates | CAD 39 - 45/class |
| Spin Classes | CAD 6 - 30/class |
| Aerial Yoga | CAD 80 - 120 |
| Core Fundamentals | CAD 15 - 30/hour |
| Prenatal and Postnatal Yoga Classes | CAD 30 - 50/class |
| Kids Yoga | CAD 21 - 38 |
Best Yoga Classes in Vancouver
Whether you want to lose weight, detoxify your body or just try something new, there's definitely a yoga class that will fit inside your budget and meets your needs.
It's important to take into consideration the type of yoga you are looking for as well as your fitness level because some classes are more suited for beginners than others.
We used the criteria below to assess the following yoga companies to make sure you find one that suits your needs.
1. Modo Yoga East Vancouver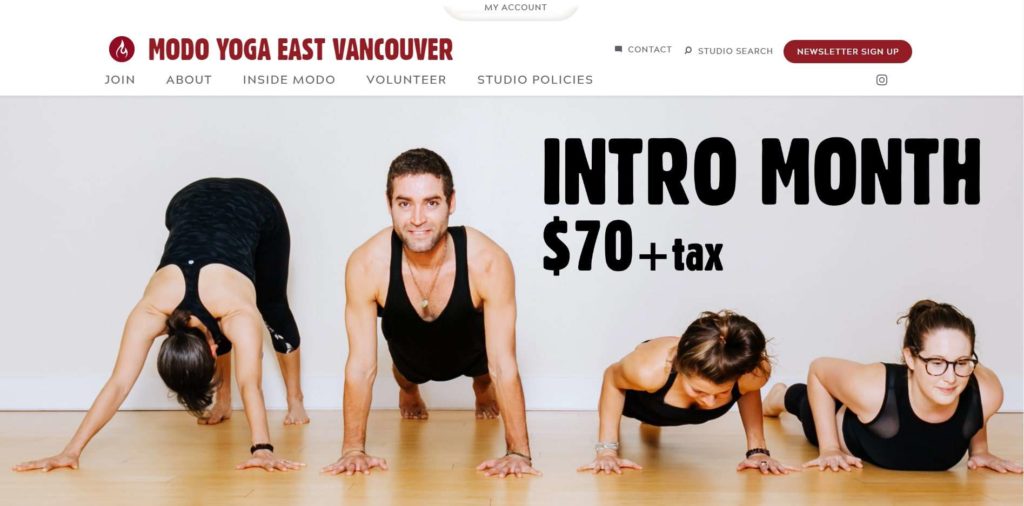 Test
Info
SERVICES
Intro Month

Park + Karma Class

Monthly Memberships

WEBSITE
https://modoyoga.com/east-vancouver/
ADDRESS
560 E 15th Ave, Vancouver, BC V5T 2R5, Canada
CONTACT DETAILS
Phone: 604-569-3300

Email: [email protected]

OPERATING HOURS
Monday - Friday: 06:15 AM - 09:30 PM

Saturday: 08:00 AM - 05:30 PM

Sunday: 08:00 AM - 07:30 PM
| | |
| --- | --- |
| CRITERIA | RATING |
| Variety of Services | ★★★★★ 5/5 |
| Rates | ★★★★★ 5/5 |
| Availability | ★★★★☆ 4/5 |
| • Customer Capacity | ★★★★☆ 4/5 |
| • Operating Hours | ★★★★★ 5/5 |
| Customer Service | ★★★★★ 5/5 |
| • Instructor Feedback | ★★★★★ 5/5 |
| • Facilities | ★★★★★ 5/5 |
Modo Yoga provides accessible yoga classes for both new and experienced students. Learners can visit over 70 North America, Europe, and Australia studios. You only need to bring a yoga mat, a towel, and a water bottle.
We particularly liked the fact that they offer a wide range of class types, each tailored to different customer needs and preferences. Modo, Modo flow, yin, fusion, and music classes are among them.
What set them apart was their karma classes. This yoga class is a CAD 5 donation-based session suitable for all skill levels, with proceeds going to the charity of the month!
We also found it convenient that they have dedicated changing rooms and shower facilities so customers can freshen up after their classes.
It's important to note that Modo Yoga only accepts 30 students per class because they want everyone to have an equal and enjoyable experience.
In our opinion, this improves each individual's experience because instructors can monitor everyone more closely than in crowded classes.
However, keep in mind that they don't allow latecomers, so arrive 5 to 10 minutes early for your class. They also charge CAD 10 for late cancellations and CAD 20 for no-shows.
Overall, we believe Modo Yoga offers one of the best yoga classes in Vancouver as they strive to make it more accessible for everyone.
Numerous yoga instructors
Wide variety of class types
Volunteering opportunities
Over 70 locations across North America, Europe and Australia
Change rooms and showers available
Charges late cancellation and no show fees
Doesn't allow latecomers
Customer Reviews
Improves physical and mental health
"My favorite yoga place in Vancouver! Love all the instructors, they are very knowledgeable and helpful! They always ask you to go with how your body feels. So if you are new to yoga or hot yoga, this is a good place to start! I have been to this studio for almost half an year now, and it has significantly improved my life both mentally and physically." -Yun L.
Clean studio and great instructors
"I bought a one month intro here a while ago…very nice and clean studio with great instructors and good people. Classes vary a bit from instructor to instructor and some have music, all of which were fun. ☺ Free street parking. You'll have a positive experience here." -Russell L.
2. Uphoria Yoga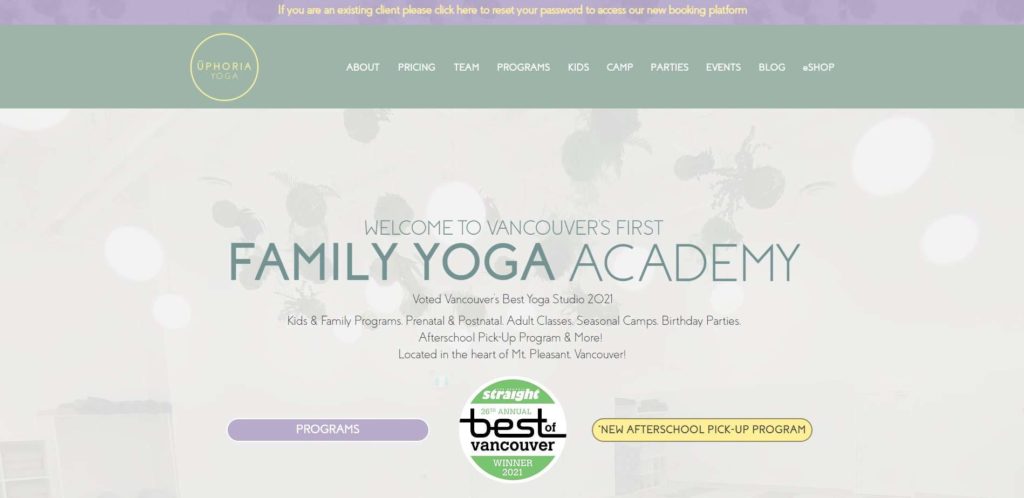 Test
Info
SERVICES
Prenatal Yoga Classes

Postnatal Yoga Classes

Kids Yoga

Adult Yoga

Family Yoga

Yoga at Hinge Park

Kids Summer Camp

Yoga 4 Autism Spectrum (ASD)

WEBSITE
https://www.uphoriayoga.com/
ADDRESS
88 E Broadway, Vancouver, BC V5T 1V6, Canada
CONTACT DETAILS
Phone: 604-326-2995

Email: [email protected]

OPERATING HOURS
Monday - Friday: 09:00 AM -09:00 PM

Tuesday: 07:00 AM - 08:30 PM

Wednesday: 09:00 AM -09:00 PM

Thursday: 09:00 AM - 08:30 PM

Friday: 09:00 AM - 05:00 PM

Saturday: 09:00 AM - 03:00 PM

Sunday: 09:00 AM - 03:00 PM
| | |
| --- | --- |
| CRITERIA | RATING |
| Variety of Services | ★★★★★ 5/5 |
| Rates | ★★★★☆ 4/5 |
| Availability | ★★★★☆ 4/5 |
| • Customer Capacity | ★★★★☆ 4/5 |
| • Operating Hours | ★★★★★ 5/5 |
| Customer Service | ★★★★★ 5/5 |
| • Instructor Feedback | ★★★★★ 5/5 |
| • Facilities | ★★★★★ 5/5 |
Uphoria Yoga is a family yoga academy in Vancouver's Mount Pleasant neighborhood.
We believe that Uphoria is the best place to have yoga with family and friends. This is because they have individualized programs for all ages.
We were impressed by Uphoria's prenatal and postnatal yoga classes, designed to help mothers' flexibility and strength. Their postnatal classes are also excellent for having fun with your baby in a fun but comfortable setting.
This establishment also offers yoga programs for toddlers and children, and we liked that they can host themed birthday parties.
We believe this adds a nice touch to their services because parents can celebrate their child's birthday while bonding with them through yoga.
In addition, they offer seasonal camps for children ages 3 to 12. This camp provides a diverse range of activities, including movement games, arts and crafts, and yoga poses.
Even though they are a new company, having opened in 2019, we believe their services are of high quality.
In fact, most of the customers we spoke with expressed how helpful their instructors were and how spacious and calming their facilities were.
Furthermore, we thought it was very convenient that they have a booking app available for clients to book classes on their phones.
If you're looking for a fun activity for the whole family, we recommend you stop at Uphoria Yoga, which offers one of the best yoga classes in Vancouver.
Vancouver's Best Yoga Studio 2021
Convenient booking app
Offers prenatal and postnatal yoga
Hosts themed birthday parties
Seasonal camps for children
Only opened in 2019
Limited slots
Customer Reviews
Best yoga classes for kids
"We held our daughter's birthday party today at Uphoria Yoga and had an amazing experience. Tara was so helpful throughout the whole process. She was ready to assist logistically and checked in during the party to see if our needs were being met. The kids had a wonderful time from the yoga class to the craft activity and the dance party. The facility is amazing and the yoga space is absolutely beautiful. I would highly recommend this facility if you want to hold a unique birthday party for your little one. Thank you Uphoria Yoga for such a great memory!." -Rimi H.
Beautiful and calming space
"I would highly recommend this studio! I've been going to the prenatal and fusion prenatal+fitness classes here and it's been nothing but a great experience time and time again. The space is beautiful and calming. The instructors always make you feel welcome and there is no pressure to get it "right" per say, they always encourage doing things at your own comfort level/pace. I look forward to attending the post-natal classes in the future. The owners are so sweet and friendly too!." -Nikki L.
3. Ashtanga Yoga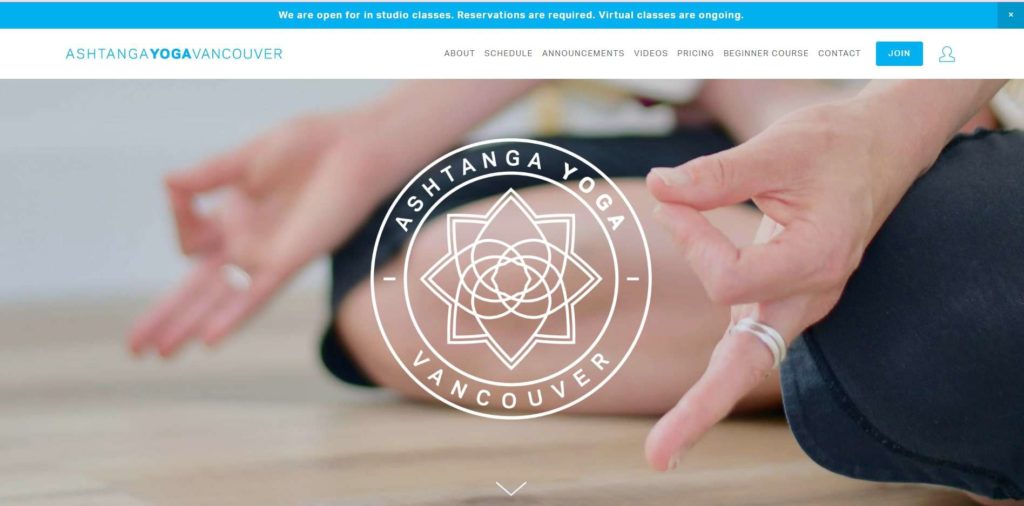 | | |
| --- | --- |
| CRITERIA | RATING |
| Variety of Services | ★★★★☆ 4/5 |
| Rates | ★★★★☆ 4/5 |
| Availability | ★★★★★ 5/5 |
| • Customer Capacity | ★★★★★ 5/5 |
| • Operating Hours | ★★★★★ 5/5 |
| Customer Service | ★★★★★ 5/5 |
| • Instructor Feedback | ★★★★★ 5/5 |
| • Facilities | ★★★★★ 5/5 |
Fiona Stang was inspired to open her own yoga studio in Vancouver in 2000 after a trip to Mysore, India. This is where ashtanga yoga originated, and the values she learned there enabled her to share her knowledge with the community.
Ashtanga Yoga incorporates free breathing, postures, and gazing into its practice. These exercises assist the mind in focusing and controlling the senses, as well as becoming aware of your physical and spiritual body.
This type of yoga, in our opinion, is ideal for adults who want to take a step back and detach from their hectic lives.
For starters, this establishment offers a CAD 60 online beginner course. This course includes breathing and Mulabandha, detailed instruction in Surya Namaskara, five essential standing postures, and three closing postures.
Now, Ashtanga Yoga offers two classes: Mysore style and counted class. A Mysore-style class is where teachers provide tailored instruction and assistance to each student.
We appreciate that they focus on giving each learner equal and personalized attention, as everyone has a different learning style.
For more advanced students, we recommend their counted class, in which instructors call out postures and counted movements.
Now, we'd like to point out that their rates are relatively higher. However, we appreciate that they provide discounted membership fees as an incentive.
On a whole, Ashtanga Yoga is one of the best yoga classes in Vancouver that offer a unique and personalized yoga experience.
Specializes in Ashtanga Yoga
Offers in-person and virtual yoga classes
Dedicated classes for beginners and skilled learners
Monthly memberships available
Relatively higher rates
Closed on weekends
Customer Reviews
Personalized yoga classes
"So happy to have found a studio that embraces plus size and body positive Ashtanga. Amazing knowledgeable teachers who care and provide personalized individual attention. I really feel supported in my practice. Really great community." -Aarthi A.
Fantastic instructors
"Amazing place to practice! All the teachers are fantastic and they have created a wonderful student community as well. Fiona runs an amazing shala with a great energy that keeps you coming back, challenging yet supportive and fun." -Elizabeth W.
4. Green Room Yoga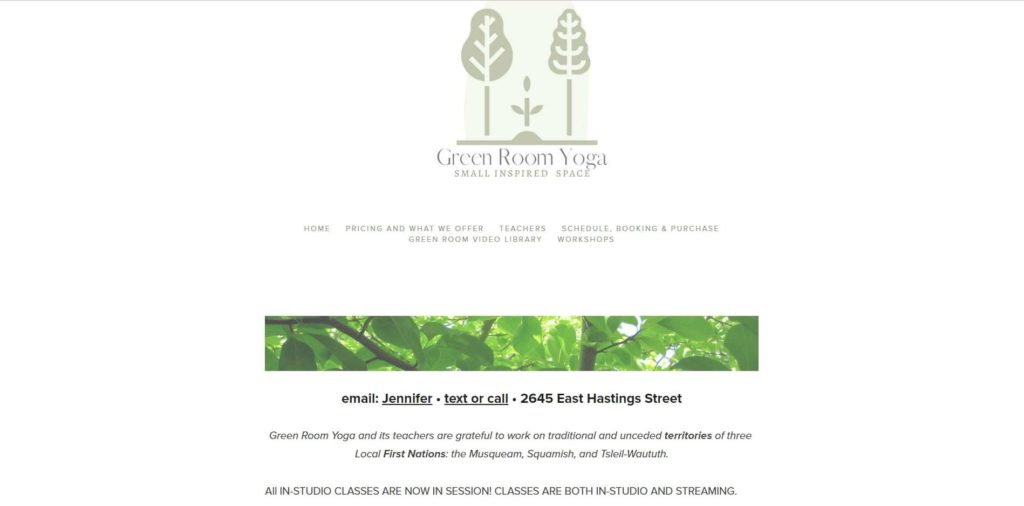 Test
Info
SERVICES
Core Fundamentals

Functional Movement and Yoga

Gentle Yoga for Stress Relief

Restorative Yoga

Strength and Stability

Pre-Natal Yoga

WEBSITE
https://www.greenroomyoga.ca/
ADDRESS
2645 E Hastings St, Vancouver, BC V5K 1Z6, Canada
CONTACT DETAILS
Phone: 778-892-9531

Email: [email protected]

OPERATING HOURS
Monday - Sunday: 09:00 AM - 09:00 PM
| | |
| --- | --- |
| CRITERIA | RATING |
| Variety of Services | ★★★★★ 5/5 |
| Rates | ★★★★★ 5/5 |
| Availability | ★★★★★ 5/5 |
| • Customer Capacity | ★★★★★ 5/5 |
| • Operating Hours | ★★★★★ 5/5 |
| Customer Service | ★★★★★ 5/5 |
| • Instructor Feedback | ★★★★★ 5/5 |
| • Facilities | ★★★★☆ 4/5 |
Green Room Yoga is a small East Vancouver yoga studio that has been operating since 2004.
Despite having a class capacity of nine students per class, Green Room Yoga is open seven days a week to accommodate the number of students who want to learn yoga from them.
Some class types they provide include a wide variety of gentle and stress-relieving yoga sessions as they specialize in relaxing and restorative poses to manage stress and anxiety.
Out of all their yoga classes, we recommend their restorative yoga class, where gentle postures are performed to allow your mind and body to rest and recover.
We believe that this exercise is especially beneficial for those with tired minds and bodies. Besides that, they also offer prenatal yoga classes for mothers up to 24 weeks pregnant.
Customers will be glad to hear that drop-ins are only CAD 20. We think their affordable prices make their yoga classes more encouraging and accessible to others.
Furthermore, many customers we've spoken with have mentioned how comfortable they are in their studio because they have peaceful yoga rooms, and all the instructors are warm and friendly.
If you ever find yourself in East Vancouver, we recommend you stop by Green Room Yoga for a relaxing yoga session.
Open seven days a week
Offers both in-studio and streaming sessions
Complimentary 75 minute yoga class
Affordable prices
Numerous yoga instructors 
Prenatal students are welcome
Limited class capacity
Only has one studio location
Customer Reviews
Peaceful spaces and high-quality yoga services
"The quality of instruction at Green Room yoga is simply excellent. Flows are offered in thoughtfully progressive sequences with options so that practice is both safe and challenging for any body. The intimate room is peaceful. The online classes are a great option too. East Van is lucky to have this gem in our hood." -Melanie P.
Attentive instructors
"I have been practicing at Green Room for 7 years since discovering the studio when I first moved to Hastings Sunrise. It is a wonderful, unpretentious space with teachers who pay close attention to each student. The community is warm and friendly – students and teachers alike know one another by name and care about one another, the studio, and this great neighbourhood." -Katie B.
5. The Yoga Bar Yaletown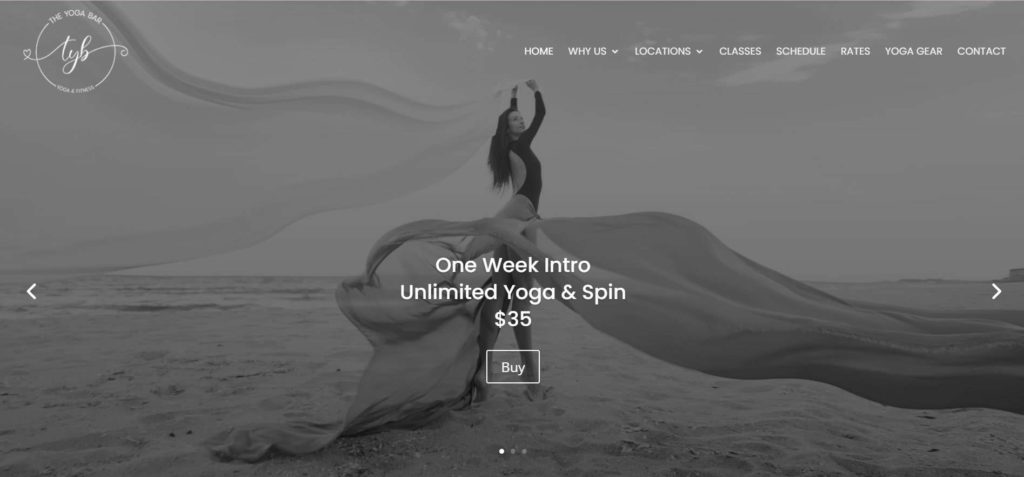 Test
Info
SERVICES
Yoga Classes

Aerial Yoga

Pilates

Spin Classes

Endurance Training

Deep Stretch

Abs Blast

Arms & Legs Blast

WEBSITE
https://www.the-yogabar.com/
ADDRESS
1050 Homer St #280, Vancouver, BC V6B 2W9, Canada
CONTACT DETAILS
Phone: 604-264-1759

Email: [email protected]

OPERATING HOURS
Monday: 07:00 AM – 09:00 PM

Tuesday: 07:00 AM – 08:00 PM

Wednesday: 07:00 AM – 09:00 PM

Thursday: 07:00 AM – 08:00 PM

Friday: 07:00 AM –07:00 PM

Saturday - Sunday: 8:00 AM– 06:00 PM
| | |
| --- | --- |
| CRITERIA | RATING |
| Variety of Services | ★★★★★ 5/5 |
| Rates | ★★★★★ 5/5 |
| Availability | ★★★★★ 5/5 |
| • Customer Capacity | ★★★★★ 5/5 |
| • Operating Hours | ★★★★★ 5/5 |
| Customer Service | ★★★★★ 5/5 |
| • Instructor Feedback | ★★★★★ 5/5 |
| • Facilities | ★★★★☆ 4/5 |
The Yoga Bar offers two spacious yoga studios dedicated to hot yoga and high-intensity classes. They have a 3,500-square-foot facility with a gorgeous ocean view, which we believe makes their classes more relaxing for clients.
What we liked best about this business is that it has infrared heaters to keep customers warm and stimulate blood circulation and metabolism.
In addition, they also have numerous yoga equipment for everyone, including 25 aerial yoga hammocks. This establishment also provides its customers complimentary bath towels, lockers, fruits, and organic teas.
We also liked how they have The Yoga Bar App, which allows customers to plan and schedule their classes. They can also view and register for courses in their area.
Unfortunately, this company cannot accommodate drop-ins, and they require a minimum of 10 classes upon registration. We would also like to mention that they charge relatively higher fees.
Nonetheless, the majority of customers we spoke with were pleased with their services and facilities. Most clients commented on how peaceful the atmosphere at their studios was and how charming the instructors were.
In sum, we think The Yoga Bar offers one of the best yoga classes in Vancouver as they provide a comfortable and welcoming environment for their clients.
Open seven days a week
Two office locations
Has yoga retreats and events
Yoga Bar App available for convenient booking
Free parking
Minimum 10 membership classes
Relatively higher rates
Customer Reviews
Serene ambiance and amazing staff
"TYB is a charming space and has a serene atmosphere in the heart of the Yaletown. They offer versatile classes from high intensity fitness classes with weights, to Ariel yoga (where you hang like monkeys from the ceiling via a silk fabric and let the inner child out) and at last but not least: my favourite class: hot Vinyasa yoga. All teachers and staff are amazing (to name a few of the teachers whom I tried their classes and liked: Oxana, Marcus, Victoria Maybee, Kimmy, and Rebecca). The highlight of my week is the Tue Vinyasa class with Rebecca. I'm pumped with so much good energy when I leave, I feel ready to face anything that life might throw at me. Very highly recommend TYB!." -Azadeh G.
Beautiful space and charming instructors
"Great studio. It has fitness and yoga classes, hot yoga and also Aerial Yoga!! Which is so much fun. The space is beautiful and charming and the staff are lovely." -Paula N.
FAQs about Yoga Classes in Vancouver
---
That's about everything we know about the best yoga classes in Vancouver. We hoped this article made it easier for you to decide on where you can find the best yoga classes in your area,
In the meantime, if you're looking to get into Pilates, we've got you covered with the best pilates studios in Vancouver.