All You Need to Know about Jericho Beach
Looking for a cool urban escape? Jericho Beach, along Vancouver's English Bay, has your back. Sandy shores, water sports, and epic mountain views create a laid-back vibe that makes it to the dream vacation of many.
Whether you're up for an adventure, a picnic, or just some chill time, Jericho Beach is worth checking out. Read on and soak up the good vibes to make the most of your visit to Jericho Beach.
What is Jericho Beach known for?
Jericho Beach, a beautiful sandy beach along the southern tip of English Bay, is known for its swimming and watersports opportunities and the adjacent park where visitors can play ball games or relax while taking in views of the mountains and downtown Vancouver.
This popular summer destination in Vancouver's Point Grey neighborhood attracts swimmers and water sports enthusiasts alike. The beach's east side is a magnet for swimmers, while the west side welcomes sailboats and windsurfers.
Jericho Beach Park, the expansive green space surrounding the beach, complements the not-so-crowded beach and provides an escape from the bustling city. It offers ample room for activities including soccer, softball, rugby, tennis, volleyball, and scenic walks.
Inside Jericho Beach Park is a pond, and the grassy area around it is an ideal spot for picnics and group gatherings. It's a great place for families and friends to bond, just like the whole park itself, which is a popular venue for events like the Vancouver Folk Music Festival.
Things to Know
Fees: Access to Jericho Beach is free for the public. Visitors can enjoy the beach without worrying about admission fees, although some amenities may have their corresponding fees.
For instance, the picnic site by Jericho Pond can be used for CAD 107 (residential rate) and CAD 321 (corporate rate). You can also check the menu at the concession stand at Jericho Beach for pricing information.
Traffic: The level of traffic at Jericho Beach can vary depending on the time of day and the season.
Compared to the nearby Kitsilano Beach, Jericho Beach is generally not crowded because of its location a little further west. But during the summer months, and especially on weekends and holidays, the beach tends to get more visitors. 
Usually, the peak hours can be felt in the middle of the day.
Parking: There are pay parking options available at Jericho Beach Park and the surrounding areas. You can find them on Discovery St, at the Youth Hostel, Jericho Locarno Park, Jericho East, and Jericho Sailing Center.
Some of these locations offer daily, monthly, or seasonal passes, with rates varying by season. EasyPark manages these parking lots, so you can check their website for information regarding fees and hours of operation before heading over to Jericho Beach.
Restricted Activities: Fishing and the harvesting of bivalve mollusks are not permitted at Jericho Beach. While there are trails around the beach, camping at Jericho Beach Park is also prohibited.
Some visitors may consider parking lot camping, but the Vancouver Park Board rangers have recently become stricter in enforcing the no-overnight parking policy in some locations.
This strict enforcement is primarily for the safety of visitors, so let recent incidents around Jericho Beach serve as cautionary tales.
Best Time to Go
The best time to go to Jericho Beach is during the summer primarily because of the enjoyable water sports and outdoor activities that the warm weather brings. Some events, like the Vancouver Folk Music Festival, also take place during this season.
However, spring and fall are also ideal if you prefer a quieter beach experience without the crowds. The mild weather during these seasons allows for pleasant activities like walking, biking, or kayaking (kayaking in vancouver), all while enjoying the scenery without the summer heat.
In terms of timing, the best moments to visit Jericho Beach are early in the morning or late in the afternoon. Parking can become challenging during midday hours.
How to Get There
Car: Take W 4th Ave and then continue on to Discovery Street until you reach Jericho Beach Park. Just to provide a point of reference, it only takes around 13 minutes to reach the beach from the Steam Clock at Gastown.
Bus: A couple of bus routes have stops near Jericho Beach, although they're approximately a 10-minute walk away. Examples include Bus #044 (with a stop at WB W 4th Ave @ NW Marive Dr), and Bus #004 (which stops at WB W 4th Ave @ 4100 Block).
Compared to taking a car, this transportation option usually takes longer, even up to an hour depending on your location in Vancouver and any bus route detours.
Bike: Cyclists can opt for the Seaside Greenway, a 28-kilometre path along the waterfront, and explore several beaches including Jericho Beach. This pathway which is also part of the Seawall also has designated sections for walkers and joggers.
They can also choose the Jericho Beach-Locarno Park-Spanish Banks route, which is known to be fairly busy but appreciated for its relatively bike-friendly roads and stunning views. This stretch will allow cyclists to check out nearby neighborhoods as well.
Where to Stay near Jericho Beach
Sylvia Hotel
Address: 1154 Gilford St, Vancouver, BC V6G 2P6, Canada
Phone: +1 877-681-9321
Pricing: $$
Situated in Vancouver's West End, the Sylvia Hotel is a mere 14-minute drive from Jericho Beach Park. It's conveniently close to downtown, English Bay Beach, and various other city attractions.
Location-wise, the Sylvia Hotel offers an ideal setting. Its rich history lends it a charming, if somewhat dated, ambiance that adds to its romantic allure.
This pet-friendly hotel also allows you to bring your furry companions along and take them for a stroll in nearby Stanley Park, just a four-minute drive away.
Gage Suites at UBC
Address: 5959 Student Union Blvd, Vancouver, BC V6T 1K2, Canada
Phone: +1 604-822-1000
Pricing: $$
What's interesting about Gage Suites is its prime location on the UBC campus in Vancouver. Guests can relish the views and the security that come with being within the campus, with convenient public transportation options just a five-minute walk away.
While the area is brimming with restaurants and cafes, some rooms are already equipped with excellent kitchenware for those who prefer cooking on their own.
Note that the rooms are on the smaller side, but they are meticulously maintained and come with a full range of amenities.
Times Square Suites Hotel Vancouver
Address: 1821 Robson St, Vancouver, BC V6G 3E4, Canada
Phone: +1 604-684-2223
Pricing: $
Times Square Suites is another excellent option for guests seeking downtown accommodation for both short and extended stays. The suites are designed apartment style so it's easy to be comfortable in this accommodation.
The prime location of Times Square Suites means you can easily explore popular attractions in the area without the need for a car. However, if you plan to visit Jericho Beach Park, you need to drive for around 16 minutes via W 4th Ave.
The Burrard
Address: 1100 Burrard St, Vancouver, BC V6Z 1Y7, Canada
Phone: +1 604-681-2331
Pricing: $
The Burrard boasts a legacy dating back to the 1950s, but recent renovations have artfully merged retro and contemporary elements and created a truly interesting design.
What sets this hotel apart are the exceptional amenities it offers, including Nespresso units in select rooms and the outdoor fire pit in the courtyard. Surprisingly, despite these added luxuries, the room rates remain affordable.
The space centre and planetarium (planetarium in vancouver) is just a few minutes away from this hotel. You can drop in for a visit when you're not scheduled to go to the beach.
Granville Island Hotel
Address: 1253 Johnston St, Vancouver, BC V6H 3R9, Canada
Phone: +1 604-683-7373
Pricing: $
For those looking to visit Jericho Beach from this hotel, a brief seven-minute drive will get you there. Beyond its convenient location, the hotel offers a comprehensive range of amenities, including a fitness room and a soothing jacuzzi, ensuring a comfortable stay.
If you're traveling with a furry friend, this boutique hotel is exceptionally pet-friendly. They go the extra mile by providing treats for pets from the Granville Island Pet Treatery.
Make the most of your stay by exploring the hotel's nearby attractions, such as Granville Island or the picturesque Kitsilano Beach, which are just a stone's throw away.
What to Do at Jericho Beach
Take in the View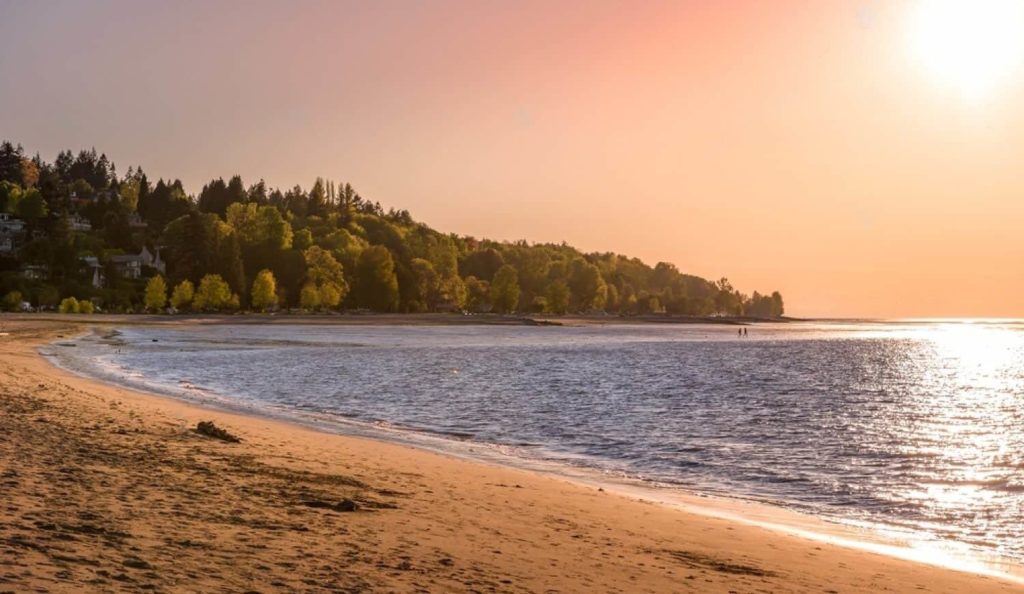 The captivating views at Jericho Beach are one of its most enchanting features. As you step onto these shores, you're greeted by unobstructed vistas of the Burrard Inlet, framed by the rugged North Shore mountains and the modern West Vancouver skyline.
To the northwest, Mount Cypress commands attention, while to the northeast, the striking silhouette of Mount Seymour stands tall. Gazing further, you can spot the lush greenery of Stanley Park and catch glimpses of the iconic Downtown Vancouver skyline.
Jericho Beach also offers a front row seat to some of the most mesmerizing sunsets, casting a warm, golden glow over the landscape. It's the perfect spot to enjoy an exceptional visual treat.
Get Active with a Ball Game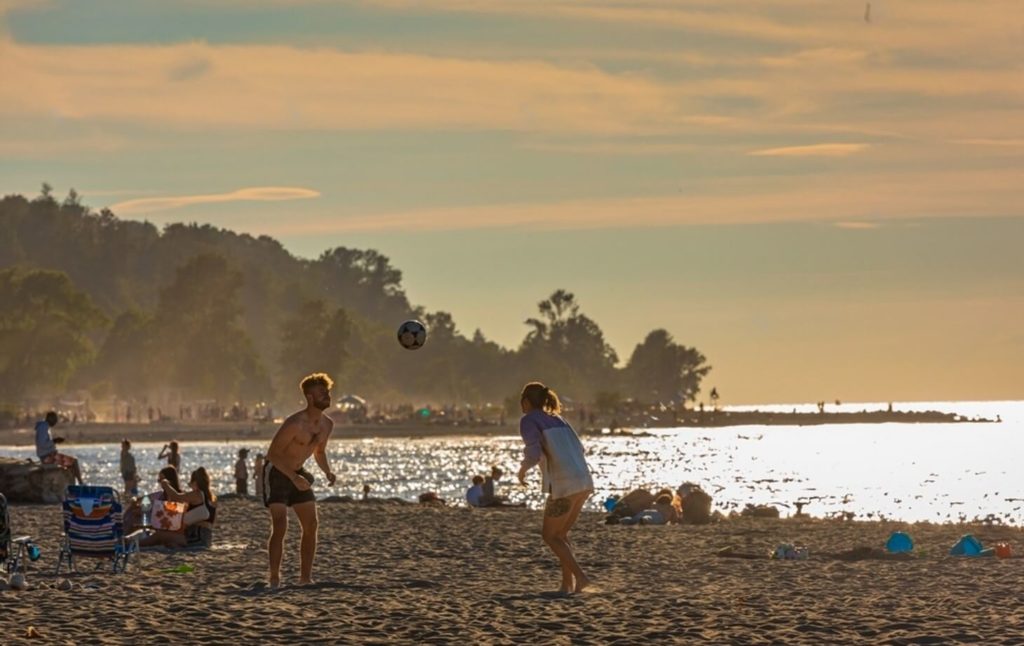 Paddle along Jericho Beach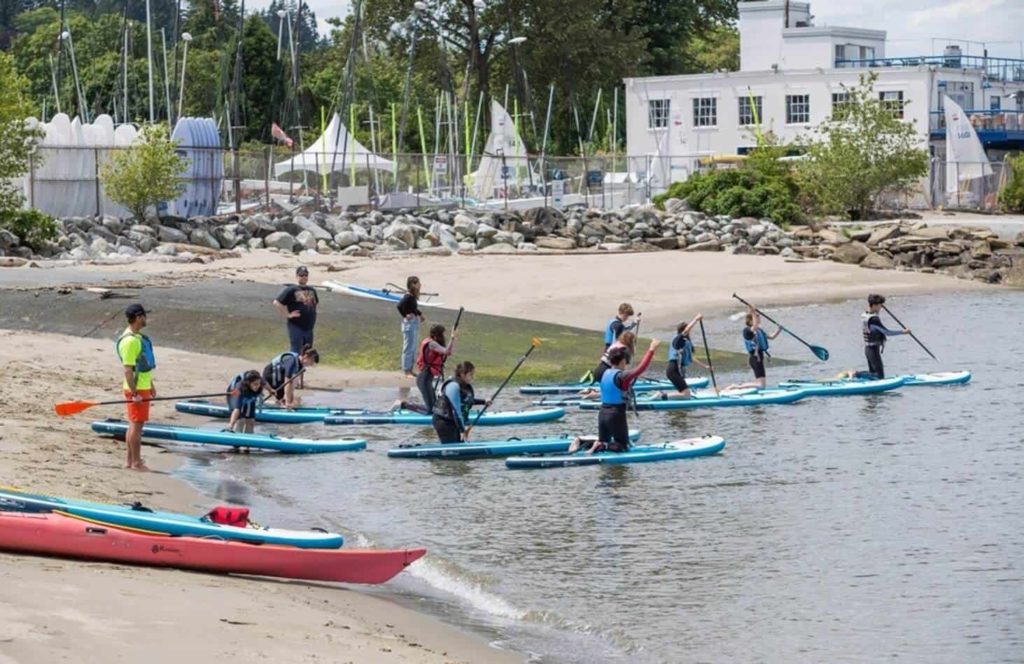 Watersports at Jericho Beach offers an exhilarating experience for enthusiasts of all levels. The pristine waters of the Burrard Inlet provide a picturesque backdrop for adventure seekers.
Beginners can take advantage of the calm, shallow waters near the beach, where expert instructors provide lessons in windsurfing, paddleboarding, skimboarding, and kayaking. For those with more experience, the expansive waters offer ample space to hone their skills.
Plus, the backdrop of the North Shore mountains and the Vancouver skyline makes it not only a thrilling activity, but also a memorable visual journey.
Bike along the Trail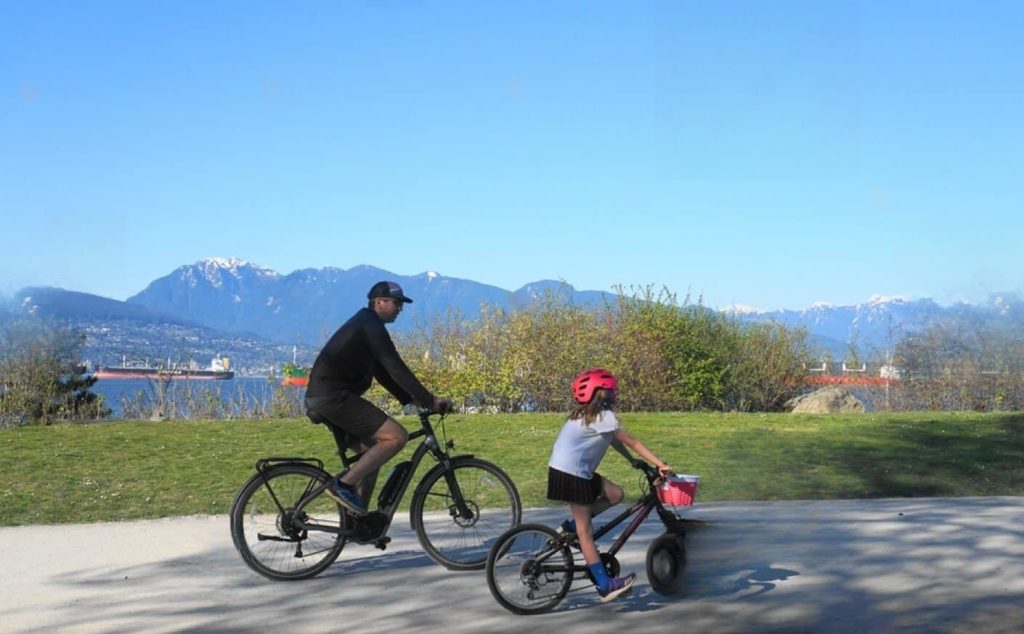 Biking is considered a favorable transportation option around Jericho Beach, but more than that, it offers a leisurely and thrilling experience along the waterfront.
The trail extends not only past Spanish Banks and Kitsilano but even further, allowing cyclists to discover new sights and hidden gems along the way. This sense of adventure keeps the ride fresh and engaging, whether you're a local cyclist or a visitor.
The refreshment stands selling ice creams and beverages are a welcome sight, especially during the summer months. These pit stops provide a chance to refuel, quench your thirst, and savor a treat while taking in the coastal ambiance.
The vibrant atmosphere of the beach and its surroundings also add a lively dimension to your ride. You'll likely encounter fellow cyclists, joggers, and beachgoers, creating a shared appreciation of the recreation and natural beauty of the area.
Set up a Picnic by the Pond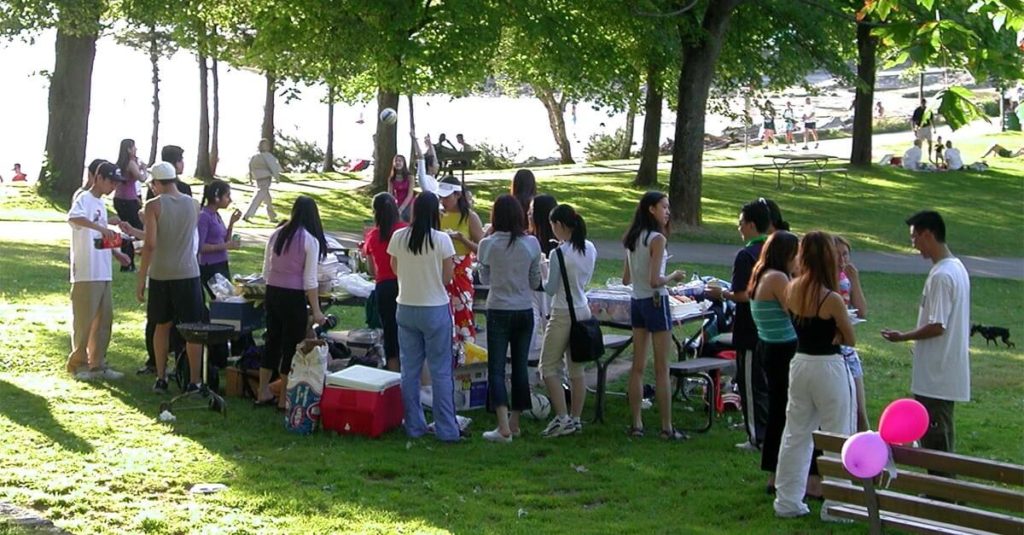 Jericho Beach offers a range of picnic-perfect spots. You can choose to lay out your picnic blanket on the sandy shore, allowing the soothing waves to accompany your meal.
Alternatively, opt for the grassy areas within Jericho Park, which offers shade and a serene atmosphere. For an added touch of comfort, bring along cushions or foldable chairs to relax and savor the moment.
As you dine with friends or family, enjoy the tranquil ambiance created by the gentle lapping of waves and the occasional passing ships. Just be mindful of your own garbage, so you can help keep the shores clean.
During peak summer months, note that it's best to reserve your preferred spot early to avoid last-minute changes of plans. 
Where to Eat near Jericho Beach
The Galley Patio and Grill
Address: 300 Discovery St, Vancouver, BC V6R 4K5, Canada
Phone: +1 604-222-1331
Pricing: $$
The first thing to know about this place? They don't take reservations. But is it worth it to line up? Absolutely.
While the menu may feature familiar items like burgers and typical snacks, it's the view that truly sets it apart. The outdoor seating keeps you closely connected to the beach, so visitors at the beach love dining here.
Beyond Bread Artisan Bakery & Cafe
Address: 3686 W 4th Ave, Vancouver, BC V6R 1P1, Canada
Phone: +1 604-733-3931
Pricing: $
Baguettes, loaves, country bread, and other simple creations are stars of the show here at Beyond Bread. Perhaps it's because of their artisanal approach and commitment to grain quality that their sourdough boasts exquisite, authentic flavors.
For those with a sweet tooth, don't miss their pain au chocolat. Just cross your fingers that it's not what everyone at the front of the line is eyeing as well.
La Quercia & L'Ufficio Restaurant and Deli
Address: 3689 W 4th Ave, Vancouver, BC V6R 1P2, Canada
Phone: +1 604-676-1007
Pricing: $$
Proud Italian heritage and homemade quality make La Quercia the exceptional dining spot that it is. It's a great place to visit if you're out on the lookout for pickled vegetables, preserves, honey, and seasonal produce.
They offer a dine-in option, and it's advisable to make a reservation if you plan to sit down and enjoy your meal. Additionally, there's a deli for those looking to grab a quick bite and go.
Four Olives Restaurant
Address: 4510 W 10th Ave, Vancouver, BC V6R 2J1, Canada
Phone: +1 604-221-7777
Pricing: $$
This restaurant offers casual Mediterranean fusion, making it a fantastic choice for dinner. You'll find a range of options including Spanakopita with Tzatziki, Souvlaki, and Grilled Striploin Steak.
If pasta is more to your liking, you'll find a diverse array of tempting options.
If you still haven't noticed, there are just too many food items at this restaurant that are worth ordering and coming back to. They have a well-curated selection of liquor to boot if you think it goes well with their dishes (hint: they really do).
The Naam
Address: 2724 W 4th Ave, Vancouver, BC V6K 1R1, Canada
Phone: +1 604-738-7151
Pricing: $
The Naam has been serving vegetarian and vegan dishes for half a century now. So, it clearly started back when such dietary preferences were not yet as widely known to many as they are today.
Their legacy stretches back to an era when 4th Ave bore the name Rainbow Road. While some might view such historical pride as an obstacle, the restaurant maintains an authentic and down to earth atmosphere, preserving its old-school passion for delivering top-notch quality.
Among their standout dishes, the miso gravy holds a special place in the hearts of patrons. However, you'll also discover great options in the Loco Moco or the Vegan Croissant Witch.