The 6 Best Asbestos Removal Services in Vancouver
In the 1900s asbestos was a common material for insulation in homes and commercial buildings. Today, however, the use of this product is discouraged because of its adverse health effects.
Due to its widespread use and dangerous nature, asbestos removal is best left to professionals. So, to do our part, we've compiled the best asbestos removal services in Vancouver.
These companies will provide you with the means to safely dispose of any asbestos in your home, office, or project site. We know that choosing can be tough, so we've also included pros & cons, company backgrounds, and other info.
How Much Does Asbestos Removal Cost in Vancouver?
Asbestos removal costs will differ with each and every job. This is because each project carries its own health risks and equipment requirements.
To put things in perspective, we've compiled this general cost guide:
| | |
| --- | --- |
| Service | Price Range |
| Asbestos inspection | $400 – $2,000 |
| Flooring removal | $300 – $1,000 |
| Vent cleaning/removal | $150 – $3,000 |
| Full Home asbestos removal | $9,000 – $15,000 |
The high costs associated with asbestos removal are a result of the equipment and skill required by workers. But, given the health risks of DIY removal, these costs are ultimately justified.
The Best Asbestos Removal Services in Vancouver
If you're finally set on having asbestos removed, then it's time to meet the best asbestos removal services in Vancouver.
1. A&D Demolition and Asbestos Removal
SERVICES
Asbestos removal
Demolition services
Hazardous waste disposal
WEBSITE
https://www.addemolition.com/
ADDRESS
163 Balmoral Rd W, North Vancouver, BC V7N 2T6, Canada
CONTACT DETAILS
Toll-free number: (778) 340 – 8795
Email:

[email protected]

OPERATING HOURS
Open 24 hours
A&D is a medium-sized demolition firm that offers services to both homeowners and commercial businesses. This means that they have the tools and know-how to tackle any level of asbestos removal.
Depending on the size of a project, these folks can send out a pair of technicians or a full team consisting of several professionals. With each and every job, A&D utilizes full hazmat suits and respirators to reduce the risk to technicians.
To ensure the safety of those dwelling in a home or business place, A&D also uses industry-grade lining materials. This prevents the spread and deposit of asbestos fibers, which could cause serious bodily harm if inhaled.
One great thing about this firm is the fact that they offer free asbestos sampling and testing for renovation projects. This ensures that clients can quickly verify the presence of asbestos and take the necessary actions for removal.
Specializes in site demolition
Fully qualified to dispose of hazardous waste
Offers services to individuals and business owners
The medium-sized team may struggle with large projects
Customer Reviews
Having worked on over 200 projects, it's easy to see why A&D Demolition has so many great reviews:
"Shahram and his team were amazing. We had a small room that needed asbestos removal and we couldn't be happier. They provided a very competitive quote and once approved they were able to schedule promptly. Team arrived completed work in professional and timely manner. Would highly recommend and would use again if needed in the future." – Patrick W.
"The best experience I had with this company. Perfect pricing and good timing. Highly recommended. Very skilled management and super friendly staff.
I had a job to be done quickly and tried several other companies but I was lucky and got the best deal of them all and I am very satisfied with their services." – Siavash F.
2. Vancouver Asbestos Removal
SERVICES
Asbestos removal
Asbestos testing
Asbestos insulation replacement
Hazardous waste disposal
WEBSITE
https://asbestosvancouver.ca/
ADDRESS
11874 92a Ave, Delta, BC V4C 3N2, Canada
CONTACT DETAILS
Phone number: (778) 881 – 4357
Email:

[email protected]

OPERATING HOURS
Monday: 9 am – 6 pm
Tuesday: 9 am – 6 pm
Wednesday: 9 am – 6 pm
Thursday: 9 am – 6 pm
Friday: 9 am – 6 pm
Saturday: 9 am – 6 pm
Sunday: 9 am – 6 pm
Vancouver Asbestos Removal is a large company that has handled projects in places like Richmond, Port Coquitlam, and Port Moody. These professionals have hundreds of jobs under their belt, and the quality of their work has earned them an A+ BBB rating.
This firm regularly works on construction and demolition sites to dispose of all forms of asbestos. As a result, many of their regular clients include construction companies and renovation firms.
Despite this, however, Vancouver Asbestos Removal does in fact offer services to homeowners and business owners. The firm's ability to operate on the commercial level ensures that it can handle residential projects with ease.
With a relatively large workforce, this company is best suited to commercial applications and larger projects. Homeowners with asbestos removal needs can expect to pay slightly more as a result of the larger work team.
Regularly works with construction and renovation firms
Great for commercial projects
Also offers lead, mold, and insulation removal
Office is relatively far from Vancouver
Customer Reviews
This company has earned its fair share of great feedback from clients:
"Vancouver Asbestos Removal is fast, reliable, and on budget. They get the job done on time by following the Worksafe BC law. Job got completed very quickly, a ton of extras included for no charge, highly recommended!" – Anureet D.
"On time, on budget and completed the work in a professional manner. We have used Vancouver Asbestos Removal on multiple projects and will continue to do so going forward. I would have no problem recommending them to anyone. Great work." – Steven T.
3. Ace Environmental Services Ltd.
SERVICES
Asbestos removal
Lead removal
Mold removal
Asbestos testing
Air quality testing
Hazmat surveying
WEBSITE
http://aceenvironmental.ca/
ADDRESS
#102 5497 Regent Street, Burnaby, BC V5G1N1
CONTACT DETAILS
Toll-free number: (778) 318 – 9904
Email:

[email protected]

OPERATING HOURS
Monday: 9 am – 7 pm
Tuesday: 9 am – 7 pm
Wednesday: 9 am – 7 pm
Thursday: 9 am – 7 pm
Friday: 9 am – 7 pm
Saturday: Closed
Sunday: Closed
Ace Environmental Services is a company that specializes in the identification and removal of hazardous materials. These folks have carried out work all throughout the lower mainland, including places like Kelowna, Burnaby, Nanaimo, and of course, Vancouver.
With the sole purpose of removing dangerous substances like asbestos, Ace thoroughly tests project sites to reveal all possible problem areas. They manage this by monitoring air quality and taking samples from places all over the site.
Once enough samples have been collected, the company's technicians send all samples to an off-site laboratory. Over the course of two weeks, tests are performed to confirm the presence of asbestos.
Finally, upon confirming the substance, clients will receive a detailed analysis and a consultation underlining their possible courses of action. While this may seem like a lengthy testing process, the actual removal of asbestos can be finished in as little as several hours.
Fully insured and bonded workers
Specializes in asbestos testing and removal
Serves clients all over the lower mainland
Testing and reporting can take a long time
Customer Reviews
Ace Environmental's thorough approach to asbestos removal has earned tons of praise from clients:
"I hired Ace Environmental to remove asbestos from my attic and portions of drywall from my house. The team, led by Ash, were very professional and efficient. I felt they gave me a fair flat fee price. They went above and beyond when it came to the demolition of my old kitchen and bathroom removal of my old carpets. It was a pleasure working with them. Highly recommended." – Mike D.
"Excellent service! I phoned 5 or 6 companies to have some asbestos testing done in a house we recently purchased. Most companies were very unprofessional and left me feeling uneasy about the situation. Ace environmental was able to guide me through the process, which ended up being easy and painless. The price was right and the communication was excellent. I would highly recommend them to friends and family!" – Borden R.
4.   TCO Environmental
TCO Environmental started in 2019. The company directors have more than 30 years of experience in the hazardous materials removal industry.
Unlike other companies, they put the protection of people and the environment first. Their team is fully certified and their practices and services meet all WorkSafeBC Health and Safety guidelines.
Asbestos is hazardous to your health, which is why you need to work with professionals you can trust. What's great about TCO Environmental is that they only use the test equipment and techniques to ensure safe and complete removal of any type of building materials that may risk your health and safety.
Aside from residential and commercial asbestos abatement, they also remove asbestos on ceiling tiles, vinyl floors, and non-friable asbestos-containing materials. They can also break, cut, drill, abrade, grind or sand these types of materials.
Dedicated To Client Satisfaction
Locally Owned & Operated
Prompt Project Completion
Flexible Appointments Available
5.   BC Green Asbestos Removal & Demolition
SERVICES
Asbestos removal vancouver
Demolition
Hazardous waste disposal
Lead removal
Mold removal
House demolition
WEBSITE
https://www.bcgreendemolition.ca/
ADDRESS
105 Bowser Ave, North Vancouver, BC V7P 3H1, Canada
CONTACT DETAILS
Phone number: (778) 872 – 1379
Email:

[email protected]

OPERATING HOURS
Open 24 hours
BC Green Demolition is a company known for its quick service and experience in asbestos removal. Unlike other asbestos removal services, BC Green is even able to offer on-site inspection and evaluation for asbestos.
This means that clients will no longer have to wait long periods of time before deciding on a course of action. Instead, the company's technicians will gather samples and test for asbestos right away.
Having worked on hundreds of projects, this company is well-versed in handling hazardous materials. BC Green's technicians utilize full hazmat suits and extensive protective measures including respirators and decontamination showers.
These measures ensure that both technicians and clients remain safe from any stray asbestos particles. Though it does entail a higher cost, many clients have claimed it is well worth it thanks to the speed and efficiency of service.
Offers on-site testing and evaluation
Has worked on hundreds of removal projects
Compliant with WorkSafeBC regulations
Services are more expensive than other companies
Customer Reviews
BC Green has safely handled tons of asbestos and left great impressions in the process:
"These guys were very helpful, nice and very great dealing with. They answered all my questions. Very happy about the experience. Thank you!" – Fila K.
"Saeed and his team have done a great job demolishing some dry walls in my kitchen that contained asbestos. I highly recommend them." – Kasem M.
6.   Done Right Demolition & Excavating Contractor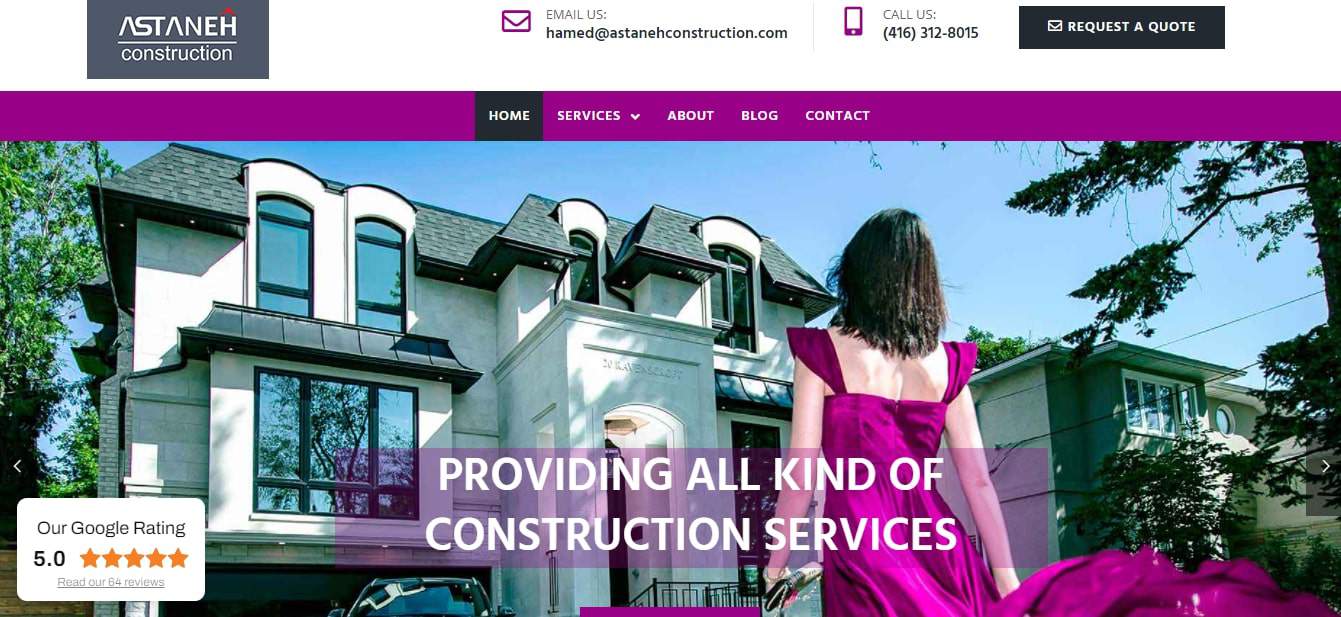 SERVICES
Asbestos removal
Demolition
Excavation
Deconstruction
WEBSITE
https://www.donerightdemo.com/
ADDRESS
338-3381 Cambie St, Vancouver, BC V5Z 4R3, Canada
CONTACT DETAILS
Phone number: (604) 561 – 3366
Email:

[email protected]

OPERATING HOURS
Open 24 hours

Among the many demolition and removal companies on our list, Done Right is one of the largest. Having worked in the industry for over 50 years, this company has built up an extensive array of equipment and technicians.
With heavy-duty equipment like excavators, rollers, and the like, these folks are a great option for demolition projects. Since the company also offers asbestos services, there's no need to hire a secondary company for removal or testing.
Having skilled workers also means that the company can handle asbestos in all its forms, from standard insulation and roofing to flooring and even stucco coatings. Of course, Done Right can also remove asbestos for renovation projects and general abatement.
For such applications, Done Right's technicians make use of full hazmat gear and decontamination units. The company also offers these services at a reduced cost to homeowners and those with individual projects.
Offers 24-hour services
Well-suited to demolition projects
Reduced prices for homeowners and individual projects
Scheduling can be difficult due to so many clients
Customer Reviews
Having served both homeowners and commercial clients alike, Done Right Demolition has shown that no project is too big or small:
"Jay did a great job. He was on time and finished the project sooner than expected. I would highly recommend them to anyone looking demo/Reno." – A. S.
"Done Right Demo is an excellent company to do business with. Imran is professional and sincerely wants to make sure his client's have a positive experience. He went above and beyond in servicing us, always made himself available, and was very easy to deal with. We would not hesitate to recommend Done Right Demo. And they have great, competitive prices too!" – Wendy D.
FAQs About Asbestos Removal
---
Asbestos, if handled improperly, can cause serious health problems to anyone who breathes it. But, now that you're familiar with the best asbestos removal services, you can dispose of the stuff in a quick and safe manner.
Oftentimes asbestos removal goes hand in hand with construction and renovation. If you're in need of professional builders to, we've also made a similar list of the best construction companies in Vancouver.