The 9 Best Caterers in Vancouver
Planning any kind of gathering can be quite a tall order. When you throw in other tasks like cooking good food and preparing drinks, the whole ordeal becomes all the more stressful.
Instead of burning yourself out, take a load off and choose from our list of the best caterers in Vancouver. Though we can't give you a taste test, we can definitely serve up some helpful reviews, pros & cons, and other in-depth info.
How Much Does Catering Cost in Vancouver?
First things first, let's take a look at the basic costs for each of the catering services on our list. This way you'll have a general idea of how much to invest in your food and drinks.
Caterer
Price range
Louis Gervais Fine Foods & Catering
Cocktail receptions: $10 – $50 per guest
Multi-course Meals: $48 – $62 per guest
Buffets: $46 – $69 per guest
BBQ catering: $32 -$56 per guest
Office meal delivery: $10 – $18.75 per guest
Holiday Menu: $54 – $77 per guest
Emelle's Catering
Boxed Meals: $10 – $52 per person
Buffet options: $39 – $52 per guest
Plated options: $35 – $55 per person
Canapes: $24 – $40 per tray
Dessert dishes: $5 – 10$ per guest
Savoury City Catering
Buffet Menu: $48 – $68 per guest
Plated courses: $55 – $65 per person
Family style courses: $55 per person
Food stations: $9 – $15 per guest
BBQ catering: $25 – $45 per person
Summer grazing menu: $55 per person
Corporate breakfast: $3 – $24 per person
Corporate lunches: $10 – $20 per person
Meet2Eat Catering Food Truck
Food truck menu: $5 – $20 per serving
School lunches: $10 – $20 per person
Catering menu: $5 – $40 per person
Jamjar Canteen
Preset meals $18 – $32 per person
Customized menus: $18 – $50 per person
Trees
Baked Goods: $2.90 – $4.25
Hot Breakfast: $6.95 – $8.95
Salads: $5.00 – $42.00
Lunch: $8.95 – $10.55
Hot Lunch: $4.95 – $9.25
Beverages: $2.50 – $28.00
Cheescakes: $7.95 – $62.00
Vancouver Private Dining
3-Course Meals: $90/pp
5-Course Meals: $150/pp
7-Course Meals: $210/pp
Grazing Board & Canapes: $60/pp
Each of these companies has its own areas of excellence. It should go without saying, the best choice is usually the one that keeps you and your guests satisfied without leaving your wallet famished.
Keep in mind, this cost table only serves to provide a general idea of each company's costs. The full menus for each caterer can be found at their respective sites, which we've hyperlinked below for your convenience.
The Best Caterers in Vancouver
It's now time to see what each caterer can offer in terms of service, quality, and of course, taste! So without further ado, here are our picks for the best caterers in Vancouver:
1. Louis Gervais Fine Foods & Catering
SERVICES
Weddings Corporate catering Private parties
WEBSITE
https://www.louisgervaiscatering.com/
ADDRESS
850 Harbourside Drive, North Vancouver, B.C.
CONTACT DETAILS
Phone number: (604) 359 – 5632
Email:

[email protected]

OPERATING HOURS
Monday: 8:30 am – 3 pm
Tuesday: 8:30 am – 3 pm
Wednesday: 8:30 am – 3 pm
Thursday: 8:30 am – 3 pm
Friday: 8:30 am – 3 pm
Saturday: Closed
Sunday: Closed
This business is a well-established catering company that is directly owned and managed by a professional chef. From weddings and formal gatherings to corporate parties and private get-togethers, Louis Gervais offers a wide variety of menus for any occasion.
This company has 3 categories of menus consisting of buffet setups, plated meals, and light cocktail menus. What sets this caterer apart from others is the immense variety of dishes that clients can choose from.
All of the catering menus incorporate dishes from different backgrounds like southern home-style cooking and Euro-Asian blended cuisine. As a result, clients can choose the dish that best suits their diet or the theme of their gathering.
Louis Gervais also has a terrific selection for holiday meals that can be catered for a handful of people or a whole company. It is worth mentioning that this caterer also offers an in-house event planner and manager to make sure things always run smoothly.
Owned and run by a professional chef
Extremely diverse catering menus
Has 2 physical restaurants for clients to sample food
Offers a top-class holiday catering service
Catering prices are higher than other companies
Customer Reviews
This company's diverse food selection and high-end services have earned it tons of rave reviews:
"Great little Gem in North Van. Delicious daily specials, soups, salads and sandwiches and dinner specials. Very reasonably priced. Everything is freshly made to order. I love the turkey brie sandwich – awesome." – Kevin M.
"This place is a must eat specially if you are a local. The place is charming, Louis is wonderful and the staff are friendly. Depending on your taste you might like or love the food, but you most certainly will enjoy the experience. They do catering as well and I always enjoy their food" – Mahsoo N.
2. Emelle's Catering
SERVICES
Wedding and milestone meals
Appetizers
Cakes and sweets
WEBSITE
https://emelles.com/
ADDRESS
177 W 7th Ave, Vancouver, BC V5Y 1L8, Canada
CONTACT DETAILS
Phone number: (604) 875 – 6551
Fax: (604) 875 – 6556
Email:

[email protected]

OPERATING HOURS
Monday: 8 am – 4 pm
Tuesday: 8 am – 4 pm
Wednesday: 8 am – 4 pm
Thursday: 8 am – 4 pm
Friday: 8 am – 4 pm
Saturday: Closed
Sunday: Closed
Emelle's Catering has been serving Vancouverites delicious savory dishes for over 20 years. Over time, this caterer has branched out into other forms of cuisine including canapes, barbecue, and even pastries.
Aside from your standard weddings and parties, these folks also cater to offices all around the Metro Vancouver area. Their office meals include piled-high savory sandwiches and freshly-prepared box lunches.
Of course, Emelle's also has vegetarian and vegan entrees for those who are not inclined to eat meat or poultry. These alternative meals can be made with a wide variety of substitutes for cheeses and meats based on the client's preference.
For private events, Emelle's menu consists of 3 different selections each tailored to different price points. This makes choosing much easier when clients are working with a set budget in mind.
Has been catering for over 20 years
A lot of experienc ein office catering
Offers entrees for all kinds of diets
Catering menu is less diverse than other caterers
Customer Reviews
Over the years, plenty of Vancouverites have given Emelle's their culinary seal of approval:
"Always a treat to drop in at Emelle's for lunch. Delicious and quick. Friendly staff. Thanks. My hat's off to you that you survived thru covid!" – Ken M.
"Great little "almost hidden" Bistro style eatery that is actually a catering service. Looking up at Jonathon Rogers park, in Mount Pleasant on 7th Ave. Due to Covid restrictions only has patio dining on site at the moment, which is very pleasant due to proximity to the park. Food is kind of a bistro/ resto style. Offering daily blue plate specials, weekends offer brunch, which is very tasty. Bennie's, and omelettes, French toast…etc. Very reasonable prices, and prompt, professional and friendly service. Highly recommended:)" – David T.
3. Savoury City Catering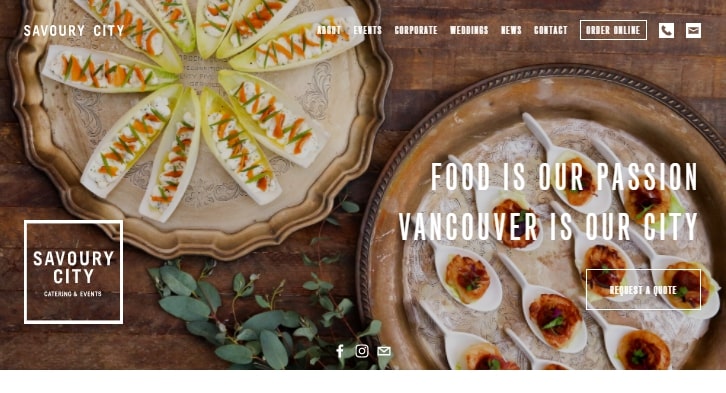 SERVICES
Canapes and platters
Plated
Buffet
Family size
Wedding catering
Corporate catering
WEBSITE
https://www.savourycity.com/
ADDRESS
3925 Fraser St, Vancouver, BC V5V 4E5, Canada
CONTACT DETAILS
Phone number: (604) 875 – 8484
Email:

[email protected]

OPERATING HOURS
Monday: 9 am – 5 pm
Tuesday: 9 am – 5 pm
Wednesday: 9 am – 5 pm
Thursday: 9 am – 5 pm
Friday: 9 am – 5 pm
Saturday: 11 am – 4 pm
Sunday: Closed
Savoury City is a full-service catering company that specializes in creating customized menus for private gatherings and functions. These folks also make a point to use locally sourced seasonal ingredients.
Because of this, the company's catering menu has a seasonal category that changes quite often. For general buffets and plated meals, however, clients can choose from 3 pre-set categories.
These categories include savory meats, Mediterranean dishes, and seafood feasts. Many clients are particularly thrilled by this company's seafood offerings as they make use of Dungeness crabs and Albacore tuna.
One offering that's unique to Savory City is its "Action Stations". Put simply, this is a catering service made up of food stations with light dishes like oysters, jumbo prawns, bao buns, and potstickers.
Offers an optional full-bar service
Offers a build your own mac 'n cheese buffet service
Great for clients who are fond of seafood
Food stations and buffet services carry additional charges
Customer Reviews
Be it private events or casual parties, Savory City never fails to wow its clients:
"We ordered the Mother's Day brunch and it was AMAZING!! We are still talking about it over a month later. The food was excellent, the packaging was tasteful, practical and efficient and the cost for the amount of food was very good. Plus I didn't have to cook! Highly recommend!" – Jaime T.
"First class food and service! Donna's care and customized approach to each of her clients menus has made every event we've planned together totally unique. As a Wedding Planner of 9+ years, Donna and her team are the first people we turn to for catering our clients amazing celebrations. We've long loved Donna and the Savoury City Catering team for their honest approach to food, unique flavours and creating enjoyable event experiences every time. No detail overlooked, with extremely professional and friendly staff, timely service and a team that always goes above and beyond. Donna and her team truly invest in their clients and community. We love Savoury City Catering!" – Ashley B.
4. Meet2Eat Catering Food Truck
SERVICES
Catering menu Food trucks School lunches
WEBSITE
https://www.meet2eatcatering.com/
ADDRESS
8246 Fraser St, Vancouver, BC V5X 3X6, Canada
CONTACT DETAILS
Phone number: (604) 724 – 5252
Email:

[email protected]

OPERATING HOURS
Monday: 9 am – 5 pm
Tuesday: 9 am – 5 pm
Wednesday: 9 am – 5 pm
Thursday: 9 am – 5 pm
Friday: 9 am – 5 pm
Saturday: 9 am – 5 pm
Sunday: Closed
Meet2Eat is a truly unique company when it comes to the other entries on our list. Compared to traditional caterers, this company is made up of a handful of food trucks that travel to events and venues to serve food.
Aside from being a mobile catering kitchen, Meet2Eat also serves a special fusion of Mexican & Greek cuisine. This means that clients can enjoy everything from tacos and burritos to falafel and beef kebabs.
Since these folks can go just about anywhere, they are a great option for those who want top-class catering for outdoor venues and functions. In the past, Meet2Eat has served food for corporate events, private parties, and even schools.
This catering service doesn't have a set menu for events, however. Instead, clients will be given a list of possible menu contents based on the availability of ingredients.
When everything is set, these items are prepared and served fresh from the food truck's countertop. We actually appreciate that quite a bit, as it ensures top-tier freshness of the goodies!
Has a selection of foods for children
Great for outdoor parties
Focuses on Mexican and Mediterranean cuisine
Uses only seasonal ingredients for freshness
Catering menu can be drastically limited by ingredient availability at times
Customer Reviews
Thanks to their delicious food and mobile services, these folks have left a great impression on many clients:
"Great service, great food. Fed over 100 staff members, everyone loved it. Simon was very punctual, arrived early, and was ready to serve the at the agreed time. The food was amazing, portions were perfect. Highly recommend Meet2Eat. Thank you again Simon" – Leon C.
"The Meet2Eat food truck was perfect for our outdoor work party. Chicken and falafel plates were tasty and fresh. I would highly recommend this option for an event in a park." – Jacob S.
5. Jamjar Canteen
SERVICES
Preset family style menu
Customized menu
Dinner and lunch menu
WEBSITE
https://www.jamjarcanteen.ca/
ADDRESS
2290 Commercial Dr, Vancouver, BC V5N 4B5, Canada
CONTACT DETAILS
Phone number: (604) 988 – 6400
OPERATING HOURS
Monday: 11:30 am – 10 pm
Tuesday: 11:30 am – 10 pm
Wednesday: 11:30 am – 10 pm
Thursday: 11:30 am – 10 pm
Friday: 11:30 am – 10 pm
Saturday: 11:30 am – 10 pm
Sunday: 11:30 am – 10 pm

Jamjar Canteen focuses on bringing delicious Lebanese delicacies to clients all over the lower mainland. For those unfamiliar with it, Lebanese foods make use of various spices to add a unique flavor to familiar items like steaks, fried croquettes, and even flatbread wraps.
This company offers four specific menus that accommodate all types of food preferences including vegan and vegetarian diets. This is made easy thanks to their Mediterranean dishes, which often incorporate veggies and meats.
For those who prefer to have a special customized menu, these folks also allow clients to have tailor-made catering plans. This is accomplished via an online order form where clients pick and choose their desired courses.
It is worth mentioning that Jamjar Canteen also serves fully halal dishes, making them ideal choices for those who practice Islam. They are also a prime choice for clients with a preference for spicy middle eastern foods.
Focuses on middle eastern dishes
Open 7 days a week
Serves halal foods
Restricted to Lebanese cuisine
Customer Reviews
These clients were extremely satisfied with Jamjar's Middle Eastern culinary offerings:
"Went for some cocktails and was very impressed! Love that they use metal straws and great service. Ordered the Grapes and Soda cocktail and the baklava and rice pudding. All were great" – Chelsea V.
"10 Stars + Two Thumbs up!
If you are looking for a delicious Middle Eastern experience + service that makes you feel as if you are part of the family, JamJar Canteen is waiting for you and your friends!
I recommend the Roasted Cauliflower (Makali)!" – Nar G.
6. Cocktails and Canapes Catering
We believe that Cocktails and Canapes Catering is Vancouver's premier catering and event planning company. In comparison to other companies, through their catering services, they are able to provide their clients with creative, world-class cuisine delivered with high-quality, professional service.
They have been in business since 2013 and have built a reputation over the years. We think they are one of the greatest catering companies because they have shown an unwavering track record of success in the catering and events industry through contracts with organizations such as Vancouver Pride Society, Diner En Blanc, and TEDx Vancouver.
Aside from these, what's great about them is their team who has over 20 years of experience in working in the food and beverage industry, catering and event planning, business, and marketing.
We find them unique because of the wide range of menus they offer. Unlike others on this list, they have different kinds of canapes, food stations, fine plated dinner, buffet or family-style dinner, summer barbeque, charcuterie, platters, cocktails, and so much more.
Have gluten-free, n=vegetarian, and vegan dishes
Can create a custom menu
Operating hours are are unsaid
Customer Reviews
Here are some testimonials of their satisfied clients:
"We couldn't be happier with our first-class experience with Cocktails and Canapes. They catered, served, bartended and managed our 10+ guest engagement party, and we received a flurry of compliments from our guests." – Tim-Bahar MacLeod
"Cocktails and Canapes did such an amazing job catering my wedding! From beginning to end the communication level was top-notch and I felt I was in very capable hands. The execution on the big day was flawless and the guests raved about the food! I would 100% recommend them." – Mackenzie Turecki
"Best birthday party catering ever.. My mom and her friends still talk about the amazing food! – Tammy Ritchie
7. Trees
SERVICES
Wholesale, Catering, Lunch services
WEBSITE
https://treescoffee.com/wholesale-catering/vancouver-catering/
ADDRESS
Downtown
450 Granville St, Vancouver, BC
738 Granville St, Vancouver, BC
Gastown
321 Water St, Vancouver, BC
Davie Village
1160 Davie St, Vancouver, BC
Strathcona
970 George St
South Granville
1598 West Broadway St, Vancouver, BC
Kitsilano
2655 Arbutus St, Vancouver, BC
CONTACT DETAILS
Phone number: 604.684.5060
Email:

[email protected]

OPERATING HOURS
Mon-Fri: 7:30am – 3:00pm
Trees is a café that offers a variety of services such as lunch, wholesale, and catering. Established in 1996, Trees Organic Coffee was able to open up other branches for its cafes to be enjoyed more by locals in the said places such as Gastown and Granville Street.
They also specialize in their own brand of cheesecakes and coffee in which they offer as a wholesale to businesses, restaurants, and pubs.
The café has also been recommended by Restaurant Guru 2021 and has taken first place for the Vancouver Foodster People's choice cake challenge in 2019.
One important thing to note though is that although they have a catering department, it is only offered for corporate customers and orders must be placed online on their website. If customers try to place a catering order at any of their stores, they won't get it as the orders have to go directly to their commissary kitchen.
They are acclaimed to serve high-quality food and are also open to transactions online, with an assistive and informative website and its interactive features which contain essential information from the brief description of each service to the price ranges.
Furthermore, they are best known for their excellent cheesecake and in-house roasted organic coffee.
Has 7 physical stores for accessibility
Informative website
Relatively short waiting time
Limited food selection for catering
Customer Reviews
Here is a review from their customer:
"My friends and I had a great night out. The quality of food was only matched by the quality of service, and the cheesecake was unreal! Thanks for making the evening an unforgettable one." – Daniela Wood
8. Vancouver Private Dining
Vancouver Private Dining is a team of highly acclaimed culinary professionals who have had experience in working in both international and Vancouver-based restaurants. The team is trained in traditional and modern culinary techniques and excel in producing authentic global flavors with a modern twist using local seasonal and local ingredients.
They also make it a point only to offer the freshest ingredients available as they are committed to forging partnerships with local farms and artisans. Having been in the culinary field for an impressive amount of time, the team aims to let their guests have a memorable experience as they taste food that exudes both delicious and approachable.
Composed of culinary professionals such as Warren Chow, Tiago De Souza Jensen, Alex Wagner, Trevor Pavle, and Evan Elman, each delivers the best and most authentic dishes for each dining experience.
We recommend this restaurant for customers looking for excellent and equally authentic dishes that are sure to suit both traditional and contemporary tastes. High reviews on Yelp and Google are also greatly acclaimed to be informative and provide a fun learning experience to clients who would like to learn more about their food and advanced culinary techniques.
Professional team
Contemporary and traditional dishes
Utilizes fresh ingredients
Wait time can be lengthy depending on time of day
Customer Reviews
Here are some reviews from their customers:
"I can't think of a better social distancing activity than a private cocktail class for 6 (couples appropriately spaced 6 ft apart). Theatrical brothers, Dave & Geoff put on a fabulous show, demo-ing the first FIVE cocktails. Then, we each got our chance to get behind the bar and try are own hand for SIX more. Fun, tasty, informative, and somehow not hangover-inducing, with their well-blended magical touch."
"I've been there for a team building event "Cocktail Wars" and one of their normal classes "Modern Cocktail Classes". Both were amazing. Dave and Jeff are such good teachers and bartenders. They are very good at instructing you in the art of their craft; they have really innovative cocktail ideas; they make/infuse their own ingredients (bitters, smoked alcohols!, etc); and most importantly they are really great guys.
Highly recommend them for a team building event, one off cocktail classes, actual bartending school, or even your own private event (stagette, birthday, whatever)."
9. Chef Laura
| | |
| --- | --- |
| SERVICES | Gift Baskets, Spice Blends, Special Events, Dinner Parties, Cocktail Parties, Private Chef, Event Planning and Management Services |
| WEBSITE | https://www.cheflaura.ca |
| ADDRESS | 400 Industrial Ave Vancouver, BC V6A 2P3 |
| CONTACT DETAILS | Phone number: 604.916.5253 |
| OPERATING HOURS | Contact for more details |
Chef Laura has been a professional chef for over 30 years. She has various appearances in the DailyHive, CBC, Castanet, Our City Tonight, and more.
Her services include special events, dinner parties, cocktail parties, and a private chef. A full-blown event planning and management is also offered with the inclusion of service personnel, music, entertainment, venue selection, decorations, and photography/videography.
Aside from event and catering services, Chef Laura also offers gift baskets, spice blends, and an option to build-a-basket. There are basket subscriptions available.
The price of Chef Laura's products ranges from $20 to $345. She offers free shipping for orders over $100.
Booking may be done through the website. As a plus, first-time clients will receive a free shrimp platter upon booking.
Complete event and catering services are available
Chef with expertise
Worked with various clients
Free shrimp platter on first booking
No office hours available
Customer Reviews
Here are some reviews from their clients:
"For several years Chef Laura made me and the entire X Files crew feel like we were in a fine restaurant – even when we were dining at 2 am in the middle of the forest." – David Duchovny, Actor, X-Files
"Laura's passion and excitement about food comes through in what she does. By the second day they were peeking into the kitchen to see what Chef Laura was making! These international travelers who are accustomed to the very best, gave Laura first class accolades for her outstanding meals. They even bragged about her to our competitors who called to ask about the experience."  — Cheryl Stinson, CRC Research Corp.
FAQs About Catering
---
We certainly hope this list helps you with your next event or get-together. All of these caterers have proven their culinary skills but, should you choose to look elsewhere for catering, you'll at least have a rough idea of what to look for and expect.
If you intend to host a party in your home sometime soon, you'll want to make sure everything is spick and span. Luckily, we've also made a list of the best cleaning services in Vancouver along with their pros & cons, reviews, and even some FAQs.