The 6 Best Fully Serviced Office Spaces in Vancouver
Whether you're an entrepreneur or a full-on business, having a designated workspace is important to your productivity and focus.
If you're in the market for the best fully serviced office spaces in Vancouver, you've come to the right place for answers!
Below, we review our top picks of providers in the city to help you find the solution that suits your needs.
How much do fully serviced office spaces cost in Vancouver?
Most fully serviced office spaces charge their clients per hour, day, week, or month. To give you an idea of how much these services will cost, here's a quick estimation chart for your reference:
| Duration | Price/s |
| --- | --- |
| Hourly | $5 to $10 |
| Daily | $25 to $35 |
| Weekly | $160 to $240 |
| Monthly | $400 to $1800 |
Best Fully Serviced Office Spaces in Vancouver
Finding the best fully serviced office spaces can be tricky, especially with so many providers around. We used the following criteria to shorten our list of top performers in the industry:
1. WeWork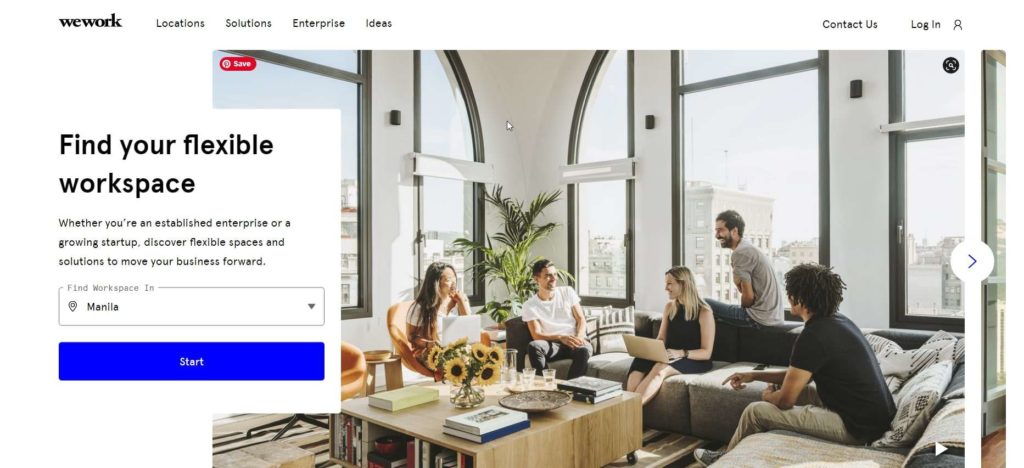 Test
Info
SERVICES
Dedicated Desk Standard Office Office Suite Full-Floor Office
AMENITIES
High-Speed Wi-Fi

Meeting Rooms

Onsite Staff

Enhanced Cleaning Services

Hands-Free Dispensers

Unique Common Areas

Phone Booths

Enhanced HVAC Standards

Business-Class Printers

And more

RATE
Request a Quote
WEBSITE
https://www.wework.com/
LOCATIONS
6060 Silver Drive, Burnaby, BC V5H 0H5 450 Southwest Marine Drive, Vancouver, BC V5X 0C3 2015 Main Street, Vancouver, BC V5T 3C2 555 Burrard St., Vancouver, BC V7X 1M8 333 Seymour, Vancouver, BC V6B 5A6 595 Burrard St., Vancouver, BC V7X 1L4 4622 Brentwood Boulevard, Burnaby, BC V5C 3Z6
CONTACT DETAILS
+6- 2-8548-8260
OPERATING HOURS
8:00 am to 5:00 pm (Monday to Friday)

Closed (Saturday, Sunday, and Holidays)
| | |
| --- | --- |
| Location | ★★★★★(5/5) |
| Size | ★★★★★(5/5) |
| Lease Flexibility | ★★★★★(5/5) |
| Facilities | ★★★★★(5/5) |
| Style | ★★★★☆ (4/5) |
WeWork has some of the most popular fully serviced office spaces in the city today. They offer highly competitive rates on top of a stylish and enjoyable experience.
Plus, they have the most amenities compared to other providers we've seen — which is why we did not hesitate to put them on our list.
They have hourly, daily, and monthly offers that clients can choose from. We booked several hotdesks for a day to immerse ourselves in their overall style and ambiance.
We could not have been more impressed by the organization and cleanliness that their facilities showed. And this was just their Main Street office.
Typically, when you rent a desk in any coworking hub, it's tiny and it feels like there's only an inch of a distance separating you and the person beside you.
This wasn't the case with WeWork.
The desks were large enough for a laptop, an external keyboard (if any), and a notebook or mouse on the side. Elbows are free to move around so you don't need to worry about them cramping up later.
Office chairs had good back support too, so you can relax while you work away at your computer.
The view of the outside was marvelous. Plus, there was a ton of natural light thanks to the high windows.
During breaks, we could people-watch while sipping our coffees by the windows or outside.
Another thing we loved about WeWork is that they have free refreshments e,g., coffee and fruit water. They also have free printing and copying services.
The internet speed was exceptional, so we didn't experience any lags while we were there. If you're working with content that requires a high-speed connection, WeWork is the best place for you.
Although WeWork is a great place to get services, the office did get a little noisy during peak hours.
While we can't vouch for their other locations, it's best to time your visits well so you can make the most out of your rental.
Free services (e.g., refreshments, printing, and copying)
High windows for natural light
Spacious desk spaces
Clean and stylish environment
High-speed internet connection
Gets noisy during peak hours
2. Vancouver Office Solutions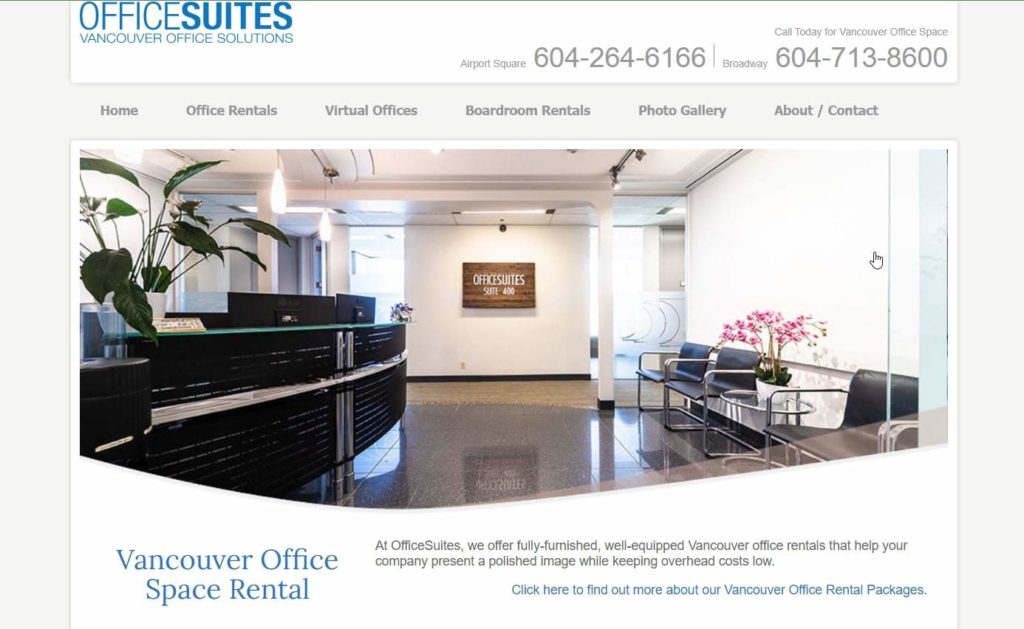 Test
Info
SERVICES
Boardrooms

Virtual Offices

Shared Office Space Rentals

AMENITIES
High-Speed Internet

Fax Lines

Phone Services

Boardrooms

Conference Rooms

Administrative Staff

Receptionist

And more

RATE
Request a Quote
WEBSITE
https://www.vancouveroffice.com/
LOCATIONS
#400 - 601 West Broadway, Vancouver BC, Canada, V5Z 4C2 #1100 - 1200 West 73rd Ave., Vancouver BC, Canada, V6P 6G5
CONTACT DETAILS
604-713-8600 | 604-264-6166
OPERATING HOURS
9:00 am to 5:00 pm (Monday to Friday)

Closed (Saturday, Sunday, and Holidays)
| | |
| --- | --- |
| Location | ★★★★☆ (4/5) |
| Size | ★★★☆☆ (3/5) |
| Lease Flexibility | ★★★★☆ (4/5) |
| Facilities | ★★★★☆ (4/5) |
| Style | ★★★★☆ (4/5) |
Since Vancouver Office Solutions only had two locations, we decided to pay both of them a visit. Here's what we found:
They had several office spaces for customers to choose from. However, the most you could fit into them were three to four people.
It would have been nice if they also had full-floor rentals like the previous company we reviewed. That way, they could accommodate entire companies in need of office space.
On the bright side, they had comfortable furnishing and office equipment that you could freely use during your stay.
Their Broadway location seemed a little more dated than their Airport location. They couldn't seem to settle on one design so the place looked a little like an old woman's living room.
However, we did like the cleanliness and organization of the pantry and reception area.
We ran a speed test on their internet to see if it could handle big data content. Results were average after tries.
If you're working with big data content or need a stable connection to complete your assignments, this place might not be the best choice for you.
All that said, we did find their virtual office services interesting. It's a service that lets entrepreneurs work remotely while still receiving all the convenience of working from an office.
Vancouver Office Solutions offers several virtual office packages. You can get packages with telephone and reception services – there's also a package for mailbox and business addresses.
Virtual office services
Customizable telephone reception service
Budget-friendly packages
Two physical locations
No full-floor office offers
Dated interior design and furnishing
3. The Network Hub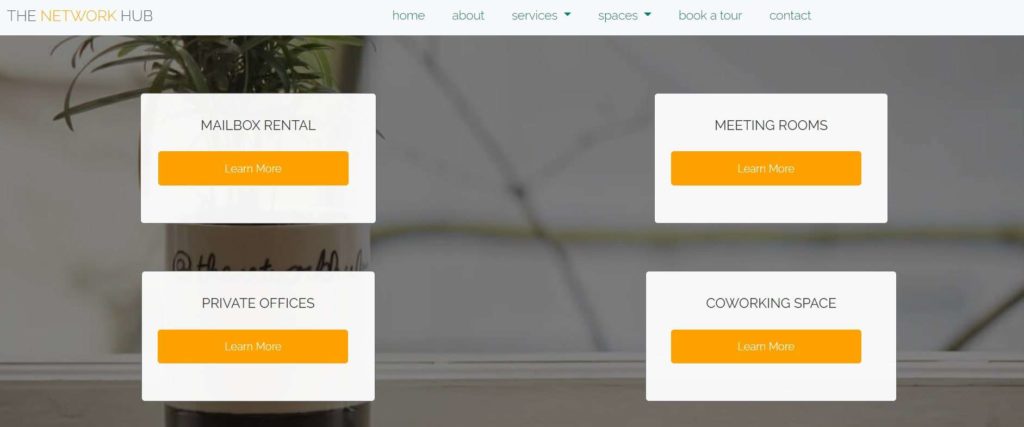 Test
Info
SERVICES
Virtual Office and Mailbox Rental

Meeting Room Rental

Small Office Space

Medium Office Space

Dedicated Coworking Space

Shared Coworking Space

Drop-In Coworking Space

AMENITIES
Furnished Workstations

Printing Services

Faxing Services

Meeting Rooms

Reception Services

High-Speed Wireless Internet

RATE
Request a Quote
WEBSITE
https://thenetworkhub.ca/
LOCATIONS
Unit 170, 422 Richards St., Vancouver, BC, V6B 2Z4
CONTACT DETAILS
604-767-8778 | Book a Tour
OPERATING HOURS
9:00 am to 5:00 pm (Monday to Friday) Closed (Saturday, Sunday, and Holidays)
| | |
| --- | --- |
| Location | ★★★☆☆ (3/5) |
| Size | ★★★★☆ (4/5) |
| Lease Flexibility | ★★★★☆ (4/5) |
| Facilities | ★★★☆☆ (3/5) |
| Style | ★★★★☆ (4/5) |
The Network Hub is a great choice for small to medium-sized groups.
They have a single location in Richards Street, Vancouver – which we visited for a tour of their offices and facilities.
Stepping through their front doors, the first thing we see is their receptionist desk and a cozy waiting area in the corner.
The overall aesthetics of the place resembled a rustic art studio – which it probably was before they turned it into an office space.
You get several package choices here at The Network Hub. This includes an hourly package, a daily package, a weekly package, and a monthly package.
They offer some of the most affordable rates in the city, making them an ideal choice for anyone on a tight budget.
They had desk spaces that were wide enough to house desktops and a few books. Private conference rooms were also available for any member to use.
We didn't like the office chairs all that much. Some of them were made of really uncomfortable fabric.
Luckily, you can bring your own furniture to the office so you can feel more comfortable while you work.
They have printing and copying services; however, they aren't as accessible as other providers on this list.
They only allow a certain number of prints per user per day. So, if you exceed that number, you'll need to bring in your own printer.
The jewel of our visit and the thing that captures most of our attention was their breakroom.
They had books on different topics that members were free to ride while they lounge on the available sofas. There was even a ukulele and a couple of board games present to help lighten the mood.
We're a little disappointed that they only have a single location in Vancouver. It's not the most accessible location from the main business district either.
if you're going there on foot and even if you're taking public transportation, it could still be a challenge.
Unique and fun break room
Budget-friendly packages
Rustic office vibe
Hourly and weekly packages
Only one location
Limited printing services
4. Intelligent Office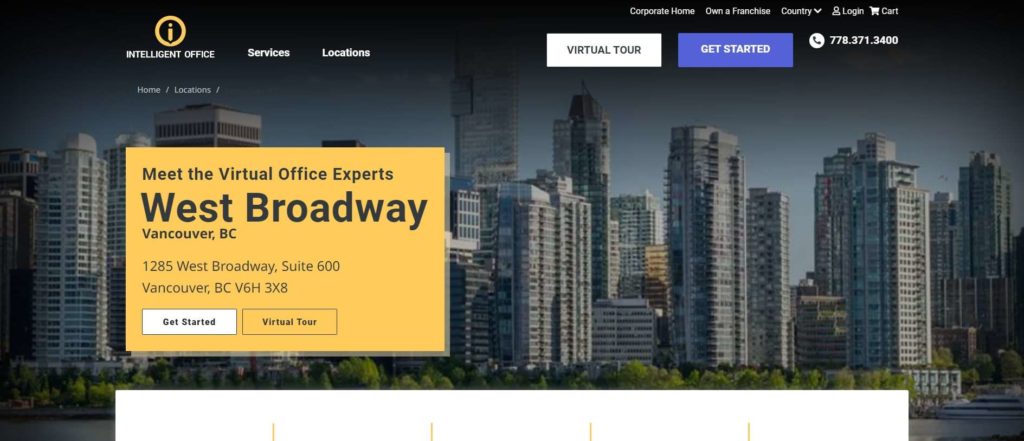 Test
Info
SERVICES
Office Space

Meeting Rooms

Virtual Address

Virtual Assistant

Phone Answering

AMENITIES
Executive Office Furniture Office Equipment Fully Furnished Kitchens Reception Services Admin Services Client Greeting Fitness Room Shower Conference Room Printing Services Copying Services Scanning Services
RATE
Request a Quote
WEBSITE
https://www.intelligentoffice.ca/
LOCATIONS
1285 West Broadway, Suite 600, Vancouver, BC V6H 3X8
CONTACT DETAILS
778-371-3400
OPERATING HOURS
8:30 am to 5:00 pm (Monday to Friday)

Closed (Saturday, Sunday, and Holidays)
| | |
| --- | --- |
| Location | ★★★★☆ (4/5) |
| Size | ★★★★☆ (4/5) |
| Lease Flexibility | ★★★★☆ (4/5) |
| Facilities | ★★★★★ (5/5) |
| Style | ★★★★☆ (4/5) |
Intelligent Office is yet another provider that offers virtual services e.g., virtual office addresses and virtual assistants. Clients told us they especially like them for their exceptional reception answering services.
In fact, our surveys of previous Intelligent Office clients show how much they appreciate the company's expertise when it comes to customer support and assistance.
Having heard so many good things about the company, we decided to pay them an onsite visit.
We're happy to report that their facilities were clean and organized. On top of that, their style and design were compatible with the latest industry standards: minimalist and sleek.
They have office spaces that are designed for varying team sizes. You can also enjoy services such as printing, scanning, and copying available for free.
Prices can be adjusted to fit a customer's needs and budget. In our opinion, it's one of the many attractive reasons to get their services.
We're slightly disappointed by the fact that they only have one location in Vancouver, however.
Luckily, they're in a pretty accessible part of town, so it shouldn't be a problem for you to get there.
Flexible lease terms
Accessible office location
HIgh-quality virtual assistant services
Minimalist and sleek interior design
Only one location in Vancouver
5. Central Park Business Centre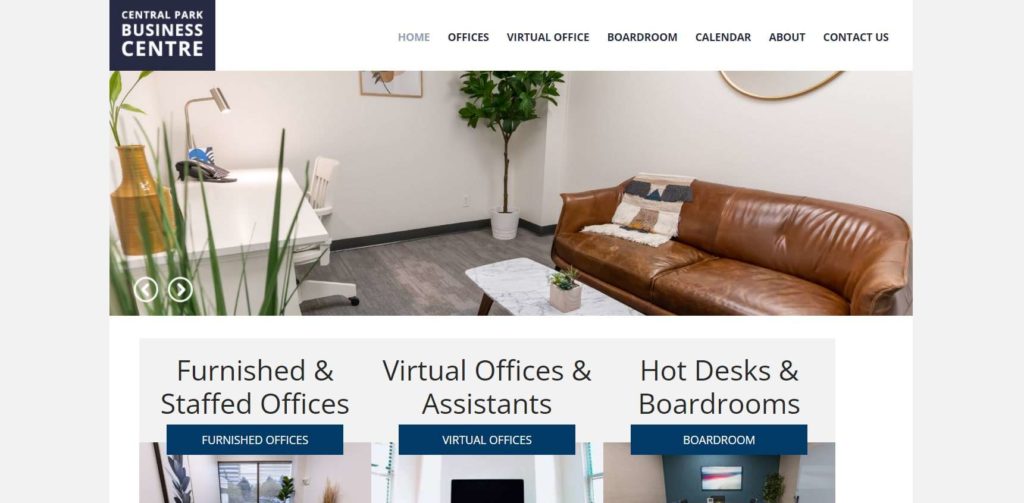 Test
Info
SERVICES
Furnished Offices

Virtual Offices

Hot Desks

Boardrooms

AMENITIES
Telephone Services

Furnishing

Desk Accessories

Internet Services

Voice Mail

Reception and Telephone Answering Service

Call Forwarding

Fax Services

Photocopying Services

Postage Meters

Binding Services

Coffee Facilities

RATE
Request a Quote
WEBSITE
https://www.executivesuite.ca/
LOCATIONS
300-3665 Kingsway Vancouver, BC V5R 5W2
CONTACT DETAILS
604-435-2500 |

Email: [email protected]

OPERATING HOURS
8:30 am to 5:00 pm (Monday to Friday)

Closed (Saturday, Sunday, and Holidays)
| | |
| --- | --- |
| Location | ★★★★☆ (4/5) |
| Size | ★★★★☆ (4/5) |
| Lease Flexibility | ★★★★★ (5/5) |
| Facilities | ★★★★☆ (4/5) |
| Style | ★★★★☆ (4/5) |
Next on our list of best fully serviced office spaces in Central Park Business Centre.
They're popular for their affordable rates and options, as well as their convenient amenities.
Based on our evaluation of their facilities, they aren't the best choice for bigger groups and teams. However, they can house three to four people in a single office at one time.
The receptionist was very helpful and informative during our visit and offered to show us around the facilities.
We found a clean break room, pantry, and waiting room. The office spaces themselves were also COVID-19 prepared, which a lot of clients told us they appreciate.
The interior design resembled a traditional office. It featured wooden furniture and metal filing cabinets in each room.
We liked how each office was equipped with comfortable executive chairs. Their office desks were also enough to house a laptop and several other office supplies.
Printing and copying services were also available, as well as a personalized reception answering service.
The only thing we didn't like about this place was their internet connection.
It took a while for several of our Google Doc files to load; furthermore, uploading images and videos also took up a lot of time.
Budget-friendly package rates
Comfortable executive chairs
Free printing and copying services
Personalized receptionist services
6. Forwardspace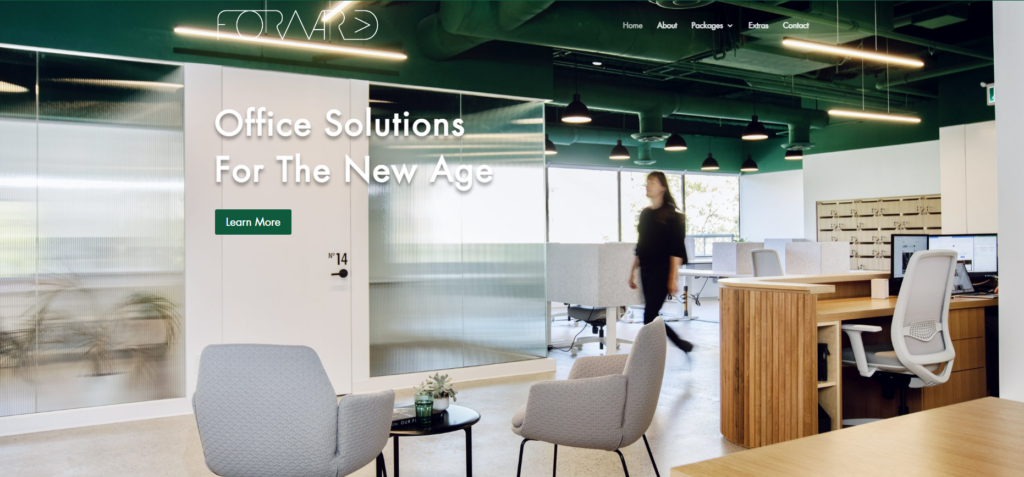 Test
Info
SERVICES
Private Offices, Hot Desk, Dedicated Desk, Virtual Office, Conference Room
AMENITIES
Terrace, Social Corner, Kitchen, Acoustic Pod, Conference Room, Locker Room and Shower
RATE
Packages
WEBSITE
https://forwardspace.ca
LOCATIONS
Unit 210 – 233 West 1st Street, North Vancouver, BC V7M-1B3
CONTACT DETAILS
+1-604-998-1404

Email: [email protected]

OPERATING HOURS
Monday-Friday; 9:30AM-5:00PM
| | |
| --- | --- |
| Location | ★★★★☆ (4/5) |
| Size | ★★★★☆ (4/5) |
| Lease Flexibility | ★★★★★ (5/5) |
| Facilities | ★★★★★ (5/5) |
| Style | ★★★★☆ (4/5) |
Forwardspace is an enterprise located in Lower Lonsdale that provides clients with a variety of options for professionals and businesses looking for productive spaces for office work.
We like that the locations of their offices are highly accessible and near various transportation options, restaurants, gyms, and businesses to ensure that clients can have access to their needs when staying at their place.
Furthermore, they make it to a point to design the interior of the said space in a fun yet minimal way not only to help invigorate productivity but also to have a refreshing use of space as well to help declutter.
Note though that their spaces are more suited and geared to accommodate individuals and small groups of up 10 to which clients who may need more space can reach out to them for this concern.
Overall, with their inclusive and well-rounded space packages, aesthetic and fun interiors, and prompt customer service along with amicable personnel as well, we highly recommend clients to check them out.
Wide range of services
Diverse set of amenities
Numerous packages available
FAQs About Fully Serviced Office Spaces in Vancouver
---
That's about everything we have on the best fully serviced office spaces in the city. The details we've included should help you make an informed decision about the partners you choose.
If you need help getting the word of your company out to the public, we also have a review of the best digital marketing agencies in Vancouver that you may find useful. Make sure to check it out after reading this post.