The 7 Best Home Inspection Companies in Vancouver
Buying a house? You will need to check everything first to see if there are any defects in its foundation and other parts.
To guide you with that, here's a list of the best home inspection companies in Vancouver. We tried out different ones to give you our unbiased review.
How much does getting a home inspector in Vancouver cost?
Before we head to the article, let's set your budget first.
The cost of home inspections is based on the size and age of the house. So, it will differ from property to property.
The table below just shows the current estimates in Canada:
| | | |
| --- | --- | --- |
| Property Type | Size | Price |
| House | 0-1000 sq. ft | $300 and up |
| | 1000+ sq. ft | $350 and up |
| Condos | 0-500 sq.ft | $290 and up |
| | 500+ sq. ft | $340 and up |
| Townhomes | 0-2000 sq.ft | $380 and up |
| | 2000+ sq. ft | $400 and up |
The Best Home Inspection Companies Vancouver
Let's now head to our list. We provided details and reviews from other customers to show you why they're one of the best home inspection companies in Vancouver.
1. Haystack Home Inspections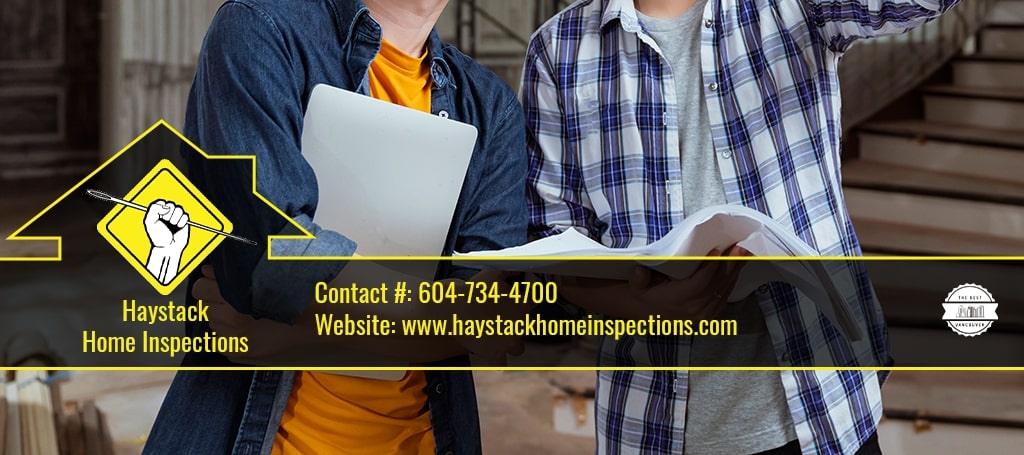 SERVICES
Home Inspection
Condo Inspection
Townhome Inspection
Older & Heritage Home Inspection
ADDRESS
1445 Marpole Ave #314, Vancouver, BC V6H 1S5, Canada
CONTACT NUMBER
604-734-4700
WEBSITE
https://haystackhomeinspections.com/
OPERATING HOURS
Monday-Sunday: 8:00 AM – 8:00 PM
The owner of Haystack Home Inspections, Chris Thompson, has a degree in Industrial Design and has 20 years of experience in different trades such as construction and project management.
Although there's a travel charge for home inspection outside of Vancouver city, we still find Chris's visit pretty much worth it.
He's very thorough when inspecting a house and checks every part for defects and code violations. The detailed reports are also given the day after, which we find pretty convenient.
Haystack Home Inspections also guarantees a 30-day money back guarantee if he misses a defect. However, with Chris's eye for housing defects, there's not much need for it.
His inspection services aren't limited to modern houses either. He can inspect condos, townhomes, and even heritage homes.
According to our respondents and many previous clients, he also follows up after several months just to check the issues in their homes. Now that's what we call high-quality customer service.
This company might not be a 24-hour service with an open line every time, but we're sure Chris's attention to detail and thorough knowledge of buildings will be a great help to property owners.
Owner has 20 years of experience in different trades
Next day home inspection report
Can inspect different types of residential properties
Money-back guarantee 
Has travel charge for inspections outside Vancouver city
Business hours are from 8AM-8PM only
Customer Reviews
Based on these reviews, Haystack Home Inspection is well-liked by clients:
"Chris recently helped with the inspection of my new home. I had a short subject period and a contacted Chris without much notice, and he responded immediately with several available time slots. I did the walk-through with Chris and he was very thorough in not only identifying defective issues which needed repairs, but also identified several aspects of the home which were not up to code and could result in additional work if the property was ever inspected by the City – which is likely to happen as I will be applying for permits. He was able to provide me with a very detailed report the next day, which I am sure I will reference extensively when addressing the issues he raised, and I feel very fortunate to have used his services." – H MarG
"Chris was absolutely wonderful and I have nothing but great things to say about our experience with Haystack home inspections. Chris was very helpful and accommodating in allowing us to do a pre offer inspection on a home we eventually lost out on. He was then even more amazing and when we found our now actual home, he went out of his way to do another inspection for us on incredibly short notice. He was very detail orientated, thorough, kind, professional, and trustworthy. His report is incredibly detailed and I was extremely impressed. In a stressful bidding war amongst a hot housing market, Chris made the process smooth and stress free when it came to the inspection. We would highly recommend Haystack Home inspections to anyone!" – Lindsey Porter
2. Zegarra Residential Inspections Accredited Home Inspector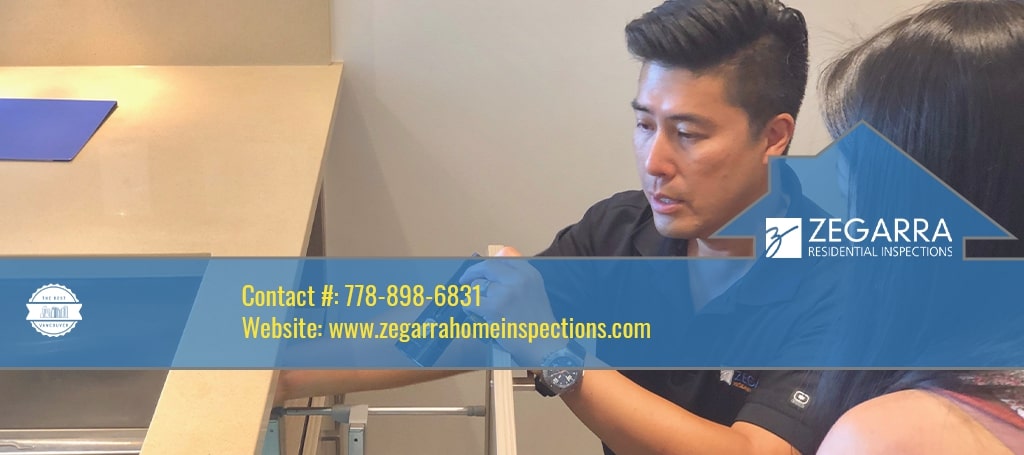 SERVICES
Home Inspections
Condo Inspections
ADDRESS
6100 Oak St, Vancouver, BC V6M 2W2, Canada
CONTACT NUMBER
778-898-6831
WEBSITE
http://zegarrahomeinspections.com/
OPERATING HOURS
Monday-Sunday: 8:00 AM – 9:00 PM
With a team of professional home inspectors, this company guarantees exceptional service to clients. They are BBB accredited, which shows that they're really dedicated to solving issues some clients might encounter.
For their clients, they offer a lifetime consultation, which we find helpful. One never knows when issues will rise up in homes, even after inspections.
We also find it interesting that aside from examining the physical building, Zegarra also reviews engineering reports of condominiums to help buyers make the right decision. Those engineering reports are helpful in determining whether the condo management has a plan to fix those issues or not.
Although there's no money-back guarantee whatsoever here, we didn't mind it that much. They are pretty detailed during their home inspection and check even the home appliances to see if they're working well and if there are issues with those.
They also aren't open 24 hours but it's not a problem for us. However, this might matter to some, so we're noting it here.
But overall, with the thorough inspection they provide, Zegarra cements itself as one of the best home inspection companies in Vancouver.
BBB Accredited
Lifetime consultation
Checks engineering reports of condos first
Call line is not open for 24 hours
No service warranties
Customer Reviews
These customer reviews show what this company is like:
'Mike helped us perform a home inspection on our newly purchased home. He was professional, very knowledgeable and great to work with. He is experienced and transparent. The report was available the same day, which was helpful in securing contractors to help us complete any required repairs. I also had to reschedule multiple times due to difficulties coordinating multiple parties and Mike was always flexible and quick to respond. I would definitely recommend Mike to anyone needing home inspection services. Thanks, Mike!" – A Lee
"Michael was professional, efficient, thorough and knowledgeable. We hired his services to inspect a home we just purchased. In 3 hours, he inspected the 2000sqft home thoroughly, then spent 30 minutes taking us around to explain what he found. The report he provided is invaluable and helped identify critical fixes that needed to happen that we would have never known about otherwise. All for a price that was totally reasonable. I would hire Michael for our next home inspection whenever that might be and recommend him to anyone who is looking – you will not be disappointed!" – Rob Kirkham
3. Wolf Pack Home Inspection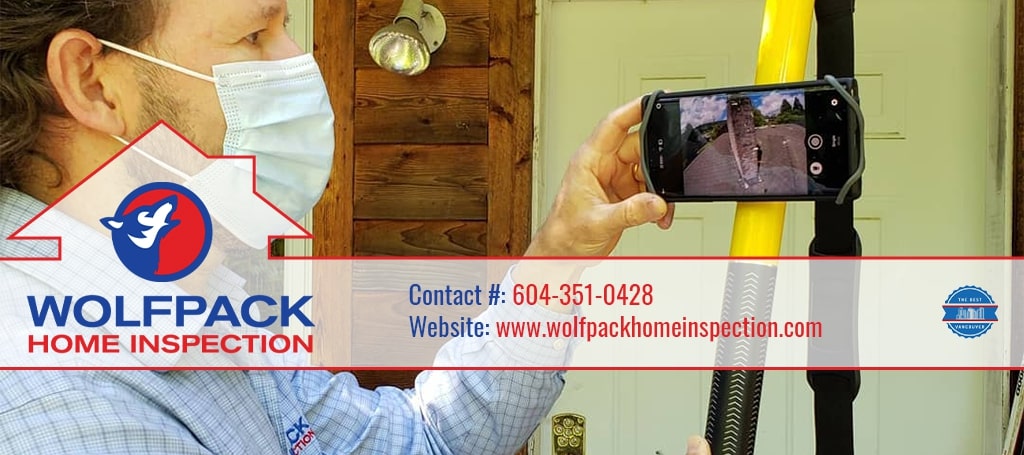 SERVICES
Pre-purchase Buyer Inspection
New Home Inspection
Commercial Inspections
Seller Inspection
Homeowners Inspections
Technical Audits
Radon Screening
CONTACT NUMBER
604-351-0428
WEBSITE
https://wolfpackhomeinspection.com/
OPERATING HOURS
Open 24/7
With a 24/7 phone line, Wolf Pack aims to provide the best value for their home inspection service through the help of their licensed inspectors. Although they're not accredited by the Better Business Bureau, they are licensed and part of different home inspection associations anyway.
In fact, their booking process already shows their commitment to that goal. There's really no need to call them just to book a home inspection schedule as you can do it through their website alone.
At the end of the inspection, you will also have a walkthrough along with the inspector so you can see for yourself the problematic areas in the house. You will also be able to read the detailed report of their inspection within 24 hours.
On top of the detailed report being sent quickly, we also like the fact that it includes pictures so you won't have to guess which part of the house they are referring to.
You will also be given a subscription to Home Owners Network, a company with a directory for different repairmen.
Not satisfied with their work? Then their service will be free and they'll pay for your next inspection services.
Even without a same-day inspection guarantee, the conveniences that this Vancouver-based home inspection company offers are still pretty great. They certainly make for a solid package that put the company on this list.
24/7 call line
Online booking process
Walk through after inspection
Detailed report is provided within 24 hours
Subscription to Home Owners Network 
Offers a warranty
No same-day inspection guarantees
Not BBB accredited 
Customer Reviews
Many reviews for this company show that they have worked with different clients before:
"Wolf Pack were able to give us an inspection quickly for a property we were buying. They (Colin) were very thorough and communicated all the things to address very clearly both verbally and in their written report." – Nathan Pallesen
"Great service. Quick response. Came out to do a thorough home inspection on a Sunday morning. Inspector was prompt, accurate and gave good insight both in-person and in his report. Wolf Pack was easy to do business with. Everything was simple, well explained and most of it was automated online. Would recommend. Would use again for home inspection." – Laurent Munier
4. Vancouver Professional Home Inspection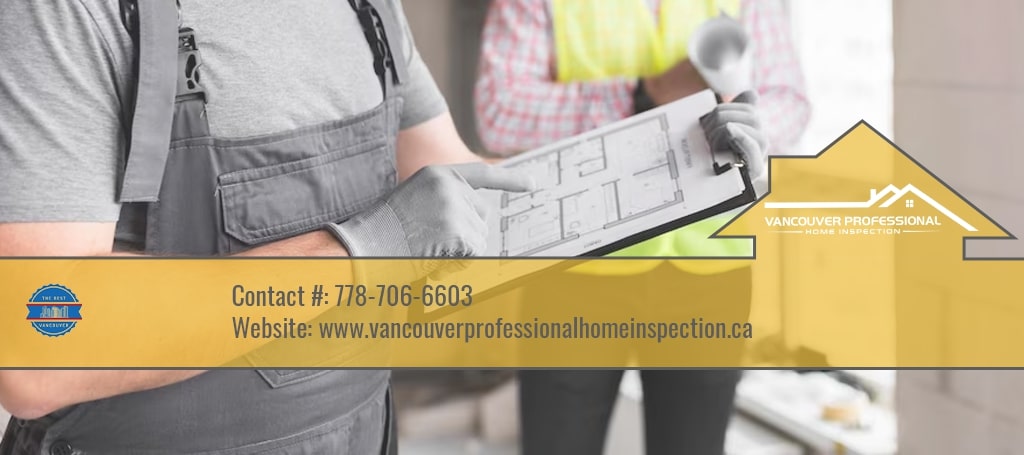 Vancouver Professional Home Inspection is run by Doug and James Koong. They are both licensed home inspectors in BC who've been in the business for more than 20 years.
Aside from providing their services to home buyers, they can also do pre-listing inspection for sellers.
They provide a full inspection with structural, mechanical, electrical and plumbing parts of the house inspected. This also includes fireplace and stove inspection.
And along with that, they provide the inspection report with photos too within 24 hours. The reports are very easy to read while still being detailed.
Although they have no service warranty and don't have BBB accreditation, this company still is pretty much one of the best for home inspections in Vancouver. The 20 years of experience in the two men making up the team have honed their attention to detail for the different possible defects of a house.
Due to that, they have many loyal customers. Even realtors use them as they also do professional-grade inspection reports that sellers can distribute to potential buyers.
Home inspectors have 20 years of experience 
Inspection report is sent within 24 hours
Easy to read inspection report with pictures
Pre-listing inspection available
No service guarantee 
No BBB accreditation 
Customer Reviews
These reviews show how Doug and James Koong inspect houses:
"I had the pleasure of having Doug inspect my condo as part of the sale conditions – and was very happy with his service!
He walked me through each and every part of the home and pointed out any issues – big or small.
His professionalism, expertise, and communication allowed me to gain so much knowledge about the property. I highly recommend him, you will NOT be disappointed!" – Gregory Ho
"Doug did the inspection for our Richmond condo…he was super thorough and made sure that we were aware of all potential issues before we left…he also provided a timely written report for me to keep for future reference and provide to strata to fix the issues. Highly recommend!!" – Edith Leung
5. Core Property Inspections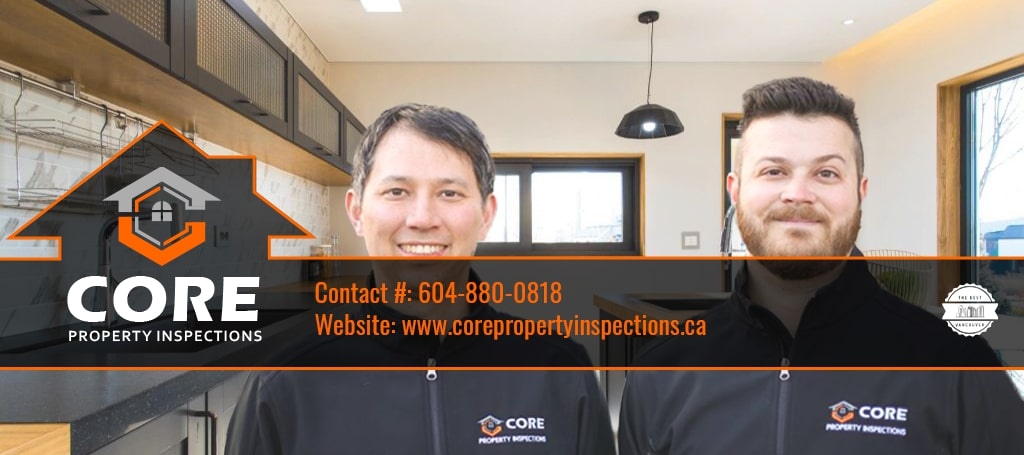 SERVICES
Home Inspection
Pre-selling Inspection
Condo Inspection
New Construction
Commercial Inspection
ADDRESS
7871 Birch St, Vancouver, BC V6P 4R8, Canada
CONTACT NUMBER
604-880-0818
WEBSITE
https://corepropertyinspections.ca/
OPERATING HOURS
Open for 24/7
Aside from doing inspections in residential properties, Core Property Inspections also extends their service to commercial properties. Over 10 years in the business, customers say they have shown great customer service and are experienced enough to provide detailed inspections.
They also provide lifetime support for homeowners. So, if you're a previous customer, just give them a call and they can give you some home advice.
As for their home inspections, they're pretty thorough: they even provide thermal imaging to detect moisture intrusions, insulation gaps, and overheats from electricity. All this makes it easier to provide a complete home inspection review.
The reports are also given the same day after the inspection. Another thing we appreciate!
While they don't exactly have a same-day inspection guarantee, booking them for inspection is pretty easy as online booking is available. There's really no need to call them and wait for someone on the other side of the line to check their schedule.
Even without the service warranty that other companies offer, Core Property Inspections is still a great choice for residential property inspection in Vancouver. With detailed, quick reports and a lifetime support promise, it's easy to see why people recommended them to us.
Can do commercial property inspections
More than a decade in the business
Lifetime support
Offers thermal imaging during inspections
Same day report with pictures included 
Online booking available
No same-day guarantee booking
No service warranty 
Customer Reviews
Here are some reviewers talking about their experience with Core Property Inspection:
"Aaron was very thorough in his inspection. He was very easy to talk to and explained everything in a very straight forward manner. His inspection report was very detailed and complete. I would highly recommend Core Property Inspections to anybody in need of a property inspection." David Jameson
"Aaron completed an inspection for us on a 3-storey townhome in East Van in early February, 2021. He was very responsive, professional, and easy to communicate with, and was able to accommodate our needs at very short notice. Aaron talked through all his findings immediately after the inspection, and the resulting report was delivered to us the evening of the inspection. The report was clear, easy to follow and appropriately detailed. I would highly recommend Aaron's services!" – David Weekes
6. Ocean Home Inspections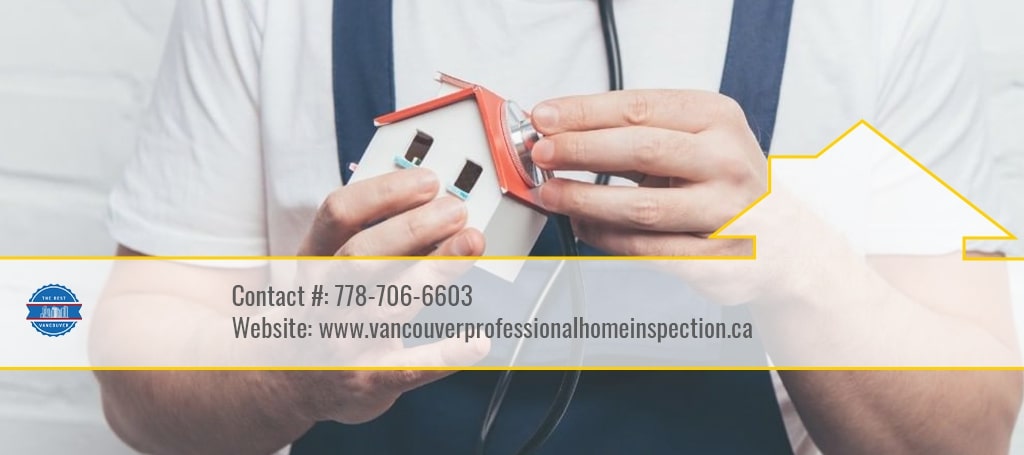 Ocean Home Inspections is a company that provides a comprehensive visual examination of the physical structure and systems to ensure that everything is in proper working order.
It all starts with an inspection of the house from the exterior, where inspectors note any potential signs of damage or needed repair. They then enter the home and visually inspect every room, looking for any noticeable issues that could be affecting the home's structural integrity.
The inspector will check for things like cracks and holes in exterior and interior walls and ceilings, water damage, mold growth, air quality problems, plumbing leaks or clogs in drains or toilets, electrical problems such as downed power lines or wiring exposed through holes in walls or ceilings. The inspector will also look for potential environmental hazards such as flooding from broken pipes near sinks and showers.
With them, a typical home inspection takes between 3 to 4.5 hours with fees ranging between $399 to $495 depending on size, age, and complexity of the inspection. And for a typical apartment-style condo, inspection takes between 2 to 3 hours with fees ranging between $299 to $399.
Accredited Home Inspector (AHI)
20 years of construction experience
Providing home inspection services since 2011
7-year experience in the home inspection industry
No warranty mentioned on their website
7. Arch Home Inspections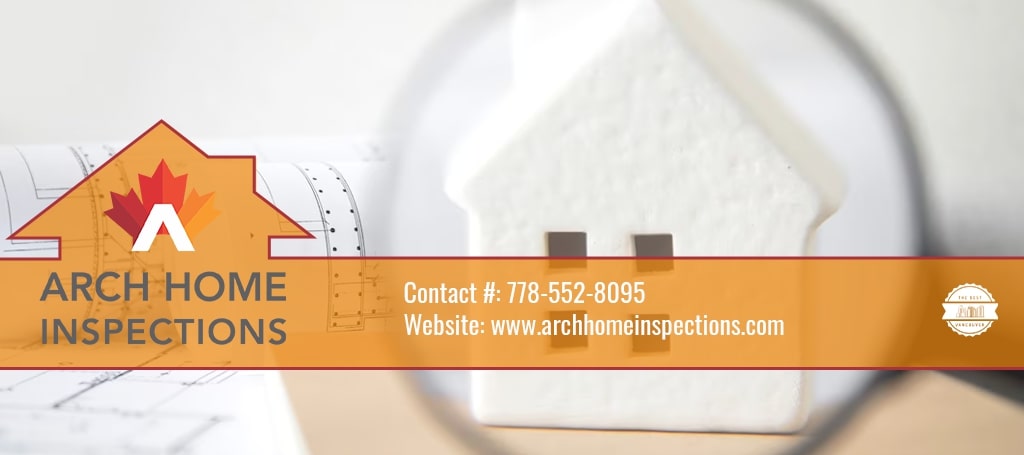 Arch Home Inspections offer a full range of services in the Lower Mainland area. This includes Certified Thermal Imaging (also known as Infrared), Indoor Air Quality Testing (Mold, VOC, Formaldehyde), and Commercial Inspections
With over 2000 verified client reviews (including over 320 Google Reviews to Date), you can be assured of their commitment to quality and integrity at every inspection performed. Furthermore, they invest in state-of-the-art equipment and continuous education to better serve you.
The benefits of hiring Arch Home Inspections are that they provide detailed reports that outline all potential problems with the home. They can also point out features that would be beneficial to the buyer like an updated kitchen or bathroom.
They will absolutely help you save money by preventing you from buying a house with expensive problems. Their Lead Inspector, Peter, is a BC Approved Trainer for new inspectors .
Lastly, their warranties are offered by a third party provider, and they choose not to offer this. They also no longer subscribe to BBB.
Over 2000 Verified Reviews to Date
Available 7 days a week
Full range of services
Infrared Included with all inspections
Review of Depreciation Report (if available)
Answers calls or return calls very quickly
Whatsup messaging from our website
Same day report is available
Zoom meeting offered if you cannot come for the inspection
FAQs About Home Inspection
---
That's it for the list! We hope that this will help you in choosing a home inspector.
Did we miss an amazing home inspection service in Vancouver? Well, send us a message so we can review them!
If you're interested in home maintenance, we also have other articles that can help you improve your house. If you suddenly have some minor things that need to be repaired, for example, you can also check out our article on the best handymen in Vancouver.