The Best Hot Springs in and around Vancouver
Imagine a crisp morning, steam rising from pristine waters, and the cares of the world melting away as you slip into warmth.
Vancouver and its surrounding areas can offer you that kind of relaxation through its many hot springs. This guide covers the top 7 to check out if you're planning to visit a hot spring.
Harrison Hot Springs Resort
Website: https://www.harrisonresort.com/
Address: 100 Esplanade Avenue Harrison Hot Springs, BC V0M 1K0, Canada
Contact details: +1 604-796-2244
Operating hours: Opens daily 8:00 am – 11:00 pm
Just over an hour's drive from Vancouver, Harrison Hot Springs Resort is like a cabin retreat right on the edge of Harrison Lake. The resort's five high-concentration mineral pools are fed by natural springs treasured by indigenous communities since 1886.
There are indoor pools with temps from 90°F / 32°C to a toasty 103°F / 40°C. And outside, there's a pool for sitting (90-95°F / 32-35°C), a family pool for splashing (95°F / 35°C), and a refreshing lap pool (87°F / 30°C) for a good swim.
Aside from the soothing and healing properties of the waters here, the accommodations, dining options, and amenities are just awesome.
With a design that blends perfectly with the woods, four different dining spots, and the option to do facials or go for a full-service spa, it spells a perfect getaway to come back recharged.
Pro tip:
Harrison Springs is a popular destination for a reason. After taking a dip in the pools, you can take a pleasant walk around the lagoon or in the Miami Bridges Loop Hike, about five minutes from the resort on foot.
Ainsworth Hot Springs Resort
Website: https://www.ainsworthhotsprings.com/
Address: 3609 Balfour-Kaslo-Galena Bay Hwy Ainsworth Hot Springs, BC V0G 1A0, Canada
Contact details: + 1 800-668-1171
Operating hours:
Wed to Sun – 10:00 am – 7:30 pm
Mon – 10:00 am – 2:00 pm
Perched along the banks of Kootenay Lake, Ainsworth Hot Springs Resort finds its place off Highway 31 between Balfour and Kaslo.
Approximately 708 kilometers from Vancouver, the springs stand out for its open-air pool and the intricate limestone Cody caves.
The tunnel is gracefully curved like a 160-foot-long horseshoe. Within this cavern are waist-deep waters naturally heated to a temperature of about 117°F (47°C).
That's indeed quite hot. But also because of that warmth, the mineral shower a few steps from the entrance of the caverns creates an intriguing natural steam room effect.
At the resort itself, there's an expansive pool that you can dip in after your explorations or local escapades. Right by the entrance, there are also two pools – the left one is warm, while the other one sources its cold water directly from the flowing Munn Creek.
Pro tip:
If you're taking the route that passes through Nelson, you'll get to Ainsworth Hot Springs in around 9 to 10 hours. The village of Ainsworth is not the nearest to Vancouver, so you have to be prepared for the long drive ahead.
Radium Hot Springs
Website: https://hotsprings.ca/radium/
Address: 7556 Main Street East Radium Hot Springs, BC Canada
Contact details: + 1 250-347-9331
Operating hours:
Mon to Fri 11:30 am– 9:00 pm
Sat to Sun 10:30 am – 9:00 pm
Radium Hot Springs boasts one of Canada's largest thermal pools, notable for their lack of sulfur scent and temperatures ranging from 98 to 104°F (37 to 40°C).
Found within Kootenay National Park, it offers a top-tier natural retreat, which is even enriched by the many attractions like golf courses, hiking trails, and skiing and snowboarding opportunities.
Since 1993, Parks Canada has managed Radium Hot Springs. And the cool pool that they have been renovating is still closed as of August 2023.
Pro tip:
Consider that there is no public transportation to Radium Hot Springs. After your approximately 9-hour drive from Vancouver, take advantage of the ample parking space on the southbound side of Hwy 93 South.
Halcyon Hot Springs Resort
Website: halcyon-hotsprings.com
Address: 5655 BC-23, Nakusp, BC V0G 1R0, Canada
Contact details: +1 250-265-3554
Operating hours: Opens Daily 9:00 am to 7:00 pm
Offering a feast for the senses, Halcyon Hot Springs Resort sits by the shores of Upper Arrow Lake, with the towering Monashee Mountains as a backdrop.
The upper deck hosts the heart of the resort – therapeutic hot and warm springs. The hot pool is heated to 104°F (40°C) while the warm pool has a comforting temperature of 99°F (37°C).
Indigenous peoples revered the waters in Halcyon Spring for remedying various ailments, from muscular to stomach disorders. With higher lithium content than other North American springs, the waters here were once bottled and distributed worldwide.
For that same reason, the Seasonal Mineral Swimming Pool located on the lower deck and inviting at 86°F (30°C) is worth checking out. If you're visiting in the Summer and you need a refreshing escape, there's also a Cold Plunge pool that's 58°F (14°C) max.
Pro tip:
The resort is all about wellness and restoration. make sure to explore the resort's additional offerings, including spa treatments and healing yoga classes.
Canyon Hot Springs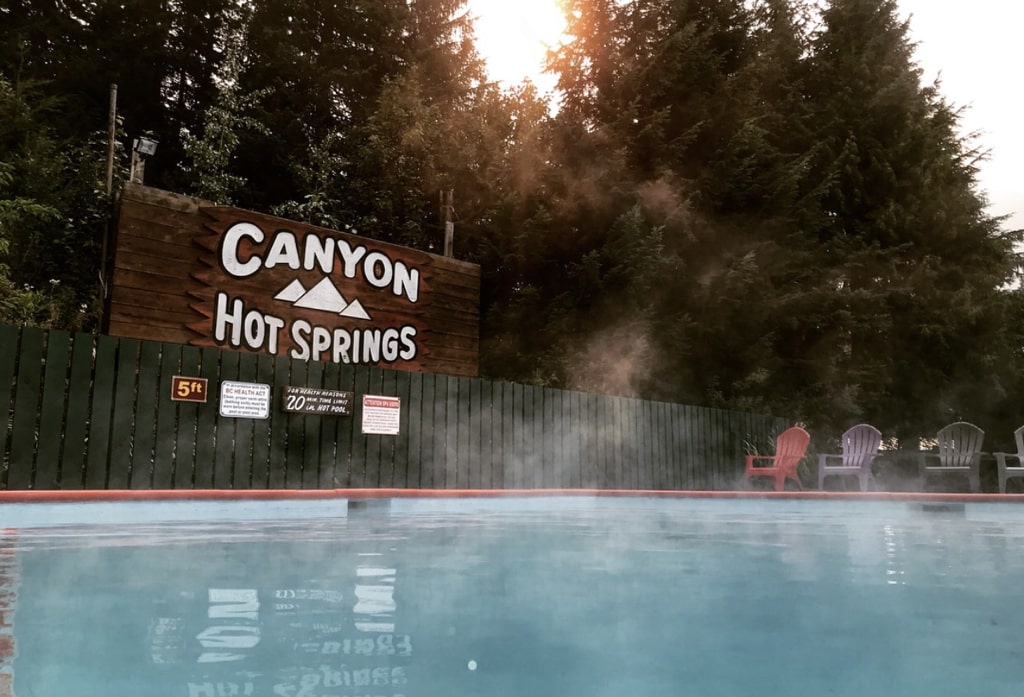 Website: https://www.canyonhotsprings.com/
Address: P.O Box 2400, 7050 Trans Canada Hwy #1 Revelstoke, B.C.
Contact details: +1 250-837-2420
Operating hours: Opens Daily 9:00 am to 11:00 pm
Surrounded by the timeless Selkirk Mountains, Canyon Hot Springs Resort beckons with its healing waters. From May to September, the resort's two pools are ready for use, with temperatures ranging from 32 (swimming pool) to 40°C (hot mineral pool).
The contemporary history of the place as a sanctuary starts with Canadian Pacific Railway workers stumbling upon the mineral springs in Albert Canyon.
In the 1970s, the Canyon Hot Springs was created, channeling waters over three kilometers to fill the resort's pools.
There are campsites in the area, as well as log cabins and bedroom suites if you're planning to stay the night.
Pro tip:
Dive into the hot pool, then cool off in the swimming pool – this alternating rhythm will restore you and help you make the most of your Canyon Hot Springs experience.
Mineral Springs Resort
Website: https://mineralspringsresort.ca/
Address: 1460 N Beach Rd, Salt Spring Island, BC V8K 1J4, Canada
Contact details: +1 250-537-4111
Operating hours: Opens Daily 9:00 am to 5:00 am
Within 82 kilometers away from the buzz of Vancouver, there's a hot spring right on Salt Spring Island. A ferry ride from Long Harbour to Tsawwassen lands you at Mineral Spring Resort, a coastal haven for natural wellness and stunning landscapes.
It's tucked away within 29 acres of subtropical rainforest and each forest cabin comes with its own two-person jetted mineral bathtub fed by the nearby hot spring. Sounds like the ultimate combo for relaxation, right?
These therapeutic waters, flowing from a natural spring deep below the earth's surface and exclusively accessed by the resort, are packed with 21 minerals. So, sinking into those warm waters is like giving your body a well-deserved treat.
Pro tip:
For a truly enriching island experience, opt for a room with a private deck and your own barbecue setup. You'll enjoy views of the Strait of Georgia while grilling up a feast.
Website: https://www.scandinave.com/whistler
Address: 8010 Mons Rd, Whistler, BC V8E 1K7, Canada
Contact details: +1 888-935-2423
Operating hours: Opens daily 10:00 am – 9:00 pm
Introducing a different side of Whistler, this spa serves as a serene counterpart to Whistler's famed outdoor activities.
Although not sourced from the region's aquifer, Scandinave Spa's pools offer a soothing respite, especially with their Thermal Journey offering, which guides guests through a cycle of hot, cold, and rest stages.
The intense temperatures are meant to challenge the body. In the end, the experience should give immense benefits like improved sleep quality and the release of mental stress.
The spa takes restoration seriously, so it maintains a hushed and peaceful environment to complement the thermal soaking experience. With its open-air baths set against the rainforest and rugged mountain views, it makes sense to get off the grid for some time.
Pro tip:
You can take the Sea to Sky Highway (Sea to Sky Highway) from Vancouver and explore a few interesting stops along the route. Whistler itself offers so many opportunities for fun, like skiing down the slopes, but so many more before it, like the town of Squamish, also hold a lot of good stuff!
Liard River Hot Springs Provincial Park
Website: https://www.scandinave.com/whistler
Address: 497 Alaska Hwy, Liard River, BC V0C 1Z0, Canada
Contact details: +1 250-776-7000
Operating hours: Opens daily 7:00 am – 10:30 pm
Canada's second-largest natural hot spring, Liard River Hot Springs is surrounded by the enchanting boreal spruce forest near the Liard River and offers a soothing respite for those en route to Alaska.
The main attraction here is the Alpha pool which is divided into two tiers. As you move to the left side of the upper part, it gets hotter because of the nearby spring, while the lower part has cooler water that flows over a man-made waterfall.
This pool is accessible via a picturesque boardwalk cutting through the thriving forest and warm water swamp. To preserve the environment which hosts around 100 bird species and 250 plant varieties, it's important to stay on designated paths.
Pro tip:
Book your campsite ahead of time. The Liard River Hot Springs Campground offers approximately 50 sites, though it's best to anticipate basic facilities during your stay.
Pitt River Hot Springs
Address: Pitt River FSR, Alvin, BC V0N 1T0, Canada
Pitt River Hot Springs remains a well-kept secret. Unlike more popular Canadian hot springs, this hidden treasure offers a less crowded experience, rewarding those who brave the challenging journey.
Given that it's quite underdeveloped, you have to be prepared to go off the beaten path – no cell service and abundant wildlife as you explore the untamed Canadian wilderness. The reward? Pristine waters that's one of BC's most stunning.
Camping is permitted at a distance and a variety of outdoor activities, including hiking, biking (Are there city bikes in Vancouver?), and kayaking (kayaking in vancouver), can be enjoyed in this area.
Pro tip:
To reach Pitt River Hot Springs, take the Lougheed Highway to Pitt Meadows, followed by a 45-minute boat ride and a 20 km bike journey on a flat logging road. A brief 5-minute hike, including a steep rope descent, leads you to the hot springs.
Not for the faint of heart, is it?