The 6 Best Interior Design Schools in Vancouver
Before becoming an interior designer, you need 3 things: formal education in interior design, a 2-year apprenticeship with a certified interior designer, and a passing mark from the Council of Interior Design Qualification examinations.
To help you take the first step in meeting those requirements, we put together a list of the best interior design schools in Vancouver based on our criteria, student reviews, and our opinion on their pros and cons.
We'll also be discussing how much it costs to earn a degree in Interior Design, and the things to consider when choosing a school to attend.
How much do interior design schools cost in Vancouver?
Schools' tuition fees are an investment in your career. Some schools will charge more than others, so it's best to look into the particulars of what you're paying for to decide which school best provides you value for your money.
It's also important to note that the fees outlined below are calculated under the assumption of a regular full-time program schedule, and that schools normally charge more for part-time and international students.
| Schools | Program Fees (CAD) |
| --- | --- |
| BCIT | ~$92,120 |
| KPU | ~$78,693 |
| LaSalle | ~$39,870 |
| VIU | ~$34,970 |
| VCAD | ~$36,064 |
| Pacific Design Academy | ~$26,108 |
Apart from the program's fees, students will still have to spend on books, board and lodging, meals, and other necessities while studying.
Hence, it's good to research the area you'll be living in to have a more complete picture of what your student lifestyle will look like (or cost!) once it's begun.
The Best Interior Design Schools in Vancouver
Apart from program fees, there are several other criteria to consider when deciding on a school. We took a holistic approach to putting this list together, so you can make a more informed decision for your future.
Although graduates from programs accredited by the Council for Interior Design Accreditation are generally favored by firms, this isn't a necessary credential to have. We put a star beside the schools that are accredited if this is something that greatly influences your decision.
We wanted to put together a balanced list for aspiring students to make their decisions off of based on the following criteria:
These criteria offer a comprehensive view of how schools perform and let us provide in-depth recommendations from an open point of view. We arranged this list alphabetically since education is a service that's subjective to the student.
Now that all that's explained, let's get into the list.
1. British Columbia Institute of Technology (BCIT) ★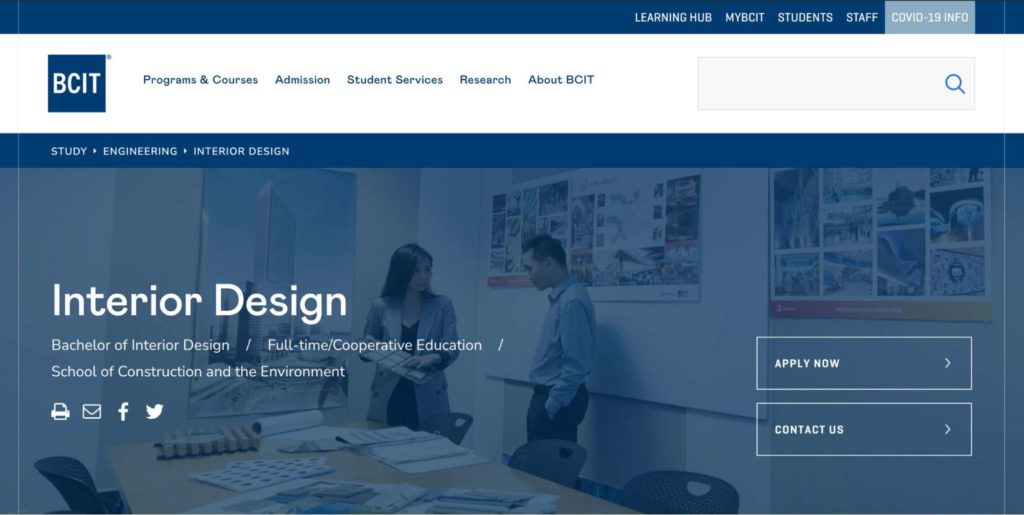 | | |
| --- | --- |
| Criteria | Rating |
| Campus & Facilities | ★★★★★ (5/5) |
| Buildings | ★★★★★ (5/5) |
| Study Areas | ★★★★★ (5/5) |
| IT Facilities | ★★★★★ (5/5) |
| Curriculum | ★★★★★ (5/5) |
| Theory | ★★★★★ (5/5) |
| Practical Instruction | ★★★★★ (5/5) |
| Tuition Cost | ★★★★★ (5/5) |
| Alumni Reviews | ★★★★☆ (4/5) |
The British Columbia Institute of Technology (BCIT) is a modern school that offers an extensive program in Interior Design. Many students say the programs here are intense, which speaks for how much the administration values post-graduate success.
The facilities here are known to be top-notch: contemporary buildings with underground parking, 6G WiFi accessible to students, and many spaces with seating for students to congregate. The campus is located conveniently close to the Granville SkyTrain station, making it easy for students to access.
BCIT's Interior Design program puts students in a position where they can learn how to incorporate culture, society, psychology, and sustainability into their design process. It also ensures students know how their field integrates with related industries.
This is the most expensive school on our list. Students here are buying into a highly acclaimed school with up-to-date facilities and one of the most extensive programs in preparation for successful careers as interior designers.
As such, it's no surprise the program and the school itself are regularly given high praise. There are, however, concerns regarding non-academic staff being aloof and unhelpful to students that need assistance.
In sum, this is a high-quality institution to learn your craft. The fees won't be for everyone, nor will the intensity of the program, but dedicated students who can afford the tuition will likely thrive.
Large campus with well-kept facilities
Extensive curriculum
Convenient location
High tuition fees
Allegedly inhospitable staff
Alumni Reviews
Great infrastructure
"Great infrastructure on the campus! I loved that they had several locations in Vancouver. Once you have a class in DT you can go and enjoy the city afterwards." -Alex Jacob
Great location with lots of available seating
"Use your BCIT account to access wifi
Steps from Granville skystrain station with many food options surrounding the perimeter. Tim Hortons and A&W just around the corner for a quick snack in between classes or during class breaks. Great location with lots of available seating and spaces to study/collaborate" -M Nguyen
2. Kwantlen Polytechnic University (KPU) – Wilson School of Design ★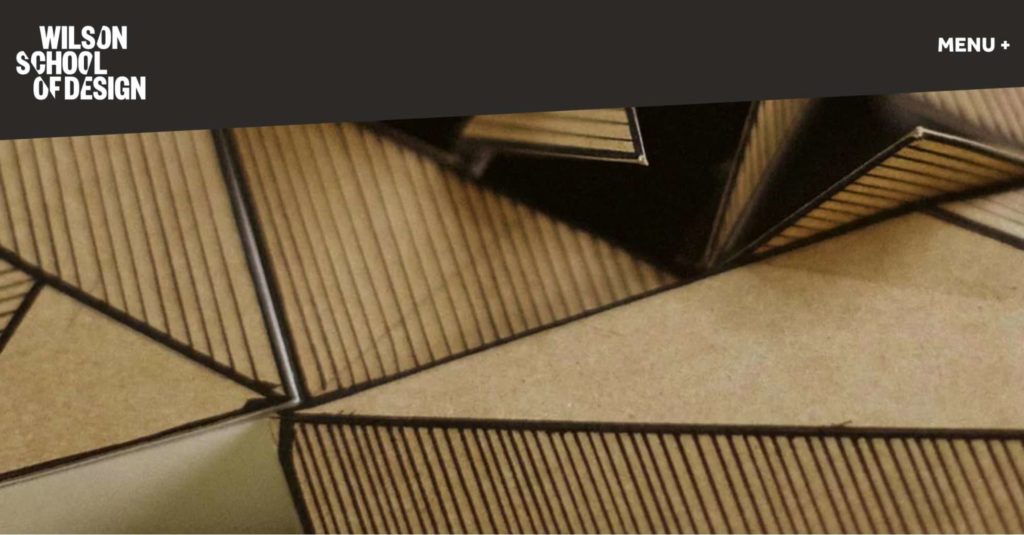 | | |
| --- | --- |
| Criteria | Rating |
| Campus & Facilities | ★★★★☆ (4/5) |
| Buildings | ★★★★★ (5/5) |
| Study Areas | ★★★☆☆ (3/5) |
| IT Facilities | ★★★★☆ (4/5) |
| Curriculum | ★★★★★ (5/5) |
| Theory | ★★★★★ (5/5) |
| Practical Instruction | ★★★★★ (5/5) |
| Tuition Cost | ★★★★☆ (4/5) |
| Alumni Reviews | ★★★★☆ (4/5) |
The Wilson School of Design is a branch of KPU centered on arts, with 7 programs available. Before opening the Wilson School of Design, KPU's bachelor's degree in Interior Design was already well-respected, and was the first to be accredited by CIDA.
The school was funded by well-acclaimed Lululemon Athletica. It's also one of the most modern in terms of design technology.
It's located close to the SkyTrain station as well, and sits at the center of a neighborhood of shopping malls and commercial stores. A lot of people will like that accessibility and convenience.
While their learning environment is on the higher end, though, we found that they lack a few student-oriented facilities. Power outlets can be scarce, for example, especially during exam seasons, so students have to carry extension cords with multiple outlets in reserve.
The program itself is intensive, with a focus on surpassing the requirements of CIDA to ensure graduates can seamlessly transition into a professional life in Interior Design. The quality of the program is also reflected in the cost, which we see as a worthwhile investment toward success.
Students have the opportunity here to absorb and share information with each other, and collaboration is very much encouraged by the school. Wilson School also gives students a platform for this purpose through the Interior Design information sessions held every fall.
The professors here put in the effort to make learning an enriching and enjoyable experience. They equip students with knowledge from their own experiences, giving students the advantage of being familiar with working in an interior design or architecture firm.
Though this can generally be counted as an advantage, it can also make it hard for students to relate to their teachers.
Overall, Wilson School of Design offers students a program that benefits from the best of both worlds: tenure and modernity. Their Interior Design program has stood the test of time, and we think can give students a solid foundation for their future.
Modern campus
High peer engagement
Convenient Location
High tuition fees
Insufficient student facilities
Alumni Reviews
Well managed
"Their library is well managed, not too many students, quiet space to study" -Zimo Wang
Very nice location
"Very nice location .Either direction it is convenient to approach malls and superstores. Just a walking distance from skytrain and service Canada office" -Efren isonza
3. LaSalle College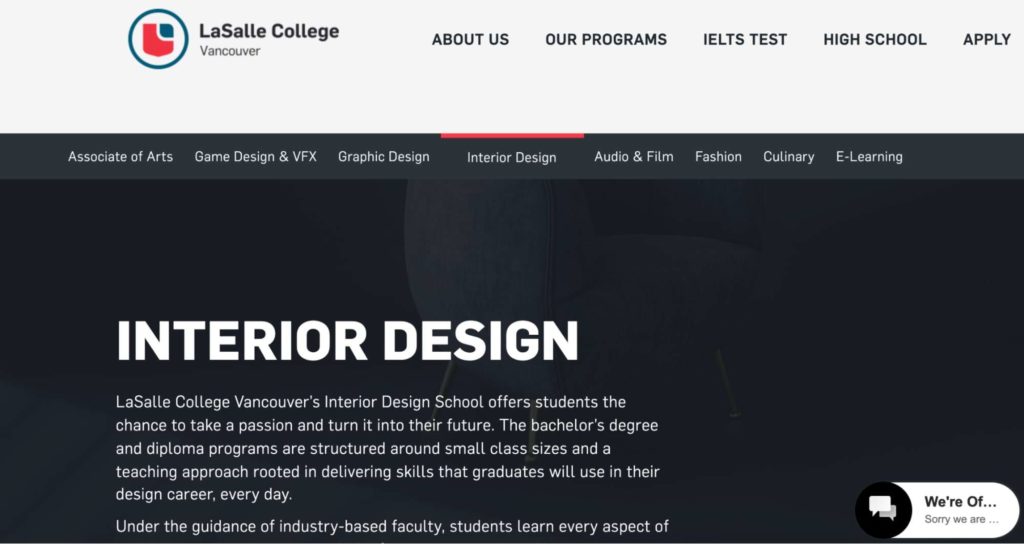 | | |
| --- | --- |
| Criteria | Rating |
| Campus & Facilities | ★★★★☆ (4/5) |
| Buildings | ★★★★☆ (4/5) |
| Study Areas | ★★★★☆ (4/5) |
| IT Facilities | ★★★★☆ (4/5) |
| Curriculum | ★★★★☆ (4/5) |
| Theory | ★★★★★ (5/5) |
| Practical Instruction | ★★★☆☆ (3/5) |
| Tuition Cost | ★★★☆☆ (3/5) |
| Alumni Reviews | ★★★★☆ (4/5) |
Formerly called the Art Institute of Vancouver, the LaSalle College Vancouver offers students a conducive learning space that fosters peer collaboration and a challenging curriculum.
Although previous ownership had issues with housing and facilities, the current administration has taken action on developing the learning facilities in the school. The professors are also quite new but have reportedly adjusted to more effective teaching methods for their students.
In terms of curriculum, the school offers high-level learning materials that are delivered by competent instructors. The professors are also very helpful and conduct one-on-one sessions and follow up with students who've missed classes.
The Interior Design program of LaSalle can also be taken online, which is great news for working students. On the lower end of the pricing chart, the program also allows you to spend more time and resources socially or pursue other interests while earning your degree.
The learning is quite fast-paced, though, and those who expect to have a relaxed college experience have something else coming.
On the other hand, this encourages students to take initiative to consult professors and collaborate with peers for help.
LaSalle keeps their classrooms small too, which allows professors to give each student ample attention. We like that you also have opportunities to build meaningful friendships here, which can turn into valuable professional relationships in the future.
Can be taken online
Low cost
Unsaturated classrooms
Condensed & fast-paced program
New administration & professors
Alumni Reviews
Highly recommend the school
"I went to Lasalle College for the 3D Modeling program, and would highly recommend the school. The instructors are knowledgeable, committed and passionate about what they teach – having experience in the industry themselves. When needed there is always someone available to help and the classes are reasonable sizes, so you get plenty of attention from instructors. Besides being given the skills needed to be successful in the industry, it's a really fun time and I would do it again for sure!!" -k kat
So far so good.
"Accredited college in Montreal, Private college backed by government funding, good staff, and quality of education." -Jasdil Singh
4. Vancouver Island University (VIU) ★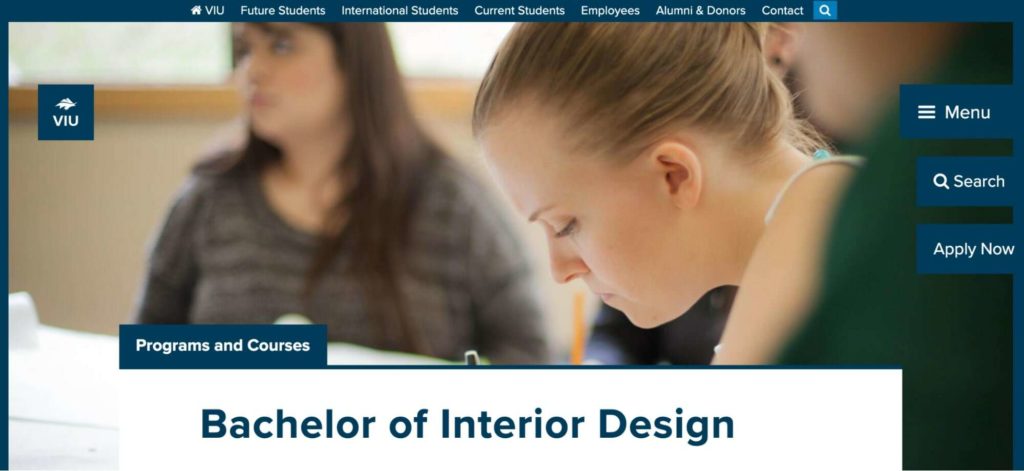 Test
Info
WEBSITE
https://www.viu.ca
ADDRESS
100 Jensen Ave E, Parksville, BC V9P 2G3
CONTACT DETAILS
Phone: 250-740-6672 Toll-free: 1-888-920-2221 Ext. 6672

Email: [email protected]
| | |
| --- | --- |
| Criteria | Rating |
| Campus & Facilities | ★★★★☆ (4/5) |
| Buildings | ★★★★☆ (4/5) |
| Study Areas | ★★★★★ (5/5) |
| IT Facilities | ★★★★☆ (4/5) |
| Curriculum | ★★★★★ (5/5) |
| Theory | ★★★★★ (5/5) |
| Practical Instruction | ★★★★★ (5/5) |
| Tuition Cost | ★★★☆☆ (3/5) |
| Alumni Reviews | ★★★★☆ (4/5) |
Vancouver Island University offers a bachelor's degree in Interior Design that not only instructs students in theory but provides a practical experience as well through their internship programs.
The program is held in small classes – again, something we like, because it allows more individual attention at key moments.
The campus is located atop a large hill with many scenic views surrounding it. Students don't need to look far for inspiration here, and they have a large expanse of space where they can study and work by themselves or collaborate in groups.
Although beautiful indeed, the location also has its troubles, mind you.
Students often complain about all the stairs that need climbing and buildings being far apart from each other. Parking here is also quite difficult, so bear that in mind if you plan to drive to school every day.
Anyway, the teaching staff at VIU are a mix of practicing professionals and industry experts that develop students' abilities in reasoning and critical thinking.
Although some professors do not always resonate well with their students, there are always many others you can approach for help, at least.
To summarize, VIU's Interior Design program is designed to challenge students through high-engagement activities. Given this teaching style, students who hanker for immersive instruction would probably do best here.
Large & beautiful campus
Practical curriculum
High engagement with professors
Physically challenging campus
Difficult parking
Alumni Reviews
Bunnies are cute.
"Do you wish you had more muscular legs? Do you want to improve your cardio? Well VIU is for you! Here they have stairs! And more stairs! And even MORE stairs! There are stairs as far as the eye can see! After a semester of going here you'll have the bulging, muscular, tree legs of your dreams!
Also I guess the staff here are friendly and the university overall is nice. There's also bunnies everywhere. So that's good. Bunnies are cute. They also distract you from the inevitable leg pains you'll get after climbing your 500th stair well in the day." -R Lowery
Beautiful campus
"Beautiful campus, and I like the staff, but the parking situation is HORRENDOUS!" -M G
5. Visual College of Art and Design (VCAD)
| | |
| --- | --- |
| Criteria | Rating |
| Campus & Facilities | ★★☆☆☆ (2/5) |
| Buildings | ★★★☆☆ (3/5) |
| Study Areas | ★★★☆☆ (3/5) |
| IT Facilities | ★★☆☆☆ (2/5) |
| Curriculum | ★★★★☆ (4/5) |
| Theory | ★★★★☆ (4/5) |
| Practical Instruction | ★★★★★ (5/5) |
| Tuition Cost | ★★★★☆ (4/5) |
| Alumni Reviews | ★★★★☆ (4/5) |
The Visual College of Art and Design is a competitive school that gives students an impressively up-to-date curriculum on their field of study. Among other things, their former students are known for having high success rates as professionals.
It's probably partly because the Interior Design program offered by this school is delivered by active professionals in the industry. We like that, as it offers students insider knowledge of the industry they will soon enter.
This staffing choice also lets the teaching body constantly assess and update the curriculum in a way reflective of real-world interior design shifts.
However, there's an obvious downside: their attention can be divided between their teaching and professional careers.
Despite having mid-range tuition, by the way, the campus is a touch small, making classrooms feel cramped. We were also disappointed to note that a few of the tech facilities and computers on campus need maintenance or to be updated entirely.
That's probably a minor drawback when you consider the strength of their faculty, though. Learning from competent individuals who teach from experience can translate to a professional edge later on, as their graduates seem to indicate.
So, if you're looking for a course that will prepare you for professional life, VCAD is probably a solid choice. However, they only offer a diploma course in Interior Design so you'll have to continue elsewhere if you want to get a bachelor's degree.
Experienced faculty
Updated curriculum
Affordable tuition
Outdated IT facilities
No elective subjects
Alumni Reviews
It's really a good college.
"It's really a good college. The location is incredible. I'm currently attending the graphic deisgn program. My personal favourite instructor is Trevor. Feedbacks from him are super amazing and professional.
This place is my second family. I would definitely come back and visit all the staffs, especially Cori Sun who helped me with my concerns and difficulties. Great school!" -Anson Hung
Thank you VCAD!
"College is a really daunting part of life to navigate for me personally, but the staff at VCAD have been incredibly supportive and helpful throughout the entire process! Everyone is so friendly and down to earth, making for lots of laughs, learning, and an overall fantastic experience. Thank you VCAD!" -Veronica Labrecque
6. Pacific Design Academy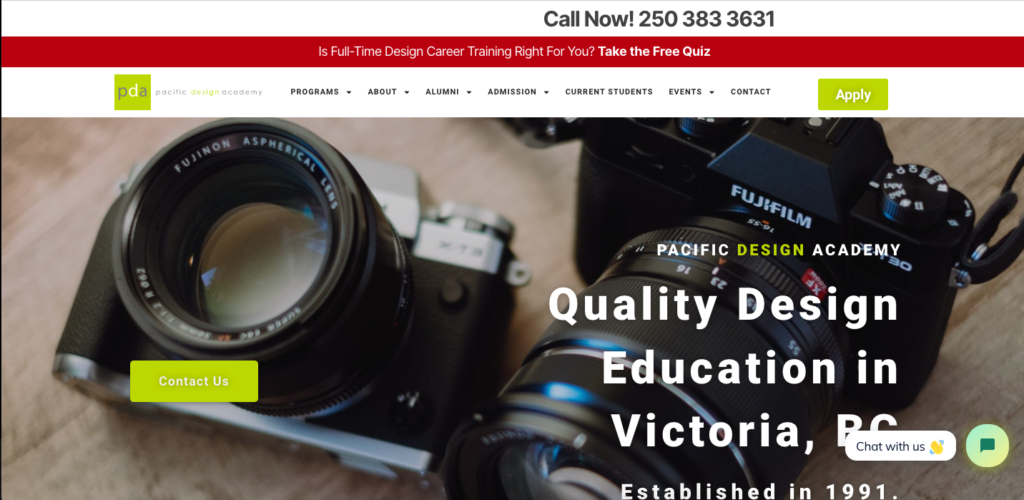 | | |
| --- | --- |
| Criteria | Rating |
| Campus & Facilities | ★★★☆☆ (3/5) |
| Buildings | ★★★☆☆ (3/5) |
| Study Areas | ★★★☆☆ (3/5) |
| IT Facilities | ★★★☆☆ (3/5) |
| Curriculum | ★★★★☆ (4/5) |
| Theory | ★★★★☆ (4/5) |
| Practical Instruction | ★★★★★ (5/5) |
| Tuition Cost | ★★★★☆ (4/5) |
| Alumni Reviews | ★★★★☆ (4/5) |
Pacific Design Academy has been around for more than 30 years. With its established name, they have industry connections with designers all over Vancouver.
What we like about this school is that their instructors are experienced professionals who actively work in the industry. This way, we know they don't only know theory and their knowledge also comes from their hands-on experiences.
They constantly update their curriculum to keep it up to date by consulting with industry experts.
What's more is that their classes are project-based and practical. We like that they don't only stick to learning theory.
Their small class sizes is also something we like about this school. We think that it helps keep high peer engagement when there are less people in the class.
We think that the small college makes the learning environment more community-oriented and we definitely like that.
The school's infrastructure is something to note as well. It's a newly renovated building carefully designed to encourage collaborative learning.
Their Interior Design program is two years of intensive learning with two short work experiences, one each summer.
They have an edge over other programs since it's more affordable compared to other schools without compromising quality.
All in all, we think that the program and the school itself are great, and we highly recommend them for interior design!
Experienced instructors who actively work in the industry
Constantly updated curriculum
Affordable tuition
Project-based and practical classes
Alumni Reviews
"Awesome,inspiring learning environment for aspiring designers. Beautiful location too!"
"Great place to learn design and other skills!"
Choosing the Best Interior Design School For You
Finding the best school to study in is widely viewed as crucial to your future's success. However, it's also important to consider that the best school might not be the best for you.
Everyone has their own learning styles and every professor, their own teaching methods. Schools are just the same, meaning statistics won't tell you how successful you will be in your own professional career.
As the saying goes, "You can lead a horse to water, but you can't make it drink." Our goal for this guide isn't to tell you which stream has the best water, but to describe how they differ from one another.
We hope this guide provides information to help our readers evaluate how schools measure up against one another not just in competence, but in personal value. Investing in your education is you setting yourself up for success after all.
FAQs About Interior Design Schools
---
This ends our list of the best interior design schools in Vancouver. While we hope that the information we shared with you helps you make an informed decision, we also highly encourage you to get in touch with the schools themselves for any questions you may have.
If you're like us and want to get a leg up on your future, we also recommend reading up on the potential employers you could work with in the future.
You can check out our list for the best interior designers in Vancouver, which we put together with the same scrutiny and balance as this one.