The 7 Best Laser Hair Removal Clinics in Vancouver
If you're getting ready for a tropical getaway or you just want to look and feel smoother; a laser hair removal procedure is a great option. To help you on this cosmetic journey, we've even put together a list of the best laser hair removal clinics in Vancouver.
On this list, we'll give you an idea of what each entry has to offer along with its pros and cons, and other important info. We'll also answer some common questions about laser hair removal to help you decide if the process is right for you.
But before anything else, let's see how much laser hair removal procedures can cost.
How Much Does Laser Hair Removal Cost in Vancouver?
Overall costs can vary between clinics depending on the equipment they use and additional fees.
So, to give you a general idea, we've drawn up this table to better illustrate each price point.
| | | |
| --- | --- | --- |
| Area | Minimum price | Maximum price |
| Full face treatment | $380 | $950 |
| Underarm treatment | $300 | $650 |
| Upper body treatment | $680 | $1680 |
| Bikini treatment | $280 | $450 |
| Brazilian Bikini | $300 | $550 |
| Legs treatment | $450 | $950 |
| Full body | $2800 | $4000 |
As you can see, the price range can be quite wide for laser hair removal. Generally, however, a good rule of thumb is that higher-energy equipment will usually cost more per session.
The Best Laser Hair Removal in Vancouver
Now that we've covered the general cost of laser procedures, it's time to meet the entries on our list. Each clinic has its own "x-factor", so it's best to keep these in mind when choosing a clinic for your hair removal needs.
1. Vancouver Laser & Skin Care Centre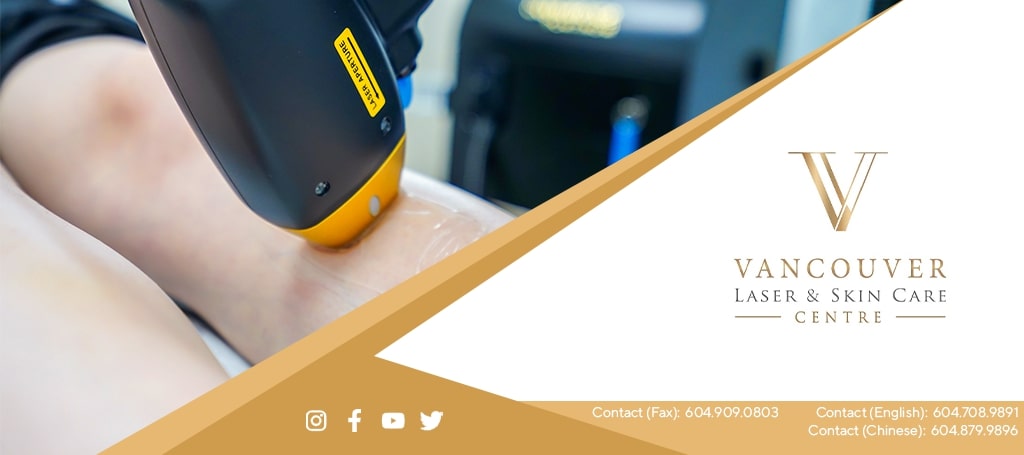 SERVICES
Laser hair removal
Botox injections
Skin peels
Light therapy
Vitamin therapy
Microderm treatment
Microneedling treatment
Thermage treatments
WEBSITE
https://www.vancouverlaser.com/
ADDRESS
309-750 W Broadway, Vancouver, BC V5Z 1H2, Canada
CONTACT DETAILS
Phone number: (604) 708-9891
Fax: (604) 708-9803
OPERATING HOURS
Monday: 9 am – 6 pm
Tuesday: 9 am – 6 pm
Wednesday: 9 am – 7 pm
Thursday: 9 am – 7 pm
Friday: 9 am – 5 pm
Saturday: 9 am – 5 pm
Sunday: closed
Among all of our entries, the Vancouver Laser and Skin Care Centre offers the most treatments by far. Aside from traditional laser hair removal, this clinic also offers several skincare treatments and visible age reduction processes.
With over 24 years of experience in laser hair treatments, these folks have completed over 35,000 procedures. This is all thanks to the clinic's use of the Fotona high-performance laser system.
This laser system has the longest wavelength available in the industry. This feature lets technicians reach deep into hair follicles to reduce 80% of hair in a treated area.
Thanks to the clinic's long history, they have also developed a children's space for all of their clients' children. This kid's center is a safe development space where clients can allow their children to roam during procedures.
For clients with children and a hefty budget, the Vancouver Laser and Skin Care Centre is a prime choice.
All treatments are overseen by the clinic's in-house physician
The clinic offers countless additional treatments
Their facilities include a "Kid's Centre"
Treatments result in an 80% decrease in body hair
The cost of treatments is quite high
Customer Reviews
These clients were absolutely thrilled by this clinic's excellent facilities and service:
"I came into vancouver laser for lip filler treatments and I am very happy with my result and experience. when you first walk in, the clinic is very clean, professional and fun. I was treated as a valuable customer and I felt very comfortable and reassured. I did my lips with Dr. Chung and his assistant came to welcome me right away. Dr. Chung and his assistant were super helpful, supportive, and knowledgeable. I felt super safe in their hands. Definitely will come back again for treatment. Definitely recommend this place!" – Christina Z.
"Vancouver Laser & Skin Care Centre is a beautiful and welcoming clinic. The professionalism of this clinic is top-notch from their welcoming team to their doctors and technicians. I had the clear glow treatment as well as laser hair removal performed by Claire. She talked me through the process and made me feel comfortable. I am very pleased with the results. Then I had post care with Delia. She took great care with my skin and answered any questions I had. I'm impressed by not only the caliber of the treatments I had but also the very qualified staff performing them. I will definitely be returning for more treatments!" – Sarah D.
2. Celebrity Laser & Skin Care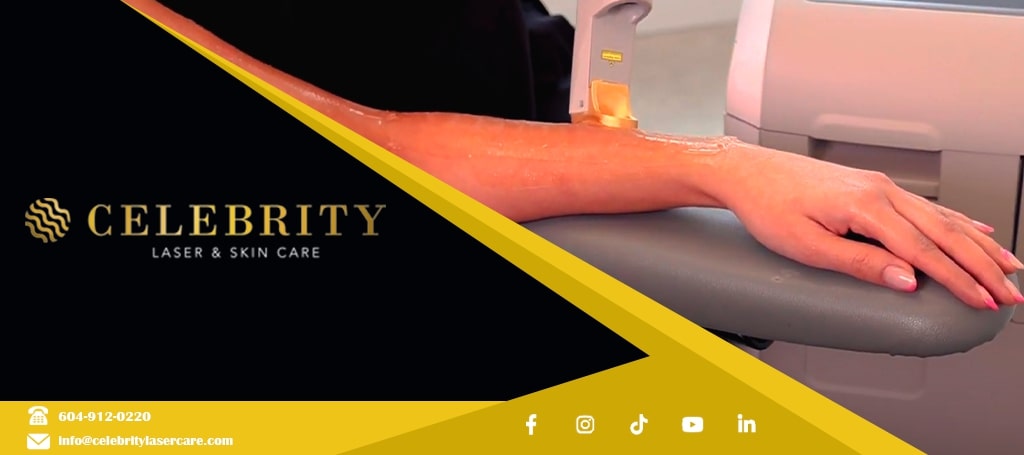 SERVICES
Laser treatments
Skin tightening
Skin resurfacing
Cosmetic injections
Acupuncture
Microblading
WEBSITE
https://celebritylasercare.ca/
ADDRESS
850 Harbourside Dr #402, North Vancouver, BC V7P 0A3, Canada
CONTACT DETAILS
Phone number: (604) 912-0220
Email:

[email protected]

OPERATING HOURS
Monday: 9 am – 5 pm
Tuesday: 10 am – 7 pm
Wednesday: 10 am – 5 pm
Thursday: 10 am – 7 pm
Friday: 10 am – 5 pm
Saturday: 10 am – 5 pm
Sunday: closed
Celebrity Laser & Skin Care is yet another cosmetic veteran with ample experience in laser hair removal. Along with their reliable treatments, they sell various skincare products that help with hair reduction and skin smoothness.
What makes this clinic unique is its use of three different laser systems. These three systems consist of a 755nm Alexandrite laser, a 1064 nm laser, and a ProWave 770nm laser.
Together, these systems allow technicians to treat all types of skin regardless of pigmentation or complexion. This is especially handy for clients with varying skin conditions and extra-sensitive skin.
Having a high-powered laser directed at any part of your body can be a scary experience. So to ease anxious clients and demystify the whole process, Celebrity Laser & Skin Care has also released videos detailing their safe procedure.
The clinic uses multiple medical-grade lasers
They sell various products to help with cosmetics
Ideal for clients with sensitive skin
The clinic is far from downtown Vancouver, so it's not as convenient as some of the others here if you have multiple "beauty product/treatment" stops
Customer Reviews
Celebrity Laser & Skin Care has garnered tons of rave reviews from clients. Here are a few for your reference:
"I've had the BEST laser hair removal service at this clinic. Not only are the staff so friendly and kind they are so efficient at doing hair removal. I have a low pain tolerance but the staff make the process as comfortable as possible. I'll definitely come back and book their other services as well." – Mariam I.
"Just got the best laser hair removal with my lovely❤️BANAFSHE❤️This place is extremely clean and the staff are super friendly, I would 100% recommend their services!! Love this place thank you so much celebrity laser & skin care for taking care of my skin needs !!!" – M S.
3. SKN Holistic Rejuvenation Clinic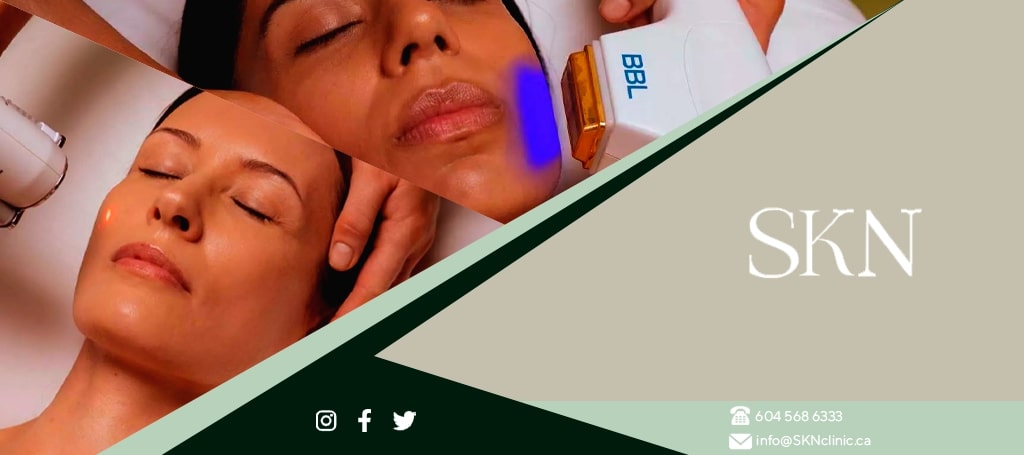 SERVICES
Laser hair removal
Cosmetic acupuncture
Dermaplaning
Acne treatments
Light therapy
Microdermabrasion
Facial peels
WEBSITE
https://www.sknclinic.ca/
ADDRESS
1152 Mainland St #150, Vancouver, BC V6B 4X2, Canada
CONTACT DETAILS
Phone number: (604) 568-6333
Email:

[email protected]

OPERATING HOURS
Monday: 8 am – 6 pm
Tuesday: 8 am – 6 pm
Wednesday: 8 am – 6 pm
Thursday: 8 am – 6 pm
Friday: 8 am – 6 pm
Saturday: 8 am – 6 pm
Sunday: 8 am – 6 pm
When it comes to laser hair removal, a good technician is just as important as cutting-edge tools. That's why SKIN opts for the best options in both categories.
For all hair removal procedures, these folks use Forever Bare BroadBand Light technology. This system differs from traditional medical lasers by using pulses of light as opposed to sustained heat.
In turn, this allows clients to enjoy extremely quick procedures with zero missed spots. The BroadBand Light system is also safe and effective for a wide range of skin conditions, making it a worthy substitute to traditional lasers.
To operate this technology quickly and safely, the clinic employs and trains highly skilled technicians. When you put these two factors together, you get a safe and speedy process with people who truly know what they're doing.
The BBL technology is faster than regular laser systems
The clinic ensures a high level of skill in all technicians
Repeat clients can receive discounted treatments
First-time clients can receive a free consultation
SKN's rates are higher as a result of their highly skilled technicians
Customer Reviews
SKN's skilled technicians and cutting-edge technology have left great impressions with these clients:
"Wonderful service, thorough and knowledgeable staff that take great care with clients. I recommend SKN to everyone as I have had the best results with my skin at this clinic. I've had nothing but good experiences with laser hair removal, micro needling and dermaplaning. All the ladies are so lovely! Well worth the cost and the loyalty program they've introduced is great." – Sophie K.
"Very skilled and knowledgeable aestheticians and practitioners here, whether doing laser, a facial, or acupuncture. Highly recommend the Forget Beauty line of cosmeceuticals as well for effective skincare. Love coming here!!" – Vicki I.
4. Anti-Aging Medical & Laser Clinic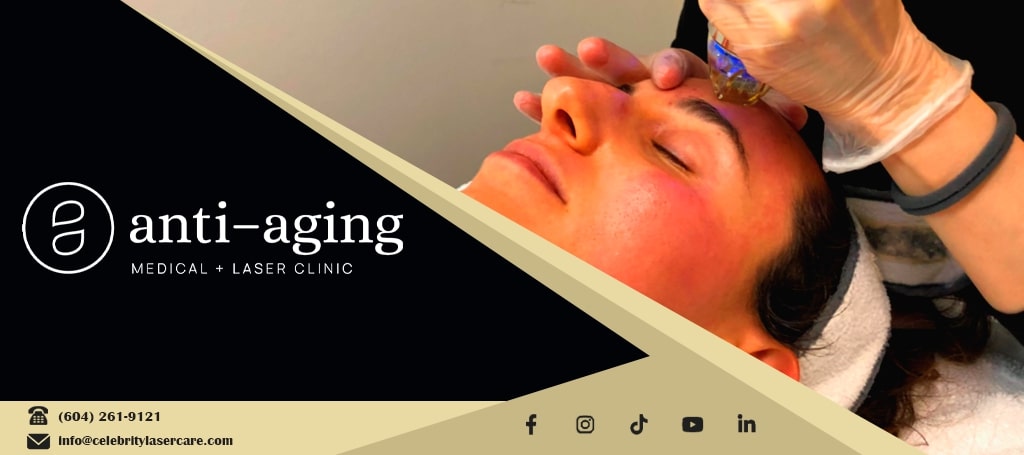 Just by looking at their name, you already know that they are experts when it comes to laser treatments. They have been practicing preventive medicine in conjunction with cosmetic health since 2003.
Similar to other clinics, they provide non-surgical and non-invasive cosmetic treatments. But what makes them stand out from their competitors is how they also offer preventive medical and private health care to decrease the burden of diseases.
If you are tired of shaving and in need of a more permanent solution, laser hair removal may be the best option for you. With their Soprano® ICE Platinum, they will reduce unwanted hair from any part of your body in a comfortable and safe manner.
Another reason why we love them is how they present all the information a customer must know.
For this treatment, its starting price is from $100 to $450 depending on the treatment area. The recommended number of sessions is 4 to 6 and the treatment duration is for only about 30 minutes.
Now, for maintenance, it is suggested to go back every 4 to 6 weeks.
Have tanned skin? No worries as this laser treatment can also be done to your skin without removing your tan!
State-of-the-art laser technology that is pain-free and effective
No topical anesthesia is necessary
Normal activity is possible immediately after treatment
Rates are unavailable online
Customer Reviews
Here are testimonials from their customers:
"Doctor Frame is the best doctor I ever had. Always researching, up to date with what is new, and always listens to the patients"
"Excellent skincare advice, services and products delivered by friendly, caring professionals. Highly recommend."
"Very professional, conscientious, friendly and knowledgeable. I look forward to seeing results in a few weeks / 2 months."
5. Lumina Laser Centre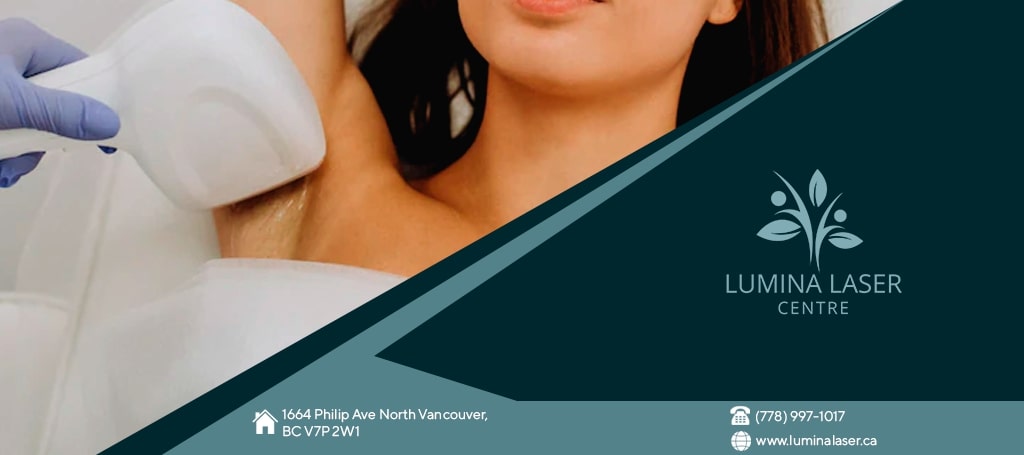 SERVICES
Laser hair removal
Micro-needling
Facial treatments
WEBSITE
https://www.luminalaser.ca/
ADDRESS
1664 Philip Ave, North Vancouver, BC V7P 2W1, Canada
CONTACT DETAILS
Phone number: (778) 997-1017
OPERATING HOURS
Monday: 8 am – 10 pm
Tuesday: 8 am – 10 pm
Wednesday: 8 am – 10 pm
Thursday: 8 am – 10 pm
Friday: 8 am – 10 pm
Saturday: 8 am – 10 pm
Sunday: closed
Pop culture and celebrity testimonies have made laser hair removal a very popular procedure all around the world. Because of this, most clinics provide an experience that is geared towards serving a wide variety of clients.
Lumina Laser redefines laser hair removal by creating treatment plans that are tailored to each client. They accomplish this by taking different measurements from a client's first consultation.
They take into account a client's skin type, hair color, thickness, and treatment area. This means every piece of equipment is tuned specifically for each and every procedure.
All this effort results in custom procedures that are far less likely to result in skin irritation and unwanted darkening or pigmentation. For clients who would like a customized hair removal experience, Lumina is the premier option
Lumina delivers a highly personalized experience
Their treatments are less likely to cause irritation and hyperpigmentation
All of their equipment is tuned with your skin in mind
Planning a custom procedure can take longer than normal
Customer Reviews
Lumina's customized plans have quickly made it a well-recognized laser hair removal clinic:
"Only had two sessions so far and I am already seeing amazing results!! Initially I was super scared that it was going to hurt but Mehri is super patient and makes the process easy and comfortable. Her place is very new and feels extremely clean. Would definitely recommend to anyone wanting to do laser hair removal! :)" – Laura W.
"My entire experience at Lumina Laser Centre was great. The clinic ambience was calming and inviting. Dr. Mehri was professional, patient, and genial, She answered all my questions, and did a thorough and attentive job. I am also so happy with the result of my treatment. I have gone there just two sessions but my hair is almost gone. Highly recommended!" – Sogol S.
6. NuAGE Laser & Skin Care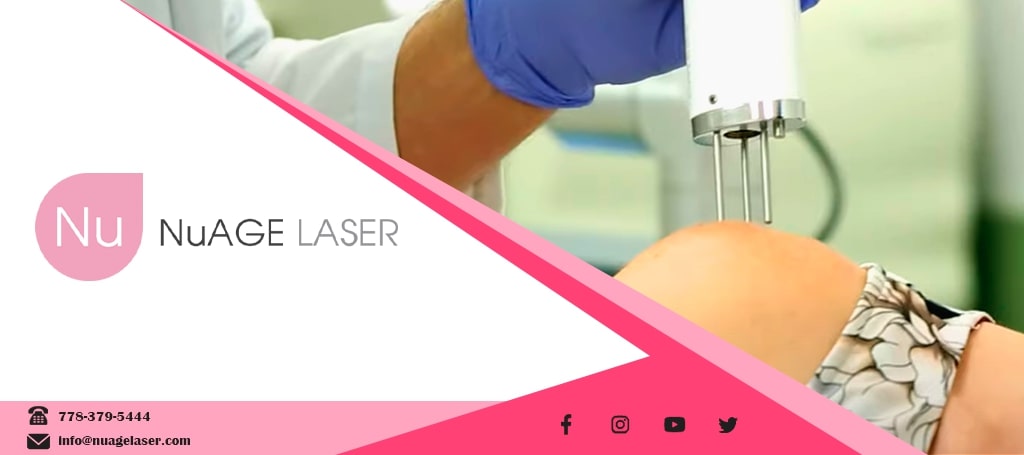 SERVICES
Laser hair removal
Microdermabrasion
Acne treatment
Dermaplaning
IPL facial
Acne scar removal
WEBSITE
https://www.vancouverlaserclinic.com/
ADDRESS
1130 W Pender St #101, Vancouver, BC V6E 4A4, Canada
CONTACT DETAILS
Phone number: (778) 379-5444
Email:

[email protected]

OPERATING HOURS
Monday: 9 am – 6 pm
Tuesday: 9 am – 6 pm
Wednesday: 9 am – 6 pm
Thursday: 9 am – 6 pm
Friday: 9 am – 6 pm
Saturday: 10 am – 6 pm
Sunday: closed
NuAGE believes strongly in the idea that our skin is a reflection of our body's internal processes. As a result, these folks take a highly scientific approach to laser hair removal.
This approach begins with a complimentary consultation where the technicians go over your skin's history and determine the cause of your unwanted hair. Once they've pinpointed this factor, they apply a combination of topical treatments and laser therapy to ensure ultra-smooth, satisfying results.
Finally, when everything is said and done, the clinic's physicians will educate you on how to maintain your smooth skin for longer. They do so with common tips and tricks as well as optional skin products you can try at your leisure.
Along with delivering excellent results, NuAGE also aims to educate clients on the best skin practices. That's why they keep their webpage up-to-date on all the latest trends and skin/hair care routines.
NuAGE uses a combination of topical treatment and laser procedures
The clinic offers flexible payment options for all procedures
Not ideal for clients who strictly prefer laser treatment
Customer Reviews
NuAGE has helped countless clients achieve and maintain their dream skin. This has resulted in a heap of great reviews:
"NuAGE has been a wonderful experience for a first-timer with laser treatments like myself. The free consultation was thorough and I was treated so well. All questions were answered in great detail and in terms, I could understand. I have had a few different technicians work on me and each is kind, concerned for my comfort and preferences, and does a great job! They ensure you are doing aftercare properly and are always available for questions. My results are incredible and long-lasting!" – Nicole F.
"I've completed 6 sessions of laser hair removal at NuAGE and couldn't be happier with the results so far! The salon is always clean and the staff is careful to follow Covid-19 precautions to help customers feel at ease. They are knowledgeable and ask the right questions to ensure I am on track for the best results possible. I would recommend NuAGE without hesitation and look forward to my next appointment!" – Elissa M.
7. Beautyworks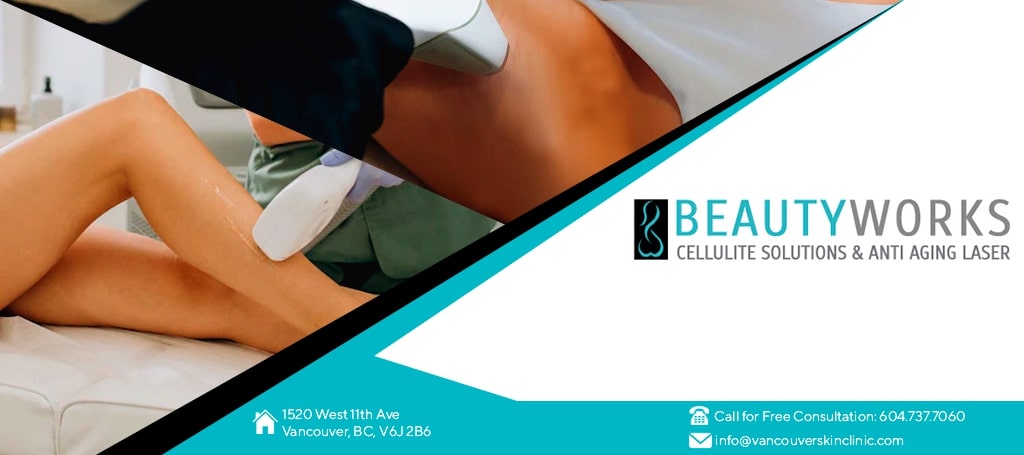 SERVICES
Laser Hair Removal
Laser Wart Removal
Laser Genesis
Laser Carbon Peel
Toenail Fungus Treatment
SPECTRA Laser Tattoo Removal
SPECTRA Laser Toning for Treating Melasma
And More
WEBSITE
http://www.vancouverskinclinic.com/
ADDRESS
1520 W 11th Ave, Vancouver, BC V6J 2B5, Canada
CONTACT DETAILS
Phone number: 604.737.7060
OPERATING HOURS
Monday to Friday: 10AM-7PM
Saturday: 10AM-4PM
At Beautyworks. you'll receive the care and attention you and your body deserves. They offer skin and body treatments that have been first, created through deep and careful knowledge, and then consistently and meticulously refined and improved through constant education and experience.
For over 12 years now, they have been providing these specialized treatments, which naturally trigger and stimulate your own body's physiological mechanisms, to produce amazing results.
They can help you reverse the signs of aging on your skin by increasing collagen and elastin synthesis with Venus Freeze, LPG Endermolift, and ThermaShape. They can also reduce cellulite and provide circumferential reduction by stimulating lypolisis in the body with LPG Lipomassage, VelaShape II, and Venus Freeze.
Only offers products that they themselves use
State-of-the-art equipment
Free consultations
Rates are unavailable online
Closed on Sundays
Customer Reviews
Here's what some people have to say about them:
"Best laser place to go to. Excellent customer service and very good prices. The owner is super polite and fun to be around with. Excellent in everything he does.I highly recommend this place and would definitely refer more of my friends."
"I had the vein removal laser procedure. The veins were purple before and very noticeable. It made a huge difference in two treatments so far! I love how they text before and respond quickly. It's laser so laser hurts, but they put a calming metal roller on it that helps with the pain.. if you need a minute they don't make you feel rushed. Highly recommended"
FAQs About Laser Hair Removal
---
That wraps up our list of the best laser hair removal clinics in Vancouver. Now that you're aware of your hair removal options, all that's left is to choose your preferred clinic.
Regardless of which service you opt for, you can be confident that all of the clinics on our list will leave you with baby smooth skin.
If you're also looking to get into shape, you can check out our list of the best personal trainers in Vancouver. With this list, we'll get you all the info you need to pick a trainer that can help you reach your fitness goals.