The Top 5 Office Supply Stores in Vancouver
Office supplies are essential to any workplace, meaning that keeping them well-stocked is a must to maintain productivity. In addition, having your own small collection of office supplies can come in handy for personal projects.
Shopping for office supplies in Vancouver may seem like a simple venture, but it can be pretty tricky with all the options available.
Fortunately, we've taken up the task of reviewing the shops in the area, giving you a better idea of the top office supply stores in Vancouver.
How much do office supplies cost in Vancouver?
The cost of office supplies in Vancouver varies depending on the item, brand, and specifications. After careful research, we've found the starting price of standard office supplies you may want to purchase.
See the table below for more information.
| OFFICE SUPPLY | STARTING PRICE |
| --- | --- |
| Pens and Pencils (per piece) | CAD 0.99 |
| Markers and Highlighters (per piece) | CAD 0.69 |
| Notepads and Special Papers | CAD 1.79 |
| Paper and Binder Clips (per pack/box) | CAD 2.00 |
| Correction Fluid and Tape | CAD 2.79 |
The Top Office Supply Stores in Vancouver
Before introducing our top picks for office supply stores in Vancouver, we'll first go through the criteria we used to assess each shop so that you'll know what to expect.
The criteria used for assessing office supply stores include the extensiveness of their inventory, the accessibility of their online shop, and the quality of customer service. We also looked at operating times, delivery options, and more.
1.Vancouver Pen Shop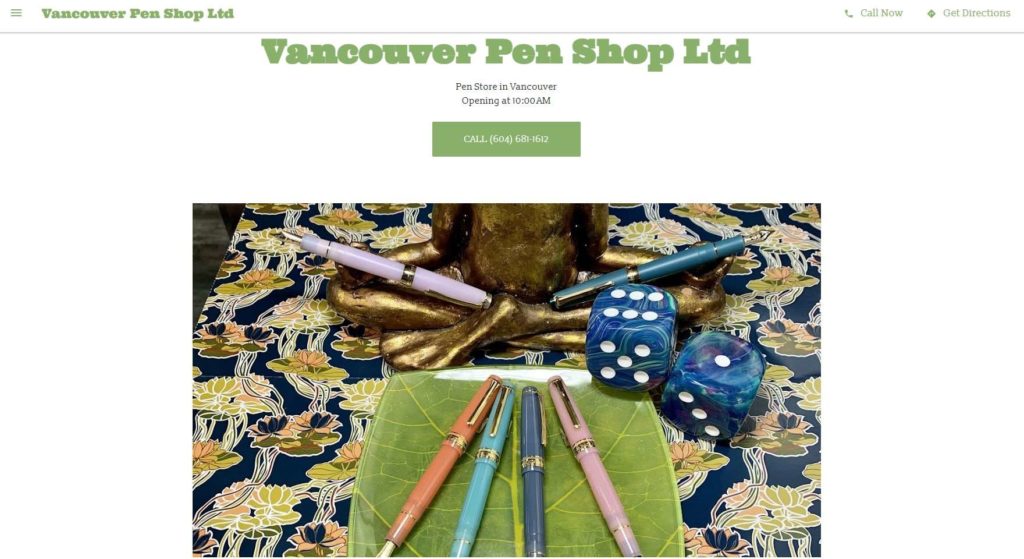 SERVICES

Pens

Inks

Journal Notebooks

WEBSITE
http://vancouverpenshopltd.ca
ADDRESS
555 Howe Street, Vancouver, BC V6C 2C2, Canada
CONTACT DETAILS

(604) 681-1612

OPERATING HOURS

Monday to Sat: 10:00 AM – 6:00 PM

Sunday: Closed
| | |
| --- | --- |
| CRITERIA | RATING |
| Shop Catalog | ★★★★☆ (4.5/5) |
| Online Platform | ★★★★☆ (4.5/5) |
| Customer Service | ★★★★★ (5/5) |
| Accessibility | ★★★★☆ (4.5/5) |
The Vancouver Pen Shop, located on Howe Street, is a familiar sight for many locals. This humble shop opened its doors over thirty years ago and caught our attention for a number of reasons.
For one, they specialize in quality pens, particularly fountain pens, which is a plus for many professionals. A pen is an extension of its writer, and having the right one is essential for many.
We also particularly like that the shop isn't limited in selections.
While they may specialize in fountain pens, the Vancouver Pen Shop also offers other types of pens, such as ballpoint and rollerball pens. They also carry an impressive selection of journals and notebooks.
Another plus for us is their ink refills, so customers can keep their pens working properly for a long time. They have a huge selection of ink colors, making it easy for customers to find the exact shade they need.
In addition, they also offer pen nibs, which we really like. This office supply can be used to customize one's writing and is a great way to achieve the desired effect.
Unfortunately, they don't seem to have a proper online shop, but you can find many of their products on the shop's website.
Plus, they're open six days a week with long operating hours, so you can visit whenever convenient.
Open six days a week
Offers a wide range of pen styles and ink colors
Products are known for their quality and longevity
No means of ordering online
Lacking information about shop offering on their website
Customer Reviews
Can't wait to go back for a refill
"It's a must go store. It's sooooo cute and it's not possible to come out empty handed. Employees are very knowledgeable, helpful and friendly. Can't wait to go back for a refill." – Lily Beigi

Really helpful staff!
"Really helpful staff! I've never used a fountain pen before and they explained to me the differences and made some good recommendations. Been using the pen for a few months now and love it! They also carry a variety of inks and also sell in small sample tubes, so you can try a variety of colors and don't need to commit to an entire bottle." – Lisa W
2. The Regional Assembly of Text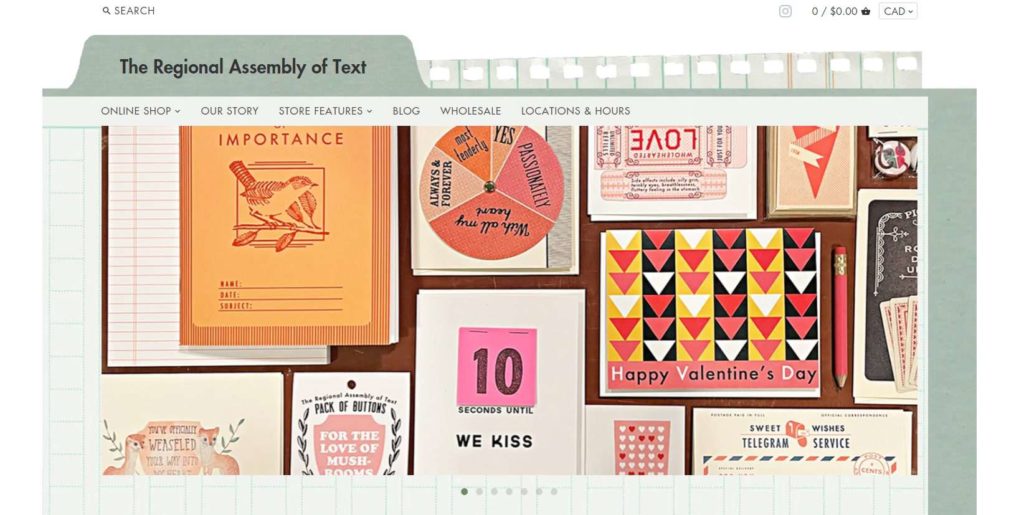 SERVICES

Greeting Cards

Box of Cards

Stationery

Postcard Packs

Notebooks

Notepads

Magnets

Pack of Buttons

Little Books

Office Supplies

T-Shirts

Tea Towels

Tote Bags

Subscriptions

Kits

Gift Certificates

WEBSITE
https://www.assemblyoftext.com/
ADDRESS
3934 Main St, Vancouver, BC V5V 3P2, Canada
CONTACT DETAILS

(604) 877 2247

OPERATING HOURS

Monday - Saturday: 11am - 6 pm

Sunday: 12 pm - 5 pm
| | |
| --- | --- |
| CRITERIA | RATING |
| Shop Catalog | ★★★★☆ (4.5/5) |
| Online Platform | ★★★★★ (5/5) |
| Customer Service | ★★★★★ (5/5) |
| Accessibility | ★★★★★ (5/5) |
The Regional Assembly of Text is a humble shop on Main Street that immediately drew our attention due to the classic typewriters they had featured at the front.
Upon entering, you will find an array of unique stationery, greeting cards, postcard packs, and notebooks. You can also find cool collectibles on their shelves, like a Vancouver Map shirt or themed magnets.
The shop also carries a quirky collection of little books, which will surely keep you entertained. They contain stories and illustrations, and all of them are self-published by local talents.
Another reason we recommend The Regional Assembly of Text is their staff – they are friendly, helpful, and knowledgeable about the items they carry. If you have any questions, the team at The Regional Assembly of Text are more than happy to assist.
The Regional Assembly of Text also stands out because of its store features, notably the Letter Writing Club. The Letter Writing Club is an initiative that encourages its customers to write letters using a typewriter.
The Regional Assembly of Text is a wonderful independent shop that brings nostalgia back into writing with its unique collection of stationery, office supplies, and more. We recommend stopping by when you're in the neighborhood!
Physical shop open seven days a week
Regular shipping from online store
Unique store features like Letter Writing Club and Reading Room available
Limited selection of office supplies unrelated to writing
Customer Reviews
We'll definitely visit again
"This is such a beautiful store, stocked with lots of beautiful things, from paper products to pens, cards of all sorts and lapel buttons, etc. It's very quaint and feels so good to be inside and just browse. But yes, we bought a few things on top of the unique card (queer) we were looking for. We'll definitely visit again." – Helena B.
"This place is the beat place to come for high quality stationeries. Pens, notebooks, paper, calligraphy tools, cards, or even tea towels!
They also have a letter writing club that happens on the first Thursday of every month. There usually is a line up, but people are kind enough to finish fast and let the next group of people use the vintage typewriters. It's quite fun!" – Emily Lu
3. Paper-Ya

SERVICES
WEBSITE
http://paper-ya.com/
ADDRESS
#9 - 1666 Johnston Street, Vancouver, BC, V6H 3S2, Canada
CONTACT DETAILS

(604) 684 2531

EMAIL: [email protected]

OPERATING HOURS

Monday to Sunday- 10:00 AM -5:00 PM
| | |
| --- | --- |
| CRITERIA | RATING |
| Shop Catalog | ★★★★★ (5/5) |
| Online Platform | ★★★★☆ (4.5/5) |
| Customer Service | ★★★★★ (5/5) |
| Accessibility | ★★★★☆ (4.5/5) |
Next up is a quaint store that has been around since 1986: Paper-Ya. This shop first opened its doors to offer quality stationery to its customers.
Over the years, Paper-Ya steadily established itself as a great source of office supplies, journals, writing accessories, art supplies, and more.
Despite the changes Paper-Ya experienced throughout the years, its dedication to selling only top-tier items remains the same, which we like.
After all, office supplies and stationery are essential office tools. Therefore, it's great to know that Paper-Ya only sources quality products from makers and artisans across the globe.
When you step into the store, you will be amazed at the wide selection of papers, pens, journals, and writing accessories waiting for you. They vary in make and color, but rest assured all of them are top quality.
In addition, The Paper-Ya staff is very knowledgeable and friendly, making it easy for you to find the office supplies and stationery you need. They can even offer recommendations if needed.
All in all, Paper-Ya is worth checking out for office supplies, stationery, and journaling needs.
Whether you are a professional office worker or an enthusiastic journaler, Paper-Ya has everything to help you make the most of your work and hobbies.
Open seven days a week
Extensive selection of paper, stationery, writing tools, and art supplies
Helpful staff
No option to order online
Customer Reviews
"The lineup is always worth the wait at Paperya. The women are absolutely lovely, too. There are so many things to choose from. I love the pens, the journals, the notebooks, the bags, the games, and so much more. I love this little purse I picked up here." – Samantha Bacchus McLeod
"This is my favourite store on Granville Island. It is full of beautiful contemporary as well as classic stationery and supplies for bullet journaling, writing letters, file folders, just beautiful and cute office and desk supplies that are fun to use! Beautiful pens, books, journals, Jelly Cats, inks, wax seals, origami, sketchbooks and some sketching tools, stickers, washi tapes, just tons and tons of fun stuff. I have to restrain myself whenever I come. There is no other store that does this type of store as well as Paper Ya around here. I fully recommend this store! And great customer service (better to come when less busy to get best service)! You will easily find a gift for a friend, and then 5 for yourself if you are not careful…." – Bo Lee
4. Office Depot

SERVICES

Office Supplies

Furniture

Cleaning

Breakroom

Computers & Accessories

Printers & Scanners

Electronics

Paper

School Supplies

Mailing & Shipping

Ink & Toner

Calendars & Planners

Tax Forms

Greener Office Products

WEBSITE
https://www.officedepot.com
ADDRESS
11505 NE Fourth Plain Road # H-1 Vancouver, WA 98662, Canada
CONTACT DETAILS

(360) 253-2048

OPERATING HOURS

Monday to Friday 08:00 AM- 08:00 PM

Saturday 09:00 AM - 07:00 PM

Sunday 10:00 AM- 06:00 PM
| | |
| --- | --- |
| CRITERIA | RATING |
| Shop Catalog | ★★★★★ (5/5) |
| Online Platform | ★★★★★ (5/5) |
| Customer Service | ★★★★★ (5/5) |
| Customer Service | ★★★★★ (5/5) |
Next up is a franchise you most likely have heard about in the past: Office Depot.
Office Depot is a classic choice for workplace needs. We highly recommend it for anyone looking to replenish their stocks, given that the store in Vancouver carries a wide range of office supplies.
Here you can find more than paper, pens and pencils, and binder clips. You can also purchase electronics, such as printers. Office Depot also has a great selection of office furniture that make great additions to any workspace.
Additionally, we like that their products are reasonably priced, so you can get what you need without breaking the bank. For instance, most of their pen and pencil options are below CAD 5, with some options coming in a pack.
Another reason we recommend this store is their customer service. The staff is always willing to help and go the extra mile to ensure that customers have all their questions answered.
Office Depot also offers several ways of acquiring your purchases. You can purchase from their website, which is easy to navigate, and have your items arrive the next day. Of course, you can also visit their store and peruse their shelves or shop online and opt for curbside pickup.
In short, Office Depot is an excellent choice for office supplies, furniture, and electronics. With competitive prices and friendly service, you can't go wrong when shopping at this store.
Curb-side pickup and express delivery available
Regular discounts offered
Extensive catalog includes other office essentials
Product quality is okay compared to other shops
5. Charals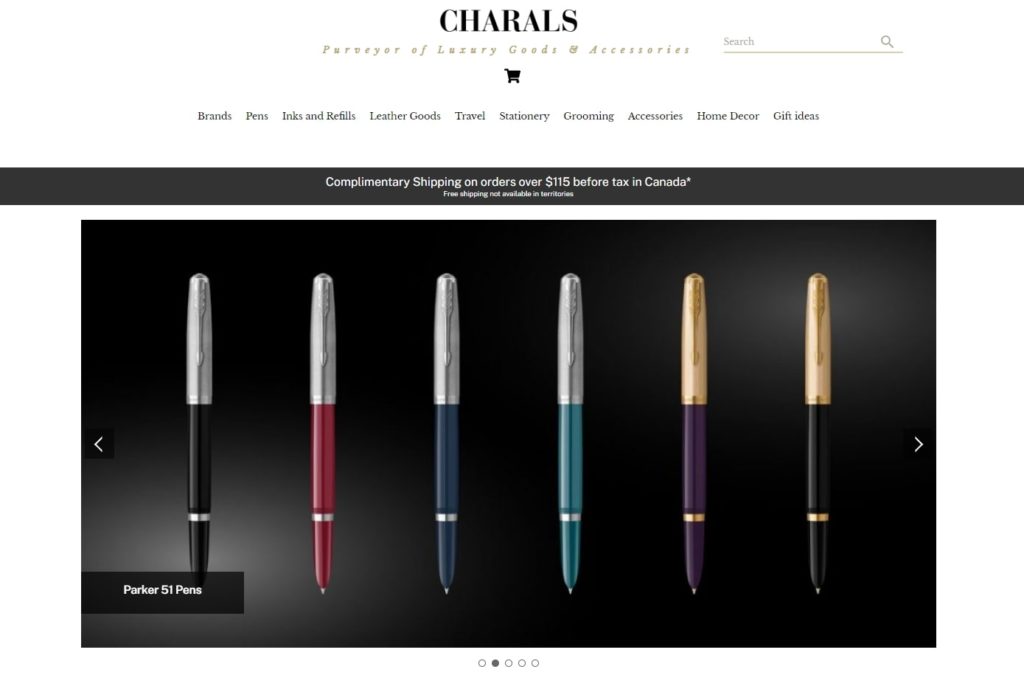 SERVICES

Pens

Pen Accessories

Inks and Refills

Pencil Accessories

Leather Goods

Travel Accessories

Stationery

Grooming

Home Decor

Gift ideas

WEBSITE
https://charals.com/
ADDRESS
171 Robson St, Vancouver, BC V6B 2A8, Canada
CONTACT DETAILS

(604) 689-3497, (604) 974-9497

OPERATING HOURS

Monday to Friday

10:00 AM – 5:30 PM

Saturday

10:00 AM - 5:00 PM
| | |
| --- | --- |
| CRITERIA | RATING |
| Shop Catalog | ★★★★☆ (4.5/5) |
| Online Platform | ★★★★★ (5/5) |
| Customer Service | ★★★★★ (5/5) |
| Customer Service | ★★★★☆ (4.5/5) |
Charals is a special recommendation due to the unique items featured in the shop's catalog. See, unlike other shops we've discussed so far, Charals is more known for luxury goods, with many of their items coming from top brands.
If you're the type who enjoys traditional writing over encoding, Charals is a treat to visit.
They offer top-quality writing tools, including fountain pens, fine-liner pens, and multifunction pens.
You can find Montblanc models on their website, but you can also purchase more affordable options, like the Platinum Preppy fountain pens, which are around CAD 6.
Having this wide of a range in terms of price is one of the things we like about Charals. The shop highlights the fact that luxury can be experienced without having to break the bank.
If fountain pens don't particularly appeal to you, Charals also sells other items that may interest you.
They offer a selection of calligraphy pens and sets, diaries, journals, fine art papers, and other writing accessories. Their stock is constantly changing, so you can find something new every once in a while.
Another reason we recommend Charals is their customer service.
They're always willing to help you find the perfect fountain pen, calligraphy set, or any other item you may need. They also have free resources on their website to better know their products.
Overall, Charals makes a fantastic choice if you're looking for top-notch fountain pens and writing accessories from trusted brands. We highly recommend checking out their website for more information about their collection.
Safe and secure shopping website
Free delivery for items over CAD 115
Gift wrapping services offered
Customer Reviews
"Charal's is one of my very favourite stores. There are so many amazing things to look at and everything is well laid out, easy to find. The staff are friendly and knowledgeable, and the products they carry are top notch! It is my "go to" shop for fine writing paper (I love to write letters). Their fountain pen supply has good variety, and they have an excellent selection of fountain pen inks (which is another reason I enjoy shopping there). I highly recommend your stopping by!" – Regan Lipsett
"The go-to place for writing instruments and all things stationary! Charals have the best collection in Vancouver hands down. The personal relationship you get to build with the lovely people there is 🏻! And their instagram posts are 💯 -definitely what make me the want to go back for more!" – Kes Zh
FAQs about office supplies in Vancouver
---
We hope our guide to the top office supply stores in Vancouver has helped you find the perfect shop that meets your needs and budget. With the right office supplies, you can stay organized and productive – so make sure to stock up today.
If you're looking for furniture to complete your office, check out our guide to the best office furniture stores in Vancouver. Happy shopping!