The 8 Best Personal Injury Lawyers in Vancouver
As unfortunate as it may seem, accidents happen from time to time. But, when these accidents occur due to negligence or improper actions, we have the right to be reimbursed.
If you're the victim of such an accident, let us help you with a list of the best personal injury lawyers in Vancouver. On this list, we've provided each firm's background, pros & cons, contact details, and other important info.
How Much Does a Personal Injury Lawyer Cost in Vancouver?
Generally, there are 3 ways a personal injury lawyer can be paid. These consist of a fixed fee, an hourly rate, or a contingency fee.
For fixed payments, most cases can cost $1,000 to $20,000. On the other hand, hourly rates can run from $100 to $500 dollars per hour depending on the lawyer's experience.
The last and most common mode of payment is the contingency fee. This is a percentage that is paid only after a settlement has been granted.
For many clients, this is the best option because the legal firm shoulders the cost of the case until a settlement is awarded. If a settlement is granted, the firm can then receive a percentage of the settlement as payment.
To protect legal clients the Law Society of British Columbia mandates that the maximum contingency fee can only be up to 33.3% of the granted settlement.
The Best Personal Injury Lawyers in Vancouver
Now that you have an idea of how much a lawyer can cost, it's time to meet the best personal injury lawyers in Vancouver.
1. Manjot Hallen – Warnett Hallen LLP
SERVICES
Personal injury claims
Car accidents
Truck accidents
Motorcycle accidents
Brain injuries
Pedestrian accidents
Occupiers liability
Wrongful death
WEBSITE
https://warnetthallen.com/
ADDRESS
720 Robson St 5th Floor, Vancouver, BC V6Z 1A1, Canada
CONTACT DETAILS
Phone number: (604) 265-7900
Fax: (604) 737-3017
OPERATING HOURS
Monday: 8 am – 5 pm
Tuesday: 8 am – 5 pm
Wednesday: 8 am – 5 pm
Thursday: 8 am – 5 pm
Friday: 8 am – 5 pm
Saturday: closed
Sunday: closed
Manjot Hallen is a partner at Warnett Hallen LLP. As one of the firm's senior lawyers, he carries a wealth of wisdom when dealing with personal injury cases.
Having started his career in 2005, Manjot has handled over a thousand cases. This extensive experience makes him an excellent lawyer with an unmatched familiarity with court proceedings.
Prior to becoming a talented personal injury lawyer, Manjot worked as an assistant to several federal cabinet ministers. In turn, this helped him gain an understanding of how government policies and decisions were made.
When you put all of these experiences together, you get a formidable legal representative. One that has an innate knowledge of legal processes both inside and outside the courtroom.
Naturally, Manjot made sure to transfer as much of his knowledge as possible to his firm.
Warnett Hallen's legal team has been instrumental in helping to secure large settlements.
They're also known for taking an investigative approach to all cases to uncover key aspects for their prosecution.
Manjot Hallen is extremely familiar with court proceedings
Mr. Hallen is fluent in both Punjabi and English
The firm's legal team is highly skilled at case investigation
The firm's investigative approach to cases may result in additional fees
Customer Reviews
These reviews are just a mere glimpse of the many clients Warnett Hallen has helped:
"This is the best firm in Vancouver. I was referred by a friend and I'm so glad I was! The attention to detail and quick response times have made a bad situation that much more tolerable. Can't say enough good things about my case manager, Valerie. Highly recommend." – Adriana S.
"Worked with this firm for several cases for myself and family. Absolutely amazing, they are amazing at getting the best settlement possible. Super responsive to update inquiries and overall just really professional and easy to work with. I would absolutely recommend these guys for anyone that needs a lawyer for an injury claim!" – Mahbub R.
2. David Klein – Klein Lawyers LLP
SERVICES
Personal injury claims
Medical malpractice claims
Car accidents
Truck accidents
Motorcycle accidents
Brain injuries
Birth injury claims
Surgical error claims
Pedestrian accidents
WEBSITE
https://www.callkleinlawyers.com/
ADDRESS
1385 W 8th Ave #400, Vancouver, BC V6H 3V9, Canada
CONTACT DETAILS
Phone number: (604) 706-1218
OPERATING HOURS
Monday: 8 am – 5 pm
Tuesday: 8 am – 5 pm
Wednesday: 8 am – 5 pm
Thursday: 8 am – 5 pm
Friday: 8 am – 5 pm
Saturday: closed
Sunday: closed
David Klein is no spring chicken in the legal industry. As a matter of fact, he has almost 30 years of experience pursuing justice for injured clients.
His efficiency with class-action lawsuits qualifies him for cases at the national level.
On numerous occasions, he has been chosen to represent the interests of British Columbians in cases concerning defective medicines, food poisoning outbreaks, and institutional negligence.
To make sure he never misses a beat, David delegates day-to-day cases to his highly capable legal team. He usually only steps in when his presence is absolutely necessary.
Fortunately, such occurrences are quite rare because there are few cases that the Klein Lawyers cannot handle. They manage this by making use of their collective wisdom and experience with both personal injury cases and class action lawsuits.
David Klein is capable of representing whole provinces in court
The media has featured the firm multiple times
The legal team is well-versed in motor vehicle accident cases
Mr. Klein may not always preside over day-to-day cases
Customer Reviews
Here's what clients had to say about Klein Lawyers and their excellent service:
"Our case manager, Paul Johal, was so supportive and amazing to work with. We were very much out of our element during an incredibly stressful point in our lives after our car accident, and Paul helped us every step of the way, reassuring us that everything would be ok. He worked seemingly around the clock to ensure we were informed of what was happening with our case, and really took the time to explain everything to us so that we could understand. We are so thankful we made the call to Klein Lawyers, and would recommend to anyone who needs legal support to give them a call." – C.J.
"Very happy with the service provided by this firm. Michelle and Jamie were the utmost helpful and understanding. Explained everything in detail. Jamie was especially helpful when asking questions about what was needed. Jamie explained in easy terms and made sure you understood. She is patient with all the necessary processes and responded in a timely manner when a message is left. I highly recommend this firm based my experience with them." – Ed L.
3. Glenn Veale – Veale Law
SERVICES
Personal injury claims
ICBC claims
ICBC settlements
WEBSITE
https://vealelaw.com/
ADDRESS
1500 W Georgia St 13th floor, Vancouver, BC V6G 2Z6, Canada
CONTACT DETAILS
Phone number: (604) 685-2833
Toll-free number: (855) 685-2833
Email:

[email protected]

OPERATING HOURS
Monday: 8:30 am – 5 pm
Tuesday: 8:30 am – 5 pm
Wednesday: 8:30 am – 5 pm
Thursday: 8:30 am – 5 pm
Friday: 8:30 am – 5 pm
Saturday: closed
Sunday: closed
Veale Law is a smaller firm with only a handful of paralegals and one lawyer. Though this may seem like a serious drawback, Glenn Veale and his firm have still managed to make waves in the industry.
Mr. Veale has a knack for leaving a stern first impression due to his stoic features. But after working with him, many clients claim that nothing could be further from the truth.
What hides behind his professional demeanor is a genuine passion to work for the good of others. You can see this through his hard work and ridiculously affordable rates.
Glenn understands that most clients aren't in a position to pay large fees, especially after sustaining injury. That's why he only charges a low 20% legal fee, and doesn't charge anything for meetings, phone calls, or even letters.
To give credence to his beliefs, Glenn also chooses to solely work with plaintiffs in personal injury cases. He opts not to side with defendants because he believes this violates his goal to help those in need.
Extremely affordable fees
Genuinely motivated by a client's wellbeing
A very reliable firm for securing large settlements
Scheduling may be difficult since Mr. Veale works alone
Customer Reviews
The only complaints that Glenn and his firm have ever received are that their rates are too low:
"I worked with Glenn for a case in the last 2 years and I was so grateful I had him. He is professional, quick to respond to any messages and comprehensive on any questions we had. He tried so hard to get an extra dollar for us that I felt guilty for not being able to pay more for his service. We did end up with better than expected compensation after his hard work. We had Glenn to represent us because of the reviews in google so I'm now adding my name to the review for the good of others." – Jack W.
"This is the first time in my life that I asked my lawyer Glenn to charge me more and I told him that he was not adequately compensated for the great work he had done for my father's Icbc claim. Glenn has been very responsive, usually responded my emails within hours. He was more than fair for the amount of work he had done. He was straightforward and diligent. Awesome to work with. My father is very happy for the outcome he worked hard to get for him. And it was pleasure for me to work with him on my father's behalf. Highly recommended" – Joy L.
4. Brandon Souza – Murphy Battista LLP
SERVICES
School accidents
Fall injuries
Recreational accidents
Personal injury claims
Medical malpractice claims
Car accidents
Truck accidents
Motorcycle accidents
Dog bites
Pedestrian accidents
WEBSITE
https://www.murphybattista.com/
ADDRESS
650 W Georgia St #2020, Vancouver, BC V6B 4N7, Canada
CONTACT DETAILS
Phone number: (604) 683-9621
Fax: (604) 683-5084
OPERATING HOURS
Monday: 9 am – 4 pm
Tuesday: 9 am – 4 pm
Wednesday: 9 am – 4 pm
Thursday: 9 am – 4 pm
Friday: 9 am – 4 pm
Saturday: closed
Sunday: closed
In the law industry, experience can have a serious effect on how well a legal representative performs. But like with any practice, a strong work ethic can still go a long way.
Brandon Souza is the embodiment of this concept. Though he is relatively new to the legal field, his unique approach to personal injury cases puts him above many other lawyers.
When he first meets a client, Brandon seeks to better understand the physical and mental challenges they face. This allows him to build a compelling argument that is unique to each and every case.
Once this is done, he explores all the possible options to pursue a settlement. Finally, after Brandon has planned the course of his case and reviewed all aspects, he springs to action with great efficiency.
This approach has helped him secure large settlements for his clients time and time again. Though he may lack experience, Brandon has proven through numerous wins that he is a lawyer to be reckoned with.
Brandon's rate is lower than other personal injury lawyers
The firm has a high rate of success with many cases
Brandon has a talent for securing out-of-court settlements
Brandon is still relatively new to the legal field
Customer Reviews
Brandon's methodical approach and high success rate have made him a huge hit with clients:
"I was really impressed with my Legal Team! From the very beginning, they were all straight up with me with everything that was relevant in the Case and how they were going to approach it!
Their confidence in my case helped me to stay calm and focus on my Rehabilitation knowing I was in good hands legally. Thank you Scott Kevin and Ashika for your unbelievable support throughout my Case!!" – Gerry P.
"Brandon Souza was very helpful and responsive during the time I needed clarification about my case. He gave me a phonecall every 3 months to check up on me and I really appreciated his advice even though I didn't end up needing a lawyer!" – Asa L.
5. Anthony A. Vecchio – Slater Vecchio LLP
SERVICES
Personal injury claims
Class action lawsuits
Consumer law
WEBSITE
https://www.slatervecchio.com/
ADDRESS
777 Dunsmuir St 18th Floor, Vancouver, BC V7Y 1K4, Canada
CONTACT DETAILS
Phone number: (604) 602-5455
Fax: (604) 682-5197
Email:

[email protected]

OPERATING HOURS
Monday: 8 am – 5 pm
Tuesday: 8 am – 5 pm
Wednesday: 8 am – 5 pm
Thursday: 8 am – 5 pm
Friday: 8 am – 5 pm
Saturday: closed
Sunday: closed
Slater Vecchio LLP began in 1998 as a small business with the goal to help clients through reliable representation. Fast forward to today and the firm has grown to be one of British Columbia's largest law firms.
The firm owes half of this growth to its client-centered process, which takes the hassle and stress out of personal injury cases. The other half is thanks to Anthony Vecchio, one of the firm's founders.
Mr. Vecchio has established himself as a capable personal injury lawyer with a knack for navigating complex cases. This ability makes him an indispensable legal resource for clients in particularly difficult situations.
As further proof of his talents, Mr. Vecchio has even been awarded the Queen's Counsel designation. Even among the best lawyers in British Columbia, this is an honor given to a select few.
For clients who find themselves in unique predicaments, Anthony Vecchio and his firm are an excellent choice.
Mr. Vecchio is skilled at navigating difficult cases
Mr. Vecchio is a recipient of the Queen's Counsel designation
The firm is one of the largest legal services in British Columbia
Mr. Vecchio's designation qualifies him for higher legal rates
Customer Reviews
Anthony Vecchio and his firm have managed to make a great impression with many clients:
"The team at Slater Vecchio were great!!! Thank you to Todd, Frank, James, Ashton, Heather, Ksenia, and many more people who were assisting in my case. They were always on top of follow ups, appointments, and they check – in with me on an ongoing basis throughout this whole process. I always felt updated with what's happening with my case and they always take my requests into consideration. Thank you so much! I truly appreciate all that your team did for me and how this process became less stressful because I knew I was in good hands. Take care and stay safe!!!" – Lene P.
"I've had a wonderful experience working with Slater Vecchio LLP. Firstly, I would like to thank Anthony Vecchio for taking on my case. Secondly, I want to thank Nicole Kelly and Frank Ficocelli for all their hard work. They were very professional and helped me understand each step of the process. I really appreciate all the support they took when guiding me through the steps. They made the whole process easy and stress free. I highly recommend this firm based on my experience with them." – Modhan U.
6. Tim Louis & Company Law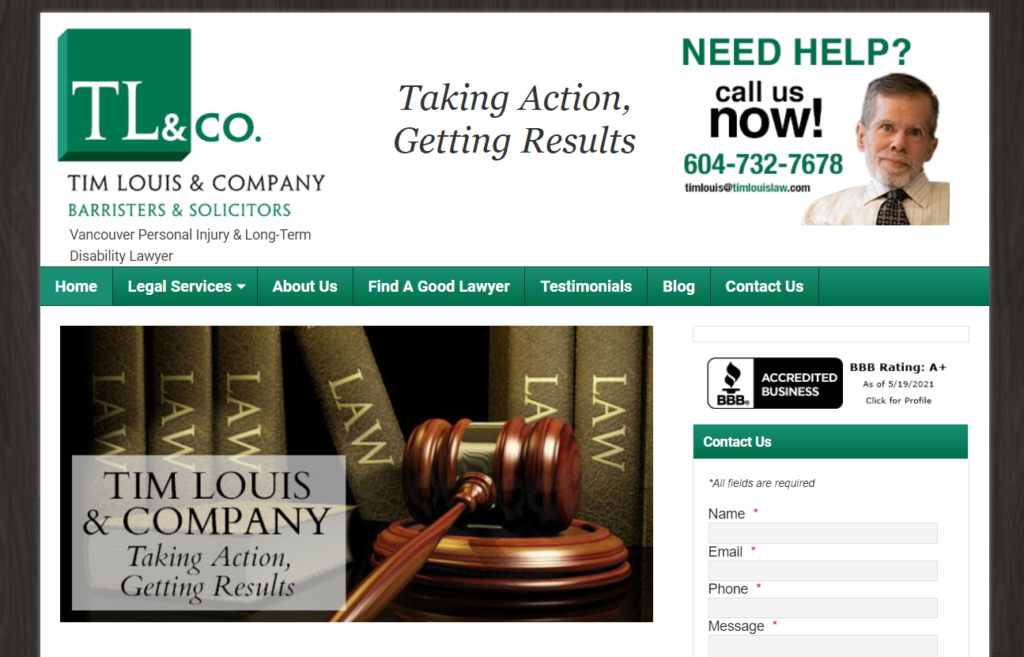 SERVICES
Personal Injury
Long-Term Disability
Wrongful Dismissal
Wills Variation and Probate
Slips and falls due to negligence
Motor vehicle accidents
WEBSITE
https://timlouislaw.com/
ADDRESS
208 – 175 East Broadway,
Vancouver, BC V5T 1W2
CONTACT DETAILS
Phone: (604) 732-7678
Fax: (604) 732-7579
OPERATING HOURS
Contact for more details
Tim Louis, long-term disability and personal injury lawyer, has been in the legal profession in Vancouver since 1984. After completing his articles at Harry Rankin & Company, Tim founded Tim Louis and Company.
His intention in founding the firm was to provide affordable legal services on matters of everyday concern.
Him and his team gets to know you, your family, your caregivers, and even your doctors, before building the strongest possible file to ensure the best possible settlement for personal injury or long-term disability.
In the intervening years, his practice has come to focus on personal injury and long-term disability cases Tim is now considered a highly experienced legal practitioner in these two areas.
A+ BBB rating
Highly experienced law team
Rates are unavailable online
Customer Reviews
Here's what past clients had to say about them:
"Thank you Tim for taking on our cause. This week we had our first 'head to head' with big government and big business. You were so brilliant and forceful at representing our group. I am now looking forward to the battle ahead! Bring it on!" -Fern Jeffries, Co-Chair, False Creek Residents Association
7. Holness and Small Law Group

SERVICES
Medical Malpractice
Occupiers Liability – Premises Accidents
Protecting Public Interest Speech
Recreational and Sporting Activities
Wrongful Death
ICBC Injury Claims
WEBSITE
https://holnessandsmall.com/
ADDRESS
507-808 Nelson St
Vancouver, BC V6Z 2H2
CONTACT DETAILS
Email: [email protected]
Phone: 604-633-4878
Toll Free: 1-866-833-4878
OPERATING HOURS
Contact for more details
Locally owned and operated to serve all of British Columbia since 1999, Holness and Small Law Group's office is located across from the Vancouver Courthouse allowing easy access to the courts for all cases in the Province.
All of their lawyers work and live in British Columbia. They are also licensed and trained under local provincial law.
Experienced, reputable, accomplished, and committed, their team is passionately dedicated to improving the lives of the injured and protecting their rights against ICBC and other insurance companies.
They pride themselves on their results as well as their proven track record of success for over 20 years in representing thousands of injury victims throughout all of British Columbia and providing them with complete medical legal care.
Wide range of injury expertise
Various law professionals on their team
No fee legal protection guarantee
Rates are unavailable online
Customer Reviews
Here's what past clients had to say about them:
"Jacqueline worked with us on a claim. We are very pleased with the way things turned out. She and her colleagues were diligent and quick to respond to emails. They were very professional and respectful of what we were going through. I would recommend her services to anyone."
"Renn Holness helped me with my personal injury claim. Throughout the claim, Renn was always helpful, always listened to my concerns and provided me with best guidance. I am very happy with the outcome of my claim. Thank you Renn and team for all the help and support."
8. Ng Sidhu Law
SERVICES
Personal Injury
Criminal & Family Law
WEBSITE
https://ngsidhu.com/
ADDRESS
Unit 1104 – 13737 – 96 Ave, Surrey BC, V3V 0C6
CONTACT DETAILS
Office: (604) 736 – 3632
Fax: (604) 736 – 3638
OPERATING HOURS
Open everyday
Ng Sidhu Law is a legal firm that provides clients with the court support they need for cases are under the fields of criminal law, family law, and personal injury as well. Among the various firms in the area, they are well-renowned to deliver quality care and expertise to their clients at a consistent pace.
What we think sets them apart from other firms is their innovative and proactive communication system that ensures that clients get updated of their cases on a regular basis.
Another thing we find commendable is their free case review that can be easily scheduled at their website so that clients can conveniently book their schedule at the leisure of their homes.
Aside from a deep understanding of the needed preparations for each trial, they also employ highly certified lawyers for each case that specialize in the field of the case to ensure the best quality output. However, we believe they can still improve their services by expanding their workforce.
Overall, with their comprehensive knowledge and database and equally professional staff and lawyers, we think that they are an excellent choice for clients looking for legal help for their respective cases.
Open 24/7
Efficient methodology
Various offices for better client attention
Customer Reviews
Here are some reviews from their clients:
"Very professional kind and caring. Always available when you need assistance. I highly recommend him for anyone trying to find their way through ICBC"s murky waters."
"Kind, caring personality. Easy to get along with. Highly recommended."
FAQs About Personal Injury Cases
---
That concludes our list of the best personal injury lawyers in Vancouver. Now that you're aware of your options, you can choose a lawyer that best suits your needs.
If you need other forms of legal advice for immigration purposes, check out our list of the best immigration lawyers in Vancouver. On the other hand, if you need legal assistance with pressing family matters, consider reading our list of the best family lawyers in Vancouver.