The 4 Best Public Golf Courses in Vancouver
Whether you're training for competition or just looking to blow off some steam, golf can be a pretty invigorating thing. But it can be rather hard to find a course to play on since many of them are in private clubs.
But the best public golf courses in Vancouver can give those who don't have country club memberships an opportunity to play the game all the same.
The Cost of Golf in Vancouver
There are a lot of factors that go into playing golf. Things like your equipment, whether you're going to use a cart or a caddy, and the cost of the course itself are going to factor into how much you'll have to pay overall.
Here's the usual cost for memberships and courses, though:
| | |
| --- | --- |
| Private club membership | $3000+ annually |
| Public course | $13.50+ for tee time |
Keep in mind that the table above is simply for reference and isn't likely to be reflective of the total costs of playing a few holes.
The Best Public Golf Course in Vancouver
We judged the best public golf courses in Vancouver based on the following criteria:
1. McCleery Golf Course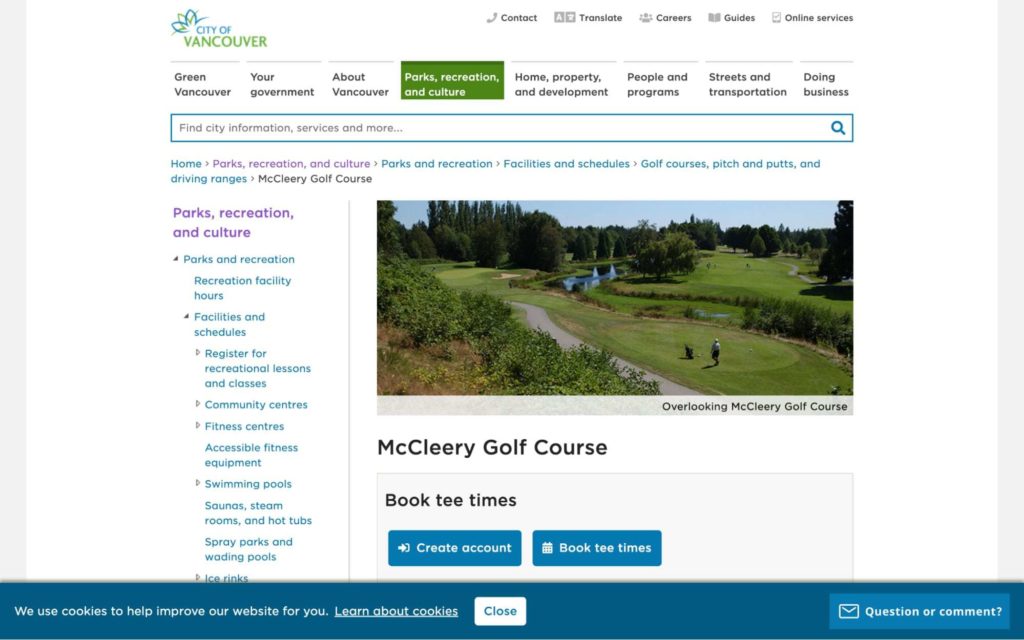 | | |
| --- | --- |
| Playability | ★★★★☆ (4/5) |
| Availability | ★★★★☆ (4/5) |
| Size | ★★★★☆ (4/5) |
| Customer satisfaction | ★★★★☆ (4/5) |
There's a few things we like about McCleery Golf Course and chief among them has to be the staff there. It may not be a private golf course, but the staff certainly know how to make it feel more upscale than it is.
The staff there, in our experience, was hands on – especially for those that may not be all that familiar with the game.
They explained the rules of the game, which we feel is great for neophytes for whom the difference between a putter and a nine iron are nonexistent.
Another thing we liked about the course is the location. It's right next to Fraser river and to us, being next to water basically makes the river itself into another feature of the course itself.
But if there is one thing that we weren't big fans of, it's that there can be quite a lot of mosquitos in the summer. That's a problem, but that's nothing a little repellant can't solve.
We also liked that McCleery has a lot of driving ranges, which we felt was great for practice or for those that want to just hit golf balls without having to move from one hole to another or keep score.
Hands-on staff
Located next to Fraser river
Mosquitoes during the summer
Customer reviews
Great
"Great golf course! Driving range also good and Ken was a rockstar with helping me and my beginner golfer friends lol" – Dirk Diggler
Beautiful
"Beautiful course. Also allows you to pay for 9 hole only, if you don't have time to play the full 18
Prices are very fair and they have driving range to warm up whereas places like Fraserview do not and they are the same price range." – Mas Kobuchi
2. Langara Golf Course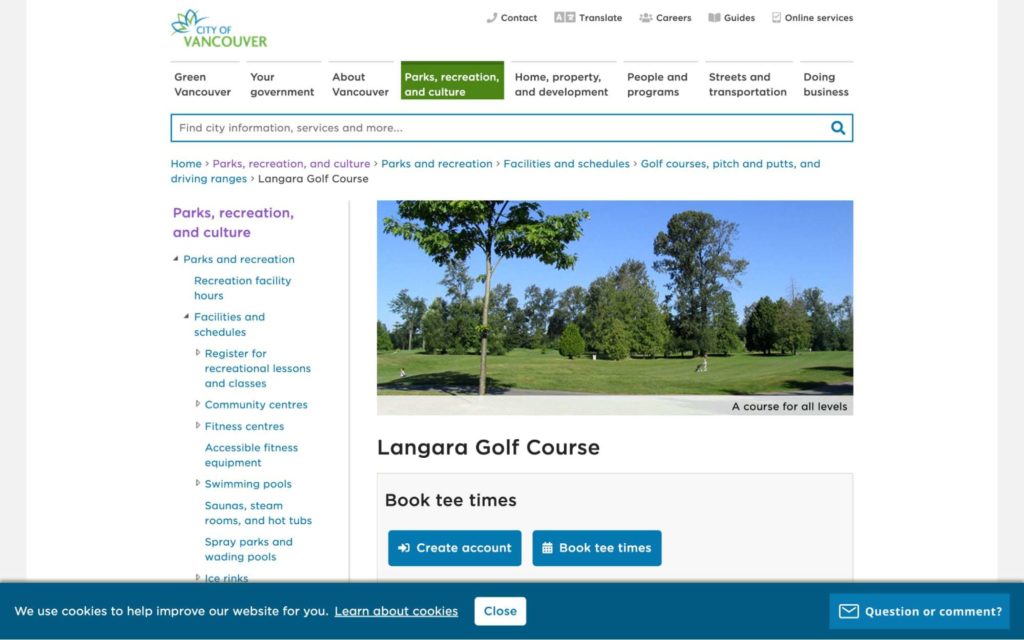 | | |
| --- | --- |
| Playability | ★★★★☆ (4/5) |
| Availability | ★★★★☆ (4/5) |
| Size | ★★★☆☆ (4/5) |
| Customer satisfaction | ★★★★☆ (4/5) |
Do you want to know what we found great about Langara Golf Course? It's the condition of the course itself.
The drainage on the course is absolutely fantastic and it's that drainage that keeps the course from getting muddy and helps it to dry out relatively quickly. This makes it very playable, in our estimation, since mud and water can bog players down.
The turf, much to our delight, was pretty firm too, so feet weren't sinking into the ground with every step and mud wasn't caking anyone's shoes.
Another thing that we liked about the course is how playable. We're not all ready for a PGA tour and the course was pretty forgiving about the overall lack of sporting ability that it was presented.
We also liked their prices. The cost of tee time is basically the same as the cost of dinner if you order takeout, so it's pretty accessible across a wide socioeconomic spectrum.
One other thing that we really liked about the course was that it's located right in the middle of the city, so commuting to it shouldn't be too hard. The only real drawback to it is that it's closed to public transit for the most part.
Firm turf
Drainage keeps the course from getting muddy
Located in the heart of the city
Some of the greens have divots
Customer reviews
Amazing shape
"Played yesterday after numerous previous wet days and the course was in amazing shape. It wasn't muddy at all. Seems like they stepped up their drainage management….especially for a city course. Great Value! Well Done! Oh!…and the staff working the Pro Shop (4/7/22) were extremely helpful. Thanks guys." – George Sadler
Good course
"Good smaller course. Coyotes can be seen earlier in the day. Easy access and centralized location for those in the city." – Jack Fleuret
3. University Golf Club
| Test | Info |
| --- | --- |
| ADDRESS | 5185 University Blvd, Vancouver, BC V6T 1X5 |
| WEBSITE | https://universitygolf.com/ |
| CONTACT DETAILS | (604) 224-7799 |
| OPERATING HOURS | Monday to Sunday, 6am to 730pm |
| | |
| --- | --- |
| Playability | ★★★★☆ (4/5) |
| Availability | ★★★★☆ (4/5) |
| Size | ★★★★★ (4/5) |
| Customer satisfaction | ★★★★☆ (4/5) |
So there's a lot about University Golf Club that we really liked and a couple of those things that we liked are the fairways and the greens.
Let's start out with the greens, the main course for play. Well, we found it to be rather spacious and it could've been perfect for something like a tournament, so playing it was pretty great… even for those who aren't in shape for a professional tournament.
Because the grounds were so well-maintained, it wasn't hard to have a relatively quick pace when playing a few holes.
Speaking of those that aren't ready for tournament play, another thing that we liked was that they offered lessons for children so maybe one of those children might become ready for tournament play in the future.
But the club also has a feature that we liked that's not entirely related to the sport of golf and that is the restaurant. The food, we found, wasn't half bad so filling up on some after a round of gold was pretty great capstone to the experience.
Another thing that we really liked about them is that the bus stop is right by the entrance, so accessibility to the course itself isn't an issue that anyone you'll have to worry about.
Easy access to public transportation
Spacious course
Not enough lighting for afternoon/evening play
Customer reviews:
Impressed
"Played University Golf Club a few weeks ago and was impressed with how they handled the Covid situation. Carts were reserved, check in was quick and the course was in good shape. After golf our group had lunch in the restaurant which was set up with tables separate from one another. The food was decent and the beer was cold.
If you can believe it, that was the day it rained, and poured, and we got soaked. Nice to say that the restaurant has a fantastic carrot soup plus a few other choices to warm us up!!
Great course to play if your a duffer……….fairways are wide enough for most golfers……….. You can't go wrong playing University Golf Club!" – Randy Vantastic
Really good
"Only used the driving range and putting green. Really good facility, good mats, generic yellow balls, covered and uncovered stalls, $13 for a large bucket. Bus stops right outside if you don't have a car." – Tim McBride
4. Fraserview Golf Course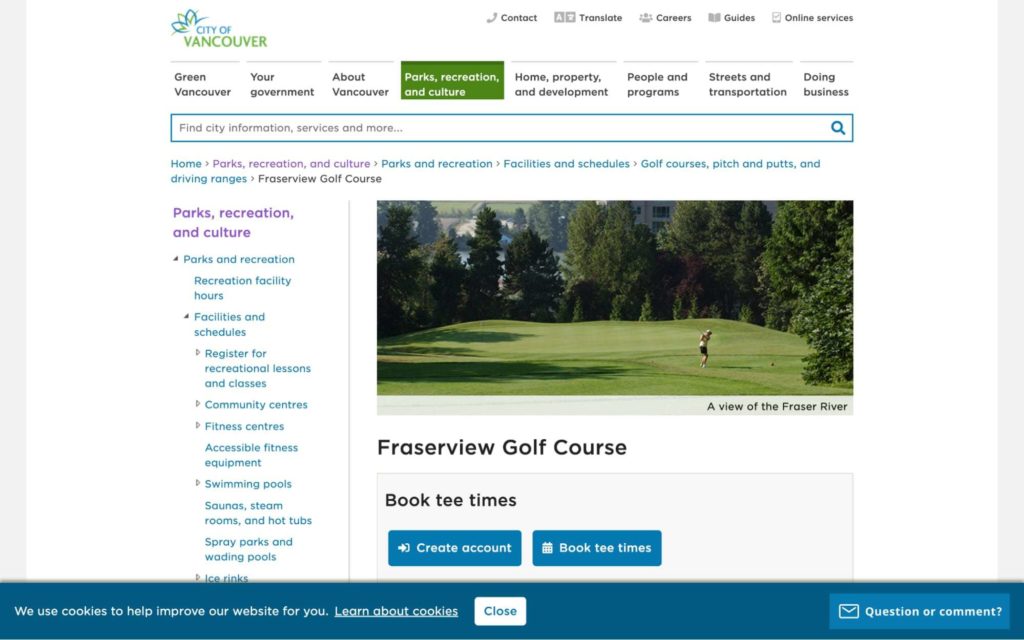 | | |
| --- | --- |
| Playability | ★★★★★ (5/5) |
| Availability | ★★★★☆ (4/5) |
| Size | ★★★★☆ (4/5) |
| Customer satisfaction | ★★★★☆ (4/5) |
When it comes to Fraserview Golf Course, we found that there's a lot to like about it and the things that we liked, we really liked. The primary of those things is how playable it is all year round.
Let's face it, being an outdoor sport, golf isn't exactly something that most people play in winter. Either it's too cold outside or the ground's too hard to stick a tee in or too slippery to walk even with golf shoes on.
But we found that even in winter, Fraserview is still pretty playable, though that play might be a bit more challenging than other public courses.
A lot of the holes are lined by trees and the fairways are pretty narrow and there are quite a few changes in elevation, which can present difficulties for players looking who aren't in the market for a challenge.
But the challenge was something that we found to be refreshing since it forces players to modify their playstyles in order to get around the obstacles.
The course, we found, does tend to get busy so we'd recommend booking your tee time a few days in advance if you want a guaranteed slot to play.
Somewhat challenging
Playable even in winter
Trees can make for natural obstacles
Customer reviews:
Best in the area
"It's the best public course in the Vancouver area.
It's still winter so it's still a little water logged from winter but still very playable. Looking forward to coming back in some warmer weather!.
Greens were well kept and if you play in the fairways (unlike me) you'll have a great time !" – Matthew Lynch
Fantastic
"Fantastic muni – my favorite of the 3 Vancouver city courses – not as challenging as McCleery, not as flat and straight forward as Langara, but very playable for all skill levels. Feels like it's the largest of the 3 courses and has varied terrain, the front 9 slopes downhill and towards Marine Drive (most of the greens slope towards the south), until you hit hole 8 and start your way back up. Lots of opportunities to stick it close on the front 9 as the downhill lies make many of the holes a bit shorter than the yardages appear. Hole 10 and onwards have a different feel with more uphill holes. There are 3 distinct Par 3s (7, 13, 16) which are fun and challenging – massive elevation change, a water feature and a short downhill. Always tough to find prime times at the course, so book early. Pre-COVID the tee times were stacked and wait times between holes were inevitable, but seems to be better now with a few more minutes between groups. Course was in great shape for late summer. There is a driving range and a couple practice greens. An East Van golf gem for sure!" – Bee Pee
FAQs about Public Golf Course in Vancouver
---
If you're looking for other sports to try out, then check out this list of the best tennis courts in Vancouver.