A Guide to Glamping in Vancouver
Glamping is short for glamorous camping, allowing travelers to get the best out of a modern camping experience and enjoy the finer things in life.
If you're looking for something new to do while traveling through the mountains of British Columbia or camping out under the stars, glamping might be just what you're looking for.
With all the different locations to glamp, there is no doubt you will want to get the most out of your space. This guide includes info on preparing for your stay, where to go glamping in Vancouver, and what to bring.
Things to Bring When Glamping in Vancouver
Before we begin, let's take a look at the essential items to bring with you on a glamping adventure with your loved ones. The following items are ideal for making the most of your glamping experience.
Clothing
When traveling, it's critical to pack an appropriate supply of warm and comfortable clothing to ensure that you're prepared for various weather conditions. Vancouver has a mild climate all year, but it's a good idea to check the weather forecast ahead of time to determine what clothes to bring.
Another option would be shopping at a nearby clothing store that sells outdoor clothing.
Technology
You'll want to document your trip, so we recommend bringing photo and video equipment. We are aware, however, that not all glamping sites have electricity, so bring portable charging stations to keep your gadgets charged and ready to use.
You should also bring waterproof cases for your mobile devices to protect them from the rain or if you swim in a nearby lake.
Skin protection
You're fully exposed to the sun's harsh rays when you're out in nature, so you should bring sunscreen, lotion, and sunglasses. Bringing mosquito repellent is also a good idea to avoid itchy bites if you're doing nighttime activities.
Cooking items
Most glamping sites will have a well-equipped kitchen; however, if there are no cooking facilities on site, it's best to bring the following items just in case:
Stove and Fuel
Plates and Utensils
Pots and Pans
Chopping Board and Knives
Dishwashing Liquid
You may also want to consider taking cooking classes before your trip to learn all about making simple and hearty dishes that can come in handy on your trip.
Medicine
Wherever you go, bring your vitamins and supplements, as well as allergy medicine and pain relievers, just in case you get a terrible allergy or a painful headache. You can also ask a doctor for advice on what kind of medicine you need for an outdoor trip.
It's also a good idea to have a well-stocked first-aid kit with antibacterial and antibiotic ointments, bandages, and burn creams, among other things.
Entertainment
The great outdoors is a great way for most people to relax and unwind. There's a good chance you'll have some leisure time between your outdoor activities, so bring something to keep you entertained.
You can bring books, board games, or even sports equipment such as a good book, board games for the whole squad, and even sports equipment such as snorkeling gear or your bicycle.
Glamping Sites in Vancouver
Free Spirit Spheres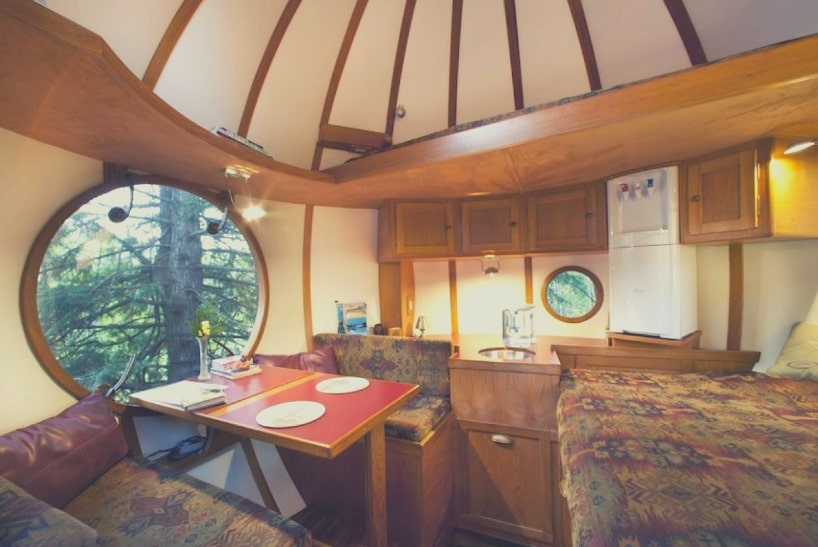 Image by Free Spirit Spheres via https://freespiritspheres.com/
Free Spirit Spheres is located 60 kilometers north of Nanaimo. Vancouver Island has three international airports and numerous ferries that transport visitors to the island from the Lower Mainland and Washington State.
They have three different sizes and styles of spheres available. The Luna Sphere costs CAD 395 per night and sleeps two people.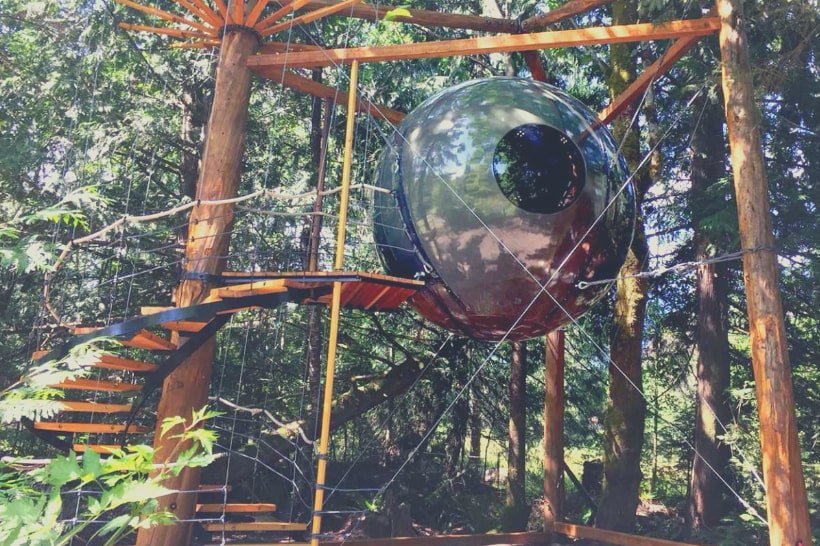 Image by Free Spirit Spheres via https://freespiritspheres.com/
This sphere has a metallic interior design and is suitable for any season because it has two windows to keep the inside cool and electric heat to keep the inside warm.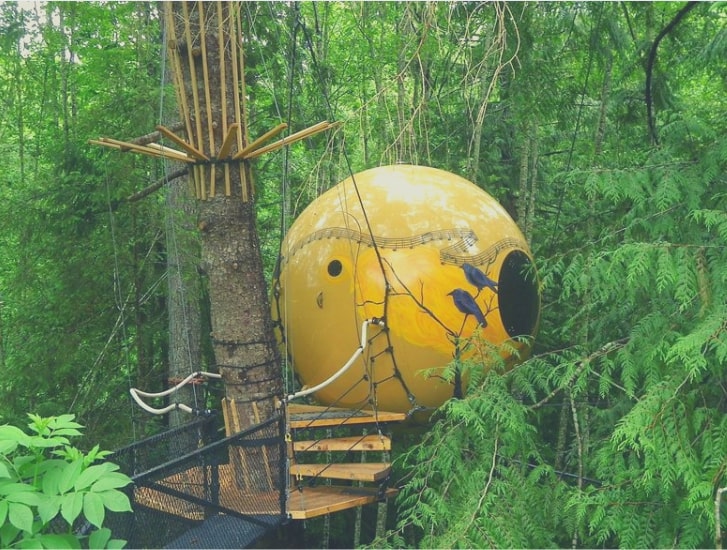 Image by Free Spirit Spheres via https://freespiritspheres.com/
Meanwhile, the Melody Sphere is their most eye-catching sphere with its fiberglass finish. This sphere is CAD 375 per night.
It has bench seats beneath the large windows and two tables that fold down to form workstations. This sphere is ideal for creatives looking for an artistic working environment where they can remain focused and productive.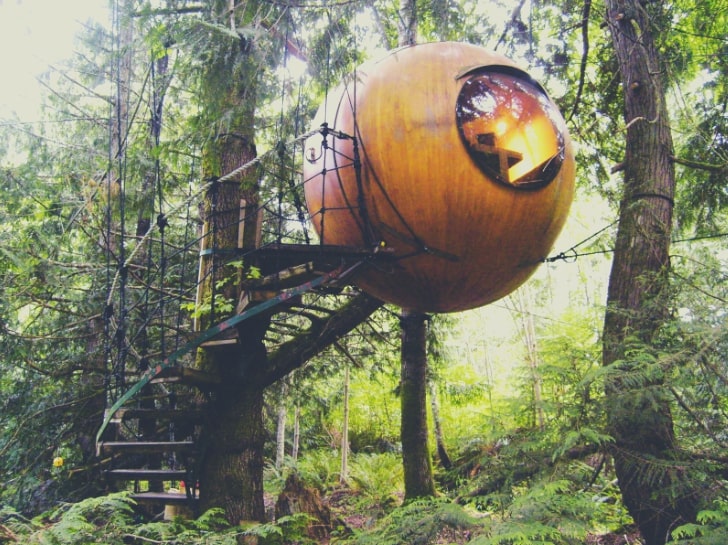 Image by Free Spirit Spheres via https://freespiritspheres.com/
Finally, the Eryn Sphere, their second handcrafted wooden sphere, can accommodate three people for CAD 355 per night.
It's made of Sitka Spruce, a lightweight spruce tree known for its lightweight strength. This sphere includes a built-in speaker system, making it ideal for listening to music or watching movies.
This glamping site has a standard power connection and four standard electric plugs in each sphere, allowing clients to charge their electrical devices.
Each sphere also has built-in electric lighting and heat, speakers, and a kettle for making tea and coffee, which will be provided upon your arrival.
Unfortunately, there are no restrooms in the spheres; however, composting toilet outhouses are located at the base of each sphere.
Free Spirit Spheres is also nearby to plenty of attractions such as Big Qualicum River, Lighthouse Country Trails, Cathedral Grover, Horne Lake Caves, and many more.
Wild Havens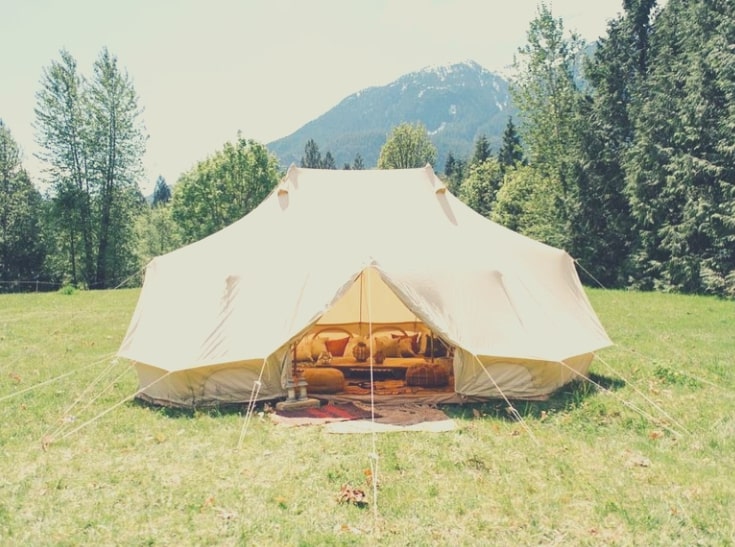 Image by Wild Havens via www.wildhavens.ca
Wild Havens is one of the best glamping locations in Vancouver, specializing in a minimalistic backyard theme. They offer over 54 canvas bell tents of various sizes.
These tents are waterproof and equipped to withstand harsh weather conditions, just in case you plan to take them to a ski resort.
This glamping company offers clients personalized sleeping packages. With the Deluxe Package, glampers can sleep in a fully-equipped tent with wooden bed frames, comfortable foam mattresses, linens, and portable power stations.
This package costs CAD 585 for two nights, and you can add heating for CAD 150 per tent.
The Furnished Package, their most popular accommodation package, comes next. These tents come with either a 6-inch memory foam mattress or an air mattress.
You can choose between a medium bell tent that sleeps up to three people, a large tent that can sleep four people, and an extra-large tent that can sleep up to six glampers.
If you're a seasoned glamper who prefers to bring your own belongings, you might be interested in their unfurnished or partially furnished packages.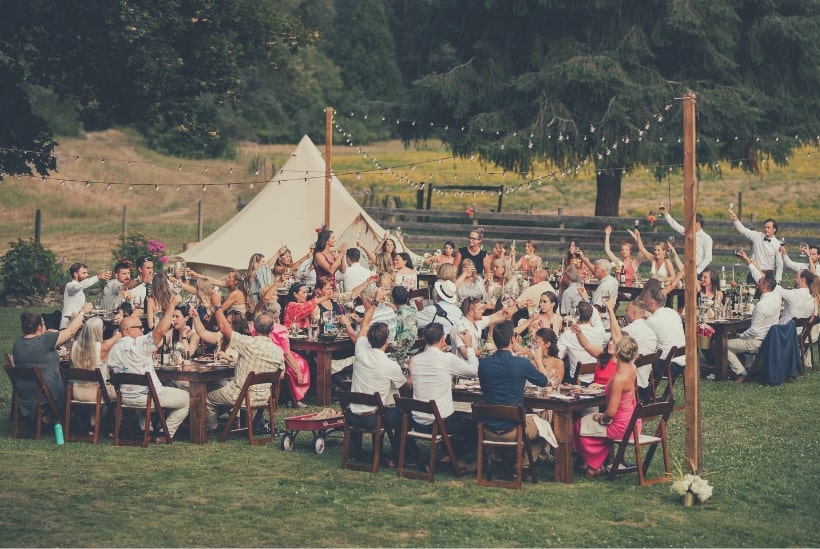 Image by Wild Havens via https://www.facebook.com/wildhavensglamping/
Wild Havens is also an ideal wedding venue as they have dedicated services to provide you with a unique outdoor wedding. However, you may want to hire a wedding photographer or videographer as they don't offer these in their packages.
Riverside Resort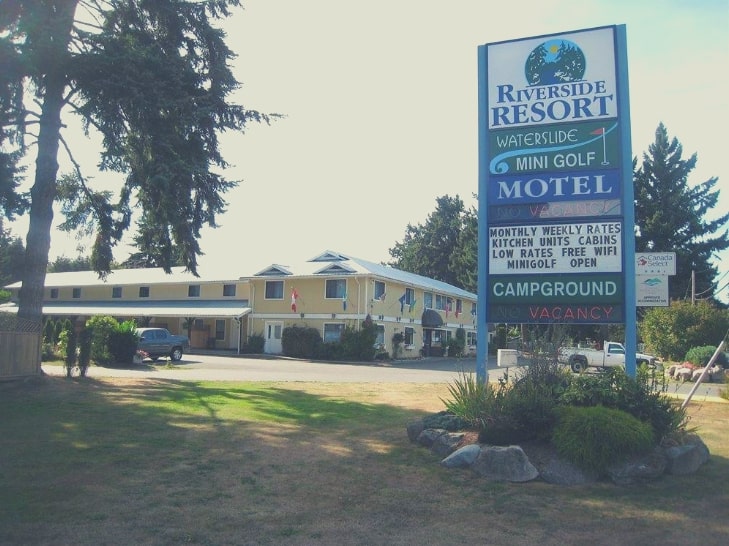 Image by HRS via www.hrs.com
| | |
| --- | --- |
| WEBSITE | https://myriversideresort.com/ |
| ADDRESS | 420 Horne Lake Rd, Qualicum Beach, BC V9K 1Z7, Canada |
| CONTACT DETAILS | Phone: 250-752-9544 |
| PRICE PER NIGHT | CAD 200- 360 |
Riverside Resort is conveniently located near numerous Vancouver Island attractions. The attractions include golf courses, farms, Horne Lake Caves, public markets, and restaurants.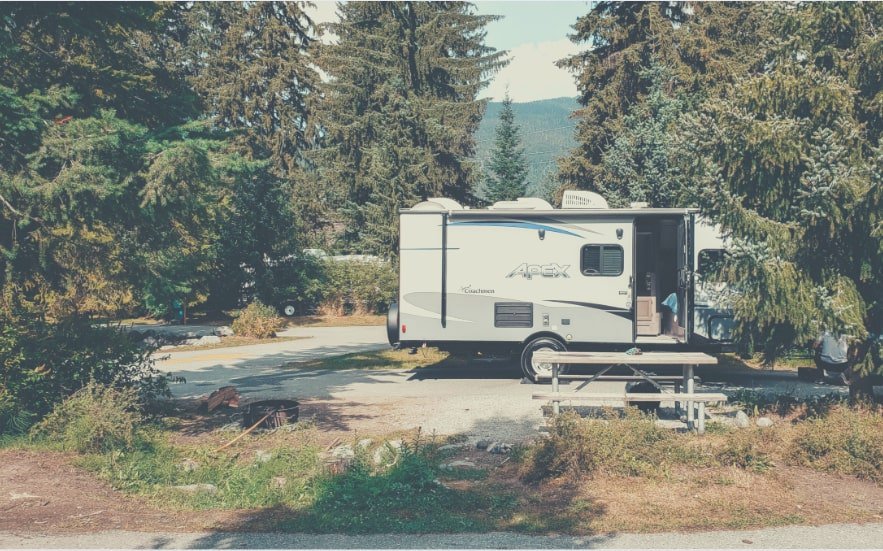 Image by Tairalyn Nicole via https://tairalyn.com/
This establishment provides a beautiful RV that's fully equipped with a kitchen, appliances, and furniture. Their glamping site is surrounded by towering trees, shrubs, and lush greenery, making it the ideal glamping location.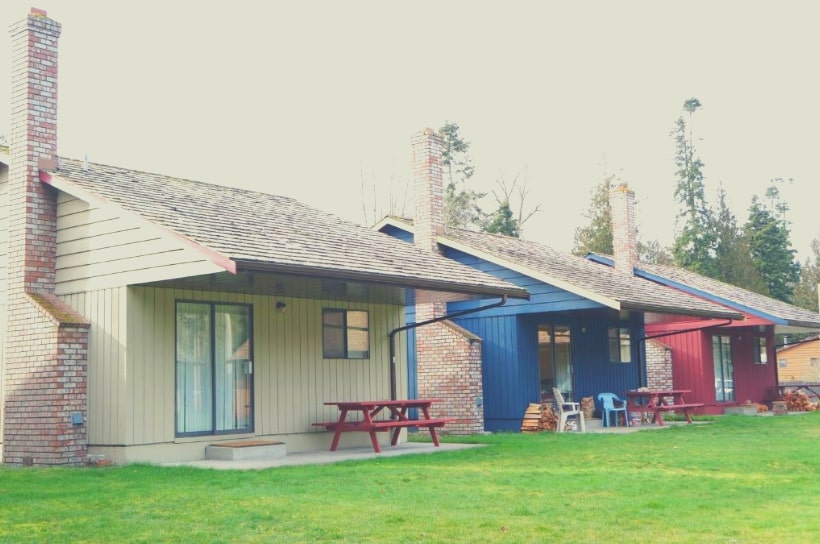 Image by Booking.com via www.booking.com
They also have newly-renovated cabins packed with cozy beds, a comfortable living area with sofa beds, a large TV, and a fully-stocked kitchen.
These stylish and cozy units vary in capacity, features, and number of beds. However, all of these cabins are pet-friendly!
WOODS on Pender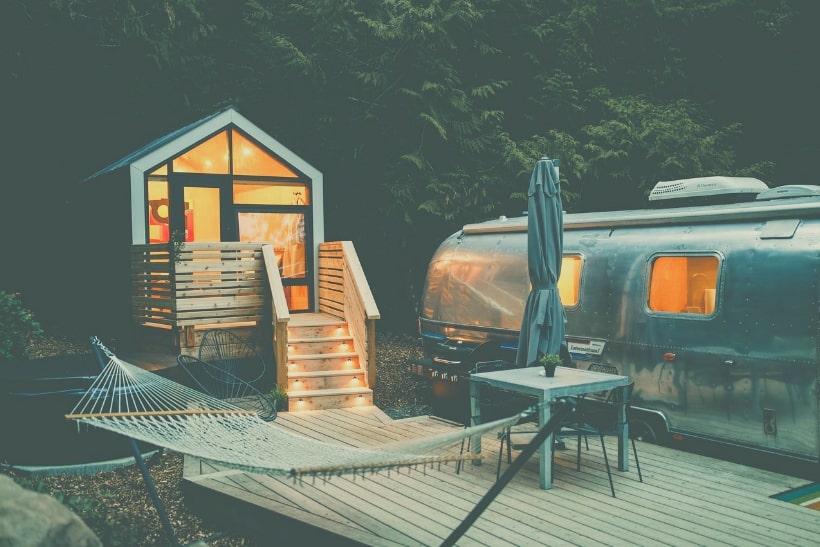 Image by Woods on Pender via https://woodsonpender.com/
WOODS on Pender provides a modern glamping experience as they provide distinctive glamping options for those looking to go glamping in style.
They provide three accommodations: Airstreams, Rustic Cabins, and the WOODS motel.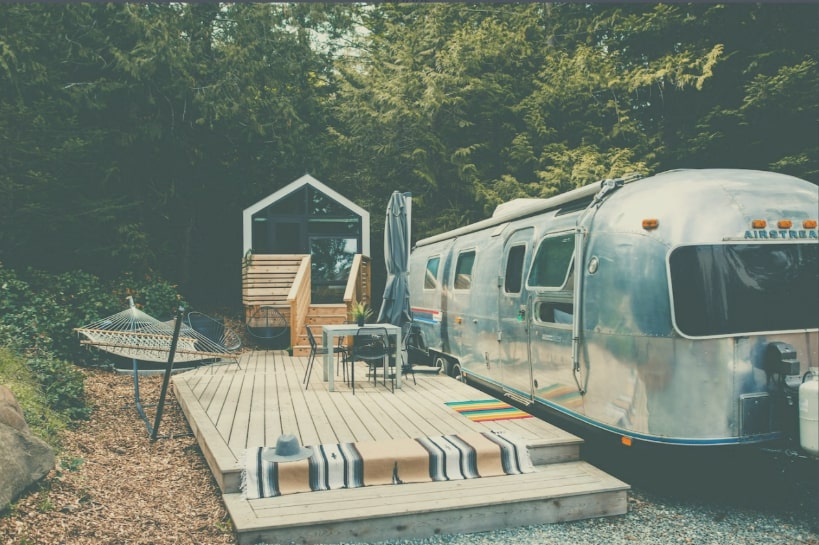 Image by Woods on Pender via https://woodsonpender.com/
Now, their modern airstream suites are located in the middle of the forest, immersing visitors in nature while enjoying a comfortable space just like home. Their airstreams cost around CAD 265 to CAD 355 a night.
Families should stay in their rustic cabins, accommodating up to six guests and providing a nostalgic look while connecting with nature.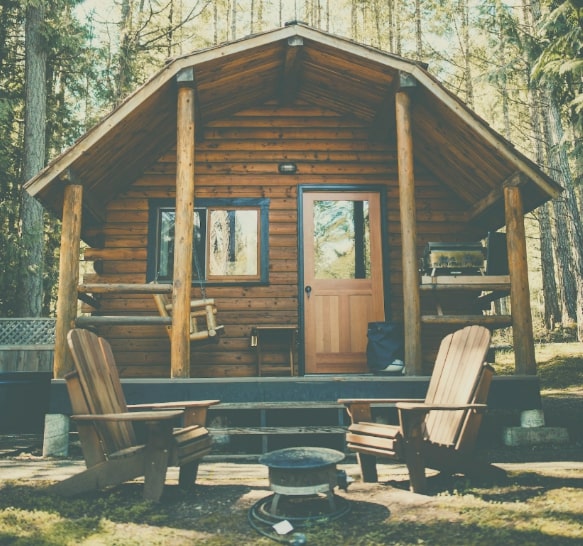 Image by Woods on Pender via https://woodsonpender.com/
These cabins are equipped with hot tubs, hammocks, and porch swings which are ideal for lounging. A one-night stay at their rustic cabins costs around CAD 275 to 280.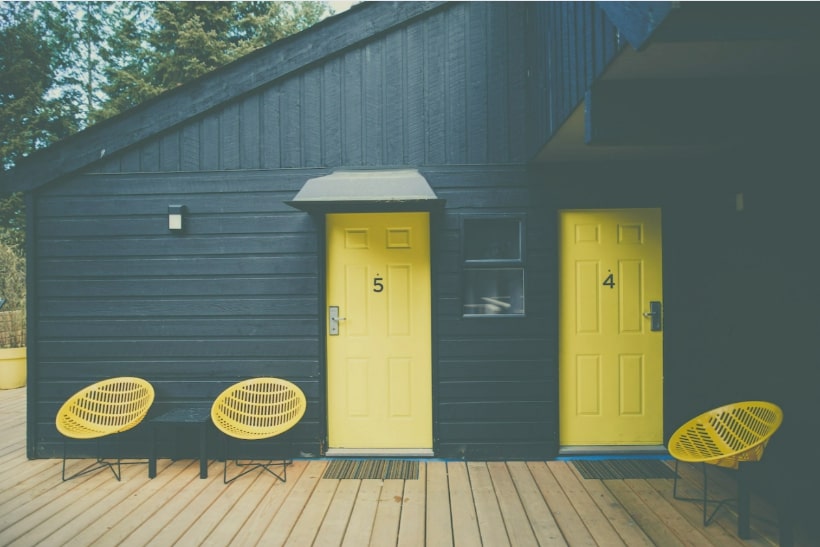 Image by Woods on Pender via https://woodsonpender.com/
Last but not least, visitors can also book a motel at WOODS. They have numerous modern motel rooms with queen-sized beds, private exterior entrances, and fully-equipped bathrooms.
A one-night stay at WOODS motel costs around CAD 120 to CAD 150, including access to a shared motel hot tub.
When to Go Glamping in Vancouver
The best time to go glamping in Vancouver is during the autumn, which runs from September to November, because the weather is delightful and calm.
The city is also stunning as fall colors fill the tree-lined streets and parks, and most campgrounds and RV parks are not crowded.
However, if you don't mind crowds, you can go glamping during the summer, which runs from June to August.
Because of Vancouver's mild climate, the sun's rays are not as harsh, allowing you to enjoy the great outdoors without fear of getting sunburned.
---
We all know about having a fun and successful glamping experience in Vancouver. We hope we were able to assist all of the nature lovers out there in finding places to glamp in the city.
If you're looking to explore the city more, check out our list of the best things to do in Vancouver.