The 7 Best Real Estate Agents in Vancouver
Whether you're renting, selling, leasing, or buying, it can be tough to handle real estate on your own. But there's no need to worry because Vancouver has no shortage of capable real estate professionals.
To help narrow down your choices, we've gathered a list of the best real estate agents in Vancouver. Along with general contact info and the like, we've also included helpful reviews, pros & cons, and other useful info.
How Much Does a Real Estate Agent Cost in Vancouver?
Real estate agents aren't paid in the typical fashion that most clients are used to. Instead of flat fees or hourly rates, most real estate agents are paid through commission.
When a seller lists a property for sale, there are usually two real estate agents involved. These two are the seller's agent and the buyer's representative.
Both of these agents split the commission from sales and in turn, this becomes their main mode of payment. The actual commission rates will vary widely as there is no set percentage in British Columbia.
Generally, most agents will charge between 3% and 4% for the first $100,000 and then 1% to 2% for the remaining amount.
If you're selling a home keep in mind, the commission is always paid by the party that is selling the property.
The Best Real Estate Agents in Vancouver
Now that you've got an idea of how real estate agents are paid, it's time to see what Vancouver has to offer.
1. Pete Shpak, Vuppie Real Estate Team
SERVICES
Real estate purchases
Real estate sales
Mortgages
WEBSITE
https://www.vuppie.com/
ADDRESS
1286 Homer St #400, Vancouver, BC V6B 2Y5, Canada
CONTACT DETAILS
Phone number: )604) 220 – 7490
Email:

[email protected]

OPERATING HOURS
Open 24/7
With rich and diverse geography, Vancouver hosts many unique pieces of real estate from waterfront condominiums to rural homes. To find success in this kind of market, an agent must be capable, smart, and resourceful.
Fortunately, Pete Shpak and his firm have managed to tick all of these boxes. With over 16 years of experience in the real estate industry, Pete has sold everything from recreational properties to downtown condos, and even high-end estates.
His ability to move all kinds of property is proof of his strong negotiation skills and adaptable approach. Pete has found so much success, he's even ranked among the top 1% of all realtors in Greater Vancouver.
Pete gained this recognition by successfully outselling hundreds of real estate agents. Along with this, he has also won multiple awards for being the highest producer in his firm.
Above everything else, Pete's abilities allow him to buy and sell properties for a great price. This ultimately translates to a larger profit for him and of course, his clients.
Has over 16 years of experience in the real estate industry
Ranked among the top 1% of realtors in Vancouver
Available for consultation 24/7
Capable of selling all types of real estate
The firm's high level of experience entails a larger commission fee
Customer Reviews
Pete's strong selling ability is matched only by his personable attitude and great customer service:
"Pete is a honest and professional Realtor. We always got his honest opinion and never felt like it was about the sale. We consider ourselves very blessed to have found him. Otherwise I truly doubt we would now be in our forever home. If your looking for a honest realtor who will look out for your best interest. Pete is your guy! If we ever decided to sell there is no doubt at all that we will be using him! Thanks, Pete for everything! You deserve all the best" – Shakira W.
"Pete was highly recommended by friends of ours and he did not disappoint! We were first home buyers and Pete guided us through the experience seamlessly. We really enjoyed buying our first condo with the help of Pete. He also recommended a really good lawyer, inspector as well as a contractor. He thought us a lot and actually made the entire process a lot of fun and less stressful! 10 out of 10!" – Francis L.
2. Leo Wilk, Leo Wilk Real Estate
SERVICES
Home evaluation
Real estate resources
Real estate market updates
Real estate purchases
WEBSITE
https://www.leowilkrealestate.com/
ADDRESS
1152 Mainland St #130, Vancouver, BC V6B 4X2, Canada
CONTACT DETAILS
Phone number: (604) 729 – 5203
Fax: (604) 622 – 7027
Email:

[email protected]

OPERATING HOURS
Monday: 8 am – 8:30 pm
Tuesday: 8 am – 8:30 pm
Wednesday: 8 am – 8:30 pm
Thursday: 8 am – 8:30 pm
Friday: 8 am – 8:30 pm
Saturday: 9:30 am – 5 pm
Sunday: 9:30 am – 5 pm
Leo Wilk is one of Vancouver's elite real estate professionals. The sheer number of his sales also places him among the top 1% of real estate agents in the greater Vancouver area.
What sets Leo apart from other top real estate agents is the fact that he focuses primarily on selling real estate. This allows him to devote all his time to improving his marketing skills.
To make his selling tactics more effective, Leo merges his experience with various streams of technology. From social media to popular websites, he uses various online streams to reach a wider audience of buyers.
Aside from this, Leo is also capable of making use of Google's services to further boost his marketing strategies. This has led to him becoming one of Google's top-ranked realtors.
Extremely high ranking on Google
Uses social media and websites to boost marketing
Not as experienced in helping clients with purchases (vs. helping them sell)
Customer Reviews
Here's what clients had to say about their selling experience with Leo and his team:
"Leo was just awesome! Him and his team were proactive, diligent, and always making strategy changes to make sure we sold our condo. Have already referred him to my brother-in-law, so yes, definitely a recommendation!" – Sam O.
"Leo and his team make the selling experience enjoyable. The dedication and attention, was expectational. Leo, himself is one of the most professional agents in Vancouver. His team, from his photographer, videographer, content writer and support team is what make his entire offering the best choice to sell your home. This I know first hand, he sold our condo in the west end in June 2019. Thank you, Leo! Call him to sell your property." – Teri M.
3. Ron Parpara PREC – Vancouver Realtor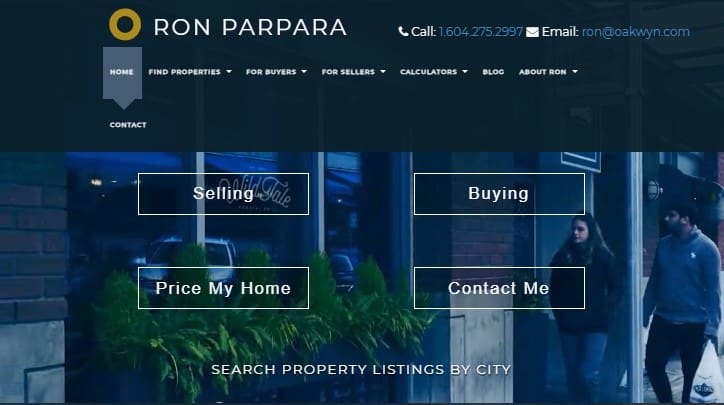 SERVICES
Real estate properties
Free home evaluation
Mortgage calculation
WEBSITE
https://www.ronparpara.com/
ADDRESS
1286 Homer St #400, Vancouver, BC V6B 2Y5, Canada
CONTACT DETAILS
Phone number: (604) 275 – 2997
Email:

[email protected]

OPERATING HOURS
Monday: Open 24 hours
Tuesday: Open 24 hours
Wednesday: Open 24 hours
Thursday: Open 24 hours
Friday: 10 am – 7 pm
Saturday: Closed
Sunday: Open 24 hours
Having been born and raised in Vancouver, Ron Parpara has had ample time to get a feel for the city and its ever-changing real estate. Aside from being an experienced real estate agent, Ron has also worked in the financial services sector.
This blend of services makes Ron expertly qualified to help in buying and selling property as well as advising in various investment portfolios.
Ron isn't ranked in the elite bracket of real estate agents, though – he doesn't always handle big properties or sales. But he still has plenty of successful sales and purchases under his belt.
In turn, this has allowed him to hone his craft to the highest degree.
On average, Ron can sell a large property in as little as a month. Along with this, he manages to sell all of his properties at 98% of the listing price, which is certainly higher than what other real estate agents can offer.
Great for support in buying, selling, or investing in property
Capable of selling a property quickly for a great market price
Ron donates a portion of his firm's earnings to various charities
Scheduling can be difficult due to the firm's small team
Customer Reviews
These clients were highly pleased with the services they received from Ron and his firm:
"Ron and his Team worked hard to get our dream home. Ron was really authentic and didn't pressure us to buy anything. Instead he listened to our concerns and tried to look for a place that we truly can be happy with. He also has a wonderful team behind him. During the open houses the itinerary was set with good spacing between viewings. They were also able to act on the houses we wanted to bid on quickly. When we did the house inspection Ron even went with the inspector himself and did a video call with us to do the live inspection (as we didn't have time to go to the place ourselves). We are so happy to get our new house with Ron and Teams help. They made the buying process pleasant." – Susan R.
"Ron demonstrated remarkable professionalism and patience while selling our home. We set a record in our neighbourhood and Ron helped us through every step of the process to show just how much value we had to offer. Thank you Ron!" – Justin L.
4. Mike Stewart, Personal Vancouver Real Estate Corporation
SERVICES
Real estate purchases and selling
WEBSITE
https://www.mikestewart.ca/
ADDRESS
1286 Homer St #400, Vancouver, BC V6B 2Y5, Canada
CONTACT DETAILS
Phone number: (604) 409 – 8649
Email:

[email protected]

OPERATING HOURS
Monday: 9 am – 6 pm
Tuesday: 9 am – 6 pm
Wednesday: 9 am – 6 pm
Thursday: 9 am – 6 pm
Friday: 9 am – 6 pm
Saturday: 9 am – 6 pm
Sunday: 9 am – 6 pm
Mike Stewart and the Personal Real Estate Corporation are excellent options for clients in search of great deals on prime Vancouver real estate.
Mike has a degree in political science and has lived in various places such as London, Japan, and British Columbia.
Through these experiences, he has gained a comprehensive knowledge of the property market and strong negotiation skills.
As a member of The Real Estate Board of Greater Vancouver, Mike has shown that his practices and skills are of the highest standard. Along with this, his informative approach is great for first-time buyers or clients with many concerns.
As a means to put clients at ease, Mike and his firm have released various articles and videos to make their process clearer. In addition to this, their website offers an extremely helpful real estate finder that makes use of the firm's entire database of listings.
Offers a comprehensive real estate research tool
Great for first-time real estate clients
Highly informative approach to buying and selling property
Not ideal for clients who wish to have a streamlined real estate experience
Customer Reviews
With years of experience in the real estate industry, Mike and his firm have had ample time to build a great reputation:
"Mike just got my husband and I into our first home and was a pleasure to deal with. Friendly, courteous, and always prompt with answers. Even after completing the purchase, Mike is available to help which I really appreciate being a first time home buyer! Highly recommend." – Michelle V.
"We recently used Mike to sell our unit in Vancouver and he was very helpful. Mike dealt with the tenant and the property management company in a very timely manner and we were able to sell out unit in a few weeks. What we thought was a complicated process Mike handled it professionally. Thank You" – Sheilen R.
5. Gaëtan Kill, Engel & Völkers
SERVICES
Real estate sales and purchases
WEBSITE
https://www.gaetankill.ca/
ADDRESS
1152 Mainland St, Vancouver, BC V6B 4X2, Canada
CONTACT DETAILS
Phone number: (778) 848 – 1349
Email:

[email protected]

OPERATING HOURS
Monday: 9 am – 9 pm
Tuesday: 9 am – 9 pm
Wednesday: 9 am – 9 pm
Thursday: 9 am – 9 pm
Friday: 9 am – 9 pm
Saturday: 9 am – 9 pm
Sunday: 9 am – 9 pm
Real estate transactions involve a large number of paperwork and negotiations. When properties are particularly large, this can lead to extremely complex agreements and unfavorable deals for clients.
To fill the need for a specialized firm, Gaëtan Kill partnered with Engel & Völkers' and took upon the role of negotiating complex real estate agreements. As you can guess, this isn't something that comes naturally.
In order to ensure that his skills would be up to the task, Gaëtan traveled the globe living in large cosmopolitan cities like Paris, London, and Sydney. With a wealth of experience, he gained a sense of what it takes to sell real estate all around the world.
By applying all of these skills to aid his Vancouver clients, Gaëtan has built a reputation as a highly capable real estate agent. Among numerous agents, he stands out by helping clients navigate difficult deals with ease.
Great for large property sales and purchases
Gaëtan has practiced real estate in various parts of the world
Engel & Völkers' has numerous luxury home listings
Gaëtan's commission can be higher than other agents
Customer Reviews
Gaëtan and his company have garnered a number of rave reviews over the years:
"Working with Gaetan was delightful and straightforward. He is very hardworking and is one of the most professional agents I have ever worked with!" – Sampson L.
"We have bought and sold a lot of properties in the past and have worked with a number of real estate agents in Vancouver. In our experience, Gaetan is the best we have ever worked with. He is personable, knowledgeable, and professional. We will definitely use him in the future and recommend you do too." – Noriko O.
6. Alex Yao, Personal Real Estate Corporation, RE/MAX Select Properties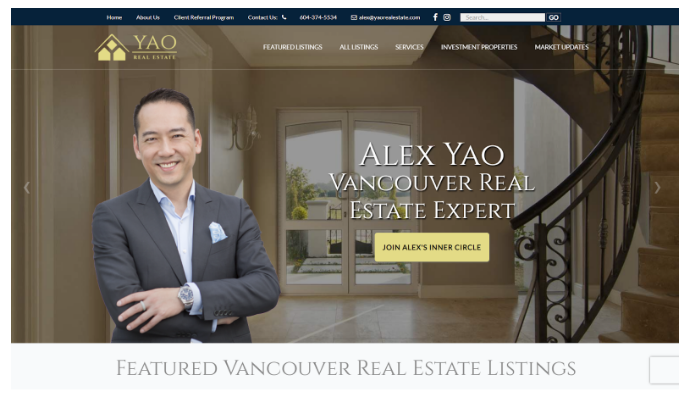 SERVICES
Listing Services, Expired Listing, Private Client Services
WEBSITE
https://yaorealestate.com/
ADDRESS
5487 West Boulevard Vancouver, BC V6M 3W5
CONTACT DETAILS
Phone: 604-374-5534
Email: [email protected]
OPERATING HOURS
Weekdays: 9AM-5PM
Saturday: 10AM-2PM
Alex Yao is a professional realtor and is highly skilled in his field. He makes the process simple and effective and simultaneously shares his knowledge and experiences with his clients.
He values his clients and takes the time to understand their wants and needs. He is also well-established and knows a great network of other highly competent professionals that can help him and his clients.
He communicates well and is fluent enough in English, Mandarin, and Cantonese. Furthermore, he has great patience for his clients and manages to answer their questions to assist them very well.
However, one should note that he does not cater to first-time buyers.
Highly-skilled
Well-established within the community
Calm in times of emergencies
Doesn't cater to first-time buyers
Customer Reviews
Here's a review from one of Alex Yao's clients:
"Alex has been our realtor for many transactions and has always exceeded our expectations. Professional, straight-forward and efficient, Alex excels with on-point marketing, skillful negotiation tactics, and a very personable demeanor. We wouldn't think of using another realtor in the Lower Mainland. Thanks again, Alex!" -Jasmin Sanderson
Here's another one:
"Alex is a dream to work with. He's a consummate professional who made my first experience selling a property so simple and straightforward. His skilled marketing techniques are effective and he got my property sold over asking in less than a week! His calm character makes both buyers and sellers feel at ease. I would highly recommend him." -Chris Flak
7.   Jason Soprovich
SERVICES
WEBSITE
https://www.soprovich.com/
ADDRESS
2429 MARINE DRIVE
WEST VANCOUVER, BC, V7V 1L3, CANADA
CONTACT DETAILS
MOBILE 604.817.8812 | OFFICE 604.281.0815
OPERATING HOURS
Contact for more details
Jason Soprovich is an all-time professional realtor. In comparison to other realtors, he can aid you in buying luxury properties and selling luxury sales.
His expertise in English, Chinese, and Spanish enables him to cater to a good number of people. Especially those who are interested in buying big-time houses for their families!
Unlike others, his website has all the needed information a buyer should consider. It displays the price, address, the number of bedrooms & bathrooms, lot size, and floor area.
What makes him even stand out is for every house, they offer a video tour. This can ensure you that they are not hiding anything or adding additional fees for the lots they are selling.
Has a video tour per house
Provides a good number of pictures per property
Expert in luxurious properties
Has no background about Jason Soprovish on their website
FAQs About Real Estate
---
That concludes our top picks for the best real estate agents in Vancouver. If you've found your agent of choice, all that's left is to call them up to help in buying or selling your property.
If you're moving from an apartment into your new home, you might need some help with your things. Luckily, we've also compiled a comprehensive list of the best movers in Vancouver.