The 5 Best Tennis Courts in Vancouver
The best tennis players have extraordinary hand-eye coordination and high cardiovascular fitness. But tennis, in general, is a sport that can be enjoyed by people of all ages regardless of physical fitness or skill.
Since tennis requires a dedicated space, we thought it would be helpful to list the best tennis courts in Vancouver for those who love or want to try the sport.  To find the right court, we'll also be serving you some public reviews, pros & cons, and other helpful info.
How Much Do Tennis Court Rentals Cost in Vancouver?
The vast majority of courts in Vancouver are located in public parks, so this means entrance and use are mostly free. That said, some courts allow reservations and pre-bookings for a small fee.
The cost guide below should help you figure out which courts allow such services:
| | |
| --- | --- |
| Stanley Park Tennis Courts | Free use (with 30-minute time limits if other parties are present) Courts can be booked for a small fee |
| Queen Elizabeth Park Public Pickleball & Tennis Courts | Free use (with 30-minute time limits if other parties are present) |
| North Vancouver Tennis Centre | One hour booking $20.00 90 minute booking $30.00 2-hour booking $40.00 |
| Kitsilano Beach Tennis Courts | Free use (with 30-minute time limits if other parties are present) |
| Jericho Beach Tennis Courts | Free use (with 30-minute time limits if other parties are present) |
Since most courts operate on a first-come, first-served basis it would be wise to plan your tennis sessions accordingly. Along with this, many spaces use metered parking so don't forget to bring some extra parking fare too.
The Best Tennis Courts in Vancouver
From the atmosphere to the crowds, all the courts on our list have their own unique characteristics that make playing a fun experience. Now that we've sorted out the basics, it's time to see the best tennis courts in Vancouver.
1. Stanley Park Tennis Courts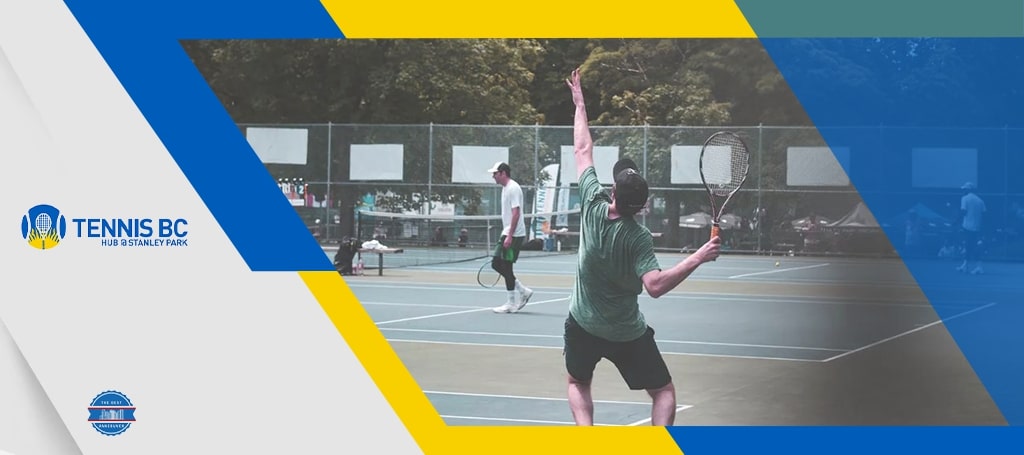 SERVICES
First-come, first-served courts Private bookings Tennis programming
WEBSITE
https://vancouver.ca/parks-recreation-culture/tennis-courts-in-stanley-park.aspx
ADDRESS
8901 Stanley Park Dr, Vancouver, BC V6G 3E2, Canada
CONTACT DETAILS
Phone number: (604) 605-8224
OPERATING HOURS
Monday: 6 am – 10 pm
Tuesday: 6 am – 10 pm
Wednesday: 6 am – 10 pm
Thursday: 6 am – 10 pm
Friday: 6 am – 10 pm
Saturday: 6 am – 10 pm
Sunday: 6 am – 10 pm
You'd be hard-pressed to find even a single Vancouverite who isn't familiar with Stanley Park. With its sprawling greenery and serene lagoon, this park is also home to eleven well-maintained tennis courts.
Sitting at the West End of downtown Vancouver, these courts are extremely easy to access for those living in the city. As a result, countless tennis players from pros to novices have used this space to bond and connect with one another.
Just a stroll down the street are 6 more courts that can be booked online via the city park website. These private courts are almost always fully booked so it's best to reserve them a week or two in advance.
For those who can stand to wait and are alright with 30-minute play intervals, the eleven upper courts are kept clean and playable all year round. While it may seem tedious, you'll be comforted to know that wait times are never too long at these courts.
Close to downtown Vancouver
Has 17 total tennis courts
Located next to a restaurant and pub
Has a dog park just beside the courts
Games are restricted to 30 minutes per party
The lower courts are often fully booked
Customer Reviews
With its ample playing space and prime location, the Stanley Park Tennis Courts are a staple in Vancouver's tennis scene:
"11 courts, 1 tennis wall with two sides. Great shape, well maintained. There is a pay to play section with another 6 courts. Often busy but with so many courts you never wait long." – Corbin M.
"Stanley Park is the best place to play tennis in Vancouver. The 17 courts are positioned a beautiful environment, surrounded by trees, park land, and Blue Herons nests. There are nearby water fountains and public washrooms. There is a hitting wall where you can warm up and meet someone to hit balls with." – Paul W.
2. Queen Elizabeth Park Public Pickleball & Tennis Courts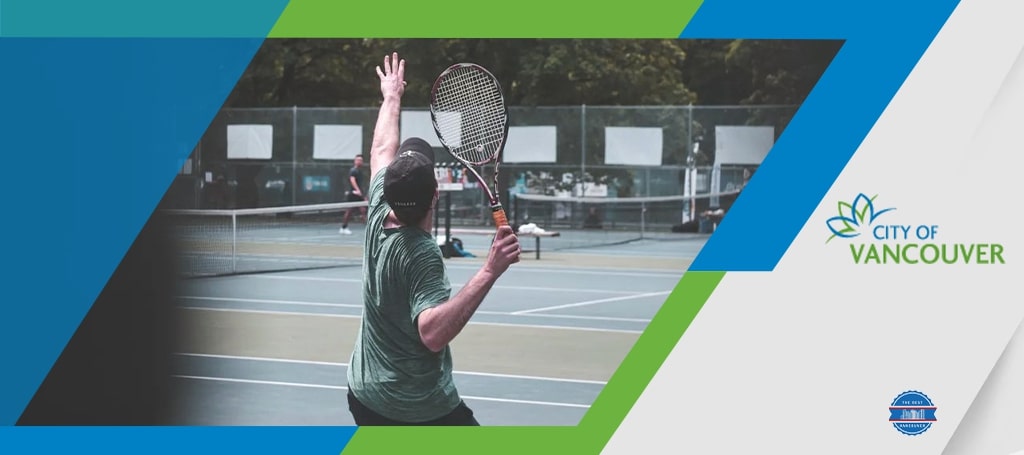 The tennis courts at Queen Elizabeth Park are similar to those found in Stanley Park. The only main difference is that of the 18 courts available, seven are reserved by a tennis club on Tuesdays and Fridays.
Of course, this isn't such a bad thing for those who seek professional instruction with their technique or overall playing style. With a wide variety of players from teenagers to middle-aged masters, this park is a great place to gain some true experience.
Just like with Stanley Park, the same court etiquette applies to these hard courts. In cases where there are multiple parties waiting, the playtime of each party is restricted to 30 minutes to accommodate more players.
If you've taken up your 30 minutes of playtime, there are a ton of other things to do while waiting for your next turn. These include pickleball, roller hockey, basketball, disc golf, and even lawn bowling.
Has 18 public courts available
Offers a picnic area for post-game meals
Used by the Queen Elizabeth Tennis Club
Uses paid parking for all areas
Customer Reviews
With reviews like this, it's easy to see why the Queen Elizabeth Park Tennis Courts are so popular:
"Great courts! Well maintained and LOTS OF THEM! I've never seen 18 courts side by side in one location. Quite a cool spectacle in itself. Ample spaces and always a bench in between every court – so lots of place to sit on – though they are a little worn down. " – James L.
"Very enjoyable experience there. Good air quality and quite. People are nice and focusing on games there. Feels like you are really into the game while you play there." – Yang E.
3. North Vancouver Tennis Centre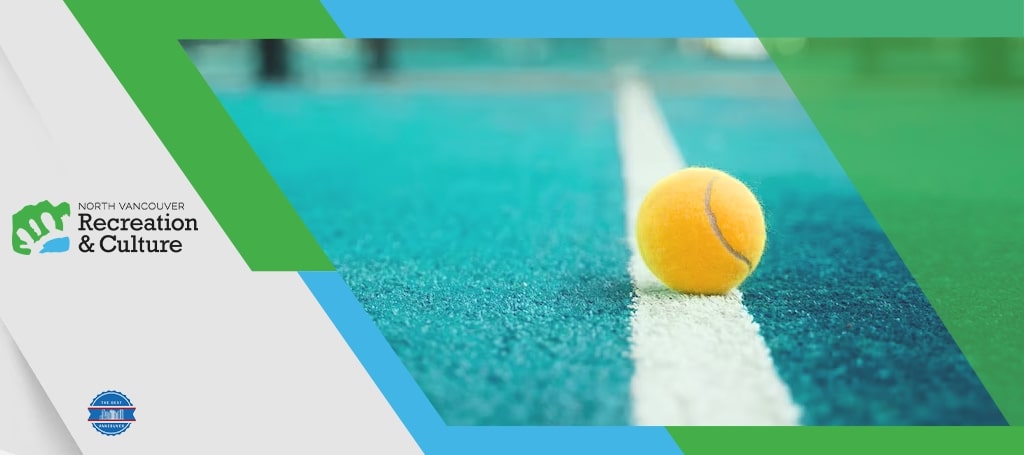 SERVICES
Private tennis courts
Tennis programs
WEBSITE
https://www.nvrc.ca/facilities-fields/north-vancouver-tennis-centre
ADDRESS
280 Lloyd Ave, North Vancouver, BC V7P 3H3, Canada
CONTACT DETAILS
Phone number: (604) 983-6483
OPERATING HOURS
Monday: 8 am – 8 pm
Tuesday: 8 am – 8 pm
Wednesday: 8 am – 8 pm
Thursday: 8 am – 8 pm
Friday: 8 am – 5 pm
Saturday: 8 am – 3:30 pm
Sunday: 8 am – 12 pm
The North Vancouver Tennis Centre is one of the best places to visit if you intend to work on your technique or prefer to play long uninterrupted games. This space is especially suited to such purposes since it can be reserved for sessions 1 – 2 hours long.
In addition to this, the centre is home to one of the most comprehensive tennis programs in the city. So clients have the option to book a trainer along with their court reservation to work on key aspects of their tennis game.
These courts are also great for those with kids or family since there is an observation space for non-players to sit and enjoy the games. When the activities are finished clients can also use the washrooms and changing rooms near the courts.
Overall whether you're a seasoned pro or an amateur enthusiast, this place is an extremely convenient place to enjoy tennis. With its great facilities and excellent trainers, the small fee for court bookings is certainly worth it.
Wheelchair accessible facilities
Open observation decks
Comes with washrooms/ changing rooms
Home to a premier tennis program
Customer Reviews
Many Vancouverites have made this place their go-to tennis court for both recreation and practice:
"love this place, lovely courts! they do private lessons during pandemic which is great, specially that we all need a little exercise during these time. my coach is super friendly and nice and I really enjoy that he is always on time." – Bahman Y.
"Classes are now all canceled because of Covid-19 but now they offer private lessons. Coaches are effective and mostly friendly! I like private lessons better because even at a 6-1 ratio the coach does not have enough bandwidth to spend sufficient time with each person. Single leagues are still on, however. There is plenty of parking around this location. And they have a website where almost all registration (typically within 5 minutes of when it opens) is done." – Ali M.
4. Kitsilano Beach Tennis Courts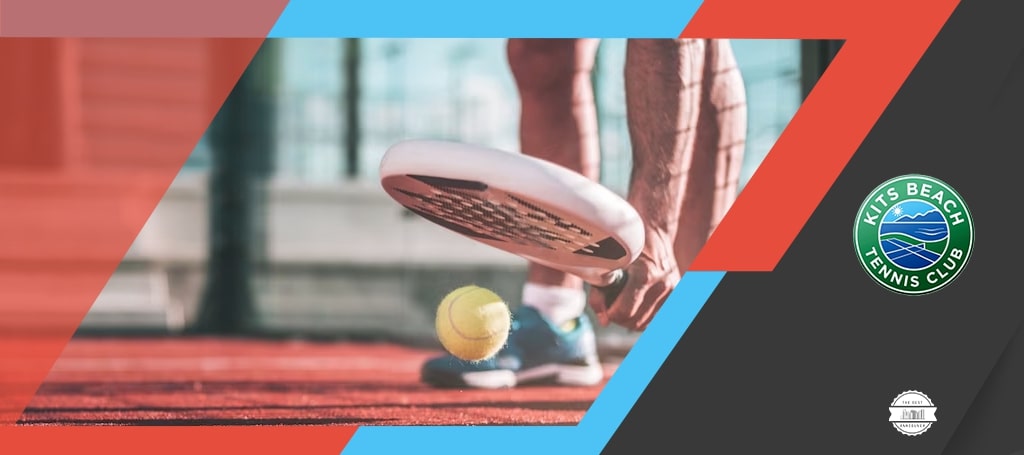 SERVICES
Public tennis courts
Website
https://www.kitsbeachtennis.ca/
ADDRESS
Vancouver, BC V6J 5N2, Canada
CONTACT DETAILS
Phone number: (778) 823-6552
OPERATING HOURS
Monday: 6 am – 10 pm
Tuesday: 6 am – 10 pm
Wednesday: 6 am – 10 pm
Thursday: 6 am – 10 pm
Friday: 6 am – 10 pm
Saturday: 6 am – 10 pm
Sunday: 6 am – 10 pm
When it comes to scenic views and pristine tennis courts it's hard to beat the ones at Kitsilano Beach. Made up of eleven individual hardtop courts, the whole play area is quite literally a stone's throw away from the sandy shores.
Those who wish to test out their skills will be happy to know that the Kits Beach Tennis Club regularly holds tournaments at these courts. These tournaments range in skill level and age so both children and adults can all enjoy a little friendly competition.
After you've broken a sweat playing a few intense games, you can easily stroll down to the beach to cool off with all the other sun-seeking Vancouverites. But if you're not too keen on getting sand in your shoes or on your skin, there's also a public pool nearby.
Normally, picnics and barbecues are more than welcome at kits beach, but because of a high fire risk, there's been a temporary ban on the latter. Of course, people are still more than welcome to bring their own food or grab a bite at the beachside restaurant.
Right next to Kits beach
Has a pool nearby
Offers tennis tournaments now and then
Queues are relatively lengthy
Customer Reviews
Here are since testimonials:
"Nice courts but so, so busy. The attraction of the beach means that people flock here to play tennis and enjoy some time at the beach too. Don't expect to play for long before a queue of people waiting to take over the court forms." – Arnold O.
"Great view! the courts are a bit dusty. Needs to pay for parking, usually quite busy on a sunny day"- Yiming Z.
5. Jericho Beach Tennis Courts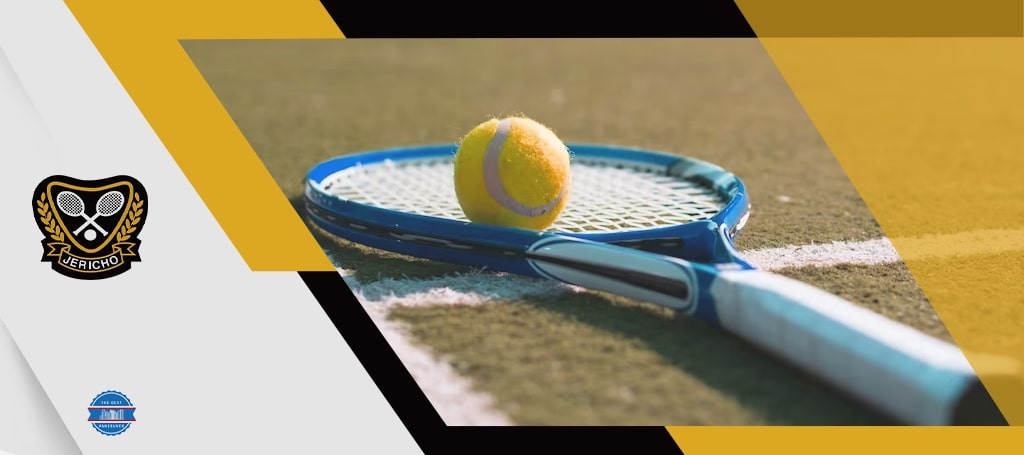 SERVICES
Beachside tennis courts
WEBSITE
https://vancouver.ca/parks-recreation-culture/jericho-beach.aspx
ADDRESS
Discovery St, Vancouver, BC V6R 4K5, Canada
CONTACT DETAILS
Phone number: (604) 873-7000
OPERATING HOURS
Monday: 9 am – 5 pm
Tuesday: 9 am – 5 pm
Wednesday: 9 am – 5 pm
Thursday: 9 am – 5 pm
Friday: 9 am – 5 pm
Saturday: closed
Sunday: closed

9 minutes down the road from Kitsilano Beach is another set of beachside tennis courts. Though not as scenic or numerous, the courts at Jericho Beach have a lot more to offer in terms of additional activities.
With only a handful of tennis courts, Jericho Beach sees fewer players compared to other places. This makes it a suitable place for family bonding, solo practice, and generally relaxed games.
The first thing you notice when you arrive at these courts are the rolling green fields that border them. With a rugby field and soccer turf, this area is often filled with people seeking fun sports recreation.
Visitors will also be happy to know that Jericho Pier is host to a ton of water sports and rentals like kayaking and sailing. The beach may not be as nice as its neighbor down on Cornwall Ave, but overall these courts are great for people who want a fun recreational experience.
Has a ruby field and turf nearby
Offers a ton of running trails
Visitors can rent kayaks
Weekends aren't as busy as other courts
Only a handful of tennis courts exist
Customer Reviews
There's no shortage of great feedback for the various activities offered by the courts at Jericho Beach:
"What place to enjoy a beautiful Sunset in Summer. I big ground by the beach to have party and Barbecue. You can swim, play and party at this place. My Kids loved this place spent whole day with family. Right in the city with many attractions at just walking distance or a small drive. A must go place with family."- Jagjeet S.
"Much less crowded on weekdays, the pay parking discourages loiterers. On weekends, spillover parkers from the beaches take over the lot." – Alexander T.
FAQs About Tennis
---
Now that you've got a personal cheat sheet of the best tennis courts in Vancouver, all that's left is to visit them. We certainly hope our list was able to give you a good idea of what to expect and what to bring when it's game time.
If your love for sports has left you with a little more than aches and pains we've also made a list of the clinics with the best osteopaths in Vancouver. Check it out to learn about the clinics, their physicians, their treatments, and more!