The 5 Best Chinese Restaurants in Vancouver
Chinese cuisine is extremely popular in Canada – so much so that the majority of Canadians often opt for Chinese food when eating out. The situation in Rain City is no different and altogether there are almost 400 individual Chinese eateries.
If you're new to the Asian food scene, or you just want some delicious Chinese dishes, then you're in luck. Today, we've got a heaping helping of the best Chinese restaurants in Vancouver!
Now, narrowing down the best restaurants can be tough. So, to help out, we've based our list on customer reviews, restaurant backgrounds, and specific highlights for each eatery.
How Much Does Chinese Food Cost in Vancouver
To make sure you can budget properly for your culinary adventure, we've included some prices for popular dishes from some of our entries:
Western Lake Chinese Seafood Restaurant
Dumplings $6.95 – $8.75
Signature dishes $30.80 – $58.80
Dim Sum Dishes $9.25 – $23.80
Appetizers $4.50 – $58.80
Soups $10.45 – $28.80
Prawns $23.80 – $30.80
Seafood $20.80 – $42.80
Chicken & Duck $18.80 – $53.80
Noodles $18.80 – $23.80
Rice dishes $2.00 – $23.80
Desserts $5.75 – $13.80
Set meals (good for 4 to 10) $158.80 – $888
Chinatown BBQ
Single BBQ on Rice $10.50 – $11.50
Two BBQ items on Rice $12.75 – $13.50
Curry $14.50 – $16.50
Meat platters $9.90 – $22.00
Side dishes $2.00 – $12.00
Happy Noodle House
Dim sum dishes $6.98 – $13.98
Soups $9.98 – $12.98
Rice Dishes $12.98 – $15.98
Noodles $10.98 – $16.98
Cold dishes $9.98 – $11.98
Chicken dishes $15.98 – $16.98
Vegetable & Tofu dishes $13.98 – $15.98
Beef & Lamb dishes $6.00 – $18.98
Pork dishes $14.98 – $16.98
Seafood dishes $16.98 – $18.98
Beijiang Restaurant
Classic meat and vegetable dishes
$7.95 – $23.95
Group dishes $21 – $49
Specialty dishes $7.95 – $15.95
Side dishes $1.95 – $3.95
Dinesty Dumpling House
Specialty soup dumplings $6.95 – $12.50
Dim sum dishes $4.50 – $8.95
Appetizers $6.50 – $9.95
Seafood dishes $12.95 – $24.95
Beef dishes $16.95 – $18.95
Pork dishes $9.50 – $22.95
Chicken & Duck dishes $13.95 – $22.95
Vegetable dishes $11.50 – $16.95
Noodles $8.95 – $14.25
Rice dishes $13.95 – $15.95
Soups $6.50 – $24.95
Desserts $3.95 – $8.95
Many of the restaurants on our list have various offerings for group meals, so it's best to keep this in mind if you're dining with friends. Now, if you absolutely can't wait to order a dish, we've linked the sites for each restaurant below for your convenience.
The Best Chinese Restaurants in Vancouver
So, you now know how much to budget for your food trip. Now it's time to really get to know the best Chinese restaurants in Vancouver!
1. Western Lake Chinese Seafood Restaurant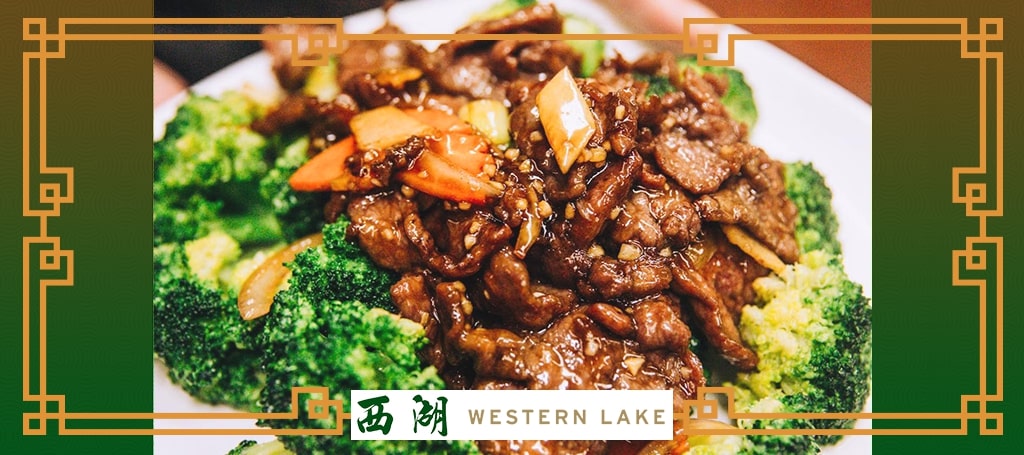 SERVICES
Cantonese dishes
All-day dim sum
Takeout
Party trays
WEBSITE
http://westernlake.ca/english/
ADDRESS
4989 Victoria Dr, Vancouver, BC V5P 3T7, Canada
CONTACT DETAILS
Phone number: (604) 321-6862
OPERATING HOURS
Monday: 10 am – 3 pm, 5 pm – 8:30 pm
Tuesday: closed
Wednesday: 10 am – 3 pm, 5 pm – 8:30 pm
Thursday: 10 am – 3 pm, 5 pm – 8:30 pm
Friday: 10 am – 3 pm, 5 pm – 8:30 pm
Saturday: 10 am – 3 pm, 5 pm – 8:30 pm
Sunday: 10 am – 3 pm, 5 pm – 8:30 pm
Western Lake is a staple in Vancouver's Asian food scene with over 2,000 loyal customers to prove it. These folks have a little bit of everything and they're a great place to get an overall feel for Chinese foods in general.
These folks are particularly well-known for their delicious dim sum offerings, which include both steamed and fried dumplings as well as vegetable dishes and pastries. As a result of this popularity, Western Lak often sees a literal line of customers for lunch and dinner.
Luckily, many clients would say the delectable dishes from Western Lake are well worth the wait. Those who prefer single dishes can choose from several specialty dishes such as braised abalone, roasted pork belly, and steamed king crab to name a few.
If you're planning on eating with your family or a handful of friends, Western Lake has you covered with large set meals. Whether there are 2 diners or several, the dinner set menu provides a full-course meal at a decent price.
Has an extremely large menu if you love variety
Offers set meals for big groups
Has received multiple local awards
Perfect for big family lunches or dinners
Wait times for tables can be long
Relatively far from downtown Vancouver
Customer Reviews
There's no shortage of clients who can attest to this eatery's delicious dishes:
"Very solid spot for Chinese food. The dishes are very tasty and the portions are big. Great value. I've ordered via their website and uber eats, and both have been great and prompt! They always seem to have a promotion going on, which is a nice bonus. Got the Peking duck dish with 2 courses the other day. Loved the crispy duck with the crepes. The other dish was the meat – very funny to see them give us half a head of lettuce but it was greatly appreciated."- Audrey T.
"Holy Crab! King Crab! Oh the days when we could gather and actually share one of these bad boys. This was last Lunar New Year Western Lake! They are known for their enormous dim sum portions, but they also have great set dinner menus including fancy ones like this. They actually take the crab fat and stir fry it into a fried rice dish with dried scallops. It's the best rice you'll ever have! Personally, I still prefer lobster over crab, but if you're going to have crab, this is the way to go. There's no trying to squeeze the meat out of tiny little legs here. It comes out beautifully and is all pre-cut for you." – Davina M.
2. Chinatown BBQ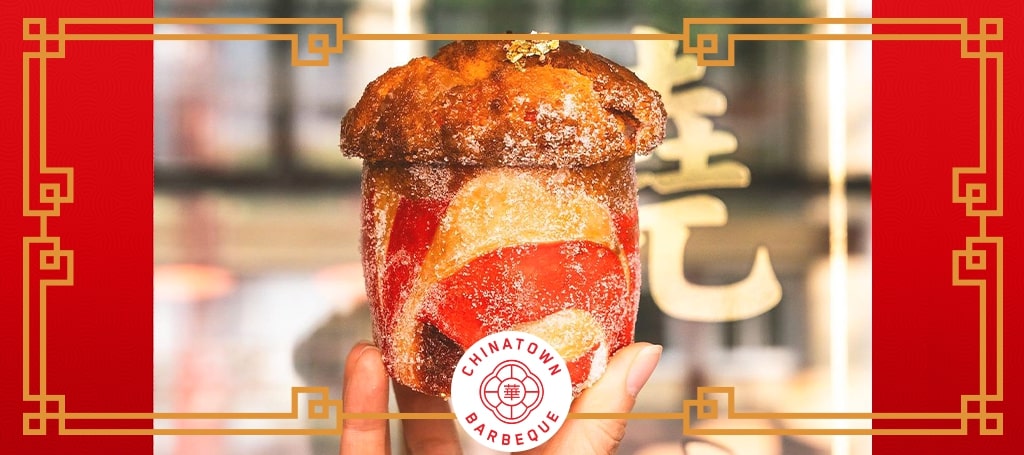 SERVICES
Traditional Chinese BBQ
Family-style dishes
Takeout
Delivery
WEBSITE
https://chinatownbbq.com/
ADDRESS
130 E Pender St, Vancouver, BC V6A 1T3, Canada
CONTACT DETAILS
Phone number: (604) 428-2626
OPERATING HOURS
Monday: 11 am – 8 pm
Tuesday: 11 am – 8 pm
Wednesday: 11 am – 8 pm
Thursday: 11 am – 8 pm
Friday: 11 am – 8 pm
Saturday: 11 am – 8 pm
Sunday: 11 am – 8 pm
There's an unmistakable sense of reverence that great restaurants often project when they handle their craft. For Chinatown BBQ, this reverence is reserved specifically for their award-winning meat and poultry dishes.
Just strolling into the eatery is enough to make most diners salivate with the smell of freshly roasted meat in the air. On top of this, the restaurant's owners proudly display whole roasted pork and duck from the front of the restaurant.
Diners can choose to have their barbecue ala carte or over rice with additional sides such as tofu, soup, Chinese sausage, and even duck egg. To wash all of this savory goodness down, diners can choose from soda, herbal tea, and beer.
It's worth mentioning that the most popular dish at this eatery is the curry beef brisket. This is the particular dish that won Chinatown BBQ a culinary award thanks to its unique spices and tender texture.
Focuses specifically on Chinese bbq
Award-winning curry beef brisket
Perfect for meat-lovers
The menu can seem limited
Customer Reviews
Here are some reviews worth checking out:
"It was very strange experience. Besides the exceptional quality of their foods, I felt I was in a fine dining restaurant in 1940s Shanghai even though the menu items are very common for the Western-Chinese restaurant. Excellent foods, friendly service and their generous portion couldn't be better. This restaurant is the one we can't afford to lose from Vancouver in no matter Pandemic or not"- Kyoung C.
"Having been away from Asia for over a year now, Chinatown BBQ was the perfect gateway back into a life I'd very much forgotten. Based on the beautiful rustic aesthetic combined with the perfectly temperate tea served upon your entry, I cannot mor highly recommend a Chinese bbq experience in Vancouver. We ordered the 3 meat BBQ platter and the salted duck egg alongside some Gai Lan and white rice. Make sure you ask for some chili on the side, it completes the meal. To top it all off, our server Kate was absolutely the best! She was so helpful and quick to notice when we needed anything. Can't thank you enough for the wonderful experience. The wonderful service combined with militant COVID protocols made me sure that I will definitely be returning!" – Sartaj S.
3. Happy Noodle House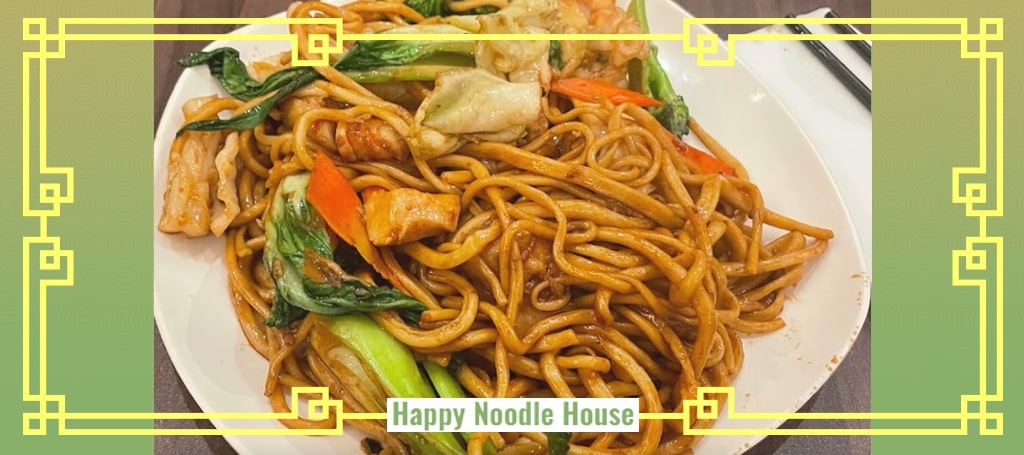 Located in Vancouver's iconic Yaletown, Happy Noodle House is a small eatery that focuses on – you guessed it – noodles!
As a staple in Chinese cuisine, noodle dishes can be cooked in a ton of ways.
Some of these preparations include standard stir fry noodles, noodle soups, and noodles with sauce – all of which you'll find here. Each dish offers its own unique blend of flavors, from sweet and savory to spicy and tangy.
Of course, Happy Noodle also offers your standard fried rice dishes and even meat dishes with pork and chicken. Though not as popular, this eatery's dim sum courses are also nothing to scoff at.
If you're ever in a pinch and you can't step out for food, this is the perfect place to order from. Their sizeable portions and tasty noodles can be a welcome break from home-cooked meals – just remember this place is strictly delivery or pick-up only.
Focuses on noodle dishes
Open all week long
Partnered with Ubereats, Doordash and Fantuan
Only available for delivery or pick-up
Customer Reviews
Happy Noodle House has brought joy to tons of customers with its tasty handmade noodles:
"Loved this place! Handmade noodles were delicious! We ordered the cumin lamb blade cut noodles. It was delicious! Ask for their chili oil! Brings the flavour game to a whole new level! The crispy tofu with vegetables stir fry was very tasty as well! 10/10 would recommend!" – Carolyn N.
"We came on a Sunday afternoon and were one of 2 tables. Service was excellent and the food, portion and price were even better than we went in expecting. Xiao Long Bao came out full and piping hot. The noodles were delicious and the wood ear mushroom salad was so bright, fresh and well composed. We have eaten at countless Chinese restaurants from Shanghai to New York and have rarely left a restaurant so satisfied. We are very excited to have a new favorite weeknight takeout and Sunday dim sum option." – Jared B.
4. Beijiang Restaurant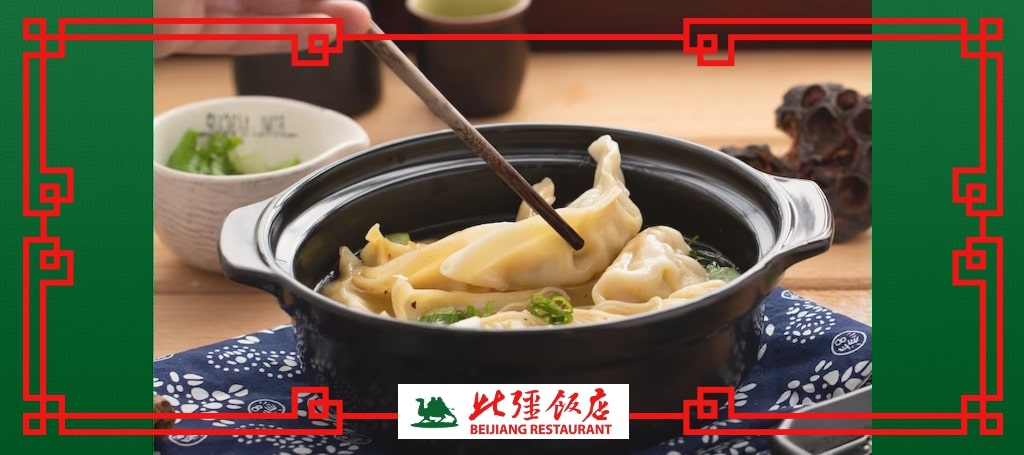 SERVICES
Halal Chinese cuisine
Uyghur dishes
Delivery/Pick-up only
WEBSITE
https://beijiangkingsway.com/
ADDRESS
3281 Kingsway, Vancouver, BC V5R 5K4, Canada
CONTACT DETAILS
Phone number: (604) 401-0866
OPERATING HOURS
Monday: 5 pm – 11pm
Tuesday: 5 pm – 11pm
Wednesday: 5 pm – 11pm
Thursday: 5 pm – 11pm
Friday: 5 pm – 11pm
Saturday: 5 pm – 11pm
Sunday: 5 pm – 11pm
Beijiang is definitely a one-of-a-kind eating establishment compared to the other entries on our list. This is because these folks are one of the few restaurants to focus specifically on making Uyghur dishes.
For those who are unfamiliar with them, Uyghur dishes are essentially a mixture of traditional Chinese and Mediterranean courses. The menu for Beijiang is quite diverse, consisting of lamb kebabs, fried rice, and even hand-pulled noodles.
The restaurant's specialty meals include cumin lamb buns, roast lamb shank, and lamb soup. As you can see there's a trend of various mutton dishes with this eatery mostly due to the traditions of the Uyghur people from China's Xinjiang region.
One serious upside to the prevalence of lamb dishes is the fact that almost everything is Halal. This can be especially handy for Islamic followers who wish to indulge in some savory Chinese food.
Most dishes are Halal
Focuses on Uyghur cuisine
Offers a blend of Mediterranean and Chinese foods
Only open from 5 to 11 pm
Customer Reviews
With so many amazing lamb dishes on their menu, it's easy to see why so many Vancouverites enjoy dining at Beijiang:
"This restaurant opened for years in Vancouver, and I am always a fan with them, very stylish and special dishes from Xinjiang province, China. Very impressed that their taste had never changed! No matter whenever I visited, their quality had never changed. Their "Big Plate Chicken" is a must order and popular dish." – Max H.
"Really tasty food! I'm not sure of what region in China the food is from but you should try it. Cumin lamb skewers have that wonderful aroma of being cooked over a charcoal fire. Tofu dish was surprisingly delicious (and not spicy); the kids loved them. The highlight of the meal was the deep fried naan bread with cumin beef. So unusual and yet so tasty. The fried rice was also good and had really soft (stewed?) beef. The prices are a bit high but considering the quality,service, and cozy ambience, I highly recommend this place for your non-standard Chinese food." – Simon C.
5. Dinesty Dumpling House
SERVICES
Chinese dumplings
Specialty soup dumpling
Dine-in
Take-out
WEBSITE
http://dinesty.ca/
ADDRESS
1719 Robson St, Vancouver, BC V6G 1C9, Canada
CONTACT DETAILS
Phone number (604) 669-7769
OPERATING HOURS
Monday: 11 am – 2:15 pm, 5 pm – 8:30 pm
Tuesday: 11 am – 2:15 pm, 5 pm – 8:30 pm
Wednesday: 11 am – 2:15 pm, 5 pm – 8:30 pm
Thursday: 11 am – 2:15 pm, 5 pm – 8:30 pm
Friday: 11 am – 2:15 pm, 5 pm – 8:45 pm
Saturday: 11 am – 2:15 pm, 5 pm – 8:45 pm
Sunday: 11 am – 2:15 pm, 5 pm – 8:30 pm

Take one of the most iconic Chinese dishes in the world, and combine it with a delicious hearty broth that's absolutely bursting with flavor. This is what Dinesty does on a daily basis with their xiaolongbao dumplings.
This top-class dim sum eatery opened in 2013 on the bustling culinary scene that is Robson Street. In their 7 years of service, these folks have gained a ton of renown for their delicious seafood dishes and fried rice offerings.
Among their many dishes, the xiaolongbao dumplings are what most clients come to Dinesty for. These mouth-watering dumplings are essentially soup dishes wrapped in a paper-thin dumpling wrapper.
With just one bite, the whole dumpling bursts open releasing a mix of filling and hearty broth. The best part is that clients can choose from a variety of fillings such as pork, steamed crab, steamed shrimp, and even kimchi.
Famous for their xiaolongbao dumplings
Has an excellent dim sum selection
Has  a ton of neighboring exotic restaurants
The restaurant often sees long queues during lunch and dinner
Customer Reviews
We could go on and on about how amazing all of the dumplings are at Dinesty, but these customer reviews should suffice:
"Such yummy dumplings!! We went later in the day and there was a line but they moved everything through pretty quickly. Open seating. Friendly service. The food was so good. We had broccoli, pork soup dumplings, potstickers, Shanghai noodles, Mongolian beef and the pancake. They were out of some dishes so if you have a craving, get there early!"- Lianne S.
"Our best meal that we had in Vancouver. Don't miss out on the soup dumplings! The spicy fried squid, pan fried pork dumplings, and fried rice w/Chinese sausage were also AMAZING!! I'll miss this place when I'm back in Edmonton." – Stephanie C.
FAQs About Chinese Restaurants
---
Now that you've read up on the best Chinese restaurants in Vancouver, you've probably built up quite an appetite, (we know we sure have). So, all that's left now is to visit or order your eatery of choice and start chowing down.
If you'd like to learn how to make delicious meals on your own, perhaps our list of the best cooking classes in Vancouver can help. Just like with this list, we've made sure to include helpful reviews, class breakdowns, and other useful information.