The Top 5 Centers for MRI Scans in Vancouver
MRI scans can be life-saving diagnostic tools for medical professionals and the patients they serve. In Vancouver, there are a number of centers offering MRI scans for those in need.
To help you determine which center is best suited for your needs, we've compiled a list of the top centers for MRI scans in Vancouver. Below, you will find more information on general costs as well as the quality of service offered by each center.
How much do MRI scans cost in Vancouver?
An MRI is a procedure that utilizes magnetic fields to scan the inside of the body. Medical professionals request MRI scans to detect any diseases or abnormalities in a patient.
There are several types of MRI scans, the complexity and reach of which can affect the price of the procedure. The center administering the scan, as well as the experience of the technicians, may also change the costs.
During our assessments, we found that the parts of the body getting scanned are common factors affecting cost. See the table below.
| BODY PART | ESTIMATED COST |
| --- | --- |
| Head | Starts at $440 |
| Head and Torso | Starts at $1799 |
| Whole Body | Starts at $2499 |
The Top Centers for MRI Scans in Vancouver
We evaluated the centers featured on this list using the following factors.
1. Aim Medical Imaging

SERVICES

Routine Scans

Prenuvo Full Body Imaging

WEBSITE
https://aimmedicalimaging.com
ADDRESS
100 – 1371 West Broadway, Vancouver
CONTACT DETAILS
Phone: 604-733-4007
OPERATING HOURS

Monday-Friday: 8:30 AM – 5:00 PM
| | |
| --- | --- |
| CRITERIA | RATING |
| Qualifications | ★★★★✰ |
| Facilities | ★★★★★ |
| Professionalism | ★★★★★ |
| Cost | ★★★★★ |
Aim Medical Scan is a medical imaging center located on West Broadway in Vancouver. Many patients of theirs have praised the center for being a reliable provider of accurate scans.
During our evaluations, we found that Aim Medical Scan comprises staff with extensive experience handling MRI machines.
They also have qualifications in carrying out MRI scans, as they have undergone specialized training specifically on operating and managing the equipment.
Now, we appreciate the fact that they have the necessary qualifications, but what drew our attention was the clinic staff's professionalism.
They were courteous and understanding of the patient's needs, which made us feel at ease. In addition, they're committed to helping patients make informed decisions.
What this means is that the clinic staff explain the entire process and desired outcomes for each procedure, allowing patients to get an insight on the test they are taking.
Of course, the fees are also significant factors when it comes to medical procedures. Fortunately, you can rest easy if you choose Aim Medical Scan since they offer reasonable rates that won't break the bank.
For these reasons, we highly recommend Aim Medical Scan if you are in need of an MRI scan in Vancouver.
Accommodates patients of all kinds
No waitlist for 30 min standard MRIs
On-site radiologist available for immediate result reviews
Weekends by appointment only
No walk-ins for evening sessions
Customer Reviews

Very good doctor and staff
"I'd reccomend AIM for anyone who wants an MRI due to their top quality machines and outstanding staff. The wait for an MRI scan in vancouver is normally outrageous but at AIM you can get in as little as a week from now. Very good doctor and staff. I finally got to the bottom of my shoulder problem, which unfortunately means surgery but fortunately I know where to go from here" – Elliot R.
MRI Equipment appears more up-to-date and newer
"This place saved my life! I was suffering from nerve pain. After going through two (2) MRI's at Peace Arch Hospital with no diagnosis; AIMS Medical Imaging MRI provided me with a diagnosis which ultimately led to me having an MVD surgery at Vancouver General Hospital. I was in pain for a total of 8 months until having the surgery as well on several nerve pain medications with horrible side effects. I have since had my surgery on Jan 27th 2020 and woke up pain and med free. I would not hesitate to recommend this place as their MRI equipment appears more up-to-date and newer than those at hospitals. Unfortunately, their fees are not covered by my medical coverage but it's the best money I have ever spent to save my life!" – Eric J.
2. Open Advanced MRI NW

SERVICES

MRI

CT

Interventional Radiology

WEBSITE
https://openadvancedmrinw.com
ADDRESS
221 NE 104th Ave, Vancouver
CONTACT DETAILS
Phone: 360-253-2525
OPERATING HOURS

Monday-Friday: 8:00 AM - 5:00PM
| | |
| --- | --- |
| CRITERIA | RATING |
| Qualifications | ★★★★★ |
| Facilities | ★★★★✰ |
| Professionalism | ★★★★★ |
| Cost | ★★★★★ |
Up next is Open Advanced MRI NW Imaging, a highly accessible clinic that offers diagnostic imaging, which consists of MRI and CT scans, as well as interventional radiology.
Open Advanced MRI NW Imaging caught our attention for a number of reasons.
One, the center is staffed by a team of highly qualified and experienced radiologists, technologists, and assistants.
All experts in their respective fields have received numerous qualifications to perform the best quality imaging services possible.
Two, professionalism is always at the heart of all Open Advanced MRI NW Imaging operations.
The staff strives to ensure that every patient visit is efficient and comfortable while maintaining strict safety standards throughout the process.
They make it a point to explain the preparation and proper procedure to their clients, ensuring that patients know what they are going to experience during imaging.
Moreover, they're quick to respond to any inquiries, although you can expect calls and messages to be answered within their operating hours.
Lastly, we can't forget about the cost. Open Advanced MRI NW Imaging offers comprehensive imaging services at competitive rates compared to other clinics in Vancouver.
You will find affordable MRI tests at this center, and reasonable rates for their other offerings. It may also be possible to have your insurance cover the costs, but it's best to consult with the clinic first.
Individualized and personal patient services
Truly open MRI scanners
Can accommodate same day appointments
Usually closed during weekends
No evening appointments
Customer Reviews
Polite, caring and helpful
"The office staff kept me well informed before the appointment. I phoned in questions and there was always a positive answer. The office was easy to find. Paperwork was a minimum. The technician was very polite, caring and helpful getting me situated and comfortable for the testing. All friendly goodbyes when leaving for home. I wish all my dealings with other offices and their personnel were this easy and memorable." – Mick
Very professional, great customer service
"I had an awesome experience. The office staff were very professional, great customer service. My exam started right on time. The person in charge of my MRI took the time to explain to me what was going to take place. She made sure that I was as comfortable as possible. It's important to understand what is going to happen and what to expect and that alleviated any concerns I had. If you do need an MRI or any of the other services offered, the best decision you can make is to go here." – Kelly C.
3. Prenuvo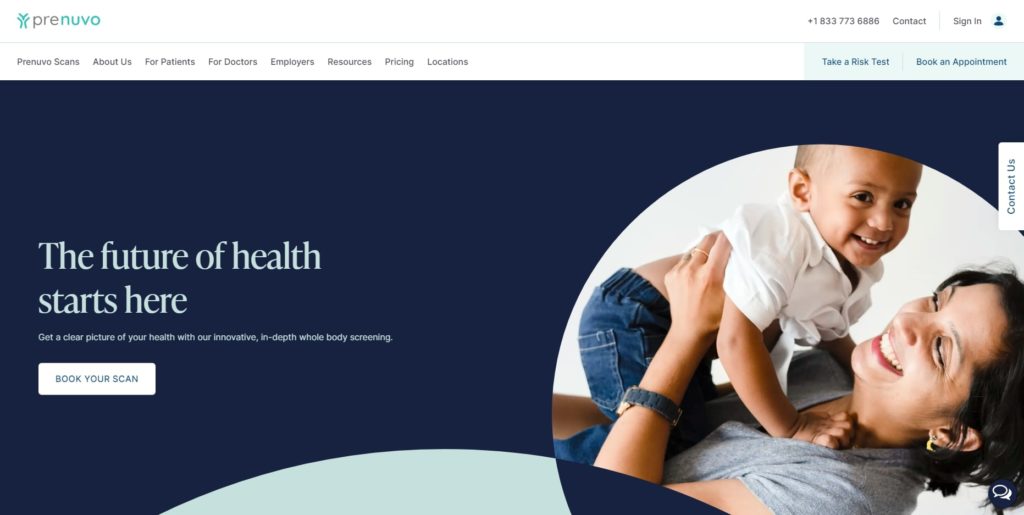 SERVICES

Head and Torso Scan

Torso Scan

Whole Body Scan

WEBSITE
https://www.prenuvo.com/
ADDRESS
1371 W Broadway, Vancouver
CONTACT DETAILS
Phone: 833-773-6886
OPERATING HOURS

Monday-Friday: 7:00 AM - 9:15PM

Saturday & Sunday: 7:00 AM - 8:30 PM
| | |
| --- | --- |
| CRITERIA | RATING |
| Qualifications | ★★★★★ |
| Facilities | ★★★★★ |
| Professionalism | ★★★★★ |
| Cost | ★★★★✰ |
Like the other centers, Prenuvo was assessed according to the criteria mentioned above, but what piqued our attention in the first place was the core principle the center follows.
See, Prenuvo was established with a particular goal: to help people live happier, healthier, and longer lives.
The brilliant minds behind the center sought to achieve this goal by investing in top-of-the-line equipment, allowing the Prenuvo team to provide the best possible service with optimal results.
Prenuvo did not stop there, creating a team of qualified medical professionals guaranteed to provide the highest level of care and professionalism.
From certified radiologists to experienced technicians, Prenuvo has recruited only the best in the business for their team to ensure quality MRI scans.
We also like how thorough the center is regarding imaging and diagnosis.
All patients are required to undergo medical reviews and pre-scan preparations with the help of their team to ensure accuracy.
But let's not forget about cost. We know that finances can be a major concern when it comes to getting an MRI scan, which is why we were pleasantly surprised by Prenuvo's competitive rates.
Not only do they offer some of the most affordable prices in Vancouver, but they also accept a variety of insurance companies for coverage.
For all these reasons and more, Prenuvo stands out from other centers offering MRI scans in Vancouver – and with its highly acclaimed qualifications, professionalism, and cost-efficiency, you can rest assured you're receiving the best medical care possible.
Extensive and insightful medical examinations
Fast, safe, and non-invasive methods
Utilizes AI-augmented technology
May be fully booked and unavailable
Pricier compared to other options
Customer Reviews
Caring and professional
"From inquiry to the review of the report of the scan the folks and the process were very caring and professional. I also appreciated the fact that they followed the COVID protocols. I felt quite safe and comfortable at their clinic. Great value for the money. I have and continue to recommend this to my friends and family" – John B.
Facility was clean, staff was fantastic
"Had such a great experience here!! Facility was clean, staff was fantastic. The report was easy to understand and my follow up with the NP was awesome. Cannot recommend this place enough for the peace of mind it brought me ♥️" – Antheia F.
4. Priority MRI
SERVICES

3T MRI – Diagnostic

3T MRI – Screening

Personal Injury

Therapeutic Injection

Clinical Research

WEBSITE
http://www.prioritymri.ca/
ADDRESS
2158 – 13353 Commerce Parkway, Richmond
CONTACT DETAILS
Phone: 778-234-7674
OPERATING HOURS

Monday-Friday: 8:30 AM - 5:00 PM
| | |
| --- | --- |
| CRITERIA | RATING |
| Qualifications | ★★★★✰ |
| Facilities | ★★★★✰ |
| Professionalism | ★★★★★ |
| Cost | ★★★★★ |
When talking about centers utilizing state-of-the-art imaging technology, it would be remiss not to mention Priority MRI.
As the center's name suggests, Priority MRI is committed to helping clients prioritize their health, offering diagnostic and screening services alongside personal injury care and therapeutic injection.
The range of their services is only one of the reasons we recommend Priority MRI.
Another reason is their team, which features Dr. Syed Islam Haider, M.Sc. (Glasgow); Ph.D. (Wales), a member of ISMRM (International Society of Magnetic Resonance in Medicine) and SIIM (Society of Imaging Informatics in Medicine).
Dr. Haider's qualifications alone demonstrate the level of expertise and professionalism at Priority MRI.
In addition, customer service is paramount at this center. Their friendly and knowledgeable staff work to provide a pleasant experience for all of their patients.
Cost is another crucial factor to consider when seeking an MRI service.
At Priority MRI, they strive to remain competitively priced in order for their clients to receive quality care within their budget.
Overall, Priority MRI stands out as one of the top destinations for reliable imaging services in Vancouver.
With qualifications, professionalism, and cost all taken into consideration, they are an excellent option for any patient requiring an MRI scan.
3T MRI scanners are 50% faster than conventional 1.5T scanners
Professional staff with over 10 years of experience
Free parking available
Closed on weekends
No evening appointments
Customer Reviews
Facility is clean, quiet & modern
"Went here for an MRI of my knee because I was put on a 6 month waiting list in the public system. Couldn't be more satisfied with my experience! Was booked in within 2 days at a time of my choosing. Facility is clean, quiet & modern. Staff are professional, courteous and most importantly fast & efficient! I was in & out within 45 mins. Like night & day compared to dealing with the chaos of the public system!" – Shawn H.
Fast, informative & courteous
"I've just driven away from Priority MRI after being referred to them by a trusted friend & the service & experience was excellent. I have already sent their contact info to another friend that needs the service they provide. Fast, informative & courteous in a meticulously clean facility. A fine example of how business should be run." – Todd C.
5. BCCH MRI Research Facility

| | |
| --- | --- |
| SERVICES | MRI Services for Abdomen, Breast, Cardiac, Chest, Extremities, Head/Neck, Joints, Pelvis, Spine |
| WEBSITE | https://www.bcchr.ca/3tmri/facilities |
| ADDRESS | 938 West 28th Avenue, Vancouver |
| CONTACT DETAILS | Phone: 604-875-2345 |
| OPERATING HOURS | Monday-Friday: 8:00 AM - 4:00 PM |
| | |
| --- | --- |
| CRITERIA | RATING |
| Qualifications | ★★★★★ |
| Facilities | ★★★★★ |
| Professionalism | ★★★★✰ |
| Cost | ★★★★✰ |
BCCH MRI Research Facility is less known than other centers in Vancouver, but we consider them a reliable pick and worthy of a visit if you need an MRI scan.
BCCH MRI Research Facility utilizes a 3T GE Discovery MR750 3.0 Tesla MRI scanner for functional MRI, structural MRI, and spectroscopy.
This machine is considered one of the most advanced MRI scanners available, and the experienced team at the facility is highly qualified to provide top-notch care.
They also have MRI simulations for younger patients, so you can get a better understanding of the preparation and process.
Do note that the center is closed on weekends, but on other days of the week, they are operational and open to accepting bookings. Since they have shorter hours, it's best to book ahead of time.
In addition, we appreciate the fact that the staff at the BCCH MRI Research Facility is highly professional.
Each member is committed to making each visitor's experience a positive one. They are quick to respond to inquiries, too.
Lastly, we like that online booking is available, making scheduling an appointment a breeze. Rates for imaging are also available on their website, so you won't need to worry about hidden fees.
Wide range of services
Experienced team of medical professionals
Can accommodate a large number of patients
Closed on weekends
Shorter operating hours
Customer Reviews
Made sure i was comfortable
"Awesome staff who you could tell were there for love of the science. The young man who got me set up and the young lady i met in the exam room both made sure i was comfortable for test today and well set up to make sure my it went very smoothly. Thanks to both you for everything! :)" – Andrew M.
Very nice and patient staff
"Very nice and patient staff 👌.
Followed pandemic protocols." – Elaine Z.
FAQs about MRI Scans in Vancouver
---
MRI scans are a safe and non-invasive method of obtaining detailed images of your body's internal organs. That said, it is important to find a center in Vancouver that offers reliable services and is staffed by professional medical personnel.
The centers listed above are well-equipped and offer reasonably priced excellent services. For anyone looking for MRI scans in Vancouver, these centers are highly recommended options.
If you need more medical assistance, check out our list of the top doctors in Vancouver.