The 5 Best Spas in Vancouver
Having a relaxing experience at the hands of a skilled therapist can be stressful if you don't know where to go. With the variety of establishments and treatments available, it's hard to even make a decision!
To help you with your search, we put together a list of the best spas in Vancouver with our own recommendations and reviews about each one. This gives you a better idea of what kind of experience you're going to have at each spa.
How much do spa treatments cost in Vancouver?
You can get a wide range of treatments from mani-pedis, facials, massages, and body treatments. There are also signature treatments unique to each spa that typically include a combination of treatments to either relax, cleanse, or energize you.
We put together this price list with the spa experience in mind, meaning signature treatments only. You can head over any of the spas' websites for more information about their treatment menu, reservation process, or anything else.
| Spas | Treatment Prices (CAD) |
| --- | --- |
| Willow Stream Spa at Fairmont | $199-335 |
| Smile Thai Wellness | $240-375 |
| Tranquility Organic Spa | $155-445 |
| Miraj Hammam Spa | $100-285 |
| Vida Spa | $180-610 |
Again, these prices reflect the flagship treatments of the spas only, but that doesn't mean to say they don't have several other treatments worth browsing.
The Best Spas in Vancouver
When it comes to luxury and comfort, price is one of the least-regarded aspects. Instead, we look for the best by how well we're treated, the ambiance, the ingredients of the products, and of course, the benefits.
Here's how we came up with a way to rate each spa and their services:
1. Willow Stream Spa at Fairmont

| | |
| --- | --- |
| Criteria | Rating |
| Spa Amenities | ★★★★★ (5/5) |
| Treatment Rooms | ★★★★★ (5/5) |
| Spa Facilities | ★★★★★ (5/5) |
| Locker/Change Rooms | ★★★★★ (5/5) |
| Ambiance | ★★★★★ (5/5) |
| Noise Control | ★★★★★ (5/5) |
| Decor | ★★★★☆ (4/5) |
| Cleanliness | ★★★☆☆ (3/5) |
| Guest Service | ★★★★☆ (4/5) |
The luxurious Fairmont Pacific Rim urban resort is well-known for being an oasis in the urban jungle of Vancouver. The Willow Stream Spa is located on the fifth floor of the building, surrounded by beautiful views of the city and the sea.
We were wowed by their facilities, with multiple lounges and treatment areas to enjoy. With a jacuzzi, fitness center, steam room, and mineral bath, we couldn't choose which to indulge in first.
Being spoiled for choice can make deciding on a treatment mentally draining. We loved how their treatment menu is arranged into three categories: relieve, restore, and result, making it easier for guests to choose from.
With all these amenities and luxurious services, it's no wonder their calendar is full and almost impossible to get into on short notice. On this note, we appreciate that their website advises booking 3-4 weeks in advance.
We do, however, find that their prices can be on the higher end. While many guests might have experiences well worth the price, we also find some that are underwhelmed by the services.
Overall, we think Willow Stream is a wonderful choice for getting a spa day in and having a great experience. Our only suggestion is to browse and read through their website beforehand so you know what to expect when you get there.
Organized service menu
Numerous amenities
Uncrowded lounges
High price
Booked calendar
Customer Reviews
The staff were lovely
"The spa is everything you hope for a calm day. The staff were lovely. My face felt amazing after my facial and the ambiance was unmatched. It's upstairs in the fairmont hotel, which means you have an incredible top view of Vancouver while in one of their hot tubs!" -Dina Car
Highly recommended this place
"I had the best experience at Willow Stream Spa!!, was my first experience ever and it was extremely AMAZING!!!, I will comeback for sure!, highly recommended this place👌🏾" -Юля Вострецова
2. Smile Thai Wellness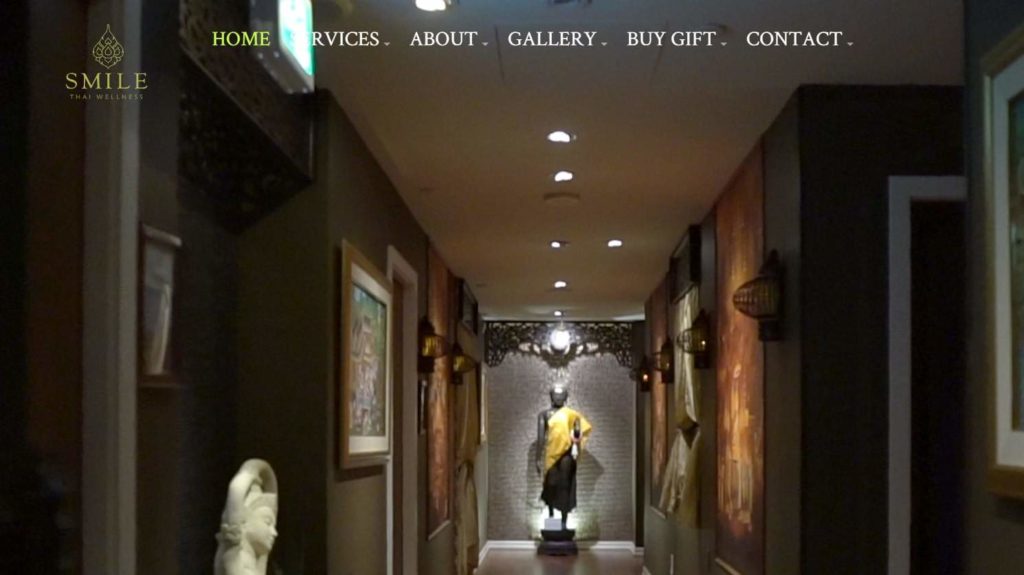 | | |
| --- | --- |
| Criteria | Rating |
| Spa Amenities | ★★★★★ (5/5) |
| Treatment Rooms | ★★★★★ (5/5) |
| Spa Facilities | ★★★★★ (5/5) |
| Locker/Change Rooms | ★★★★★ (5/5) |
| Ambiance | ★★★★☆ (4/5) |
| Noise Control | ★★★★☆ (4/5) |
| Decor | ★★★★★ (5/5) |
| Cleanliness | ★★★★★ (5/5) |
| Guest Service | ★★★★☆ (4/5) |
Get transported to traditional Thailand at Smile Thai Wellness. The soothing music and relaxing ambiance created by their tasteful decor gave us the impression that we were in for a treat.
We enjoyed the professionalism and courtesy of the staff here, as well as the gentle healing hands of the therapists. Their skin care treatments are definitely worth going for, and we hear the couples therapy is acclaimed.
While we say gentle, we don't mean in any way weak. Their deep tissue massages really dig into your muscles and pressure points to knead out those kinks.
Their signature treatments come with lovely refreshments as well, and are a great way to pick yourself up after a long week. We found their aromatherapy particularly soothing, though we recommend testing the scents first for those who are sensitive.
We did notice some communication gaps, so it's best to make sure you get clear confirmations for your booking beforehand. Overall, Smile Thai Wellness offers a holistic approach to providing relaxation in a friendly and peaceful atmosphere.
Authentic atmosphere
Couples therapy rooms
Intense massages
Communication gaps
Massage can be painful
Customer Reviews
Keep up the great work!!
"If you're looking for a deep tissue massage or other massage needs this place is great! I was very pleased with my deep tissue massage. Left feeling relaxed, charged up and felt good about my overall experience here. Keep up the great work!! 😀🙏🏽" -maninder jagpal
Awesome Thai massage
"Awesome Thai massage. Went here with my partner. We were impressed by their skills. Super clean environment. The decor is very nice." -Peter Pi
3. Tranquility Organic Spa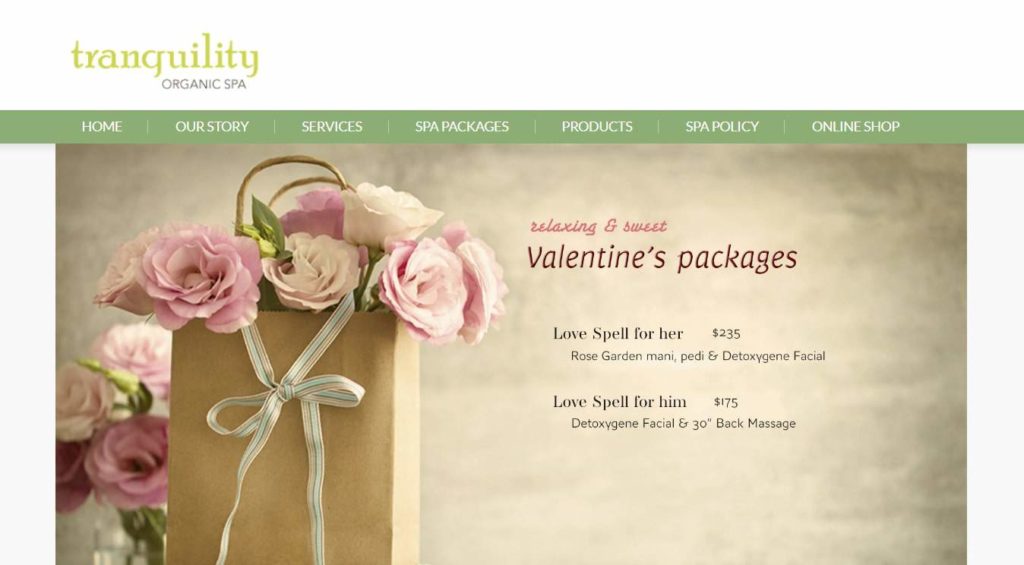 | | |
| --- | --- |
| Criteria | Rating |
| Spa Amenities | ★★★★☆ (4/5) |
| Treatment Rooms | ★★★★★ (5/5) |
| Spa Facilities | ★★★★★ (5/5) |
| Locker/Change Rooms | ★★★☆☆ (3/5) |
| Ambiance | ★★★★★ (5/5) |
| Noise Control | ★★★★★ (5/5) |
| Decor | ★★★★★ (5/5) |
| Cleanliness | ★★★★★ (5/5) |
| Guest Service | ★★★★☆ (4/5) |
Situated right in Yaletown, Tranquility Organic Spa offers refuge to those looking to get out of the city's hustle. The luxurious amenities are great, particularly the massage chairs that work your back while you get a mani pedi.
You can be sure that you get quality treatment with the most natural ingredients since they only use certified organic products, hence the name. We definitely enjoyed the milk and rose petal soak here before getting our nails done by skilled therapists.
They offer a wide range of treatments but if you're visiting for the first time, the spa packages are definitely the way to go. We found the Bliss and Healing packages to be great value for money, and we'd definitely come back and try the others!
One thing to note, though, is that the bathroom they let guests use is the building's bathroom, which is a bit inconvenient. Because of that, we find this place is better for people who don't plan on spending a lot of time at the spa.
You should also communicate clearly how much pressure you want for the massage. The therapists are very friendly and accommodating, so this shouldn't be a problem.
As a whole, we find Tranquility to be a great option for a quick getaway from the city's stresses. They provide a clean, friendly environment with quality services using natural ingredients, and is definitely worth an appointment!
Cost-effective
Luxury amenities
Convenient location
Detached bathroom/change room
Communication gaps
Customer Reviews
Thanks ladies!
"Husband brought me here for my birthday we had a couples massage and facials. what a wonderful day of relaxation. Thanks ladies!" -Jenna McBride
Would 10/10 recommend
"I went here for couple's massage and bought the full massage/facial/pedi pkg and loved every moment of it. Had amazing glow after the facial. The girls were amazing, polite and kind. A little expensive but the best massage I've had (even beats the most luxurious ones). If nothing else, would 10/10 recommend for the massage for a relaxed weekend!" -dristti k sood
4. Miraj Hammam Spa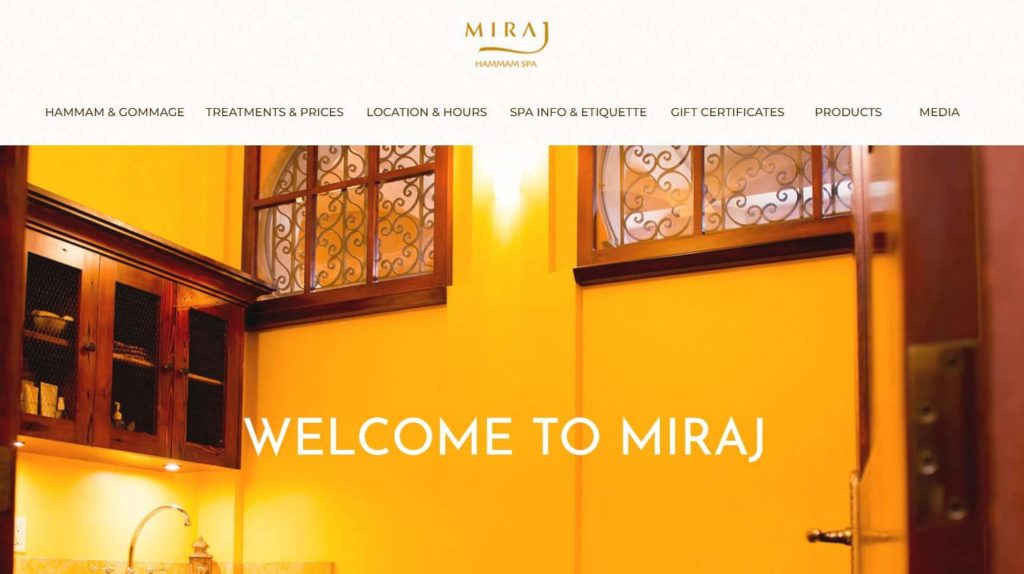 | | |
| --- | --- |
| Criteria | Rating |
| Spa Amenities | ★★★★☆ (4/5) |
| Treatment Rooms | ★★★★★ (5/5) |
| Spa Facilities | ★★★☆☆ (3/5) |
| Locker/Change Rooms | ★★★★★ (5/5) |
| Ambiance | ★★★★★ (4/5) |
| Noise Control | ★★★★☆ (4/5) |
| Decor | ★★★★★ (5/5) |
| Cleanliness | ★★★☆☆ (3/5) |
| Guest Service | ★★★★☆ (4/5) |
Not your typical day spa, Miraj Hammam Spa offers authentic traditional Moroccan treatments in its beautifully curated environment. Hammam, which directly translates to steam room, is a staple for all their treatments, along with an exfoliation process.
We loved how they give private experiences by closing out the steam room and treatment chambers for one guest at a time. This really gives you the feeling that you're in your own private spa, truly VIP treatment.
The steam room sets you up for your treatment, warming your muscles and opening your pores for the exfoliation treatment after, followed by the massage. They also give aromatherapy facials that really bring you to a place of bliss.
We really liked the lounge area after getting treatments where they serve traditional Moroccan tea and sweetcakes. The whole experience is lovely, with each step gently preparing you for the next until you're ready to go back into the outside world.
The experience Miraj offers is truly authentic, and it gives you such an immersive feel into the beauty in traditional Morocco. We even found ourselves googling Morocco while in the lounge and checking plane ticket prices!
We definitely recommend Miraj for their authenticity, and as a soul calming getaway to a foreign country where your worries are washed away. While you might not be able to get a mani pedi here, it's still definitely worth it.
VIP treatment
Low cost
Authentic atmosphere
Minimal services
Washed gloves, not new per customer
Customer Reviews
Would highly recommend!
"I had such a good visit to Miraj . This was my first time so I had no idea what to expect, but it was great from start to finish. The staff were friendly/professional, the environment is really calm and beautiful, and I left feeling amazing. Would highly recommend!" -Melanie Daw
Will definitely be back.
"Amazing treatments, particularly the hammam and gommage. Had Joy and she was great. Liked steaming so much more than I thought I would! Will definitely be back." -Kirk Chantraine
5. Vida Spa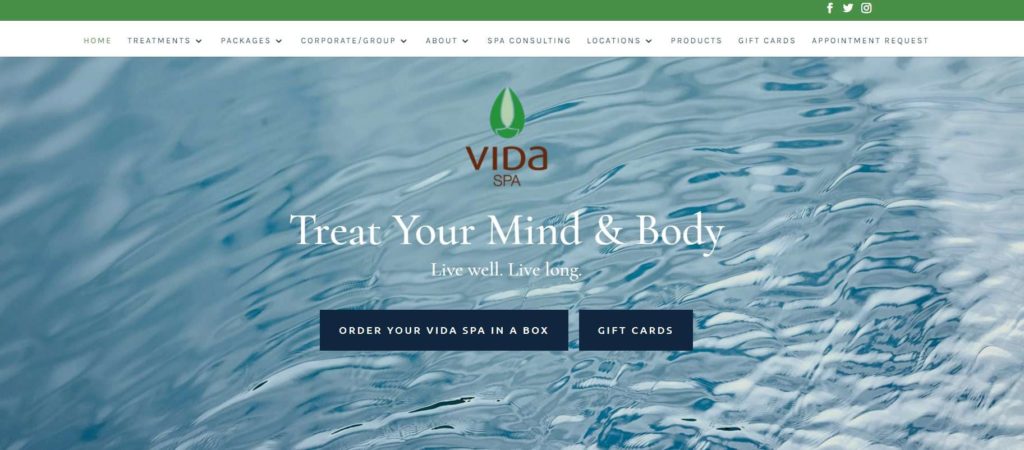 | | |
| --- | --- |
| Criteria | Rating |
| Spa Amenities | ★★★★☆ (4/5) |
| Treatment Rooms | ★★★★★ (5/5) |
| Spa Facilities | ★★★★☆ (4/5) |
| Locker/Change Rooms | ★★★☆☆ (3/5) |
| Ambiance | ★★★★★ (4/5) |
| Noise Control | ★★★★☆ (4/5) |
| Decor | ★★★★☆ (4/5) |
| Cleanliness | ★★★★★ (5/5) |
| Guest Service | ★★★★☆ (4/5) |
Last but definitely not the least with its 3 locations, Vida Spa also offers authentic traditional treatments to bring you to bliss. They center around the Ayurvedic science of medicine, which emphasizes the importance of self-care.
Serving mostly hotel guests, they also seem quite popular with the locals. Their booking calendar is normally quite full, so booking 3 to 4 weeks in advance is ideal.
In terms of amenities, they're well-equipped with locker and change rooms, a steam room, lounge, and they even let guests use the hotel pool. We also noted how clean their facilities and equipment were, which is definitely a plus.
Getting a facial here is a great idea, and it even comes with a full-on head and neck massage given by skilled therapists. A quick inquiry with the front officer let us know that most of their therapists have been with them for over 10 years!
The Ayurvedic Journey package is one we definitely recommend. This gives you a three and a half hour massage of the body, head, and pressure points, coupled with wonderful aromatic oils. They even give you some oil or cream to take home with you!
Their three and five day programs are also worth a second look, which give you a roadmap to easing the tensions in your daily life.
We adore how they really focus on providing healing the way your body type needs, and how they impart knowledge on Ayurveda as well. In total, a great experience which left us blissful and carefree.
Holistic healing approach
Tenured therapists
Clean facilities
Detached change room (Sutton branch)
High price
Customer Reviews
Beautifully decorated and great massages!
"Beautifully decorated and great massages!
Special shoutout to the receptionist at the front. Super cute, always smiling and helpful in every way! Will definitely come again 😁" -Khalil Zibara
I recommend the spa and Natsuko anytime.
"This Spa is amazing. They have a really nice lounge to hangout after the service. The service from the front desk is very friendly and efficient.
I got a facial with Natsuko and she was amazing. This is the best facial I had. She compliments the facial with a massage (a real one) on your face, scalp, neck and shoulders. She is very knowledgeable about skin. I enjoyed my facial very much and my skin looks amazing.
I recommend the spa and Natsuko anytime." -Catalina Ramirez-Aponte
FAQs About Spas
---
This concludes our list of the best spas in Vancouver, and we hope you're able to find the blissful experience you're looking for.
Since you're taking the trouble to find the best establishments, we strongly suggest getting in contact with the ones you're interested in so you can ask questions and confirm details about your pampering appointment.
Visiting Vancouver on holiday? Check out our article on the best things to do in Vancouver and fill your vacation with enjoying the sights and various activities you can do in the city!