The Top 6 Blinds Services in Vancouver
Whether it's privacy or light control, blinds are a great way to spice up your indoor setting while also protecting your delicate indoor furniture. Luckily for you, we've reviewed only the best blinds services in Vancouver that can help you with just that.
Let's check them out!
How Much Blinds Cost in Vancouver
A number of factors tally up to the costs of installing blinds, but they're mainly dependent on the type of blind installed, the material used, and the size of the window where the blind is set.
Here, we've listed the average costs to install the most common blinds in the market. Note that installation fees aren't included into this calculation and rates are on a per window basis.
| Types of Blinds | Estimated Rates |
| --- | --- |
| PRODUCTS | Jewellery & Accessories, Clothing & Shoes, Home Decor, Wedding & Party Decor, Toys & Entertainment, Art & Collectibles, Craft Supplies & Tools, Vintage Products |
| WEBSITE | mintagevintage.com |
| ADDRESS | 1714 Commercial Drive Vancouver, BC V5N 4A3 Canada |
| CONTACT DETAILS | (604) 646-8243 |
| OPERATING HOURS | Monday to Saturday 10:00 am – 7:00 pm Sunday 11:00 am – 6:00 pm |
The Top Blinds Services in Vancouver
Just some important criteria to mention before we move on to our top blinds. The following services were rated according to:
1. Grey Stone Blinds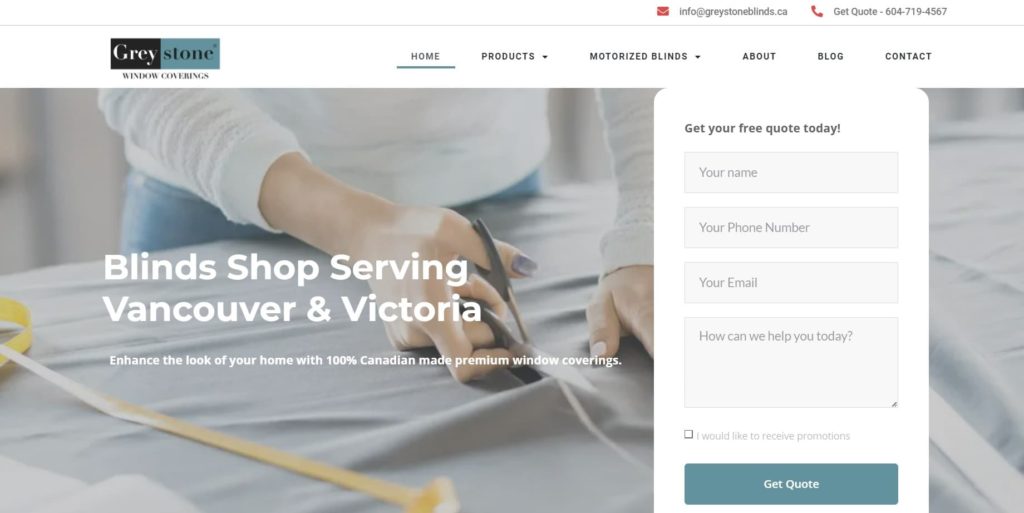 Test
Info
PRODUCTS
Blackout Blinds

2″ Faux Wood Blinds

Roller Shades

Vertical Blinds

Zebra Shades

Sheer Horizontal Shades

Cellular Shades

WEBSITE
https://greystoneblinds.ca
ADDRESS
701 W Georgia St #1500, Vancouver, BC V7Y 1G5, Canada
CONTACT DETAILS
+1 604-719-4567
OPERATING HOURS
Monday to Friday 9:00 am – 7:00 pm

Saturday 11:00 am – 5:00 pm
| | |
| --- | --- |
| Criteria | Ratings |
| Quality of Work | ★★★★★ (5/5) |
| Customer Service and Communication | ★★★★★ (5/5) |
| Affordability | ★★★★☆ (4/5) |
| Services Provided | ★★★★★ (5/5) |
Grey Stone Blinds is a company that offers its clients comprehensive and professional window covering and services in the area and has since become one of the most trusted figures in the industry.
We like that they make the whole process easier and hassle-free for clients to ensure that not only will each one be assisted in a holistic manner but also that each project will be implemented to the highest of standards.
From motorized blinds to roller shades and cellular shades, we like that they are able to provide clients with an extensive array of products to choose from to better adapt to the specific needs and style of the client's house and property.
Note though that rates of their services aren't readily available on their website to which interested clients may need to inquire further for more information on that matter.
Nonetheless, with their professional products and interrelated services, smooth and stress-free manner of operations, and reputation in the industry, we highly recommend interested clients to check them out.
Polite and accommodating personnel employed
Extensive and adaptable window covering services
Diverse experience in the industry
Rates of their services aren't readily available online
Customer Reviews
Here are some reviews from their clients:
"Customer service is wonderful. Gunnu was quick to respond, happy to answer and respond to all of our questions and our initial in-home consultation was professional, well-informed and pleasant. The quotes provided were also very competitive. While we didn't end up choosing Greystone Blinds for other reasons, we felt confident with their services."
"First of all: our roller blinds from Greystone look amazing! They truly elevated the look of our huge bay window. We really struggled to find some stylish window coverings for such a large window. We are so glad we found Greystone Blinds. Secondly: every single person, from the office staff to the installers, were awesome. Ordered our blinds mid through the week, installed on Friday. They even answered our questions on Saturday! Now that is what I call service;) They are efficient and timely, easy to communicate with and their products are top notch – I do not hesitate to recommend them to anyone and will be back for more blinds as our reno scontinue."
2. Gotcha Covered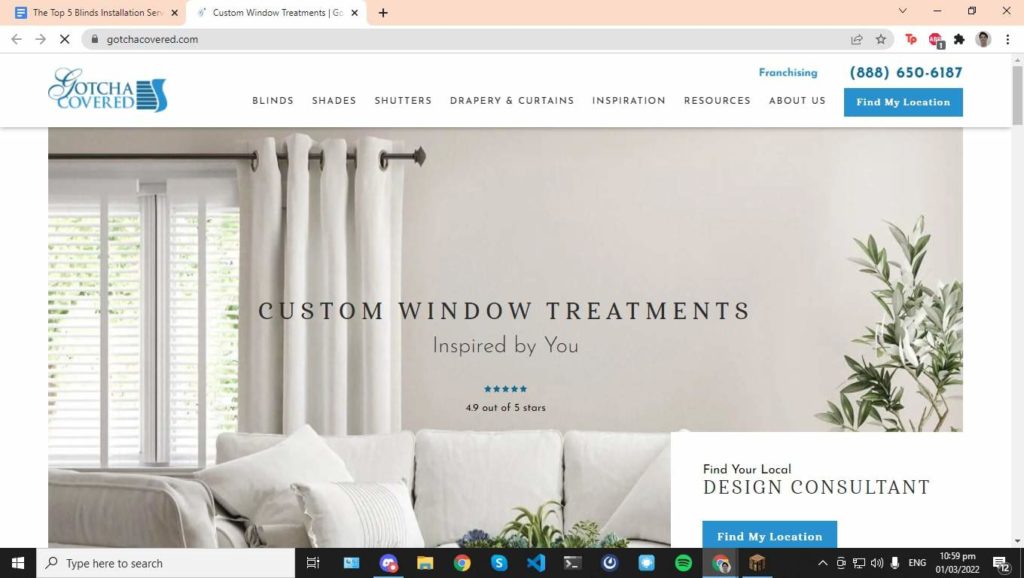 Test
Info
PRODUCTS
Blind Installation

Blinds & Shades Sales

Custom Blinds & Shades

Motorised Blinds, Plantation Shutters

Residential

Commercial

Smart Homes

WEBSITE
https://www.gotchacovered.com
ADDRESS
New Westminster, British Columbia V3M 3B8 Canada
CONTACT DETAILS
(888) 650-6187
OPERATING HOURS
Monday to Friday 8:00 am – 6:00 pm

Saturday 10:00 am – 4:00 pm

Sunday Closed
| | |
| --- | --- |
| Criteria | Ratings |
| Quality of Work | ★★★★★ (5/5) |
| Customer Service and Communication | ★★★★★ (5/5) |
| Affordability | ★★★☆☆ (3/5) |
| Services Provided | ★★★★☆ (4/5) |
Gotcha Covered are among the services in Vancouver that offer a wide range of products including shutters, shades, draperies, and curtains. If you're looking for a specific type of blind, then this company probably supplies it.
After speaking to some of their regulars, we found they were very happy with the company''s services and professionalism, mainly in the buying process. Clients were given plenty of options in terms of which products they prefer and how they want it set up.
Their prices and quotations, though not the cheapest, are fair too, we think. That's especially given the amount of positive feedback sent by their clients after the finishing touches were done.
We think it's great that they offer free design consultations on a daily basis as well. This is a great opportunity for those who don't really have a clue as to what kind of blinds they want.
Speaking of charity, they're also a company that's committed to partnering with local and national charities in the community.
Non-profit organisations like the Breast Cancer Research Foundation (BCRF) and Ovarian Cancer Canada are some of the groups they support. They allocate a portion of the company's funds to them, and since we like businesses that give back, we thought we'd mention it.
Free design consultations
Easy instalment system 
Partnered with local charities
Prices aren't cheap (though most are fair)
Customer Reviews
Fair prices, smooth installations
"Dealing with them was easy. This was one of the easiest parts of our renovations. The fine quality window coverings were just what we were looking for. Price was fair and the installation was smooth and professional. Highly recommended." —HU-957789747.
Great and accommodating consultation
"It was the first time in a long time I had picked out window fixtures, and with the variety available on the market I was quite overwhelmed. Mel helped me realize what I was looking for in my new home, and made it so not only are my windows modern and pleasant, they are also energy efficient, as well as matching the style of the house. Mel put in all his efforts to alleviate any possible challenges due to the ongoing COVID-19 pandemic, and to ensure the process went smoothly. Thank you Mel!" —HU-904691008.
3. Select Blinds Canada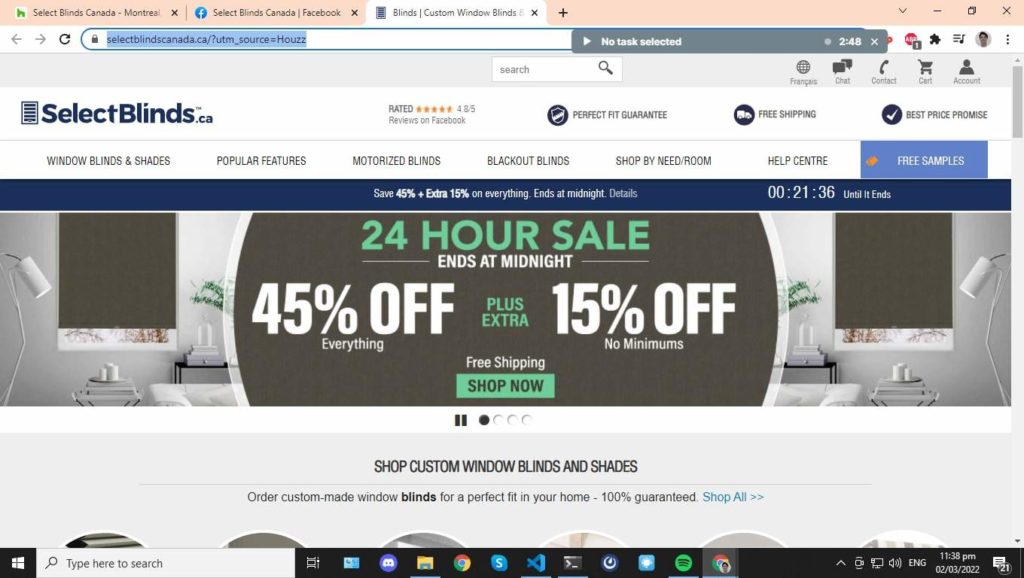 Test
Info
PRODUCTS
Window Blinds & Shades

Motorised Blinds

Blackout Blinds

Smart Blinds

Custom Blinds

Shutters

Skylights

Arches

WEBSITE
https://www.selectblindscanada.ca/?utm_source=Houzz
ADDRESS
5490 Thimens Boulevard, Suite 210 Montréal, QC H4R 2K9
CONTACT DETAILS
(888) 685-1735

Email: [email protected]

OPERATING HOURS
Monday to Friday 8:00 am to 8:00 pm Eastern Time
| | |
| --- | --- |
| Criteria | Ratings |
| Quality of Work | ★★★★☆ (4/5) |
| Customer Service and Communication | ★★★★☆ (4/5) |
| Affordability | ★★★★★ (5/5) |
| Services Provided | ★★★★★ (5/5) |
Canadian-owned and operated, Select Blinds Canada remains the leading online retailer of window blinds and shades in the country. Ever since 2005, the company has been building its name and they're quite well-known for their affordability and custom blinds.
A lot of positive feedback has been coming from clients directly after purchasing their products, with many expressing the installation being easy and the quality even better.
While Select Blinds Canada doesn't offer any form of installation service, they do offer technical support and consultations online.
We expected that with their employees with over 75 combined years of experience in the home service industry, their customer service must be quite reliable and sufficient. And as far as we've seen from our own test calls and consults, it does seem pretty good.
You can expect timely and professional service from them, we think, especially when it comes to their online shipping. That comes completely free within Canada, by the way.
We've even spoken to plenty of customers telling us that their product arrived sooner than expected. That's another good point – they ship out really promptly.
We also love that there aren't any additional fees or other nuisances after having the product delivered. The price you see in their market is the price you'll be paying.
Additionally, they also offer a "Best Price Promise", which is an interesting concept. If you manage to find another retailer that offers the same product within 60 days of purchase and at a lower price, the company would match that price, give you a 10% discount for it, and refund you accordingly.
Although their products mostly consist of blinds and shades, each item has a warranty of over 3 years and it's upgradable to 5 years with added benefits. Some benefits include being able to replace the item completely if any accident were to occur, regardless of reason.
That said, we only recommend getting the warranty upgrade if your windows tend to suffer damage very often. Otherwise, the freebie should suffice, so don't bother.
Free shipping within Canada
Free product samples (up to 12)
At least 3 years' warranty for products (upgradeable to 5 years)
Lowest price guarantee
Customer Reviews
Fast shipping, Easy installation with detailed instructions
"The blinds fit perfectly Look great and were easy to install! And they came fast! I love how they give detailed instructions to measure." —Lori Peters.
Great and accommodating consultation
"Select Blinds website is fantastic and also provides consultant live chat help if necessary. Their blind selection is outstanding and though I initially tried shopping around, could not beat their customization and possibilities for sizes. Measurement is well explained, however I measure first and then have my husband measure again. I have ordered zebra blinds in the past for our bedrooms which I love! Lately we ordered cellular shades for our RV. I chose blackout cellular shades for bedroom areas and light filtering cellulars for the rest of our 30 foot RV trailer. So far, only two blinds are installed in the bedroom which block light well and look wonderful. I can't speak for ease of installation, but my husband seems to accomplish this fairly quickly! Select Blinds will always be my only choice for blinds from now on and also will recommend to my family and friends!" —HU-904691008.
4. The Blind Guy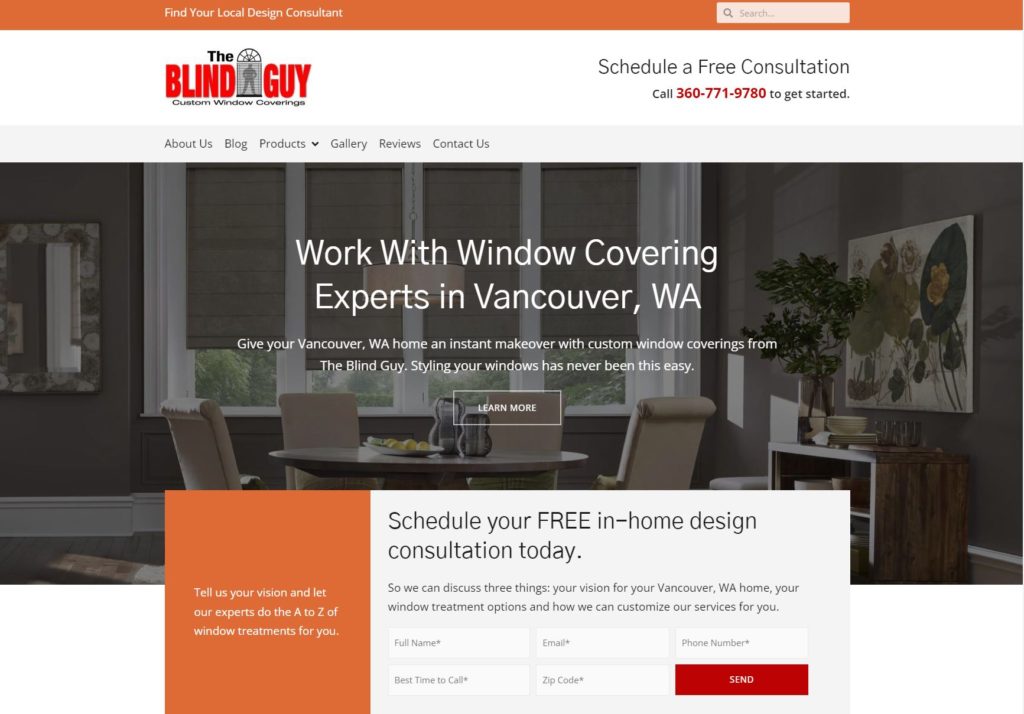 Test
Info
PRODUCTS
Aluminium Blinds

Custom Blinds

Horizontal Blinds

Motorised Shade

Pleated Shade

Roman Shade

Shutter

Valance & Cornice

Wood & Faux Wood Blinds Cellular Shade

Custom Shades

Motorised Blinds

Outdoor Shade

Roller Shade

Sheer Shade Installation

Solar Shade Installation

Vertical Blinds Installation

Woven Wood Shade Installation

WEBSITE
https://blindguyvancouverwa.com/
ADDRESS
13023 NE Highway 99 Vancouver, WA 98686
CONTACT DETAILS
360 771 9780

Email: [email protected]

OPERATING HOURS
Monday to Friday 8:00 am to 5:00 pm
| | |
| --- | --- |
| Criteria | Ratings |
| Quality of Work | ★★★★★ (5/5) |
| Customer Service and Communication | ★★★★★ (5/5) |
| Affordability | ★★★★☆ (4/5) |
| Services Provided | ★★☆☆☆ (2/5) |
The Blind Guy of Vancouver, otherwise known as Dale Beeson, has been servicing Clark County since 2005. Ever since, he's been building a brand of quality service and customer satisfaction.
For 10 years and counting, the company's been offering in-house estimates and installations of blinds, shades, and shutters. They have quite a reputation for it now, actually.
Clients we spoke to were eager enough to say how responsive and prompt Dale was, being able to get on a job right away and finish within well under an hour. For every client the company serves, Dale always happens to be on the job.
After on-site measurements are done, regulars are given a good deal of options along with professional suggestions and advice from Dale himself.
We think it's especially nice that consultations like these are done freely so you can properly decide on which type of blind to go for.
Other than serviceability, many clients are also happy with the company's affordability, with a price difference of almost $400 in one instance with other retailers.
By the way, the company also offers repairs and replacements for blinds on-request — with exceptional quality according to many reviews by past clients.
It's important to note that none of their custom blinds come with warranty, though, unlike the products offered in other blinds services in Vancouver.
Free home consultations
Affordable pricing
Customer Reviews
Affordable pricing
"He is always on time, responsive and professional. His price for our most recent purchase was over $400 less for the exact same product than other companies we were looking to use. We love working with him and have recommended him to many other people. The only way to go when shopping for blinds." —Michelle E.
Great service
"He was outstanding. Came out and measured the windows and we placed the order. He said may take 3-4 weeks BUT arrived in 1 week. He brought them out and installed in less than 30 minutes. Great service" —Gary C.
5. Final Touch Windows Covering Inc.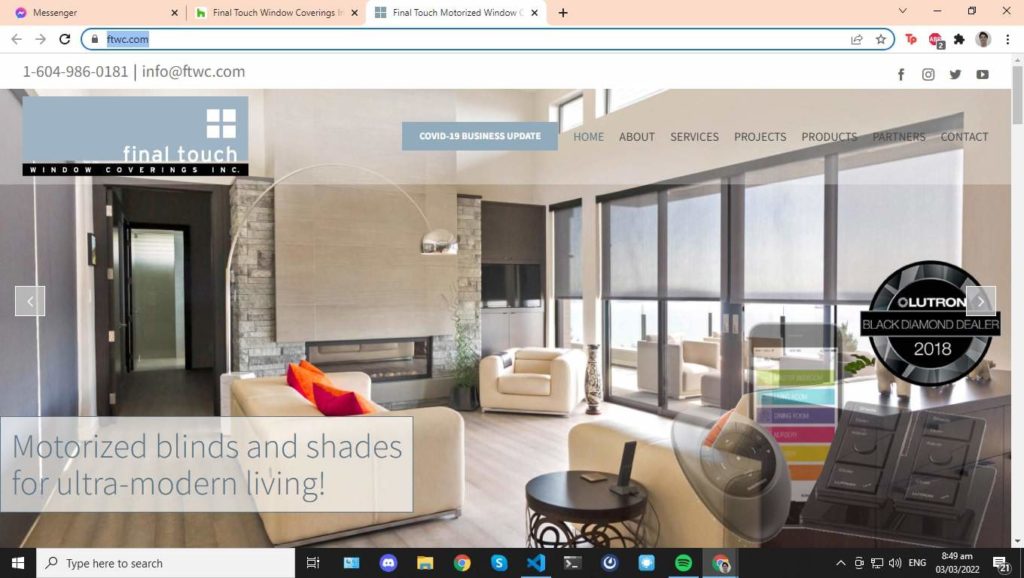 Test
Info
PRODUCTS
Blind Installation Custom Blinds & Shades Motorised Blinds
WEBSITE
https://ftwc.com/
ADDRESS
#101 - 758 Copping Street, North Vancouver, British Columbia V7M3G6, Canada
CONTACT DETAILS
(604) 986-0181

Email: [email protected]

OPERATING HOURS
Monday to Friday 9:00 am to 5:00 pm
| | |
| --- | --- |
| Criteria | Ratings |
| Quality of Work | ★★★★★ (5/5) |
| Customer Service and Communication | ★★★★★ (5/5) |
| Affordability | ★★★☆☆ (4/5) |
| Services Provided | ★★★★☆ (2/5) |
A family-owned business that started in 1991, Final Touch Window Coverings has been grounding itself in the vicinity of Vancouver for quite some time.
Ever since the start, the company has been garnering quite a few accomplishments including but not limited to an A+ rating in the Better Business Bureau (BBB) and the Houzz Award of 2021. Those are pretty good indicators of their customers' satisfaction.
Talking to some of their clients led us to know the professionalism and experience of their employees, with some having over 25 years in the home service industry.
We think their people's resumes alone say a lot about their reliability, which is important during the installation of window treatments.
They're usually open all weekdays from 9 to 5 but they also offer scheduled consultations in their showroom, which allows you to see your options.
Although they offer a variety of services and products, they mostly specialise in motorised shades, draperies, and shutters, so they're great if you want those.
We find it impressive too that they've managed to partner with Lutron, a highly reputable electronics manufacturing company.
With them being among the few Lutron Shading Double Diamond Dealers, we highly recommend giving this company a try if you're planning on using Lutron items, as it could lead to exclusive deals or discounts.
If you ever decide on working with them, though, it's important to note that they only install and service the products that they supply due to company policy.
Experienced and professional employees (25 years)
Specialised in motorised products
Has a showroom
Lutron Shading Double Diamond dealer
No free installations
Exclusively instals and maintains their own products
Customer Reviews
Great and accommodating staff
"In my role as an interior designer, I have worked with Final Touch on several high-end projects. This company has a particular expertise with motorized window treatments and their assistance has been invaluable in planning during the initial construction phase for accommodating the size and configuration of the blinds and/or drapery. I have found them to be precise with their craftsmanship and keen to assist with solutions to ensure their product integrates seamlessly with the other elements of the home. Their staff have been consistently personable and professional to work with." —Tanya Schoenroth Design.
Great service
"He was outstanding. Came out and measured the windows and we placed the order. He said may take 3-4 weeks BUT arrived in 1 week. He brought them out and installed in less than 30 minutes. Great service" —Gary C.
6. Lux Blinds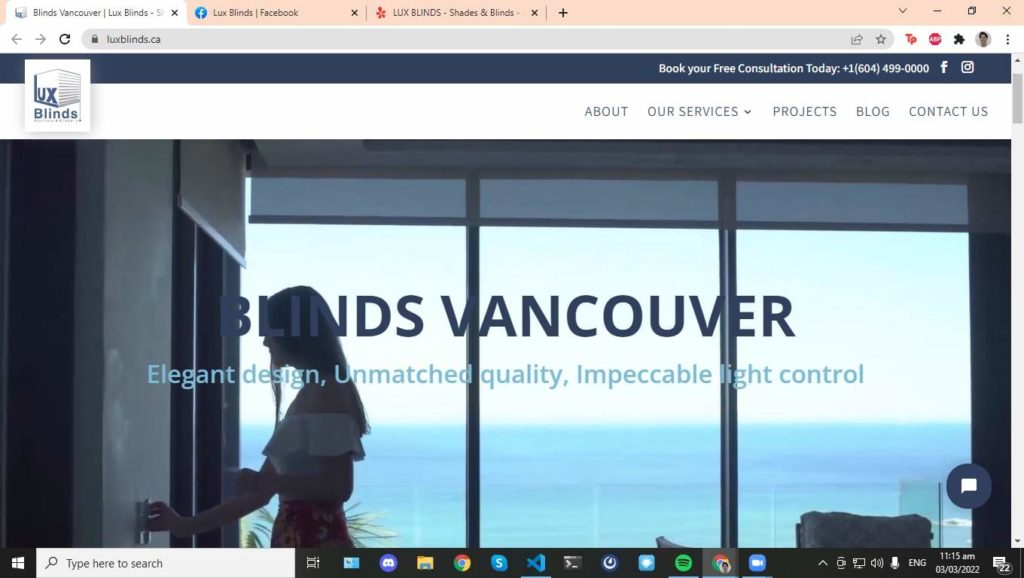 | | |
| --- | --- |
| Criteria | Ratings |
| Quality of Work | ★★★★★ (5/5) |
| Customer Service and Communication | ★★★★★ (5/5) |
| Affordability | ★★★★☆ (4/5) |
| Services Provided | ★★★★☆ (4/5) |
Situated right at the heart of Vancouver is Lux Blinds, offering quite a lot of services from custom blinds to drapery and motorization. We believe this company to be among the most competitive in customer satisfaction, having received a lot of positive feedback from past clients.
Most, if not all, of their customers we've spoken to speak highly of professionalism and patience from their staff. In many instances, installations were finished fairly quickly and deliveries even arrived sooner than expected.
They also offer a variety of building solutions to suit your specific needs whether that be keeping a room child-safe or simply wanting that extra light from the ceiling when you want it.
Don't know how you want your windows set up yet? Well, we highly recommend making use of their free consultation service as they do tend to offer great advice along with all the options you'd need to come to a decision.
Many customers were also satisfied with the quotations they received after having their blinds installed for them. We think that, other than the quality of service, it also has to do with their warranty which ranges from 5-10 years depending on the type of product.
Although they don't offer a lot of discounts or deals, prices are already affordable as they are, according to a good number of feedback from their regulars.
Top-notch customer service
Affordable prices
Free consultations
Varied solutions
Warranty
Customer Reviews
Great service and consultation
"From the first call through to the installation, I knew I was dealing with a top-notch business that has at its heart the customer's needs and satisfaction. Ramin was patient enough to take the time for two consultations, during which he explained my options and showed me samples. The customer service at Lux Blinds is superlative (unlike many other blinds companies which I contacted to get quotes from). The finished product is high quality. I wish more businesses had the ethic, the friendliness, and the honesty of Lux Blinds. Very highly recommended." —Gabriela D.
Accommodating staff
"Outstanding Service! the sales rep was very knowledgeable. He showed us different samples and options according to what we wanted and needed. and it exceeded all of our expectations without a doubt. the Install was done in a timely manner and they were able to accommodate to our working schedules. will definitely recommend them and will use them again in the future! Thank you Lux Blinds!!!!" —Cami G.
FAQs about Blinds
---
That concludes our list of the best blinds services you can find in Vancouver. Whether for reasons of practicality or simply aesthetics, blinds are a great addition to a household and we hope you get the right fit for you.
Along the way, maybe you'll find some windows needing replacements. Luckily for you, we've already reviewed the best window repairs in Vancouver.
Feel free to check them out right now!