The 6 Best Exterminators in Vancouver
Living in Vancouver can be a real treat thanks to the excellent year-round climate and the wonderful scenery. However, staying in close proximity to the wilderness isn't always ideal, especially when critters sometimes find their way into your home.
While some unwanted animal guests can be relocated with ease, others require special tools and equipment to remove safely. To help you get the best help for all your extermination needs, we've handpicked a list of the best exterminators in Vancouver.
How Much Do Exterminators Cost in Vancouver?
Any exterminator worth his or her salt will utilize equipment and training to tackle a wide variety of pests. Naturally, this means that clients will have to pay a service cost depending on their specific needs.
To make sure you have a basic understanding of extermination services, the table below contains standard offerings and their price ranges:
| | |
| --- | --- |
| Service | Cost |
| Termite control | $2,000 – $8,000 |
| Ant control | $100 – $500 |
| Bed bug treatments | $300 – $5,000 |
| Roach control | $100 – $400 |
| Silverfish control | $100 – $300 |
| Bat removal | $200 – $650 |
| Rodent removal | $150 – $500 |
| Wasp removal | $100 – $1,300 |
| Bee removal | $0 – $1,500 |
| Mosquito control | $100 – $500 |
As you can see, the price differences between certain services can be high. This is because jobs will differ in size from a small hornet's nest to a termite infestation spanning multiple rooms and stories.
It is worth noting that bee removal can sometimes be free depending on your service provider. While some beekeepers will happily handle a hive free of charge, others will charge a fee based on the hive's size.
The Best Exterminators in Vancouver
Now that we've established a basic understanding of some standard pest removal services, it's time to see what Vancity has to offer. Keep in mind, some of the companies on this list will excel at certain jobs more than others.
Now, in order to keep our list as accurate and unbiased as possible, we've analyzed each entry based on key factors such as:
Service offerings – To make sure our choices can deliver the needs of most clients, we've opted to look for companies that offer a relatively wide array of pest control services.
Customer rating – With service-oriented companies, one of the best performance indicators is the feedback of previous clients. We've taken this into account with each of our entries
Service areas – Naturally, we've made sure that all of the entries on our list cater to either Vancouver or the lower mainland as a whole.
X-factor – The best companies need to stay competitive, so we've also identified some special factors amongst our entries that help give them an edge over other exterminators.
1. Westside Pest Control LTD.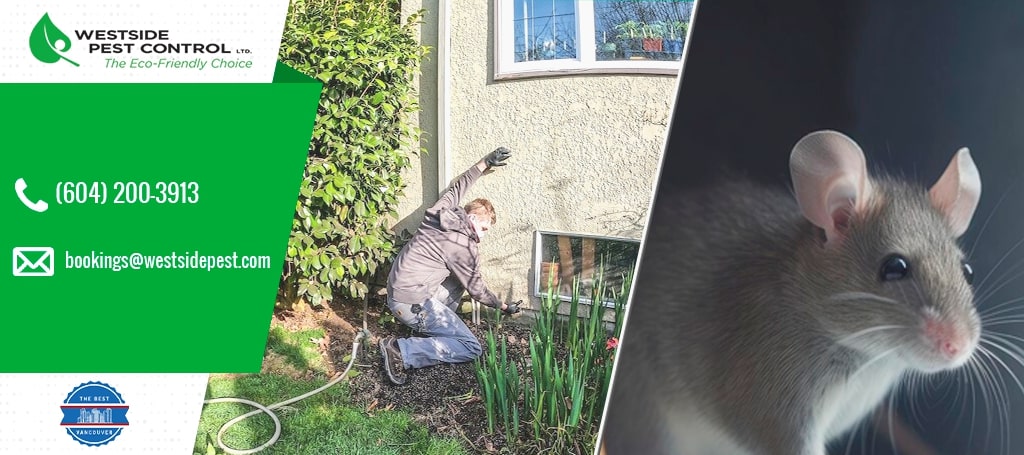 SERVICES
Residential pest control
Commercial pest control
Bird control
Rodent control
Ant control
Wasp/Hornet control
Wildlife control
Insect control
Antimicrobial cleaning
Bat Eviction
Attic/Crawlspace remediation
WEBSITE
https://westsidepestcontrol.com/
ADDRESS
Westside Pest Control Ltd. #1 – 120 Glacier Street, Coquitlam, BC V3K 5Z6
CONTACT DETAILS
Phone number: (604) 200-3913
Email:

[email protected]

OPERATING HOURS
Open 24/7
Westside Pest Control has been helping Vancouverites with their extermination needs for almost 12 years. In that time, they've racked up hundreds of jobs as well as memberships in several pest management associations.
To date, these folks are part of the National Pest Management Association, the Canadian Pest Management Association, and the Structural Pest Management Association of BC. By securing these memberships, this company displays an updated awareness of current industry practices.
Another benefit to being recognized by these pest control associations is the strict adherence to industry standards for health and safety. With this, clients can rest easy knowing that they aren't being exposed to harmful chemicals.
This is further backed by the company's guarantee of rodenticide-free rat and mice control services. As opposed to using poison to eliminate rodents, this company resorts to rodent traps and area denial practices for common pest entryways.
Overall, this company is extremely well-known in Vancity and the lower mainland thanks to its great all-around services and ample pest control experience. Clients who are partial to manual pest control practices would do well to consider this company.
Member of several pest control associations
Poison-free rodent control services
Raptor-friendly rodent control
Open for service 24/7
Manual rodent control can take longer 
Rodent control services require installation of grates/seals
Customer Reviews
I would recommend this company.
"Ondrej was very professional and very pleasant when took care of my wasp problem this morning. He explained to me the process so I knew exactly what was going on. I would recommend this company." – Jennifer P.
Very professional and helpful
"very professional and helpful, the men that arrived were informative kind, and YES i am going to use the outstanding firm on an annual basis for inspection and whenever I have a bug problem." – Peter W.
2. Local Pest Control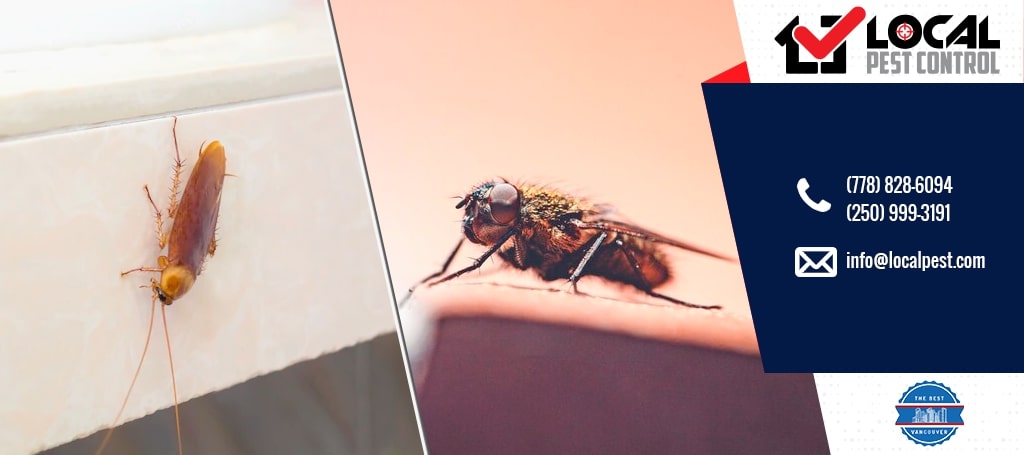 SERVICES
Rodent control
Insect & bug control
Wildlife control
Stink bugs
Bed bugs
Pest control products
Commercial pest control
WEBSITE
https://www.localpest.com/
ADDRESS
570 Clark Dr, Vancouver, BC V5L 3H7, Canada
CONTACT DETAILS
Phone number: (778) 828-6094, (250) 999-3191
Email:

[email protected]

OPERATING HOURS
Monday: 8 am – 8 pm
Tuesday: 8 am – 8 pm
Wednesday: 8 am – 8 pm
Thursday: 8 am – 8 pm
Friday: 8 am – 8 pm
Saturday: 8 am – 8 pm
Sunday: 8 am – 8 pm
Local Pest Control started off primarily dealing with bed bug infestations due to an unsavory encounter between the company's owner and the tiny pests. From standard bed bug eradication, the company has branched out considerably over the years.
With qualifications in insect extermination, wildlife control, and rodent control, these folks are able to handle a wide variety of problems. To further supplement this, the company also keeps its technicians updated with the latest industry practices and training.
Throughout its development, Local Pest Control has improved continually on its bed bug extermination program. The company now employs a variety of practices and treatments including biopesticides and heat.
To make things easier, clients can also opt for a full-service furniture and bedding removal service. During the process, infested pieces of furniture are removed and treated based on the client's preferences.
These comprehensive services take the hassle out of handling a bedbug infestation on your own. The icing on the cake is that the company's heat treatment process leaves no traces of pesticides or chemicals.
Bedbug specialists
Offers pesticide-free bedbug treatment
Extremely wide service area
Limited service hours
Bedbug heat treatment can take several hours
Customer Reviews
Right from the get go the service was timely and professional
"We recently hired Local Pest Control as we found out we had a family of rats living under our deck. Right from the get go the service was timely and professional. Robbie was our technician and we were so impressed with him. He was very professional, knowledgeable and so friendly and pleasant. He walked us through the whole process and answered all our questions. We were a bit concerned because our deck is just off an Airbnb that we run out of our basement and of course we needed it all to be a bit discreet!" – Jane F.
I can't believe that my place is bed bug free again
"I was extremely disturbed when I learned bed bugs attacked my place (for the first time in my life). Even if I have a high level of hygiene, still these malicious pests find their way to your life at some point. I first tried tons of chemicals myself to eliminate them but after a month of unsuccessful attempts, I asked the Local Pest Control team to take control. They did 2 sessions of chemical extermination and I can't believe that my place is bed bug free again. Mark did an absolutely great job. I would definitely recommend them. Thank you for your valuable service guys!" – Hooman M.
3. Alpine Pest Control Ltd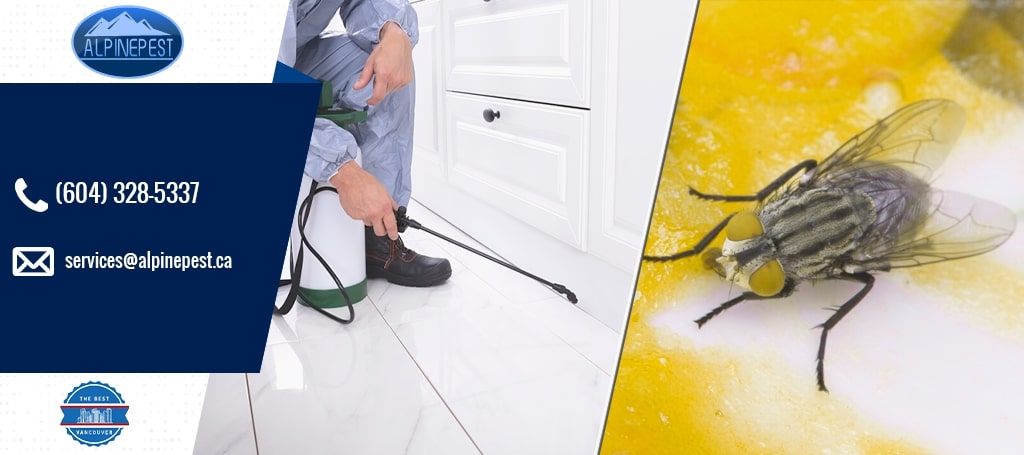 SERVICES
Ant control
Bedbug control
Cockroach control
Flea control
Sowbug control
Rodent control
Moles control
Bird control
Raccoon control
Silverfish control
Spider control
Wasp control
Commercial pest control
WEBSITE
https://www.alpinepest.ca/
ADDRESS
5577 Commercial St, Vancouver, BC V5P 3N6, Canada
CONTACT DETAILS
Phone number: (604) 328-5337
Email:

[email protected]

OPERATING HOURS
Monday: 7 am – 7 pm
Tuesday: 7 am – 7 pm
Wednesday: 7 am – 7 pm
Thursday: 7 am – 7 pm
Friday: 7 am – 7 pm
Saturday: 7 am – 7 pm
Sunday: 7 am – 7 pm
Alpine Pest Control has put in roughly 7 years of service in the pest extermination industry. These folks specialize in treating insect infestations but fortunately, they also handle rodents and birds.
Being experts in insect extermination means this company is able to deal with critters that other companies don't necessarily handle. Among our entries, this particular company is one of the few that handles sowbugs.
With that said, focusing mainly on insect extermination results in the company making use of lots of pesticides and pest control chemicals. To reduce the health risks associated with these substances, Alpine Pest Control opts for eco-friendly pesticides.
We'd be remiss if we didn't also mention this company's commercial pest control services. In the past, Alpine Pest Control has worked for educational institutions, food vendors, hotels, retail shops, and small businesses.
Having these jobs under their belt shows an intricate understanding of safe pest control practices. Along with this, they also show that the company is capable of working under tight deadlines in order to adhere to a business's hours.
Specializes in insect extermination
Works with various commercial establishments
Utilizes eco-friendly pesticides
Open on weekends
Relatively new to the pest control industry
Other pest control services are limited
Customer Reviews
Alpine helped remove two hornet nests from our property
"Found Alpine after I got stung by a hornet. Alpine helped remove two hornet nests from our property – one in a bush and one in a tree 10 ft high. Quick response from the friendly owner even on a holiday long weekend. He was well-prepared, got the job done quick, and included disposal off-site. Reasonable rates and gave me some tips on my DIY squirrel prevention work too. Hope I don't have any pest problems in the future, but if I do, I know who to call!" – Jason N.
The owner is very kind and respectful
"I truly appreciate Alpine Pest Control. I had a wasp problem and the response was quick. The owner came and treated the area. He did mention that if the problem continued, that he would come back. Sure enough not all the wasps died and he came back at no charge. The owner is very kind and respectful. Really loved the service and will use them again. I would rather support this small business that a bigger company where the prices are higher and the service might not be to my standards." – Josue Menjivar
4. Phantom Pest Control Vancouver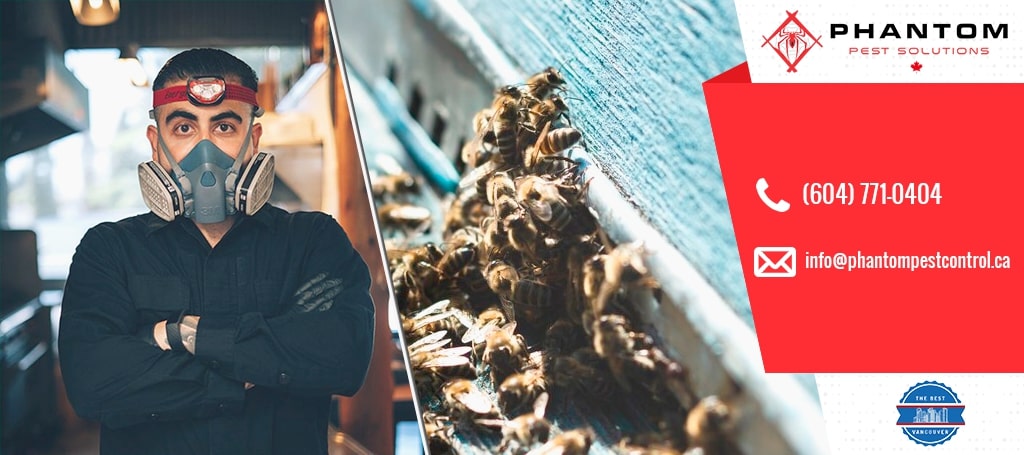 SERVICES
Fly control
Rodent control
Bed bug extermination
Ant control
Spider control
Cockroach control
Silverfish control
Wasp/Hornet control
Commercial pest control
COVID-19 Disinfection
WEBSITE
https://phantompestcontrol.com/
ADDRESS
777 Hornby St Suite 600, Vancouver, BC V6Z 1S4, Canada
CONTACT DETAILS
Phone number: (604) 771-0404
Email:

[email protected]

OPERATING HOURS
Monday: 9 am – 5 pm
Tuesday: 9 am – 5 pm
Wednesday: 9 am – 5 pm
Thursday: 9 am – 5 pm
Friday: 9 am – 5 pm
Saturday: closed
Sunday: closed
Phantom Pest Control was founded in 2011 by a veteran pest exterminator named Al. In Al's words, he was tired of the cut-and-dried pest control services being offered in Vancouver and he wanted to provide a more personal approach to pest control.
Though we can't speak on Al's true motives for getting into the industry, his company's excellent work speaks plenty. All together, Phantom Pest Control offers 12 unique services in addition to "pest exclusion" work.
For those who are unfamiliar, pest exclusion is simply the practice of keeping pests out of living spaces by means of seals, grates, and other barriers. In the long run, this process is said to be more efficient and cost-effective at keeping unwanted critters out of living spaces.
When it comes to standard jobs, this company follows a simple 3-step plan starting with an assessment, then a pest control solution, and finally aftercare.
As basic as it may seem, the additional aftercare procedure helps protect against persistent pests or recurring infestations.
In many cases, the first round of pest extermination doesn't always result in complete eradication. Because of this, Phantom Pest Control has a full work guarantee to help provide clients with long-lasting solutions to their pest concerns.
Comprehensive aftercare feature
Founded by a veteran pest exterminator
Specializes in pest exclusion work
Less reliant on pesticides for pest control
Some services require several visits
Customer Reviews
Excellent experience with this fine company all around
"Excellent experience with this fine company all around. They came in and over-delivered by doing the job impeccably. The results were evident shortly after and they even followed up to make sure my pest issue is fully resolved. This has been a very pleasant experience for me and the outcome has be superb. I will definitely work with Phantom Solutions again and recommend it to anyone out there needing pest control services. An easy 5-star in all categories." – Rostam A.
Al and his company were very professional, quick, and easy to deal with
"Al and his company were very professional, quick, and easy to deal with. He did a very good job explaining the process and the step-by-step procedure of the removal and what to expect afterwards. He was very friendly and I would highly recommend his company for any pest removal in the future. Thanks again, Al!" – Paul C.
5. Humane Solutions Wildlife & Pest Control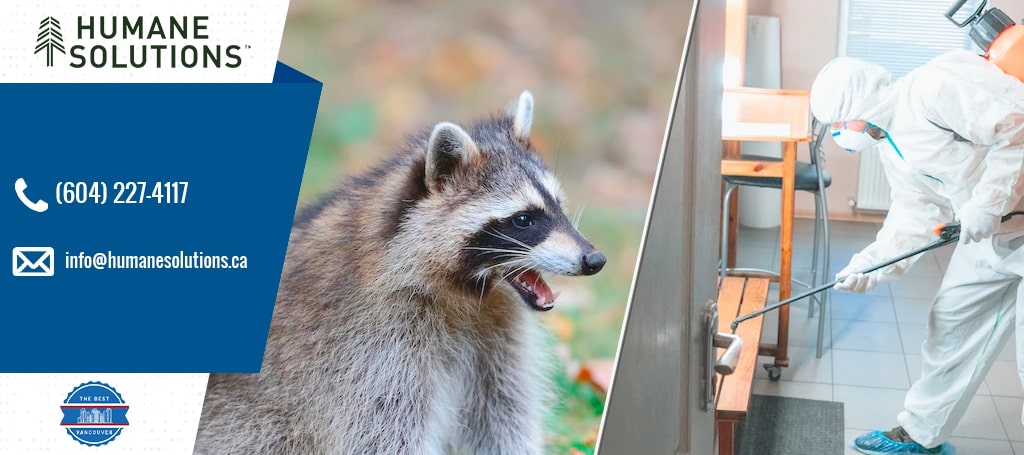 SERVICES
Ant control
Beaver control
Bird control
Rat control
Squirrel control
Wasp control
Commercial pest control
WEBSITE
https://www.humanesolutions.ca/
ADDRESS
1089 W Broadway #205, Vancouver, BC V6H 1E5, Canada
CONTACT DETAILS
Phone number: (604) 227-4117
Email:

[email protected]

OPERATING HOURS
Monday: 8 am – 5 pm
Tuesday: 8 am – 5 pm
Wednesday: 8 am – 5 pm
Thursday: 8 am – 5 pm
Friday: 8 am – 5 pm
Saturday: 8 am – 5 pm
Sunday: closed

Humane Solutions prides itself on providing eco-friendly, poison-free solutions to Canadians all over the lower mainland. These folks offer all your standard pest control services but with each job, they apply a customized pest control remedy.
The logic behind this approach is in the company's beliefs which strongly avoid the use of chemical poisons. Instead, this company searches for solutions that help to permanently relocate pests as opposed to exterminating them.
One such example of this approach is the company's creation of a special rodent gate for a squirrel-plagued client. As opposed to harming the squirrels, this company's solution allows the creatures a one-way exit from the client's backyard – allowing them to leave but not return.
We must admit, this company's solutions may not be for everyone, especially if a client is partial to pesticide solutions. Additionally, the creation and implementation of specialized pest control plans can often take some time to yield results.
But, for those who wish to find a more animal-friendly pest control service, Humane Solutions can be a great option. With close to 200 jobs in the books, clients can be confident in this company's ability to deal with stray wildlife and pests in a safe manner.
Specializes in wildlife control
Great for animal-friendly pest solutions
Creates custom solutions for each job
Limited experience with insect control
Animal-friendly pest solutions can take longer 
Customer Reviews
The staff replied promptly and did an excellent job…
"We are more than pleased to find people whose goal with wildlife is cohabitation and enhancement rather than extermination. The staff replied promptly and did an excellent job in a courteous and thoughtful manner. We now have two gorgeous bat boxes, safely wrapped trees and a well-constructed beaver exclusion drain for our pond. We are looking forward to the future changes in our wetland and even more biodiversity. Our Organic and Salmon-Safe certification has been enhanced by their work. We highly recommend their work."- Left F.
We truly value their humane approach to the wildlife…
"Humane Solutions staff excelled at helping us get rid of mice problems in our house in all aspects of their service from consultation, treatments, to follow ups this past August. We were most impressed about their professional and friendly customer service as well as their remarkable efficiency, so much so that we have currently entrusted our other residential property to them and hope to do the same for our commercial building shortly after. We truly value their humane approach to the wildlife and focus on the root of the problems.
Highly recommended!" – Mi Soo P.
6. Natural Pest Solutions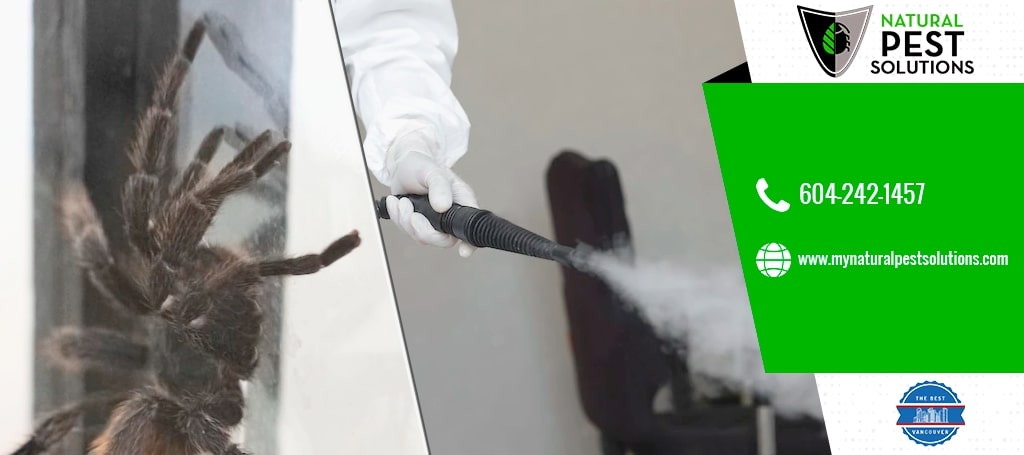 Natural Pest Solutions is your go-to pest control service that will not only deliver you quality services but also peace of mind as well. They know how to handle different types of pests such as rats, spiders, ants, and termites among many others.
They have a referral website where you can easily get in touch with their professionals and consult with them regarding your situation. You will have no problem coordinating there will be only point-person all throughout your job with them.
They are partnered with highly experienced personnel and companies that have done numerous successful pest control services time and time again. Should you choose them to handle your pest issues, expect that they will bring their years of experience into every decision they make that is for your health and your property's wellness as well.
We recommend this company for your pest control services due to their commitment to quality services and genuine concern for you and your family's health that pushes them to put their best foot forward in every job that they handle for you.
Experienced specialists
Quality services
Good communication protocols
FAQs About Exterminators
More Articles For Household Services
If you're still looking for an exterminator or you feel like we've left out a great company, then please let us know. In the meantime, check out our other lists for more reliable services to keep your house looking and feeling like a true home: