The 9 Best Painting Companies in Vancouver
Colors can have a direct effect on our emotions. That's why adding a little color to a workspace or room can go a long way.
But unless you grew up painting picket fences, your painting skills may be lacking a bit. Not to worry though, we've got you covered with a list of the best painting companies in Vancouver.
Here, we'll introduce you to our picks and give you their contact info, services, and other essential data. With this knowledge, you'll have all you need to pick a painter for your next project.
How Much Does A Painting Project Cost in Vancouver?
To kick things off, let's break down costs.
The cost of painting a home or office in Vancouver will often vary with each company. There are also other factors to consider like the cost of paint and labor.
But, as a rule of thumb, the area is usually the main cost driver. To help give you an idea we've rounded up some data and placed it in a neat table below:
| | | | |
| --- | --- | --- | --- |
| Project location | Average cost | Lowest cost | Highest cost |
| Interior project | $2,880 | $100 | $21,000 |
| Exterior project | $5,290 | $200 | $20,000 |
| Full house project | $16,476 | $7,800 | $40,000 |
The Best Painters in Vancouver
Now that you've got a rough idea of how much to budget for your project, let's see which painter is right for you.
1. WOW 1 DAY PAINTING
BEST FOR
1-day painting projects
SERVICES
Commercial painting
Interior/Exterior house painting
Wallpaper removal
Popcorn ceiling removal
Drywall repair & preparation
Cabinet painting
Deck & fence painting
Pressure washing
Color consultation
WEBSITE
https://www.wow1day.com/services/commercial-painting/
ADDRESS
1162 Forge Walk, Vancouver, BC V6H 3P9, Canada
CONTACT DETAILS
Phone number: (604) 332-4824
OPERATING HOURS
Monday: 8 am – 9 pm
Tuesday: 8 am – 9 pm
Wednesday: 8 am – 9 pm
Thursday: 8 am – 9 pm
Friday: 8 am – 9 pm
Saturday: 9 am – 8 pm
Sunday: 9:30 am – 6 pm
Sitting at the top of our list is WOW 1 DAY PAINTING. This company takes the cake when it comes to quick and efficient projects.
As the name suggests, these painters start and complete painting within a day. This leaves you with more time to enjoy their excellent work.
The secret to their quick completion time lies in their massive technical team.
Most companies use smaller teams working over the course of several days. But WOW 1 DAY PAINTING uses a large team to complete all painting tasks in a day.
They pair this with comprehensive consultation, pre-planning, and a 2-year warranty.
Put this all together, and you get a project that runs smoother than the fresh paint on your home!
Efficient projects
Excellent workmanship
Comprehensive pre-planning
Available on weekends
A larger workforce means higher costs
Customer Reviews
This company is one of the best painting companies in Vancouver. It's also backed with a solid rating and a mob of rave reviews:
"From start to finish, one of the best experiences we have had when it comes to home renovations etc. From the original in-home quote with Jeanette., The experienced team arrived on the day of our service WOW 1 Day out did themselves. The team that came in were professional, and covered off everything Jeanette quoted us on. At the end of the day, they walked us through the entire job, and anything that we were concerned about, they fixed on the spot. If you want fast, friendly, quality workmen ship, then these are the people. I will definitely be recommending them to my friends, and family and will be sure to call in the future for any other painting projects we have." – Stacey D
"Need a painter? Look no further. Wow 1 Day will take care of the most complicated of jobs. We had a ceiling with severe water damage, cracks in the drywall and concrete, and a previously botched paint job from another painting company. We had lost hope. Pieter, Mike, and Jeannette from Wow 1 Day came to the rescue and completely repaired and painted our ceiling. Looks like new now! Highly recommended. High quality, affordable, and professional." – DD T.
2. The Vancouver Painting Company
BEST FOR
Commercial Projects
SERVICES
Interior/Exterior house painting Commercial painting
WEBSITE
https://vancouverpaintingcompany.ca/
ADDRESS
The Vancouver Painting Company ® 1596 Island Park Walk, Vancouver, BC V6H 3Z8
CONTACT DETAILS
Phone number: (604) 349-6387
Email:

[email protected]


Fax: (604) 349-6388
OPERATING HOURS
Monday: 7 am – 7 pm
Tuesday: 7 am – 7 pm
Wednesday: 7 am – 7 pm
Thursday: 7 am – 7 pm
Friday: 7 am – 7 pm
Saturday: 7 am – 7 pm
Sunday: 7 am – 7 pm
The Vancouver Painting Co has been painting for over 20 years. They've honed their craft to an art, and they're especially good at commercial projects.
From Apple Stores to full-scale condos, no project is too daunting for them.
With that said, this business is no slouch when it comes to painting homes either. A glance at their past projects will show how skilled these folks are.
Getting a quote over the phone is a breeze and setting up an appointment is simple with their website. If you've got a commercial space in need of some color, this is the company to call.
Great with commercial projects
Available for phone consultations
Loads of experience in the painting industry
Insured painters in case of accidents
A limited number of services
Customer Reviews
Here's what clients had to say about The Vancouver Painting Co:
"Top professional service, friendly., reliable. What superior to others is the company has professional painters, an army of six. Got the job done in 3 days with top quality. Other contractors can only offer a turnaround time of 10 days. In the house buying/selling or renting process, time is money. To that end, not sure anyone can beat the money saved." – Yoshida H.
"The painters were on time, fast, efficient and left us with beautifully painted walls. High attention to detail left us with almost no stray paint marks. And, they used well under the estimated amount of paint, so we didn't have to buy extra part way through. It was really easy to schedule this paint job and it was the best deal we could find. I would use The Vancouver Painting Company again!" – Mohamed W.
3. Hemlock Painting
BEST FOR
House Projects
SERVICES
Interior/Exterior house painting
WEBSITE
https://www.hemlockpainting.com/
ADDRESS
509 – 2770 Sophia St Vancouver, BC V5T 0A4
CONTACT DETAILS
Phone number: (604) 330-7609
Email:

[email protected]

OPERATING HOURS
Monday: 8 am – 6 pm
Tuesday: 8 am – 6 pm
Wednesday: 8 am – 6 pm
Thursday: 8 am – 6 pm
Friday: 8 am – 6 pm
Saturday: 8 am – 6 pm
Sunday: 8 am – 6 pm
Hemlock Painting stands by old-school principles. They take great pride in their work and strive to give a great experience.
Located in the heart of Vancouver, this company has over 17 years of experience. This translates to beautiful work at an affordable price.
They take pride in having a team made of qualified, experienced professionals. Also, when it comes to project planning, they're quick and efficient.
It all starts with an online appointment, followed by a project estimate. Once everything is set, the technical team works their magic.
Last but not least, to ensure full customer satisfaction, they back their work with a solid guarantee.
Perfect for home projects
Painstaking attention to detail
Located in the heart of Vancouver
Focused on house painting
Small technical team
Customer Reviews
Hemlock's old-school approach to their craft has helped leave a lasting impression on their clients:
"Great experience working with Hemlock repaint our apartment! I live outside of the city and was not able to travel – so everything needed to be arranged remotely. Elliot was quick to respond to all my questions, and completed the estimate and provided helpful colour advice via email (we went with his colour suggestion – and are very happy with it!). We had a fairly short window during which painting could be completed, and Elliot and his crew accommodated our timeline, completing the work on time, on budget, and to very high standards. Would definitely recommend!" – Ryan P.
"We had a great experience working with Elliot and Hemlock painting. Elliot is an excellent communicator and crew was friendly and professional and easy to work with. The job was completed efficiently, keeping to the schedule they had outlined. We were very pleased with the quality of their work. Highly recommended." – Susan B.
4. AZ Painting
BEST FOR
Commercial and multi-residential painting services
SERVICES
Commercial painting
Multi-residential painting
Municipal painting
Strata painting
Interior painting
Exterior painting
Pressure washing
Waterproofing paint
Caulking services
Natural staining
WEBSITE
https://azpaintingvancouver.ca/
ADDRESS
7235 18th Ave #2, Burnaby, BC V3N 1H4
CONTACT DETAILS
778-231-6622 | [email protected]
OPERATING HOURS
Mon-Sat 8AM to 6PM
Sun Closed
AZ Painting provides painting services, pressure washing, waterproofing and caulking for residential, commercial and multi-residential buildings in Vancouver and surrounding cities.
Amir Zamani established AZ Painting in 2011 as a father and son enterprise. Together, Amir and his father have over 30 years experience in the painting field.
They strongly believe in the benefits of working with their in-house crew. AZ Painting's crew is dedicated, well-trained, conscientious and friendly.
This translates to consistently high-quality work based on extensive knowledge of painting techniques and materials. A poor painting job will deteriorate quickly.
10 years in business performing commercial and residential projects
Our paint jobs last 20+ years
3, 5, 10 years warranty options
Excellent in-house painters
Rates are unavailable online
Not the optimum company for same-day services
Customer Reviews
Here's what people have to say about AZ Painting:
"AZ Painting does an excellent job. The crew is professional and did a wonderful job as they did not leave a mess as they were painting. We have received numerous compliments on the paint job inside our home. The corbels and molding were added and painted by AZ Painting. They have also painted the outside of the house and were careful to remove any rotted wood. I highly recommend this company."
"We had AZpainting come in for a re-paint and repair of some drywall damage a tenant left behind. Amir and his team were professional and accommodating of the short time frame our project required.I would gladly recommend and choose AZpainting for our future projects."
5. Budget & Save Painters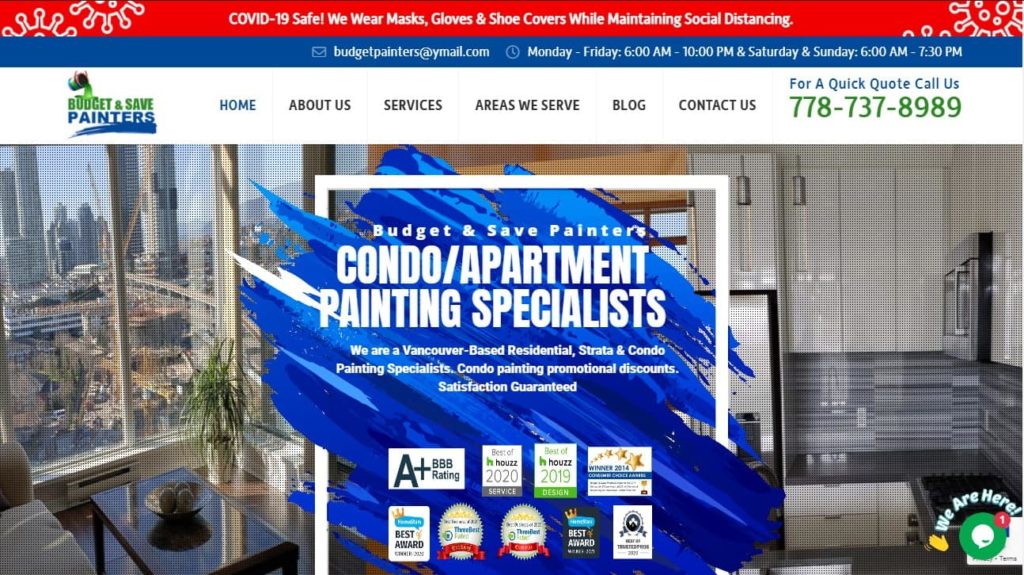 BEST FOR
Unique designs
SERVICES
Commercial painting
Interior/Exterior house painting
Deck & fence painting
Pressure washing
Color consultation
WEBSITE
https://budgetpainters.ca/
ADDRESS
1200 W 10th Ave, Vancouver, BC V6H 1J5, Canada
CONTACT DETAILS
Phone number: (778) 737-8989
Email:

[email protected]

OPERATING HOURS
Monday: 6 am – 10 pm
Tuesday: 6 am – 10 pm
Wednesday: 6 am – 10 pm
Thursday: 6 am – 10 pm
Friday: 6 am – 10 pm
Saturday: 6 am – 7:30 pm
Sunday: 6 am – 7:30 pm
Budget & Save is a great option for completing projects without breaking the bank. They offer custom home improvement solutions that work around your wallet.
The best thing about this company is the amazing value-for-money that you get. As proof of this, the company has received two consecutive awards from Homestars.com.
Their designs and work are unlike any other competitor. If you need any proof, then just take a peek at their portfolio and you'll see they're the real deal.
By using zero-VOC paint, these folks reduce the risk of dwelling around drying paint. Pair this with their unique consultation and designs and you get a company that's hard to beat.
If you'd like to add a one-of-a-kind touch to your home or business, Budget & Save is the go-to company.
Unique home improvement solutions
Flexible project planning
Highly recognized in their industry
Their premium paint can be costly
Customer Reviews
Budget & Save's unique designs have earned them much renown from their clients. Even among the best painting companies in Vancouver, their artistic eye is impeccable:
"There is a reason why this company has over a hundred five star reviews. Kerry's team is so professional- they provided paint recommendations based on our family lifestyle and met our timelines as promised. Pricing was extremely reasonable, too. It is obvious that they take pride in what they do. Kerry is easy to work with and so meticulous-he pointed out all the small things that he'd fill, fix and paint over… we really appreciate his impeccable eye for detail. Can't recommend this company enough – thank you, Kerry and Kelly!" – Joanna Y.
"Kerry painted my one bedroom condo, completed the job in the time frame we needed, and worked with the budget we had. He did a beautiful dark green accent wall in the living room which we love. He was friendly and easy to work with. We are very pleased with his services." – Alayna L.
6. CertaPro Painters
BEST FOR
A customized project plan
SERVICES
Commercial painting
Interior/Exterior house painting
Wallpaper removal
Drywall repair & preparation
Cabinet painting
Deck & fence painting
Pressure washing
Color consultation
Stucco repair & painting
WEBSITE
https://certapro.com/vancouver/
ADDRESS
8783 Cambie St, Vancouver, BC V6P 3J9, Canada
CONTACT DETAILS
Phone number: (604)737-9002
Email:

[email protected]

OPERATING HOURS
Monday: 9 am – 5 pm
Tuesday: 9 am – 5 pm
Wednesday: 9 am – 5 pm
Thursday: 9 am – 5 pm
Friday: 9 am – 5 pm
Saturday: closed
Sunday: closed
CertaPro isn't the highest on our list, but this doesn't mean you should count them out. They take on both residential and commercial projects.
One look at their completed projects will show their skill and respectable work.
Their painters are all punctual, well-trained, and qualified. The team is also insured to protect against work accidents and mishaps.
From start to finish, the project planning process is very smooth. They use an app to make virtual estimation accurate and easy.
This business excels at planning a project that is tailored to suit your needs. The long list of offered services also means no home improvement task is out of the question.
Customized project plans
Virtual project estimation
Wide variety of services
Not available on weekends
Customer Reviews
CertaPro has built a reputation as a personable and efficient painting company. These reviews are great proof of that:
"We were thrilled with the services from beginning to end. Our painting team led by Laszlo was professional and did a fantastic job. They were very respectful and easy to communicate with. They were so flexible and always willing to offer solutions to our problems. Working to coordinate with Nikki was so great. We have told many friends and would definitely use them in the future." – Susie B.
" Team at CertaPro painters were very professional from scheduling of the appointment for the estimate to the day the estimate was completed. Dexter, the Sales Associate called ahead to advise his arrival time. He then took the time to do a thorough walk-through and took pictures. That same afternoon he provided the quote which was the most comprehensive and detailed I have received from any companies that I have received for this painting project." – Greg T.
7. Unitus Painting
BEST FOR
Professional painting contractors
SERVICES
Commercial painting
Strata painting
Residential painting
WEBSITE
https://www.unituspainting.com/
ADDRESS
PO Box 21126
Maple Ridge Square RPO
Maple Ridge, BC V2X 1P7
CONTACT DETAILS
Phone number: 604-357-4787
OPERATING HOURS
Contact for more details
Unitus Painting believes in doing things right. Whether it's interior or exterior painting, commercial, strata or residential, they focus on proper preparation and use the appropriate products suited for your project.
They provide exceptional quality and value to its clients through its time tested processes.
From detailed estimates, progress reports and quality control measures, Unitus Painting provides an industry leading experience.
In fact, they understand the anxieties and trepidations that clients can have when undertaking the painting of their house or commercial and strata property. This is why they have a warranty that covers all labour and materials for a period of two years
49 years of combined management experience
Extensive warranty
Uses low odour/VOC products to limit the "paint" smell inside your property
Rates are unavailable online
8. HAUS Handyman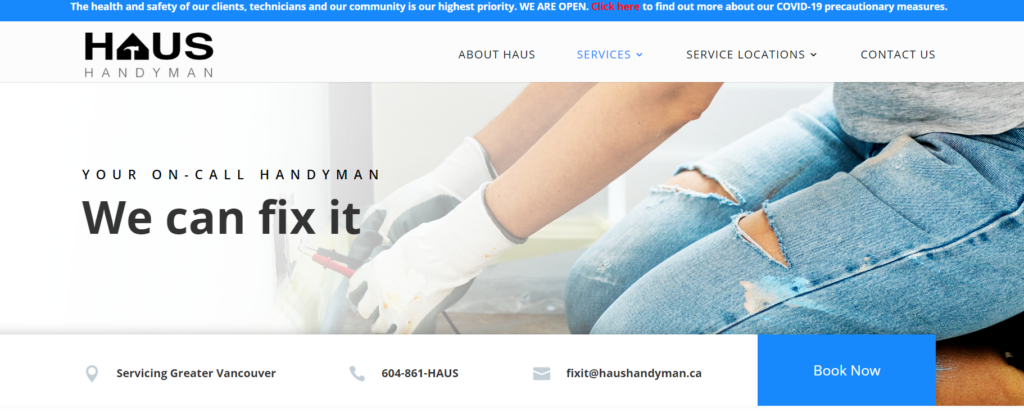 HAUS Handyman is Greater Vancouver's premier one-stop handyman service. Their team of HAUS professionals for hire can assist with any repairs you may need.
As one of the most trusted handyman service in Vancouver BC, no job is too big or small.
They have decades of experience in the construction industry – whatever it is, they can fix it. Whether you're looking for quality crown molding installation, furniture assembly, plumbing services, emergency electrician help, painters, they can help.
Their team can help with all kinds of odd jobs and home maintenance issues, especially for those who are in North Vancouver and the other surrounding areas, including Burnaby, Surrey, and Langley
All-around handy man
Dedicated team of experts
Rates are unavailable online
Customer Reviews
Here's what people have to say about HAUS Handyman:
"Haus were the successful bidder to replace fencing at my strata complex. They did an excellent job. Carlos was very professional and Benjamin was an excellent project manager. They finished in 3 days what I expected would take a week and it looks great."
"We've used HAUS Handyman twice for repairs related to our condo. Extremely responsive and could get the job done very quickly (even during the Xmas holiday break). Ben and his team are great. Our go-to people for condo repairs. Highly recommend."
9.   Glamour Painting and Decorating Ltd.
BEST FOR
Residential painting
SERVICES
Residential painting
Commercial painting
Industrial painting
Pressure washing services
WEBSITE
https://glamourpainting.com/
ADDRESS
1940 Prairie Ave, Port Coquitlam, BC V3B 1V5, Canada
CONTACT DETAILS
Cell: 604-779-5852
Office: 604-464-4911
OPERATING HOURS
Contact for more details
Glamour Painting and Decorating Ltd. is a professional painting company in Vancouver, British Columbia. They have been providing the highest quality interior painting and exterior painting services to satisfied customers since 2003.
Painting is their passion, and they want to help transform your home or workplace.
Customer satisfaction is their utmost concern and priority. They are committed to always providing the highest quality of service at an affordable price, no matter the size and scope of the project.
This Vancouver painting company is in the relationship-building business and looks forward to working with customers in the area for many years to come.
Provides free color consultation and pre-plans with you
2-year warrant is available
Each of their painters is carrying WCB Coverage
Rates are unavailable online
Customer Reviews
Here's what people have to say about High Roller Painters:
"Our home staging company prepares properties for sale all over Vancouver from small condos to multi-million dollar homes. As part of the Revamp process many homes require a fresh coat of paint and Glamour Painting is our preferred painting company. We continue to recommend and use Glamour Painting due to their fantastic workmanship, eye for detail and competitive pricing."
"I like how sincere Adam is with his work. I can tell by the end result that he cares about the quality. Excellent workmanship!"
FAQs About the Best Painting Companies in Vancouver
---
You now have an idea of how much a project will cost, and the companies you can choose from. Each of these painting companies has its own area of expertise.
But all of them are sure to provide you with an excellent experience. Whether you need to paint your home, office, or passion project, there is no shortage of painters in Vancouver.