The 5 Best Renovation Contractors in Vancouver
Home remodeling can be an expensive and time-consuming process.
That is why it is critical that you seek assistance from a reputable company that can help you with everything from planning to finishing touches.
Whether you want to renovate your kitchen or bathroom or add a new addition to your home, you'll need one of the best renovation contractors in Vancouver to get the job done.
How Much Does A Renovation Contractor Cost in Vancouver
If you're planning a renovation project, you have a lot of options. You can hire an outside contractor, an internal contractor, or both.
You could also choose from a number of other options, such as kitchen and bathroom remodeling and design services. In general, residential and commercial renovations will likely cost up to CAD 300 per square foot.
In the table below, we've listed the most common services available and
their average estimated prices.
| TYPES OF SERVICE | AVERAGE ESTIMATED COST |
| --- | --- |
| Residential Renovations | CAD 80 - 200 per square foot |
| Commercial Renovations | CAD 85 - 300 per square foot |
| Strata Renovations | CAD 50,000 - 200,000 |
| Bathroom Design | CAD 15,000 - 22,000 |
| Tenant Improvement | CAD 100- 150 per square foot |
| Home Upgrades | CAD 20,000 - 40,000 |
| Design Services | CAD 80 - 300 per hour |
The 5 Best Renovation Contractors in Vancouver
When you're looking to renovate your home, there are a lot of choices. You can take on the renovations yourself or hire professionals to help you out.
When choosing a contractor, it's important that they have the right tools and experience necessary to complete the job safely.
Using the criteria listed below, we evaluated the following renovation services in Vancouver for consumers looking to renovate their homes.
1. 21 Renovations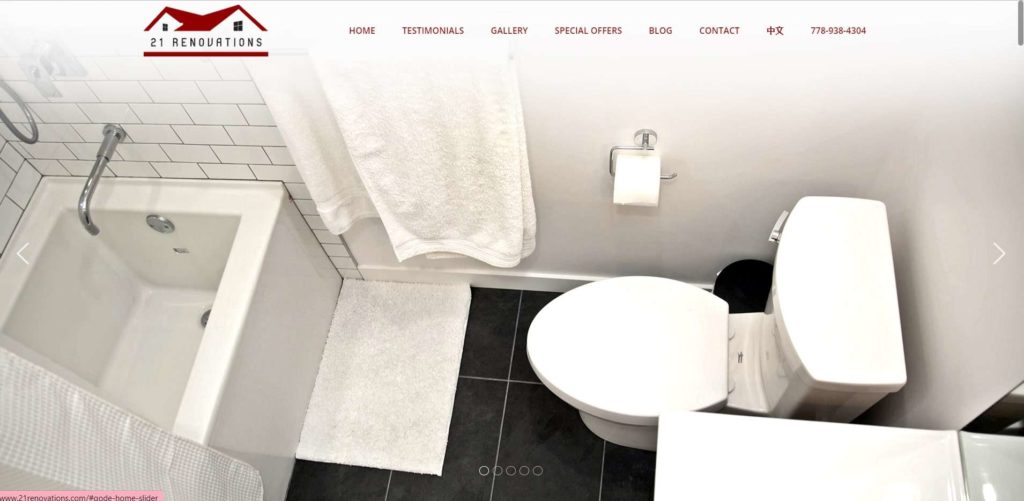 Test
Info
SERVICES
Residential Renovations

Commercial Renovations

Strata Renovations

Bathroom Design and Remodeling

WEBSITE
http://www.21renovations.com/
ADDRESS
1080 Pacific St #404, Vancouver, BC V6E 4C2, Canada
CONTACT DETAILS
Phone: 778-938-4304

Email: [email protected]

OPERATING HOURS
Monday - Friday: 08:00 AM - 06:00 PM
| | |
| --- | --- |
| CRITERIA | RATING |
| Availability | ★★★★☆ 4/5 |
| ⮕Project Capacity | ★★★★☆ 4/5 |
| ⮕Operating Hours | ★★★★☆ 4/5 |
| Range of Services | ★★★★★ 5/5 |
| Features | ★★★★★ 5/5 |
| ⮕Equipment | ★★★★★ 5/5 |
| ⮕Package Inclusions | ★★★★★ 5/5 |
| Customer Service | ★★★★★ 5/5 |
21 Renovations was founded in 2012 to provide luxury kitchen and bathroom design and remodeling in Vancouver, Richmond, Burnaby, and the North Shore area.
The fact that they have a dedicated customer care program is what we liked best about it. This program includes a detailed renovation planning process that simplifies and organizes it all.
We appreciate that 21 Renovations assists customers from the initial consultation to the final clean-up. They provide a detailed project outline, regular progress updates, and a systematic invoicing payment system.
This company handles residential, commercial, and strata renovations. In addition, we were also impressed that they offer bathroom and kitchen work.
As we looked through their previous renovation projects, we couldn't help but notice that their style focuses on modern design and maximizing space.
We were particularly impressed by the fact that they have in-house interior designers with extensive knowledge and experience to provide high-quality work.
In addition, they also provide free consultations over the phone or in person. They're also closed on weekends, which we think limits their availability.
On a whole, we definitely recommend checking out 21 Renovations for your home and office renovation needs.
Dedicated customer care program
Has In-house designers 
Free consultation
Detailed renovation planning process
Free gift for premium renovation service
Doesn't provide service rates
Closed on weekends
Customer Reviews
Excellent craftsmanship and always available to answer questions
"Sasha and the 21 Renovations crew were amazing to work with throughout the entire 5 week renovation of my condo. The end results are absolutely beautiful! He was able to adapt to additions to the project even after it started, keeping on the adjusted budget, and staying as close as he could to the completion date. He and his teams that were available to answer any questions that I had promptly. I definitely recommend using them." -Kaitlyn H.
Capable and professional contractors
"I can highly recommend this company. They took care of everything ensuring that all the correct tradespeople came in to do the work. All workers were very capable and professional. The finished product is exactly what I wanted and there were no issues with poor workmanship or issues with the workers not showing up. All in all, it was an excellent experience working with this company." -Diane B.
2. Hallmark Projects Ltd.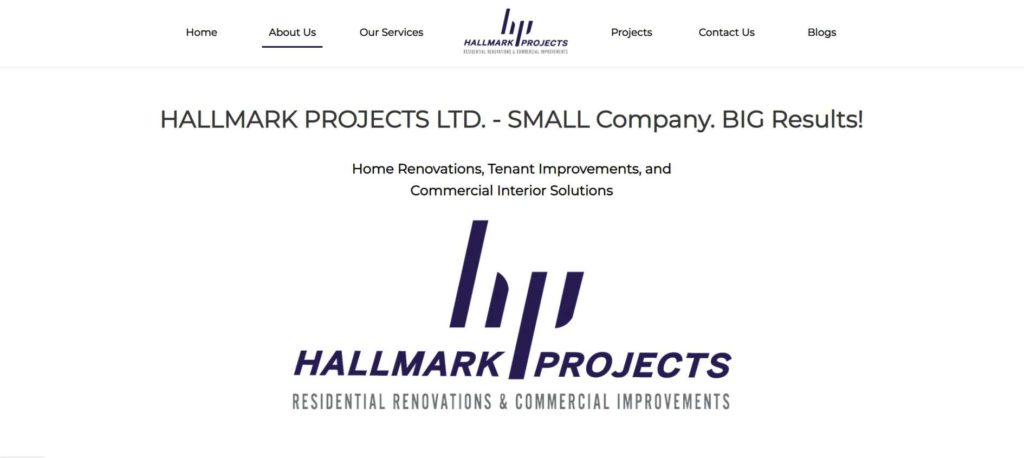 Test
Info
SERVICES
Home Renovation

Kitchen Renovation

Bathroom Renovation

Commercial and Tenant Improvement

WEBSITE
https://hallmarkprojects.com/
ADDRESS
997 Seymour St #250, Vancouver, BC V6B 3M1, Canada
CONTACT DETAILS
Phone: 778-320-5413

Email: [email protected]

OPERATING HOURS
Monday - Friday: 08:00 AM - 04:30 PM

Saturday and Sunday: by appointment
| | |
| --- | --- |
| CRITERIA | RATING |
| Availability | ★★★★☆ 4/5 |
| ⮕Project Capacity | ★★★★★ 5/5 |
| ⮕Operating Hours | ★★★★★ 5/5 |
| Range of Services | ★★★★★ 5/5 |
| Features | ★★★★★ 5/5 |
| ⮕Equipment | ★★★★★ 5/5 |
| ⮕Package Inclusions | ★★★★★ 5/5 |
| Customer Service | ★★★★☆ 4/5 |
Hallmark Projects Ltd. is a Vancouver-based residential, commercial, and tenant improvement renovation company that serves almost all North and West Vancouver cities.
Perhaps what distinguishes this company from our list is that they provide commercial and tenant improvement services.
Hallmark Projects Ltd. specializes in commercial renovation and tenant build-out services. We liked how they have extensive experience renovating workspaces, gyms, daycare centers, and many other types of facilities.
This, in our opinion, demonstrates their expertise in this field. Another thing we liked about this company is that they offer custom cabinetry and interior design services.
However, we don't like that they don't have in-house designers. Nevertheless, we certainly appreciate that Hallmark Projects Ltd. can accommodate almost all renovation projects, from small bathroom remodels to complete kitchen upgrades.
Another notable feature is that they assist clients from the first consultation and building permits to submission to city municipalities which we find convenient.
Now, we'd like to point out that their rates are higher than the others on our list. However, we believe this is reasonable given that their prices include design, engineering, building and trade permits, and many other services.
We highly recommend this company because they provide excellent renovation services for almost all properties.
Offers commercial and tenant improvement services
Dedicated management and staff
Wide service coverage
Has custom cabinetry and interior services
Restaurant renovation available
Relatively higher rates
No in-house design team
Customer Reviews
Detailed and great coordination
"I worked with Gashel of Hallmark Projects Ltd providing electrical installations for recent kitchen renovation in New Westminster. It was one of most efficient projects I've been involved with during the past 25 years, with quality results and satisfied customer. Gashel has a great attention to detail and very good coordination of entire project. I would be happy to work with Gashel on any project….Ray Bader, RWB Electrical." -Ray B.
Great service and workmanship
"Gashel and his crew at Hallmark Projects did a wonderful job for my accountancy office tenant renovation last year. From the initial consultation right through to the handover, the project was professionally delivered with great service and workmanship. I've recommended him to my peers and would be happy to give a reference to anyone else." -Mike L.
3. Home Renovations BC – Vancouver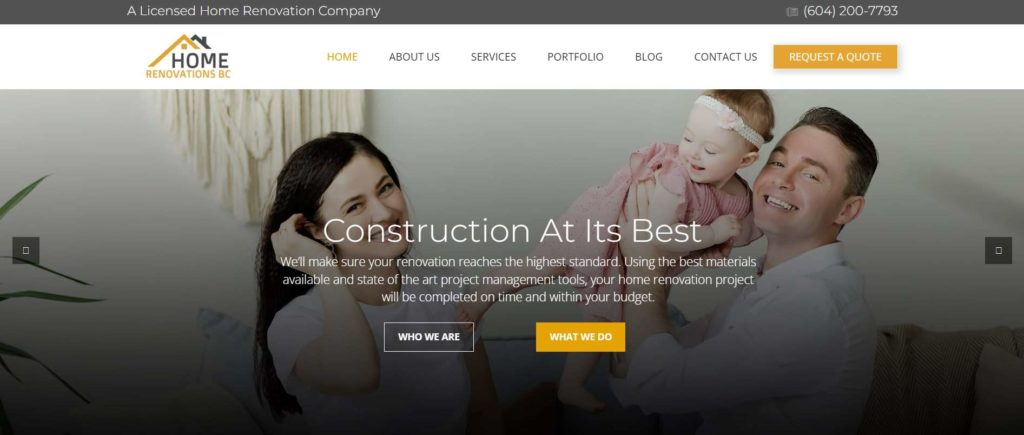 Test
Info
SERVICES
Basement Renovation

Bathroom Renovation

Home Renovation

Home Upgrade

Kitchen Renovation

WEBSITE
https://www.homerenovationsbc.ca/
ADDRESS
3578 E 24th Ave, Vancouver, BC V5R 1G8, Canada
CONTACT DETAILS
Phone: 778-200-7793

Email: [email protected]

OPERATING HOURS
Monday - Saturday: 09:00 AM - 07:00 PM
| | |
| --- | --- |
| CRITERIA | RATING |
| Availability | ★★★★☆ 4/5 |
| ⮕Project Capacity | ★★★★☆ 4/5 |
| ⮕Operating Hours | ★★★★★ 5/5 |
| Range of Services | ★★★★☆ 4/5 |
| Features | ★★★★★ 5/5 |
| ⮕Equipment | ★★★★★ 5/5 |
| ⮕Package Inclusions | ★★★★★ 5/5 |
| Customer Service | ★★★★★ 5/5 |
Home Renovations' licensed team has provided various home renovation services in Burnaby since 2012.
This business provides a full range of home renovation services, and we particularly liked that they offer accessibility upgrades such as accessible ramps and doorways.
Aside from that, Home Renovations also provides full bathroom and kitchen renovations and home upgrades for clients who want to increase the value of their homes.
The best thing about Home Renovations is that they prioritize cleanliness in every project they handle.

In our opinion, this makes them a trustworthy company to work with because they strive to minimize the impact of the renovation and provide clients with a spotless home.
We also value their openness, as they provide a detailed quote for their services. They sit with their clients during the consultation process to determine their budget, timeline, and completion schedule.
In fact, we spoke with some of their previous customers, who shared how Home Renovations was able to complete projects on time and within budget.
Now, this company does not provide commercial or industrial renovations because its services are geared toward home renovations.
We admit this is kind of a letdown, but we still think Home Renovations deserved a spot on our list for their complete home renovation services.
Offers complete home upgrades
Can accommodate basement renovations
Can perform accessbility upgrades
Plumbing services available
Accessibility upgrades upon request
Doesn't offer commercial and industrial renovation
Limited work portfolio
Customer Reviews
Punctual and professional services
"We hired Home Renovations to do a complete renovation of our condo (paint, blinds, flooring, etc.) and we were extremely pleased with the work that was done. It was done on time, within budget and the work was of an excellent quality. The people working were very friendly and professional. We would definitely hire them for any of our future projects. We definitely recommend them!." -Widad M.
Accommodating to requests
"Great quality work with all professional staff that delivers exemplary service. Always accommodating with genuine requests. I had done my home renovation with this business and will love to rate them as 5 star service." -Gagandeep S.
4. Adept Projects Design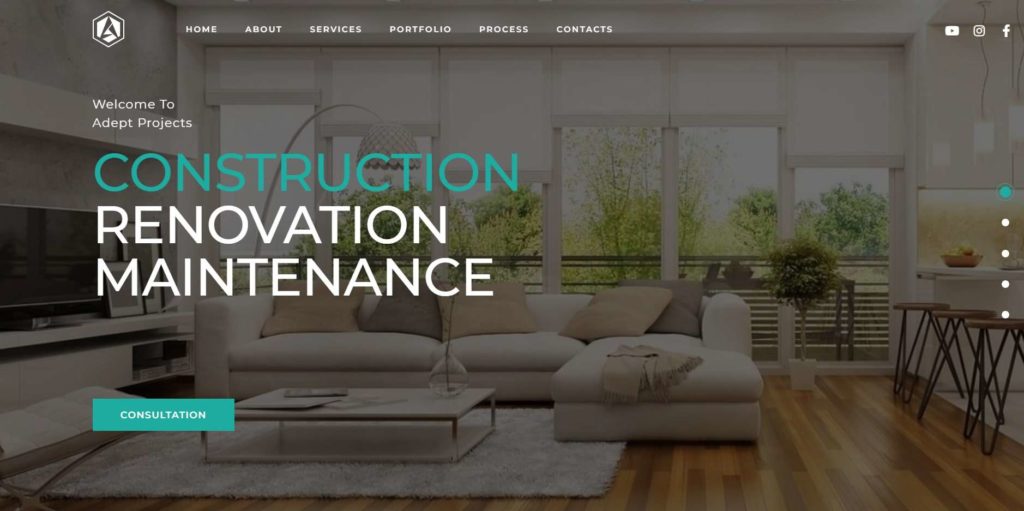 Test
Info
SERVICES
Kitchen Renovation

Bathroom Renovation

Design Services

Flooring

Tiling

WEBSITE
https://adeptprojects.ca/
ADDRESS
3033 East Kent Ave N #304, Vancouver, BC V5S 4P7, Canada
CONTACT DETAILS
Phone: 778-858-0450

Email: [email protected]

OPERATING HOURS
Monday - Saturday: 08:00 AM - 07:00 PM
| | |
| --- | --- |
| CRITERIA | RATING |
| Availability | ★★★★★ 5/5 |
| ⮕Project Capacity | ★★★★★ 5/5 |
| ⮕Operating Hours | ★★★★★ 5/5 |
| Range of Services | ★★★★☆ 4/5 |
| Features | ★★★★☆ 4/5 |
| ⮕Equipment | ★★★★★ 5/5 |
| ⮕Package Inclusions | ★★★★☆ 4/5 |
| Customer Service | ★★★★☆ 4/5 |
Adept Projects Design specializes in bathroom and kitchen renovations. We liked that they have a team with over 20 years of combined experience, making them dependable.
They install light fixtures, countertops, sinks, cabinets, and appliances, among other things. Aside from this, they have in-house designers that can accommodate custom projects for interior and exterior spaces.
In addition, Adept Projects Design also offers flooring services, and we appreciate that they carry a variety of flooring options to accommodate different tastes.
What we found impressive about this company is that it has in-house designers that provide clients with 3D renders during the project planning and the material list.
We believe this allows customers to review the work they want to be done before the project execution. On the other hand, we were disappointed to learn that they only provide limited home renovation services.
Nonetheless, the majority of customers we've spoken with praise their honest and trustworthy services and their ability to accommodate special installation requests.
Potential clients can also request a free quote without being obligated to follow through on a contract.
Overall, despite their limited range of services, we think Adept Projects Design's services are worth looking into if you're planning to renovate your bathroom or kitchen.
Fixed pricing
Offers a five-year warranty on all services
Custom design available upon request
Has in-house designers and tile settlers
Financing options available
Accepts custom design orders
Limited range of home renovation services
Design quotes may take up to two days
Customer Reviews
Honest and trustworthy
"We needed a bathroom reno and talked to few contractors and decided to go with Adept Contractor. Artem and his team was honest, trustworthy and guarantees thier work. Also, because of their amazing work, we ask them to add and changed our light fixtures. The outcome was simply fantastic, we will definitely hire him again in the future!." -Honeyleen M.
Dedicated and detailed renovation services
"We have our project completed with Adept and the job was done on time and the quality is even exceeded our expectations! The guys from Adept are very dedicated and pay a great attention to every detail. We are completely satisfied with the job and enjoying our renewed place very much!." -Rusty P.
5. Silvercrest Custom Homes and Renovations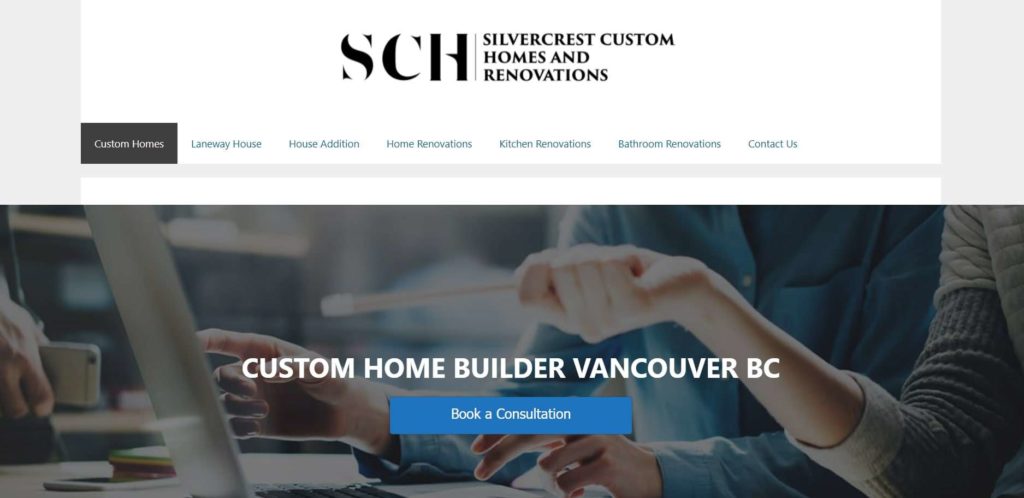 | | |
| --- | --- |
| CRITERIA | RATING |
| Availability | ★★★★☆ 4/5 |
| ⮕Project Capacity | ★★★★☆ 4/5 |
| ⮕Operating Hours | ★★★★☆ 4/5 |
| Range of Services | ★★★★☆ 4/5 |
| Features | ★★★★★ 5/5 |
| ⮕Equipment | ★★★★★ 5/5 |
| ⮕Package Inclusions | ★★★★★ 5/5 |
| Customer Service | ★★★★★ 5/5 |
Silvercrest Custom Homes and Renovations is a full-service custom home and renovations firm with over 15 years of industry experience.
What sets this enterprise apart from the other companies on our list is that it also provides custom home building services in addition to home renovations.
Silvercrest can build your home from the ground up, and they also have in-house architects to assist you in designing your custom home.
As for their renovation services, Silvercrest offers complete home remodels and house additions.
They also accept kitchen and bathroom renovation projects, and we liked how they handle all necessary city hall permits to make things easier for customers.
What we liked best about this organization is that it has a customer project portal where clients can track the renovation's progress. Customers can monitor the entire process in real-time, which we find very convenient.
In our opinion, this establishes Silvercrest as a reliable and transparent renovation company, which is why it's a bit of a bummer that they don't offer commercial renovation services.
Nevertheless, if you're looking for a renovation company with a more customized approach, we highly recommend Silvercrest Custom Homes and Renovations.
Free estimate
Dedicated customer project portal
In-house architects
Offer custom home build services
Handles city hall permit requirements 
Closed on weekends
Primarily focused on home renovation projects
Customer Reviews
Disciplined and responsible work
"Silvercrest Custom Homes and Renovations gave me the best quote on my kitchen remodel and I hired them. The project started on time and it went great thanks to a very disciplined and responsible working team. Greg helped me a lot with his advice to choose high quality materials at very affordable prices. I like how my kitchen turned out especially the design. My new kitchen is beautiful. I would highly recommend Silvercrest Custom Homes and Renovations to all my friends neighbors and family." -Caysin R.
Knowledgeable staff
"Working with Greg was so smooth and easy. He was very professional and easy to work with and I enjoyed meeting him and feel very fortunate that I found him! He was always available to questions and addressed them in no time. He and his team helped me convert what used to be a garage/carport into a walled work shop. They turned the job around super quickly and did excellent work they were able to work with me even though I had a small budget. I would 100% recommend them and hire them again! Thank You guys a lot for the hard working team I found." -Alice A.
FAQs about Renovation Contractors in Vancouver
---
We hope that after reading about the best renovation contractors in Vancouver, you have a better idea of which ones provide the best services and affordable prices.
In case you're planning on building your dream home, we recommend you check out our list of the best home builders in Vancouver.